Homemade Polish gefilte fish are with beet chrein are a sweet-and-sour treat that will change the way you think about traditional Jewish food. Care, good ingredients and attention to detail make this a dish worth savouring! This post is a partnership with JDC Entwine, and I was compensated monetarily for my work. You can always count on me to only work with companies and products I love!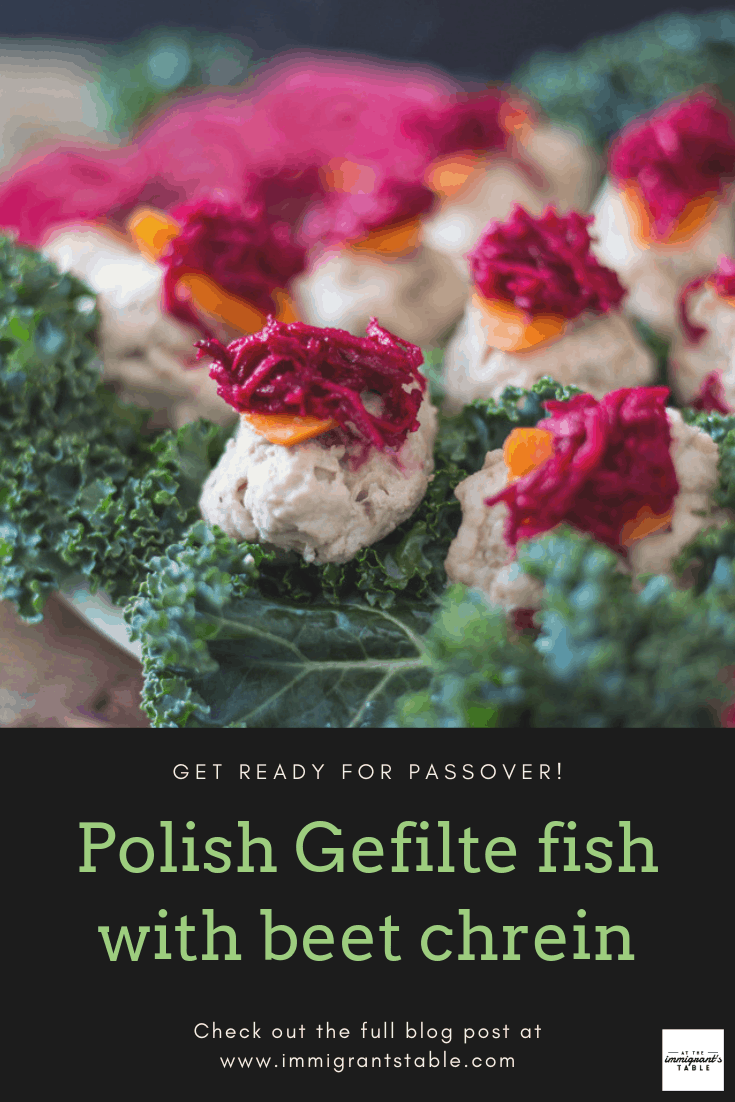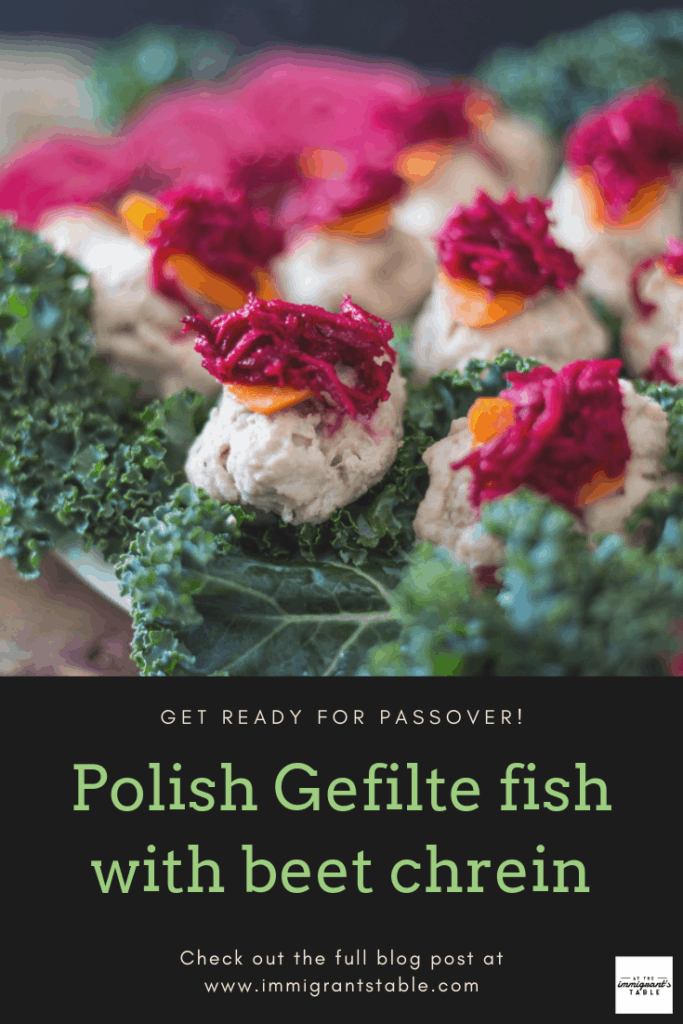 I spent years thinking my sister was quite disgusting. Her favourite foods included sliced boiled cow's tongue and fried chicken liver mousse spread on dark garlicky bread. Her favourite show was Married with Children (which our parents adamantly prohibited us from watching). And during Passover, while I anxiously awaited my matzo ball soup, all my sister could talk about was my grandmother's gefilte fish.
It is hard to imagine a more maligned dish than Polish gefilte fish, the traditional delicacy that once bewitched entire shtetls with its flavor has become synonymous with the tasteless, strange Frankenstein-concoctions that are served out of jars and made to represent the strangeness of Jewish food to non-Jews.
But in my house, jelled and jarred gefilte fish was a big no-no. Instead, we had my grandmother's homemade gefilte fish: glistening pink patties served on a bright green lettuce leaf, each decorated with a slice of carrot and a dollop of homemade chrein. Pungent and acidic, my grandmother's beet chrein was a work of art in itself that sat in the fridge long after the holiday ended, and which my father proceeded to pile on kotleti (Russian meat patties) for weeks to come.
While I may have loved my grandmother's gefilte fish as a child, once I became a vegetarian at the age of 12 I thought my sister's love for the dish was, frankly, an abomination. I refused to come anywhere near it for years, and by the time I started eating fish, I was nowhere near my grandmother on Passover.
And then JDC Entwine came and asked me to develop a Polish recipe for their expandedReOrdered Passover kit - and I just knew I had to give homemade Polish gefilte fish a go. And boy, do I take back any doubts I ever had towards my sister.
Now, if you know anything about me, it's that I love the underdog - and today, I'm here to change your mind about Polish gefilte fish. Homemade Polish gefilte fish is a sweet-and-sour treat that is beloved by many, and can transcend your Passover meal from traditional and boring to unique and artisanal. The secret is in careful preparation, good ingredients, an artful presentation and of course, a punchy chrein. Give homemade Polish gefilte fish a chance.
Check out the video below to see how to make this delicacy, step-by-step.
To get the recipe for Polish gefilte fish, my Argentinian alfajores, and many more unique international gems of Jewish cuisine, order your own copy of the JDC Entwine ReOrdered Passover kit. ReOrdered, which is completely FREE to order and receive, offers participants a new take on Passover, inviting them to share, think and talk out modern day issues instead of just following the same-old story of the Haggadah. And it's not too late to order your very own copy yet!
If you end up making ReOrdered a part of your Passover celebration, let us know! Share the images on social media, tagging @immigrantstable and @jdcentwine. For more snapshots behind the scenes of this video, check out my Instagram page and stories, and my Facebook page.
Polish gefilte fish and beet chrein
Homemade Polish gefilte fish are with beet chrein are a sweet-and-sour treat that will change the way you think about traditional Jewish food. Care, good ingredients and attention to detail make this a dish worth savouring!
Print
Pin
Rate
Ingredients
Chrein (horseradish-beet sauce)
7

oz

raw horseradish

5

oz

raw beets

½

TB

sugar

½

TB

salt

½

cup

vinegar
Fish broth
1

fish head and bones

when buying your fish, ask the fish monger to keep the head and bones in a bag for you; if you're filleting and cleaning your own fish, make sure to keep the head and bones

1

carrot

peeled and sliced into rounds

1

onion

quartered

1

bay leaf

5

whole peppercorns

5

whole allspice berries

One parsley stem

1

beet

peeled and quartered (optional; my Ukrainian grandmother does this, but it takes the recipe in a decidedly non-Polish direction. However, this will give your gefilte fish an appealing pinkish hue)

Water
Polish gefilte fish
1

kg

carp

ground

700

g

whitefish

ground (pickerel or rockfish, cod and haddock are also acceptable replacements)

1

onion

chopped finely (you may fry your onion first for additional flavor; if doing this, take care not to brown onion)

½

cup

matzo meal. Gluten free alternative - replace this with GF matzo meal or omit altogether.

2

TB

sugar

4

tsps

salt

2

tsps

pepper

2

TBs

sunflower oil

1

egg

Large lettuce or kale leaves

for presentation
EQUIPMENT:
1

jar

1

large pot

1 8-

inch

X 8-inch piece of cheesecloth

1 8-

inch

piece of kitchen twine

1

large serving dish
Instructions
Chrein (horseradish-beet sauce)
Peel beets and horseradish, and soak them in cold water for an hour (this saves you the hassle of cooking the beets).

Drain well, and grate using a box grater or a food processor fitted with a fine grating disc.

In a bowl, mix with sugar, salt and vinegar, taking care to incorporate all ingredients completely.

Transfer to a jar, cover with lid and let rest for at least two hours before serving (chrein keeps well in the refrigerator, only getting better with time).
Fish broth
Wrap fish head and bones in a cheesecloth pouch (cut a large square of cheesecloth, wrap fish head and bones in it, and tie together with kitchen twine).

Add sliced carrots, onions, bay leaf, peppercorns, allspice berries, parsley stem and beets (if using) to pot. Add enough water to cover ingredients.

Cover with a lid and bring to a boil, then lower heat to medium and continue simmering for 30 minutes, until carrots can be easily pierced with a fork.
Polish gefilte fish – best to do this while your fish broth is cooking
Combine all gefilte fish ingredients in a large bowl, and mix well with a wooden spoon or your hands until well combined.

Wet the palms of your hands and form oval shaped patties the size of a golf ball.

Place gefilte fish balls into fish broth; add enough water to ensure gefilte fish are submerged fully.

Simmer over a low flame slowly for 1.5 hours. Carefully remove all the patties and carrot slices from the broth. Set aside to cool.

OPTIONAL: After the fish has been removed, strain off the cooking liquid. This stock will jell when chilled, providing a traditional sauce to serve with the gefilte fish.

To serve gefilte fish, arrange lettuce or kale leaves on a large platter. Carefully place gefilte fish patties on top of the greens. Top each patty with one of the cooked sliced carrots, and a dollop of chrein. Serve with more chrein on the side.
Notes
If you cannot find a fishmonger who will grind the fish into burger meat for you, you can process it yourself in a food processor or a meat grinder. However, please take care to take out all the bones before doing so - and save them for the fish broth.