I spent my first Maslenitsa sitting in a corner , a crown of intricately woven flowers sitting crookedly on my head. My hair was plastered to my scalp in rivulets of sweat, and my hand kept reaching up, absent-mindedly scratching the spot where the flowers' hard stems came together in an itchy, uncomfortable knot. But my mind was anywhere but the crown: I was watching the children dancing, the grown-ups chatting in overly excited tones over cups of suspiciously potent tea, the way the harsh winter light was giving way to the soft, hesitant rays of spring.
But above all else, I was watching the tall stack of blintzes on the table, butter cascading like molten lava down its side and pooling onto the currant jam, the honey, the tablecloth. I dreamed about when we would finally get to eat these crepes, because only then would I truly feel like I was celebrating maslenitsa, the Russian holiday of spring. Even at the age of 5, I knew that the heart of every holiday lies with the food.
This week, millions of Russians, Ukrainians, Belorussians and Slovaks will be celebrating Maslenitsa, or the week leading up to the great Easter Lent. It is the last week in which people of Slavic traditions are allowed to eat dairy, while meat is already excluded from their diets - and therefore, it's a celebration of butter, dough, sweets and excess. Though nowadays it's considered a Christian holiday, Maslenitsa has its origins in entirely pagan traditions - and in fact, it's rumoured to be the oldest surviving Slavic holiday. Meant to honour the Slavic Sun God Volos and usher in spring, it's a way to bless the crops and rejoice at the bounty of the Earth.
I like to think of Maslenitsa as it was meant to be: an excuse to eat as many crepes, or blintzes, as your stomach can fit. And then do the same thing all over again the following day.
So in preparation for maslenitsa, here are the best blintzes and crepes recipes on the web. If you've never celebrated maslenitsa before, I urge you to spend some time this weekend eating crepes and blintzes with lots of butter. I promise - you'll thank me later!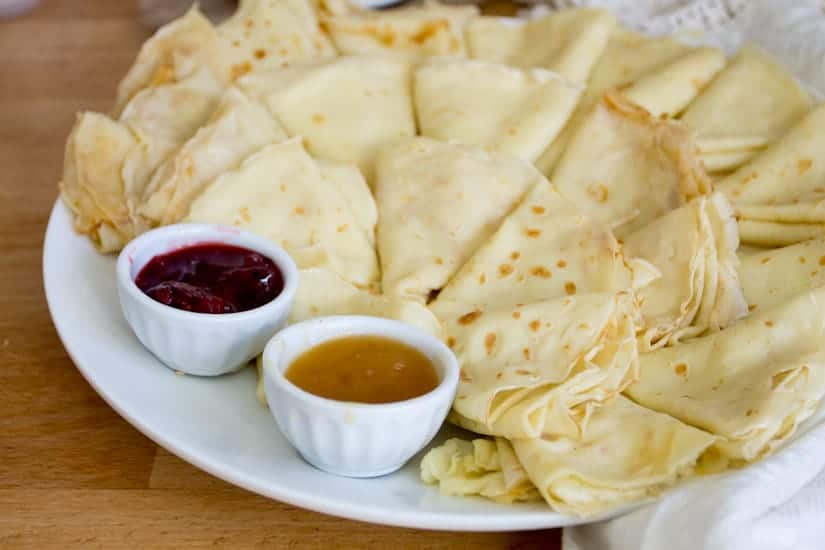 To get started with any maslenitsa celebration, you need a good blintz recipe, and I've got you covered with my mom's traditional Russian blintzes. They're perfect every time, and can be made dairy free. Make double and triple batches at your own risk.
If you're looking for a crepe that has a tangier flavour, try the lovely Lily's kefir blintzes. These would be perfect paired up with some fresh Russian-style caviar.
To fill the blintz cravings of the gluten-free among us, I will be turning to The Bojon Gourmet's buckwheat crepes. Though I am still trying to perfect my own vegan, gluten-free crepes, this recipes is my favourite in the meantime. They make perfectly savoury, delicious and filling crepes that would work with less traditional, salty fillings.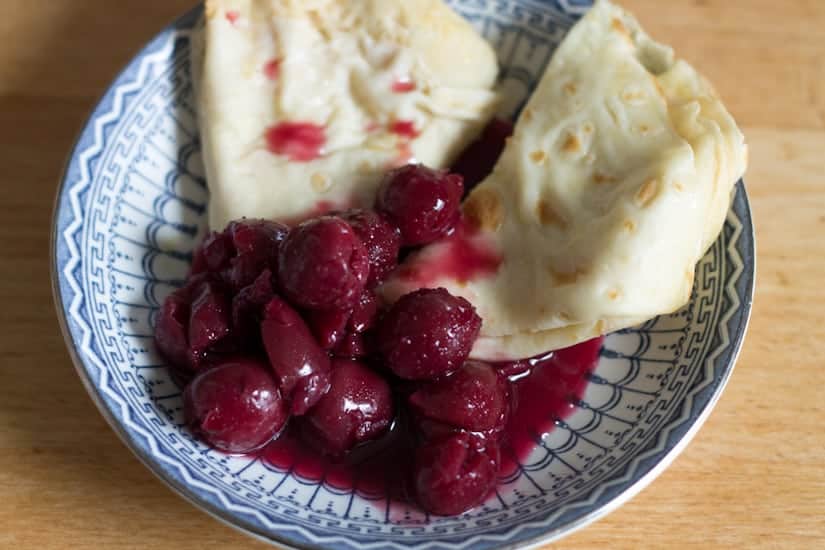 If you're looking for a sweet blintzes filling that is still completely unique, try my sour cherry sauce. It remains a household favourite among all my guests, and was the biggest hit at my latest Restaurant Day venture, The Kvartirnik.
Another very traditional blintzes filling is farmer's cheese, lightly sweetened with raisins and honey. I love this recipe for nalesniki with cheese and raisins from Natasha's Kitchen, which is very similar to my grandmother's guidelines (my grandmother's recipe is still to come!).
And that's really all you need for the perfect maslenitsa celebration! Just don't forget the strong tea, and maybe a few shots of vodka.
Happy eating!