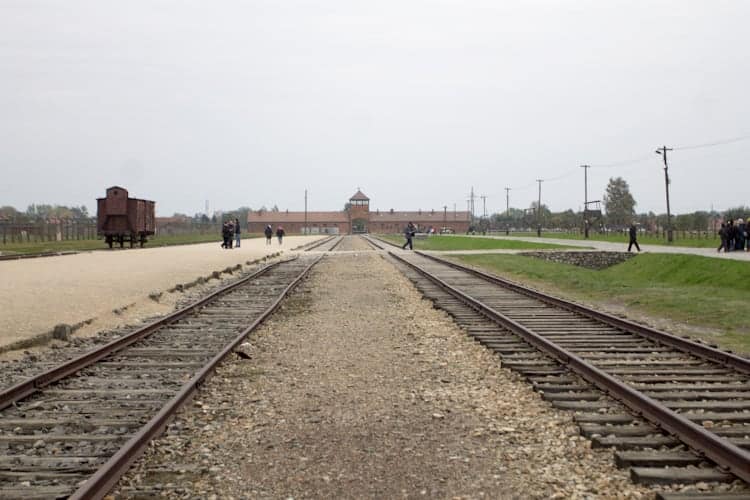 I spent four short days in Poland, making my way from Warsaw to Krakow. I have seen the history of wartime Poland, I listened to the stories of a Righteous Among the Nations, and I caught a glimpse of Jewish life in Poland today. All these experiences, together, came to form a kaleidoscope image of modern-day Poland - and this is my attempt to decipher it. I thank you for coming on this journey with me.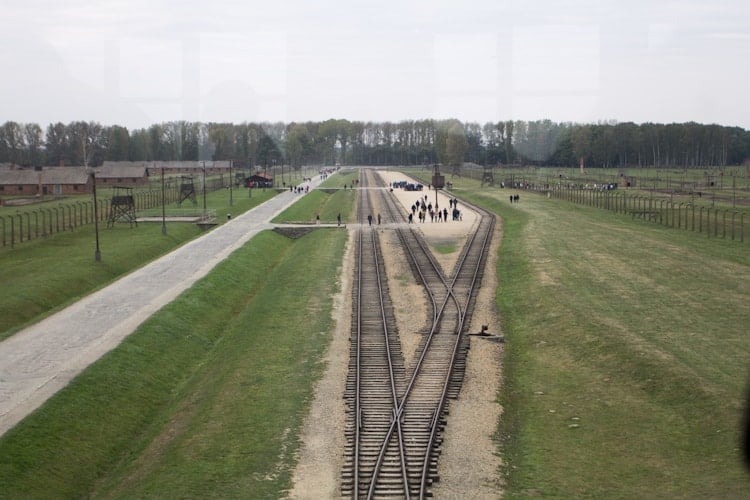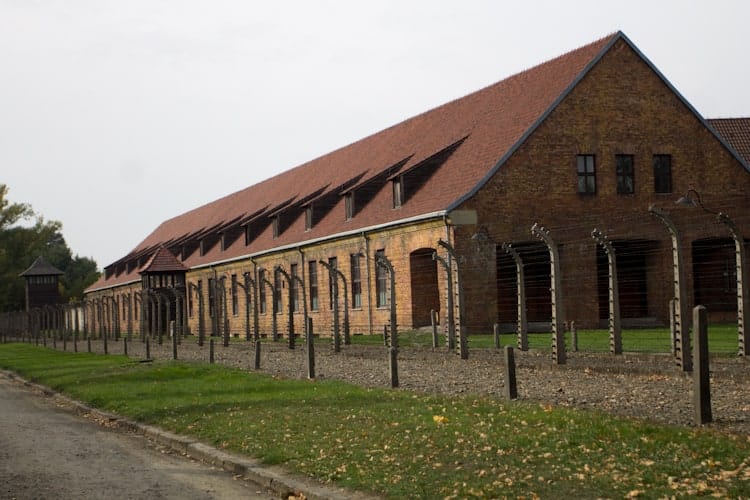 As I walk on the rail tracks on my last day in Poland, my entire body aches. Shoulders slumped, back bent like a question mark, hands twisted so tightly they start to resemble twigs, I trudge through the cold, sharp air, eyes locked on the ground, waiting for the end.
I think about the bus that awaits me, and the cup of hot tea from the canteen just down the road. I think about my mom and dad, about gentle hands running along my back, untying all these knots. I think about love.
And then I raise my eyes and look around - and I realize that for over a million of my brethren, there was no escaping this walk. The end that followed this place meant only one thing: death.
I straighten my back, pull my shoulders up, and continue walking through Auschwitz-Birkenau, trying to understand.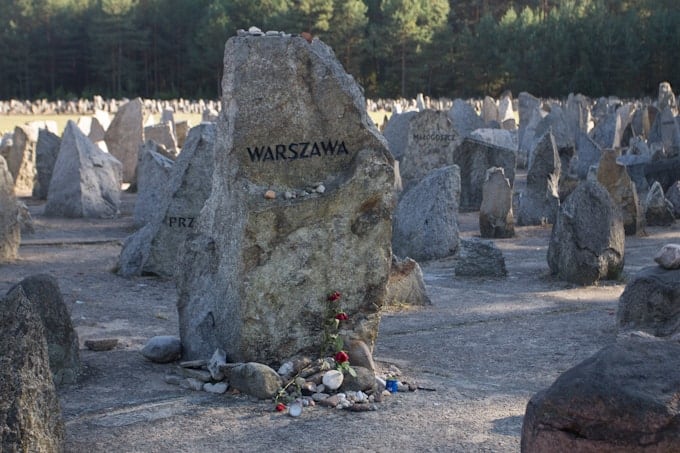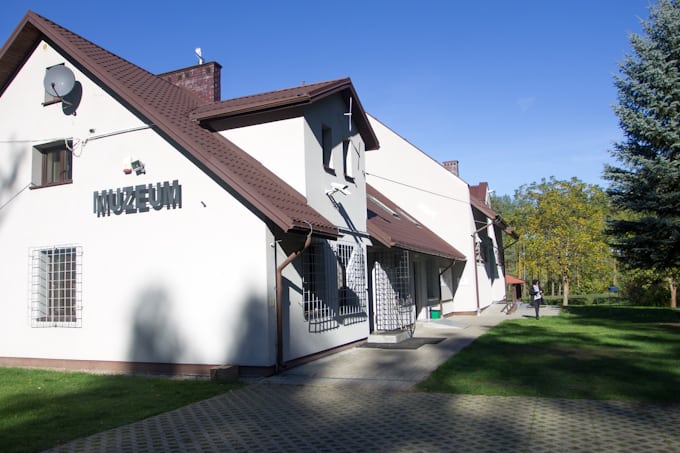 I am 29 years old, and this is my first time in a death camp. And I am completely, utterly lost.
Most Jewish kids in Israel and North America come here, to Poland, on March of the Living when they are 16 years old. Most of us have already taken in countless hours of learning about the horrors, of looking at pictures of twisted, naked bodies, of memorizing the names of death and work and concentration camps. Most of us have become desensitized, numb from the atrocities, from the little lapses of judgement that have to occur in order to allow for a catastrophe of this magnitude to occur.
And yet, I find that every step here hurts, both emotionally and physically.
I find that my eyes are burning from unshed tears, and when those do spill, it hurts only marginally less.
I find that I do not know what to think or feel, that I am struggling with emotions all day, only to lose myself in a bit of vodka and a deep, dreamless sleep at night.
I find a Jewish tombstone in Plaszow, broken and discarded. I find a see-saw among the bushes, which are growing wildly from years of human ashes. I find the place where the parents of one of my travel companions went after the war ended, where they got married and tried to rebuild their lives, only to escape Poland and their memories altogether after a few short years. I find the shed where another travel companion's mother was during her days in Auschwitz.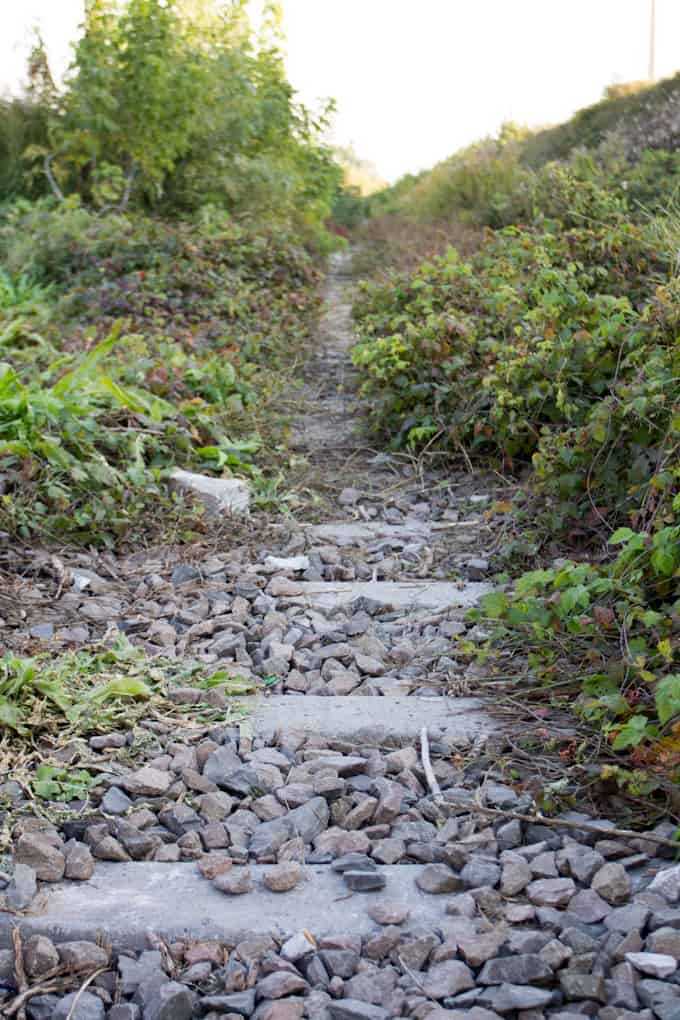 And then, I find my ancestors. In a little shed on the outskirts of Auschwitz 1, I step into a room full of large, hanging books. People are walking around, flapping through the pages, staring intently; they are looking for their loved ones, the names of those who perished as a result of the Nazi occupation of Eastern Europe and the Holocaust.
I absentmindedly scroll through, trying to find a familiar name in over 6,000,000 Jewish victims. I know no one - no names, no dates, no towns. So I call my mother, asking for advice. Together, we leaf through the pages, looking for a glimpse of recognition, looking for hope... until we find it.
We find Liza Dvorkind, who my mom is named after, born in 1912, murdered in Borisov, Belorussia when the Nazis entered her town on their death journey to Russia. We find Dvorkind Simhon and Simah and Morris and Zalman, who were born in 1880 and 1890 and lived full lives until the Nazis entered their town on their death journey to Russia. We find Dvorkind Morris, born in 1928, who had only a glimpse of a life before he was shot down at the age of 13 when the Nazis entered his town on their death journey to Russia. We find Dvorkind Malka, who was just 2 when she was murdered in the arms of her mother, Liza, when the Nazis entered her town on their death journey to Russia.
With my father on the phone, and the help of my grandfather later, we find Rukhl Printz, 1869, from Kulchiny, Ukraine, killed during the Nazi occupation of Ukraine. We cannot find when she was born, or when she was killed. We cannot find her husband, Shmul-Idl Printz, 1869, who lived in Kulchiny but was born elsehwere. We find Rakhil Printz, 1876, from Starokonstantinov, Ukraine, but none of her realtives - her husband Chaim-Yossif Printz, and their children Mark and his sister Liza are gone without a trace, killed during the Nazi occupation of Ukraine.
And by finding them, their names, a trace of their lives, for the first time in this death camp, I feel found.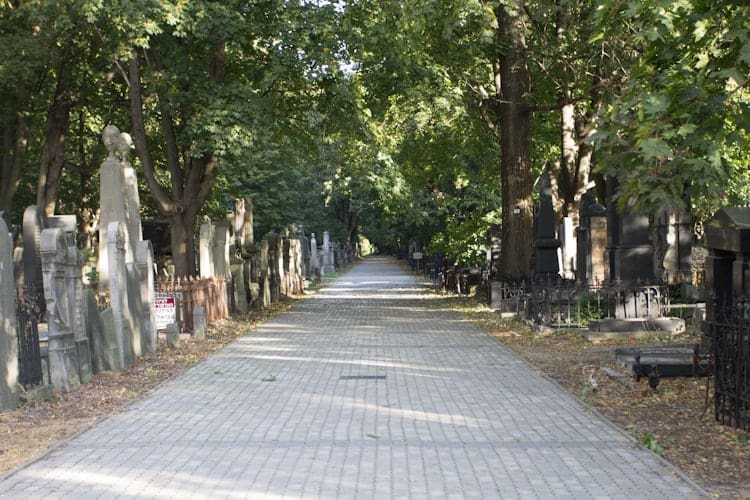 We are sitting in a brightly lit room in the Jewish Community Centre in Krakow. People are laughing all around us, flirting and making new friends, the wine is flowing and the conversation is easy. I am speaking Russian to a Ukrainian girl who has been studying in Krakow for five years. Though she knew about her Jewish roots her whole life, she was never raised Jewish for fear it would make her a target for discrimination, abuse, and ridicule; it was only when she was 16 that she took her father's (very) Jewish last name as her own. And yet here she is now, six years later, living a Jewish life in Poland.
She is not alone. All around us are young people, not one of them more than 30, who have recently discovered their Judaism. They have all embraced it, and are trying to help their siblings grapple with this new-found identity. They are also still learning, trying to discover for themselves what it all means to be Jewish - in Poland, the land where millions of us have perished, where good, old-fashioned antisemitic myths still persist, where you cannot walk a mile without being reminded that you're different.
And yet, they choose it anyway.
By sitting in this room in Krakow, listening to their stories, feeling their joy and passion over finally finding a piece of the missing puzzle, I, too, feel found.
I am in a dark bar room in the underbelly of the Stalin building in Warsaw. There are young people all around me, engaging in those sorts of things you do in dark bar rooms: kissing, speaking to each other in overly-loud tones, looking intently into each other's eyes. I am drinking a dry local cider, talking about Israeli politics. I, too, am doing those things you do in dark bar rooms: speaking too loudly, gesticulating too animatedly, making too much eye contact.
Then, at the table next to us, I notice a pretty young woman. She is the same woman who, just 24 hours ago, told us about the Jewish revival in Warsaw. She is a leading figure in the local Jewish Community Centre, and the face of the campaign to rekindle a Jewish flame in Warsaw. She is beautiful, charismatic, and, like me, prone to eye contact and gesticulating and passionate speeches. She is also drinking with a friend in this dark bar room in the underbelly of the Stalin building in Warsaw.
But unlike me, she is not talking about Israeli politics. Right now, she is not contemplating what it means to be Jewish in Poland. She is not grappling with her identity, or marching through death camps, or finding long lost relatives. She is not struggling.
Instead, she lives with those memories, that knowledge, those ghosts every single day. She embraces her torn history and tries to live her life to the fullest in the only way she knows how: honestly. She lives in Poland, and loves Poland, and probably hates it, too, on some days.
And at this moment, looking at what seems like true acceptance of one's fate, I feel found.
I have debated whether I want to talk about modern-day Poland and my experiences there through a recipe. In the end, I decided I wanted this to be an opportunity for discussion, rather than a chance to gawk at images and move on. So I hope that after reading this, you will take the time to comment, reflect, and offer some insight into understanding that which cannot be understood.
I also wondered whether I want to discuss my experience in the death camps, the ghettos, and the streets where so much of my ancestors' blood was spilled separately from my findings of the beauty of Krakow, the vibrancy of Warsaw. But I decided that just like you can't separate the experience of the Holocaust from the reality of Modern-day Poland, so you shouldn't treat them as two different experiences.
If you've gotten this far, congratulations - and from the bottom of my heart, thank you.
I hope you have gotten something of this experience.