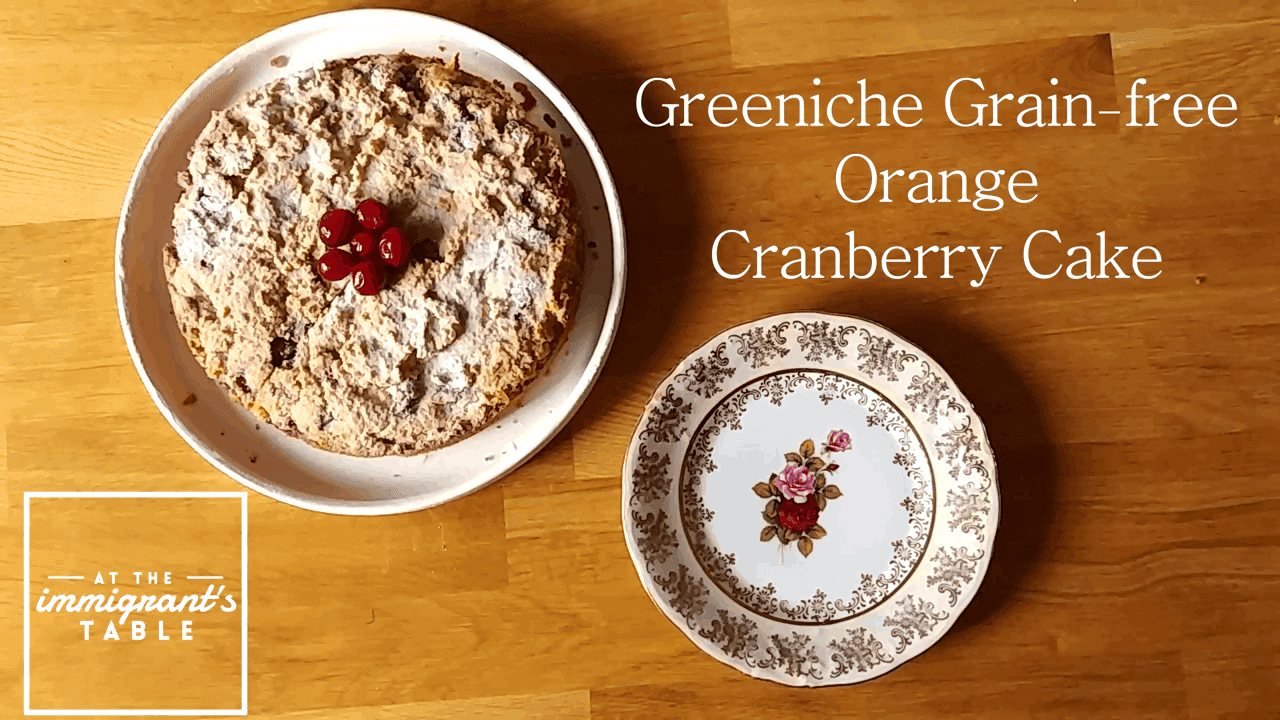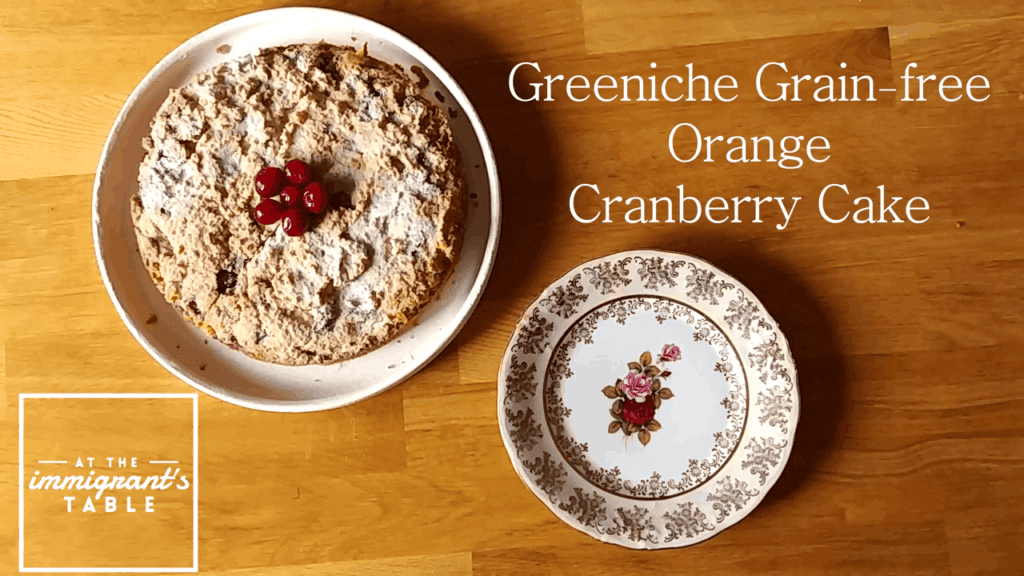 Candles flickering on the windowsill. Fairy lights glinting just below the ceiling, landing a soft, playful atmosphere to the room. The smells of frankincense and myrrh, cinnamon and cloves permeate the air. And in the middle of it all, your crowning achievement lies on the table: a simple, delicious gluten-free, sugar-free and naturally flavoured paleo orange cranberry cake that is as easy to make as it is to eat.
The holidays are a strange time. On one hand, it is a season when everything around us practically commands us to feel joyous and loving, generous and welcoming. We are asked to give to those in need, invited to join parties, cajoled into getting gifts for all of our loved ones - and even those we like less. We are hugged and prodded, sprayed with scents and stuffed with tasty treats. We are pampered and loved.
Yet on the other hand, we are also harried and stressed and maybe, without telling anyone, just a little bit sad. We miss those who used to matter but are no longer here. We worry about money and mounting expenses. We feel pressured to make everything look perfect, feel perfect, taste perfect. We fret over our waistlines and sugar intake and carbohydrate servings.
And I'm here to tell you that It's. All. Good. It's all valid. It's all going to be fine. You will come out on the other end of the first week in January, mostly unscathed: your bank accounts may suffer a bit and your jeans waistlines may feel just a bit tighter. But you'll also have a host of new memories and gifts and possibly, even friends to carry you over into the new year: 2019.
But other than reminding you that whatever you're feeling IS OK, in this season of excess, I'd like to help ease at least one burden off your plates: your sugar. In place of those sugar-packed and white flour-laden cakes, bake yourself a paleo orange cranberry cake. Sweetened with natural Greeniche stevia, free of grains, gluten, refined sugars and other bad-for-you additives, it's the kind of treat that will help you feel good about the season - and also about your waistlines.
(Scroll down for the recipe)
This year, bring the holiday season into your kitchen with the scents of cranberries, oranges and spices, without taking on any unnecessary sugars and calories. Bake a paleo orange cranberry cake, serve it with a cup of milky orange pekoe tea, and SUBSCRIBE to my Youtube channel - because hey, it's also the season of showing some love to your favourite bloggers 😉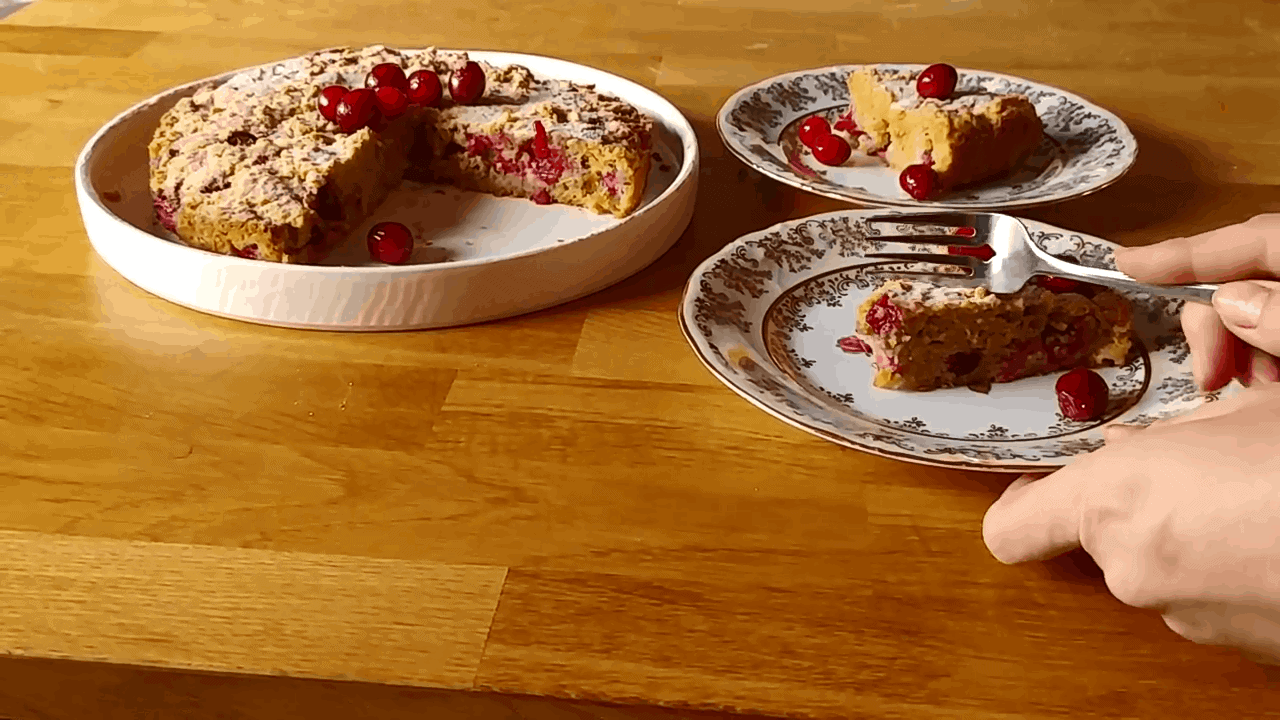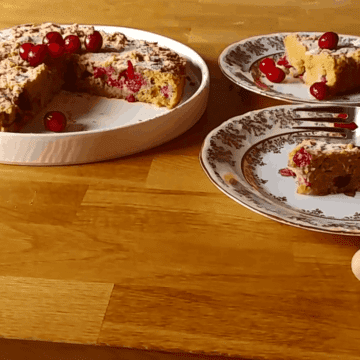 Paleo orange cranberry cake
Bake a paleo orange cranberry cake & bring the holiday season into your kitchen with the scent of cranberries, oranges & spices. Sugar, gluten & guilt-free.

Print
Pin
Rate
Ingredients
For one 6 or 9-inch round cake:
1

orange

whole

Zest of an orange

⅓

cup

coconut oil

1 ¾

cup

almond flour

¼

cup

arrowroot flour

6

tsps

granulated stevia

¼

teaspoon

salt

3

large eggs

room temperature

5

drops of orange-flavored Flavorall stevia drops

1

teaspoon

gluten-free baking powder

1

cup

cranberries

fresh or frozen
For stevia powdering:
1

cup

granulated stevia such as Truvia

1

tablespoon

arrowroot powder

prevents caking
Instructions
Preheat oven to 340F (170C). Grease and line a round cake pan with a removable bottom with parchment.

Put the orange in a pot and cover with cold water (it will float a little). Bring to a boil over medium heat and cook for 15 minutes. Rinse with cold water until cool enough to handle, cut into quarters (remove any seeds) and place in food processor. Add the zest of another orange and process until smooth.

In a small saucepan, melt coconut oil. Set aside to cool slightly. In a large bowl, whisk together flours, stevia and salt. Add ½ cup of cranberries.

Separate the eggs, placing the whites in a medium-sized bowl. Set aside.

Combine yolks in another bowl with melted coconut oil and ½ cup of the orange mixture. Whisk to combine. Add egg yolk mixture to the large bowl with the flour, and whisk until batter is smooth without any lumps.

Using a mixer, beat egg whites until they form soft peaks.

Stir baking soda into the dough batter and, using a rubber spatula, immediately beat in one third of the whipped egg whites. Gently fold in the rest of the egg whites.

Pour batter into prepared 6-inch baking dish for a tall, single-layer cake, or a 9-inch baking dish for a shallower cake with a larger diameter. Sprinkle remaining ½ cup of cranberries on top (reserve a few for topping the final cake).

Bake for 35-40 minutes, until a skewer inserted in the middle comes out clean.

Meanwhile, make powdered stevia for topping: Place all ingredients in a high speed blender. Pulse until formed into a powder.

Remove cake from oven and leave to rest for 5 minutes, then run a sharp knife along the edge, remove outside ring and transfer cake onto a cake stand.

Let cool completely before dusting with powdered stevia and topping with remaining cranberries.
Video
Notes
I buy my stevia and flavored Flavorall stevia drops from Greeniche. Their products are affordable, tasty and clean.
Full disclosure: I received monetary compensation in exchange for this post. However, I am proud to only work with those companies and brands whose products I truly love. And as always, all opinions expressed here are my own; you can always expect me to be honest with you guys!
To stay on top of what I'm eating and cooking these days, follow At the Immigrant's Table on Facebook, Instagram, Pinterest, Bloglovin', or Twitter - and now, YouTube! Subscribe to my mailing list, or contact me about advertising and becoming a sponsor. If you make one of my recipes, don't forget to tag it #immigrantstable @immigrantstable!