Roasting brings out deep flavour in these marinated peach salmon skewers, interspersed with red onion and served with a perky, spicy basil peach jalapeno crema. A fresh and simple dish that will make you feel like spring any time of the year!
This post is a partnership with California Cling Peaches, but all opinions expressed here are my own. Please consider supporting the brands that make this blog possible.
Since first adding fish to my diet three years ago, water creatures became an inseparable part of my eating habits. I love me some rare tuna steaks on an Asian-inspired salad, raw oysters served with a mignonette sauce and a delicate champagne flute, and perfectly grilled, gluten-free fish tacos.
I can eat candied salmon by the handful, put bonito flakes on pretty much everything, and think that every bad day can be improved with a bowl of ceviche.
But I am ashamed to say that in my most basic iteration, I also love a well-cooked, perfectly blistered serving of salmon.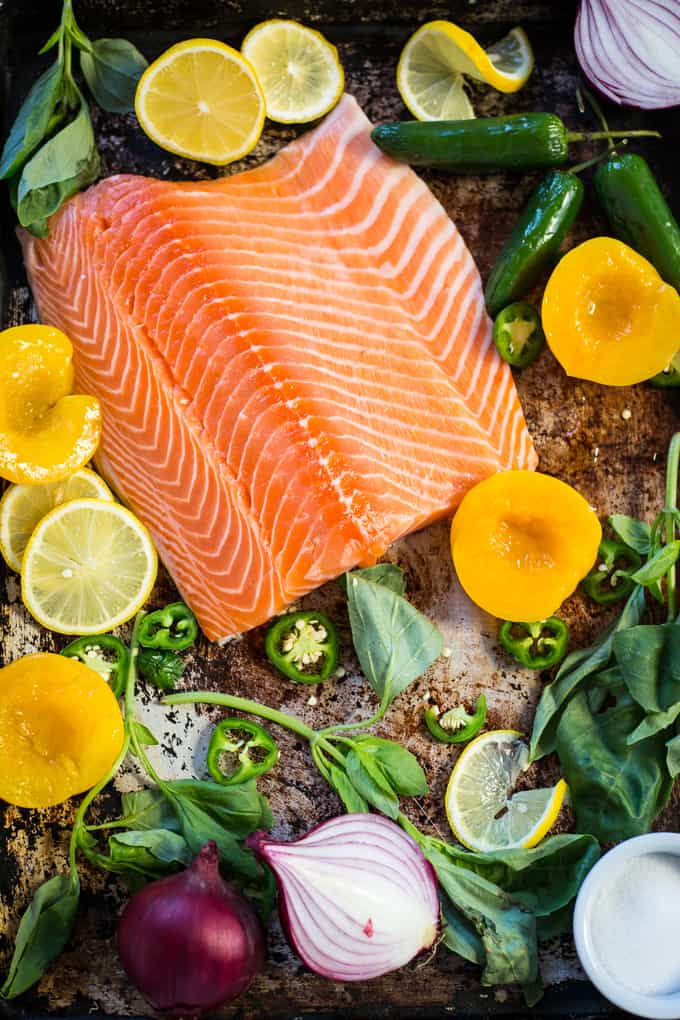 Salmon gets a bad rep; if not served raw in a fancy sushi roll, it is relegated to the outskirts of foods-that-induce-boredom, doomed forever to begrudgingly receive an entry on the fish section of all menus… Only to satisfy those diners who aren't adventurous enough to try mackerel, raw tuna or monkfish liver. It is often overcooked to the point of dryness, its centre as brittle and crisp as though it has spent a month tanning itself in the Mojave Desert. Chefs hate serving it, and diners under the age of 50 rarely order it.
That's what first made me think of pairing it with canned peaches. Anyone who's been reading my blog for a few years knows that I love a good serving of California cling peaches (most canned peaches you will find in North America are California cling peaches). The canning process of peaches has been proven to increase key nutrients including Vitamin A, Vitamin C and folate. They are perfectly sweet, often packaged in their own juices. And, perhaps most surprisingly, according to a study by the Linus Pauling Institute at Oregon State University, canned peaches are actually higher in antioxidants and Vitamin A and are nearly four times higher in Vitamin C and 10 times higher in folate than fresh (or frozen) peaches. So like salmon, canned peaches are actually much more interesting, and beneficial, than we have come to believe.
When done right - sustainably caught, in season, off the coast of beautiful Alaska or B.C., cooked briefly on high temperature so that its outside seize but the inner flesh remains barely cooked, gently quivering and full of flavour - salmon is a beautiful thing, fatty and aromatic and good enough to serve to your favourite person. And when paired with juicy canned California cling peaches, spicy jalapeno, zesty red onions and aromatic basil, it is a downright delicacy. California cling peaches are picked and packed in their own juices, usually within 24 hours to ensure they retain their appearance, texture, flavour and nutritional content. Joined by fresh wild salmon, it is a simple meal bursting with freshness, even in the dead of winter.
In our house, salmon is the one fish we can agree upon. It isn't too fishy tasting, yet still interesting enough to satisfy the very different palettes of a vegetarian Russian Israeli and a meat-loving Colombian. And believe me that when I served these peach salmon skewers with peach jalapeno crema, not a fleck was left on the plate.
Peach salmon skewers with peach jalapeno crema are a rare treat that is worthy of a special occasion, but comes together in no time at all (for another easy skewer recipe, try my chicken kofta kebabs).. Make yours today to bring a taste of spring into your home, regardless of how much snow actually remains on the ground outside.
Full disclosure: I received monetary compensation in exchange for this post. However, I am proud to only work with those companies and brands whose products I truly love. And as always, all opinions expressed here are my own; you can always expect me to be honest with you guys!
Recipe