Inspired by Persian cuisine, this sweet and sour whole fish recipe roasts sea bass with pomegranate molasses, Persian apricots & fresh herbs.
Inspiration
My mother's fish recipes are legendary around these parts. In fact, due to her inclusion in a recipe compilation by Anu Museum of the Jewish People, she is now known throughout Israel as Dr. Fish. But to our family, no dish is more associated with my mom than her roasted whole fish.
My mother will espouse the benefits of roasting whole fish rather than fillets to anyone. She talks about the flavorful meat, how well it retains flavor and moisture, and how much easier it is to make (or screw up) than baking fish filets. After overcoming a childhood experience of almost choking on a fish bone, she is not the biggest proponent of cooking fish on the bone.
Yet many people, my husband included, remain unconvinced, deterred by their fear of taking apart the whole fish or choking on an errant bone. But I'm here to tell you that there's truly nothing easier than cooking, and eating, a whole roasted fish!
Whole fish roasted with pomegranate molasses, fresh herbs and tangy, sweet dried fruit comes out fragrant, moist, and incredibly delicious. Inspired by traditional Persian cooking, it's one of my favorite fish preparations, and we make it for Rosh Hashana every year!
About the Recipe
Whole fish with pomegranate molasses is a delicious and healthy dish that is easy to prepare. This recipe typically involves roasting a whole sea bream fish with various fresh herbs and seasonings, including mint and pomegranate molasses, which give the dish a unique and tangy flavor.
First, start by purchasing a clean and descaled saltwater whole fish like sea bream, fresh or frozen. Then, brush the fish with pomegranate molasses, season with spices and seasonings such as coriander, cumin, and olive oil, and stuff it with herbs and aromatics like lemon and rosemary. The fish is then topped with fresh herbs, surrounded by dried apricots or dates, and roasted in the oven until it is cooked through and the skin is crispy.
Whole fish with pomegranate molasses is a healthy and flavorful dish perfect for a special occasion or a weeknight dinner. It is high in protein, omega-3 fatty acids, and other essential nutrients, making it a great choice for those who are looking to eat a healthy and balanced diet.
It is also fancy enough for the Jewish celebration of Rosh Hashana, the Jewish New Year, when it is customary to serve fish with the head on for good luck,
What is pomegranate molasses?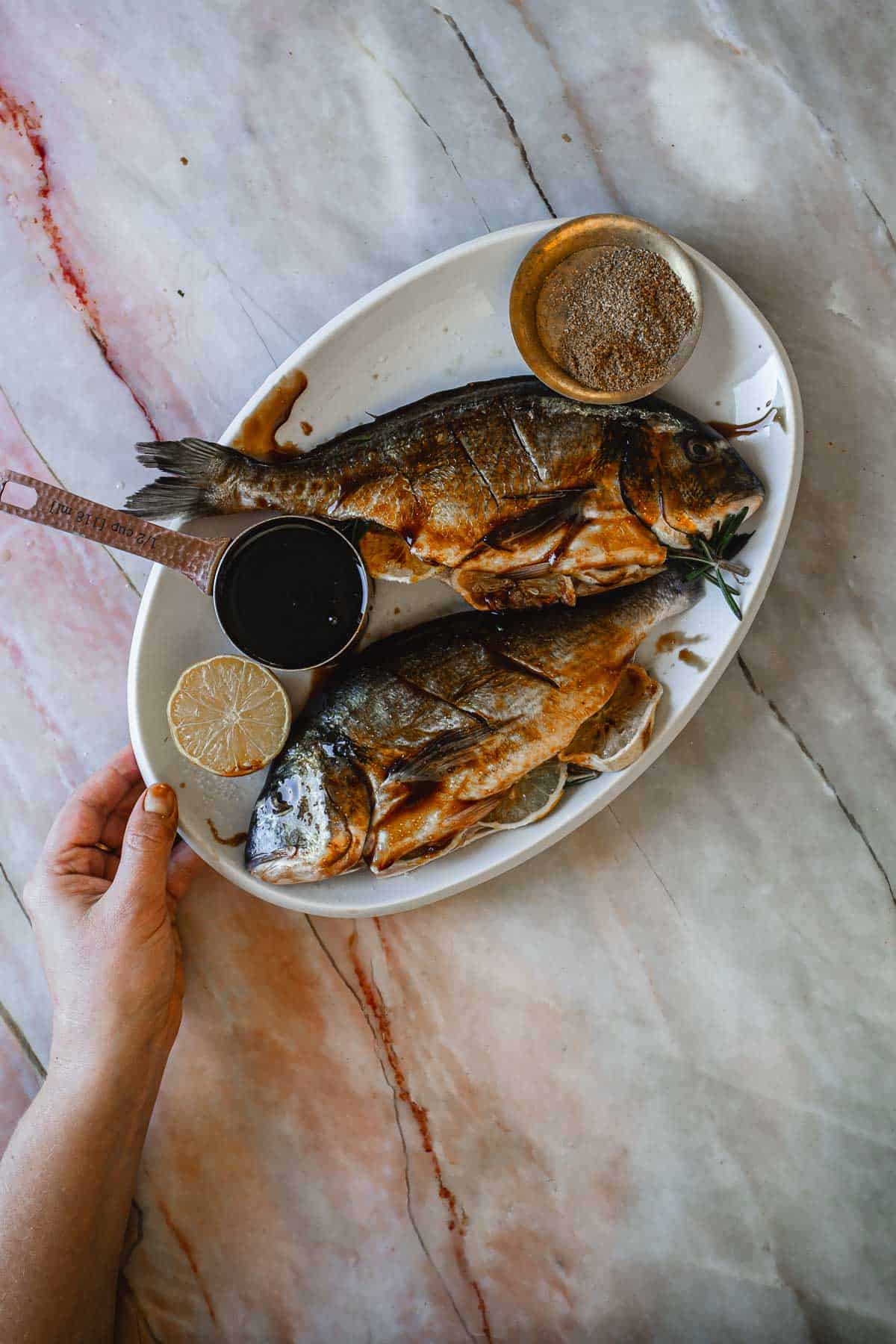 Pomegranate molasses is a thick, sweet, sour syrup made from pomegranate juice commonly used in Middle Eastern cuisine. It has a dark, almost black color and a consistency similar to that of molasses.
This unique syrup is a versatile ingredient that can be used in various dishes, from marinades and dressings to desserts and cocktails. You can purchase pomegranate molasses online, or make your own.
Ingredients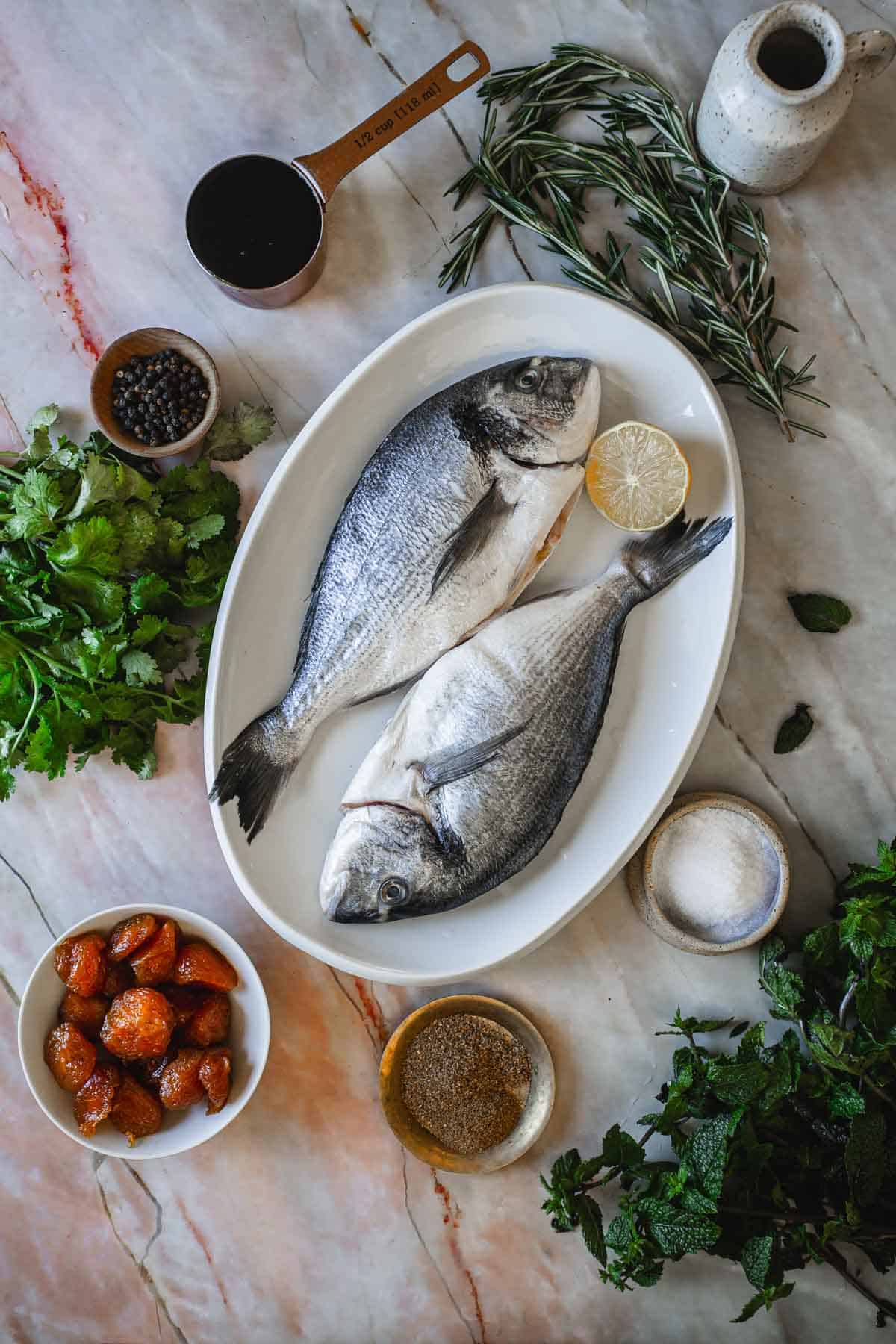 High-quality pomegranate molasses - Substitute with regular pomegranate molasses or reduce regular pomegranate juice until thickened.
White sea bream fish, whole and gutted - Alternatively, use meagre, grouper, or sea bass, or any other white saltwater fish.
Salt & black pepper - Adjust these to taste.
Ground coriander - Gives the dish an earthy flavor.
Ground cumin - Compliments the coriander
Olive oil - Use a good Tunisian olive oil or Moroccan olive oil for the most authentic flavor. You can also substitute with vegetable oil or grapeseed oil.
Chopped cilantro - Substitute with parsley or basil for a different herb flavor.
Chopped mint leaves - Substitute with basil or parsley for a different herb flavor.
Rosemary sprigs - Optional, to season the flesh of the fish from inside.
Whole lemon - Essential for citrus flavor and for tenderizing the fish meat.
Bokhari apricots or dates - Substitute with any dried apricots or dates you choose. This ingredient augments the fish's sweet and sour flavor profile, and elevates the entire dish.
Step-by-step Guide
Preparing whole fish with pomegranate molasses will change your mind about cooking whole fish! Here's a step-by-step guide to make the dish:
Clean the fish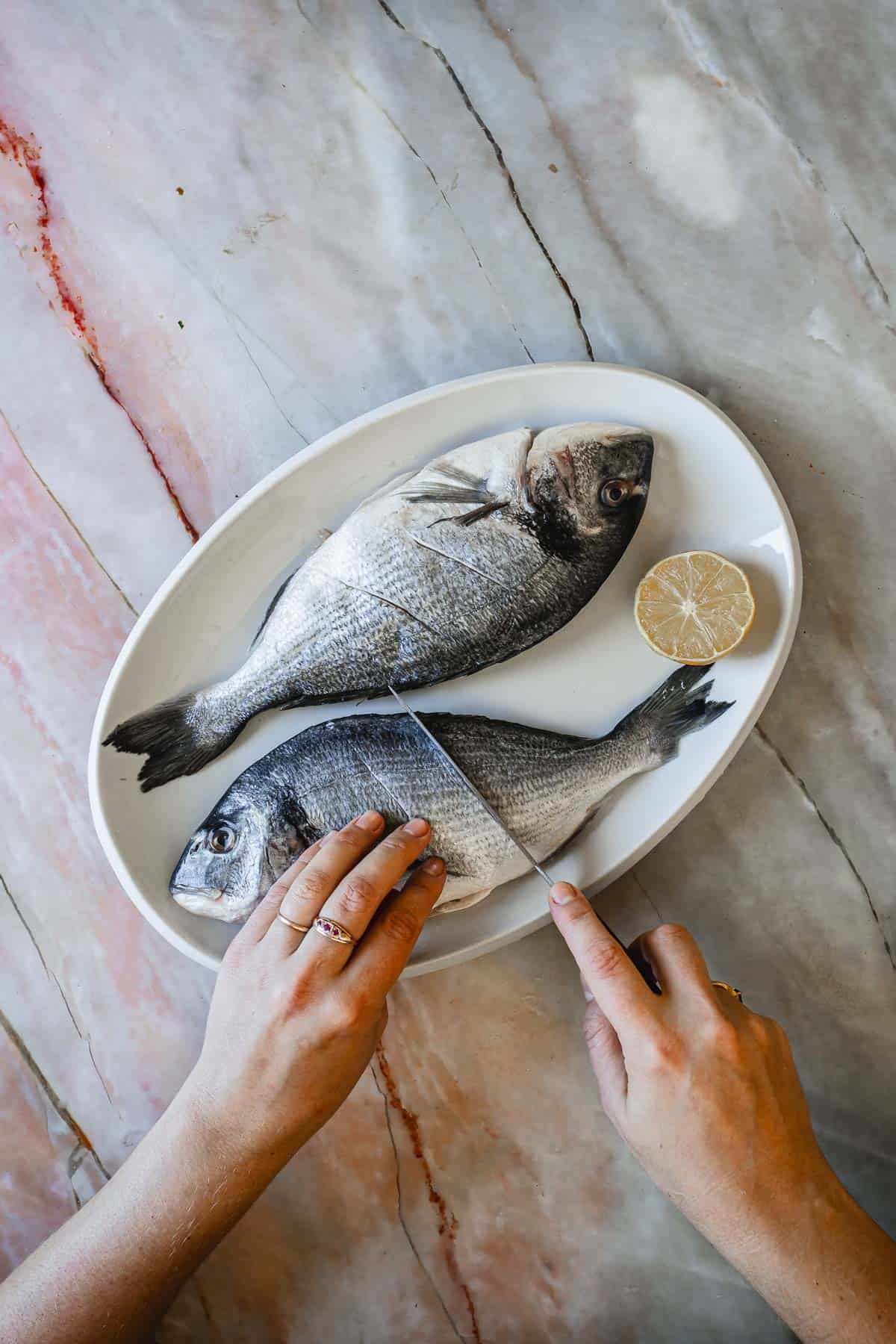 Rinse the whole fish under cold water and pat dry with paper towels. Remove the scales, gut the fish, and remove the gills. Trim the fins and tail if desired.
Season the fish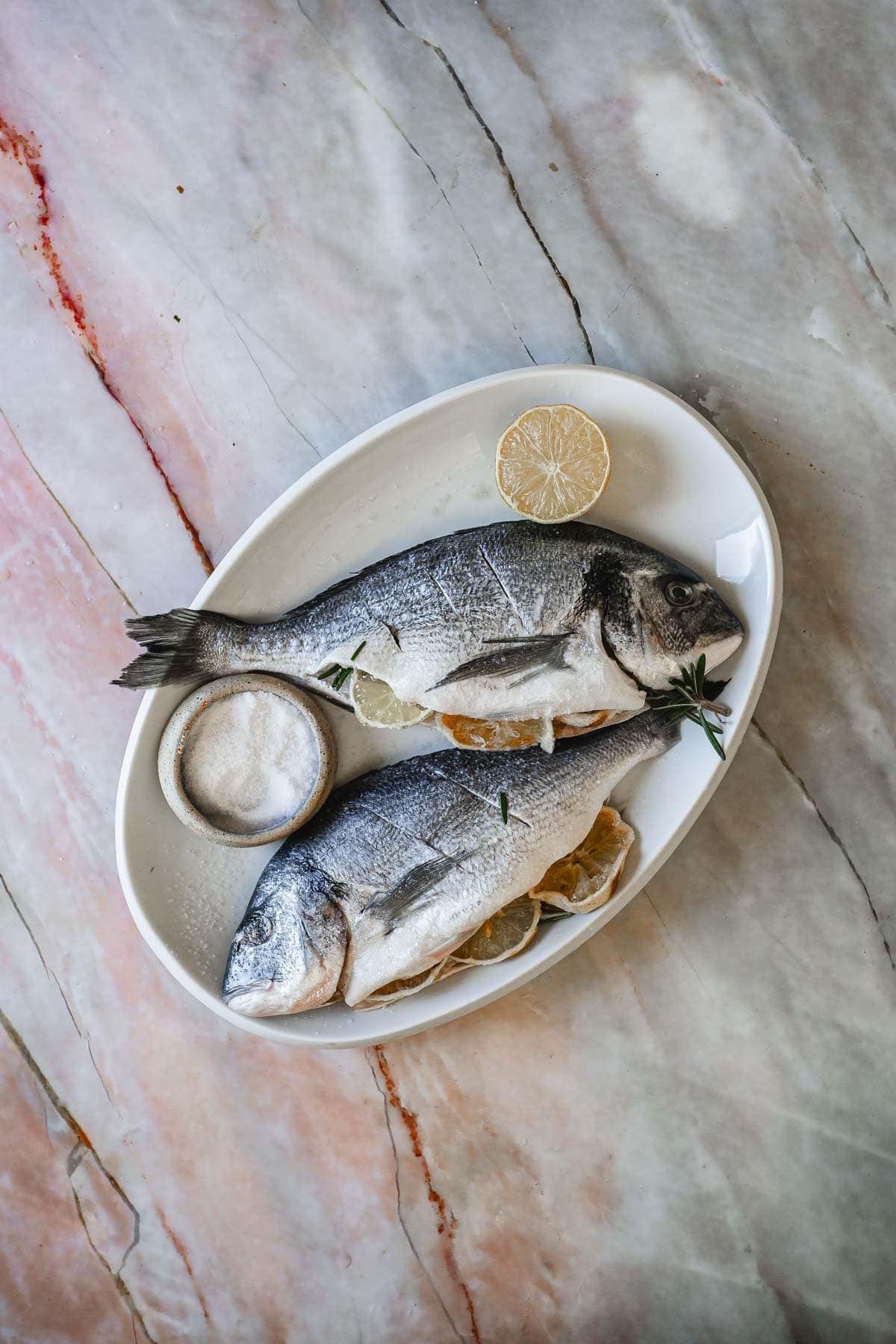 Rub the fish with salt, pepper, and any other desired spices. For a Middle Eastern flavor, use sumac, cumin, and coriander.
Make the glaze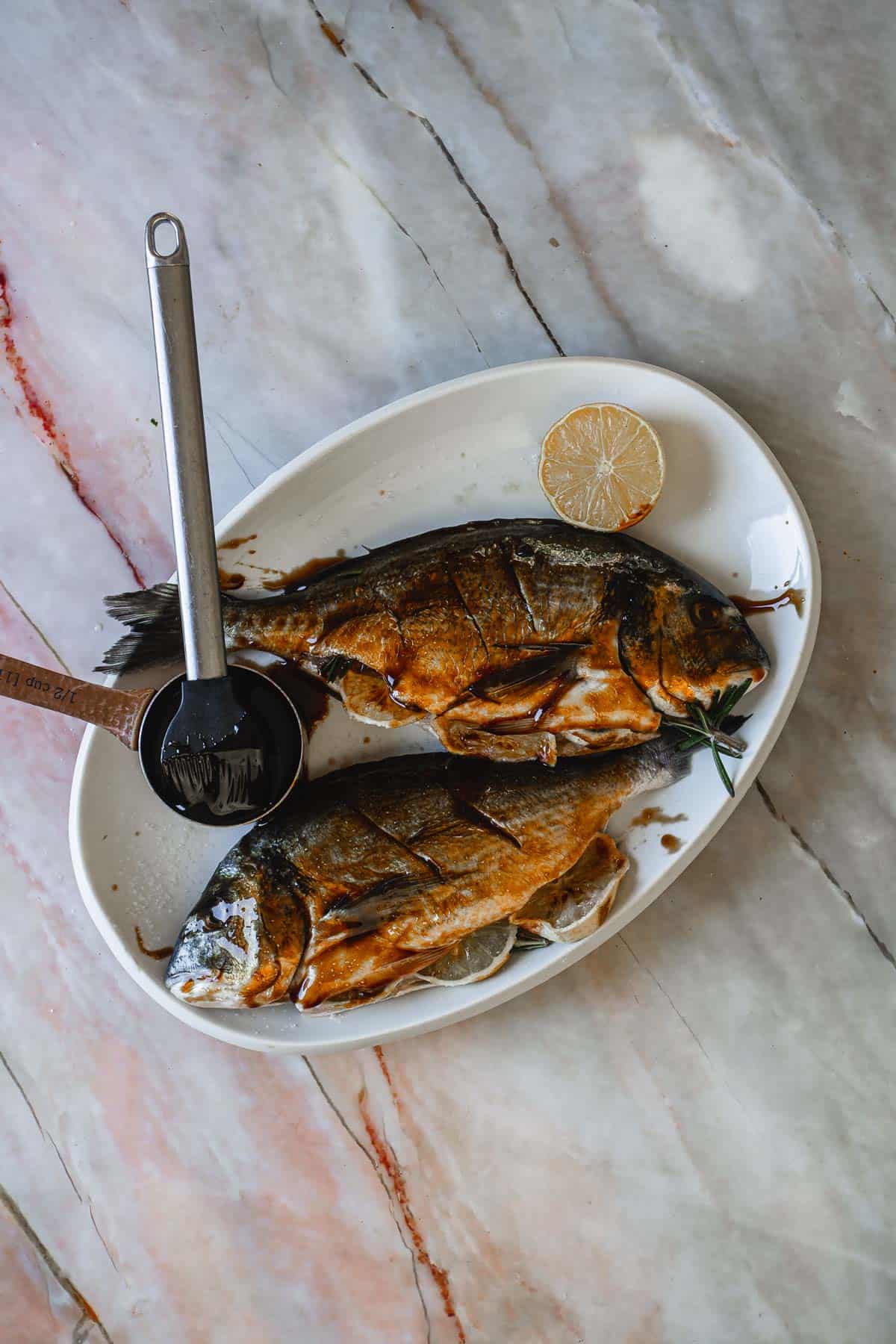 In a small bowl, whisk together pomegranate molasses, olive oil, garlic, and lemon juice. Adjust the seasoning to taste.
Brush the glaze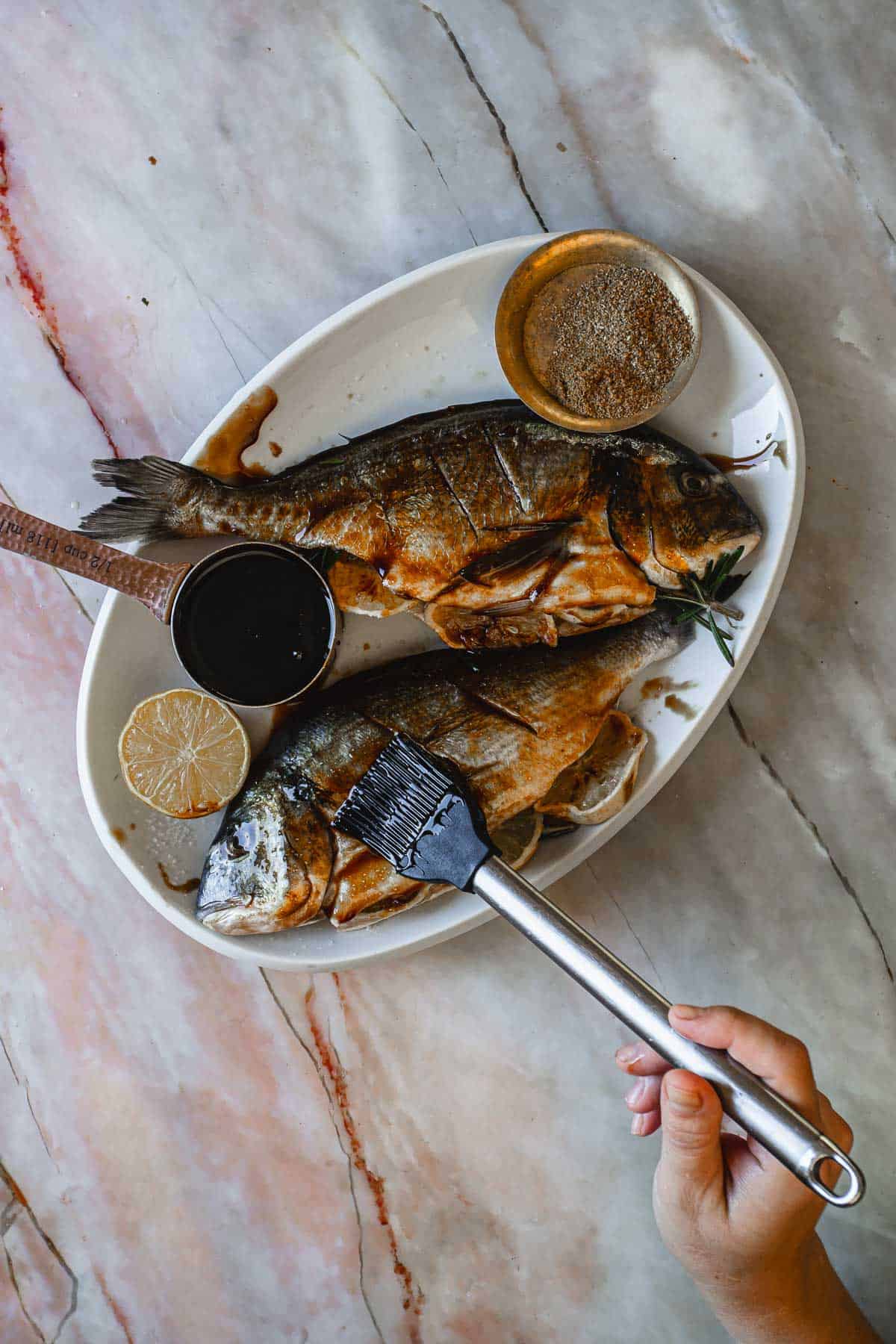 Brush the glaze over the fish, making sure to coat both sides. Reserve some of the glaze for basting.
Roast the fish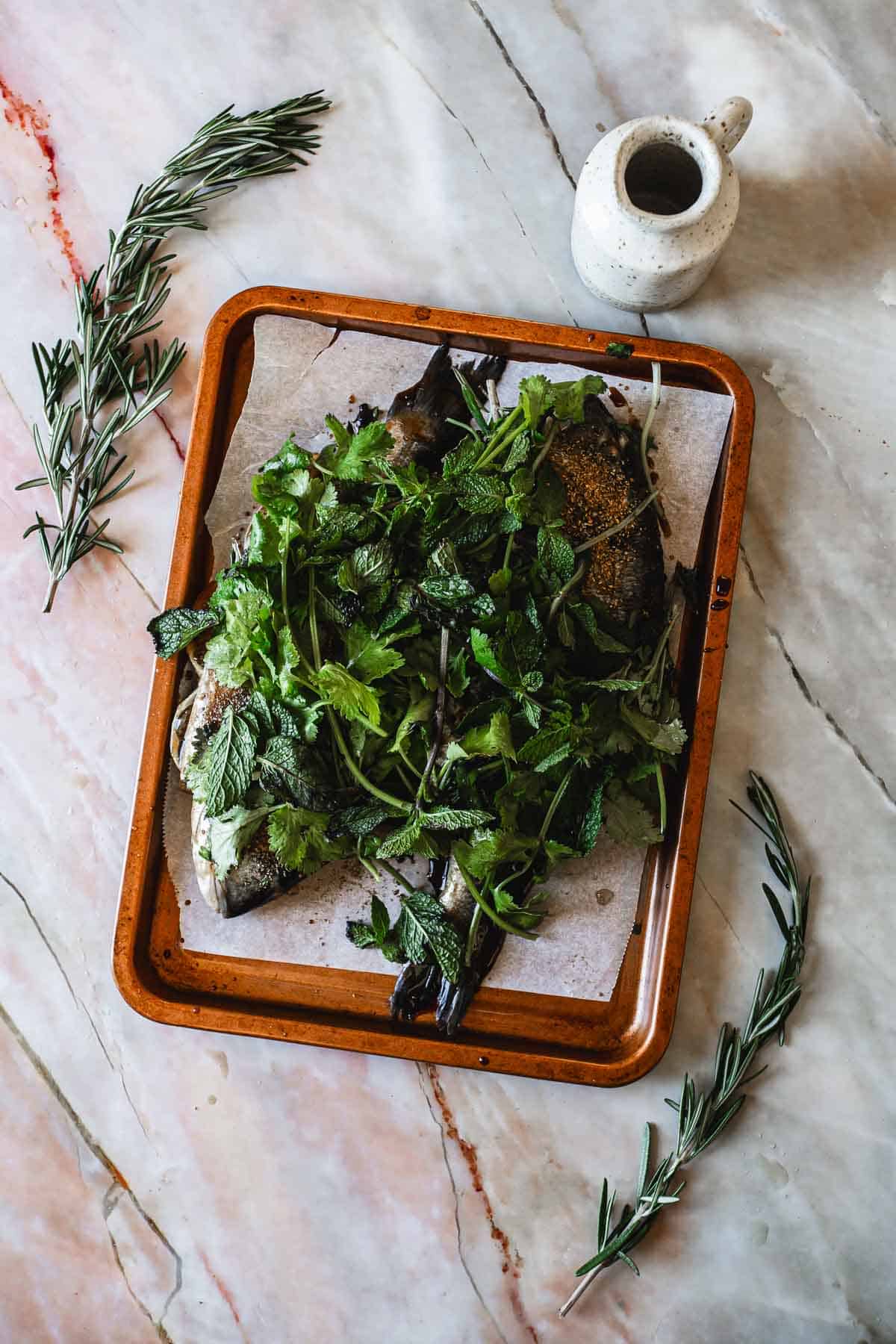 Preheat the oven to 400°F. Place the fish on a baking sheet lined with parchment paper. Roast for 20-30 minutes, depending on the size of the fish, basting with the remaining glaze halfway through.
Serve the whole fish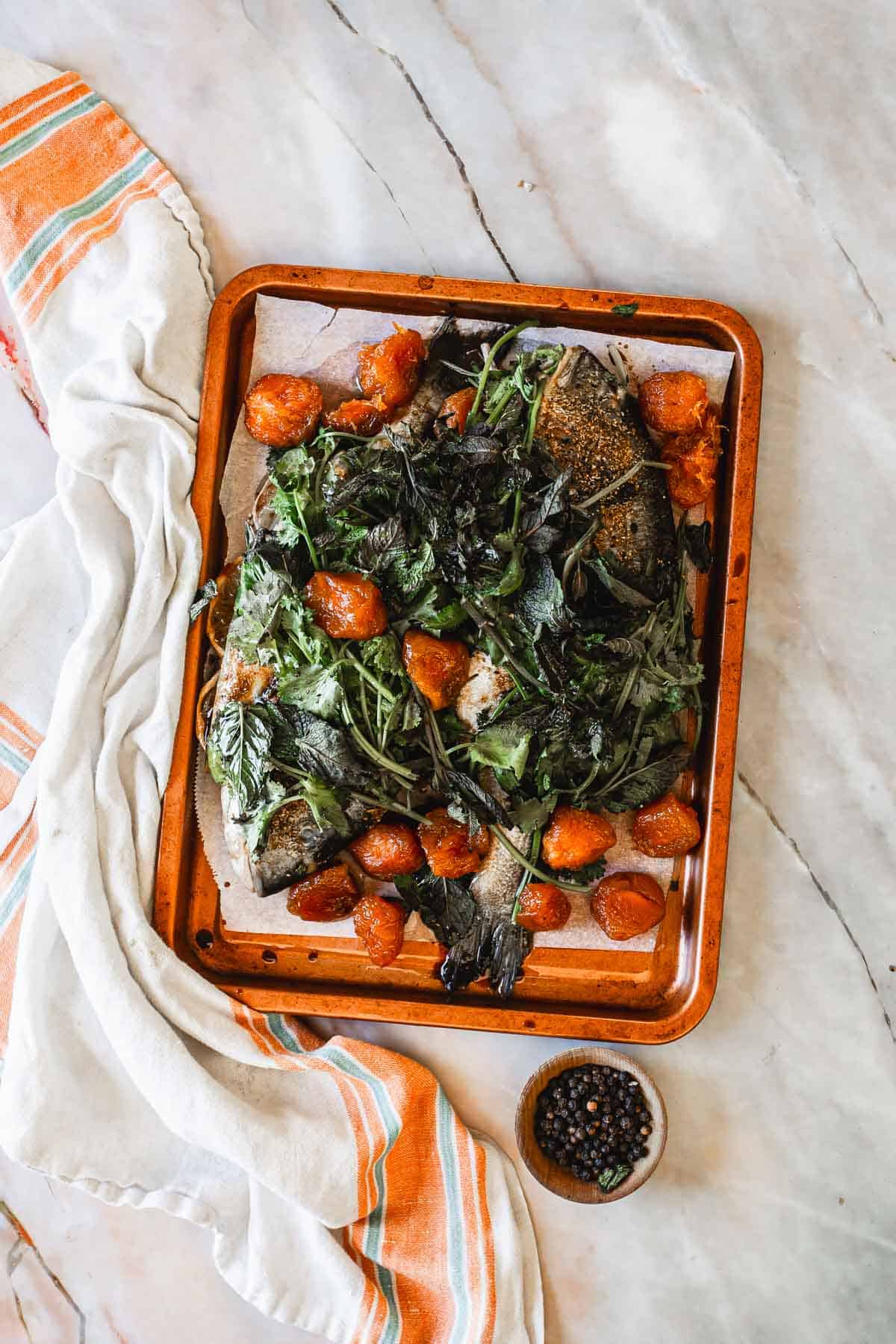 Once the fish is cooked, remove it from the oven and let it rest for a few minutes. Garnish with fresh herbs and pomegranate seeds if desired. Serve with a side of vegetables or rice.
Following these simple steps, anyone can make a delicious and healthy whole fish with pomegranate molasses.
Variations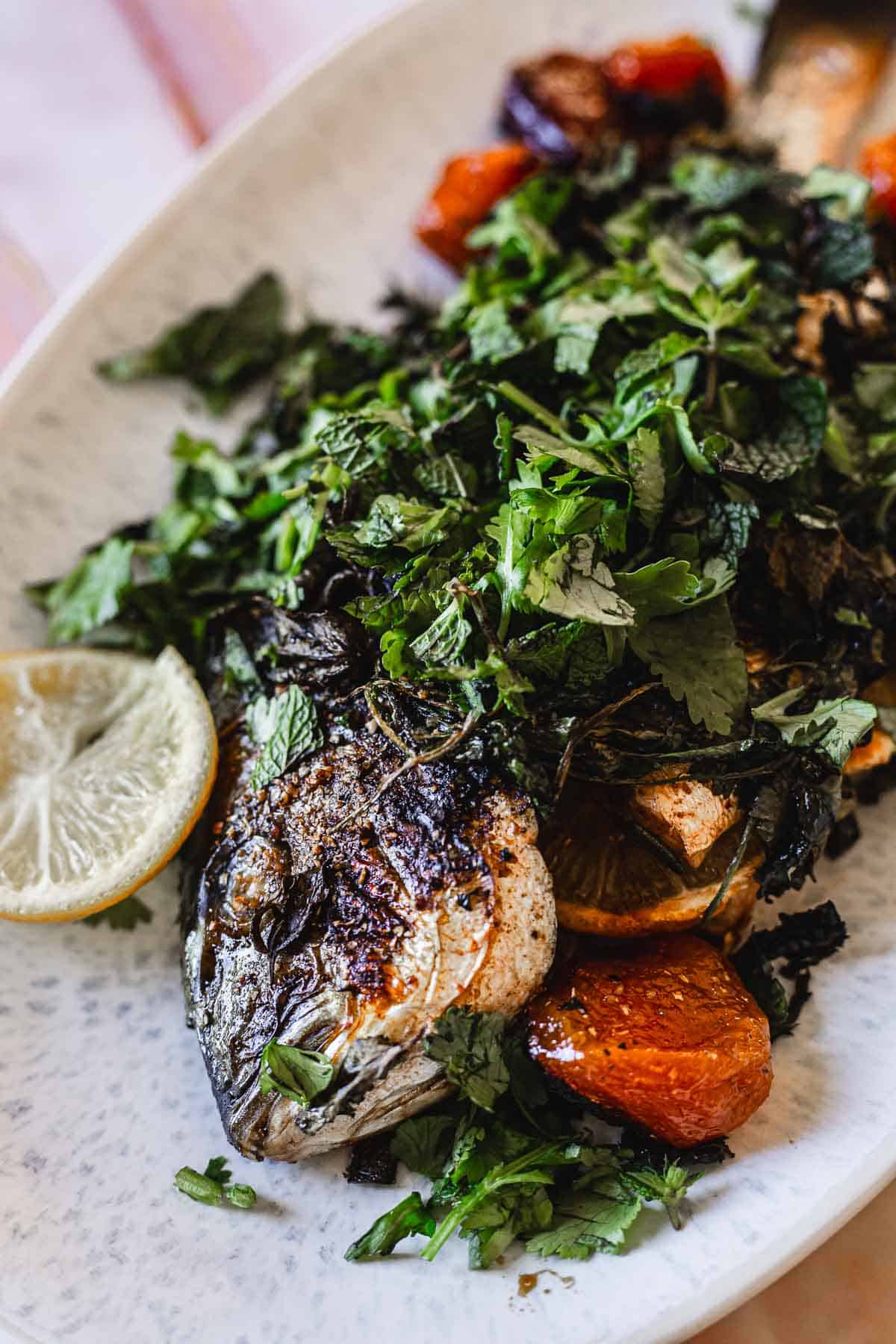 There are many ways to customize the Whole Fish with Pomegranate Molasses recipe to suit different tastes. Here are some variations to try:
Different Fish
While the recipe calls for snapper or bass, other types of fish can be used as well. For example, salmon or trout would work well with the pomegranate molasses glaze. Be sure to adjust cooking times accordingly based on the thickness of the fish.
Different Glazes
Pomegranate molasses is the star of this recipe, but other glazes can be used to add different flavors. For example, a honey-mustard glaze would add a touch of sweetness and tanginess, while a soy-ginger glaze would give the dish an Asian twist.
Different Herbs and Spices
The recipe calls for mint and cilantro, but other herbs and spices can be used to add different flavors. For example, parsley, thyme, or oregano would give the dish a Mediterranean flavor, while ginger or lemongrass would give it an Asian twist. When using tough herbs like lemongrass and thyme, ensure you use them inside the fish and not on the outside.
Top Tips
When it comes to cooking whole fish with pomegranate molasses, there are a few tips and tricks that can help you achieve the best results.

Choosing the Right Fish - First and foremost, it's important to choose the right type of fish for your recipe. Whole sea bream or bass are popular choices, but you can also use other types of fish like snapper, cod, or tilapia. Make sure to choose a fish that is fresh and of high quality.
Preparing the Fish - If you are really squeamish, feel free to remove the fish's head and tail.
Using Pomegranate Molasses - Pomegranate molasses is a key ingredient in this recipe, and it's important to use the right amount to achieve the perfect balance of sweet and tart flavors.
Cooking the Fish - When cooking the fish, it's important to use a high temperature to ensure that it cooks evenly and develops a crispy skin. You can also use a sheet pan or roasting pan to cook the fish, which can help to keep it moist and tender.
Serving Suggestions
This whole fish with pomegranate molasses is a great option for a dinner party or a special occasion. It's easy to prepare, yet impressive and full of flavor.
For a complete meal, pair it with one or two of these serving suggestions:
Roasted vegetables: Serve the fish with a side of lemon roasted vegetables. Roasted carrots, zucchini, or bell peppers can also make for a great accompaniment.
Pearl couscous: A side of pearl couscous (also known as Israeli couscous) pairs well with the sweet and tangy flavors of the pomegranate molasses. Bulgur salad makes for another great option.
Salad: A light and refreshing salad with pomegranate seeds can balance out the richness of the fish.
Tahini sauce: Whip up a quick tahini sauce to serve alongside the fish. You can also make a quick herb sauce by blending chopped herbs like mint, parsley, and cilantro with olive oil, lemon juice, and a pinch of salt.
Pomegranate seeds: Sprinkle some fresh pomegranate seeds over the fish for added texture and a pop of color. The seeds also complement the pomegranate molasses in the dish.
Serve Whole Fish for Rosh Hashana
Serving a whole fish with pomegranate molasses for Rosh Hashanah, the Jewish New Year, is a great choice for both its symbolism and flavors.
In Jewish tradition, fish symbolizes abundance and fertility, making it an auspicious dish for welcoming a prosperous year ahead. The pomegranate molasses not only adds a sweet and tangy depth of flavor to the dish but also holds significance as pomegranates are one of the seven blessed fruits of Israel, representing prosperity and the sweetness of life. This harmonious combination embodies the hope for a fruitful and joyous year.
Additionally, the visually striking presentation of a whole fish is a testament to the wholeness and unity of the community coming together to celebrate the holiday. It's a meaningful and delicious way to share blessings and good wishes during this important occasion.
Tried and loved this recipe? Please leave a 5-star review below! Your reviews mean a lot to me, so if you've got any questions, please let me know in a comment.
FAQs
What are some other sauces that pair well with fish?
Fish is a versatile protein that can be paired with various sauces. Some popular options include lemon butter sauce, garlic butter sauce, and tartar sauce. Chimichurri sauce, made with parsley, garlic, and vinegar, is also a great option for grilled or roasted fish.
What are some Middle Eastern dishes that use pomegranate molasses?
Pomegranate molasses is a staple ingredient in Middle Eastern cuisine. It is often used in marinades, dressings, and sauces. Some popular dishes that use pomegranate molasses include Fesenjan, a Persian stew made with chicken or lamb, and Muhammara, a dip made with roasted red peppers, walnuts, and pomegranate molasses.
Can pomegranate molasses be used as a meat tenderizer?
While pomegranate molasses does not have the same tenderizing properties as traditional meat tenderizers, it can help to add flavor and moisture to meats. When used in marinades, the acidity in pomegranate molasses can help to break down the proteins in meat, resulting in a more tender and flavorful dish.
What does pomegranate molasses taste like?
Pomegranate molasses has a sweet and tangy flavor with a slight bitterness. It is often compared to balsamic vinegar or tamarind paste. The consistency is thick and syrupy, similar to a reduction sauce.
Recipe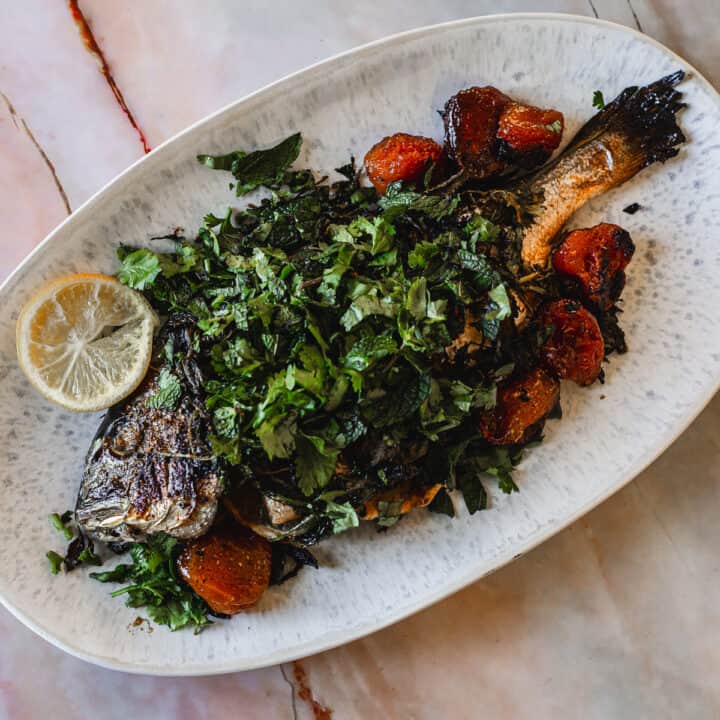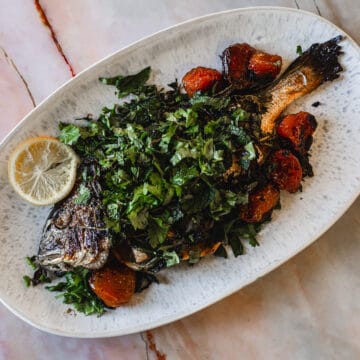 Pomegranate Molasses Whole Fish Recipe
Inspired by Persian cuisine, this sweet and sour whole fish recipe roasts sea bass with pomegranate molasses, Persian apricots & fresh herbs.
Ingredients
¼

cup

high-quality pomegranate molasses

1

lb

white sea bream fish

whole and gutted (alternatively, use white saltwater fish like meagre, grouper, or sea bass)

Salt

Freshly ground black pepper

2

teaspoons

ground coriander

1

teaspoon

ground cumin

3

tablespoons

olive oil

½

cup

chopped cilantro

¼

cup

chopped mint leaves

2

sprigs rosemary

1

whole lemon

½

cup

Bokhari apricots or dates
Instructions
Preheat your oven to 400°F / 200°C.

Place the whole gutted fish in a greased baking pan. Using a sharp knife, make 3-4 cuts on each side of the fish.

Season the fish generously with salt and black pepper both inside and out, from head to tail.

Brush the fish with the pomegranate molasses, then sprinkle the ground coriander and cumin evenly over the fish. Drizzle the olive oil on top.

Add about two-thirds of the chopped cilantro and mint on top of the fish.

Place the lemon sprigs on and around the fish, and squeeze the juice of the whole lemon over it.

Scatter the Bokhari apricots or dates around the fish.

Roast the fish in the preheated oven for approximately 18 minutes if your fish weighs up to 1.5 lb / 700 grams. Adjust the roasting time for larger fish as needed.

Once cooked, sprinkle the remaining chopped cilantro and mint on top of the fish.

Serve your pomegranate molasses whole fish hot and enjoy!
Nutrition
Serving:
1
g
Calories:
598
kcal
Carbohydrates:
49
g
Protein:
48
g
Fat:
26
g
Saturated Fat:
4
g
Polyunsaturated Fat:
3
g
Monounsaturated Fat:
17
g
Cholesterol:
113
mg
Sodium:
126
mg
Potassium:
1103
mg
Fiber:
6
g
Sugar:
35
g
Vitamin A:
566
IU
Vitamin C:
32
mg
Calcium:
94
mg
Iron:
4
mg
Tried this recipe?
Comment + Rate Below!
Connect on Instagram!
Find us @immigrantstable