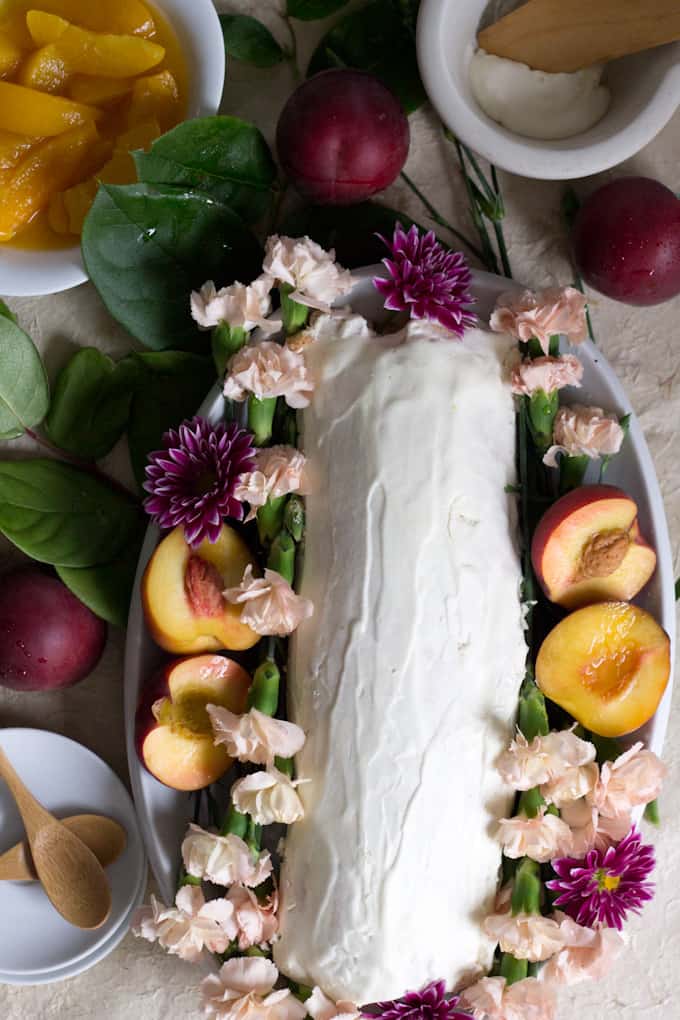 This gluten-free peach Swiss roll cake is beautiful and special and oh-so-quaint, like a blast from the past making its way into modern life.
This post is a partnership with California Cling Peaches, but all opinions expressed here are my own. Please consider supporting the brands that make this blog possible.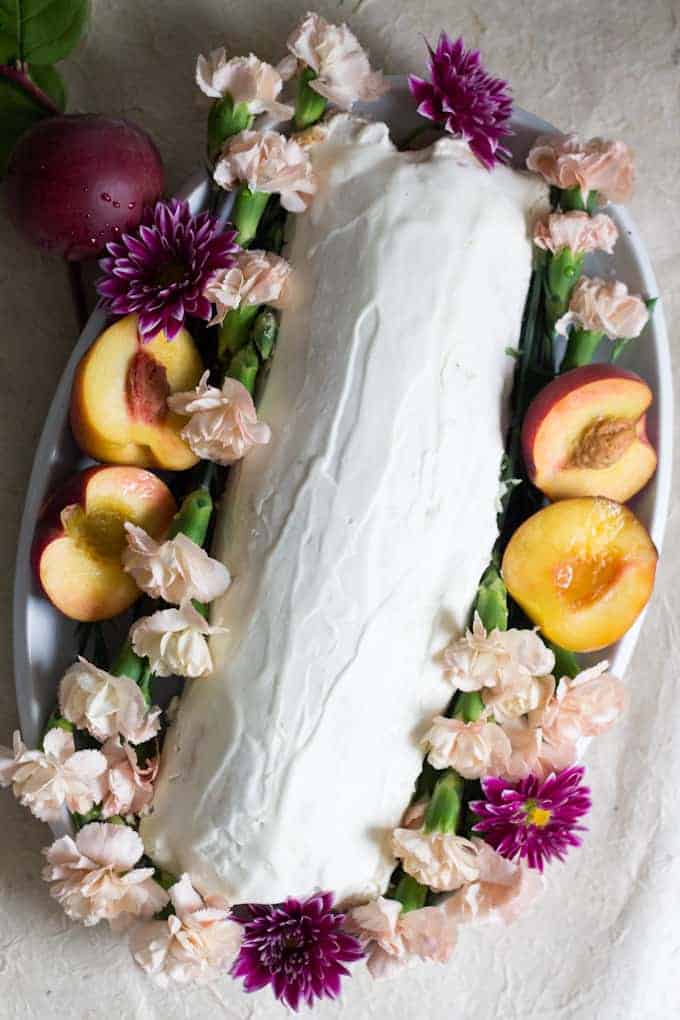 "I don't have anything to eat," she'd start by saying, getting up slowly on her way to the fridge. "If I had known you were coming, I would have prepared something."
Her tall body now bent in new places, my grandmother would then walk slowly to the fridge, opening its door. Looking inside intently as though peering into a new, unfamiliar reality, she would move some jars around, taking out others. Slowly, a feast would present itself on the little coffee table – homemade marinated mushrooms, pickled peppers, blintzes with cheese. Tea, always boiling hot and with a side of lemon.
And eventually, the cake – for there was always some – resplendent in its vision of cream and spongy layers, fruit or jam or a homemade confiture hiding amidst its folds. Our favourite was the peach swiss roll cake, in which the humble canned peach was turned into a blushing starlet, capturing the starlight all in its own right. It was beautiful and special and oh-so-quaint, like a vision from the '80s making its way into modern life.
My sister and I would grab our forks and dig in, smearing our face with cream and peach chunks within seconds. Not caring about burning our lips on that boiling hot tea. Not caring about anything except that taste, the here and the now.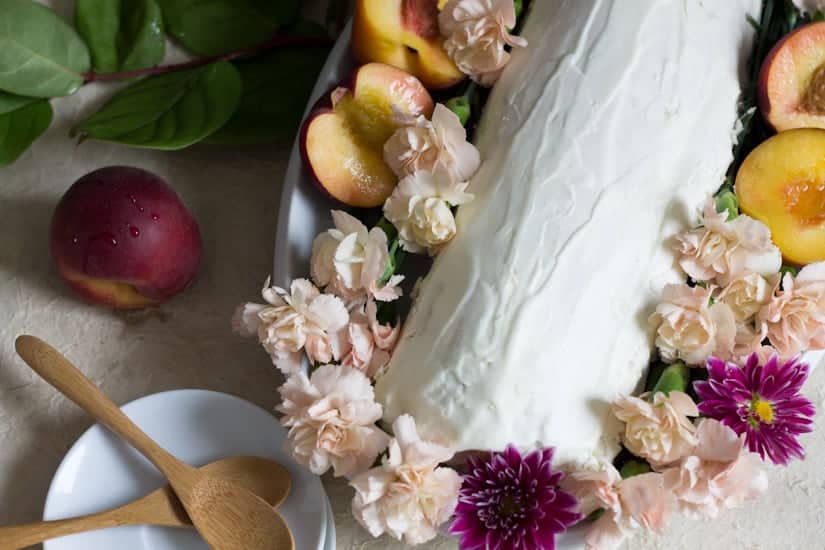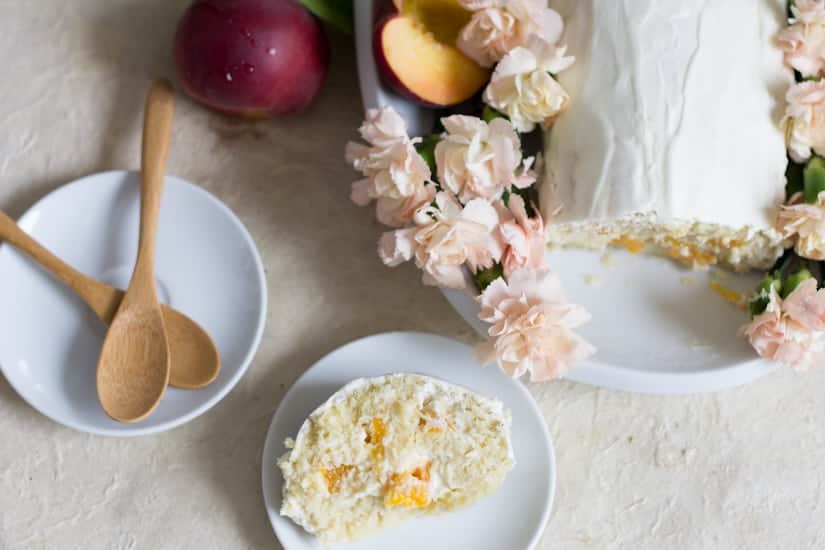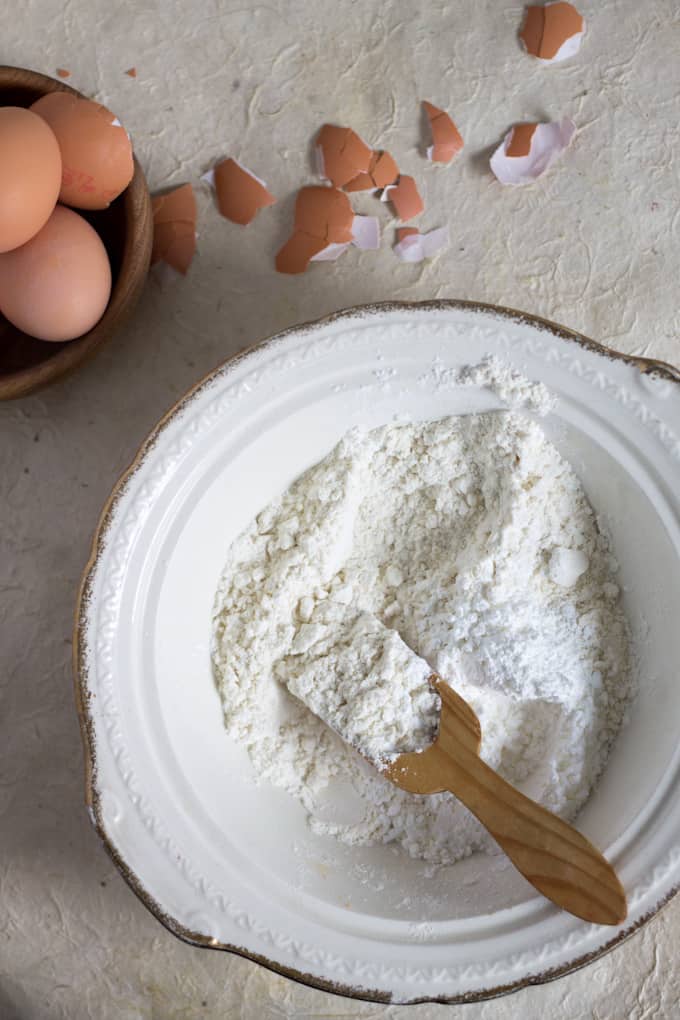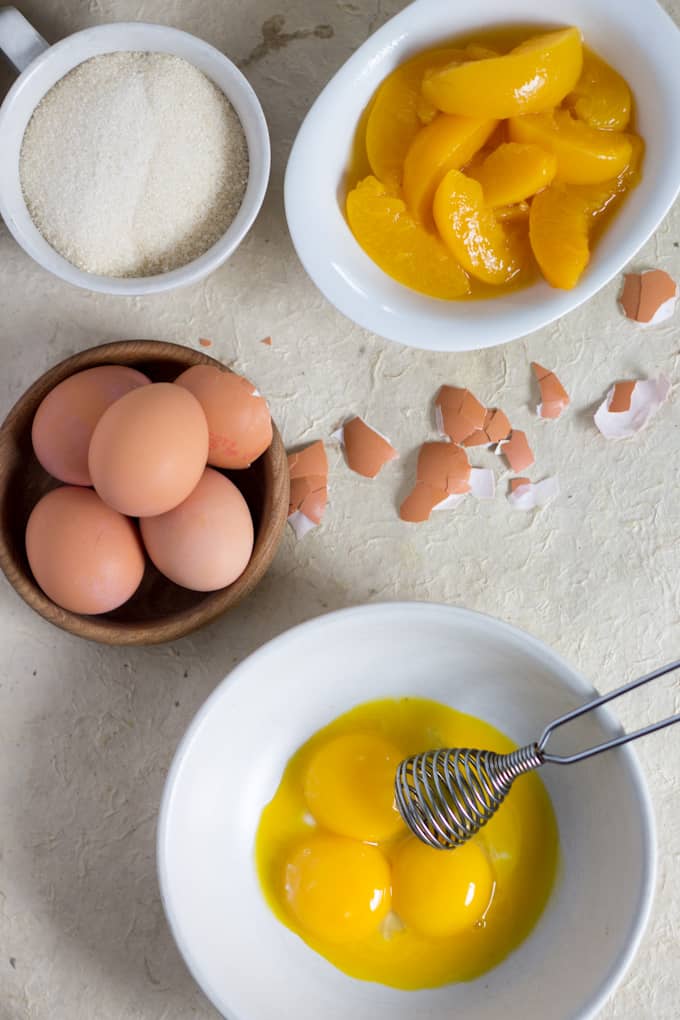 I had almost forgotten about that peach Swiss roll cake until about a year ago, when I came across a vintage copy of a classic Israeli cookbook, Jewish Holiday Cakes by Chana Shaulov. Full of exactly the sort of boring, messy food photos you would expect from an '80s mega hit cookbook, the book is nonetheless a treasure trove of Jewish classics recipes like cheesecake with egg whip, poppy-seed cake, dried fruit shtrudel and six (!!!) different recipes for sufganiyot.
But what caught my attention was the book's cover. On it was my grandmother's peach swiss roll cake, resplendent in all its whipped cream glory. And from the moment I laid my eyes on this, I knew I had to recreate it in gluten-free form.
Sadly, it's taken me about a year to get around to doing so. But now, armed with a can of organic California Cling Peaches, my grandmother's recipe and Chana Shaulov's book for reference, I knew I had what it takes to tackle this project.
The results far surpassed my expectations. This cake is a dream to make, requiring minimal work and very few ingredients. The gluten-free version is as close to the original as you can get, producing a light, airy sponge. And the filling? It's a cinch, a child's wet dream of whipped cream and juicy, plump California Cling Peaches.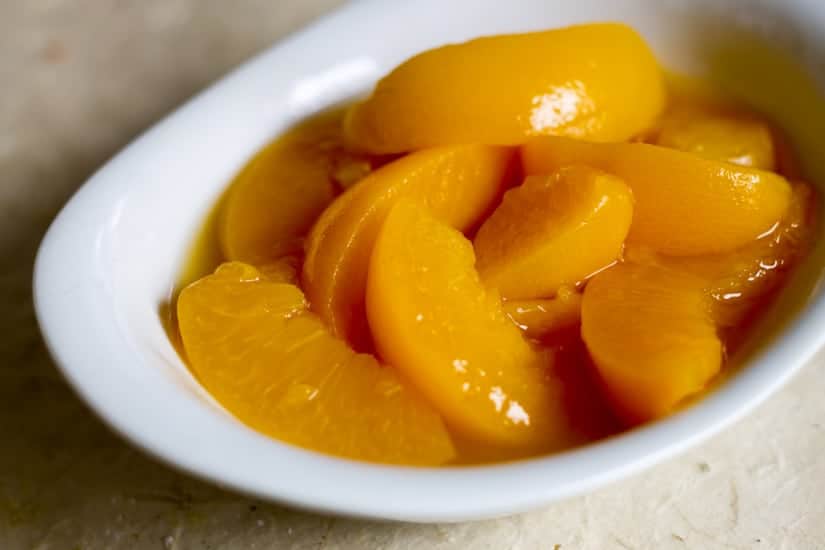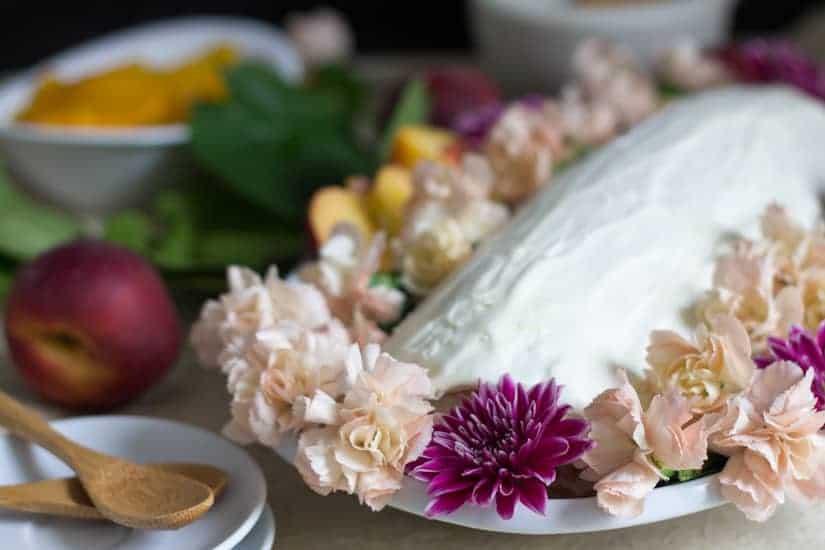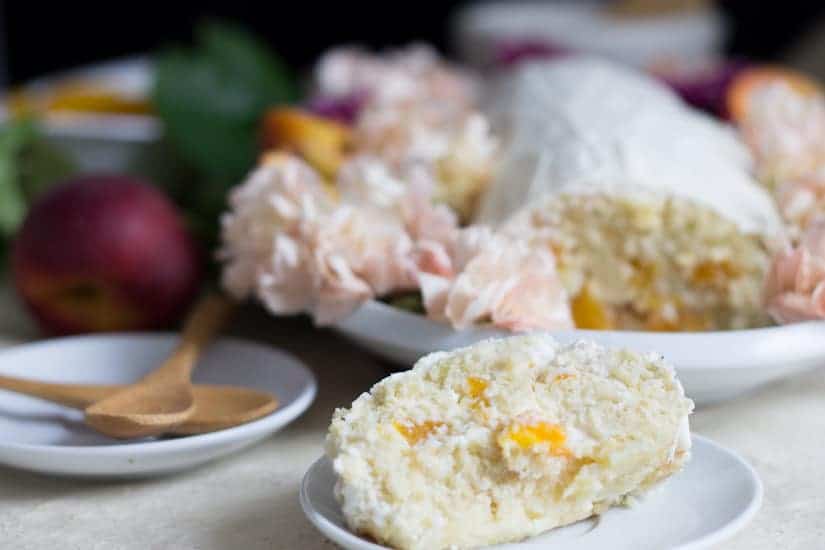 And using canned peaches, I had no need to soak them in syrup to soften as you would need to with fresh fruit: they were already soft and pliable and incredibly delicious. California cling peaches are picked and packed in their own juices, usually within 24 hours to ensure the best flavour, texture and nutritional content. And without any preservatives, it's a much better to get that peachy flavour in the midst of winter than buying some peaches flown all the way from Peru.
It was also a much easier and cheaper way to experience the taste of my grandmother's kitchen than flying all the way to Israel just for a bite of peach swiss roll cake.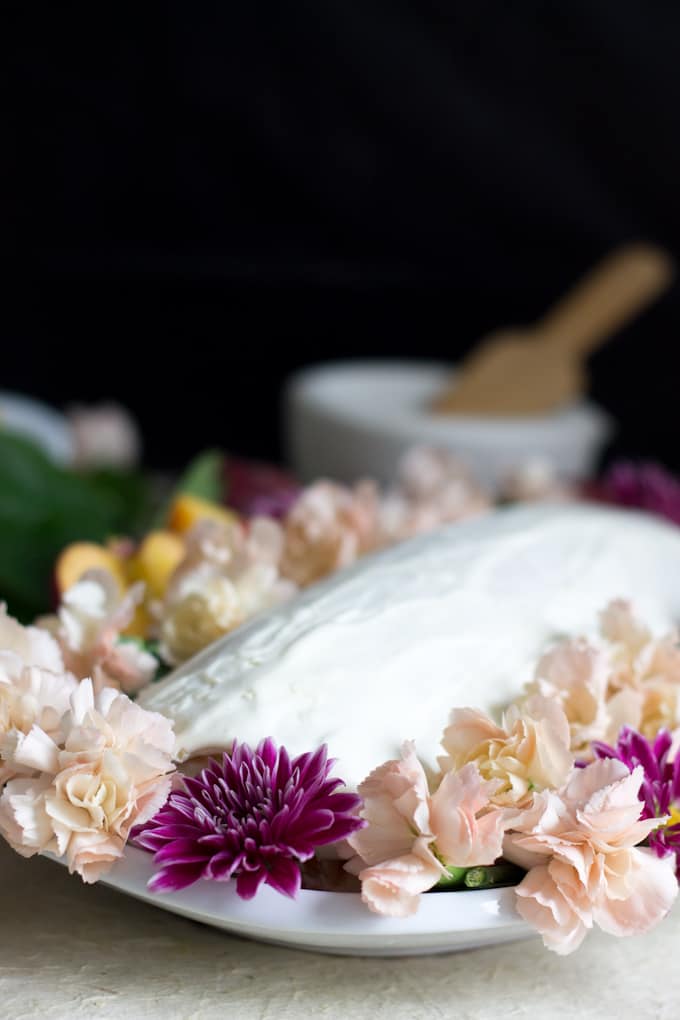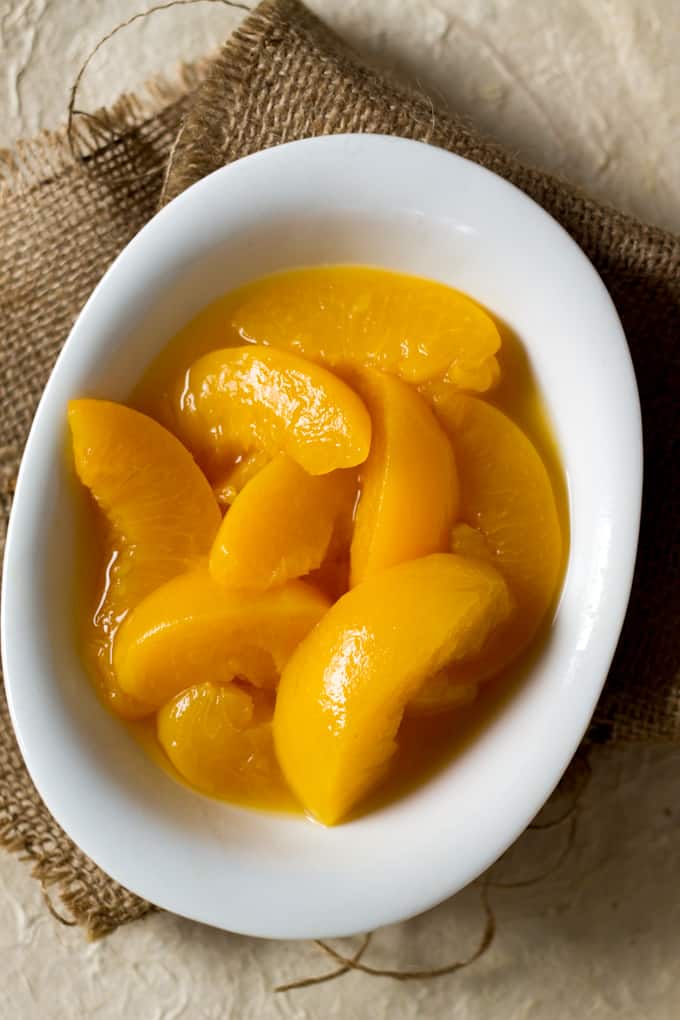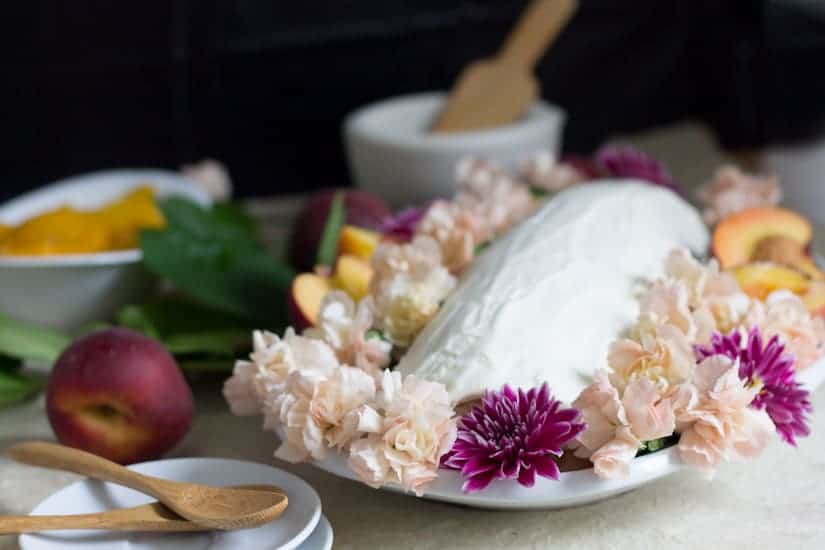 With this recipe, I can recapture the moment of biting into that cake whenever I'd like… all that will remain missing is the sound of my sister's loud chewing, and my grandmother's lament, "I told you there was nothing to eat."
* If you're wondering where to get California cling peaches, look no further than your closest food store. Many canned peaches in Canada are California cling peaches. If you look for 'Product of USA' on the label, the canned peaches will certainly be California cling peaches. I prefer to buy the organic ones, but feel free to use any canned peaches you like.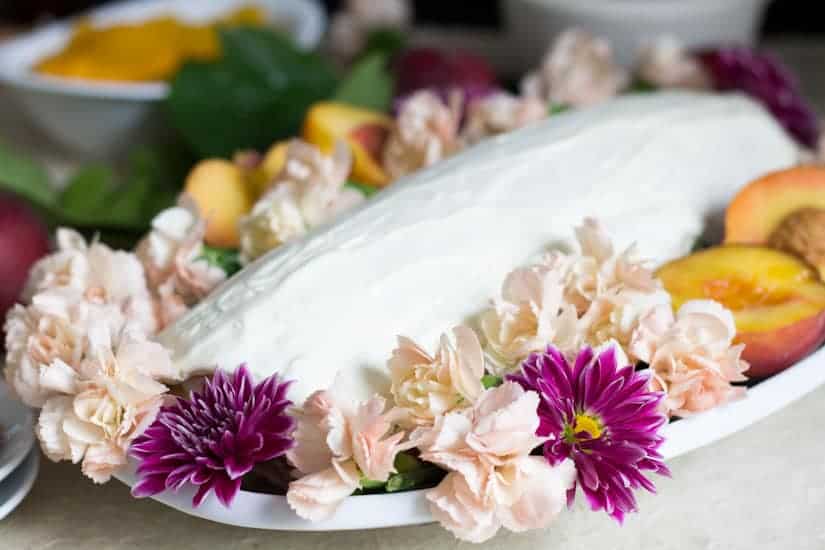 Full disclosure: I received monetary compensation in exchange for this post. However, I am proud to only work with those companies and brands whose products I truly love. And as always, all opinions expressed here are my own; you can always expect me to be honest with you guys!
Tried and loved this recipe? Please leave a 5-star review below! Your reviews mean a lot to me, so if you've got any questions, please let me know in a comment.
Recipe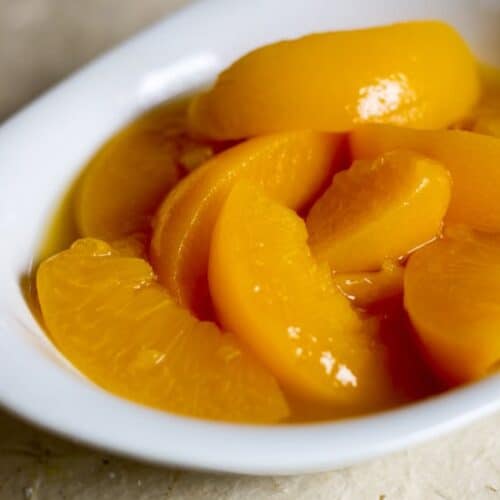 My grandmother's peach Swiss roll (gluten-free)
The peach swiss roll cake, in which the humble canned peach was turned into a blushing starlet, is my sister's favourite cake that my grandmother makes. It's beautiful and special and oh-so-quaint, like a vision from the '80s making its way into modern life.
Ingredients
4

eggs

separated

1

cup

sugar

¾

cup

GF flour mix

I like Irresistibles

¼

cup

starch

1

teaspoon

vanilla extract

1

cup

whipping cream

3

TBs

10% yogurt or creme fraiche

1

can organic California cling peaches

sliced (most canned peaches produced in the United States are California cling peaches)
Instructions
Using a whisk or an electric mix, beat 4 egg whites, gradually adding the sugar. In a separate bowl, combine flour and cornstarch. Add gradually to egg white mixture. Add vanilla extract and 4 egg yolks, and fold gently with a wooden spoon.

Preheat oven to 400F. Cover a baking sheet with parchment paper, oil and dust with flour. Pour out the cake mixture. Bake for about 8-10 minutes in a pre-heated oven.

Remove from the oven and, using the parchment paper to help yourself, quickly roll the dough into a roll. Remove parchment paper immediately, and place rolled cake back on the baking sheet. Let rest in a roll for about an hour, until cool enough to handle.

Meanwhile, whip cream into a steady whipped topping. Divide in half, and fold yogurt or creme fraiche into half the whipped cream.

Unroll cake again - do not worry if it breaks or cracks, that's normal. Smear with the whipped cream with yogurt or creme fraiche added to it. Top with a layer of peach slices.

Roll cake once again, smoothing over any cracks or tears. Cover with remaining whipped cream.

Let rest in fridge for a few hours.
Tried this recipe?
Comment + Rate Below!
Connect on Instagram!
Find us @immigrantstable