Pink fish tacos combine flaky marinated fish with bright, vinegary pickled onions and creamy feta or purple cabbage slaw, and crunchy, sweet salad topper. This post is sponsored by NaturSource, but all opinions expressed here are my own.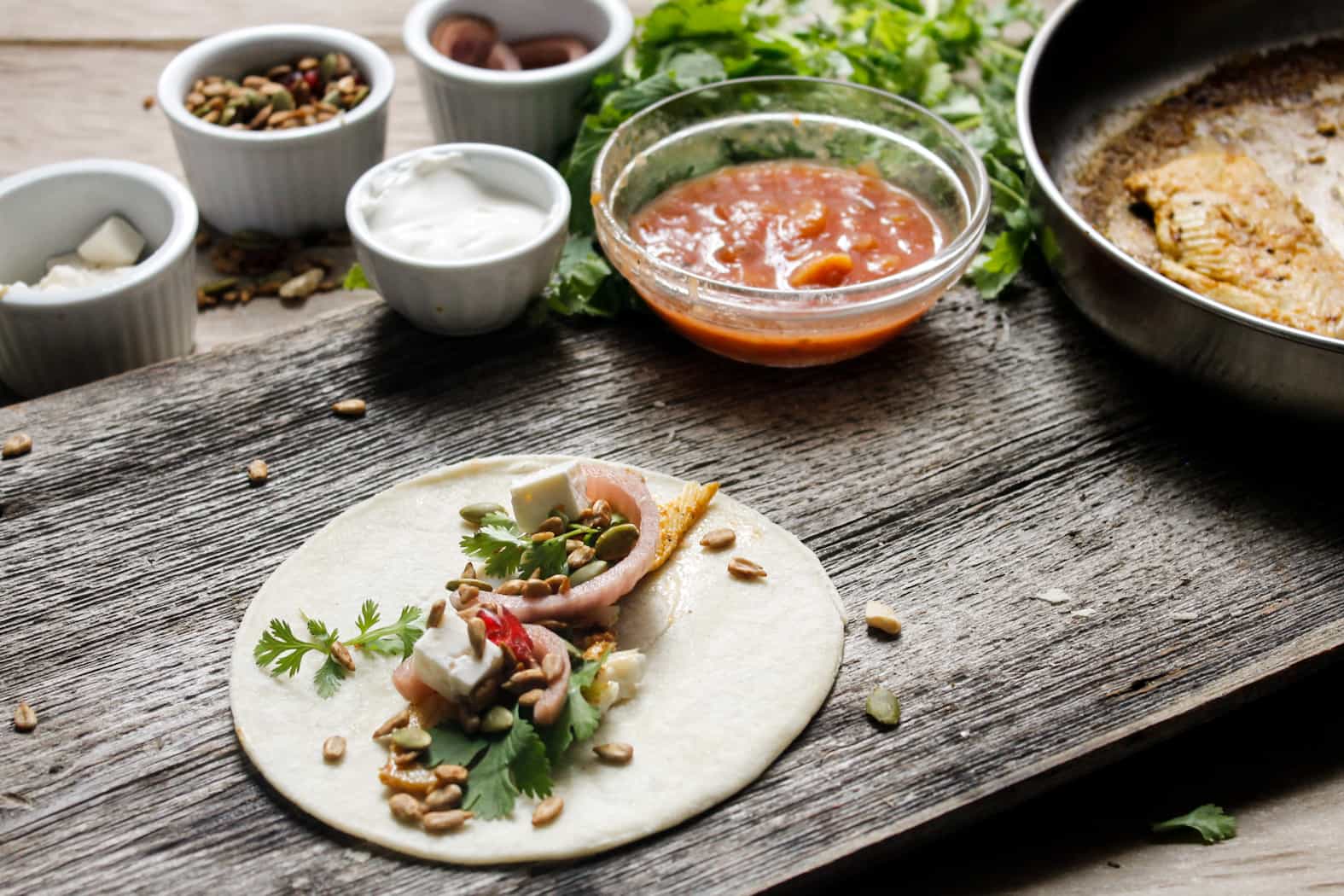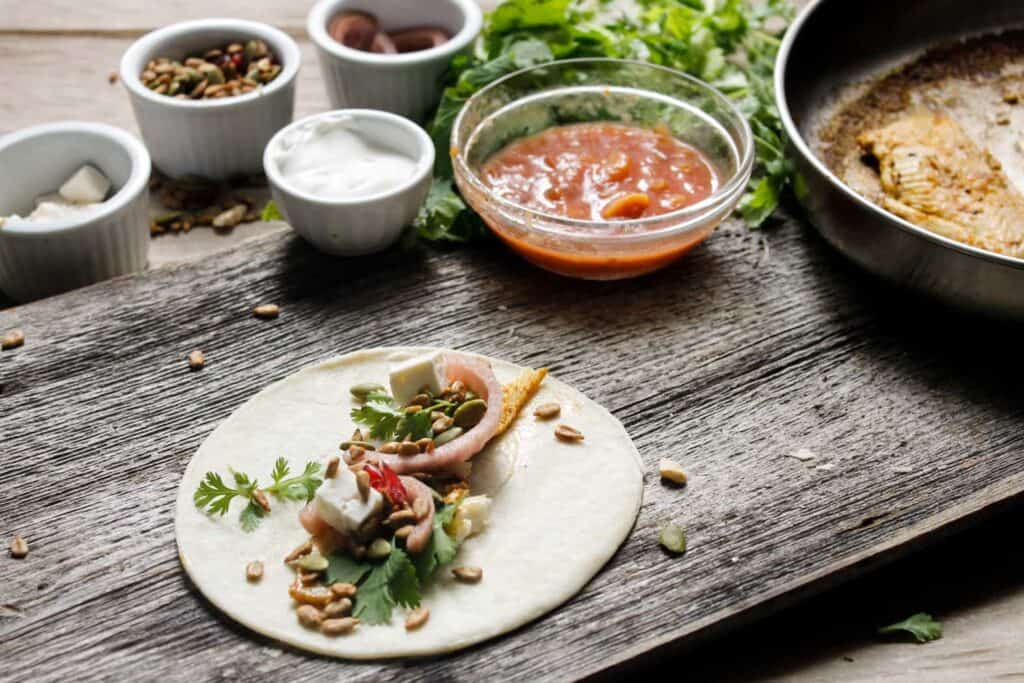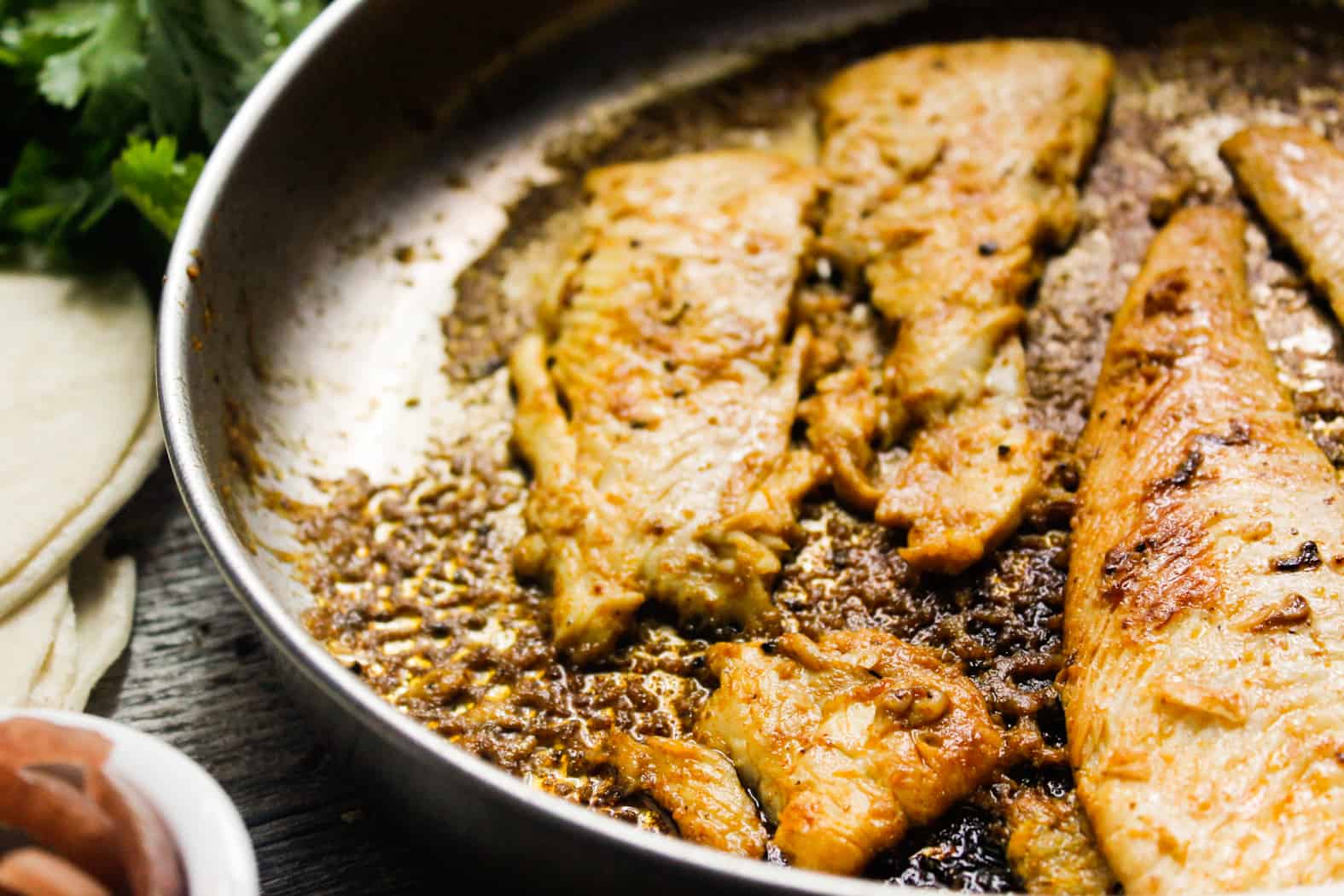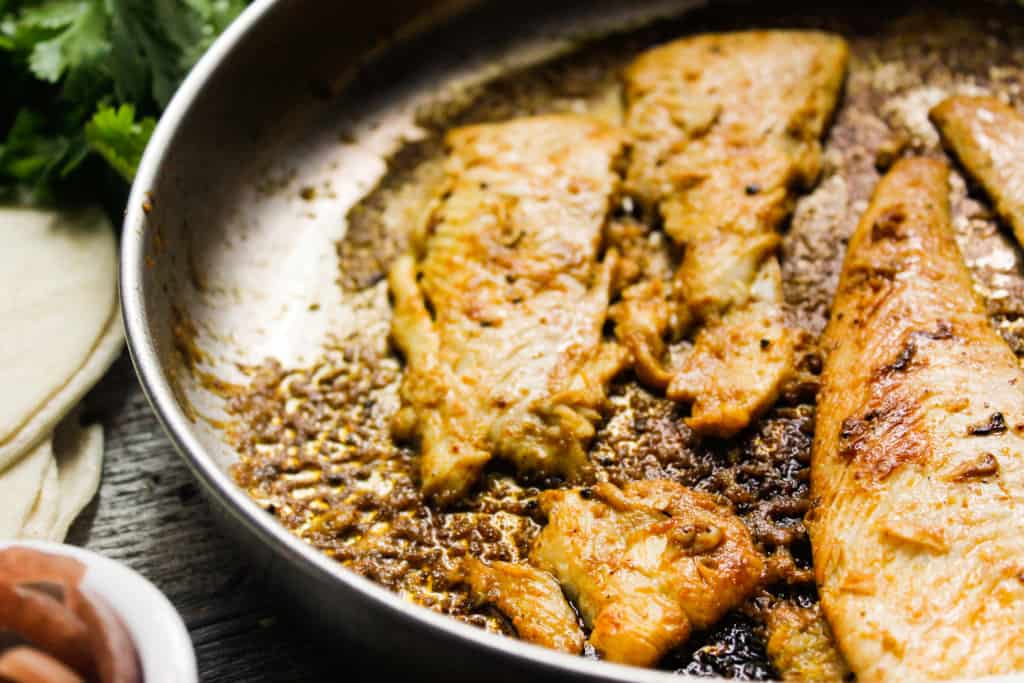 Many of us feel that in order to celebrate love, we have to shell a lot of dough, go out somewhere special, or make a grand gesture. But we don't. A good date night can be as easy as making pink fish tacos, making a pitcher of negronis, and partying like you're in the best restaurant in town. And I've got the story to prove it.
It was a Friday night, and I was buoyed by the sense of freedom of the weekend ahead. It was a Friday night, and I thought it would be a good opportunity for a date night. It was a Friday night, and as I often do on Friday nights, I was feeling invincible.
So G and I got dressed to the nines, picked a relatively highly rated but obscure restaurant, and decided to go out for tacos. Little did we know that the price we were to pay for our hubris would be a steep one.
The restaurant we went to immediately captured us with its casual, hip vibe. With just a few tables, unobtrusive electronic music, and the light of dozens of flickering candles, we felt right at home at an excellent dinner party.
The short menu also inspired us to just dig in and order, without wasting too much time thinking. And as it was a date night, we even went for cocktails.
Our negronis were exquisite. His, with a smoky aftertaste, and mine, sharp and citrusy and just the right side of bitter. The tacos were event better - my simple bean tacos had a strong earthy flavour, and G enjoyed his shredded pork.
But the real winner were the pink fish tacos: soft and flavourful, they were filled with crunchy cabbage, a perky salsa, and bright, vinegary pickled onions. The dabs of cream and salsa on top really brought the dish together. As we argued over who would get to eat the last one, I realized this dish was a winner.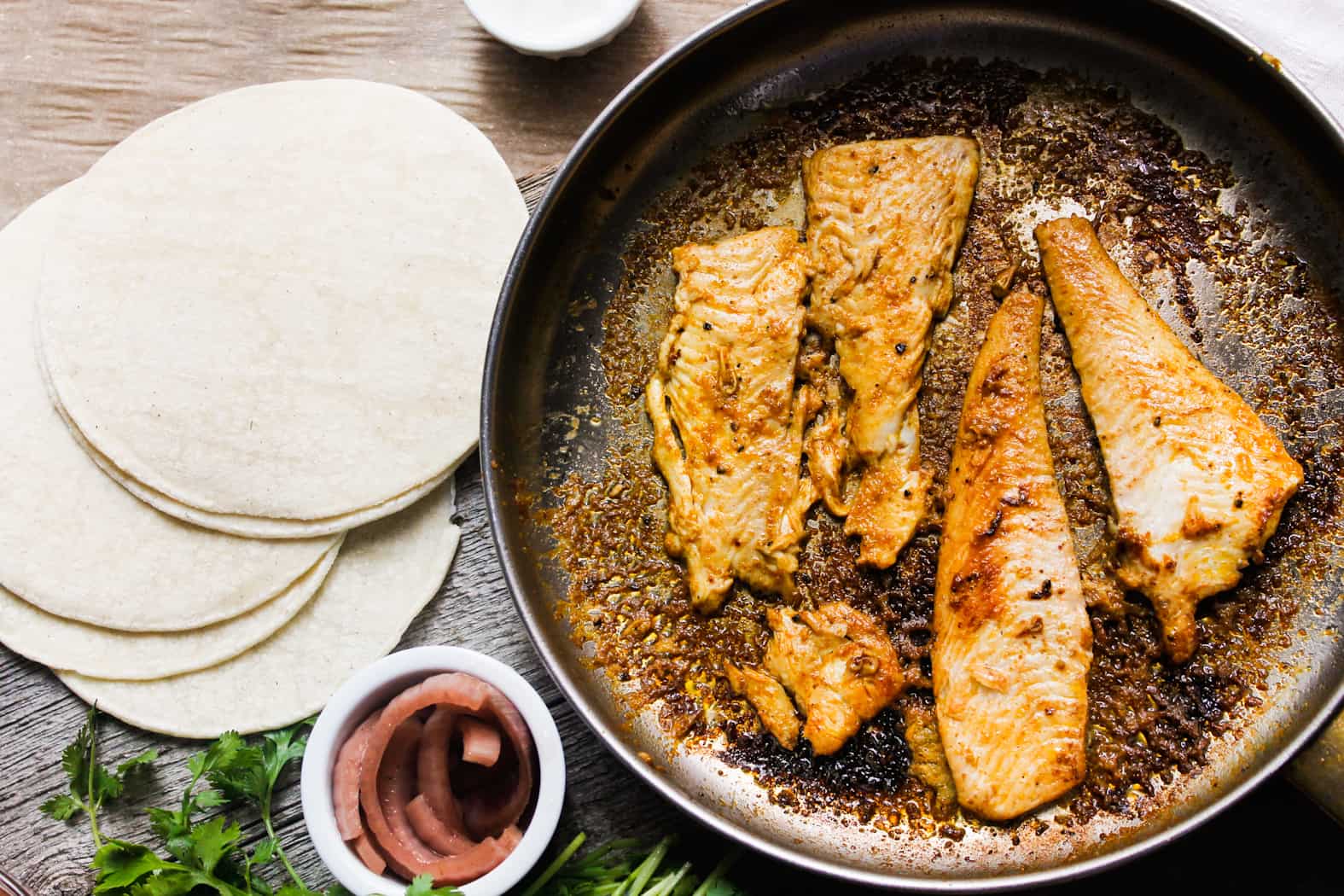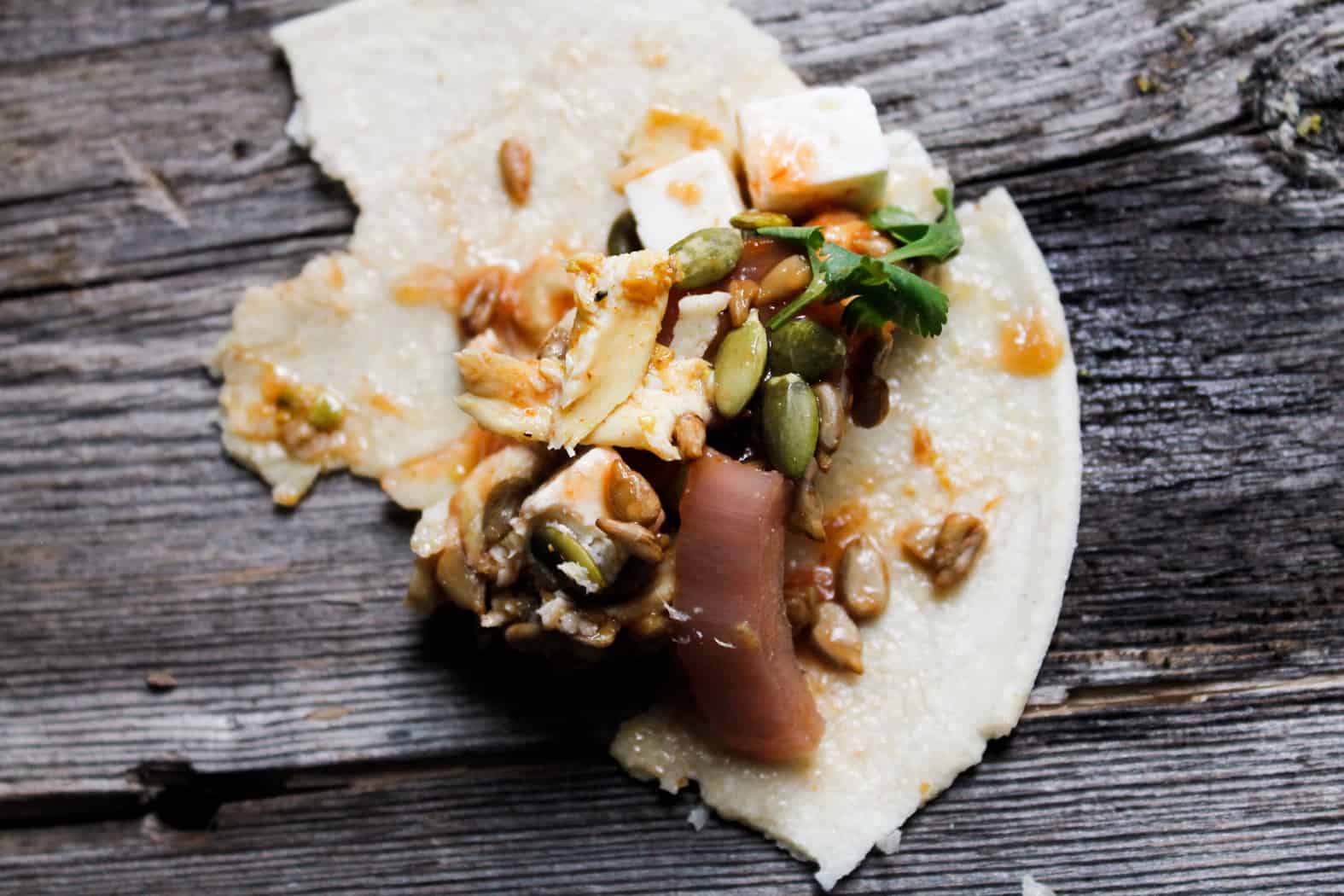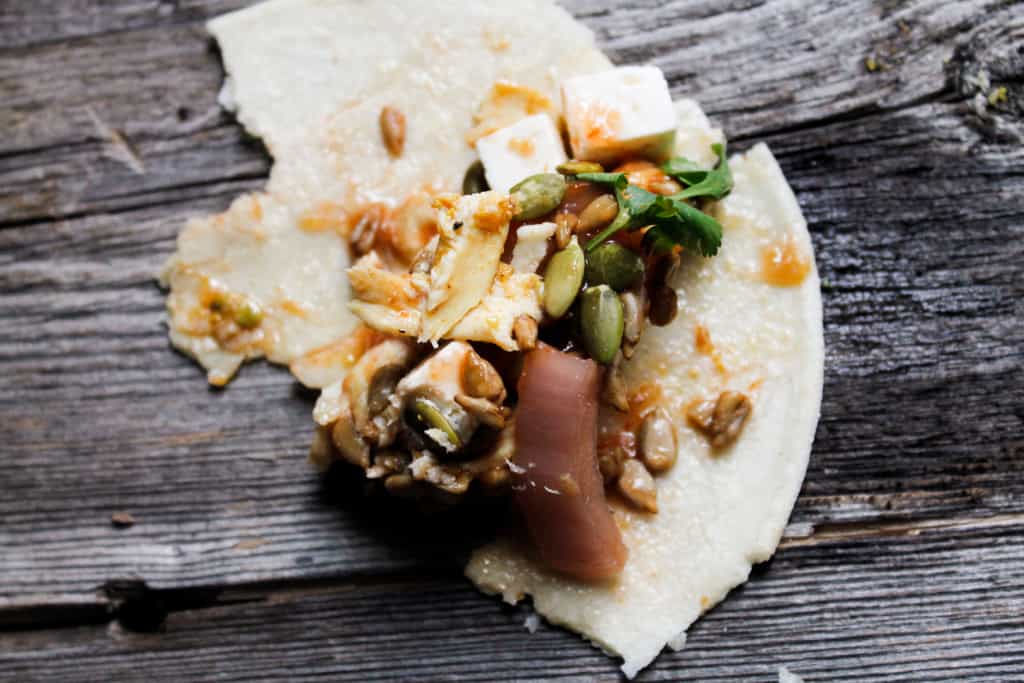 As the drinks flowed, so did the conversation. Soon we were dancing in our seats, our eyes alight with the renewed sense of interest and passion for each other. The atmosphere was electrifying.
We forgot how simple and exhilarating just looking at each other can be - and with the right balance of alcohol, locking eyes becomes so much easier.
We continued to drink. We ordered a margarita, and two more negronis. And then another one. By the end of the night, we had eaten six tacos, and drank six drinks. We felt giddy with excitement.
And then came the bill. As our heads were clouded, we paid the bill with silent resignation, not letting it put a damper on the night. But as we stepped outside into the cold Montreal air, immediately sobered up by the precipitous drop in temperature, we realized that a total bill of $100 was a bit much to pay for a casual night out (the menu for which included six tacos).
But friends, I'm here to tell you that you don't have to spend that much money to have the same glorious date night. I spent the next few weeks testing recipes, dedicating myself to replicating the sharp, perky taste of those pink fish tacos. And now I am here to deliver the results.
These pink fish tacos are truly a revelation. I changed mine up a bit, topping them with both the restaurant's sliced purple cabbage and radish toppings, as well as the simpler, pickled onion and feta combination displayed here.
I have to say I preferred the second version; It allowed the fish to shine in its smoky, Spanish-inspired flavours, which were perfectly complimented by the zest of the pickled onion and the saltiness of the feta. But you're welcome to try both and let me known which you preferred.
Another note: the restaurant we went to deep-fried its fish, which were coated in a lovely crispy batter. But after my last hand disaster, I am steering clear of dealing with large amounts of really hot oil. And I have to say that the result actually feels a bit more virtuous and delicious than the original!
So pour yourself a large pitcher of negronis (or if you're splurging, sub the gin for real mescal for smoky negronis that will blow your mind). Marinade your fish and red onions. Grill some soft corn tortillas.
Bring out the toppings: a creamy slaw of cabbage and carrots, or some good briny feta. Tear open a bag of NaturSource original salad topper, for the crunch and unexpected burst of sweetness. Open a jar of your favourite salsa, and go to town.
Drink as much as you want, look into each other's eyes, and laugh as taco juice comes dribbling down your face. Fall in love all over again.
And at the end of the day, when all you have to pay for a great date night is the cost of a bottle of mescal and some white fish, post your creation and tag it #immigrantstable. That'll be all the thanks I need.
Tried and loved this recipe? Please leave a 5-star review below! Your reviews mean a lot to me, so if you've got any questions, please let me know in a comment.
Recipe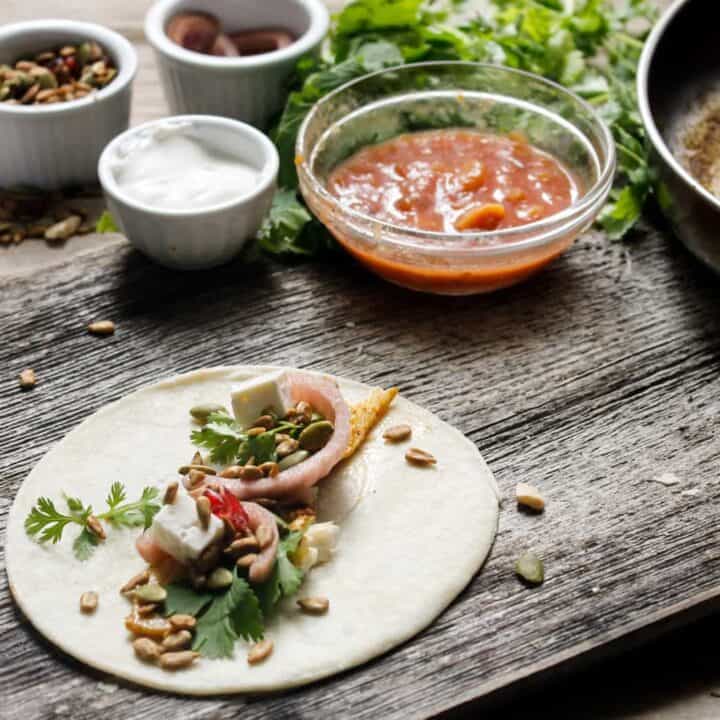 Pink fish tacos with pickled onions, feta and salad topper
Pink fish tacos combine flaky marinated fish with bright, vinegary pickled onions and creamy feta or purple cabbage slaw, and crunchy, sweet salad topper.
Ingredients
200

gs white fish like tilapia

cod or sole

3

TBs

lemon and lime juice

3

TBs

olive oil

1

teaspoon

ground cumin

Cayenne powder/ Hot paprika

to taste

salt and pepper

1

red onion

sliced into rings

½

cup

white wine vinegar or mixture of white wine vinegar and apple cider vinegar

you can also use only apple cider vinegar, but the resulting onions are fairly sweet

1

TB

sugar

1

teaspoon

salt
TOPPING COMBO 2:
1

cup

shredded purple cabbage

1

carrot

grated

1

TB

mayonnaise

Juice of ¼ lemon

salt and pepper

to taste

¼

cup

NaturSource original salad topper

or a mix of pumpkin seeds, sunflower seeds and dried cranberries

Corn taco tortillas or Boston lettuce leaves

Fresh cilantro

for topping

Fresh chives

for topping
Instructions
Wash fish and pat dry. Mix lemon juice, olive oil, cumin, chilli/paprika and salt and pepper in a shallow dish. Place fish in mixture, pouring some marinade on the fish with a tablespoon to ensure as much of the fish is covered as possible. Cover with plastic wrap, and let marinade for at least 30 minutes and up to 24 hours.

In a small bowl, mix vinegar, sugar and salt until sugar and salt dissolve. Place onions in a jar or a bowl, and pour vinegar mixture on top. Cover and let marinade for at least an hour.

If making Topping Combo 2, mix all of the ingredients except salad topper together and let marinade while the onions are pickling and the fish is marinading.

When ready to eat, preheat a heavy bottomed pan to medium heat. Fry tortillas on both sides until warm, and set aside, covered.

Add 2 TBs Grapeseed oil to pan and fry fish for 5 minutes on one side, and, lowering heat to medium, 3 minutes on the other. Remove to a plate and flake with a fork.

When ready to assemble, set out Topping Combo 2 and all the ingredients for Topping Combo 1.

To assemble tacos in Combo 1, layer flaked fish, pickled onions and feta, salsa, salad topper and fresh cilantro.

To assemble tacos in Combo 2, layer flaked fish, purple cabbage and carrot slaw, salad topper and fresh cilantro.

Serve immediately.
Tried this recipe?
Comment + Rate Below!
Connect on Instagram!
Find us @immigrantstable