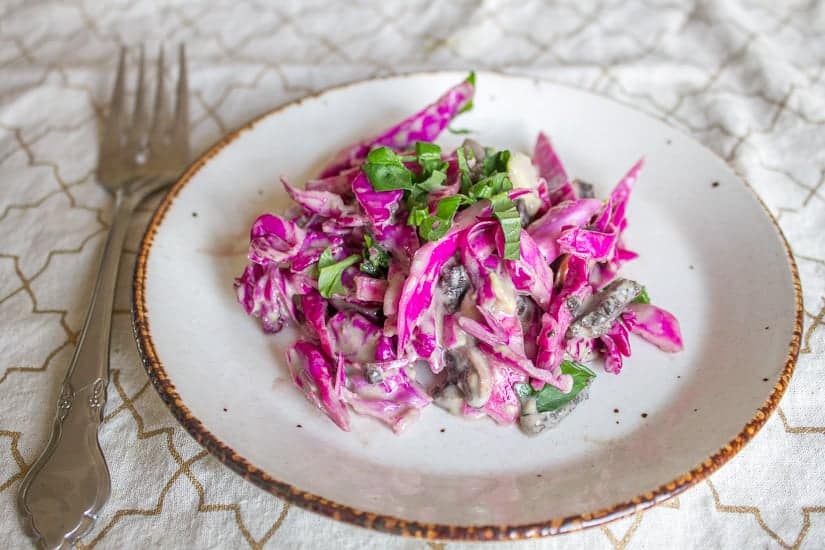 I will be the first to admit it: purple (or red) cabbage is not my favourite vegetable. Though its colour is enchanting, I find that it is often too dry and lacking in taste compared to its paler compatriot, the humble white cabbage. Though I have used purple cabbage in the past - in my Russian sauerkraut, and then in these vegan tofu tacos - it was mainly there to provide a visual contrast, a punch of colour in places where none exists (alongside white cabbage, tofu, or rice).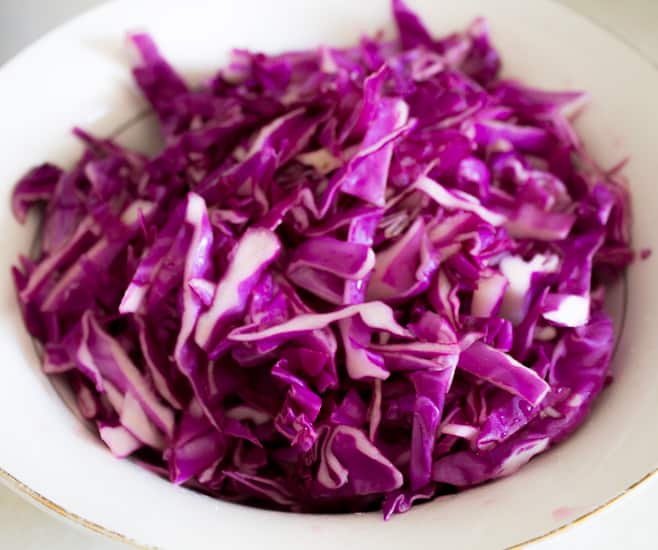 It also seems like the rest of the world agrees with me - purple cabbage is rarely featured on its own, usually taking part in multi-coloured coleslaws, salads, stir-fries, and even cakes (must try this sometime!). It seems like other than in a Hungarian or German stewed side dish, people rarely think that purple cabbage can pull its weight on its own.
But as I said recently, it was purple cabbage in mayonnaise that first changed my family's outlook on store-bought salads. And I am a big fan of the purple cabbage salad that Molly Wizenberg of Orangette featured in her first book, [amazon text=A Homemade Life&asin=1416551069] - in fact, the first time I made it, G sat there laughing as I finished an entire large bowl of it in bed, by myself. And I wasn't even particularly hungry. There was just something about the combination of purple cabbage, the tang of citrus and vinegar, and the creaminess of mayonnaise or cheese that got me all excited.
It was then that I realized the true magic of purple cabbage. Perhaps it doesn't have that much flavour of its own. Perhaps its colour dazzles people so much that they become oblivious to its nutritious benefits (of which there are many) and its great adaptability, and they tend to just shred it in its virginal state as a decoration instead of a viable ingredient. But in my eyes, the true value of purple is almost like that of the prettiest blank canvas, an opportunity to highlight the shine of other ingredients, particularly zestier ones. Purple cabbage softens with cooking or the application of acid, and it becomes a match-made-in-heaven for creamier ingredients, and the perfect bed for a salad.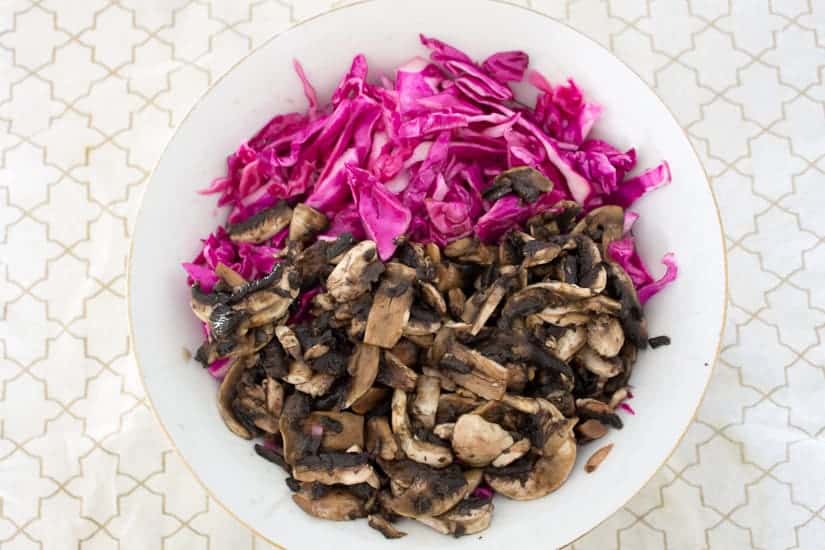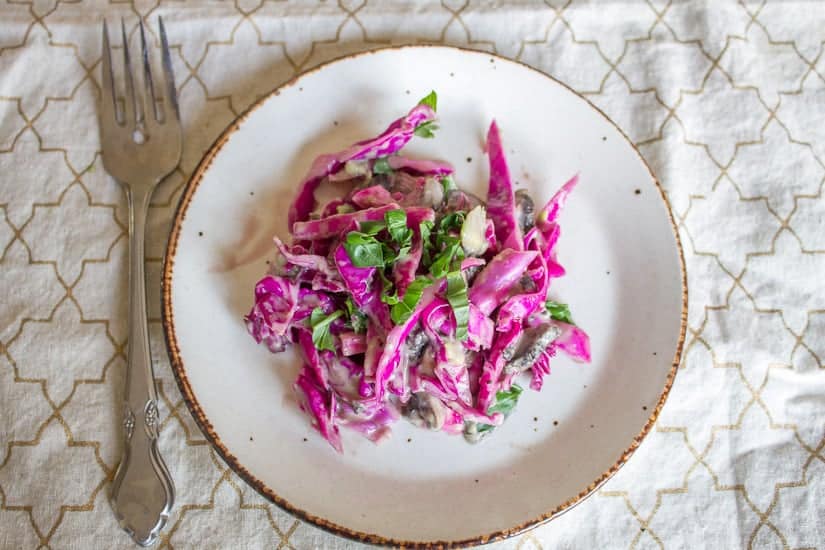 Peter Gordon's recipe for purple cabbage and pickled mushroom salad in his book, [amazon text=Peter Gordon Everyday&asin=1906417881] (recipe also available on The Guardian's fantastic food website), utilizes all the best qualities of purple cabbage - its adaptability, its crunch, and its great pairing with citrus and creamy textures - and lets them shine. Since making it for the first time, I have eaten this salad straight out of the bowl in bed (are you sensing a theme?), served it for festive meals, and simply allowed it to serve as a silent accompaniment in everyday meals, making them just a bit more extraordinary. Regardless of the time of year and occasion, this salad truly makes purple cabbage the star of the show. And, just in time for fall, it also goes very well with quick-pickled mushrooms - and those alone are worth making just to top every salad or bowl of rice you'll be eating in the next few months.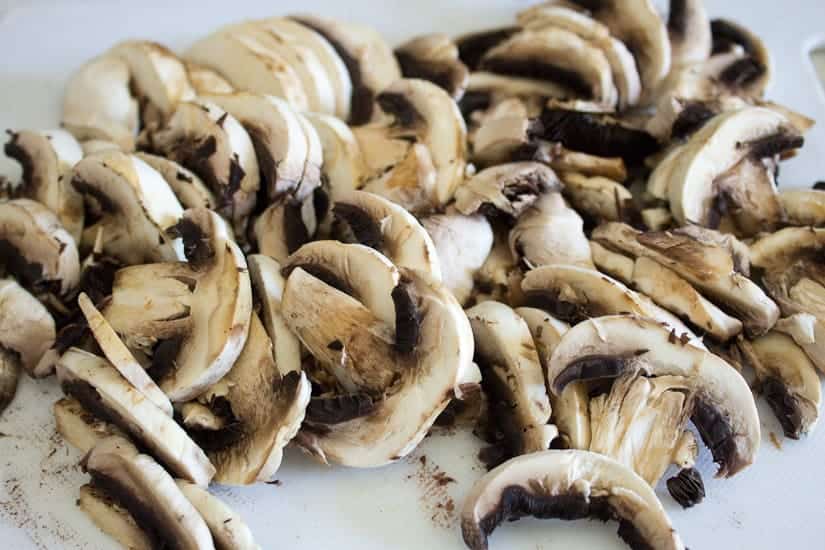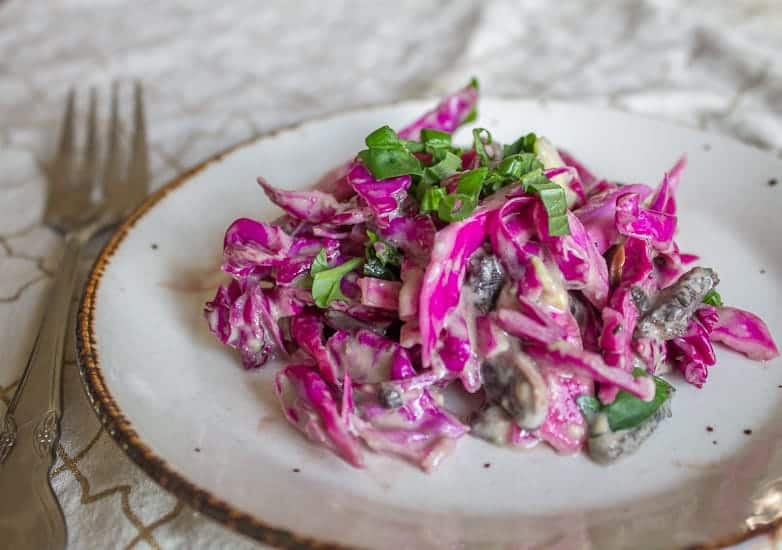 Purple cabbage and pickled mushroom salad
Creamy, zesty and full of spark, this purple cabbage and pickled mushroom salad is the perfect mélange of colours and textures to grace your plates this fall. And with the simple substitution of avocado in place of yogurt, this salad can easily become a vegan treat.
Print
Pin
Rate
Ingredients
300

grams

or about 2 cups of assorted mushrooms

thinly sliced (if all you have are button mushrooms, don't fret - this salad will still turn out great!)

4

tbsps

lemon or lime juice

+2 extra if making salad vegan

2

teaspoon

tamari

or soy sauce

2

garlic cloves

peeled and crushed

3

tablespoon

extra virgin olive oil

½

red cabbage

about 150g, core removed, thinly shredded

2

tablespoon

cider vinegar

1

teaspoon

sugar

optional

½

a cup plain yoghurt

or an avocado

¼

cup

of vegetable oil

+2 extra if making salad vegan

Salt and black pepper

A handful of basil leaves
Instructions
Thinly slice purple cabbage and mushrooms.

Place the mushrooms in a bowl. Add 3 tablespoons of lemon or lime juice, soy sauce, olive oil and garlic to bowl, and mix well. Set aside.

Mix the cabbage with the vinegar and sugar. Cover. Set both the cabbage and the mushrooms in fridge to marinate, covered, for at least 2 hours, and preferably overnight. Toss both a few times.

When ready to serve, whisk the remaining tablespoon or lemon or lime juice with the yoghurt and vegetable oil and season with salt and pepper. If making this salad vegan, mush an avocado and combine with vegetable oil, lemon or lime juice, and salt and pepper (wait until the last minute to do this, and keep in mind that avocado won't keep well in the fridge and discolouration may occur).

To serve, toss the mushrooms once again and drain the juice from them (save juice and add just a bit of it, to taste, if you want to make salad a bit zestier in the end). Tear the basil leaves and mix with the cabbage. Spoon mushrooms atop cabbage, and drizzle the dressing over the salad (if using an avocado in your dressing, combine avocado with salad, and add up to 2 tablespoons more of citrus juice and vegetable oil. Stir well to combine).