This Middle Eastern roasted bell pepper salad, with its glistening peppers slices, spicy marinade of balsamic vinegar and olive oil and big chunks of fragrant garlic, is a feast for any day. It can be easily scaled up or down, and the amounts are just my attempt at measuring the ingredients - I usually wing it and taste the salad as I go.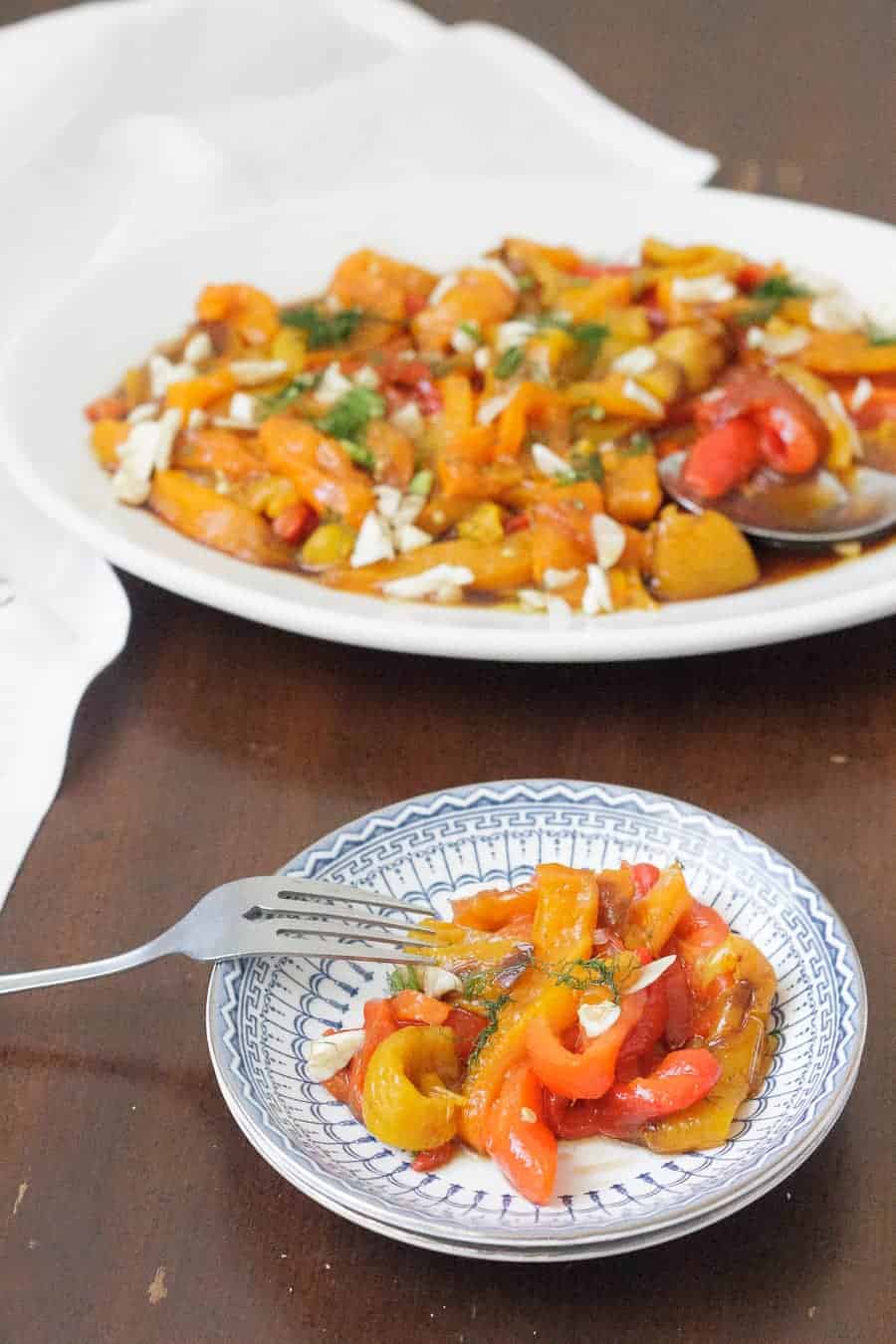 I was no more than a kid myself as I sat there, on a hot July day, listening to a well-dressed vice-principal offer me a job. It was a role that would entail watching over 40+ kids, every day, with little time off. But there would be free meals, and a ride to work. I even had the stupidity to feel flattered.
A couple of months later, I stepped onto the grounds of the nicest school I had ever seen. Set in one of the few still-collectivist kibbutzes in Israel, the school also took in a large amount of underprivileged children from the nearby city. The students enjoyed loving teachers, loosely set classes, lots of free space to roam, and the attention of a very liberal school staff (who also very liberally diagnosed children with learning disabilities, and prescribed the appropriate medication). I met my fellow guides and the teachers, introduced myself to the kids, and developed a fairly optimistic view of the months to come.
It didn't take long for me to witness my first temper tantrum. As a boy of 9 raged and kicked at nearby children and inanimate objects alike, I ran around trying to calm everybody down. It had only cursory effects. Luckily, the fighting eventually died out on its own, and the kids made their peace, as kids are wont to do. But as I sat there in the aftermath, listening to the staff retell accounts of previous fights and episodes, recounting their own bruises and scratches, I started to think that maybe, this job wasn't going to be very easy.
All in all, it wasn't a very good year. But I like to think that I got off fairly easily.
The only kid to ever hit me was one of my favourites. But the bruise on my shin healed fairly quickly, he apologized the next day, and our relationship got back to normal soon after. The only kid whose harm I ever inadvertently caused (by allowing kids to build forts and play knights - who would have thought they would try to pick up a log with rusty nails stuck in it?? Me. I should have thought of that. They're kids, after all) was one of the sweetest, shiest around, whose personality and learning were kicking into extremely high gear based on a recently prescribed natural remedy of Bach flowers. The only kid who I truly hated saying goodbye to had to leave the school himself several months later, disrupting a year-long emotional and mental healing process and going back to a school where he was bullied.
There was so much heartbreak crammed into that one, short year, that I can hardly begin to unpack it all in one post. I hope to return to this in the future, tugging at the hurt and scar tissue gently, checking how well it's all healed.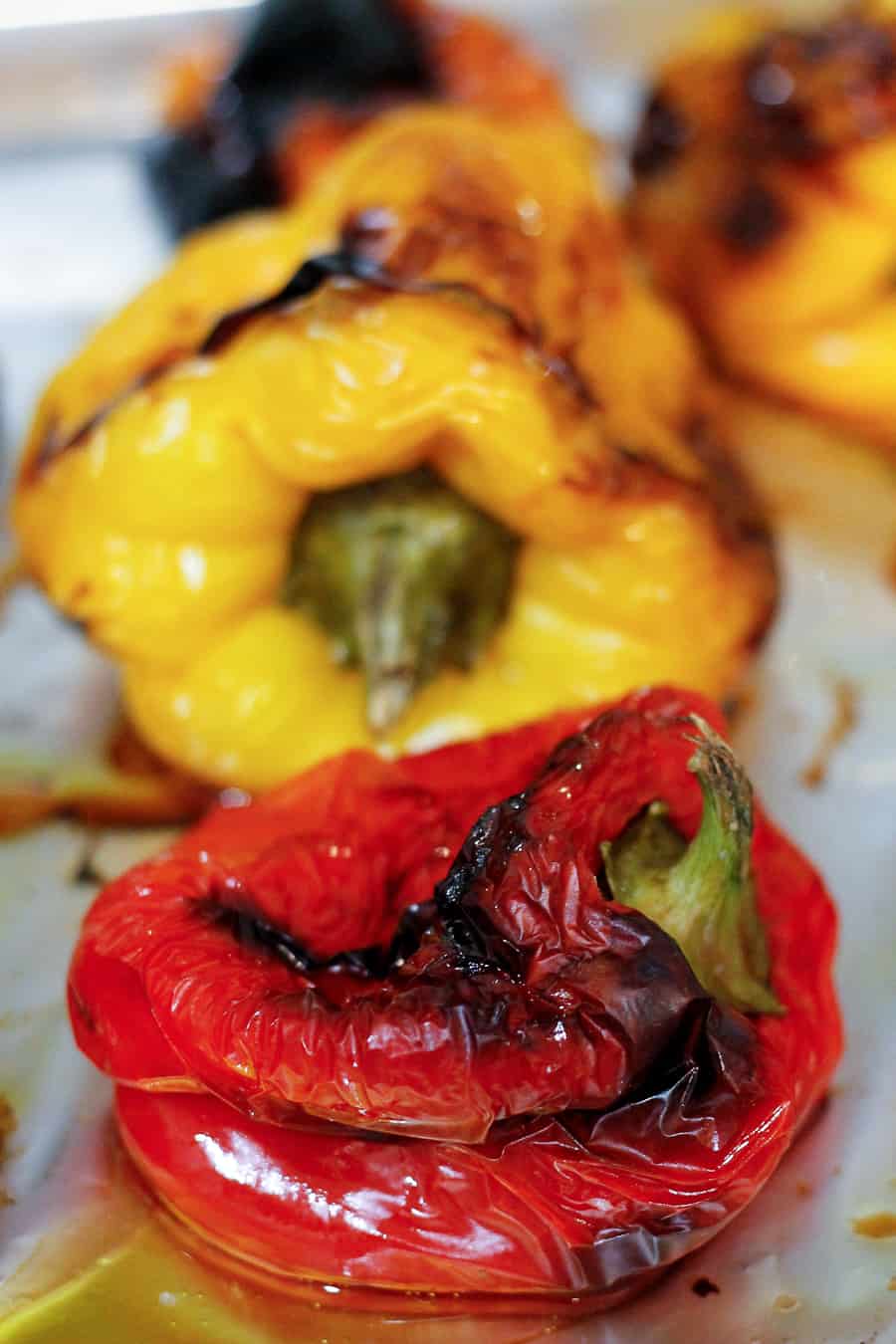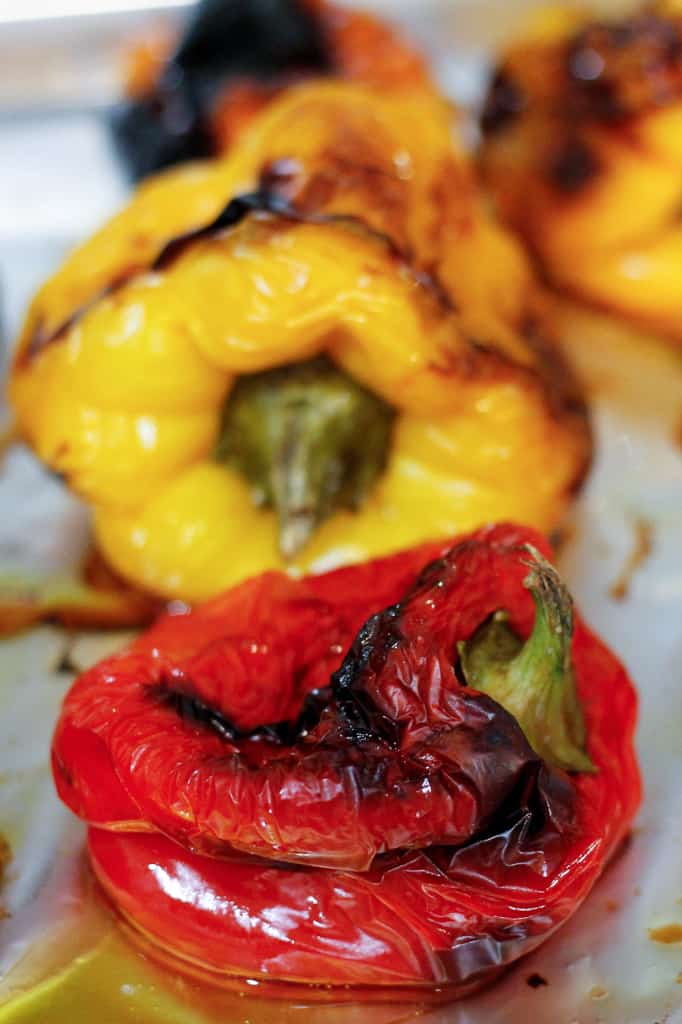 But the upside definitely remained the food. Every day, I took the only break I could by going with the other guides for lunch at the kibbutz cafeteria. We sat amidst screaming children of other grades, trying to finish our lunch as quickly as possible so that maybe, just maybe, we could get in a few minutes of walking around in the sun, away from the tears and complaints and bouts of attention-seeking behaviour. But the food was so good, that it was truly a crime to hurry through it.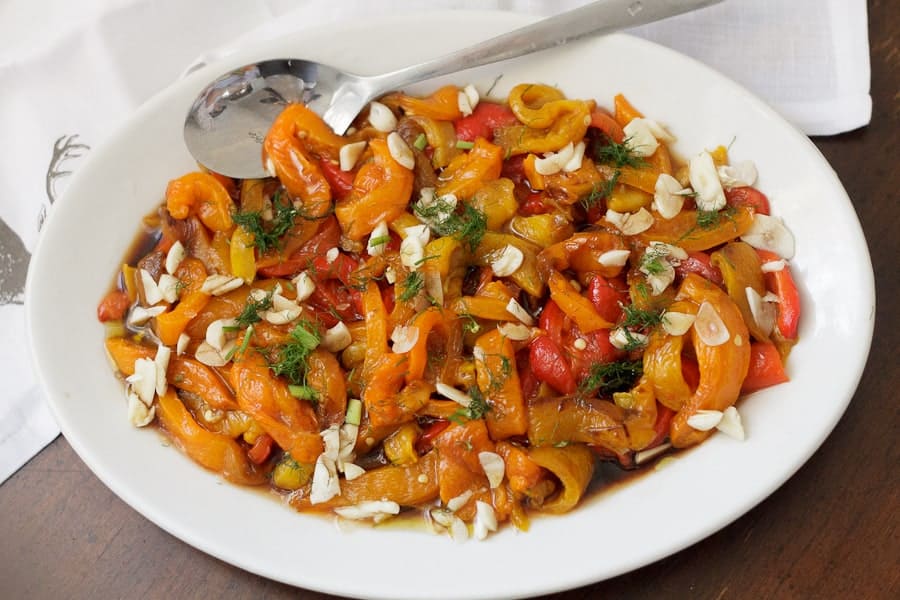 Vats of daily changing soup glistened in one corner of the dining room, their liquid concoctions a welcome reprieve on cold, rainy days. Enormous bowls filled with different salads dominated another table, proffering healthy, carb-less options for those who were gluten-free, or just watching their figures. A daily changing main of meat (sometimes fresh Argentinian Assado, other times meatballs or whole roasted chickens, carved and arranged neatly on platters) was always available, and the sides varied between rice, potatoes, or even steaming, cheesy lasagnes, or a pasta bar with various sauces on the side. And not a word of the desserts.
In truth, the food actually almost made the whole experience bearable. Of course, the love of those children I got attached to, their frequent hugs, the kind words from grateful parents, and the moments of laughter and enjoyment with my co-workers were there (though sometimes, they were way too few and far between); but really, for me, the highlights of the experience all came down to the food.
This roasted bell pepper is a takeaway from that dining room. Each time it was offered, I could never walk past the glistening bell peppers slices, slicked in a spicy marinade of balsamic vinegar and extra virgin olive oil, interspersed with big chunks of fragrant garlic. It is just a little bit spicy, but mostly its flavour is tangy and rich, almost silky and luxurious. It elevates every plate and is great on top of mashed potatoes, quinoa, or simply on its own.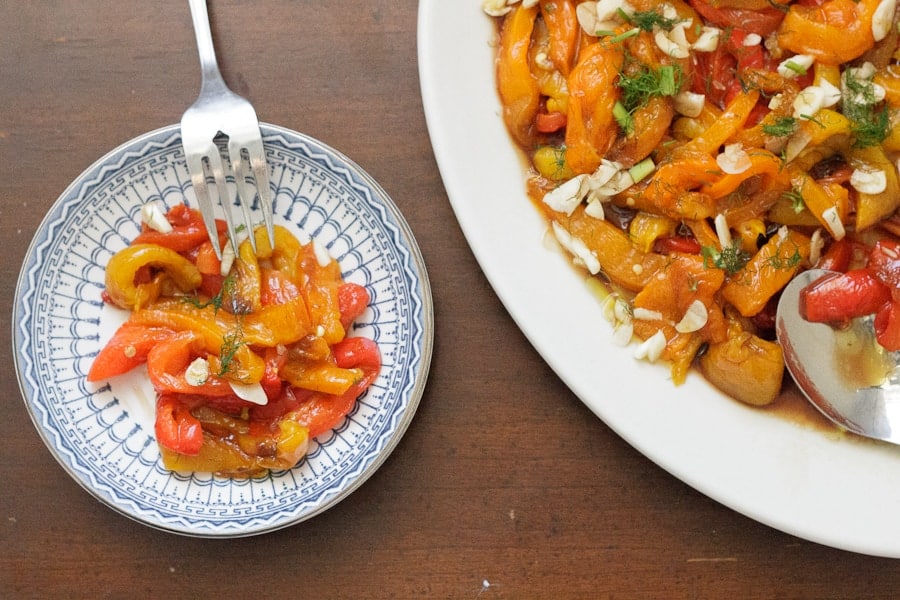 So though this roasted bell pepper salad may not be enough to erase the bad parts of my year as a social guide, it certainly does a good job at highlighting the best.
Tried and loved this recipe? Please leave a 5-star review below! Your reviews mean a lot to me, so if you've got any questions, please let me know in a comment.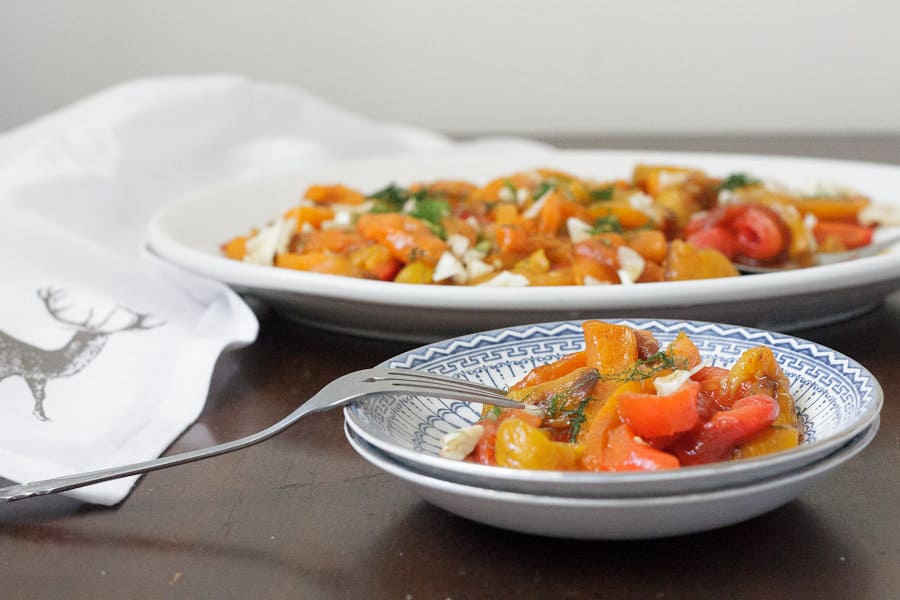 Recipe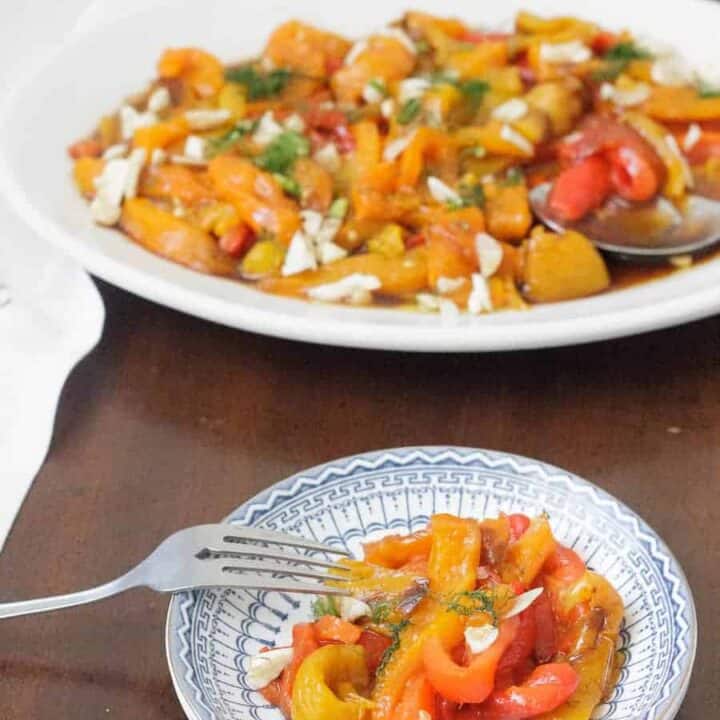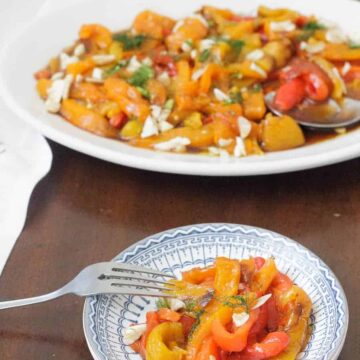 Roasted bell pepper salad
This Middle Eastern roasted bell pepper salad, with its glistening peppers slices, spicy marinade of balsamic vinegar and olive oil and big chunks of fragrant garlic, is a feast for any day. It can be easily scaled up or down, and the amounts are just my attempt at measuring the ingredients - I usually wing it and taste the salad as I go.
Ingredients
6-9

bell peppers of all colours

though it's best to stay away from too many green ones here

2

TBs

olive oil

1.5

TBs

balsamic vinegar

4

garlic cloves

1.5

tsps

salt

Chopped parsley

cilantro or dill, for serving
Instructions
Preheat the oven to 400F. Coat a baking sheet with aluminum foil.

Rub each pepper with a layer of olive oil, and arrange them on the baking sheet. Bake for 15-20 minutes at 400F, until the side that has been in contact with the baking sheet has blackened (and not just a bit; you want the whole side to be blistered and charred). Using tongs, turn the peppers over, exposing a new side to the heat, and bake for an additional 20 minutes. Remove them from the baking sheet and place in a sealable plastic bag. Seal, and let peppers sweat for an hour (or even more).

After an hour, peel the peppers with your fingers, taking care to remove as much of the seeds and membrane as you can (I even rinse the really stubborn seeds off if need be). Cut peppers into thin strips (you can also tear them with your fingers if you want bigger, more rustic pieces).

Chop garlic coarsely (I like to taste the garlic cloves), and add to peppers. Mix all remaining ingredients into a sauce, and drizzle on top of the peppers. Stir to ensure even coating, and transfer to a large serving platter. Sprinkle chopped herbs on top. Let salad marinade overnight, or even longer before serving (it will keep soaking in the marinade as it sits).
Tried this recipe?
Comment + Rate Below!
Connect on Instagram!
Find us @immigrantstable