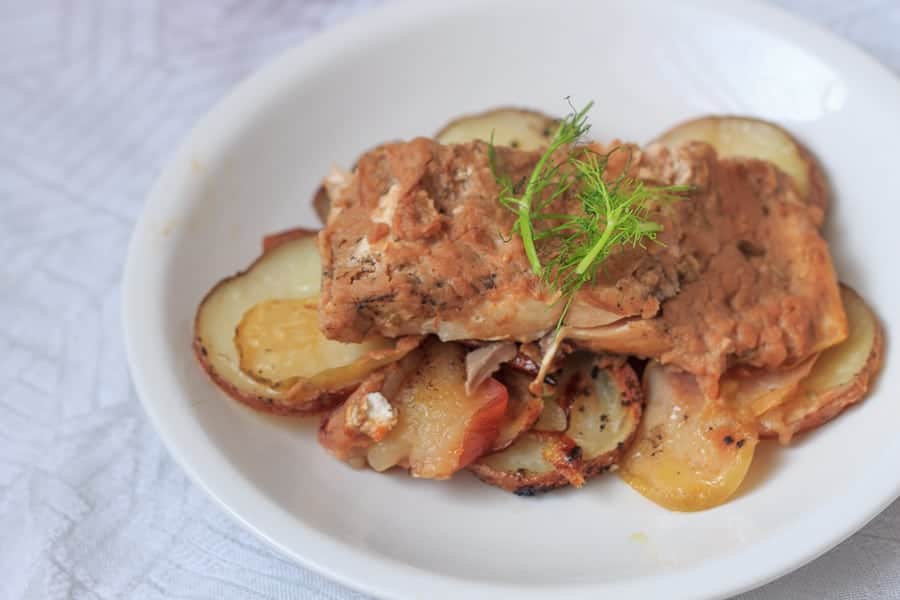 When I came home it would be sitting there in the oven, wrapped in tinfoil. There was no smell, no identifiable bulges to hint at what lay beneah. But I knew anyway: some traditions never changed. It was only once we all sat there at the table, chatting away, that my mother would uncover the foil and triumphantly serve her roasted salmon to the table.
Years later and thousands of miles across the globe, I continue her tradition by serving roasted salmon on special occasions. Except in this version, my roasted salmon in spiced apple sauce rests on a bed of apples and potatoes, an ode to fall and to shaking things up, even if just a bit.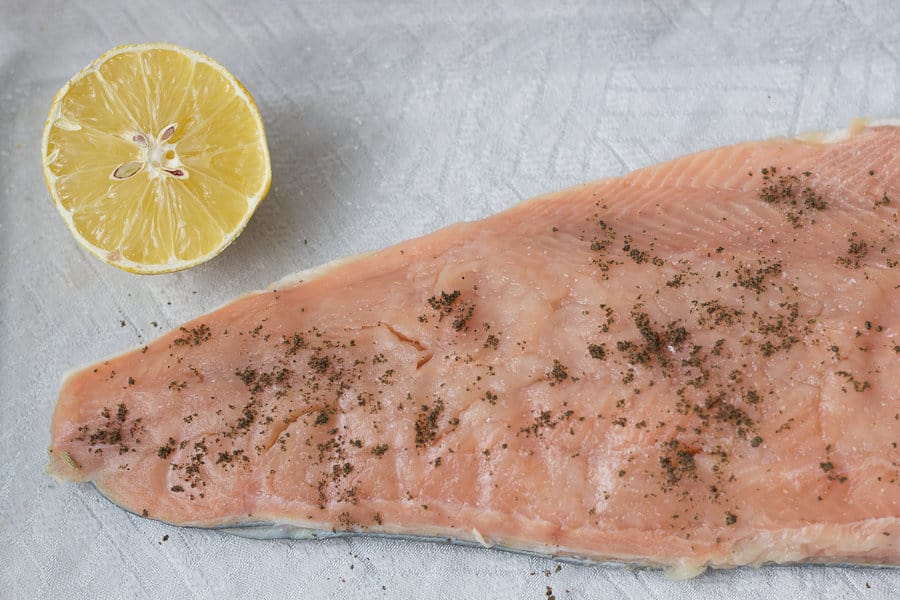 I'm a big believer in traditions. There is something so comforting in the familiar, in knowing exactly what you're going to get before you've even seen it. So it was with my mother's roasted salmon. We could all imagine the taste, feel its juices running down our chins, remember the smell that would waft through the house once that tinfoil was uncovered. The tradition of serving that roasted salmon was a ritual in its own right, regardless of what holiday we all gathered to celebrate.
For me, it was all about the side vegetables that came with the dish. Wedges of potatoes and sweet potatoes, swimming in oil and spices, beautiful caramelization around their edges. They were delicious, and I always had to stop myself from going for thirds.
But there's this thing with traditions. If you let things go and stop thinking about them, it's easy to get caught in traditions and to lose sight of their real purpose. So in my roasted salmon in apple sauce, the piece de resistance rests on a bed on thinly sliced potatoes and apples, a gratin dauphinois of sorts that gives the dish that extra special touch and celebrates the season.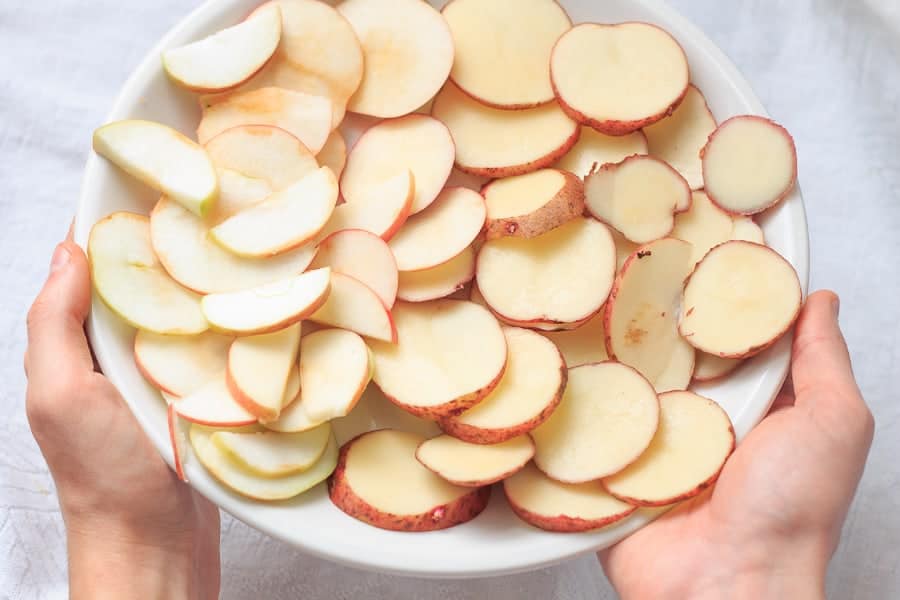 Though I love my mother's recipe, I have to say that I love this side even better: the apples get a beautiful, deep caramelized flavour that accentuates their natural sweetness, while the potatoes get a boost from something unfamiliar sharing their table. It's unique, but still strangely familiar - and therefore, comforting.
This roasted salmon in apple sauce on a bed of apples and potatoes is a dish for special occassions. And like my mother, I, too, wait until the very last moment to uncover the foil and reveal it. Because some traditions just have to stay the same.
For a full, memorable meal, serve this roasted salmon with my fennel, apple and pear salad.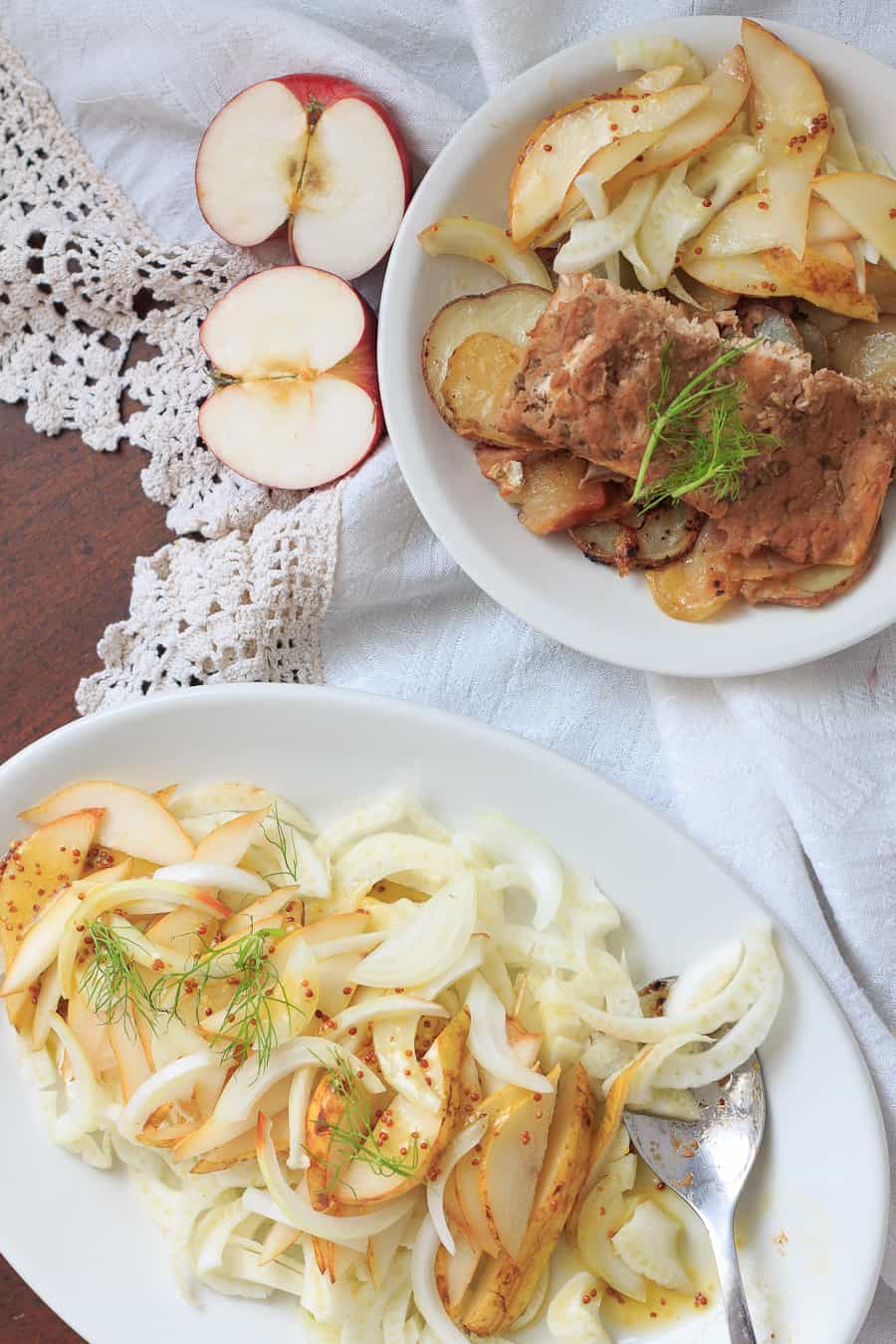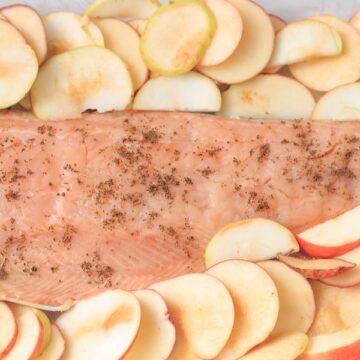 Roasted salmon on a bed of apples and potatoes
Dressed in spiced apple sauce and cooked to perfection, this roasted salmon rests on a bed of naturally sweet, caramelized apples and potatoes. A dish to remember.
Print
Pin
Rate
Ingredients
Instructions
If using frozen salmon, defrost fish overnight in the fridge. When ready to cook, preheat oven to 450F.

In a saucepan, combine apple sauce, 1 TB of olive oil and fennel seeds. Heat through on medium-high heat for about 5 minutes (no need to bring to a boil). Remove from heat.

Wash potatoes and apples well. Slice apples and potatoes into thin rounds (when you get to the seedy part of the apple, stop slicing circles, change sides, and when you get to the heart again, cut out the core and slice the remaining parts of the apple into crescents; or just core and slice the whole thing into crescents – it really doesn't matter).

Pat salmon dry, and season with salt and pepper. Rest in the middle of an oven-safe baking dish. Arrange potatoes and apples around it interchangeably, nestling them snuggly.

Cover salmon with apple sauce mixture, taking care to get it under the fish as well (you want to make sure the fish is well-coated). Drizzle 3 TBs of olive oil on all the apples and potatoes, and season them with salt and pepper.

Cover with aluminum foil, and bake at 450F oven for 35 minutes. Uncover, and bake on the grill/broil setting for another five minutes. Remove form the oven, and serve immediately.