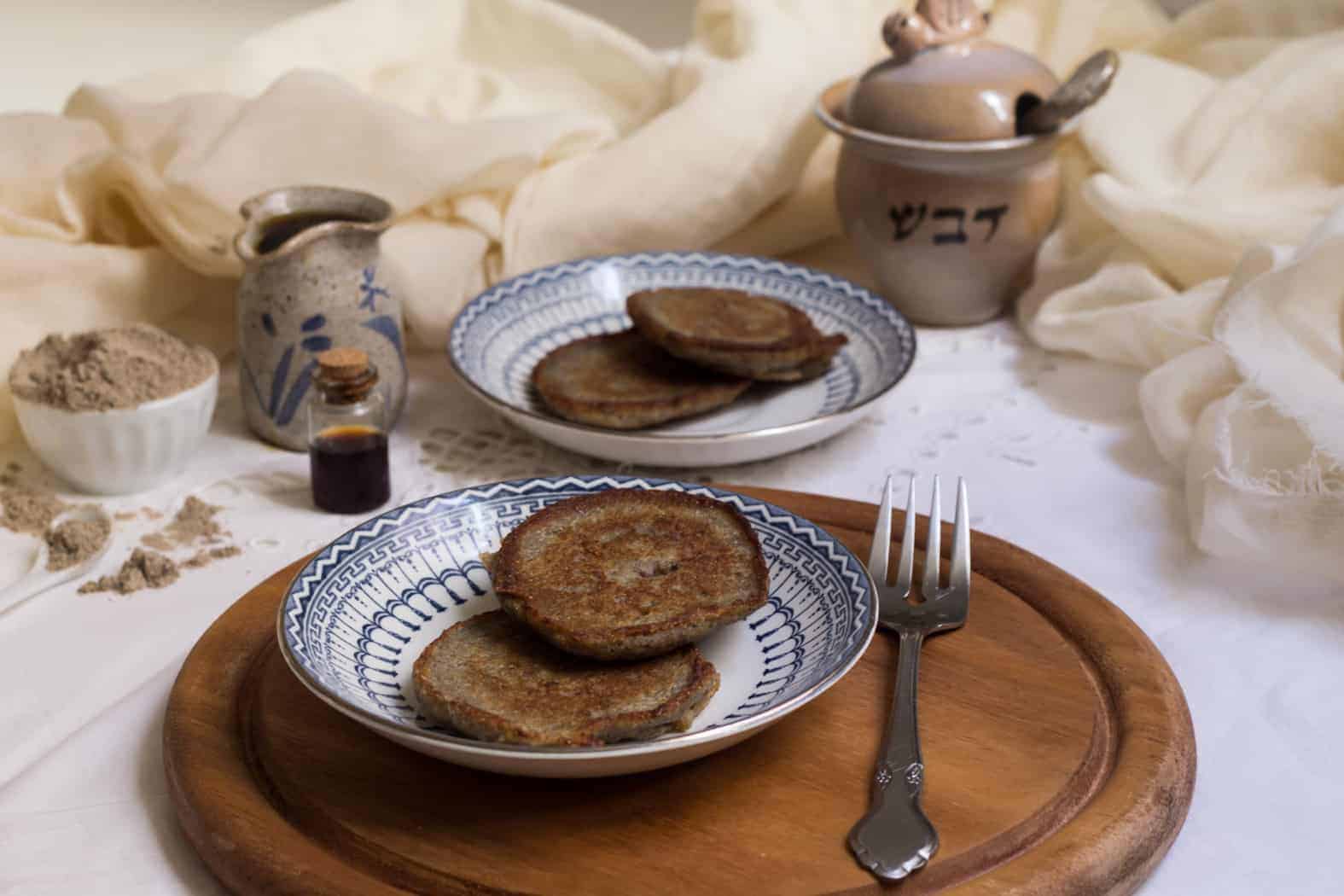 We are all familiar with the Monday humdrum. From the first struggle to open your eyes in the morning, to the last argument with your partner before finally calling it a day, it seems like nothing goes easy on the first day of the week, nothing truly good or exciting happens.
But in truth, it doesn't have to be like this; there are little things we can do to make our Mondays, and subsequent weekdays, go and feel right. With the small ritual of making ourselves a nice, quiet breakfast, we can change the whole day. All you need is 10 minutes to make some Russian buckwheat pancakes with cardamom and orange, pour yourself a cup of strong, milky coffee, and then just sit down and enjoy the silence. It won't take long, but it will truly feel luxurious.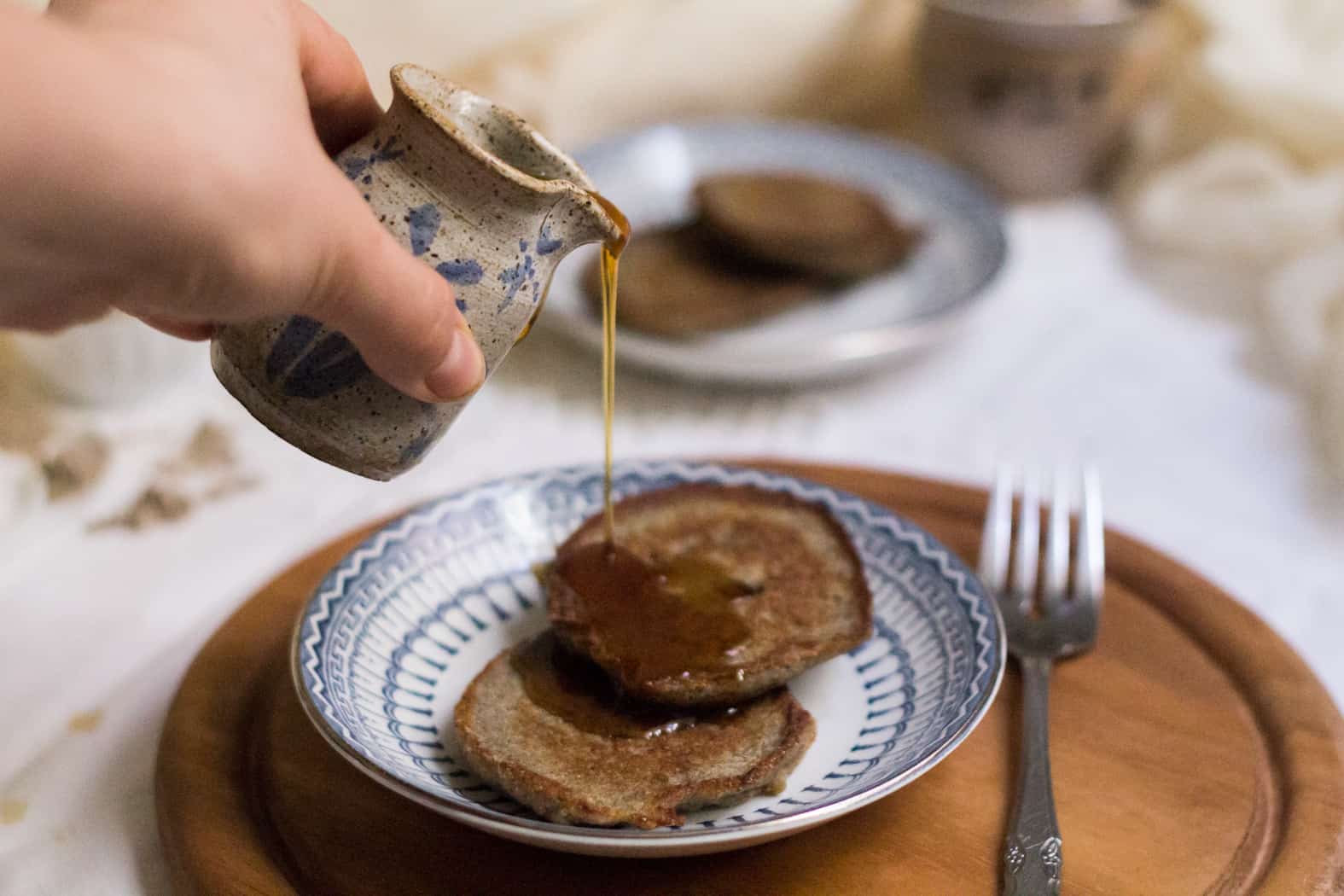 Growing up in a house with two doctors, my weekday mornings were always hectic. I would awaken to find my mother running around the kitchen, her face already fully made up but her hair still up in rollers, grabbing a yogurt here, a sip of coffee there. My father would be sitting at the kitchen table, mopping up leftover salad with a chunk of cheese. They were nowhere and everywhere at the same time, their minds barely present as they went through the rhythms of their morning routines. There was little joy in our house on weekday mornings, and sadly, I grew to accept it.
I wish I could say things were different now, when I'm an adult of my own, with a partner and a shiny white kitchen and little loving rituals in the mornings. I wish I could say I didn't run through my corridors barefoot, skirt askew and make-up not yet on, in a last mad-ditch effort to feed my cat before I leave the house. I wish I could I say I didn't get distracted by the newspaper, the garbage bag, the last sip of smoothie in my cup. I wish I could say I didn't forget to feed my cat after all.
Alas, I am my parents' child. I take time on the weekends to treat myself to nice breakfasts, setting the table and making coffee and feeding the cat. But on weekday mornings, especially Mondays, it seems that all bets are off; I am lucky if I have time to make a smoothie, and even luckier if I don't forget it in the blender. And as my morning starts, so the day goes: hectic, hurried, stressful.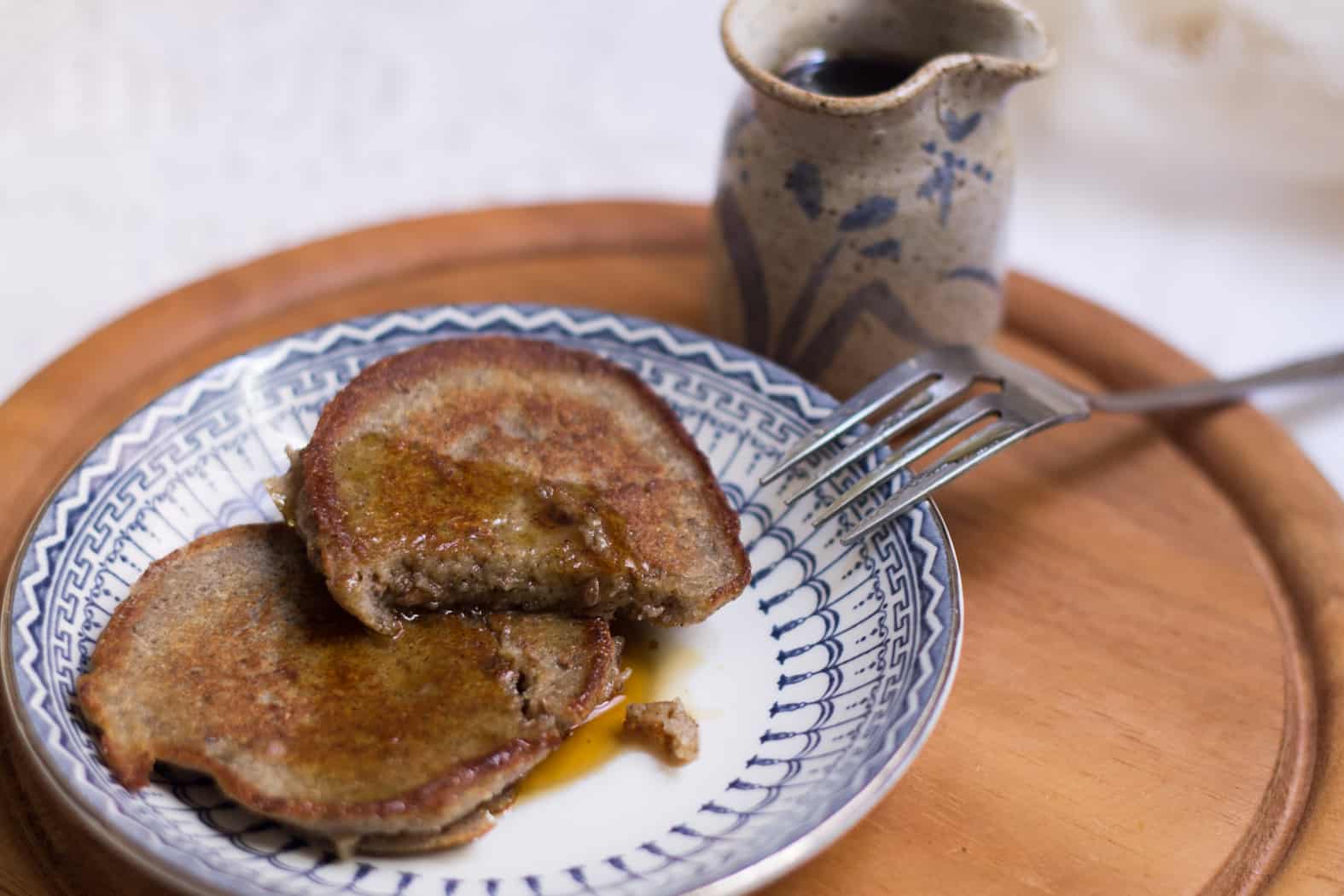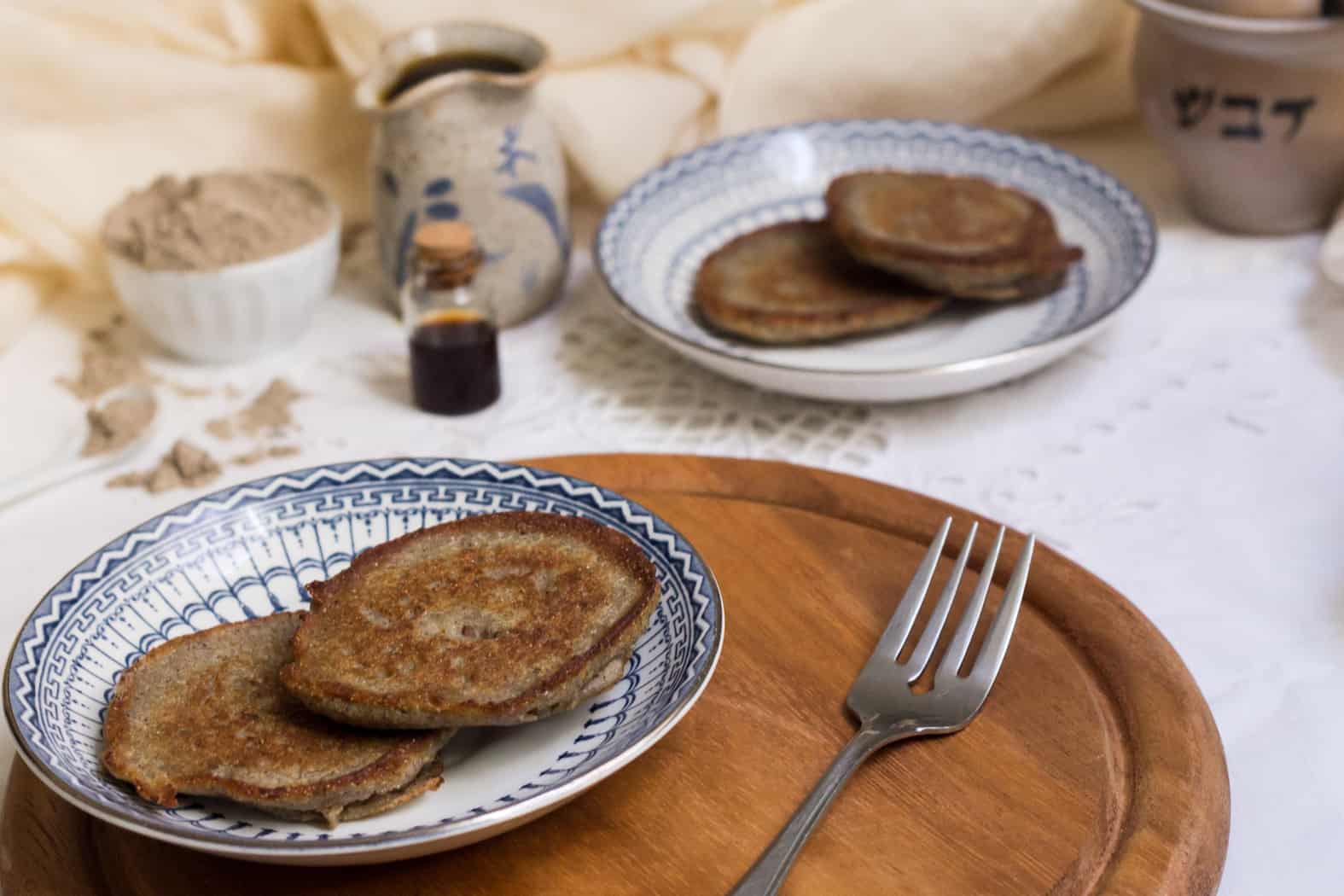 But this morning, I decided to do things different. I set my alarm to 30 minutes earlier, giving myself an extra 10 to stretch, to doze off, to hit the snooze button. I then got out of bed, set the kettle, and mixed the batter for these Russian buckwheat pancakes. I drained my ricotta through a little mesh sieve, pushing out all of the liquids. I grated in the lemon zest and mixed in the floral ground cardamom. I warmed up my pan and fried little gluten-free discs to golden perfection.
And then I poured on the maple syrup, sat down, and ate. By myself. With the third book in the Game of Thrones series. With the pigeons cooing outside the window. With my cat meowing and rubbing himself against my leg. With my thoughts. Without my cell phone.
By the time my half-hour passed, I was satiated in so much more ways than one.
I hope that this recipe makes your weekday better. Specifically, I hope that this piece of writing will inspire you to make a nice breakfast for yourself on any day that ends with –ay, whether you have somewhere to get to, or not. I hope that these little spiced and fragrant Russian buckwheat pancakes will inspire you to steal a few minutes to eat it in silence, savouring the bites, enjoying the interplay of light and shadows on our kitchen table.
I hope these buckwheat pancakes will inspire you to treat your weekday mornings with the love they deserve.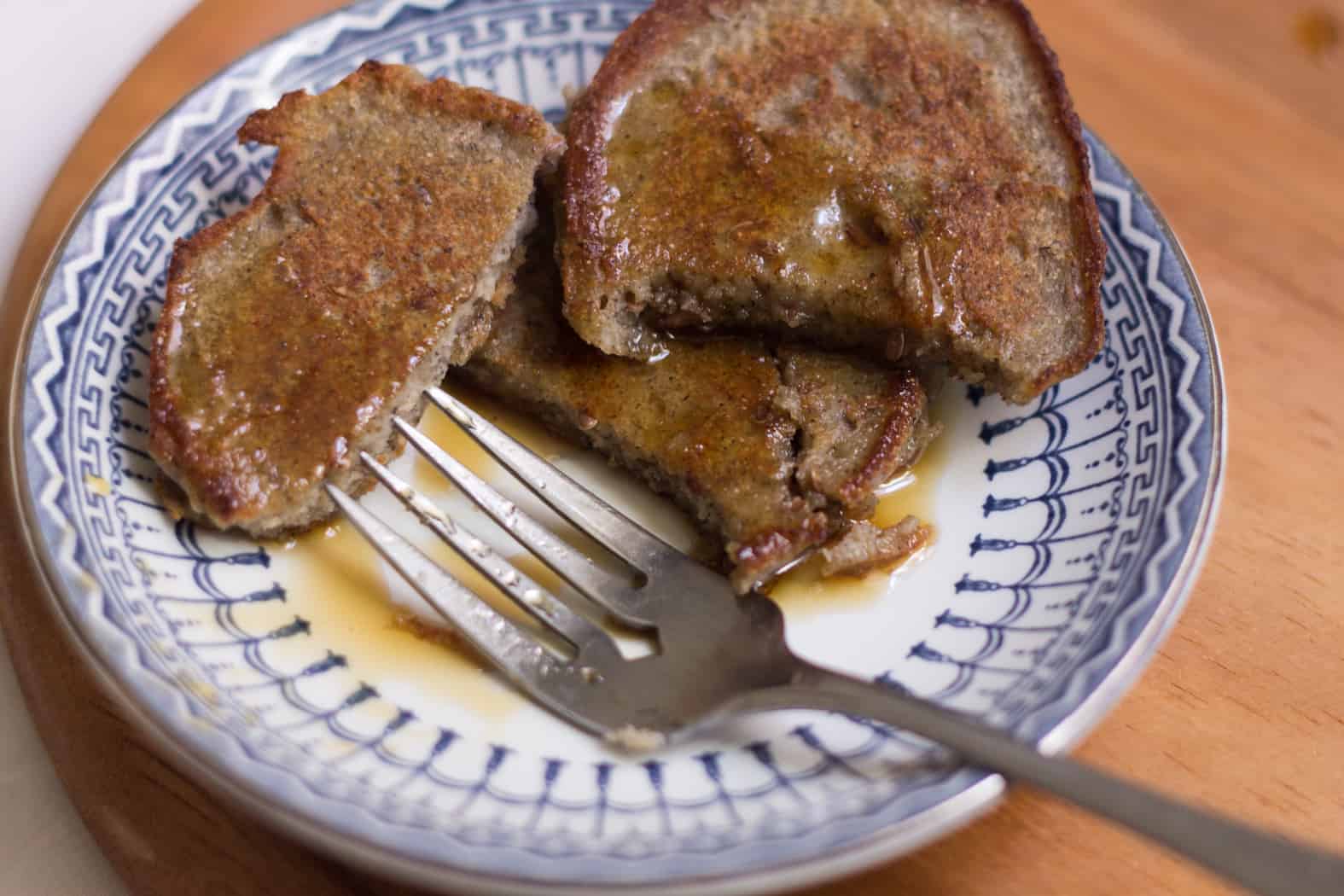 Russian buckwheat pancakes (syrniki) with flax seeds and maple syrup
A Middle-Eastern take on traditional Russian syrniki, these buckwheat pancakes are gluten-free, sweetened with maple syrup and fragrant with the exotic flavours of cardamom and orange.
Print
Pin
Rate
Ingredients
2

cups

well-drained ricotta

tvorog or cottage cheese

2

eggs

mixed well

3

teaspoons

maple syrup

A couple of drops vanilla extract

A pinch of sea salt

Zest of half an orange

optional

a pinch of cardamom

8

tablespoons

buckwheat flour

or more, as needed

4

teaspoon

flax seeds

Vegetable oil or light olive oil

for frying
Instructions
Combine eggs with maple syrup, salt, orange zest, vanilla extract and cardamom. Add the ricotta cheese and mix well. Add the flour and mix, starting from 6 tablespoons and increasing as necessary (butter shouldn't be too thin and should stay on the spoon instead of running off it). Fold in the flax seeds.

In a large, heavy-bottomed frying pan, heat vegetable oil on medium heat. Add in the batter in scoops, using 2 tablespoons, well-floured hands or an ice cream scooper. Cook for a couple of minutes until buckwheat pancakes fry on one side. Flip over, lower heat to low, and continue cooking for an additional 5 minutes. Remove to a large platter and cover, keeping pancakes warm until serving. Repeat with the rest of the batter.

Serve buckwheat pancakes (syrniki) immediately with maple syrup and butter.