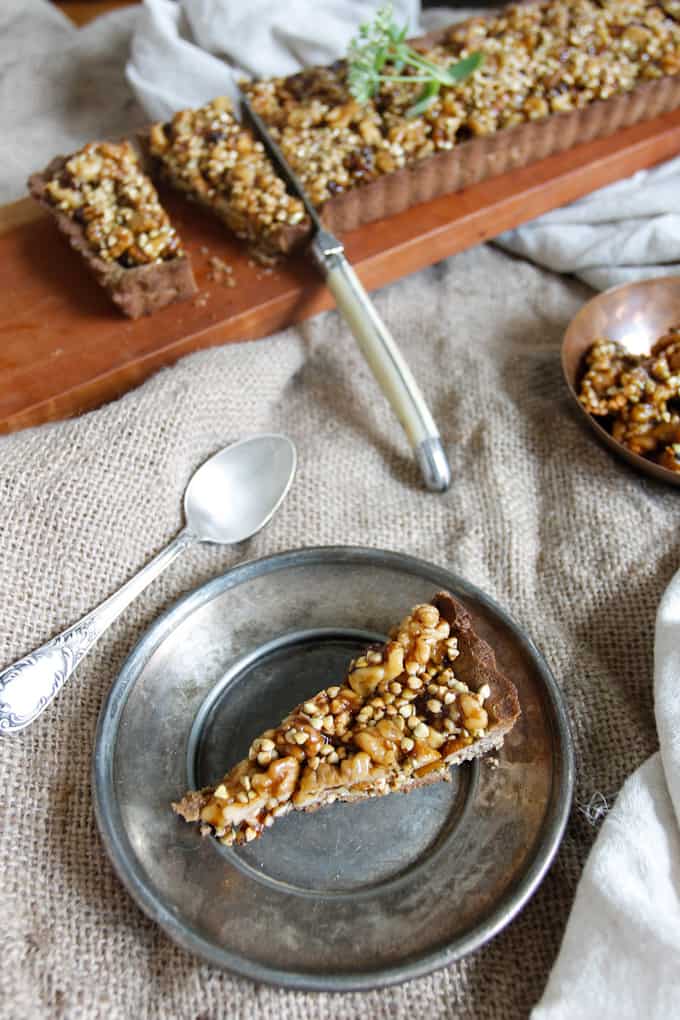 This post contains affiliate links – thank you for supporting the brands that help make this blog possible. This walnut and buckwheat caramel tart from My Little French Kitchen is a perfect pairing of sweet and salty flavours, and crispy and silky textures. Gluten-free, dairy-free.
Since moving to Quebec, I find myself gravitating towards the traditional flavours of French cooking: tarragon, butter, cream, delicate tart crusts and beautiful, luscious caramel. I usually mitigate the damaging effects of all this dairy, gluten and refined sugar by simplifying where I can, replacing where I can't. The result is an allergy-conscious, healthy spin on decadent French cuisine that leaves nothing to be desired; And the crowning achievement is this wholesome, mouth-watering walnut and buckwheat caramel tart. With a gluten-free buckwheat pastry crust, a vegan caramel and a refined-sugar free filling, this tart is finger-licking good French food, without compromises.
And if you read to the end of the post, you could enter to win your very own copy of the book that cemented my obsession with French cuisine, Rachel Khoo's My Little French Kitchen.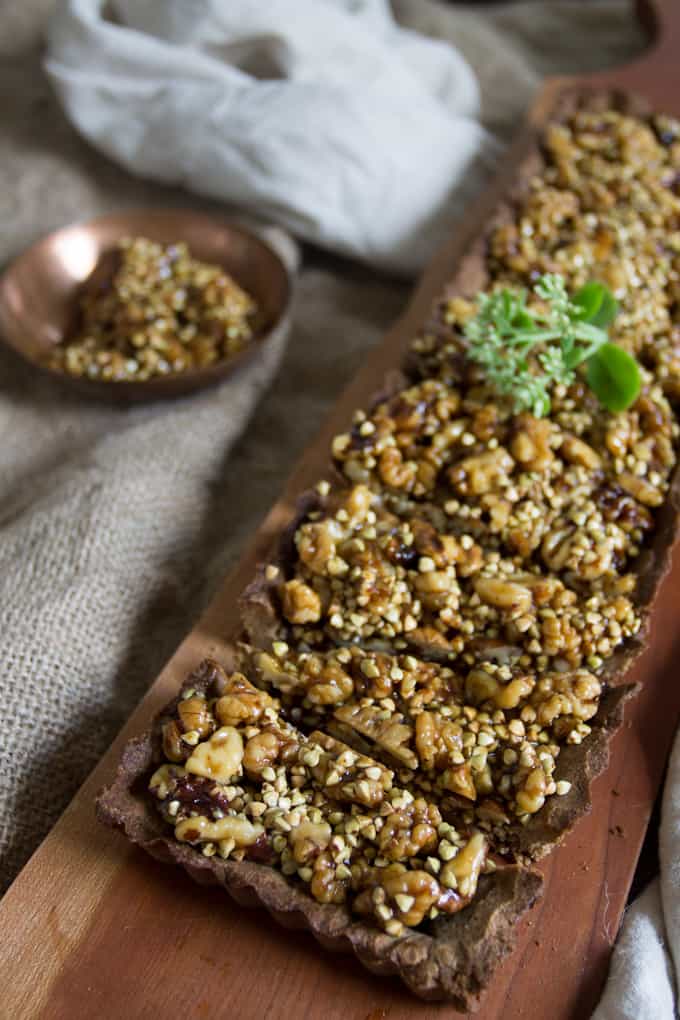 When I first got my hands on Rachel Khoo's gorgeous cookbook, My Little French Kitchen, I immediately find myself being pulled to the richer, cheesier dishes in the bunch. Perhaps that's because I first got in winter, or because there is just something about French cooking that immediately connotes the combination of red wine, crusty bread and ooey, gooey Comte or raclettes.
But when I leafed through Rachel's creation more carefully, I saw there was much more to French cooking beyond the holy trinity of cheese, bread and wine. With each chapter of the book exploring the cuisine of another region of France, Rachel deftly makes her way through the rustic foods of Bordeaux, to the light, almost summery foods of Brittany, perfectly illustrating the variety of French cuisine in the process. I drooled at the hearty fare of Lyons, cooked through Provence and dreamed of summers stuffing myself on the distinctly Spanish/French Basque pintxos (little tapas). In short, I found myself falling deeply in love with French cooking, especially as it appears in Rachel Khoo's My Little French Kitchen.
I have cooked from this cookbook several times, riffing off familiar recipes and challenging myself to intricate French pastry with others. It's a true workhorse that I turn to in all seasons, with all manner of ingredients - and if you scroll to the bottom of this post, you can enter to win your very own copy of Rachel Khoo's My Little French Kitchen!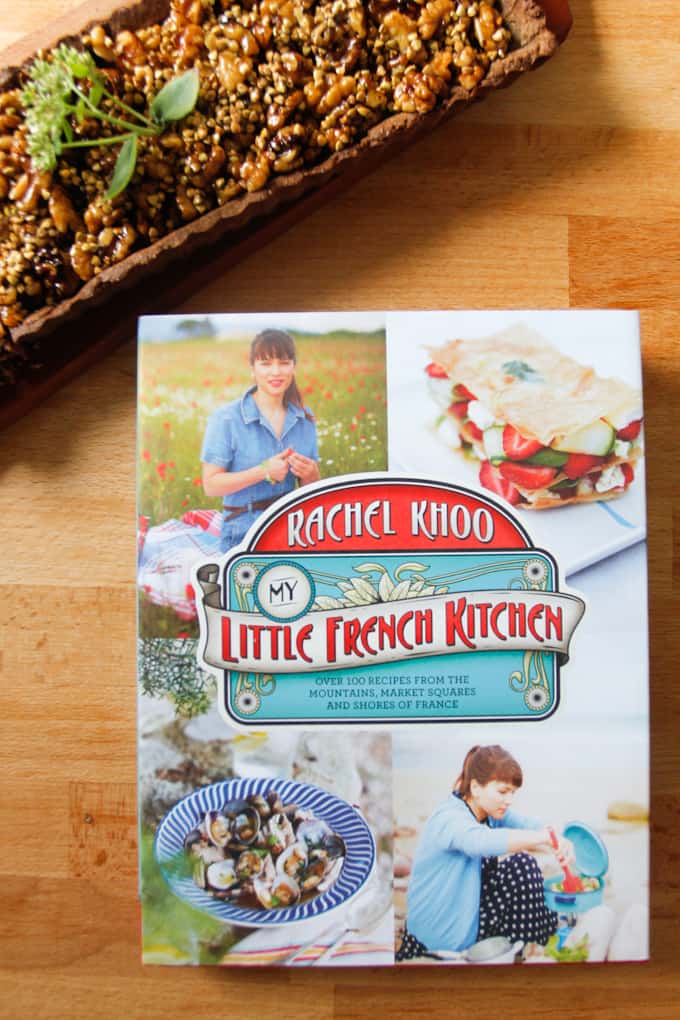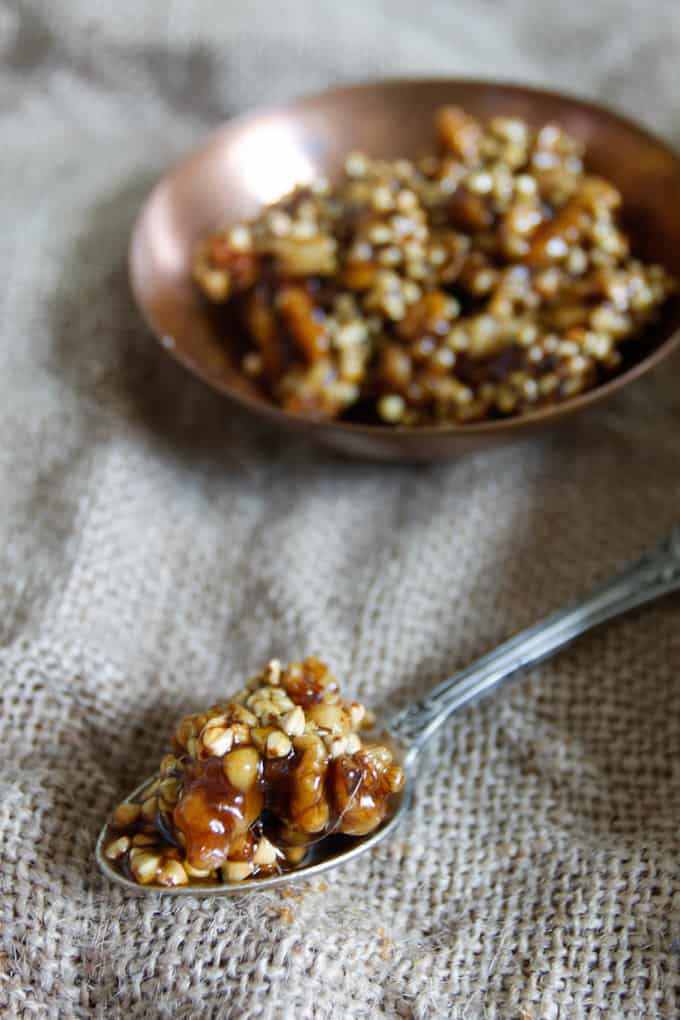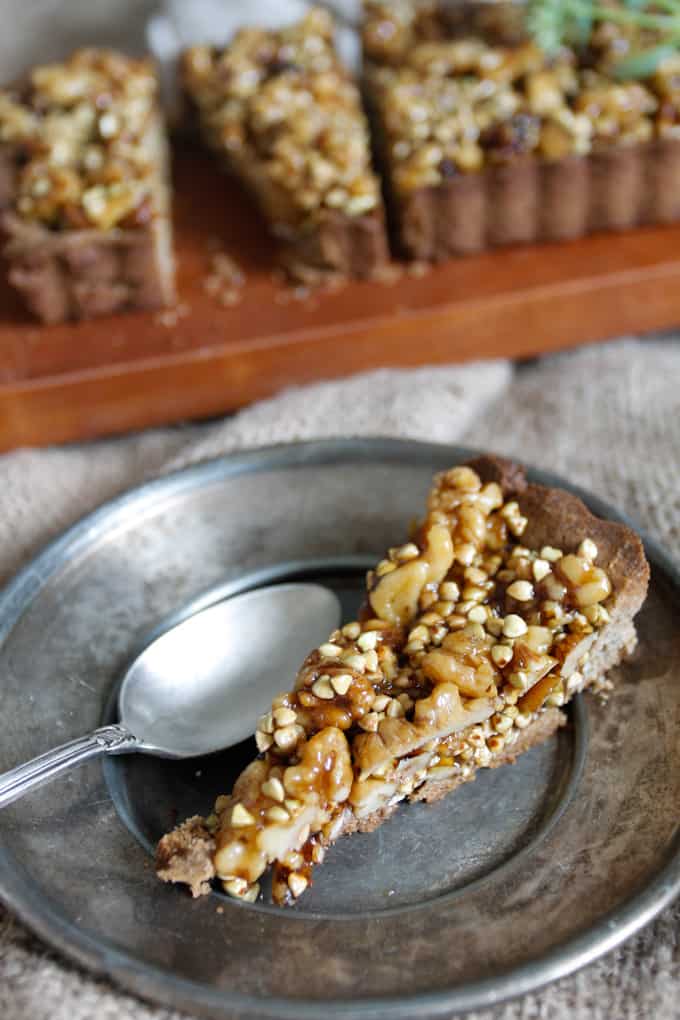 Yet of all the dishes I made from My Little French Kitchen, this walnut and buckwheat caramel tart remains my favourite.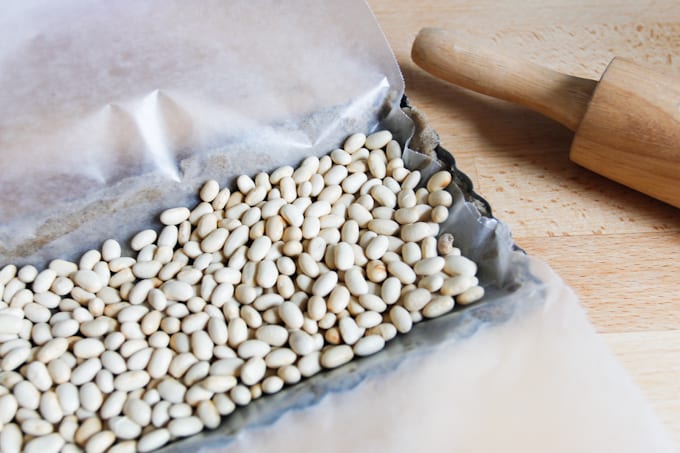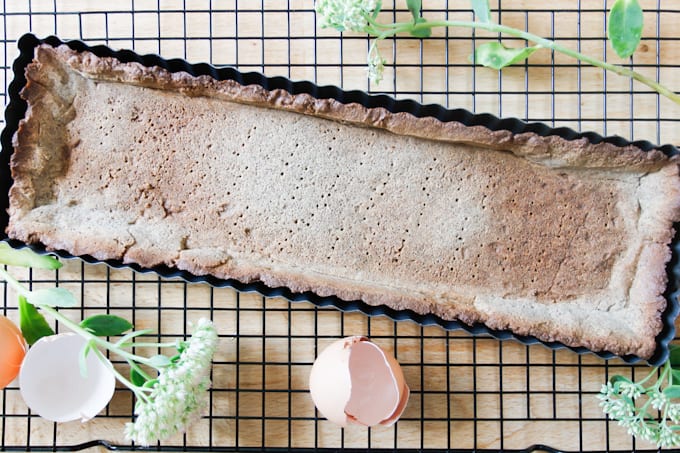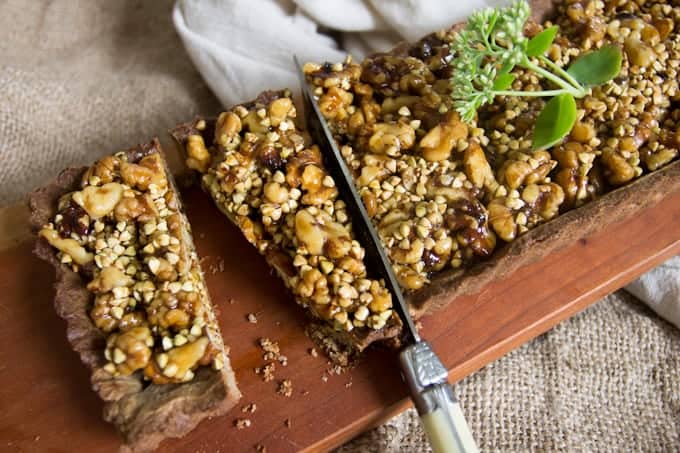 It's light but hearty, and the combination of salted caramel, walnuts and crunchy buckwheat is completely unique. I have made this tart with plums instead of walnuts, loving the luscious way in which the fruit cooked on itself. I followed both Rachel's original crust recipe, but also made my own gluten-free version, matching the buckwheat in the filling with a deeply flavoured buckwheat crust. I made the filling vegan and free or refined-sugar and dairy. In short, I tinkered and played, even though the original was splendid in its own right.

But I'm proud to say: my dairy-free, gluten-free walnut and buckwheat caramel tart with vegan caramel is no less decadent and scrumptious than the Lyonese original.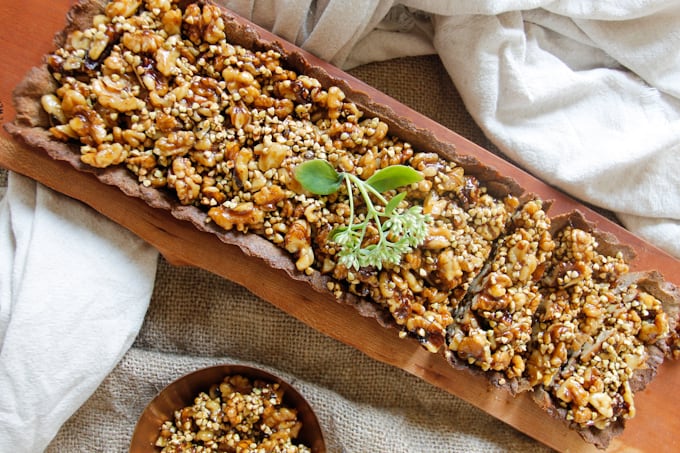 So whether you are the winner of your very own copy of My Little French Kitchen, or if you continue to dream of French cooking from afar, I urge you to make this walnut and buckwheat caramel tart for your next tea time. Your gluten-free, dairy-free eating friends will thank you for bringing them a step closer to the joys of French cooking.
I am able to offer one lucky reader a copy of this beautiful book thanks to the generosity of Raincoast Books. Enter below to win your copy of My Little French Kitchen, and then tell me of the beautiful creations you have made from it. Tag your recipes #immigrantstable and @immigrantstable on Twitter, Instagram, or Facebook, and I will be happy to share them with my other followers!
Tried and loved this recipe? Please leave a 5-star review below! Your reviews mean a lot to me, so if you've got any questions, please let me know in a comment.
Recipe
Walnut and buckwheat caramel tart
This walnut and buckwheat caramel tart is a perfect pairing of sweet and salty flavours, and crispy and silky textures. It's also gluten-free, dairy-free and low in refined sugars. Walnuts have a slightly bitter note that pairs beautifully with the sweetness of caramel, and the heartiness of the buckwheat crust and toasted buckwheat grains just brings it all together nicely.
Ingredients
Buckwheat shortcrust pastry dough:

6

TBs

Earth Balance

butter, or vegan margarine, softened to room temperature

½

cup/ 45 g confectioners' sugar

pinch

of salt

2

egg yolks

1

cup

plus 1 TB/ 135 g buckwheat flour + more

as needed

Walnut and buckwheat caramel tart:

¾

cup/ 150 g coconut sugar or brown sugar

2

TBs

water

7

TBs

soy

coconut or regular cream

2

TBs

molasses

3

TBs

Earth Balance

butter, or vegan margarine

½

teaspoon

salt

2.5

cups/ 250 g walnuts

toasted

1

cup/ 150 g buckwheat groats

toasted
Instructions
Using a wooden spoon, beat together the Earth Balance, confectioners' sugar, and salt until soft and creamy. Mix in the egg yolks until smooth. Add the flour and, using a pastry cutter or a fork, chop up the mixture until it has a sandy texture (if using buckwheat flour, you may need to add more - add this 1 TB at a time). With cold hands, gently shape the dough into a ball, wrap in plastic and refrigerate for at least 1 hour.

When ready to prepare the tart, preheat the oven to 350F. Grease the tart pan. Roll out the dough between two sheets of parchment paper until ⅛ to ¼ inch thick.

Line the pan with the pastry and prick with a fork. Cover with another sheet of parchment and pour in pie weights or beans. Bake for 20 mins before removing the parchment and weights. Bake for an additional 10 mins. Remove from the oven and let cool slightly, then remove the pastry shell from the pan (this can be made a day in advance).

To prepare the caramel, put the sugar and the water in a large saucepan. Heat on high until the sugar melts, without stirring - though you can swirl the pot around if needed. Once the caramel is bubbling and thickens a bit, remove it from the heat and add the cream, molasses, margarine and salt. Be careful: the caramel will steam and bubble. Swirl the pan before returning it to medium heat. Cook for an additional 3 to 4 minutes, or until it reaches 235F.

Stir in the toasted walnuts and buckwheat and then pour immediately into the tart shell. Spread out the filling and let rest for 10 minutes in room temperature before serving.

The tart will keep for a week.
Tried this recipe?
Comment + Rate Below!
Connect on Instagram!
Find us @immigrantstable