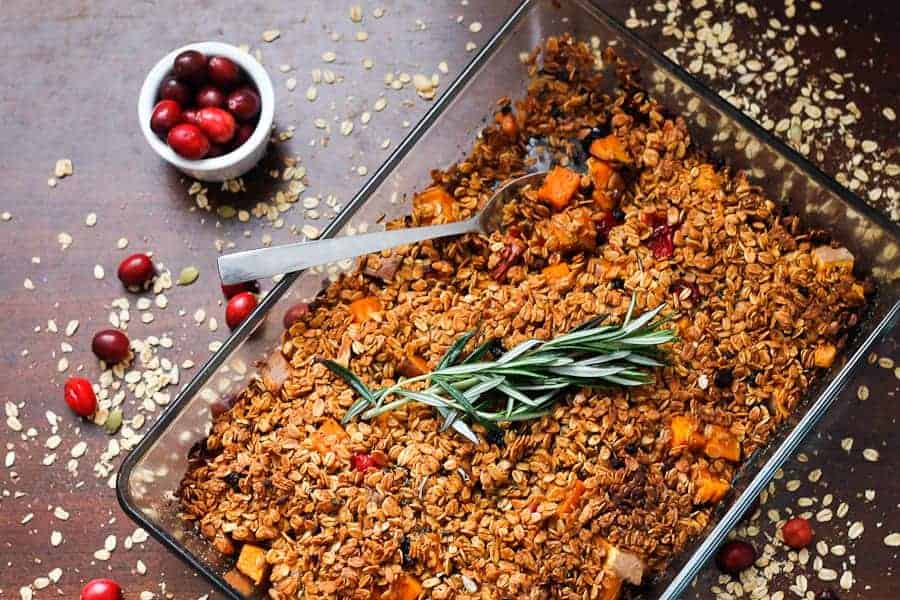 One day early on in my culinary career, I decided to bake a sweet potato casserole. I had recently discovered the Internet and its recipes, and I was spending many of my waking, non-school hours diligently copy-pasting select recipes into neatly labeled word documents. On one of these sojourns, I found a recipe for a caramelized, brown sugar and cinnamon-laced sweet potato casserole, and decided I just had to make that for my family. I believe about a pound of butter was involved.

It didn't take me long to prep the dish. What took considerably longer was explaining to my mother why I was putting cinnamon and brown sugar into a lunchtime side-dish. You see, Russians aren't big on the combination of sweet and savoury; in fact, my comrades usually prefer to keep anything with a sweetness level beyond that of a beet in the strict dessert category. Even breakfast is a mostly salty affair, with the exception of syrniki and blintzes. So this dish was a tough sell.
When it came out of the oven, the whole house smelled of cinnamon, sugar and browned butter. It was enough to put anyone into a sugar-induced coma, but I persevered. I placed the dish on the table, put on a brave smile, and crossed my fingers for good luck.
Everyone absolutely hated it. Myself included.
Now, I don't actually know what went wrong. Maybe it was the astronomical amount of fat in the recipe; maybe it was too much cinnamon (my mother is an avowed hater of the spice). Maybe we just weren't ready for that influx of Americana. Whatever the case, it was enough to keep me from trying my hand at another sweet potato casserole for years to come.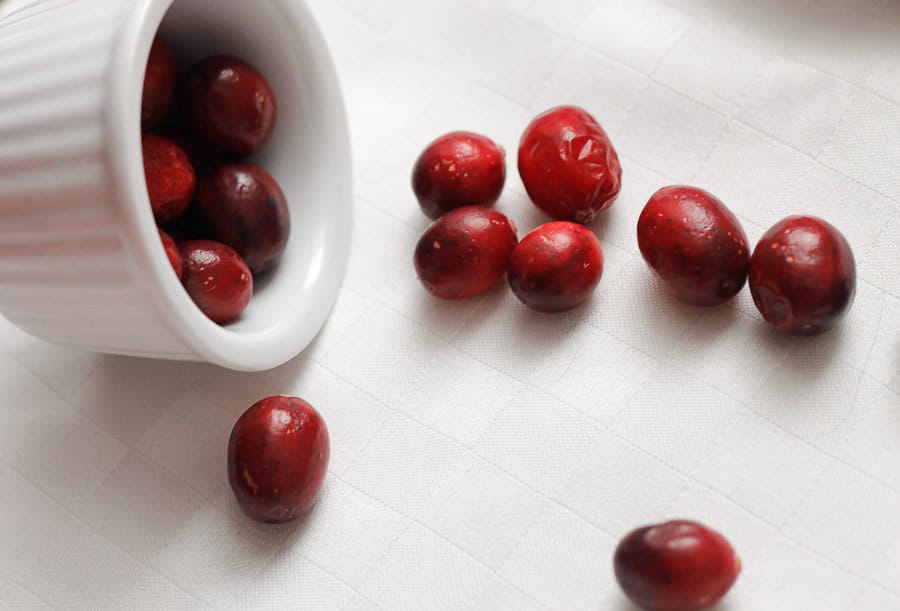 And then last week, my package of Berry Blend granola by NaturSource came in the mail (well, to be exact, I came back to Winnipeg to find a surprise package has arrived while I was gone. I'm not complaining - I'll take surprise treats in the mail any day, please!). I have long wanted to make a sweet potato casserole with one of their granola mixes, and the moment I saw the ingredients in the Berry Blend - rolled oats, dried cranberries, currants, strawberries and blueberries - I knew it would be perfect for a dish that would bring together sweet potatoes and cranberries, enable me to hold on to the last vestiges of the holidays, and help me vindicate myself for the Great Sweet Potato Casserole Debacle of 2000.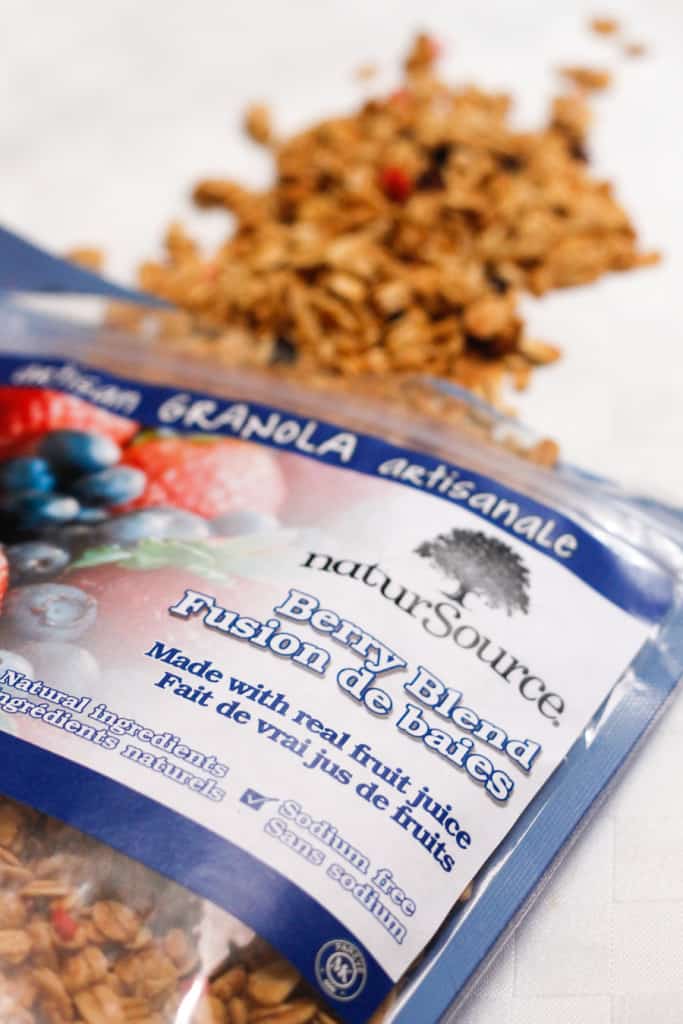 I knew I didn't want any cinnamon or processed sugars in this almond, cranberry and sweet potato casserole - past experience has taught me well. A couple of tablespoons of maple syrup here, a sprinkle of ground ginger there, and a handful of chopped fresh rosemary was all it took to transform a naturally-sweet filling of cranberries, sweet potatoes and almonds into a delicious casserole.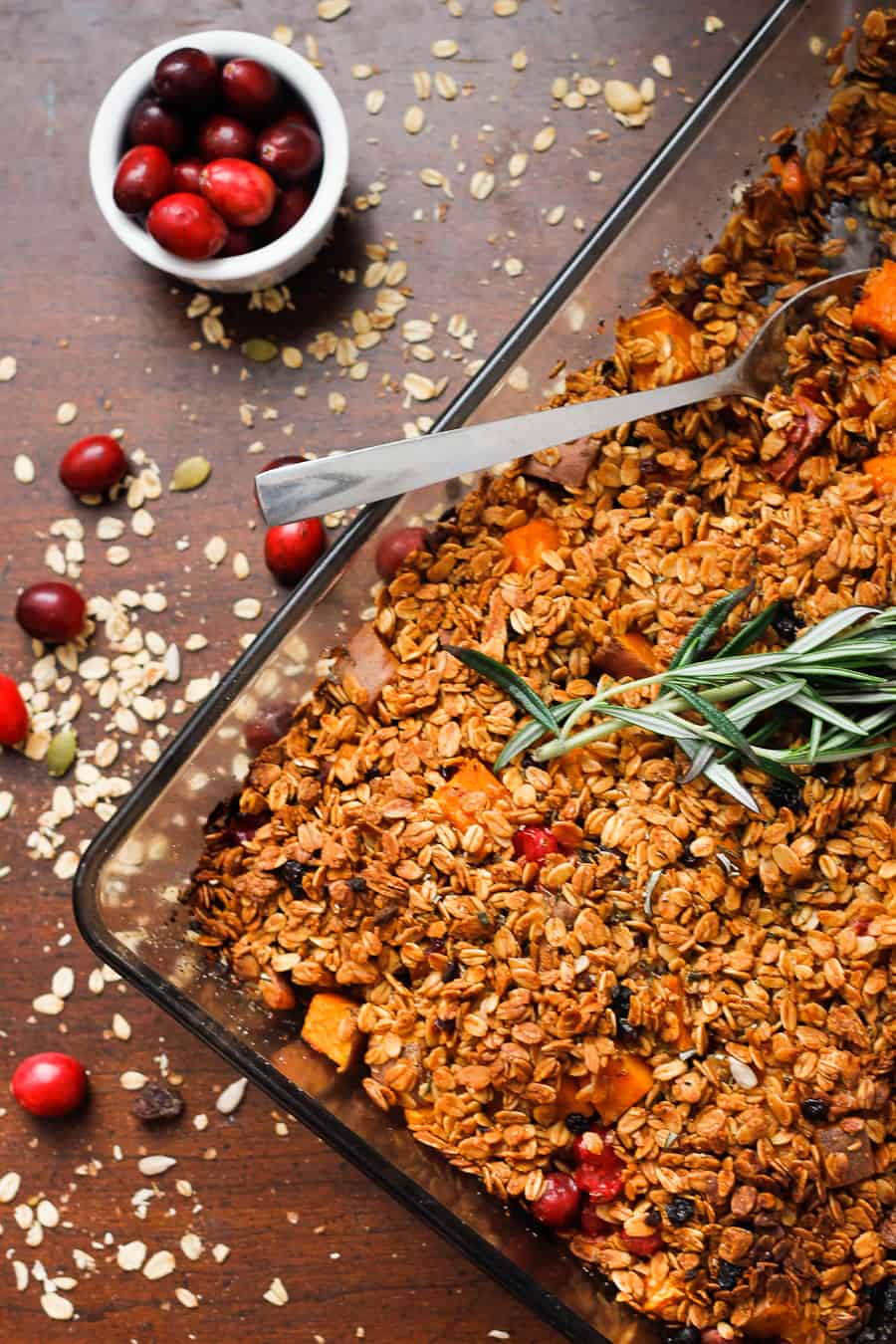 The Berry Blend granola itself is just diverse enough in itself that it needed very little extra; a few dabs of coconut oil helped highlight the fruity flavours in the granola, and a little bit of flour and pure maple syrup helped the crumble topping come together.
The result is a perfectly balanced almond, cranberry and sweet potato casserole that straddles the fine line between being a little sweet, a little salty, and a whole lot good for you.
Because who says you can't eat sweet potatoes and cranberries after Thanksgiving? Not I.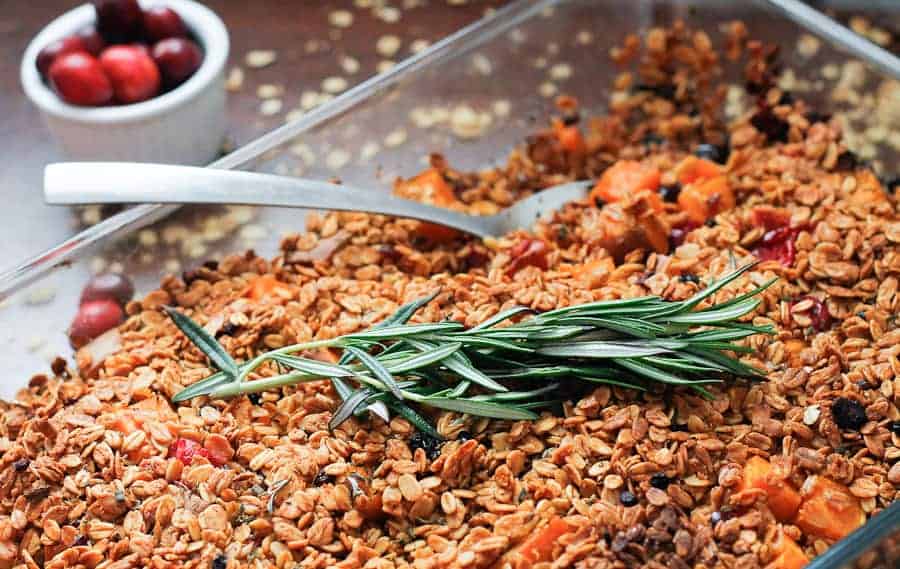 P.S. - During my month of paleo, I am in the market for a vegetable spiralizer. You know, those machines that cut veggies into fancy ribbons so you can fool yourself into thinking you're eating pasta. Has anyone used them? Got any recommendations?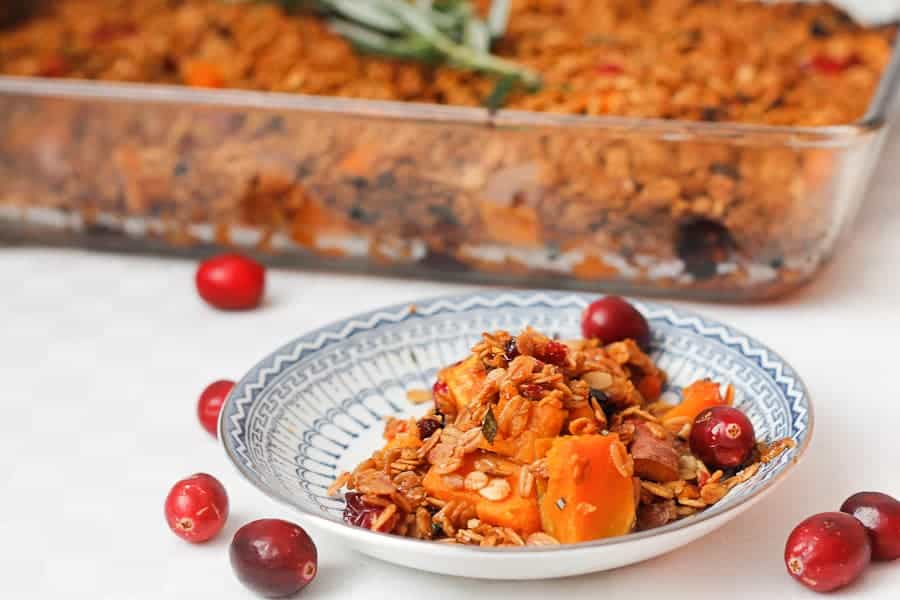 P.S. – This is a sponsored post, but all opinions expressed here are my own. I am proud to support a local, family-owned business whose product I truly appreciate, and I thank you for supporting my sponsors.
Liked this post? Share it with your friends! For more At the Immigrant's Table, follow me on Facebook, Instagram, Pinterest, Bloglovin', or Twitter, subscribe to my mailing list, or contact me about advertising and becoming a sponsor. If you make one of my recipes, don't forget to tag it #immigrantstable @immigrantstable!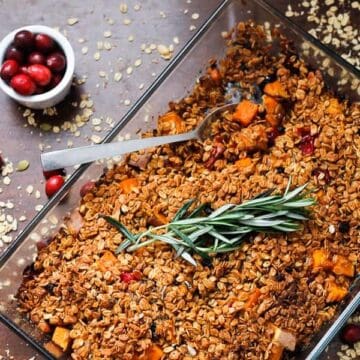 Almond, cranberry and sweet potato casserole with berry granola crumble
This almond, cranberry and sweet potato casserole with berry granola topping is a little sweet, a little salty, and a whole lot good for you.
Print
Pin
Rate
Ingredients
2

medium-sized sweet potatoes

cut into 1-inch pieces

1

cup

fresh cranberries

1

cup

almonds

chopped roughly

4

tsps

ground ginger

2

tsps

table salt

4

TBs

fresh rosemary

chopped finely

4

TBs

maple syrup

2

TBs

+ ½ cup coconut oil

or butter

1.5

cups

Berry Blend granola

½

cup

flour
Instructions
Preheat oven to 375F.

In a a large mixing bowl, mix yams, cranberries, almonds, ground ginger, salt, rosemary, 2 TBs maple syrup and 2 TBs of coconut oil (or butter). Stir well to combine.

In a mid-sized bowl, mix granola with flour, ½ cup of coconut oil (or butter) and 2 TBs maple syrup.

Coat the inside of a casserole dish thoroughly w coconut oil (or butter). Transfer yams and cranberries mixture to casserole, and spread evenly. Top with berry granola crumble mixture, trying to coat the yams as evenly as possible.

Cover with tin foil. Bake, covered, for 35 minutes. Test yams for doneness - if they are easily pierced through with a fork, remove from oven; if not, uncover and bake for an additional 5 minutes.

Plate and serve immediately.