This creamy sweet potato hummus recipe takes traditional savory hummus and adds in the sweet taste of roasted sweet potatoes.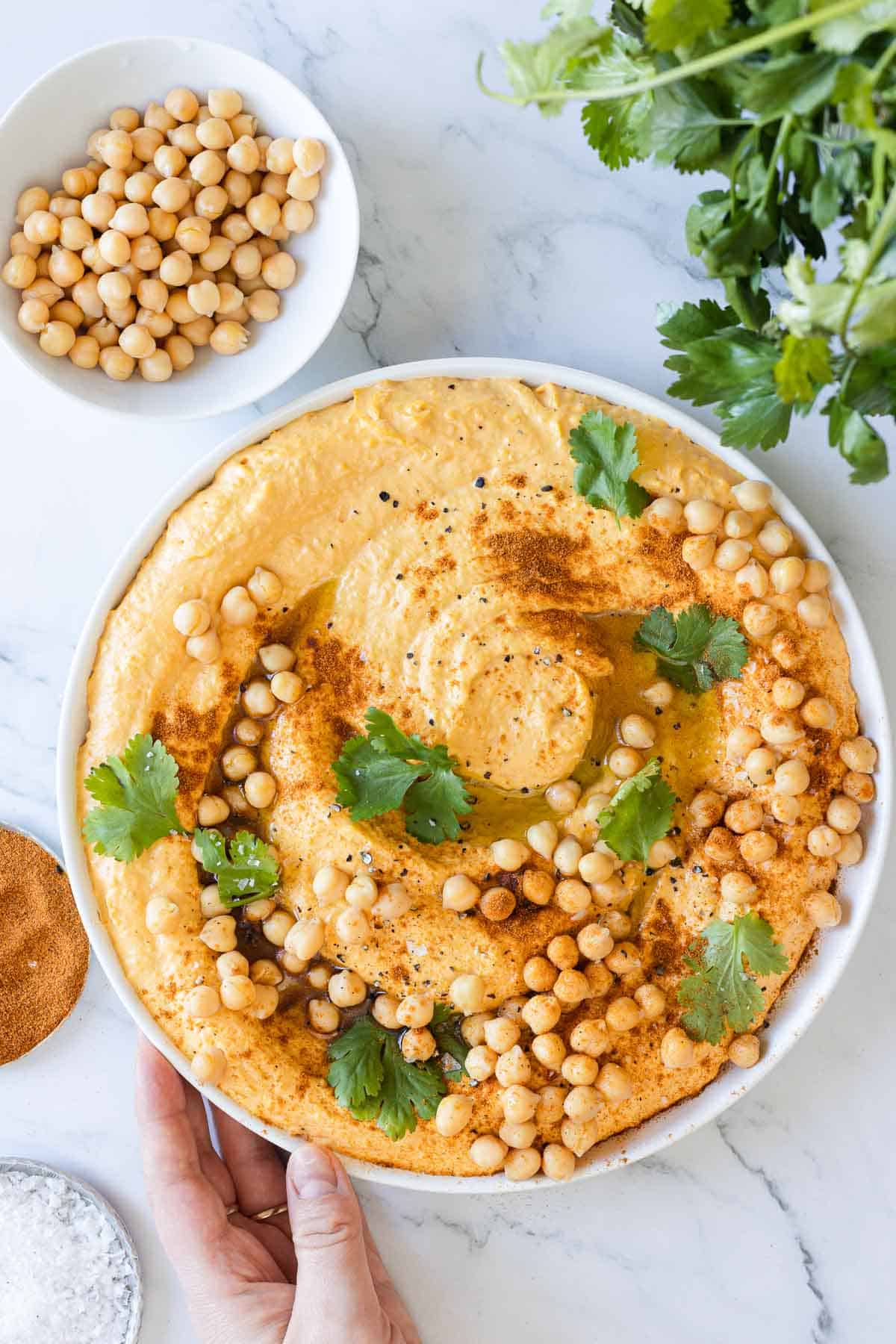 Introduction
Looking for a great recipe that's great for both kids and adults but also gluten-free and vegan? Look no further than this sweet potato hummus recipe!
My kids are like me—they can eat regular Israeli hummus by the bucket. But nothing excites them about plain pita bread as this delicious, creamy, sugary sweet potato hummus.
With a twist on the regular creamy hummus recipe, this dish will become your new go-to easy appetizer. By adding sweet potatoes, the hummus takes on a subtly sweet taste that pairs perfectly with garlic, tahini, and spices like paprika. This is genuinely the best hummus for my kids.
Plus, the dish is loaded with all the vitamins from sweet potatoes and cilantro, which taste great and are incredibly healthy.
Whether trying to satisfy your cravings or simply looking for a nutritious snack for the family, this sweet potato hummus recipe is the perfect choice. So why not try it today and see how delicious it can be?
What is sweet potato hummus?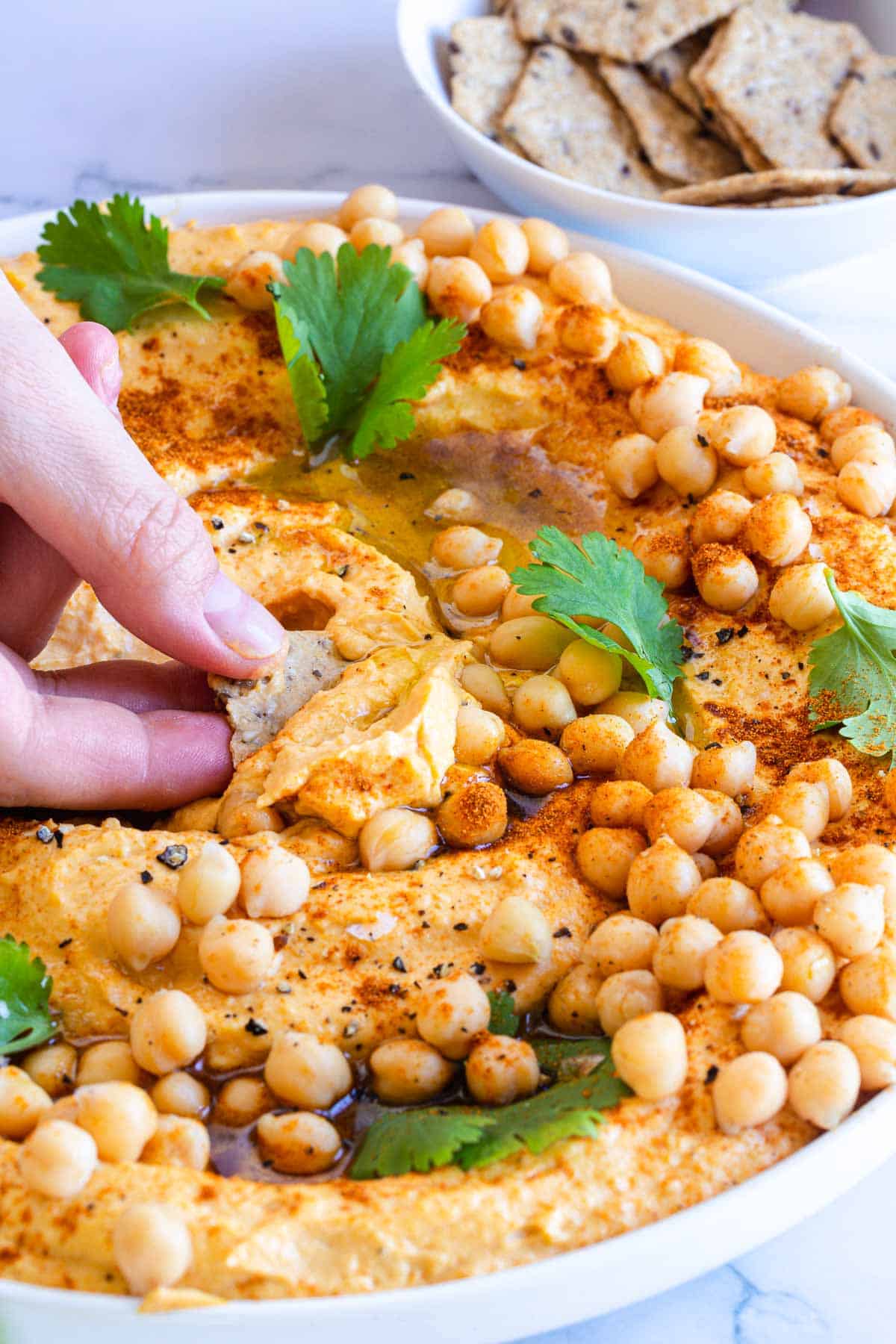 Sweet potato hummus is a tasty and healthy alternative to traditional hummus. It is made with sweet potatoes and cooked chickpeas, also known as garbanzo beans. The sweet potato gives the hummus a delicious sweetness and its orange color.
To make the hummus, sweet potato, chickpeas, tahini (a paste made from sesame seeds), lemon juice, and other seasonings are blended together in a food processor until smooth. This results in a creamy and flavorful dip that can be used as a spread or dip for vegetables, pita chips, or crackers.
Sweet potato hummus is delicious and provides a range of nutrients, including fiber, protein, and vitamins A and C. Additionally, sweet potato hummus is vegan and gluten-free, making it a versatile and inclusive snack or appetizer.
Are sweet potatoes good for you?
Sweet potatoes are known as a superfood due to their high nutritional value. They are low in fat, contain dietary fiber, vitamins, and minerals.
The orange color of sweet potatoes indicates the presence of beta-carotene, which is converted into vitamin A in our body.
Furthermore, sweet potatoes are loaded with antioxidants, which help to prevent various diseases and improve overall health.
They also contain complex carbohydrates that provide energy without causing blood sugar levels to spike.
Adding sweet potatoes to your regular diet can be a great way to boost your health and well-being.
Does this recipe use chickpeas?
Yes, this recipe uses all the same ingredients as traditional hummus, with the addition of sweet potatoes. If you love hummus and are looking for a new and tasty recipe, be prepared to be excited about the flavor of this hummus!
What is tahini?
As I mentioned, tahini is an essential ingredient in hummus recipes—and this sweet hummus recipe is no different.
Tahini is a paste made from toasted and ground sesame seeds. It is an essential ingredient in Middle Eastern and Mediterranean cuisine, commonly used in hummus, baba ghanoush, and halva.
Making tahini involves roasting the sesame seeds, then grinding them in a food processor until they form a smooth and creamy paste.
When making tahini at home, it is recommended to use high-quality sesame seeds and a powerful food processor to ensure a smooth consistency. It is also important to regularly scrape down the sides of the food processor to ensure that all of the sesame seeds are ground evenly.
I usually buy my tahini from Lebanese or Palestinian shops.
Store-bought tahini will keep in a dark, cool corner of your kitchen for many months. Homemade tahini can be stored in an airtight container in the refrigerator for several weeks.
Ingredients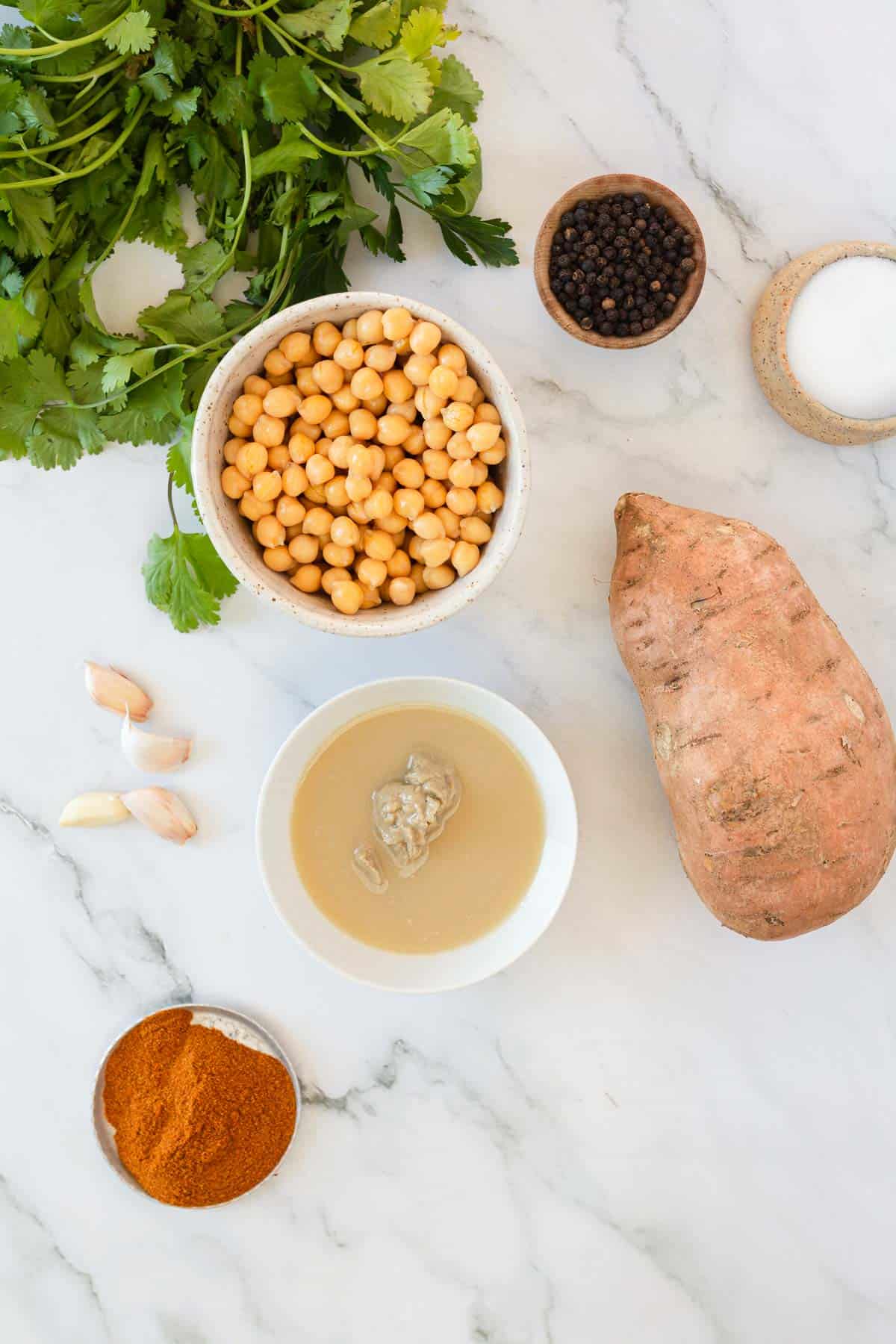 Sweet potatoes - I use boiled sweet potatoes in this recipe, but feel free to roast sweet potatoes instead.
Chickpeas - canned chickpeas are perfectly fine to use in this recipe.
Tahini
Garlic
Paprika - this spice deepens the flavor of the hummus and accentuates its orange color.
Cilantro
How to make sweet potato hummus recipe
Cook the sweet potatoes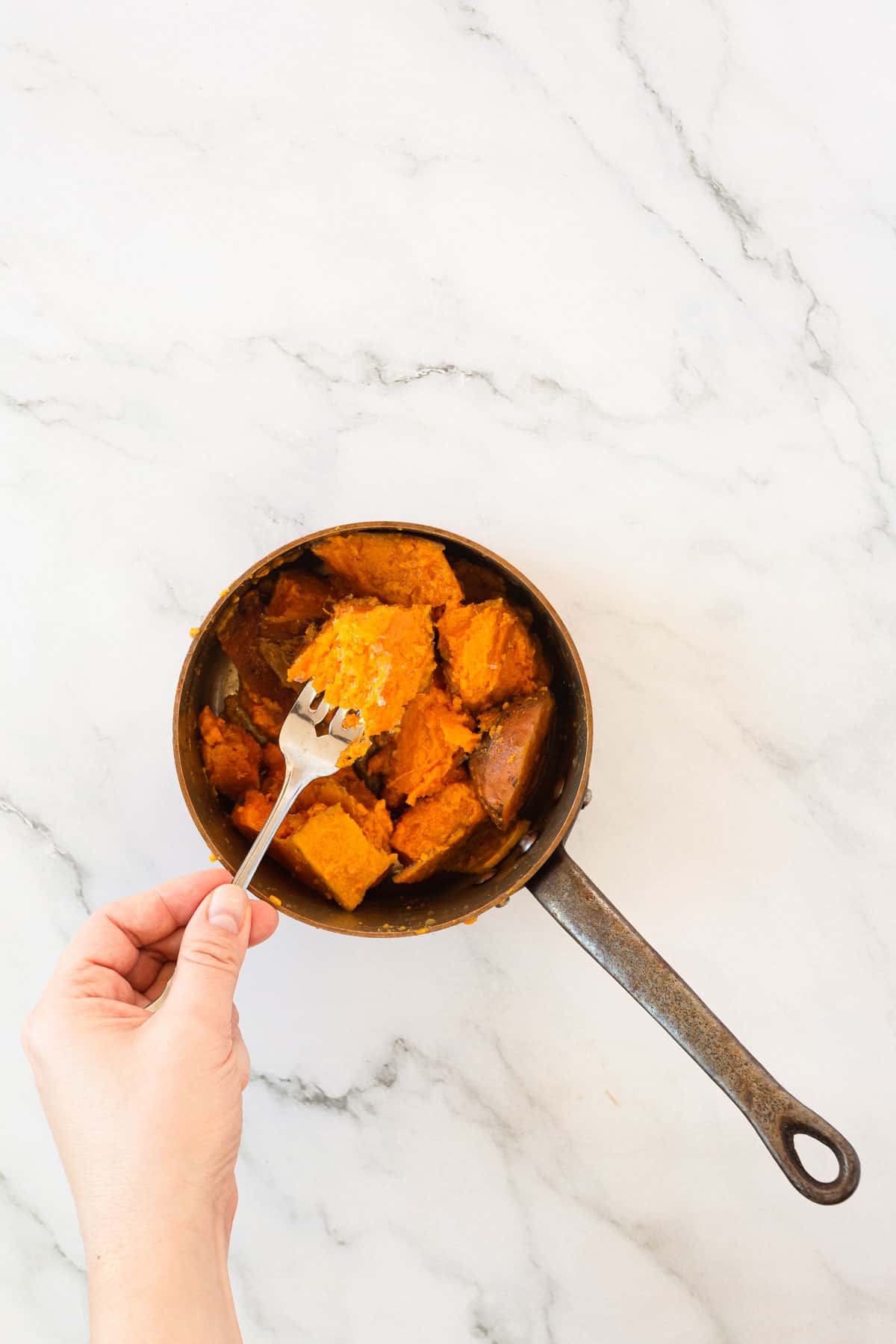 To begin, you will need to cook the sweet potatoes. You can boil the sweet potatoes or roast them. Boiling them is often faster, but roasting preserves more of the sweet potato's nutrients: the choice is usually yours, depending on the time available.
To boil the sweet potato, cut sweet potato into cubes, place them in a small saucepan and cover with water. Bring to a boil, then cook until the sweet potato chunks are tender and easily pierced with a fork, about 20 minutes.
To roast sweet potatoes, poke a few holes in them with a fork, wrap them in foil, and bake them in the oven until they are fork-tender. Once they are done cooking, set aside to cool.
Blend the ingredients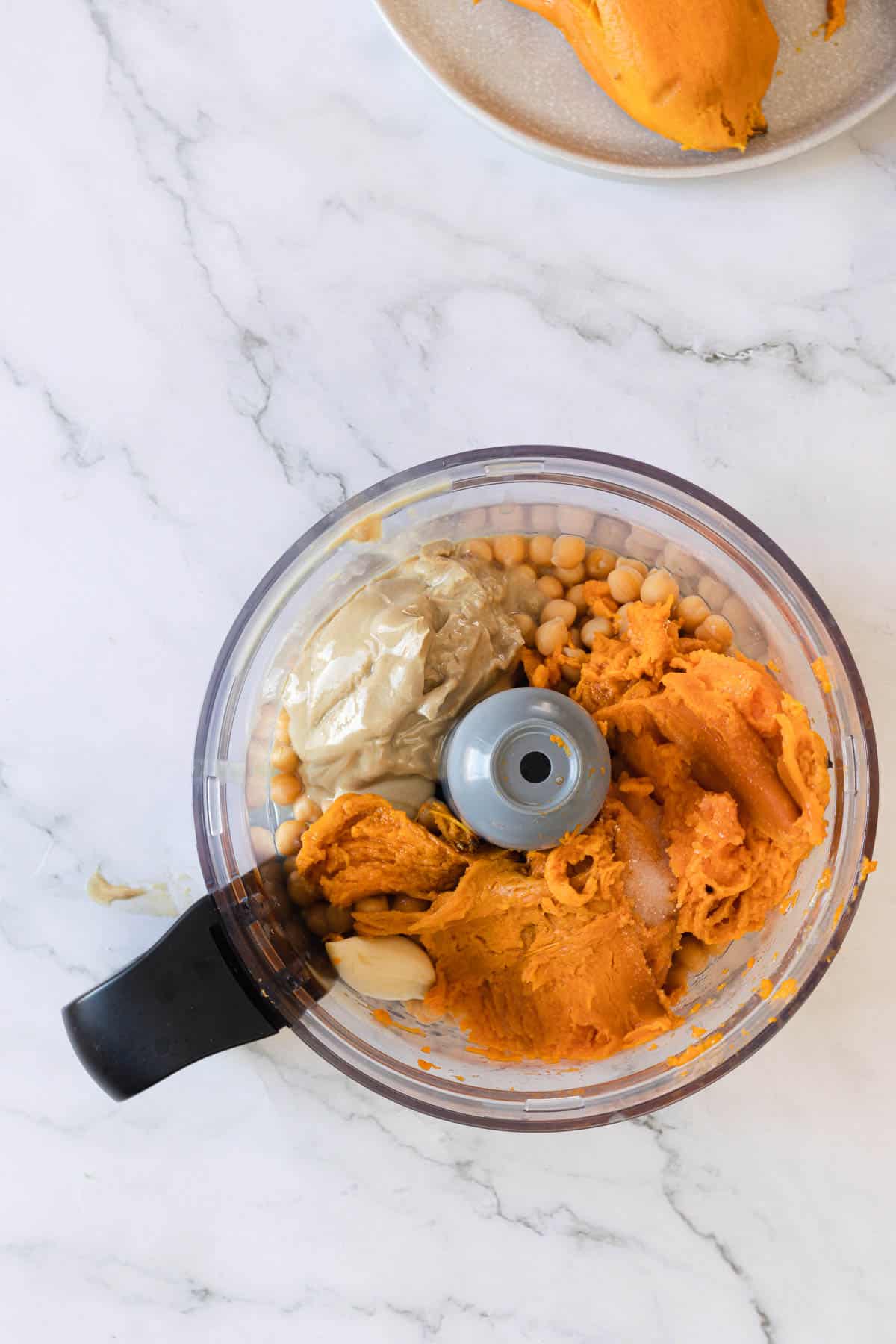 Meanwhile, combine tahini and cooked chickpeas in a food processor and pulse until smooth (reserve some chickpeas for plating).
Then, add the sweet potatoes in chunks along with the garlic. Season with paprika.
Blend the ingredients together, ensuring the sweet potatoes are thoroughly combined with the chickpeas to make smooth and creamy sweet potato hummus.
As you blend the mixture, scrape down the sides of the food processor, ensuring that all the ingredients are evenly incorporated. To help the hummus be extra creamy, you may want to add a few tablespoons of water or even olive oil.
Taste and correct flavors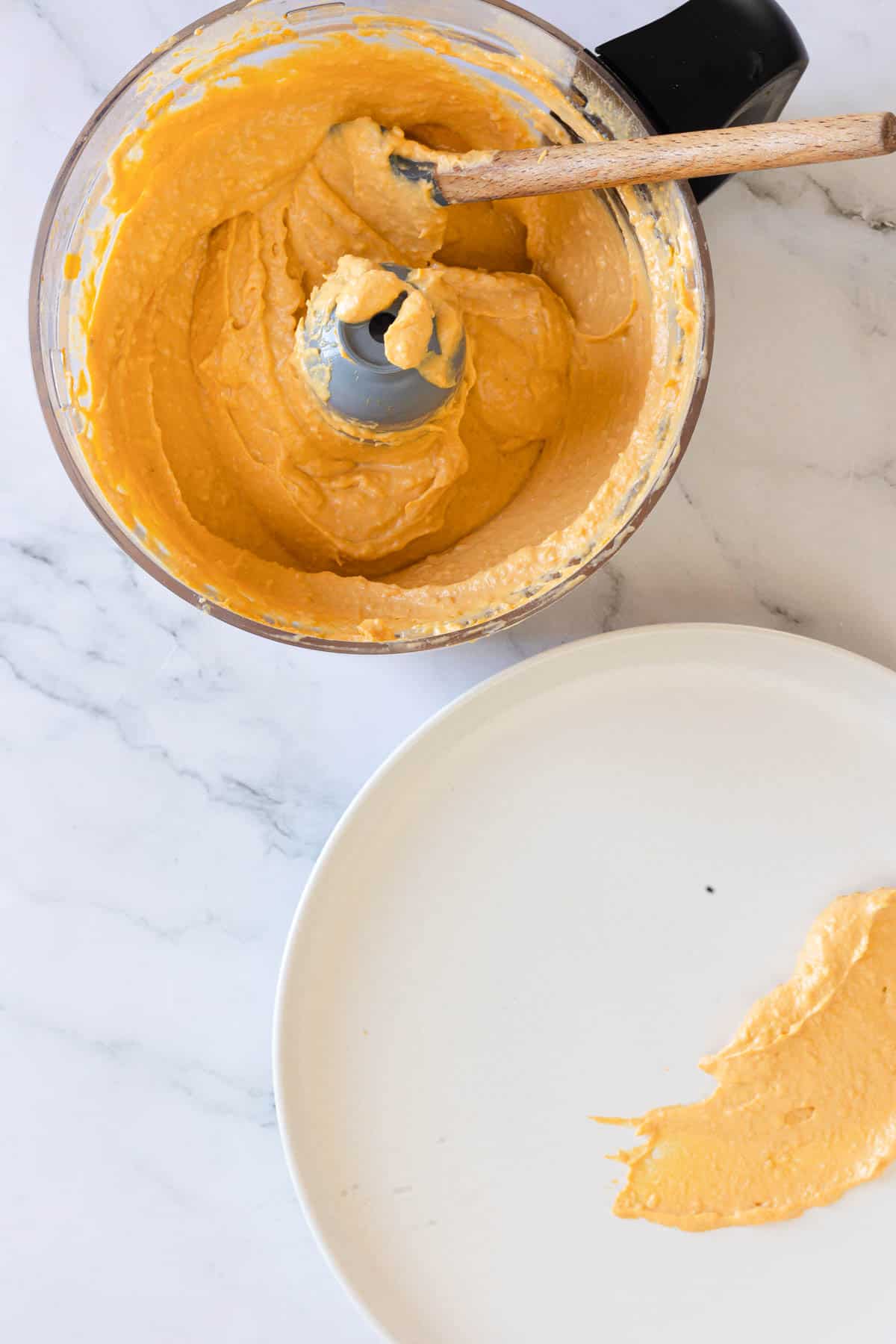 Taste your sweet potato hummus and correct flavors as necessary – you might want to add more garlic, tahini, or a touch of salt to balance the sweetness.
Plate sweet potato hummus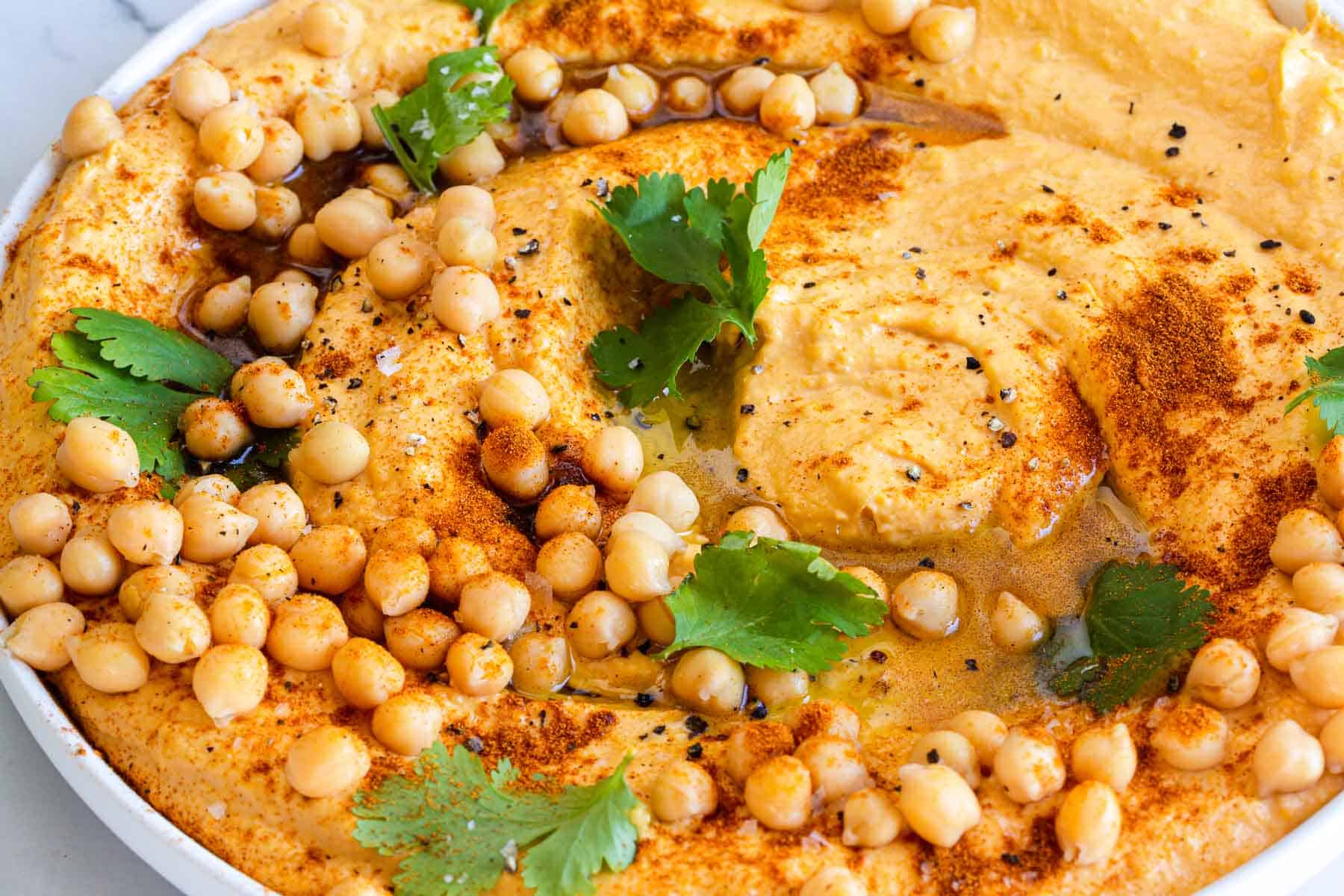 Once satisfied with the taste and texture, it's time to plate your sweet potato hummus. Transfer hummus to a bowl or a plate. Garnish with remaining chickpeas, a dash of paprika, and cilantro to taste. This orange hummus looks extra beautiful on a shallow platter!
Serve hummus alongside warm pita bread, crisp vegetables, or your favorite crackers.
Variations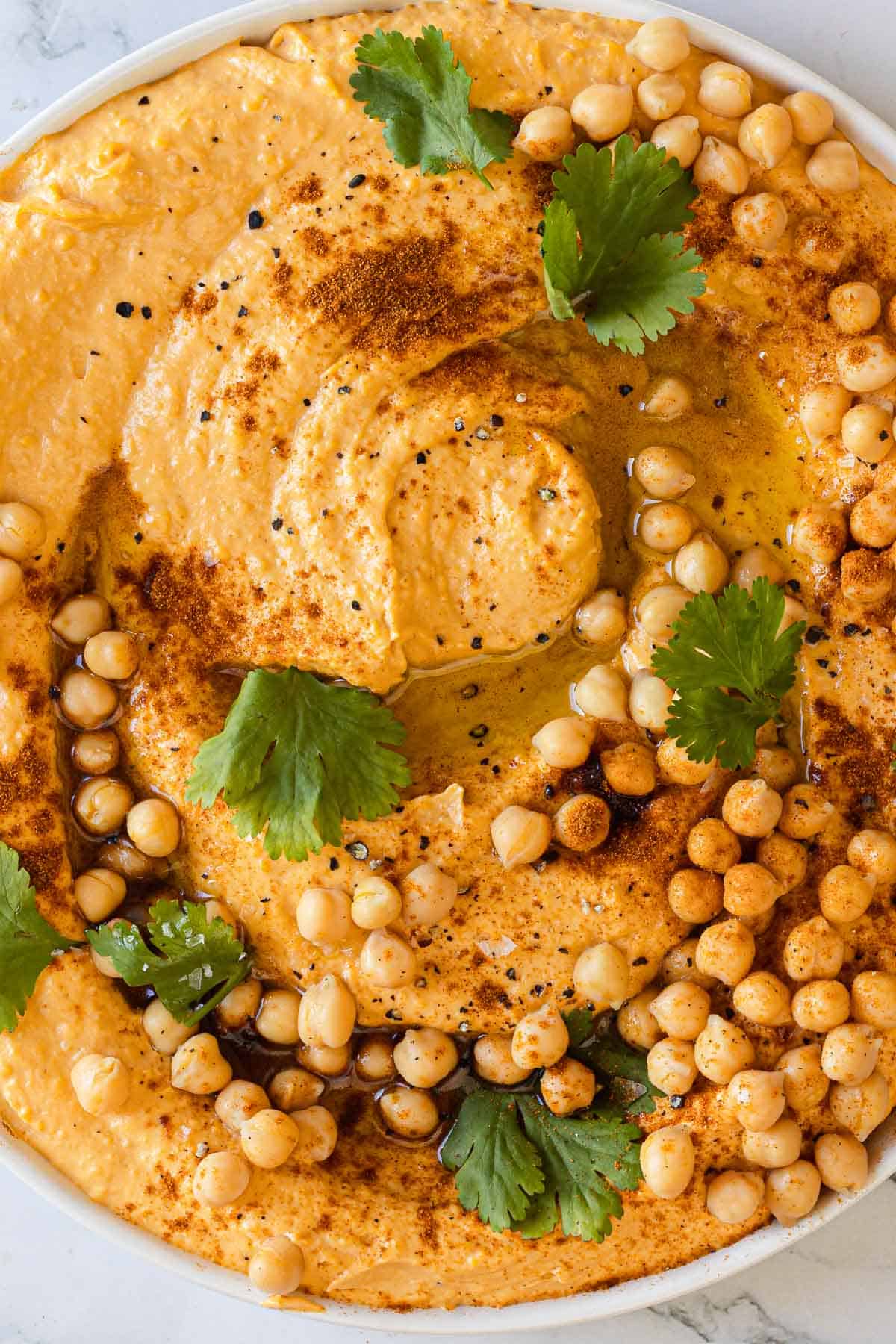 Add in a touch of cayenne pepper or red pepper flakes for spicy hummus.
Add cumin for an earthier taste.
If roasting the sweet potatoes, throw the garlic cloves whole into the oven on the baking sheet with the potatoes for extra flavorful roasted garlic.
Top Tips
Ensure that the chickpea base is super smooth for the creamiest sweet potato hummus by boiling chickpeas with a pinch of baking soda, which helps tenderize the beans. If using canned beans, drain the water and rinse them well.
When preparing the creamy sweet potato, use a high-powered blender or food processor to achieve that desired creamy texture.
Add some water to your hummus as you finish blending it. This adds a bit of airiness to the hummus, making it creamier and more spreadable.
Accompanying Dishes
For those who enjoy sweet and savory combinations, sweet potato hummus is an excellent addition to any meal. This creamy and rich dip can be paired as a snack with pita bread or crisp gluten-free lavosh crackers.
I like to serve it with mushroom bourekas for a light meal. It will also go well with an eggplant grilled cheese. If serving in a Middle Eastern mezze platter, pair with some other dips like black eyed pea hummus and zaalouk.
Tried and loved this recipe? Please leave a 5-star review below! Your reviews mean a lot to me, so if you've got any questions, please let me know in a comment.
FAQs
Can you freeze sweet potato hummus?
Yes, you can freeze sweet potato hummus for up to four months without compromising its taste and texture. To do so, simply transfer the hummus into an airtight container with a little room for expansion, and store it in your freezer. When you're ready to enjoy it again, thaw the hummus overnight in the refrigerator and stir it before serving.
Can this hummus recipe be made with canned sweet potatoes?
Absolutely! To make a delicious sweet potato hummus, you can easily substitute canned sweet potatoes for the baked or cooked sweet potatoes. Simply ensure that you drain and thoroughly rinse the canned sweet potatoes before blending them with other hummus ingredients.
How to store leftover sweet potato hummus?
Storing leftover sweet potato hummus is easy. First, transfer the hummus into an airtight container to prevent exposure to air, which could lead to spoilage. Next, place the container in the refrigerator, where the hummus will remain fresh for up to five days. For longer storage, consider freezing the hummus in individual portions for easy access and thawing in the future.
Recipe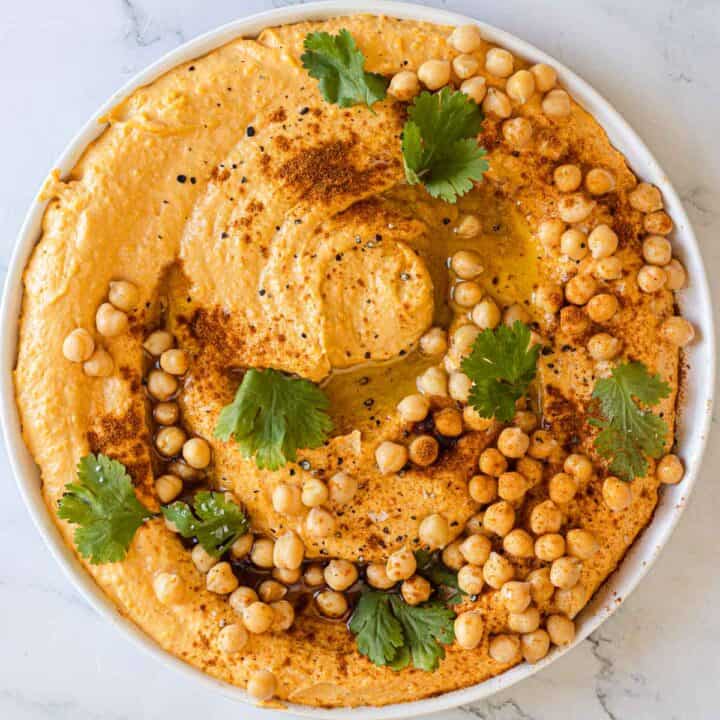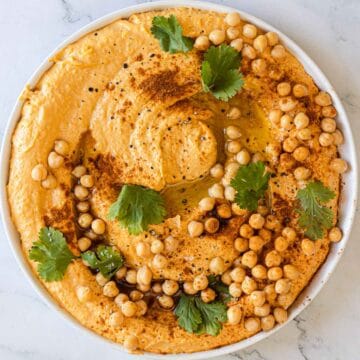 Sweet potato garlic hummus
This creamy sweet potato hummus recipe takes traditional savory hummus and adds in the sweet taste of roasted sweet potatoes.
Ingredients
Instructions
Cook the sweet potatoes: To boil, cut sweet potatoes into cubes, place in a saucepan, cover with water, and boil for about 20 minutes until tender.

Roasting option: Poke sweet potatoes with a fork, wrap in foil, and bake in the oven until fork-tender. Let cool.

Combine tahini, cooked chickpeas (reserving some for garnish), sweet potato chunks, and garlic in a food processor. Add paprika. Blend until smooth and creamy, scraping the sides as needed.

Taste and adjust the flavors. Add more garlic, tahini, or salt if desired.

Transfer the sweet potato hummus to a bowl or plate. Garnish with reserved chickpeas, a sprinkle of paprika, and cilantro.

Enjoy the sweet potato hummus with warm pita bread, vegetables, or crackers.
Notes
Leftovers will keep in an airtight container in the refrigerator for 4-5 days.
Nutrition
Calories:
282
kcal
Carbohydrates:
26
g
Protein:
9
g
Fat:
17
g
Saturated Fat:
2
g
Polyunsaturated Fat:
5
g
Monounsaturated Fat:
9
g
Sodium:
338
mg
Potassium:
360
mg
Fiber:
7
g
Sugar:
2
g
Vitamin A:
4641
IU
Vitamin C:
9
mg
Calcium:
74
mg
Iron:
2
mg
Tried this recipe?
Comment + Rate Below!
Connect on Instagram!
Find us @immigrantstable