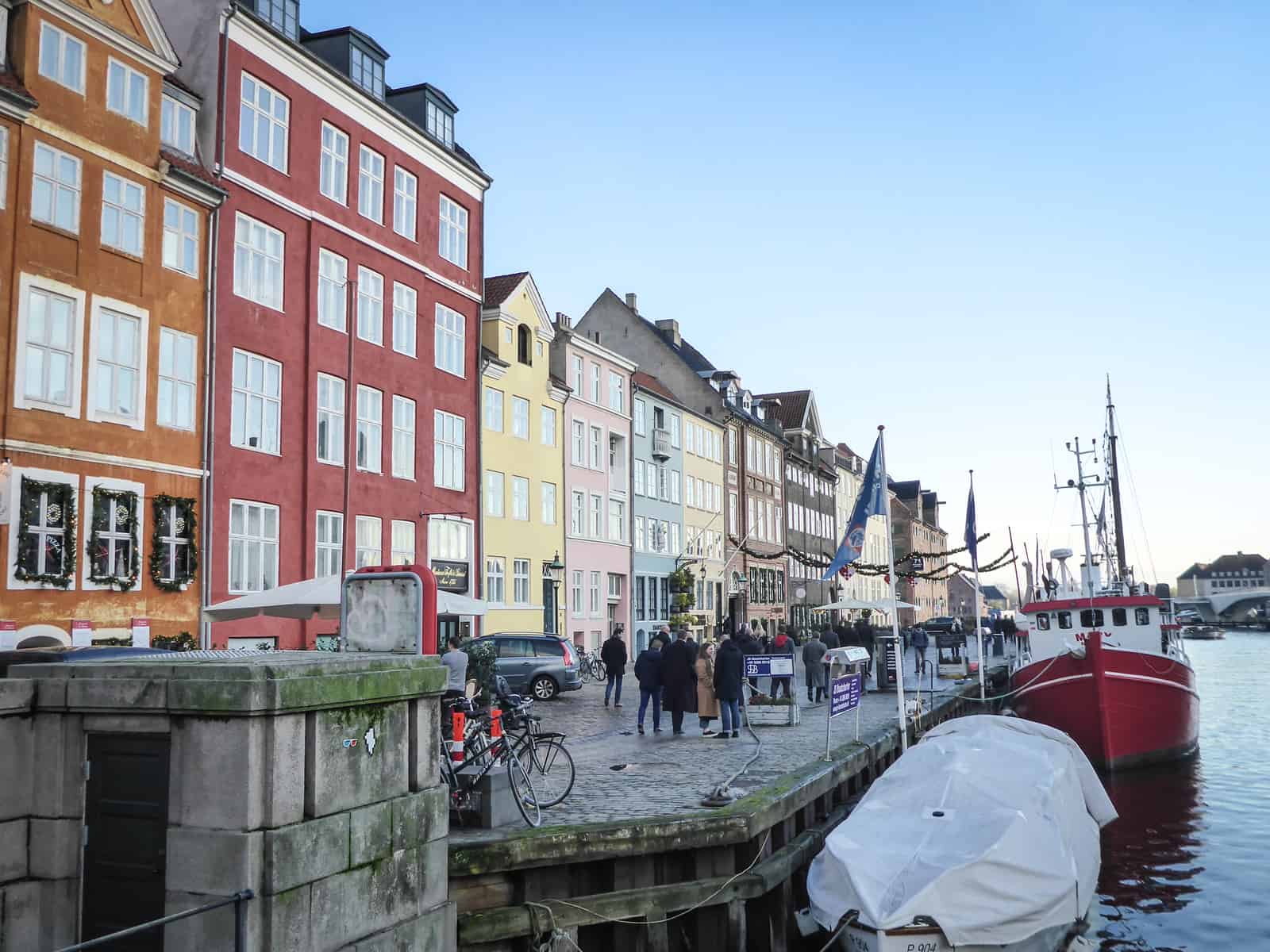 Copenhagen is a riot of colour, modern architecture and design, is captivating in its Wild West approach to opportunities. Yet it's hard not to fall in love with both. This is my Copenhagen Foodie Guide, the first part to my tour of Southern Denmark and Sweden, or how to find the little gems and must-see sites and tastes in each of the twin cities.
It's hard to imagine a more perfect city than Copenhagen. Long winding streets full of little boutiques and hipster coffee shops, all gleaming with delicate yeasted pastries in their windows; rows of bicycles competing for space in the most orderly line, their seats a leather paean to comfort; colourful homes nestled tightly against another, adorned with flowerpots jostling for windowsill space. The enclave of Christiania lies in its heart like a gaping wound, a raw explosion of colour, grafitti, cannabis, art and music where misfits rule the day and barter and cash are king. And throughout it all, little canals connect Copenhagen's two parts, its harbour, and the Øresund Strait to the east.
This is my Copenhagen Foodie Guide to visiting this wonderful city and my favourite spots in it. If you've been to Copenhagen, I'd love to hear your thoughts - just leave a comment below or start a discussion on Facebook, Instagram or Twitter.
Where we stayed
Our first Copenhagen adventure started two months prior, when F and I went online in search of affordable accommodations. Unlike Germany, where we had our pick of cute (and less cute) Airbnbs, Copenhagen seemed to be a wasteland for Airbnb. There were options, but the few that were downtown were priced so out of our reach that we quickly gave up on the option. Instead, we chose to stay in the Urban House Copenhagen, which had private rooms for about $120, and which we knew to be clean and quiet from a previous experience. Our room was clean though sparse, and the check-in procedure was simple. We also rented a bike for a full day, which turned out to be a great way to experience Copenhagen. What wasn't great was the lack of parking... We had no luck finding street parking and ended up parking in an underground lot. This experience cost us $84 for 24 hours, a shocking price that made us realize we would have been better off paying $200 for a nicer hotel with a parking spot. If you're planning on travelling to Copenhagen, I strongly advise you take parking costs into consideration.
Tivoli
The first stop we planned in Copenhagen was the magical Tivoli Gardens, which we visited at night. This was one of the most anticipated parts of our trip for me, and I won't be exaggerating when I say that it turned out to be one of the most enchanting places I have ever visiting. The shining lights, the Christmas-time decorations, the bakery with the quaint mechanical elves silently doing their work along the walls - it all added up to a place that felt like it had arisen from my favourite childhood novels. It all came to a perfect ending when we witnessed the light and music display over Tivoli Lake. We didn't get on a single ride, and I barely even noticed.
Host
Our big Copenhagen meal was to be at Host. Specializing in modern Nordic cuisine and set up in a historical red-brick Danish building, Høst is a work of art from its decor to the presentation of its plates. Sitting in the foliage-wrapped garden room and feeling like we were on a picnic in a fairy-filled Danish forest, our adventure in Høst began from the first amuse-bouche and continued through nine (!) courses down to the dessert of milk chocolate with cherries. We ordered the five-course $90 menu, making a special note of my gluten-free dietary requirement, and with all the free bites, the inclusion of service (we ended up adding a bit extra because the waiters were so attentive) and the incredible level of taste, it was one of the most affordable meals I've ever had at this caliber. Here is the Google review we wrote about it a year ago:
"Entering Høst is like stumbling upon your very own Nordic fairytale - enchanting, surprising, full of moss, twinkling lights and unexpected twists and turns.
As you sit down in a dining room teeming with trees and simple iron-clad candles that invite you to make your way through the woods in search of adventure, it's impossible not to feel like the story is just beginning with the first surprise amuse-bouche (in our case, a rosemary bush studded with crispy cabbage and a bowl of mustard foam). From that first bite, your eyes open in bewilderment as you anxiously await the next surprise to hit your palette.
And at Høst, the surprises just keep coming. From parsley oil served alongside specially-requested gluten-free bread, to fish swimming under a foamy cover of the most fragrant melted cheese, or a pre-dessert ice cream that tastes of sour milk and cherries and days spent lazing by a Danish fruit orchard, we were constantly left guessing what else lay in store behind the doors of the Høst kitchen.
And like every good Nordic story, the journey into the minds of these chefs was also frightening at times. A bowl full of black lava rocks was the bedrest for a hollowed bone, the perfect receptacle for a single potato chip topped with the silkiest fish; splashes of sour cherry dust made our dessert look like the aftermath of an unfortunate encounter with a troll. And yet each bit, each allegory to a fairytale moment also felt like the warmest embrace - the true embodiment of Scandinavian hospitality.
Høst was the adventure of a lifetime - one that we would gladly repeat again and again."
Downtown, Christianhavn and the canals
The next day, bright an early, F and I set out on our rented bikes to explore Copenhagen. We rode on the Cykelslangen, or Cycle Snake; continued past the open-air Havnebadet Islands Brygge, where people were bathing even in the deep of winter; stopped for coffee with whipped cream at Kafferiet in
Christianshavn; and then ended up parking our bikes for a stroll through Christiania (more on that later).
After our visit to Christiania, we continued along the canal to PapirØen - Copenhagen Street Food market. This hanger-housed streetmarket was a colourful gathering of little artisanal food halls offering the best bites from all over the world. We had a blast strolling through it and picking our favourites, finally settling on pulled duck with frites from Duck It (though a quick internet search now shows me I should have also tried the duck fat fries from Copper & Wheat). Alas, when looking for information on PapirØen now, I was disheartened to find it closed! But worry not, you can find many of the same incredible food stalls in the newly christened Copenhagen Street Food Market, Reffen. Don't skip this cornucopia of deliciousness on your next visit to Copenhagen. (If you're looking for the Netflix-famous Hija de Sanchez taqueria, this isn't the market it's at - you'll have to head to Torvehallerne, which we didn't do.)
Downtown, Christianhavn and the canals favourite stops: Cykelslangen, Havnebadet Islands Brygge, the whole route along the canals.
Downtown, Christianhavn and the canals favourite eats: Kafferiet in
Christianshavn, Duck It, PapirØen (now Reffen).
Freetown Christiania
Under the famous helix spire of the Church of Our Saviour lies the entrance into Freetown Christiania. Arguably even more famous than Copenhagen itself, Freetown Christiania is the hippie enclave that declared itself a city-within-a-city, and which has been surviving under its own autonomous rule of anarchist law and order since 1971, when a group of hippies took over an abandoned army barracks and turned it into a squat.
First known for its Green Lights District - a zone where cannabis was once freely, though not exactly legally, sold - Christiania has since become known for its permissive politics, its absolute insistence on pacifism and the lack of violence, and the uninhibited atmosphere it provides for artists, musicians and writers to create all kinds of work. Christiania is home to 850 people, including old hippies, families and young people, runaways and those seeking to permanently follow an alternative lifestyle. We were there during the morning, and we were quite low on cash, otherwise we would have been happy to try a sampling of the many restaurants and cafes available here, all for comparably low prices (however, cards weren't accepted anywhere that we've seen).
I personally loved the atmosphere of freedom and lack of rules in Freetown Christiania, even if I got a serious headache after a 2-hour walk through it. If you don't feel comfortable wandering around here by yourself or simply would like more context, there are $10 60- to 90-minute guided tours of Christiania running daily at 1pm and 3pm from late June to the end of August, or 3pm on weekends only from September to late June. Tours set out from just inside Christiania's main entrance on Prinsessegade.
Freetown Christiania favourite stops: Church of Our Saviour, anywhere your heart desires (we just went wandering around and loved exploring the different nooks and crannies).
Freetown Christiania favourite eats: Morgenstedet and Grønsagen for vegans; Månefiskeren for coffee; Spiseloppen for everything else; and Bastionen + Løven and Restaurant 56° for higher-end Danish and Nordic cusine.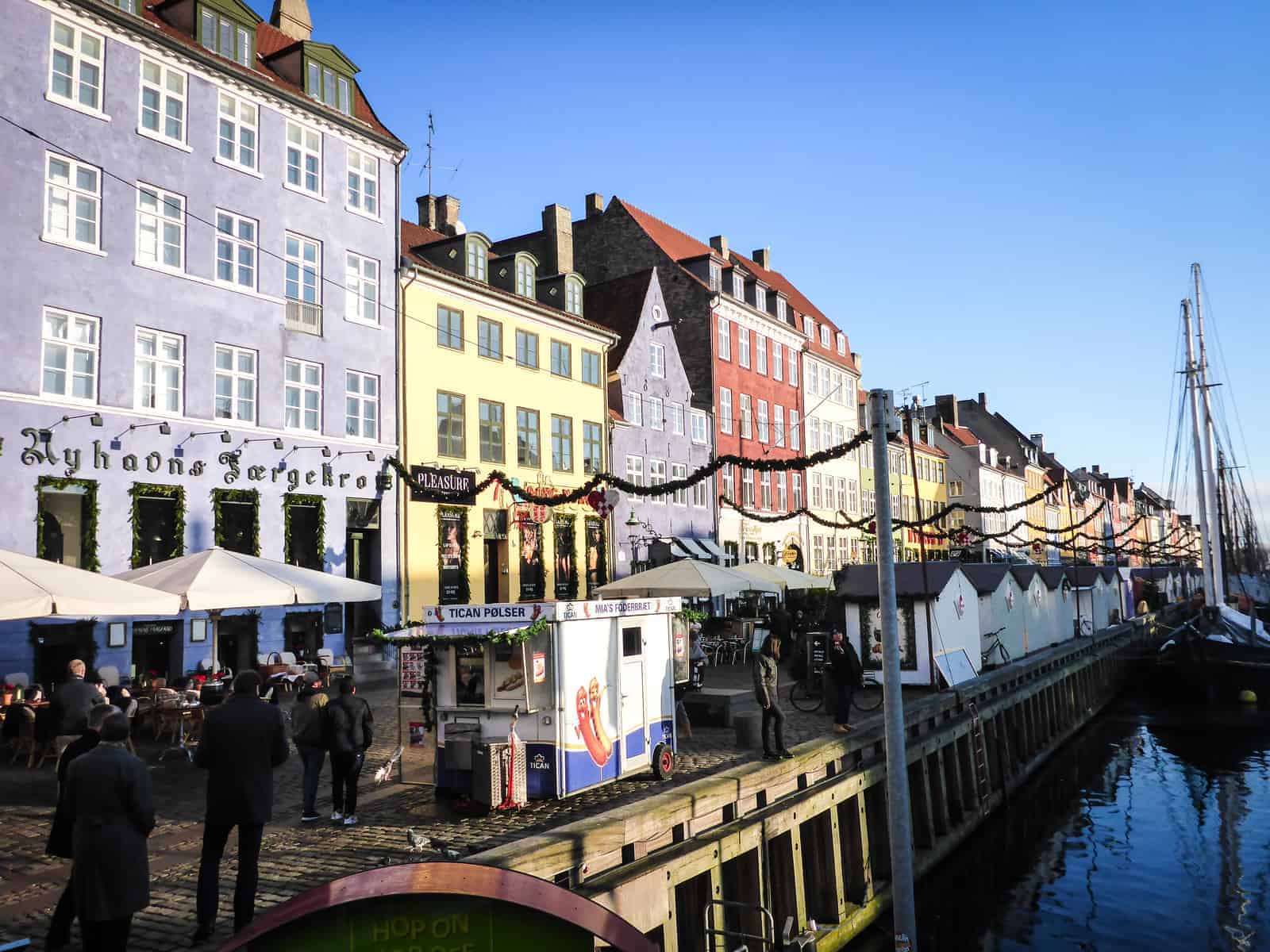 Nyhavn
One of Copenhagen's most famous sites (and sights) is Nyhavn. The original port of Copenhagen, this 17th century site has become a colourful banner for the city and one of the most recognizable tourist attractions around. The good news is that it's just as cute and picturesque as you'd imagine; the bad news is that it's crawling with tourists and on warm days can become almost untraversable. That being said, I would still recommending a visit here, albeit brief.
Original Noma
After our delicious lunch at Duck It, F and I continued on our bikes down towards Nyhavn. On the way there, we came across an unexpected bonus: the original building that housed one of the world's most lauded restaurants, Noma. I got a special kick out of seeing this picturesque location, enjoying the views of the boats, and imagining myself dining in this Michelin-starred establishment. Since our visit, Noma 2.0 has reopened in another location, and I hope that one day I will be lucky enough to visit it!
Kastellet
The Copenhagen Citadel is one of the world's best preserved fortresses, an impressive star-shaped fortress that was built in 1626 to guard the Danish King Christian IV. Today, it houses military barracks and offices, an arguably less impressive task... But the area of the Kastellet provides a beautiful walk and is considered one of the city's best green spaces.
The Little Mermaid Statue
Just past the Kastellet was another of my anticipated sights: the statue of Hans Christian Andersen's most famous creation, the Little Mermaid. Andersen was a prolific Danish author who is responsible for an absurd (Wikipedia states it as 3381!) number of the world's most well-known fairytales, including a few of my favourite: The Little Match Girl, The Snow Queen and, of course, the heart-breaking Little Mermaid (any relation to the Disney classic is completely accidental). Having shed a fair number of tears over the pages of Andersen's books, and imagined the Little Mermaid's likeness a myriad of times, standing next to the famous statue was a special experience that the child in anyone would have appreciated.
Kobenhavn K
The last part of our bike tour through Copenhagen was Kobenhavn K, the oldest part of Copehagen (you may also be interested in checking out the other Kobenhavn K, a fabled vintage shop).
The impressive Amalienborg Palace is home to Denmark's royal family, and the actual place where the current queen still resides. We happened upon it just in time for the changing of the guard ceremony, and stood in awe for a few minutes as the perfectly coordinated soldiers did their rounds (well, F stood in awe - I was too busy snapping photos).
We cycled past Frederiks Kirke (Frederik's Church), also known as the Marble Church for its impressive marble-clad interior. As the sun's rays bounced off the church's magnetic copper rooftop, I took in a breath and caught a moment to appreciate all the beauty we had witnessed in just a short day.
Mountain Dwelling & 8 House
After returning our bikes to our hostel, F and I continued in the car to our two last sights in Copenhagen: Bjarke Ingels' creations, Mountain Dwellings and the 8 House.
First learning of Bjarke Ingels and his works on the Netflix show Abstract, we immediately fell in love with the unique creations that manage to balance clean Danish design with nature, modern comfort and the illusive concept of hygge, normally absent in modernist design. We were excited to see them in person during our visit to Copenhagen.
A short drive from the city, Mountain Dwellings is a suburban project unlike any other. It consists of 80 apartments spread across 11 floors, all of which have their own backyard and parking spots. How is that possible, you'd ask? By placing the entire building atop of a giant parking garage. As the floors climb up and apartments scale the diagonally sloping roof, they create an artificial, south-facing 'mountainside' where each apartment has its own secluded corner of vegetation. Oh, and each apartment's "bakcyard" also comes with a built-in roof garden, with plants changing in accordance with the seasons. The gardens are watered through a huge central watering system, thus reducing the risk of eyesores and uncared-for spaces. Seeing this in person was truly humbling, and believe me that my explanation does not do the project justice.
Next, it was onto the 8 House. Similarly to Mountain Dwellings, here the Bjarke Ingels Group has once again played with definitions of private/public space, green space and continuity / infinity. The 8 House is akin to a long racetrack that curves into the shape of a bowtie, 61,000 sqm in size, allowing people to bike all the way from the street up to its 10th level penthouses alongside terraced gardens. It's a mixed-use project that takes a traditional neighbourhood and flips it on its head. Rather than having all the ingredients of a vibrant urban block lined neatly side-by-side, the 8 House "stacks all ingredients of a lively urban neighborhood into horizontal layers of typologies connected by a continuous promenade and cycling path up to the 10th floor". One can walk the length of the entire "neighbourhood" without ever entering an elevator, or even getting off their bicycle. In the heart of it all is one giant communal courtyard where neighbours actually - gasp! - have contact with one another.
Suffice to say, I was mightily impressed with both projects - and I'm sure it comforts you to know I have interests other than food.
Now, if you've made it to the bottom of this lengthy post, once thing is clear - I truly enjoyed my visit to Copenhagen. This lively, modern city is full of idiosyncrasies and opposites, low and high class moments, old and new buildings and interior spaces that are just as green as any forest. It's a dense, compact urban centre that can be seen in one very full day, or taken in slowly over the span of a week. If you're looking for a modern European city that is as inspiring as it is delicious, Copenhagen is it.
Have you been to Copenhagen? Planning a trip there yourself? Share your thoughts in the comments below, or join the discussion on Facebook, Instagram or Twitter.