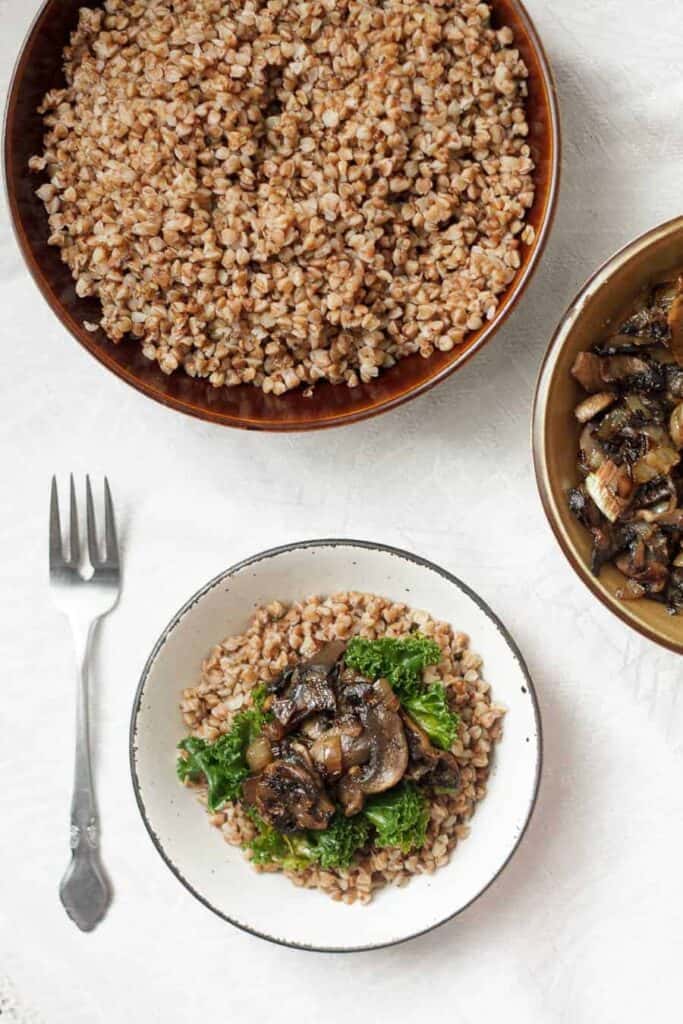 Standing at the stovetop, my mother would brown the onions in the pan to a crisp. When they were just near done, little caramelized nubs of concentrated onion goodness, their flavour practically akin to sugar, she would add thinly sliced champignons to the mix. In a separate saucepan atop the stove rested the already-cooked buckwheat kasha – brown, toasted buckwheat groats – that was to join the mushroom-onion mixture later. The clock stood at 7:45 p.m., and soon, my dad would walk through the door.
There was magic in this process, an alchemy the likes of which every Russian house knows. There was something enchanting in the smell that spread across the rooms, heralding the coming of buckwheat kasha with caramelized mushrooms and onions. Despite the gnawing hunger I must have felt, I can now romanticize about that anticipation for dinner.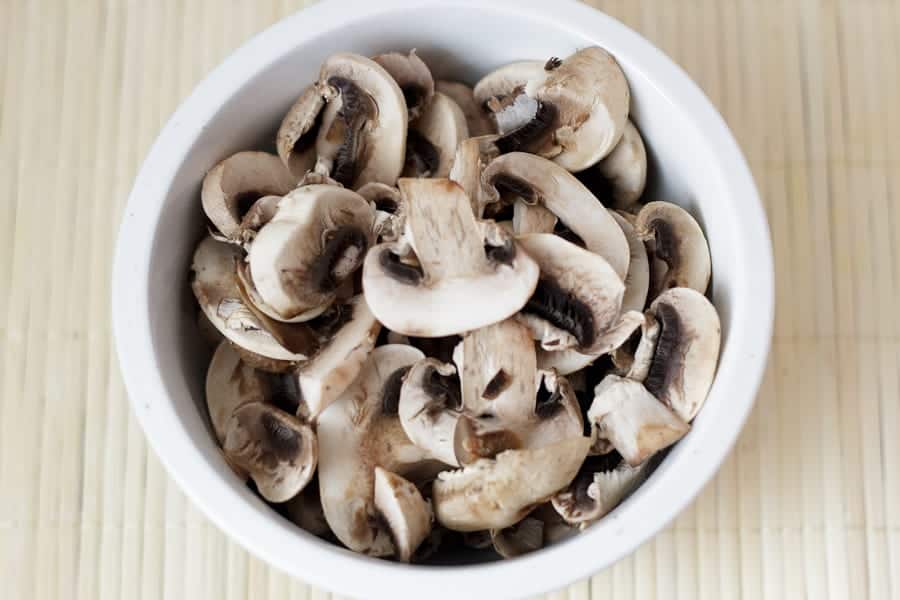 But I don't have to wax poetic to admit that I really loved those moments of transformation. When the mushrooms would release their juices into the pan, some of the onions that have already browned and dried out would plump back up a bit, rehabilitated by the mushrooms. There was no salvaging the truly burnt pieces, of course, but my mother didn't care – she hated few things in life more than raw onion, and even burnt skins were better in her books. My dad didn't really care either way; he was happy just to have his buckwheat kasha with caramelized mushrooms and onions.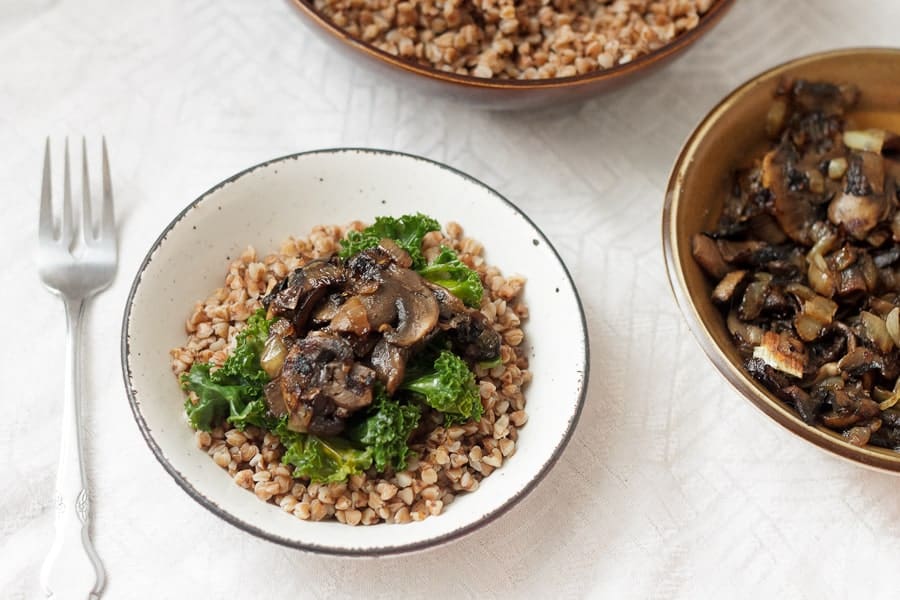 For a few moments, there was calm in the house. The radio, set to Galgalatz, would be playing its characteristic mix of Israeli music and classical rock. The lights were on in the kitchen, but rarely in the living room. I would be curled up on the couch, reading, or working on my homework on the dining room table. My mother would have been home early that day, resting for a few hours, endorphins coursing through her body from the exercise class she had just taken just hours earlier. While dinner was cooking, there was happiness.
But the truth is that these evenings were few and far between. Growing up, my mother rarely came home early enough to cook dinner; these memories belong in what I mockingly refer to as my "second childhood", the year-and-a-half hiatus during which I sought refuge at my parents' home in my mid-twenties. Usually, my grandmother Berta would be the one cooking dinner for my sister and I, and she never burnt her onions. My parents were rarely even home in time for it – and when they were, their moods were often so rotten that any calm would evaporate the moment they walked through the door.
You see, there was an oft-repeated rule in our house – never bother dad before dinner. Overworked, underpaid and likely feeling under-appreciated, he often came home in a ruinous mindset, wanting no contact with human beings until dinner was consumed and the strong, black tea with sugar and lemon that my people favour was coursing through his veins.
Sadly, as a restless and often trouble-making kid, and then a busy young adult, I rarely listened. There was usually something I needed to discuss right then and there, something that, in my mind, just couldn't wait. And so I would disrupt my dad before he had finished his plateful of buckwheat kasha with caramelized mushrooms and onions, invariably with what was not much more than the annoying rambling of a self-observed teenager. And he would invariably get mad… And whatever vestige of calm I had envisioned, whatever dreamlike castles I had constructed in my mind, they would all be gone with a raised voice, an inconsiderate shout, an ill-advised argument.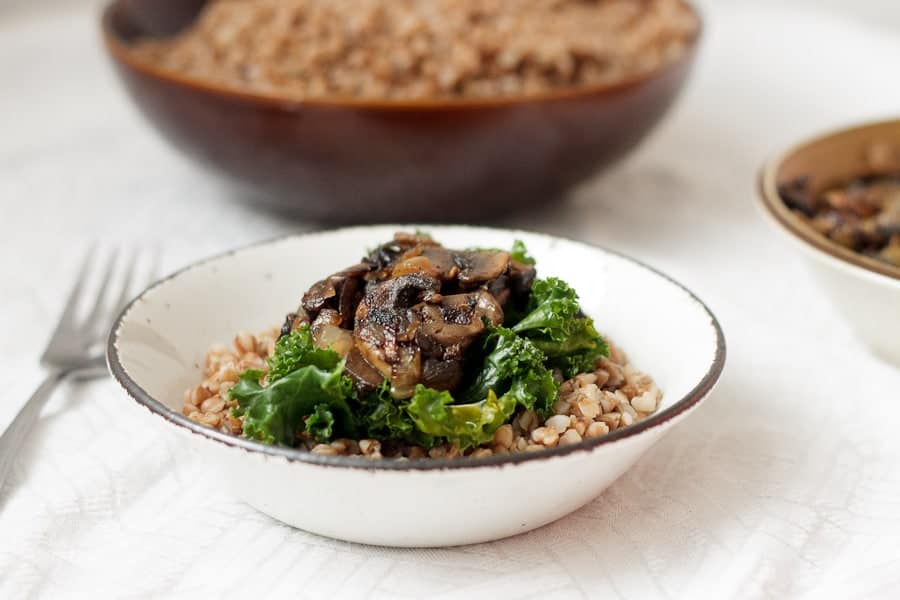 As a grown-up, I am now extra-sensitive when loved ones are rude to me when I come asking for their attention. When G lets frustration and anger spill over onto me, I shut down; it seems hard to forgive that little indiscretion. And yet, ever my father's daughter, I find myself falling into the same pitfalls - erupting in anger if I am hungry, or if I had a bad day. It seems that I am bound to walk in the same circles, making the same mistakes, and eating the same foods as my family.
Buckwheat kasha with caramelized mushrooms and onions now seems to have the same calming effects on me as it did on my father. I crave it at seemingly random times, jonesing for that soft, earthy taste in my mouth, for the texture of the mushrooms, for the fragrance of the whole dish. When I get my hands on a bowl, I immediately want to curl up on a couch and watch an episode of Sabrina the Teenage Witch, or listen to some lyrical metal - the scenes of my teenage years. I now know that in moments of strife, of pressure, or insecurity, a big bowl of soothing buckwheat kasha with caramelized mushrooms and onions could be just what the doctor ordered. Unlike my mother, I sometimes add kale to my version in order to spruce up the greens quotient - and the bowl feels like an even bigger hug.
And how about you? Do you have any foods that calm you down instantly?
NOTE: This is At the Immigrant's Table's 100th post! Woohoo! And on Nov. 18th, this little place turned a year old. Goodness gracious. I feel like that should have called for a celebration, but somehow, time just flew by. Oh well - here's a virtual little 'happy birthday' from me.
Tried and loved this recipe? Please leave a 5-star review below! Your reviews mean a lot to me, so if you've got any questions, please let me know in a comment.
Looking for more Vegan recipes?
Recipe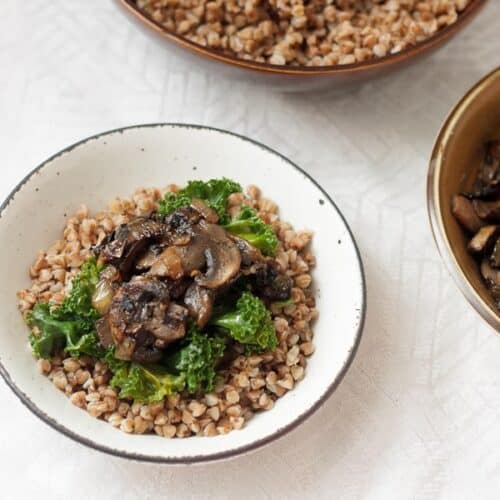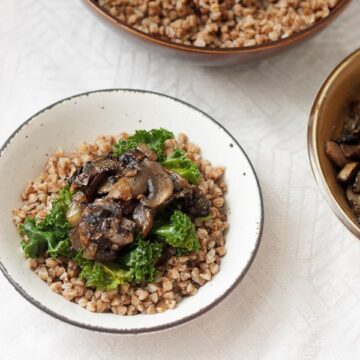 Buckwheat kasha with camarelized mushrooms and onions
Buckwheat kasha with camarelized mushrooms and onions is a chewy, earthy dish that is perfect for cold winter days when we need some comfort and nourishment. Unlike my mother, I sometimes add kale to my version in order to spruce up the greens quotient.
Ingredients
1

cup

buckwheat groats

preferably the dark, pre-toasted ones, that are labeled kasha and available boxed up in Russian stores and European delis. Though the dry raw ones you find in bulk in health stores are also totally fine

1

med-sized onion

1

lb

mushrooms

any kind will do

2

TBs

vegan margarine

or butter

3

cups

of kale

about 5-6 large leaves, optional
Instructions
Chop onion finely. Slice mushroom thinly. Chop kale into strips, saving the stems for stalk. Set aside.

Wash buckwheat well and ensure you sift through it. Drain well. Heat a pan (preferably cast iron) on med-high heat, and add buckwheat. toast groats for 5 minutes, stirring often, until it becomes fragrant. Remove from heat.

Meanwhile, bring 2 cups of water to a boil. Add kale, and let cook for 2 mins. Remove kale from the water and set aside. bring water back to a boil.

Once water is boiling again, add ½ teaspoon salt and the toasted buckwheat. Lower heat to minimum, cover, and continue cooking for another 20-30 mins - without stirring. When kasha is soft and all water has evaporated, remove from heat and cover w a towel, and a lid on top.

While buckwheat is cooking, heat pan once more on med heat. Add 2 TBs vegan margarine (or butter), and once it's melted, add onion. Let cook for 5-10 mins, until it becomes translucent. add mushrooms, and cook on med heat for another 10 mins, until mushrooms and onions have browned. Season w salt an pepper to taste.

When serving, top buckwheat kasha with kale, and then mushrooms and onions. Season with the hot sauce of your choice, and dig in.
Tried this recipe?
Comment + Rate Below!
Connect on Instagram!
Find us @immigrantstable