The fear of cauliflower
I know many people who define themselves as avowed haters of cauliflower, broccoli, and all other members of the Brassica family.
Dear reader, if you are one of them, do not click away from this page in despair. I confess that, once upon a time, I used to be like you.
But then I got a taste of whole roasted cauliflower, and my life has never been the same.
When I was little, I used to refer to cauliflower as "brains". I felt that it was no accident that the curls on this hardy vegetable resembled the crevices and valleys carved deeply into our minds. No coincidence that cauliflower lacked colour, not unlike the grey matter of the human cerebrum.
Therefore, I came to the "logical" conclusion that what looked like an organ must also taste like an organ. On these grounds, I stubbornly refused any taste of cauliflower that I was offered.
Then the psychological barrier grew and began to influence my taste buds. A spoonful of soup with cauliflower once sent me to the bathroom in a fit of genuine nausea.
I once tasted a stew and could have sworn that it was rotten; it turned out to contain traces of cauliflower.
The cursed vegetable seemed to be everywhere, and there was no getting away from its cloying taste and strange, spongy texture.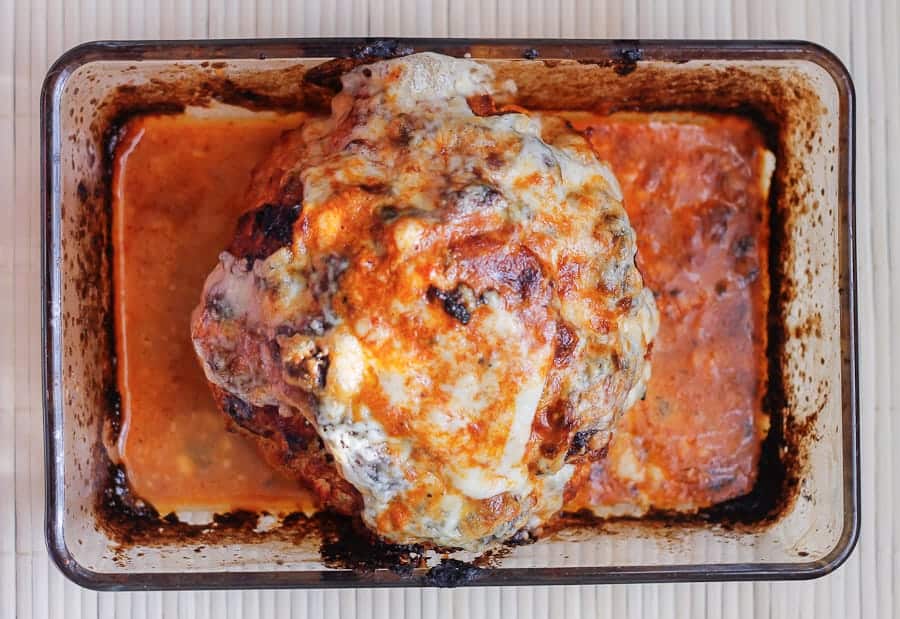 The sad part of this ordeal was that cauliflower cream soup always looked so good. Cauliflower au gratin, with its fatty sauce and beautiful browned cheese crust, seemed like it would combine everything I've ever loved into one.
But I was too scarred by the tasteless, soggy pieces of cauliflower that I had grown accustomed to seeing (sorry, mom) to even give those dishes a taste. Consequently, the nirvana they promised continued to elude me.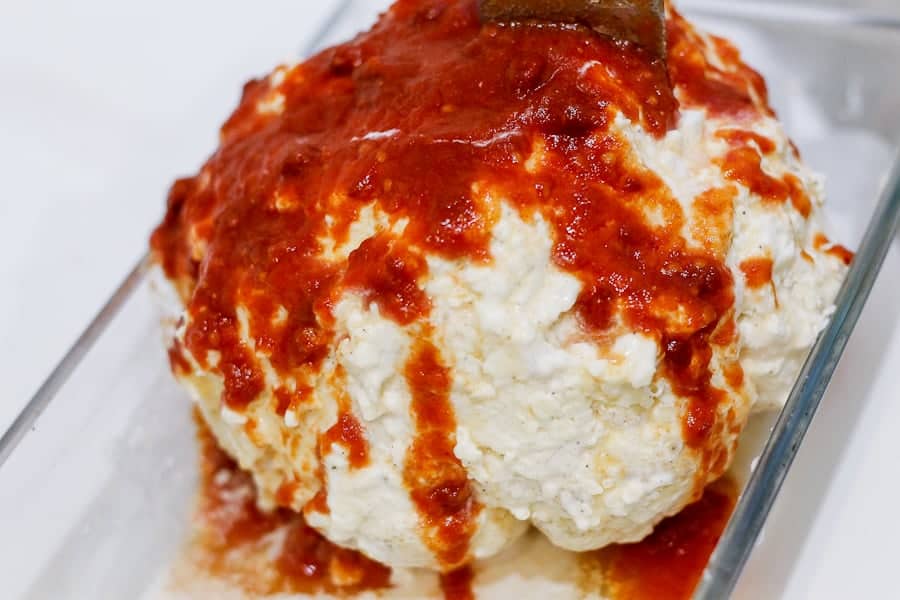 The moment of truth
And then one day, I tasted a piece of raw cauliflower from a dip platter. As my teeth cut through the white vegetable, it was as though the world around me erupted into a chorus of angels.
The taste was fresh, clean and exciting, and the texture was perfectly firm and toothsome.
It was the exact opposite of every piece of cauliflower I have ever tasted, and I loved every bite of it.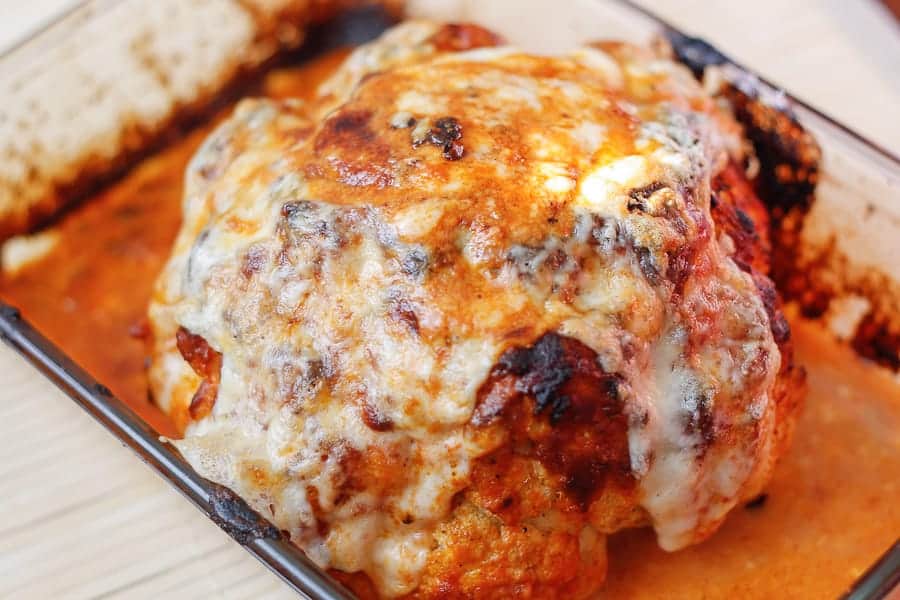 From raw cauliflower, I progressed to lightly steamed pieces with sauces. Those were not my favourite, but I kept on searching.
I grew to love pureed, silken cauliflower soup, and salads with marinated cauliflower (I still have to share my favourite cauliflower salad with you guys!).
However, I found the typical creamed cauliflower au gratin that was offered in most dairy Israeli restaurants a little boring, and in need of serious zip.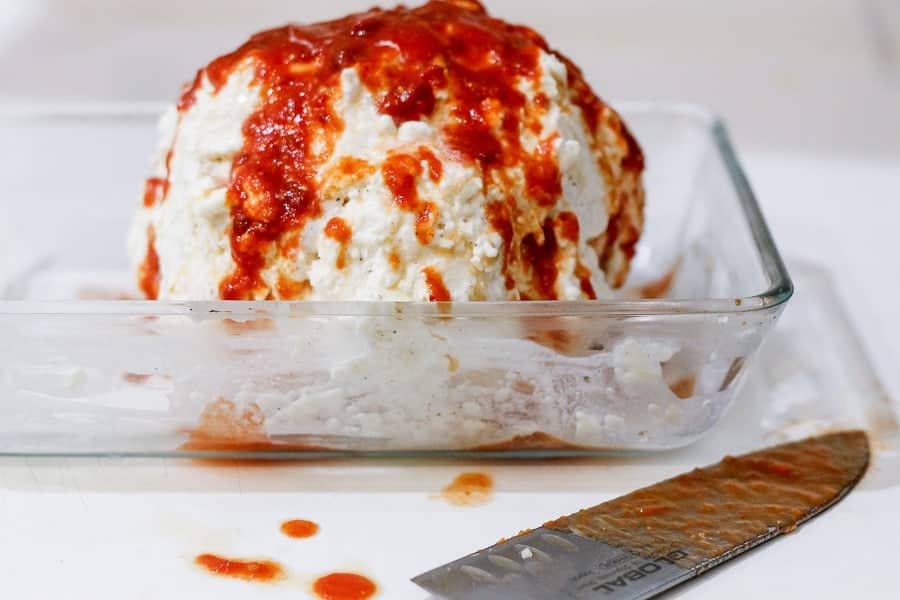 I realized the key to good cauliflower was its texture.
I love cauliflower best when it was either creamy, cooked to the point of falling apart on your plate, or whizzed into a velvety mess.
Or it should be left raw or blanched only slightly, retaining some of its natural perkiness and dignity.
To me, the best cauliflower preparation is roasted.
But the dish that made me go from an occasional dabbler in cauliflower to a full-fledged devotee was my mother's whole roasted cauliflower.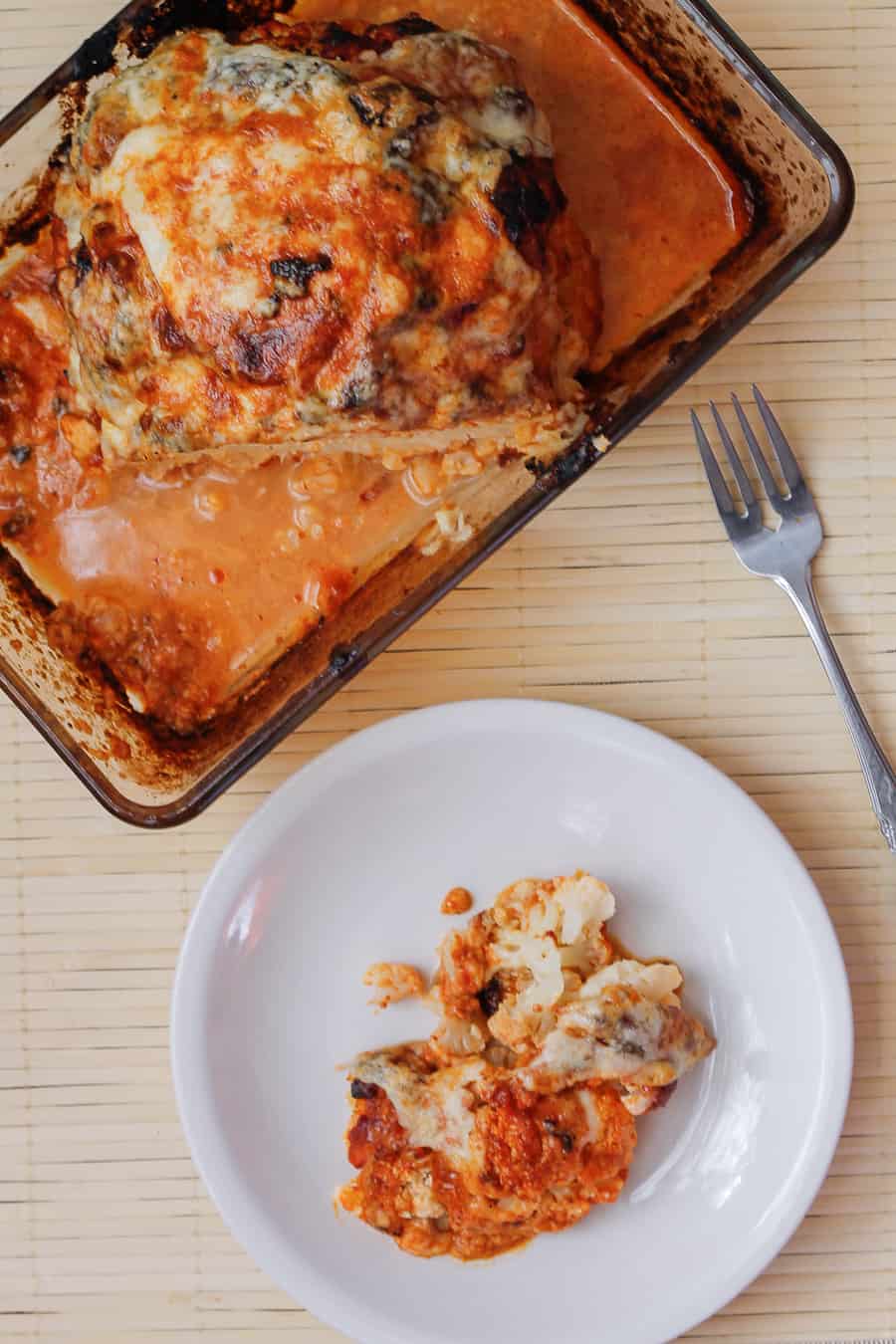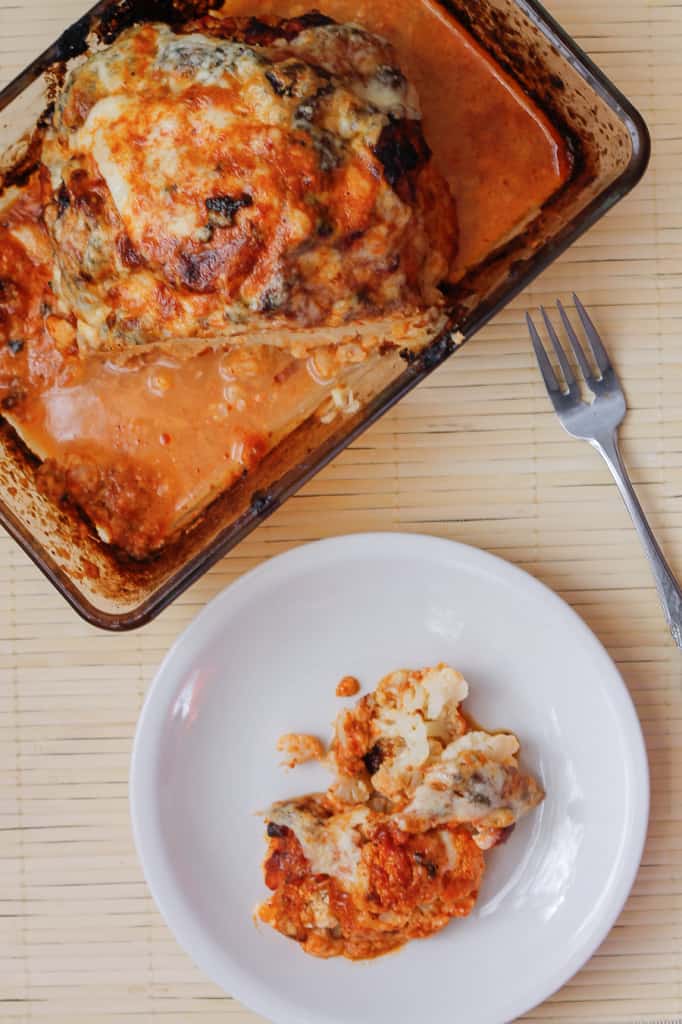 My mother's cooking has also matured over the years.
She went from dunking helpless vegetables into a pot and simmering them for an hour, to staggering her additions and ensuring each vegetable maintains some of its texture and flavour.
My mother mastered simple pan-fried cauliflower, which became one of her go-to weeknight dishes (along with my beloved stewed cabbage).
And then one day, in a fit of extraordinary laziness, she threw a whole cauliflower into the oven under a cover of cheese, and hoped for the best.
What came out was a whole roasted cauliflower so creamy, so delicious, and so perfect that none of us had actually believed that she had made it (If you're reading this, I'm sorry once again, mom!).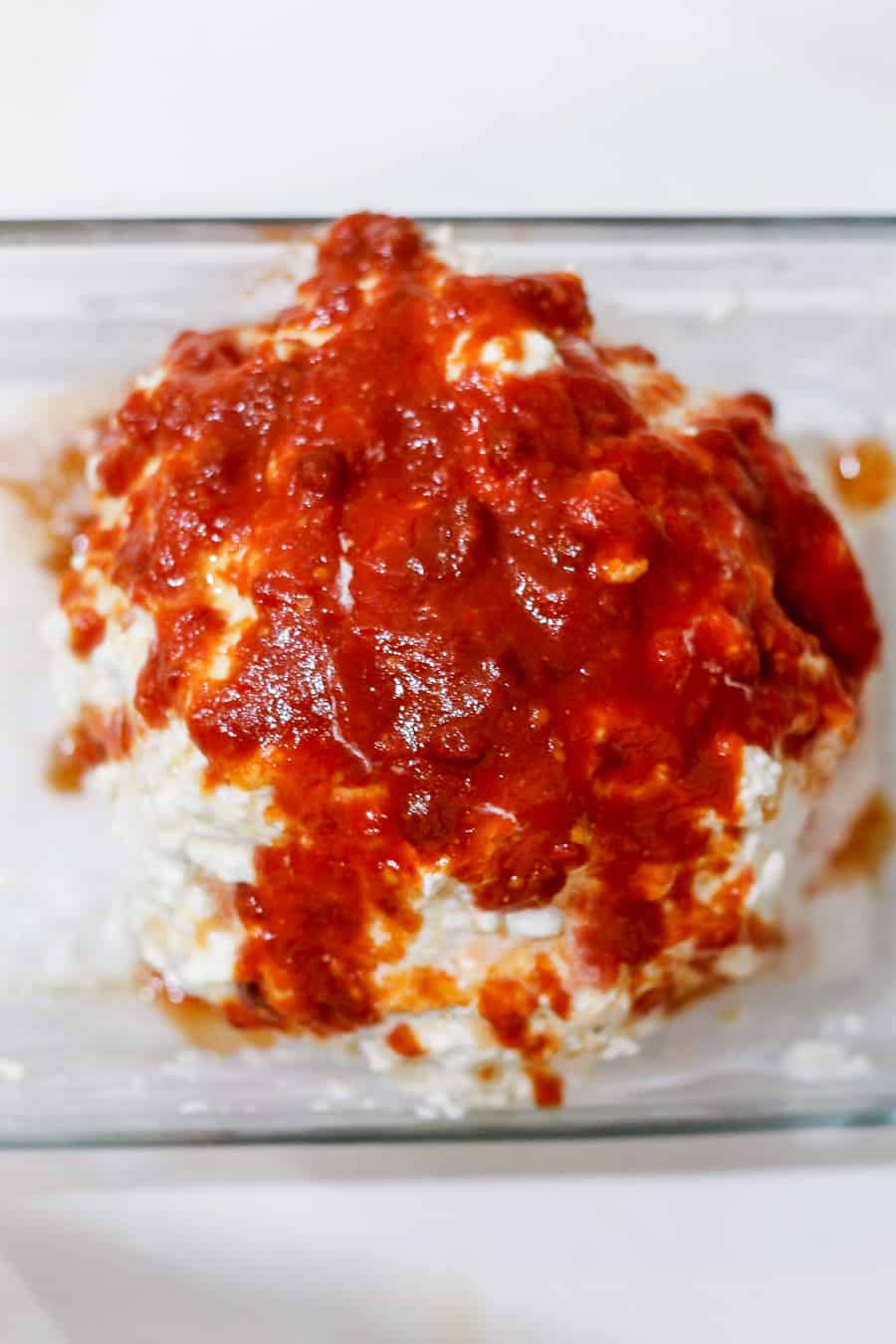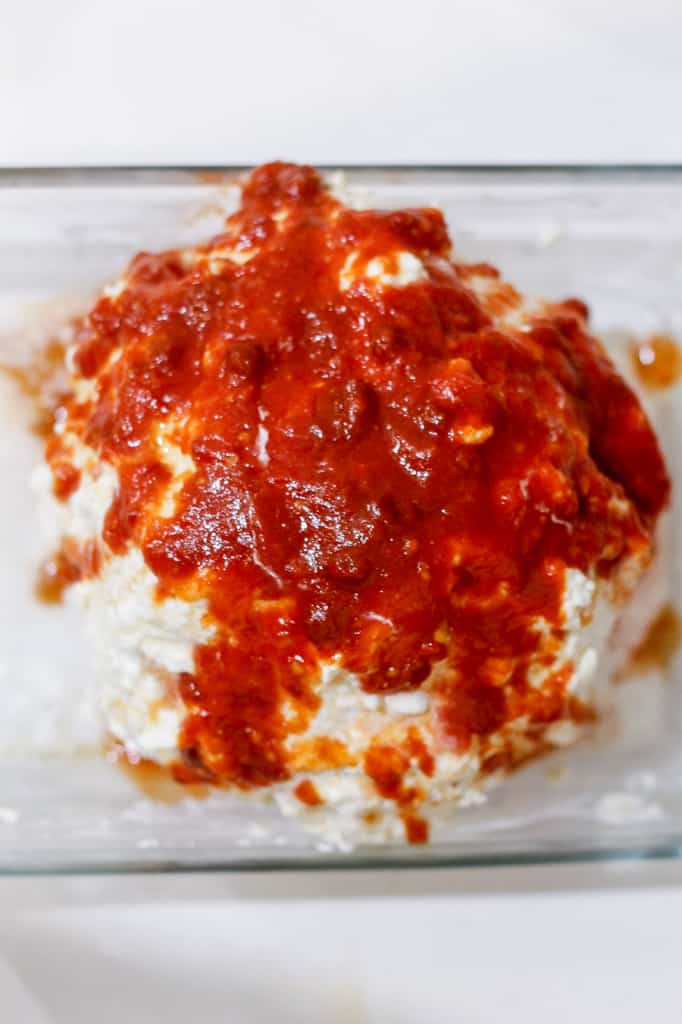 This is that cheesy, smoky whole roasted cauliflower. I was first planning on posting it before Halloween, hence the scary, "bleeding brain"-like and bloodied knife photos...
But then the new layout and the new job and life got in the way, and now my attempts at being scary seem horribly outdated.
No matter; this whole roasted cauliflower is good enough to post, fake blood and all. It is covered in a smoky tomato sauce and a thick layer of melted cheese that bubbles and oozes from every pore.
I added chipotle peppers to the sauce and turned this into a spicy concoction, but you can stick to a simple, clean tomato flavour.
Variations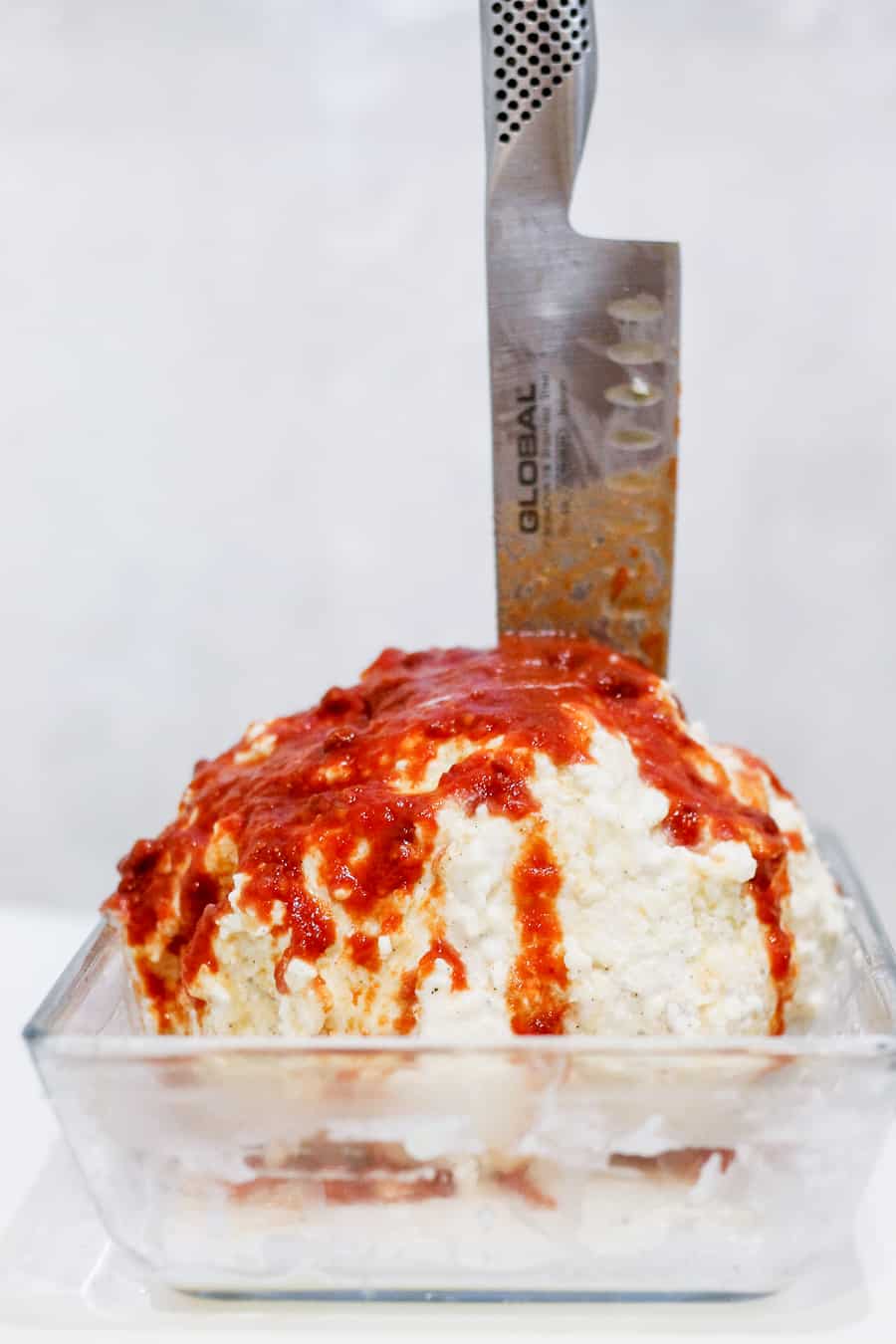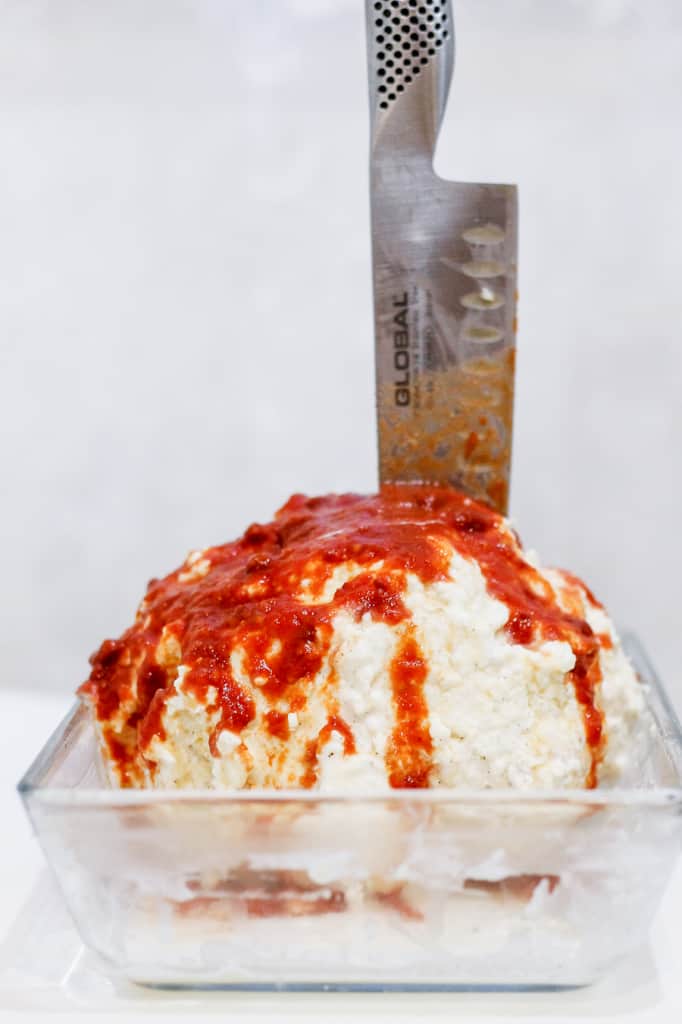 My mother first nukes her cauliflower in the microwave, but I was lazy and tried to avoid that step... and ended up having to cook my whole roasted cauliflower much longer than expected.
The final recipe I give you avoids that confusion by using an oven-safe casserole dish with a lid, or at least a tinfoil cover. Do not skip that.
For another cooking method for a whole cauliflower head, try this air fryer whole roasted cauliflower.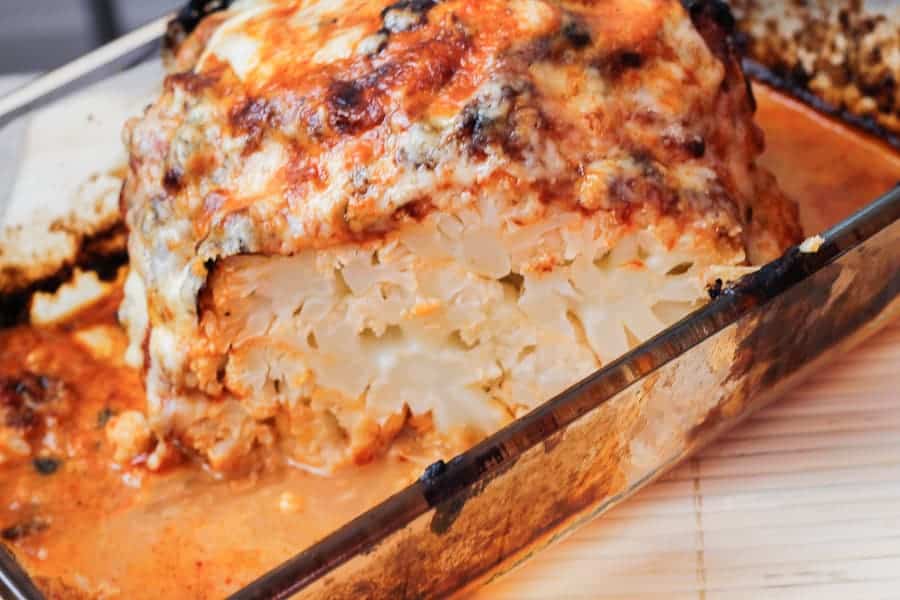 Accompanying dishes
Serve this with a nice green salad with a mustardy vinaigrette, or my fennel, pear and apple salad. If you're looking to add starch, roasted potatoes, a puree, or whole-grain pasta on the side.
Carve the whole roasted cauliflower into big, thick pieces, allowing people to see the marbling on the inside.
Pour some of the sauce on each plate you serve, but look away when your guests mop up the last little dregs of it with some bread. You will want to do it as well, but decorum will force you to act all proper.
Don't blame me; it's all about the whole roasted cauliflower.
Liked this post? Share it with your friends! For more At the Immigrant's Table, follow me on Facebook, Instagram, Pinterest, Bloglovin', or Twitter, subscribe to my mailing list, or contact me about advertising and becoming a sponsor. If you make one of my recipes, don't forget to tag #immigrantstable @immigrantstable!
Tried and loved this recipe? Please leave a 5-star review below! Your reviews mean a lot to me, so if you've got any questions, please let me know in a comment.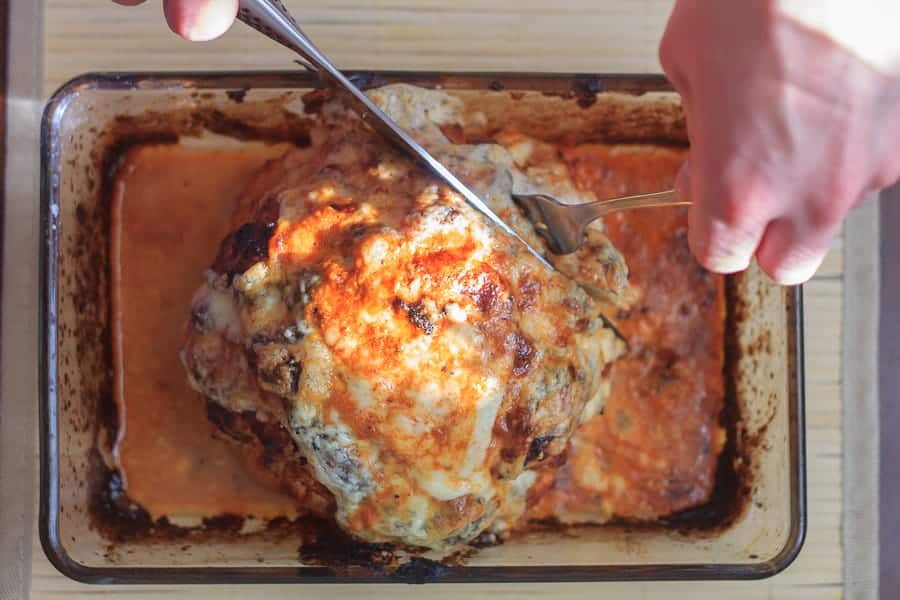 Recipe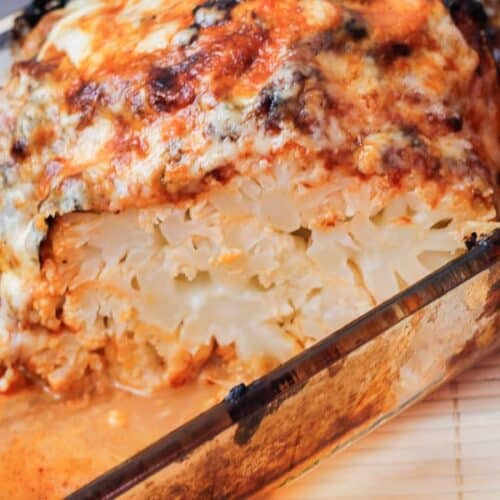 Whole roasted cauliflower in smoky tomato sauce
This cheesy whole roasted cauliflower is covered in a smoky tomato sauce and a thick layer of melted cheese that bubbles and oozes from every pore. It's an upgrade on a typical Israeli dish that I think lacks serious zip.
Ingredients
1

medium-sized head of cauliflower

washed carefully

200

grams

of cheese

6

TBs

lactose-free cream

½

teaspoon

salt

Freshly ground black pepper

to taste

1

cup

strained tomatoes or tomato sauce

1

TB

chipotle peppers in adobo sauce

or 1 TB tomato paste + 1 teaspoon smoked paprika
Instructions
Preheat oven to 375F. Grease an oven-safe casserole dish or glass bowl, preferably with a lid. Wash cauliflower well. Grate cheese into a medium-sized bowl.

In another bowl, combine half the cheese with the cream, salt and black pepper. Using your hands, rub the cream and cheese mixture all over the cauliflower, ensuring it coats everything and gets between the florets and into the crevices. Place cauliflower into oiled dish.

Finely chop 1 tablespoon of smoky chipotle pepper in adobo sauce (about ¼ of a pepper with sauce). if you don't have a jar of chipotle peppers, have no fear - mix in 1 teaspoon of smoked paprika into 1 TB of tomato paste. Add chopped pepper and sauce to half a cup of strained tomatoes (or tomato sauce, if that's what you've got). With a spoon, pour the smoky tomato sauce over cauliflower, creating the effect of dripping blood.

Cover the casserole dish with a lid; if you don't have a dish with a lid big enough to cover your cauliflower, fashion a cover out of aluminum foil, but try to avoid touch between the cauliflower itself and the aluminum (it can smear the cheese and sauce off).

Bake in a preheated oven for 35 minutes. Test cauliflower by piercing it with a fork; if it goes through fairly easily or with just a bit of resistance, remove the lid and let the cauliflower finish baking for another 15 minutes, the last five on the grill/ broil setting. If cauliflower is still fairly firm, increase heat to 400F and let it cook with the lid for another five minutes before testing it again, and then continuing to cook for another 15 without the lid.
Tried this recipe?
Comment + Rate Below!
Connect on Instagram!
Find us @immigrantstable