This Indian-style winter dilly carrot and zucchini curry is full of simple, wholesome ingredients that will give your soul and gut a healing boost, and get a comforting dinner on the table in under 30 minutes.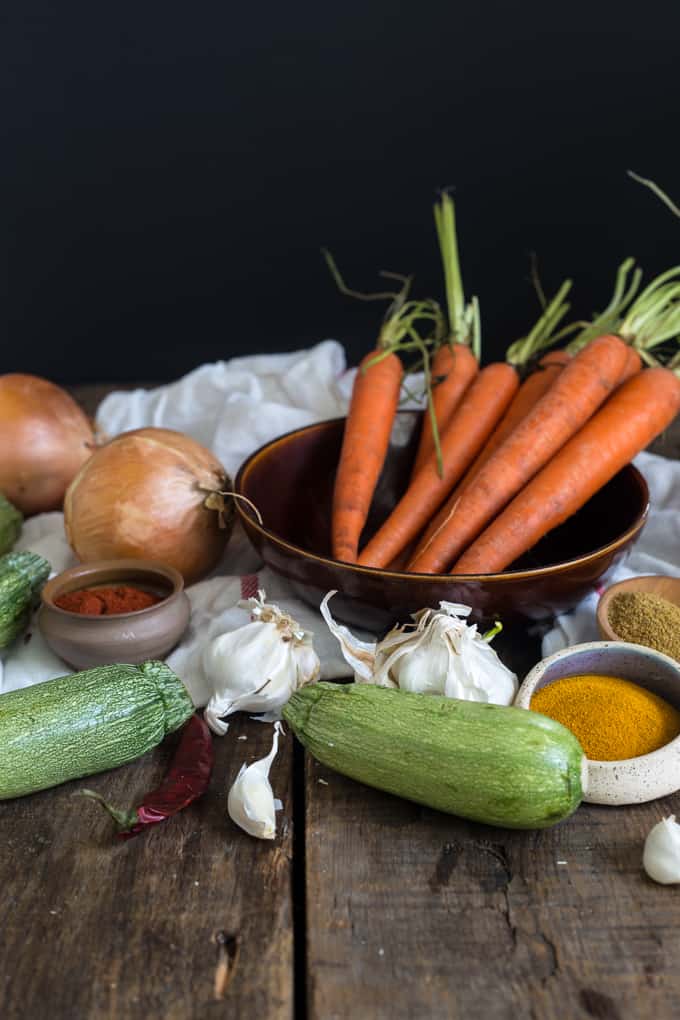 I am no stranger to bearing my soul on this blog, yet for some reason this post has been incredibly hard for me to write. I had an entirely different post planned for this winter dilly carrot and zucchini curry: one that extols the virtues of eating warm foods in winter, of herbs and vegetables as balms to your gut. Instead, I am writing a soul comparing them to balms to the soul... or the causes of its struggles, depending on the day.
I have been very honest with you around here. I have spoken about my move and difficulties acclimating to a new city, about heartbreak, and... more heartbreak (you'd think I was getting my heart broken a lot there for a little while, eh?). But I've never spoken to you about the elephant in my room: my struggle with anxiety.
Gosh, calling it a struggle with anxiety makes it sound so official, so alarmist, so like a real problem, like addiction, you know? And it's not like addiction to say, drugs or alcohol, because it's not like it makes you hate and doubt yourself, or lie to your friends and loved ones, or make it hard to perform daily tasks, until you eventually lock yourself up in a cocoon of your own despair, right??? It's not like there's a real reason for any of it, right?
Wrong.
Because my anxiety does all that - and I can only really speak to that, to my own experience with this demon, which by no means is meant as a universal guide.
My anxiety starts innocuous enough - usually, there is something real I worry about, like a health issue or a looming work deadline or a gathering I'm organizing. I make lists and plan and sometimes, I procrastinate dealing with it.
Then, I start waking up in the middle of the night thinking about the problem - what am I forgetting? Is there something huge that could happen as a repercussion of what I am or not doing? Will it all end in failure? I toss and turn for two to three hours, ballooning the problem to much larger than it ever seemed at the onset of 2:30am, until I exhaust myself to sleep OR get up and type something up, like I'm doing now (all this is a true story, bro).
This happens a few nights in a row. At first it's nice, because it puts a fire in my loins and makes me stop procrastinating. But then, it gets disruptive and hard as I can't seem to get a good night's sleep, like, ever... and if the problem isn't something that can be willed away by lists or deadlines, and it has no end in sight... Well, then, that's a whole lot of nights of sleeplessness, no?
Then comes the food part. Sometimes, I go into a baking frenzy, dedicating entire weekends to producing elaborate desserts. Or I cook two weeks' worth of meals in one day. Or I just produce a batch of cookies at 6am on a Saturday. And at first, it's nice, because there's food on the table (notice a pattern here?....).
But then it gets out of hand. Or I eat too much and start to feel bloated, and the inches around the waistline start to creep up (as anyone who knew me during my previous troubled long-term relationship can attest). Or there are those weeks when food is the last thing I want to see.
And then this space here suffers. Because without new content or inspiration to massage previously made and shot recipes into words, a soliloquy that will make you pin or print this one recipe and make your way into the kitchen, food blogs die a slow, painful death. Or sometimes, like this place, they have a small but dedicated enough following that works Google algorithm magic and new people stumble on the blog and like it, and pin and print some of your old recipes, and it's all enough to sustain itself and lull you into a cocoon of your own making... But it's never really enough to satisfy the poet's soul in you.
Sometimes, I avoid talking to my friends and family about this. Anxiety sounds so official, and I got this covered, between my incredibly supportive husband who takes over cooking and my books and my therapist and my Headspace-facilitated meditation and the occasional social obligation you can't shake. So you feel like you see enough people, and you have no energy or strength to see more, and after all, spending real time with real friends necessitates having real conversations.... And you just can't do that right now. So you don't.
And voila, in the span of two months you managed to produce a lovely little cocoon of anxiety and self-doubt and self-hatred that you sometimes treat with food, and sometimes you just don't know how to treat.
And that, my friends, is how the sausage is made.
So what's the point of all this? To get you to pin or print this winter dilly carrot and zucchini curry recipe, go into the kitchen and make it? To spill my guts in front of strangers on the Internet when I can barely talk to some of my closest friends about this? Or just to feel like a unique little snowflake who no one truly knows and understands? I doubt I did a good job at any of that, and frankly, it's just not how I roll.
Instead, the goal here was to be honest for a moment. To pause, and to admit there's a complicated relationship between how we view ourselves, our actual, tangible achievements, and the food we eat and make. Or at least how I do all those things. To start a real conversation about anxiety, and what does everyone do to take care of it. To admit to the people who know me in real life that sometimes, if I'm cancelling plans or just not making any, it's 0% about how I feel about them, and 100% about how I feel about myself. To apologize to my husband for making him cook all the time.
But most of all, the goal is to get something down on paper at 3am so that I can finally go back to sleep, dammit.
All of this is to say, make this winter dilly carrot and zucchini curry. It's still incredibly cold outside, at least around these parts, and this curry really will warm up your soul and heal your gut. It's easy to make, and through the alchemy of cooking, somehow much more delicious than carrots and zucchini sound on their own. Winter dilly carrot and zucchini curry is the sort of thing I crave when I'm cold and lonely and feeling sorry for myself, even when I know I am none of the above. It's what you should have had for dinner, like, yesterday.
And it's my window for starting a discussion about food and anxiety. So please, holler at me with your thoughts.
Tried and loved this recipe? Please leave a 5-star review below! Your reviews mean a lot to me, so if you've got any questions, please let me know in a comment.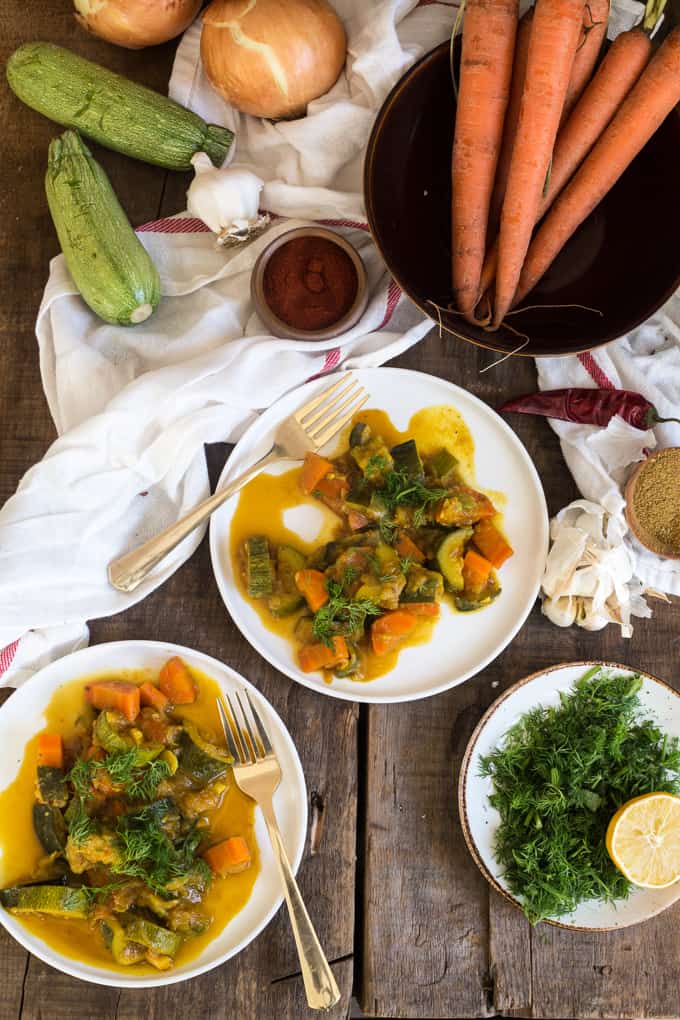 For more curry recipes:
Winter dilly carrot and zucchini curry (V, GF, Paleo}
This winter dilly carrot and zucchini curry is full of simple, wholesome ingredients that will give your soul and gut a healing boost, and get a comforting dinner on the table in under 30 minutes. 
Ingredients
3

TBs

grapeseed oil

2

large onions

4

garlic cloves

½

TB

turmeric

½

TB

pepper

1

TB

sugar

¼

TB

cumin

¼

TB

sweet Moroccan paprika

4

cups

water

½

TB

salt

4

carrots

cut into ½-inch thick slices

5

zucchini

cut into ½-inch thick slices

½

cup

chopped fresh herbs - parsley is preferable

but cilantro or dill will do as well

Juice of 1 lemon
Instructions
Preheat big pot or dutch oven to medium-high heat.

Add 3 TBs of grapeseed oil. Sautee onions until their colour changes on high heat, for 3 mins. Add garlic and all spices except salt, mix well and sautee for a minute.

Add 2 cups water and carrots and bring to a boil. Cover and cook on medium heat until carrots have softened a bit, 10 minutes.

Add zucchini and remaining 2 cups of water and salt. Cook, covered for 10 minutes, then an additional 5-10 mins uncovered.

Add chopped herbs and juice of 1 lemon.

Serve as a stew on its own, with rice or with naan bread.
Tried this recipe?
Comment + Rate Below!
Connect on Instagram!
Find us @immigrantstable