I have been waking up at 5am in the morning with panic attacks, my mind racing, my heart pumping, my body covered in a thin sheen of sweat. I have been dreaming endless, anxiety-filled, narrated dreams whereby the things I have been working endlessly to build all come crashing down. I have been fighting, slamming doors and (accidentally) breaking framed pictures. I have been a wreck. And unfortunately, it wasn't the taste of these delectable roasted garlic and yam burgers with a Tamari almond coating that's been keeping up - it's just been my own anxiety.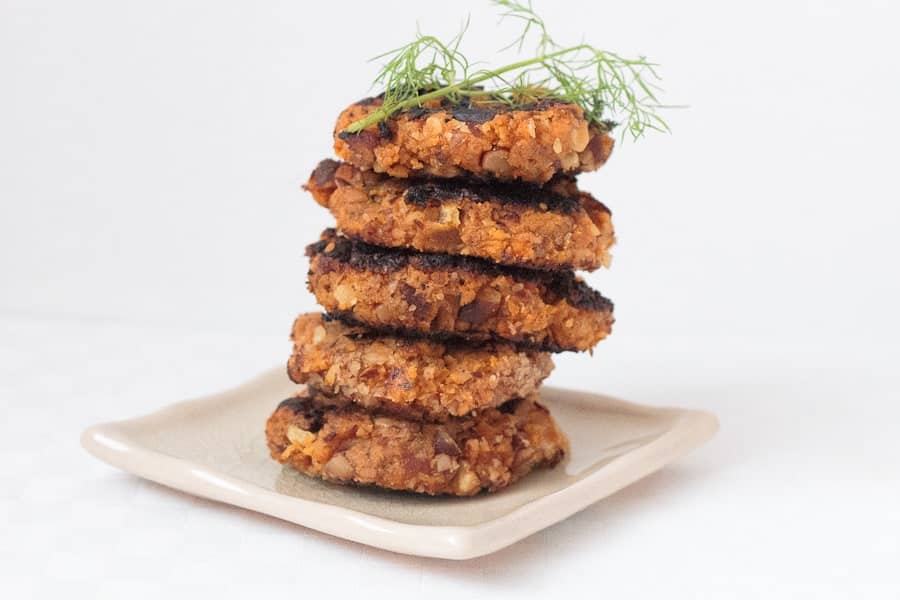 There is no use bemoaning what got me here. There is no use worrying. I have long-ago learned that in my case, anxiety is what accompanies anything worth fighting for, any risk, any new venture. So the point of this post is not to illicit sympathy - I truly don't feel that my situation warrants it (though I will take some positive energy!).
But the point of this post is to put it out there that I need to adjust my priorities. This blog is one of them, but so is my day job, and my relationship. And I have been trying to go full-steam ahead on all three of these, as well as about four others... And I feel like I have been coming up short on all fronts.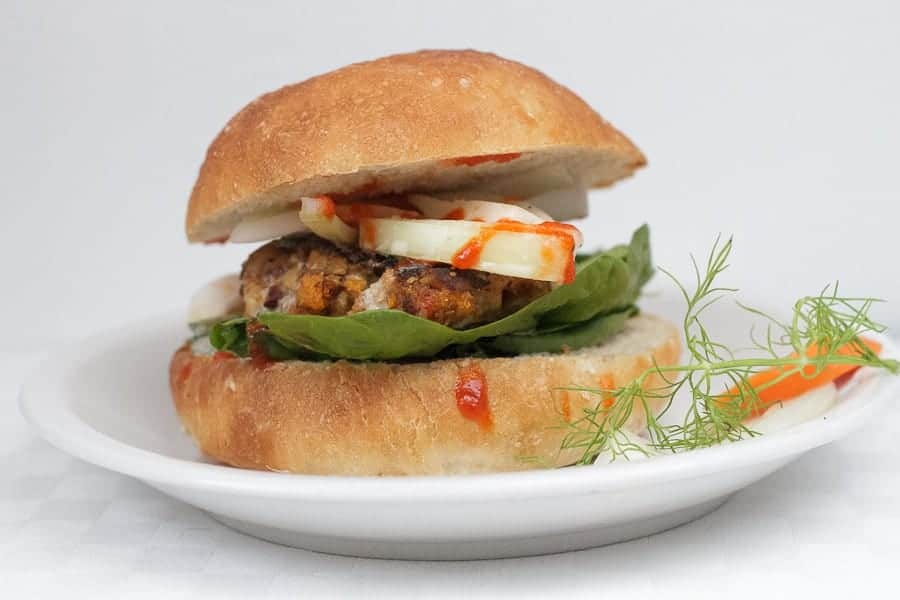 You see, when my day job fell into my lap, I truly wasn't expecting it. I was working hard to establish a rhythm with blogging, freelance assignments, and getting to know my city. The trouble was, my bank account was sorely showing the neglect. I still haven't opened the site up to ads - I guess I still lack the technical know-how, the knowledge about the rates, and in some part of me, the gumption to say - this is worth paying for. My work, my words, my soul and my ideas, they are all worth paying for. I know it, but it's been hard to proclaim it out loud to the internet via a glossy ad rate sheet (nor do I really know how to design a glossy ad rate sheet. Any helpers out there?).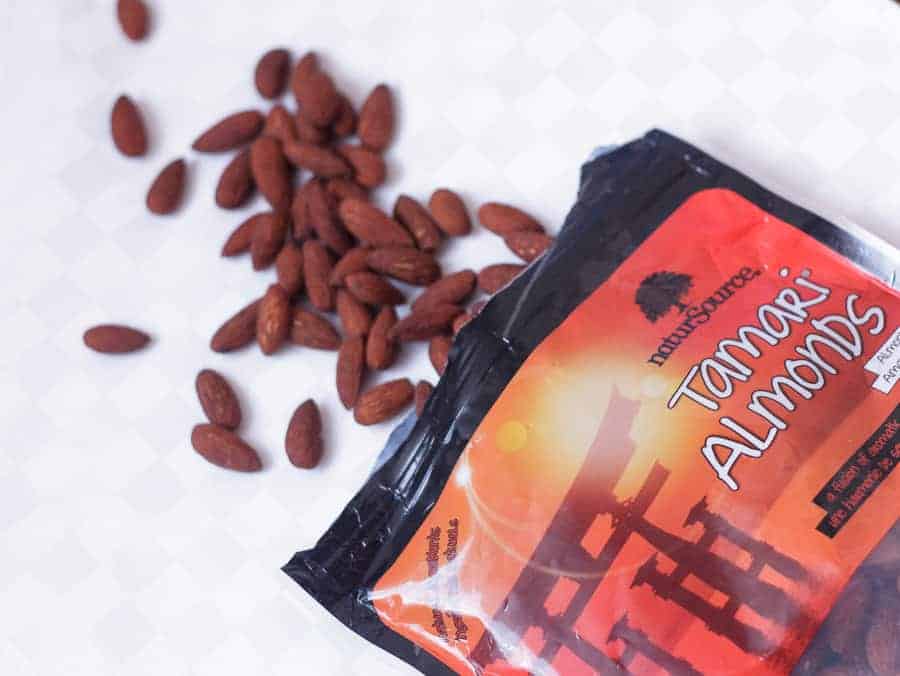 And then my day job came. Glorious and exciting, but also terribly new, unknown and, truth be told, quite challenging. I loved diving into it, but it has also provoked fears and worries that weren't there before. You see, now people are counting on me. Now I have responsibilities. Now, I have found the limited space in my head split between recipe ideas and constant thoughts about programming, outreach, Judaism. Everything fit together, but in some ways, it also didn't. And it was, and remains, and adjustment.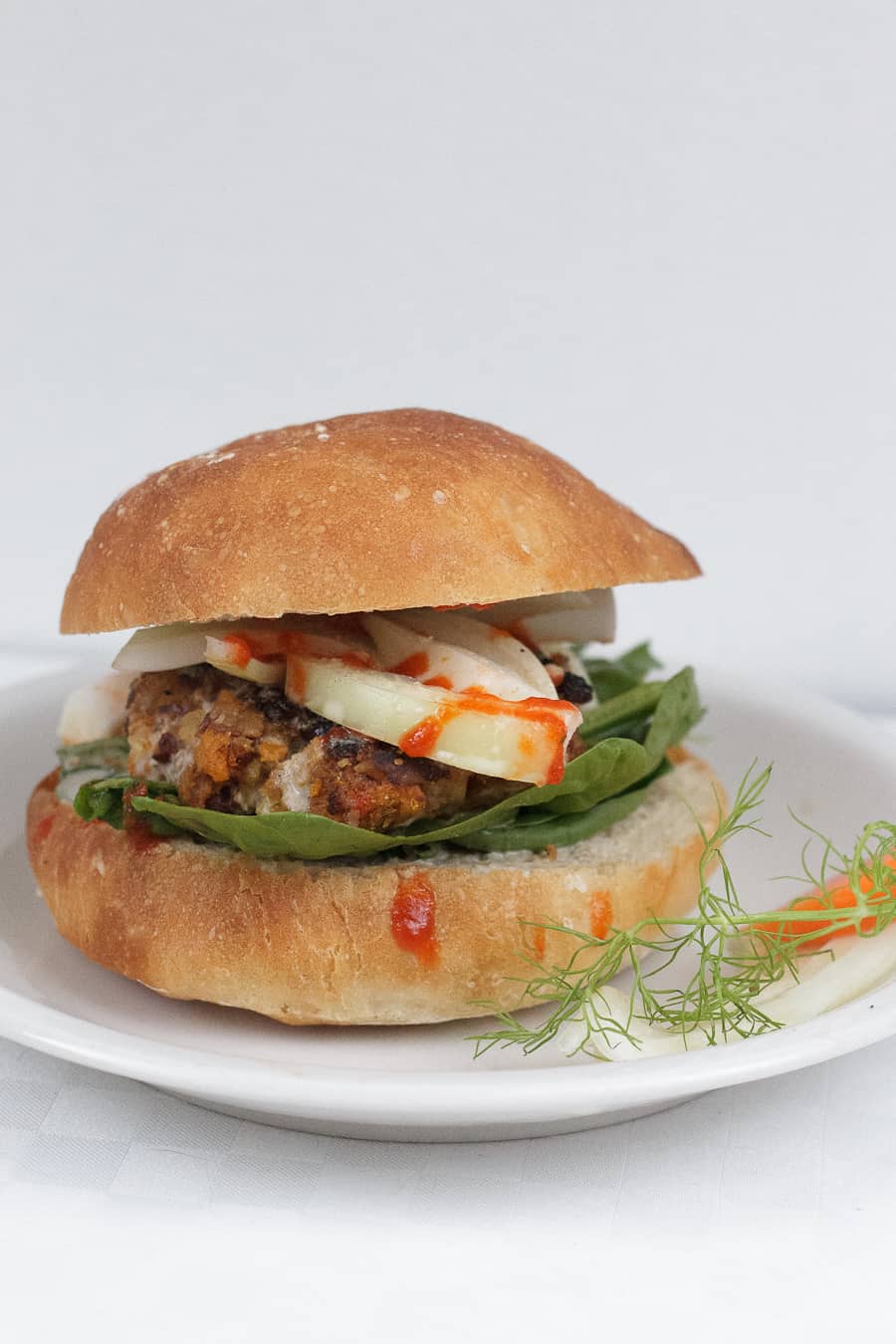 This is all to say, I'm getting there. I am finding ways to balance, to juggle, to stay put. I am searching for my centre, and I wish I had more time to engage with it. I know it will all come to fit, but some concessions are going to have to be made. Some things will need changing, and others dropping.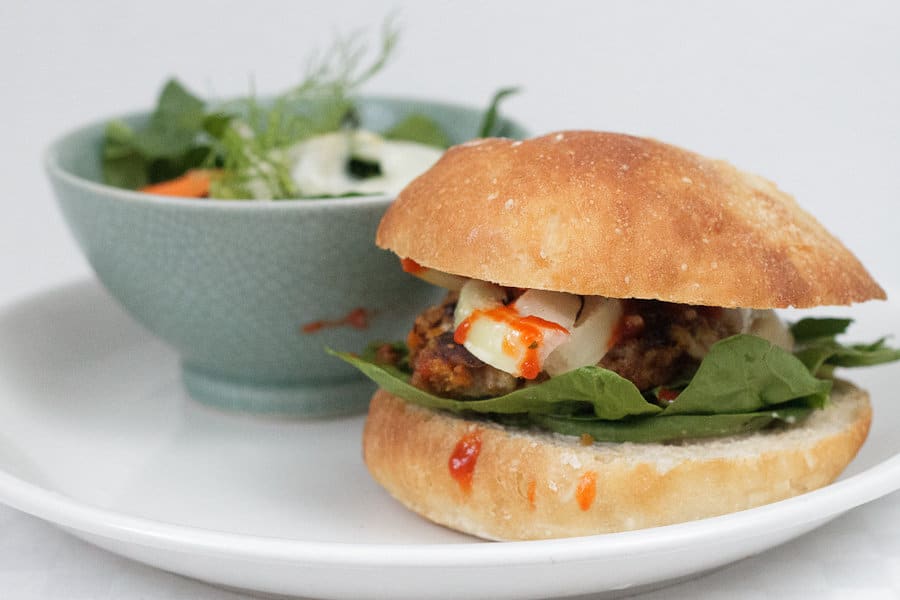 So, dear readers, I'd like to ask you to bear with me as I work through these shifting tides. If you have ideas and advice about setting up ad rates for the blog and increasing its profitability, let me know. If you have great ideas about Jewish programming about food, send me an email. If you live in Montreal, are Jewish, and would really like to help a sister out, I'm all ears. And if you have a problem with the fact that on Fridays, I will continue posting links but cut out the recipe, then maybe this blog isn't the place for you.
Because this will never be the space that feeds an endless machine of content. Maybe, as a result, it will never be the space that gets millions of visitors and tens of thousands of dollars of ad revenue. But it will always be the place of honesty, self-reflection, and creativity. And I hope you'll join me for the ride.
Now, a word about these yam burgers: they rock. I usually tend to stray towards the side of chunky bean burgers, full of spice and heft and texture. But when the idea came to me to work with NaturSource's Tamari almonds in veggie burger form, I immediately thought their crunch and smokiness would pair nicely with a silkier burger. Experimentation led me to a roasted yam burger that is baked instead of fried, and laced with fragrant strands of roasted garlic. Wedged in a sourdough bun with curried vegan mayo or tahini sauce, and topped with my favourite quick-pickled vegetables and a bit of Sriracha, this roasted garlic and yam burger has truly been the stuff of dreams.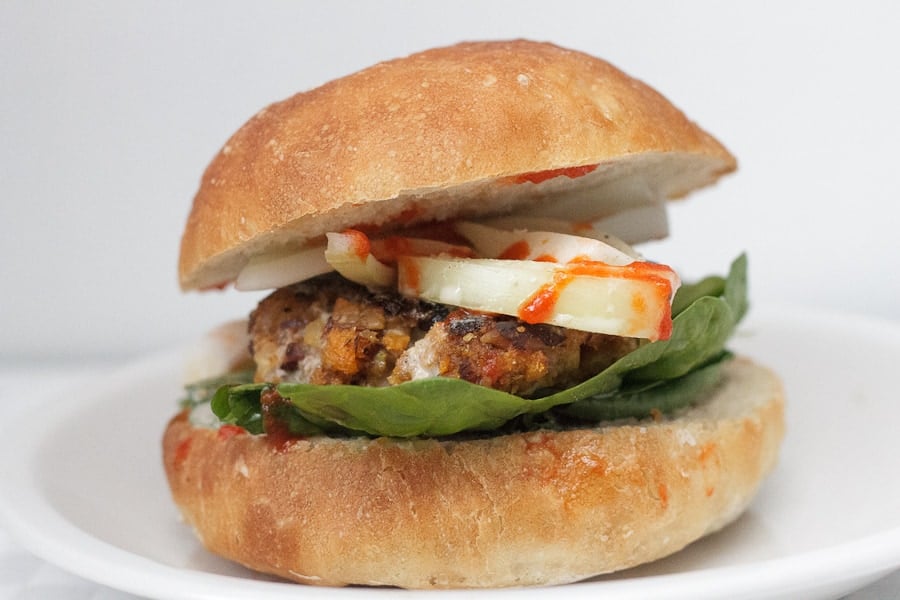 I urge you all to make it, pronto - and hope that it helps you find your balance, too.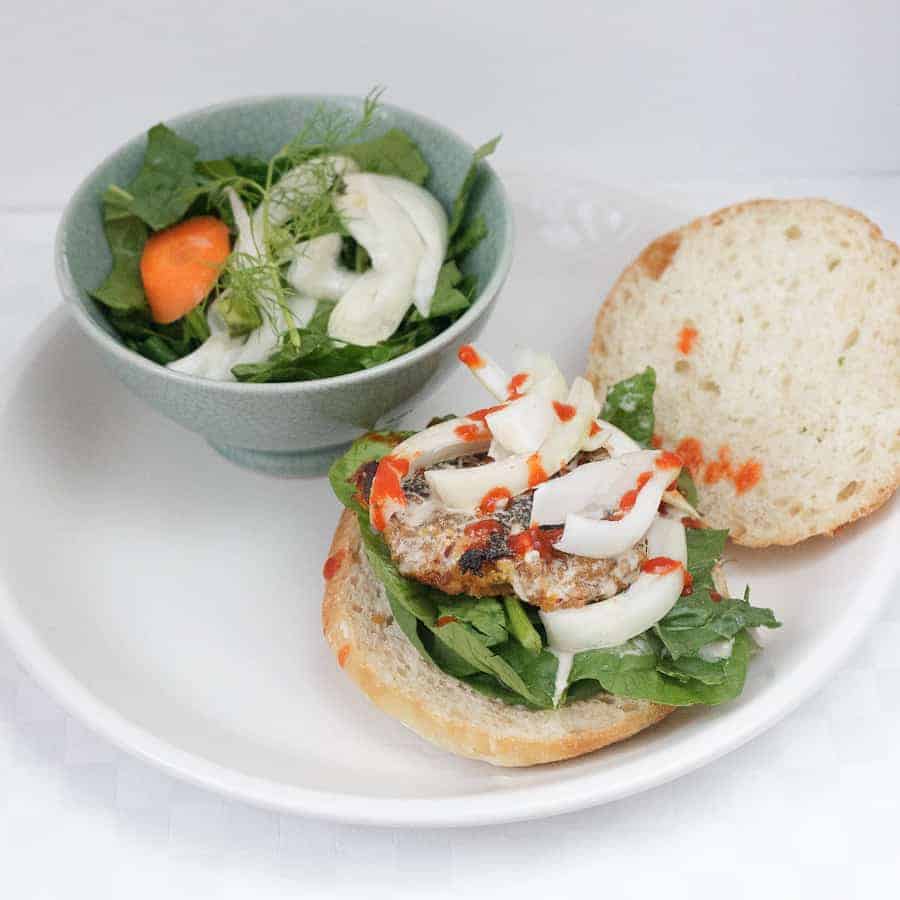 For more curry recipes:
P.S. - This is a sponsored post, but all opinions expressed here are my own. I am proud to support a local, family-owned business whose product I truly appreciate, and I thank you for supporting my sponsors.
Tried and loved this recipe? Please leave a 5-star review below! Your reviews mean a lot to me, so if you've got any questions, please let me know in a comment.
Roasted garlic and yam burgers with a Tamari almond coating, or getting your priorities straight
A roasted garlic and and yam burger that is baked instead of fried, studded with salty almonds and laced with fragrant strands of roasted garlic. Wedged in a sourdough bun with curried vegan mayo or tahini sauce, and topped with my favourite quick-pickled vegetables and a bit of Sriracha, this burger has truly been the stuff of dreams.
Ingredients
4

med-sized sweet potatoes or yams

1

garlic

½

onion

chopped finely

1

teaspoon

cumin

½

teaspoon

salt

juice of ¼ lemon

½ - 1

cup

Tamari almonds

chopped (start with ½ and add more if you need it)

For serving:

buns

a few leaves of kale/ spinach

Raw onion wedges OR Quick-pickled fall vegetables

immigrantstable.com/2014/11/12/quick-pickled-fall-vegetables-or-how-to-punch-up-any-salad/

Curried mayo: a mix of 2 TBs of mayo with 1 teaspoon of curry powder

OR

Tahini sauce: a mix of 2 TBs of raw tahini with 4 TBs lemon and 1 teaspoon of water

and a sprinkling of salt
Instructions
Preheat oven to 425F. Arrange whole yams and garlic (with the top part cut off and the garlic cloves exposed) on an aluminum-covered baking sheet. Drizzle garlic with a bit of olive oil (not the yams). Bake for an hour, removing the garlic after 20 minutes. Let rest until it's cool enough to handle.

Into a big mixing bowl, squeeze out the garlic (do not be afraid to really get in there with your fingers and get all of that yummy roasted garlic flesh out). Cut yams in half, scoop out their flesh and add to the garlic.

Mince an onion finely, and add to bowl with yams and garlic. Season with cumin, salt and lemon. Try to form patties - they should easily stick together. If they don't, add gluten-free (or regular flour) until they do, one TB at a time; if mixture is too dry, add a bit more lemon juice.

Chop Tamari almonds into small pieces, but not crushed into powder - I put them in a plastic bag and hit the bag with a rolling pin until the nuts are crushed into small pieces. Pour into a shallow plate.

Form patties out of the yam mixture, and roll each patty in the crushed almonds; you may have to pat them a bit with your hands to ensure the nuts really get in there. (All this can be done in advance, and the burgers frozen with parchment paper separating between their layers.)

When ready to prepare burgers, preheat oven to 375F. Cover a baking sheet with aluminum foil, and drizzle with about a TB of oil, spreading it evenly. Arrange burgers on baking sheet, and bake at 375 for 8 minutes on one side, and then 5-8 minutes on the other. Remove from oven, and let cool a bit before eating.

Serve in your favourite bun with curried mayo or tahini, quick-pickled veggie burgers or raw onion, and the mandatory drizzle of Sriracha.
Tried this recipe?
Comment + Rate Below!
Connect on Instagram!
Find us @immigrantstable