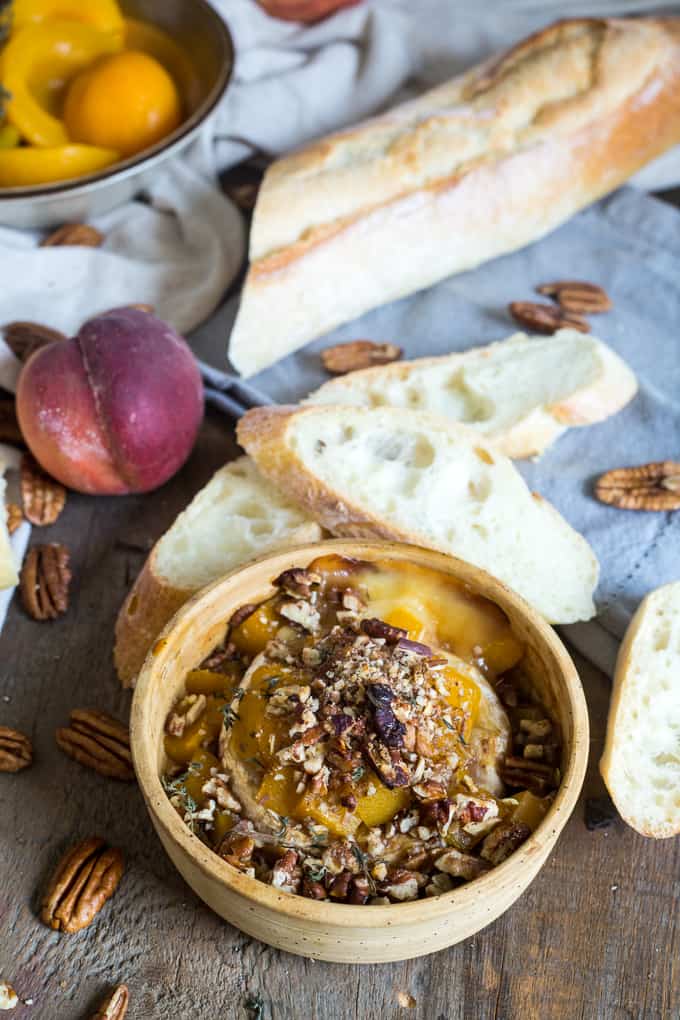 California cling peaches, chopped pecans, a drizzle of honey and a sprinkle of herbs. Now you've got everyone drooling over gooey baked brie with peaches! This is a sponsored post, and I received monetary compensation for my participation.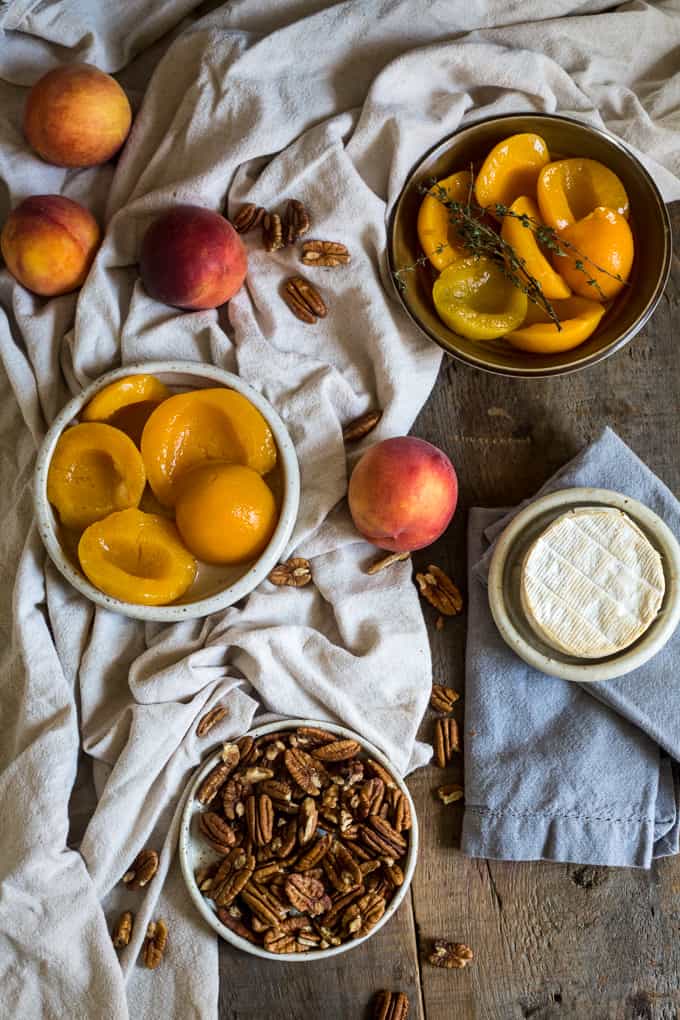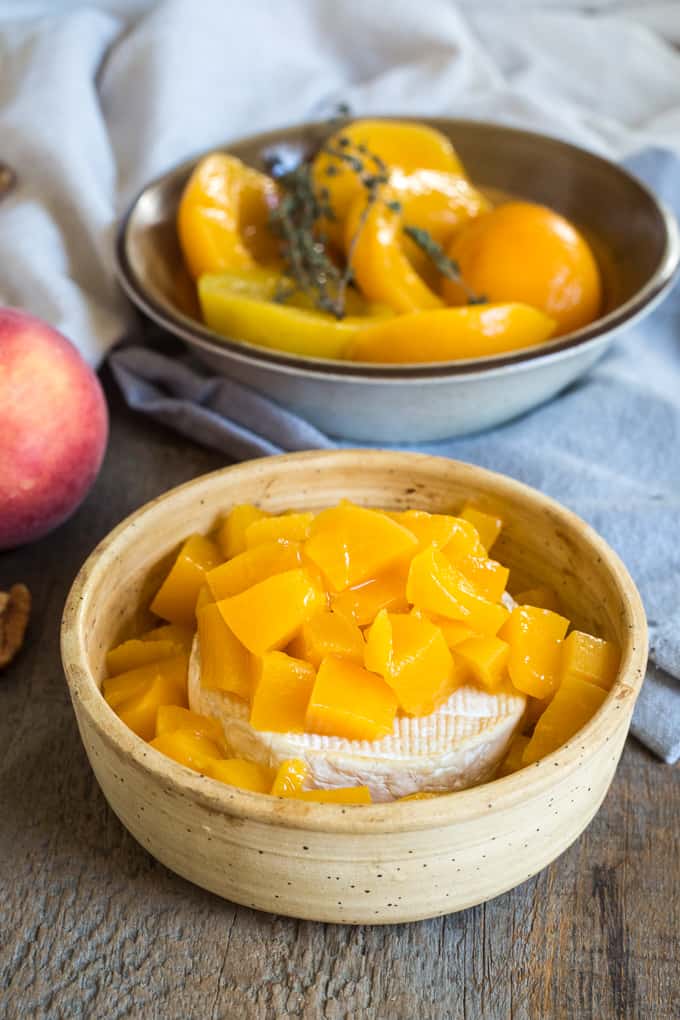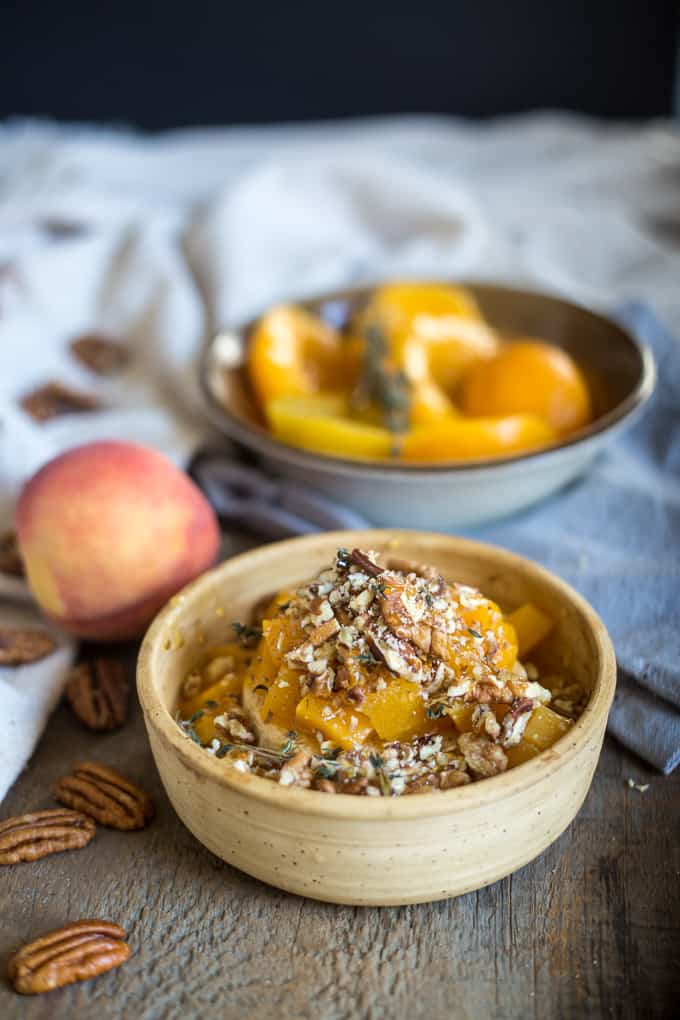 A food blogger's life
"I don't have anything to eat, but I'm sure we can scrounge something up." I began, giving my friends an apologetic smile as we hopped on the metro.
Now, if you're friends with a food blogger, you know that's probably a lie. If you're friends with me, you can bet it's a lie. A lie learned on my grandmother's knee. A lie honed over years of entertaining and making up meals from scratch.
I may have no fresh vegetables, or no bread, and none of the traditional fixings one needs for entertaining - chips, salsa, charcuterie meats.
But as long as you have a freezer, a pantry and several canned goods, you're good. You can always put together a quick entertaining dish like this baked brie with peaches, pecans, herbs and honey.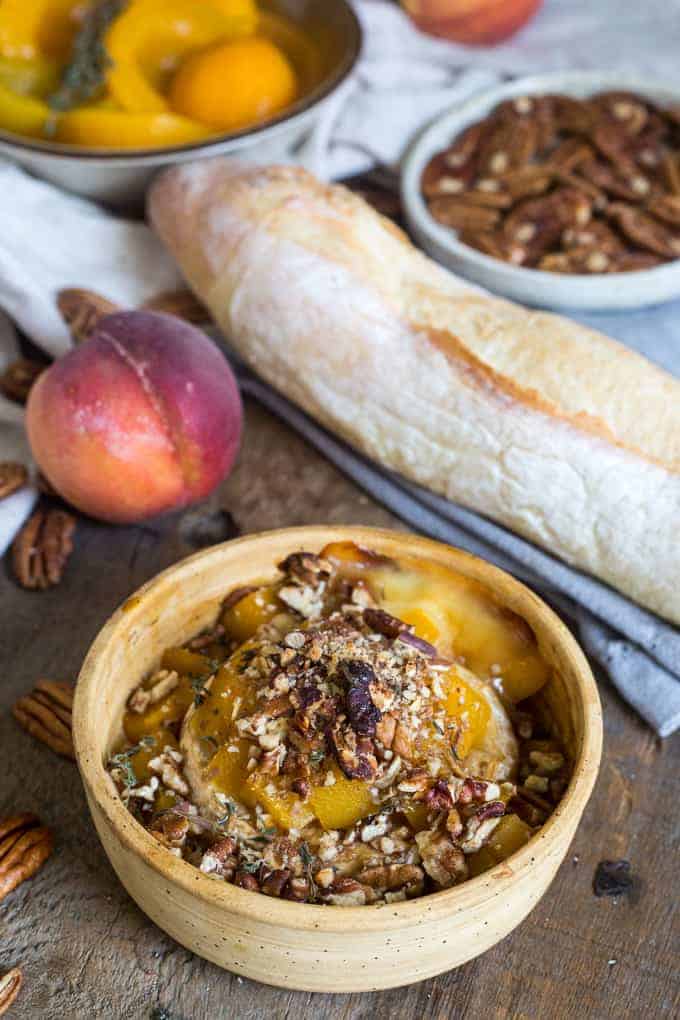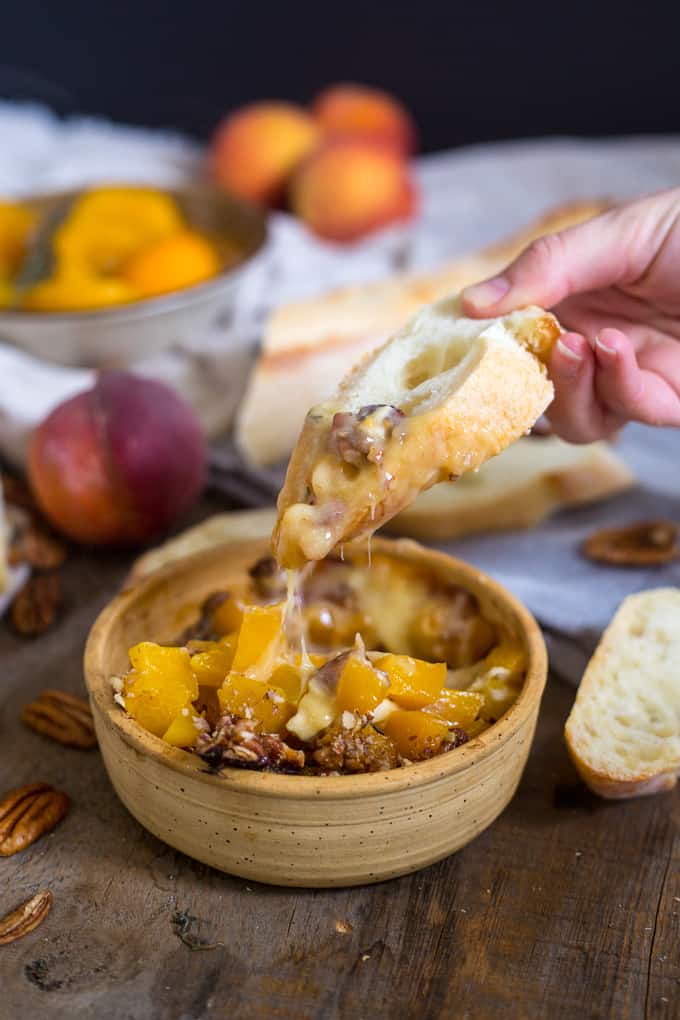 Making due with what you've got
In fact, this dish came about from just such an entertaining emergency. Danielle was on her way over to my place after a long day of studying. Kindly, I thought the occasion called for more than just a couple of shriveled logs of goat cheese and stale crackers.
So I threw together a simple salad of greens, pickles and pumpkin seeds. As I said, you are never too far from dinner if you have some pickles in your fridge!
I then rummaged around my freezer and pantry to make a more interesting main.
Full disclosure: I usually have a round of brie cheese in the freezer. I know, I know, this is weird. But sometimes, brie cheese goes on sale and you just don't want to eat it all at once. Then you assume that some day, guests may come and you'll have nothing to serve them, the store will just be out of brie cheese, and...
Whatever, I grew up in a Soviet household, give me a break.
Baked brie with peaches, nuts and herbs
Anyway, I took out a log of brie cheese from the especially-crafted cheese drawer in my fridge my freezer. I placed it gingerly at the bottom of a small ceramic dish. Note: you don't need a special brie-baking dish to bake brie; nearly any ceramic dish you like will do!
Then I rummaged around my pantry, and fished out a can of California cling peaches, which are my guilty pleasure on top of yogurt. Canned peaches also serve as a great saviour at emergencies just like this one. Or if you need to kill an intruder, cuz the can is heavy. Just sayin' - a girl living alone has gotta plan!
During winter, when fruit is expensive and has to be trucked all the way from Mexico, I much prefer the safety and comfort of a good can of peaches to bruised and battered fresh fruit.
California cling peaches are grown and canned in the United States, on family farms that adhere to the highest agricultural and safety standards. With them, I can count on the freshest, most nutrient-packed peaches making it to my table at any given time.
A few chopped pecans, a drizzle of honey and a sprinkle of whatever fresh herbs you have on hand and you've got baked brie with peaches, pecans, herbs and honey.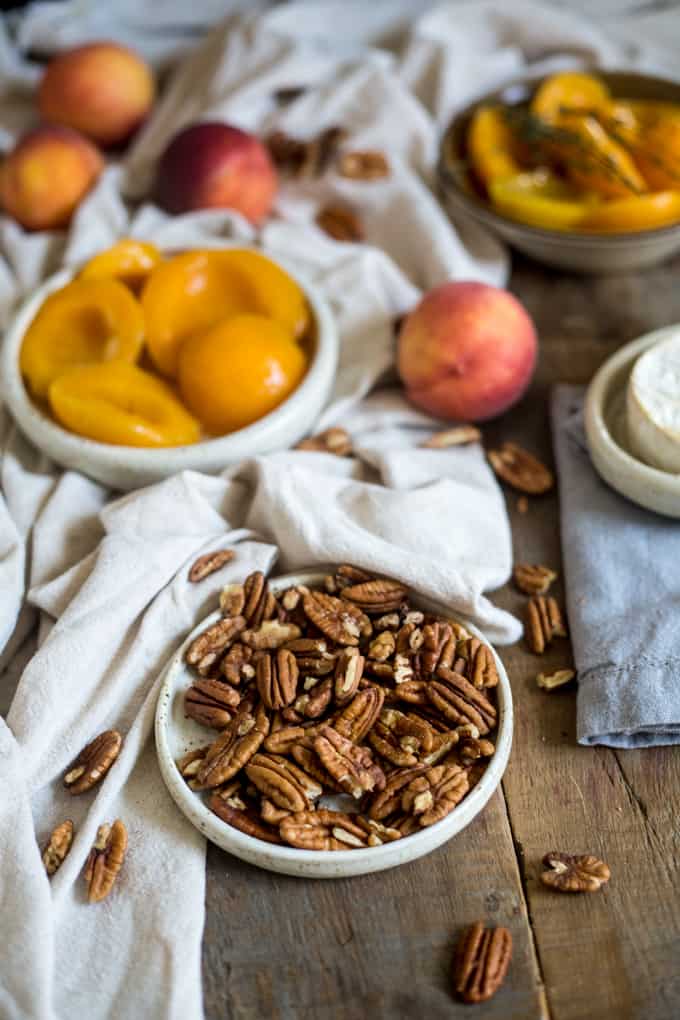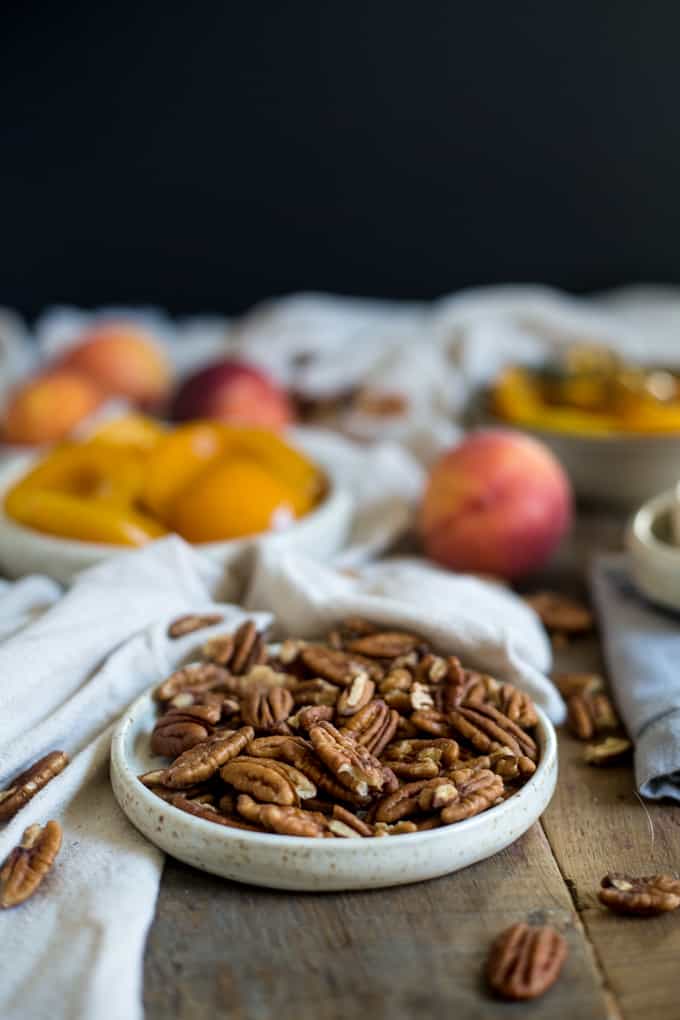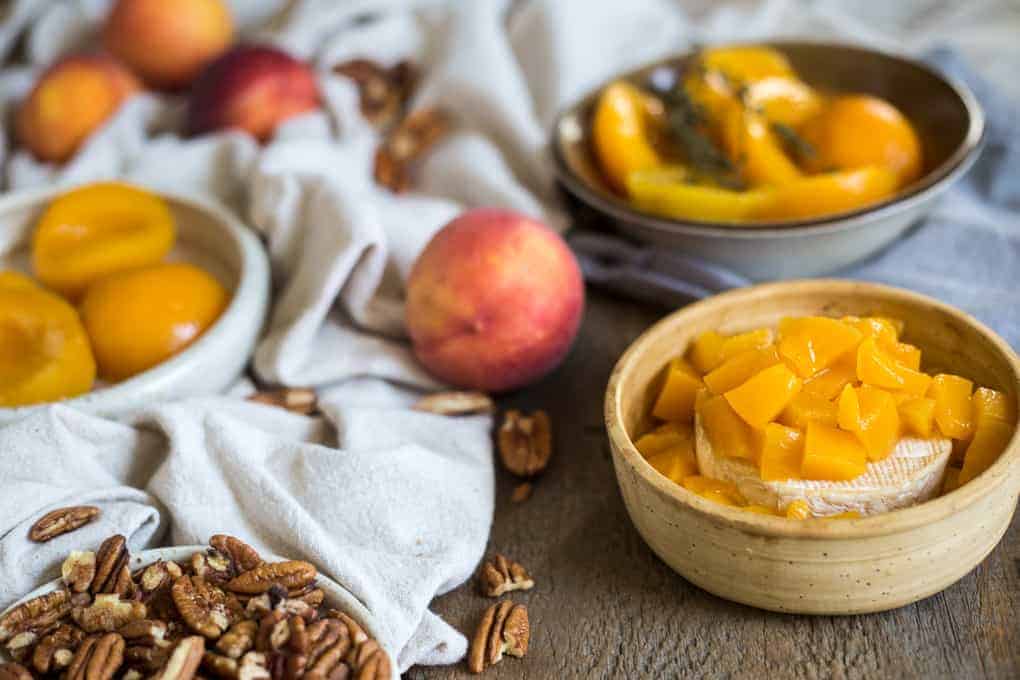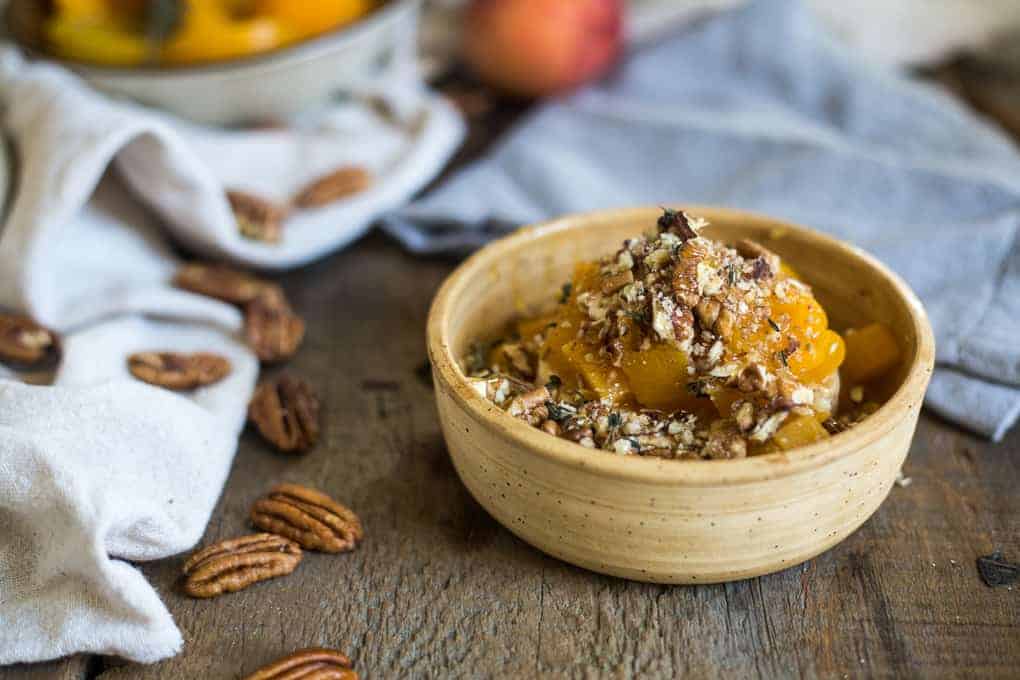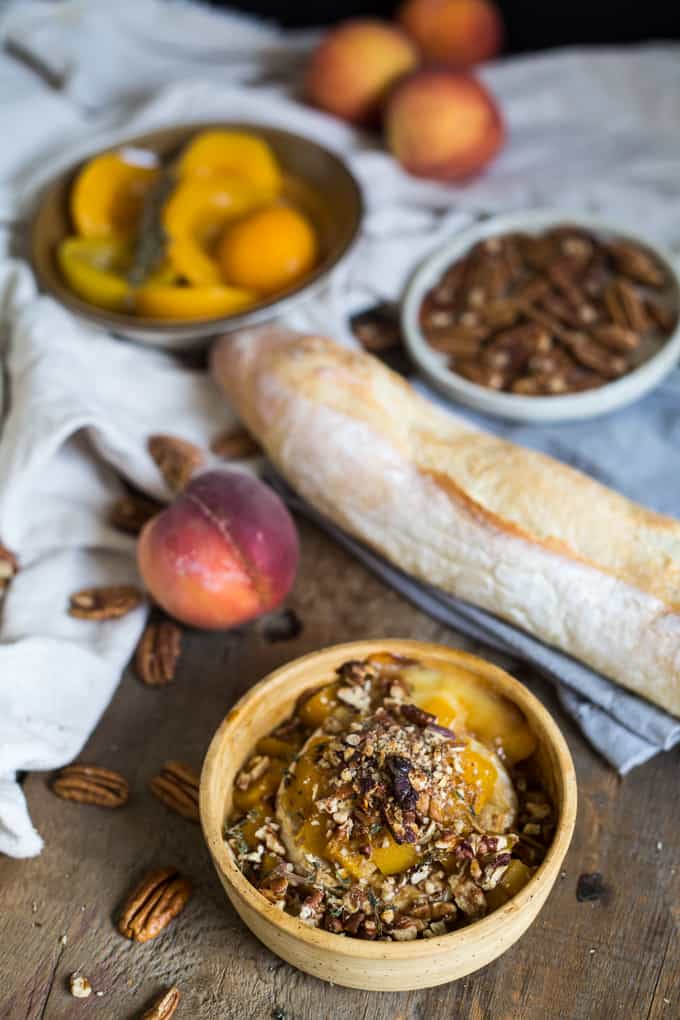 The perfect entertaining dish
Now, this dish will forever be known as your perfect entertaining dish. Prepped in under 5 minutes, and ready in another 15-20 in the oven. With the smells of creamy melting baked brie with peaches wafting all over the place, your guests will salivate long before it's served.
When cooked, canned peaches maintain their shape and firmness better than fresh peaches. While your brie is getting good and melty the peaches break down only slightly into a beautiful, quickly made jam with a contrasting texture. The pecans provide additional crunch and contrast.
Altogether, this is a dish that will make your guests really distrust you the next time you say you don't have anything in the fridge... But that's a risk you take every time you make something from this blog.
Full disclosure: I received monetary compensation in exchange for this post. However, I am proud to only work with those companies and brands whose products I truly love. And as always, all opinions expressed here are my own; you can always expect me to be honest with you guys!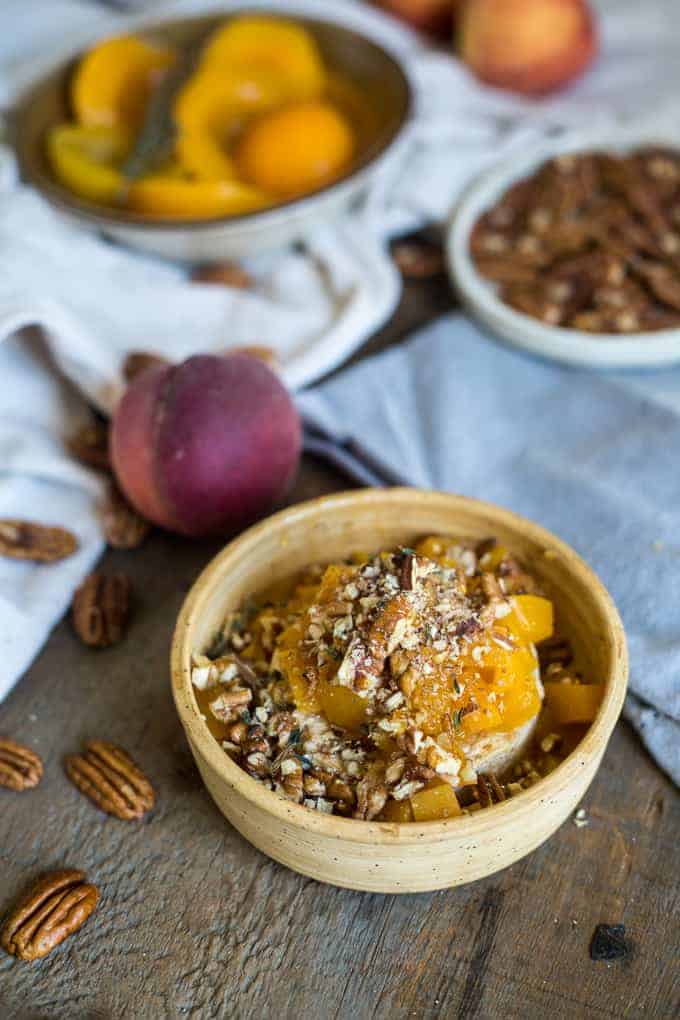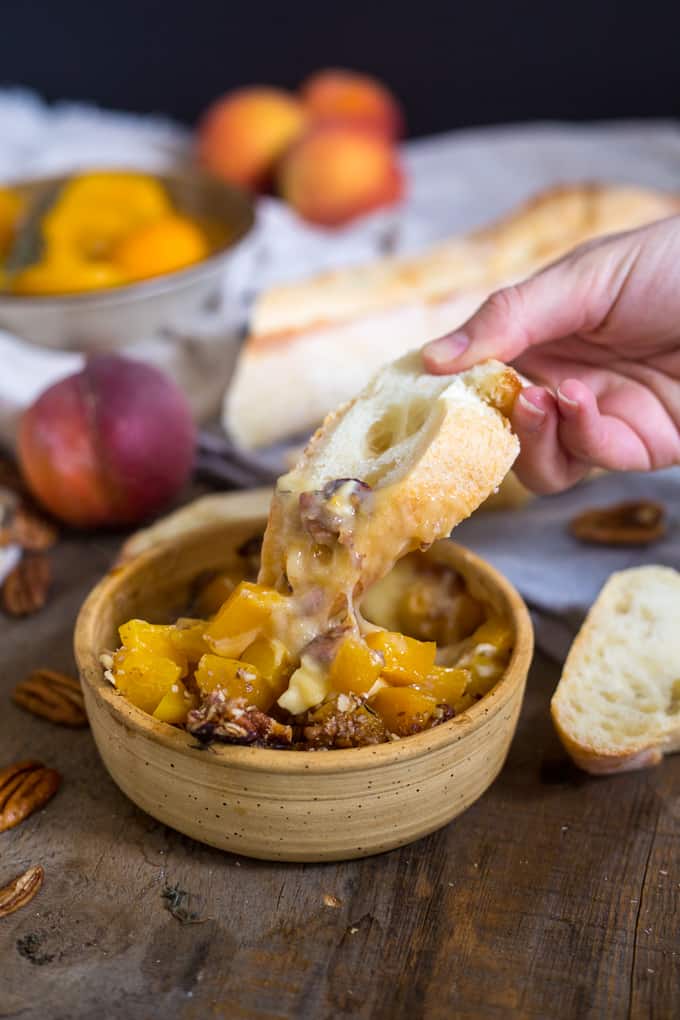 Baked brie with peaches, pecans, herbs and honey
California cling peaches, chopped pecans, a drizzle of honey and a sprinkle of herbs, and you've got everyone drooling over gooey baked brie with peaches.
Print
Pin
Rate
Equipment
Ceramic dish for baking in the oven
Ingredients
1

wheel of brie

1

can

California cling peaches

chopped into cubes

¼

cup

pecans

crushed

5

fresh thyme/ tarragon branches

3

basil leaves, or 3 sage leaves, sliced finely

Baguette or crackers of your choice

for serving
Instructions
Preheat oven to 325F.

Unwrap brie and place it in an oven-safe ceramic dish. Top with cubed California cling peaches and pecans. Sprinkle with chopped fresh herbs. Drizzle with honey as desired.

Bake in a 325F oven for 15-20 minutes, until brie has melted and topping has browned a bit on top. Serve immediately with baguette slices or the crackers of your choice.