Indulge in the flavors of fall with this crispy sage pumpkin pizza. Made with caramelized onions, pan-fried pumpkin, and gluten-free pizza dough.
I've always loved experimenting with unique pizza toppings, and recently, I came across an incredible combination of flavors that I just can't keep to myself - caramelized onion and pumpkin pizza.
This pizza truly embodies fall flavors, in the best way possible. The combination of caramelized onions, cooked in a sweet and tangy mix of apple cider vinegar, with the mild, earthy taste of pan-fried pumpkin, cooked with fresh herbs and smooth white wine.
Move over, PSL: this pizza is a match made for autumn, perfect for anyone looking to expand their pizza horizons beyond marinara sauce.
In my quest to create the ultimate caramelized onion and pumpkin pizza, I've developed some truly ingenious techniques and helpful tips that I'd like to share with you. From pan-frying the pumpkin just right, to achieving that perfect golden brown caramelization on the onions, these insights will elevate your homemade pizza game. And you'll be all ready to try them in other recipes!
Keep reading to learn how to prepare all the different components that go into the perfect caramelized onion and pumpkin pizza. Trust me, after trying this pumpkin pizza, you'll never look at pizza the same way again.
What Is Special About This Pumpkin Pizza
While pumpkin pizzas are gaining popularity on Instagram, I realized that beyond sharing my savory galette with pumpkin and caramelized onions, I needed to share my favorite way of combining pizza and this glorious orange fruit.
What makes this pizza unique is the combination of caramelized onions and pumpkin. The caramelized onions are cooked with apple cider vinegar to offer a sweet and savory flavor to the dish.
While many recipes will have you roasting pumpkin before using it in pizza, this recipe pan-fries it in a mix of Sauvignon Blanc, fresh rosemary, and thyme. Cooking the pumpkin like this saves you another dish, and provides a perfect balance of earthiness and creaminess to the dish.
This pizza uses no pizza sauce. Instead, we focus on getting the most pumpkin flavor possible and combine two types of cheese for the ultimate gooey crust!
The fried sage makes this dish feel luxurious and fancy. Fried sage brings an aromatic and earthy flavor, adding a unique twist to this dish. Aside from its flavor, its crisp and golden brown appearance makes the dish more texturally and visually appealing, making it feel more upscale.
Finally, you can use any pizza crust you want, easily making this dish gluten-free. If you have a gluten allergy or are intolerally, a variety of gluten-free pizza crusts are available on the market. Many of these are made with a blend of gluten-free flours such as almond flour, rice flour, or potato flour. Alternatively, you can make your own gluten-free pizza crust at home with a mix of gluten-free flour and xanthan gum, which replaces gluten and helps bind the dough together.
This caramelized onion and pumpkin pizza epitomizes a warm and comforting fall meal that's perfect for sharing with friends and family. Give it a try, and I'm confident you'll fall in love with this unique and scrumptious pizza.
How do you make caramelized onions?
First, I like to choose my onions. Typically, I go for the regular brown onions for their balance of flavor and sweetness. Next, I thinly slice the onions to ensure they caramelize evenly. To start cooking, I heat a few tablespoons of oil (or butter) over medium heat in my trusty cast-iron skillet.
Once the pan is heated, I add the sliced onions and cook them slowly, allowing their natural sugars to break down and release the rich, caramelized flavor. A pinch of salt and pepper helps to season and draw out the moisture, ensuring an excellent caramelization. Remember to stir frequently and be patient as this process can take some time.
A secret trick I've learned along the way is to add a teaspoon of brown sugar to speed up the caramelization. This provides a lovely depth to the overall flavor and shortens the cooking time. Toward the end of cooking, I often splash in some apple cider vinegar, which adds a touch of tanginess, balancing the sweetness of the caramelized onions.
In the end, what you have is a batch of delicious caramelized onions, perfect for adding a mouthwatering flavor to your pumpkin pizza.
What Wine to Serve with This Pumpkin Pizza
In my experience, finding the perfect wine to complement a caramelized onion and pumpkin pizza can enhance the flavors of this delightful dish. I suggest a white wine with fruity notes and medium acidity for this particular pizza, such as a Sauvignon Blanc or a Chardonnay (I am partial to the Cakebread Cellars Sauvignon Blanc). The crisp flavor profile of these wines pairs well with the caramelized onions' sweetness and the pumpkin's creaminess.
If you prefer a red wine, a lighter option like Pinot Noir goes well with the pizza's earthy and sweet flavors. Its delicate, fruity notes reminiscent of cherries and red apples will complement the dish without overpowering it.
Finally, if you're in the mood for a non-alcoholic option, a cold glass of apple cider can be a great alternative. The sweetness of the cider pairs nicely with the savory components of the pizza, balancing the flavors and making for a refreshing beverage choice.
Ingredients
You'll need a few things to make this pumpkin pizza:
Store-bought pizza crust (fresh or ready-made): A convenient base for your pizza. For dietary preferences, you can use any pizza crust of your choice, including gluten-free or cauliflower crust.
Small pumpkin, peeled and cubed: The pizza star provides a sweet and earthy flavor. Butternut squash can be a substitute for pumpkin.
Butter: Adds richness to caramelized onions. You can use ghee or a dairy-free butter alternative.
Olive oil: Used for sautéing and roasting, lending a mild, fruity flavor. Substitute with avocado oil or any other preferred cooking oil.
White Sauvignon Blanc wine: Complements the sweetness of caramelized onions and pumpkin. You can use other white wines with fruity notes, such as Chardonnay.
Fresh rosemary: Provides an aromatic, earthy flavor. You can use dried rosemary if fresh is unavailable.
Fresh sage leaves: Used for frying and as a pizza topping, adding a unique, herby taste. Substitutes include dried sage or basil leaves for a different flavor.
Sweet onions, sliced thin: Caramelized onions offer a sweet and savory element. Use regular brown or red onions if sweet onions aren't available.
Apple cider vinegar: Adds a tangy kick to the caramelized onions. Substitutes include balsamic vinegar or white wine vinegar.
Salt and pepper, to taste: Seasoning essentials to enhance flavors.
Fresh mozzarella: Melts beautifully and offers a creamy texture. Vegan mozzarella is an option for a dairy-free alternative.
Honey: Drizzled on the finished pizza for a touch of sweetness. Maple syrup or agave nectar can be used as a honey substitute.
Freshly shaved Parmesan cheese: Adds a nutty, salty flavor. Substitute with Pecorino Romano or any preferred hard cheese for grating.
Step-by-Step Process
I always start my caramelized onion and pumpkin pizza by rolling out the pizza dough on a lightly floured surface. Ensuring it's an even thickness helps with even baking. If you use a pre-made crust, this step is done for you!
Once it's rolled out, I transfer the dough to my pizza stone, which I have preheated in a high-temperature oven. This helps to achieve that crispy crust we all know and love.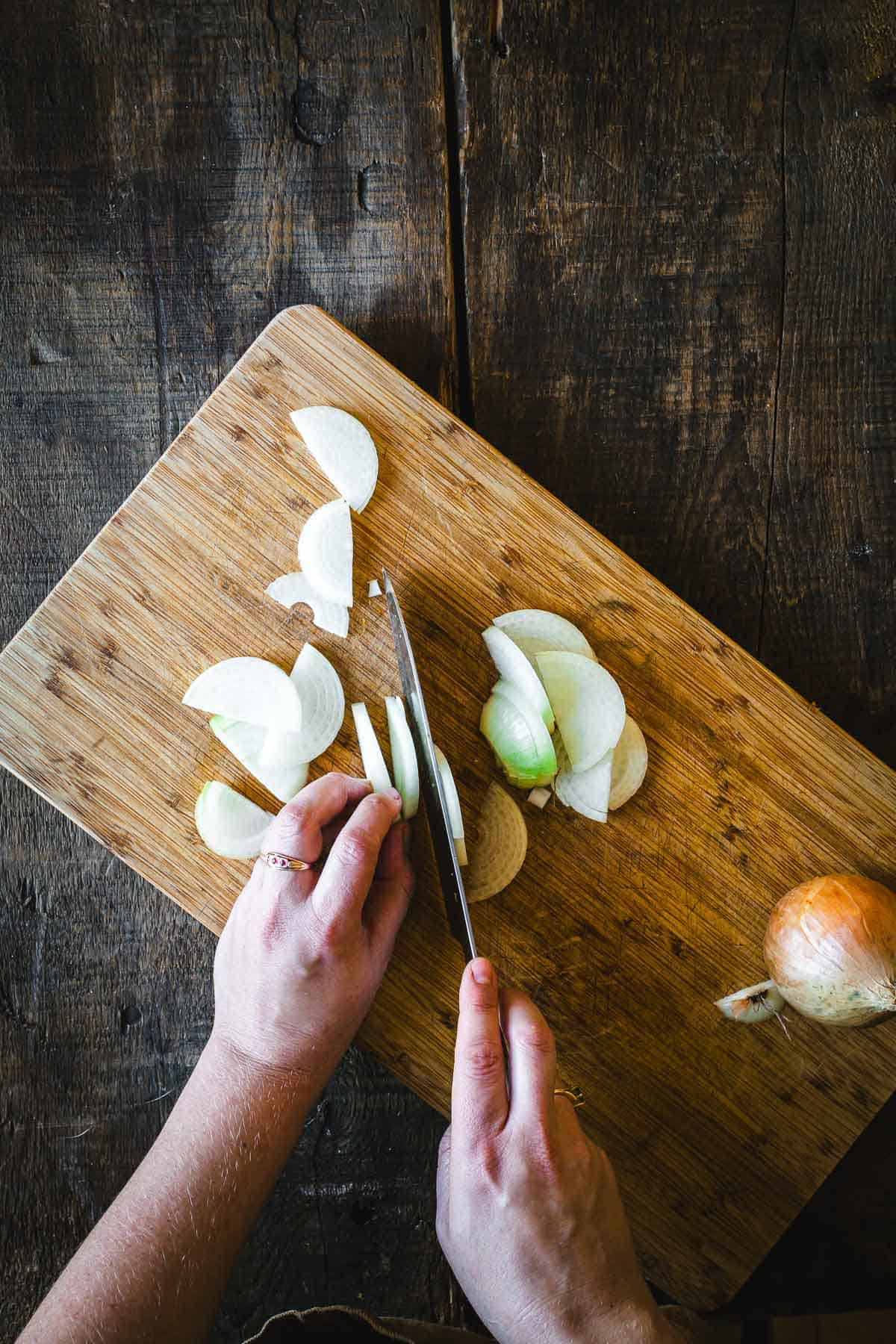 Now, let's take care of the toppings. Caramelize the onions in a skillet, adding a touch of apple cider vinegar to help bring out their natural sweetness.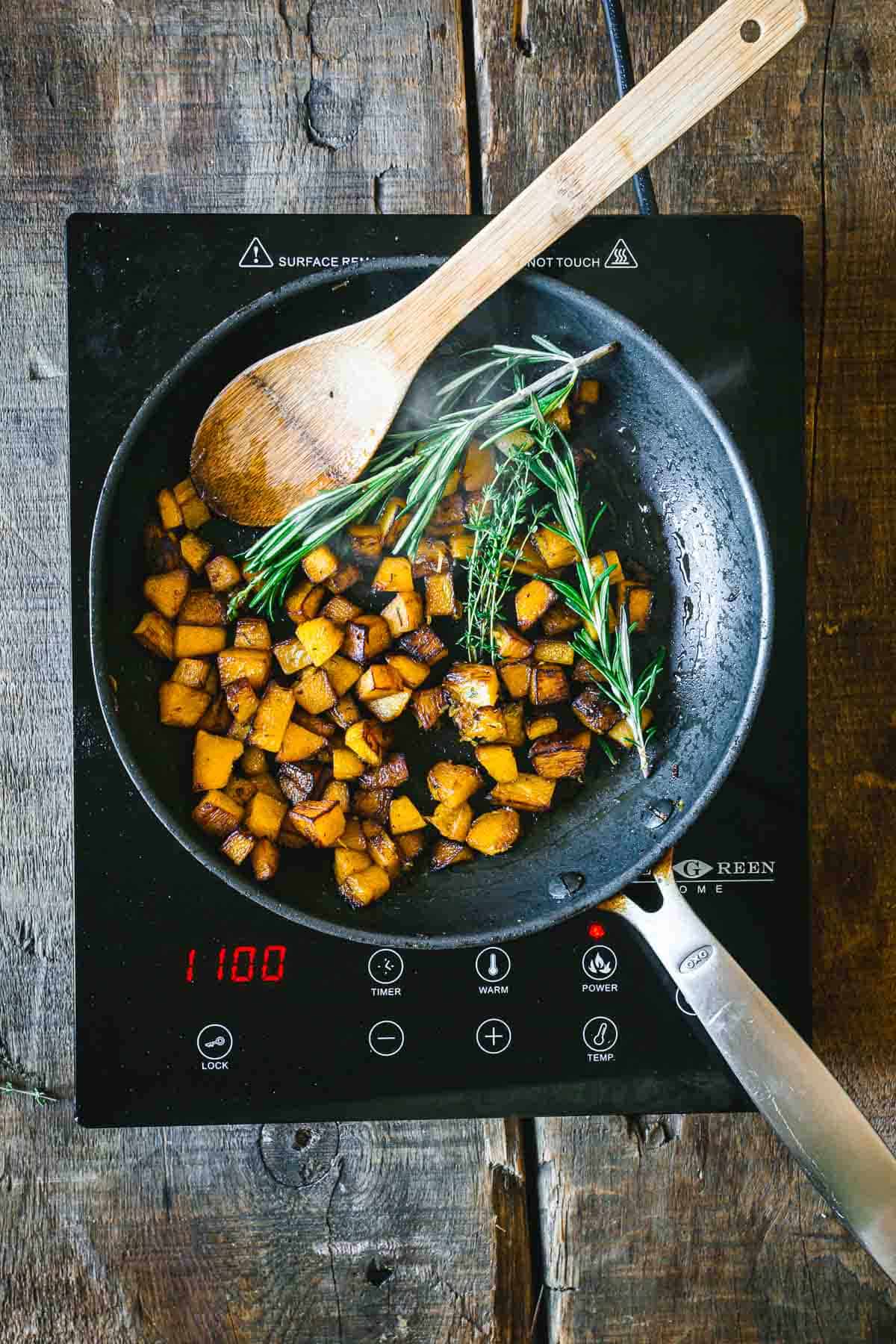 As for the pumpkin, I prefer to cook it in a pan. In a large pan, melt butter and olive oil on medium flame. Introduce the diced pumpkin to the pan, followed by Sauvignon Blanc fresh rosemary and a few fresh sage leaves. Let these ingredients simmer for roughly 15 minutes, or until the pumpkin softens enough to be pricked with a fork without crumbling. Discard the herbs.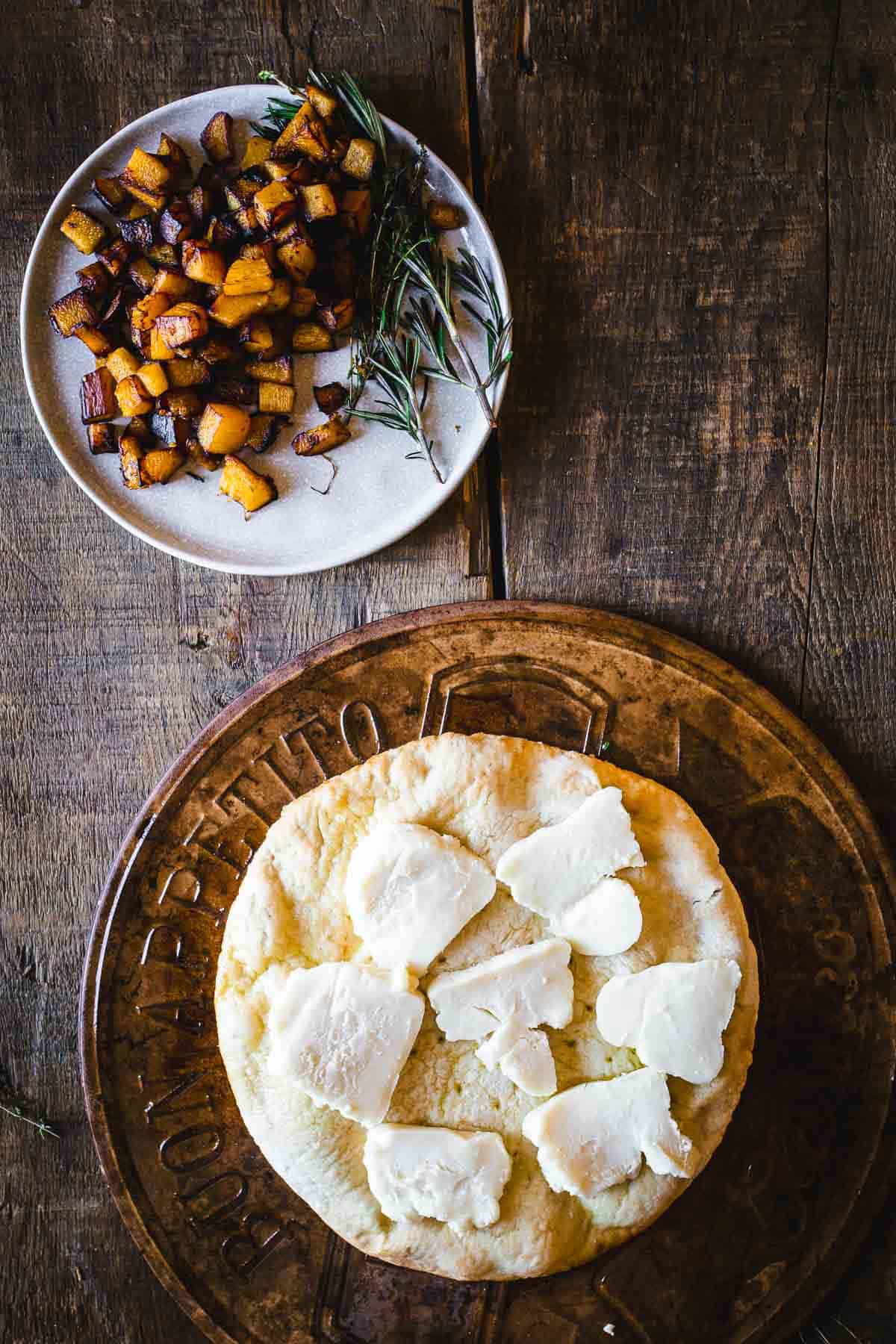 When everything is prepared, it's time to assemble the pizza. The first thing I recommend doing is spreading a base of mozzarella cheese over the dough, to ensure perfect melting. I then add the tender, roasted pumpkin and caramelized onions. Top with some freshly grated parmesan before baking.
Now, it's time to bake the pizza! I slide the prepared pizza onto the hot pizza stone and let the oven work its magic. After about 15 minutes, the crust is perfectly golden and the toppings are bubbling. Baking with fresh dough may take a bit longer, like 25 minutes.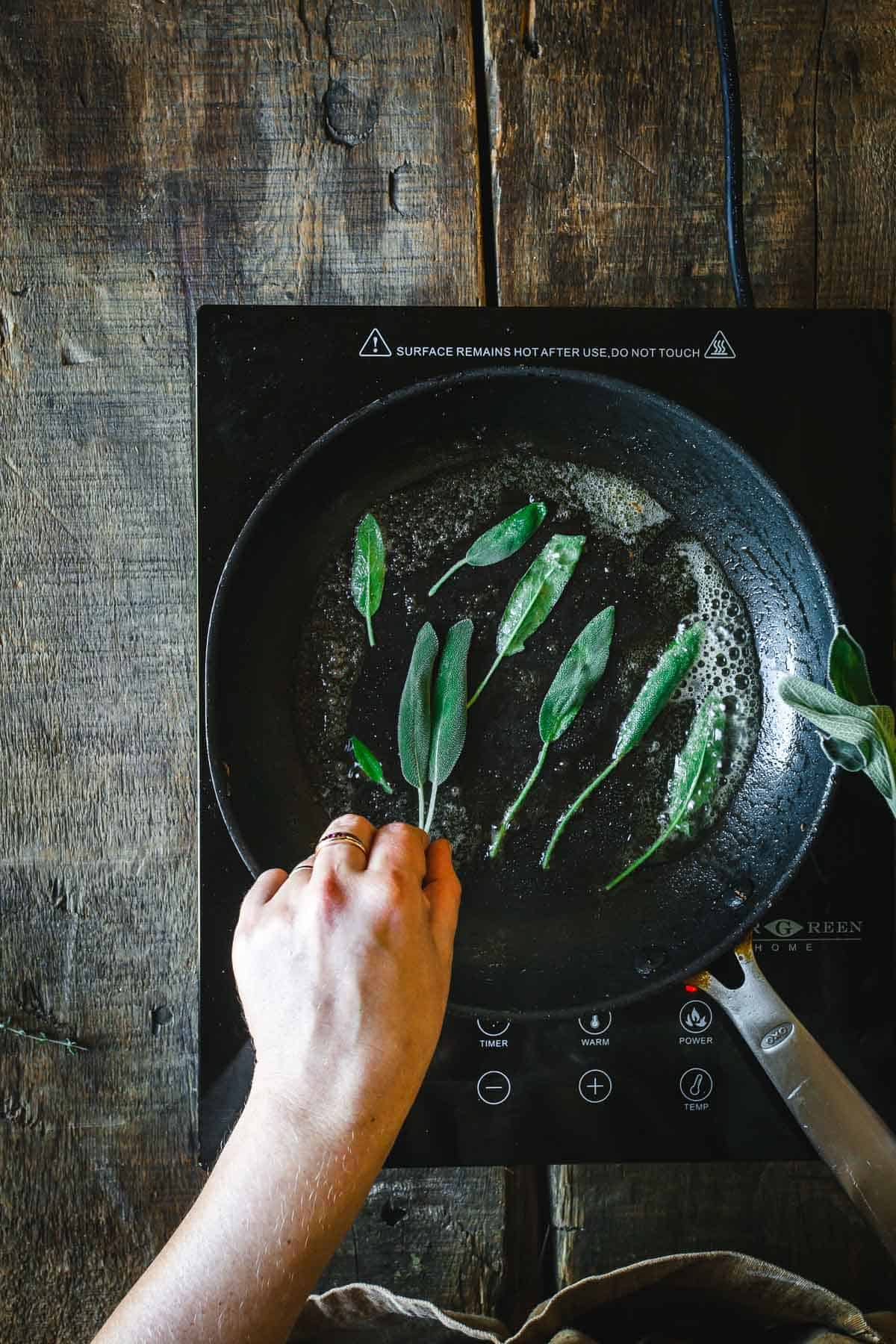 While our fall-inspired pizza is baking, I fry the sage leaves in a bit of olive oil, no more than 30 seconds per side. Transfer them to a paper towel to drain.
When the pizza comes out from the oven and the cheese is melted and gooey, your pizza with pumpkin is ready! With the mouth-watering aroma swirling around the kitchen, I top the pizza with more parmesan cheese, honey and the fried sage leaves. And then our fall pizza creation is ready to serve!
Variations
When it comes to pumpkin pizza, there are numerous variations to suit different taste preferences and dietary requirements.
If you prefer a vegan version, you can easily make a vegan pumpkin pizza by substituting dairy cheese with a vegan alternative and omitting any non-vegan toppings.
Another variation includes prosciutto as a topping, which pairs well with pumpkin and caramelized onions. The savory and slightly sweet prosciutto complements the flavors of the pizza and adds a touch of richness.
In addition, roasted butternut squash is a great alternative to pumpkin on this pizza. The natural sweetness of butternut squash pairs beautifully with caramelized onions and creates an autumn-inspired dish.
Experiment with various herbs, cheeses, and other toppings to create a unique take on this best pumpkin pizza. Remember, the key to a great pizza is to play with flavors and textures and, most importantly, to have fun in the kitchen!
Top Tips
When caramelizing onions, I recommend using medium heat and adding apple cider towards the end to avoid burning. This helps achieve a perfect golden-brown color and a sweet, deep flavor.

Rather than using traditional marinara sauce, try a pumpkin-based sauce for a seasonal twist. The Dinner-Mom recommends using a creamy pumpkin pasta sauce which lends a subtle fall flair to your pizza.

Finally, to add unique flavors, feel free to experiment with various toppings like feta cheese, pancetta, or crispy sage.
Accompanying Dishes
When I serve my caramelized onion and pumpkin pizza, I offer complementary side dishes to make it a well-rounded meal. Not only does this enhance the dining experience, but it also introduces new flavors and textures to the mix.
A fresh, crunchy salad is always a good choice to balance out the rich flavors of the pumpkin and onion. A simple mixed green salad with butternut squash with a light vinaigrette dressing pairs well, as it doesn't overpower the pizza.
For a warm and comforting side, I prefer a bowl of creamy mashed sweet potato puree. It's versatile and can be customized with garlic, herbs, or even cheese, to complement the pizza's flavors.
Lastly, a plate of grilled veggies like roasted lemon potatoes, broccoli and bell peppers. The smoky taste from roasting adds depth and contrast to the sweet and savory onion and pumpkin pizza. This way, the meal feels complete and satisfying, without being too heavy.
Tried and loved this recipe? Please leave a 5-star review below! Your reviews mean a lot to me, so if you've got any questions, please let me know in a comment.
Frequently Asked Questions
What is the best dough recipe for pizza?
I recommend a classic, simple pizza dough recipe made with flour, yeast, warm water, sugar, salt, and olive oil. You can find a foolproof recipe here.
What is the best gluten-free pizza dough recipe?
For a gluten-free alternative, use a combination of gluten-free all-purpose flour, xanthan gum, yeast, warm water, sugar, salt, and olive oil. This recipe provides a great gluten-free option.
What toppings pair well with pumpkin and caramelized onions?
Aside from pumpkin and caramelized onions, ingredients like mushrooms, ricotta, walnuts, and pancetta can enhance the flavors of your pizza. This combination is a personal favorite.
Do you need a special sauce for pumpkin pizza?
No special sauce is required, as the combination of roasted pumpkin, olive oil, sage, rosemary, and caramelized onions creates a rich and flavorful base.
What is the ideal oven temperature and cooking time?
Preheat your oven to 450°F, and allow your pizza to cook for about 12-15 minutes, checking for a crispy crust and bubbly cheese. Remember to prepare your pumpkin and onions beforehand, as seen in this example.
Recipe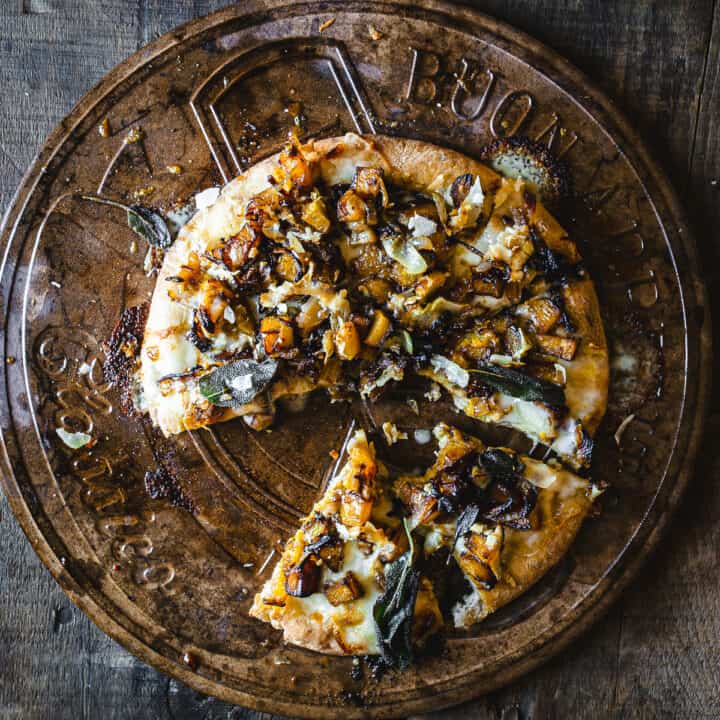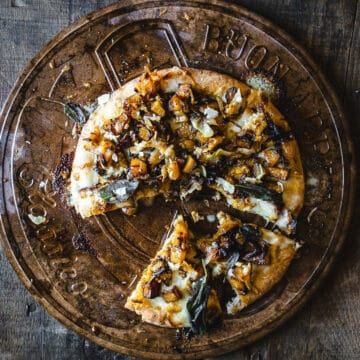 Caramelized Onion and Pumpkin Pizza with Fried Sage
Indulge in the flavors of fall with this crispy sage pumpkin pizza. Made with caramelized onions, pan-fried pumpkin, and gluten-free pizza dough.
Ingredients
Store-bought pizza crust

fresh or ready-made

1

small pumpkin

peeled and cubed

2

tablespoons

butter

2

tablespoons

olive oil

1

cup

white Sauvignon Blanc wine

2

sprigs of fresh rosemary

4-6

fresh sage leaves

2

sweet onions

sliced thin

2

tablespoons

apple cider vinegar

Salt and pepper

to taste

1

ball fresh mozzarella

6

Fresh sage leaves

for topping

2

tablespoons

honey

More freshly shaved Parmesan cheese for topping
Instructions
Cook Pumpkin: In a large pan, melt 2 tablespoons of butter and 2 tablespoons of olive oil over medium heat. Add the cubed pumpkin, 1 cup of white Sauvignon Blanc wine, 2 sprigs of fresh rosemary, and 4-6 fresh sage leaves. Cook for about 15 minutes, until the pumpkin is tender and can be speared with a fork without falling apart. Remove the sage and rosemary and discard.

Caramelize Onions: While the pumpkin is cooking, caramelize the onions. Add the sliced onions to a large skillet and cook them for about 10 minutes until they're softened. Then, add 2 tablespoons of apple cider vinegar. Continue to cook until the onions are caramelized.

Preheat your oven to 450F.

Prepare Pizza Dough: Roll out your store-bought pizza crust on a floured surface to your desired shape and thickness.

Assemble Pizza: Cover the pizza with fresh mozzarella cheese. Add the cooked pumpkin on top of the mozzarella. Sprinkle the freshly shaved Parmesan cheese over the pumpkin.

Bake Pizza: Bake the pizza for 15 minutes for a ready-made crust or 25-30 minutes for a fresh crust, or until the cheese is all melty and gooey.

Crispy Sage: While the pizza's baking, fry more sage leaves in about ½ inch of olive oil in a small skillet over medium heat. Cook them for 30 seconds on each side. Once they're crispy, remove them from the pan.

Final Touch: After taking the pizza out of the oven, drizzle it with honey and add more shaved Parmesan. Top with crispy fried sage. Enjoy!
Nutrition
Tried this recipe?
Comment + Rate Below!
Connect on Instagram!
Find us @immigrantstable