It is fitting that the recipe I post the day after my birthday will be one for pickles; mustard garlic scape pickles, to be exact. Because every year for the past five, the days around my birthday have been a fest of pickling of industrial proportions around here: we usually stick to my famous spicy garlic dill pickles, but sometimes, even of more unique pickles like these ones.
Their bodies contorted and twisted within themselves, their heads reaching out to the sky, their colour as vibrant as the greenest jungle plants, garlic scapes look like alien parasites from another planet. And yet they are probably one of the most underrated and underappreciated plants to benefit from the foodie renaissance our culture has experienced in recent years.
The offshoot of the garlic plant, garlic scapes were usually chopped to allow the bulbs to develop, and relegated to the compost heap. But in recent years, chefs and foodies constantly on the lookout for new and exotic ingredients took inspiration from the Whole Hog movement, and began cooking even with these strange spoils… And in my opinion, mustard garlic scape pickles are the best of the lot.
Tangy and a bit sharp, alluring in their dark green colour, mustard garlic scape pickles taste faintly of spices and apple cider vinegar, of renewal and fall. They are gorgeous with sharp cheddar cheese, pate for the meat eaters among you, or when paired with some ground cherry jam and crackers – basically, anywhere you'd use French cornichons.
So if you're an experienced pickler looking to try a new recipe, or a burgeoning foodie intrigued by this fabulous new ingredient, I encourage you to give these garlic scape pickles a try!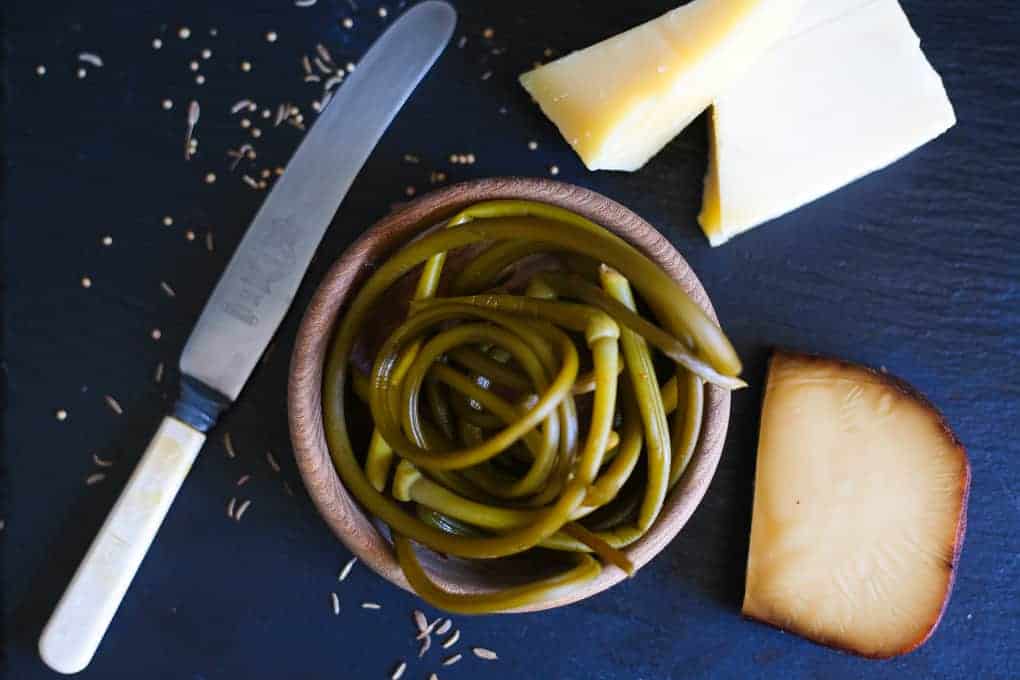 To stay on top of what I'm eating and cooking these days, follow At the Immigrant's Table on Facebook, Instagram, Pinterest, Bloglovin', or Twitter, subscribe to my mailing list, or contact me about advertising and becoming a sponsor. If you make one of my recipes, don't forget to tag it #immigrantstable @immigrantstable!
Ingredients
1½

cups/360 ml apple cider vinegar

2

tablespoons

pickling salt

1½

pounds/680 g garlic scapes

2

tablespoons

Mixed Pickling Spice

page 118, divided

½

teaspoon

red pepper flakes

divided"
Instructions
Prepare a boiling water bath and sterilize 2 wide-mouth 500ml jars. Add the lids in the last 5 minutes.

Combine the vinegar, 1½ cups water, and pickling salt in a pot. Bring the brine to a boil.

Trim the ends of the scapes, both the blossom end and the hard bit that formed at the original cut, and cut them into lengths that will fit in your jars - usually in half.

Add 1 tablespoon pickling spice and ¼ teaspoon red pepper flakes to each sterilized jar. Pack the trimmed scapes into the jars by stacking the curly parts of the garlic scapes along the jar walls and then pack the straighter ends upright inside. It ends up looking like a curly log cabin.

Slowly pour the hot brine over the garlic scapes in each jar, leaving ½ inch/12 mm headspace. Gently tap the jars on a towel-lined countertop to help loosen any bubbles, then use a knife to let all the air bubbles disappear. Check the headspace again and add more brine if necessary.

Wipe the rims, apply the lids and rings, and process in a hot water bath for 10 minutes.

Let these pickles cure for at least 1 week before eating.

Recipe from: Marisa McClellan. "Food in Jars."