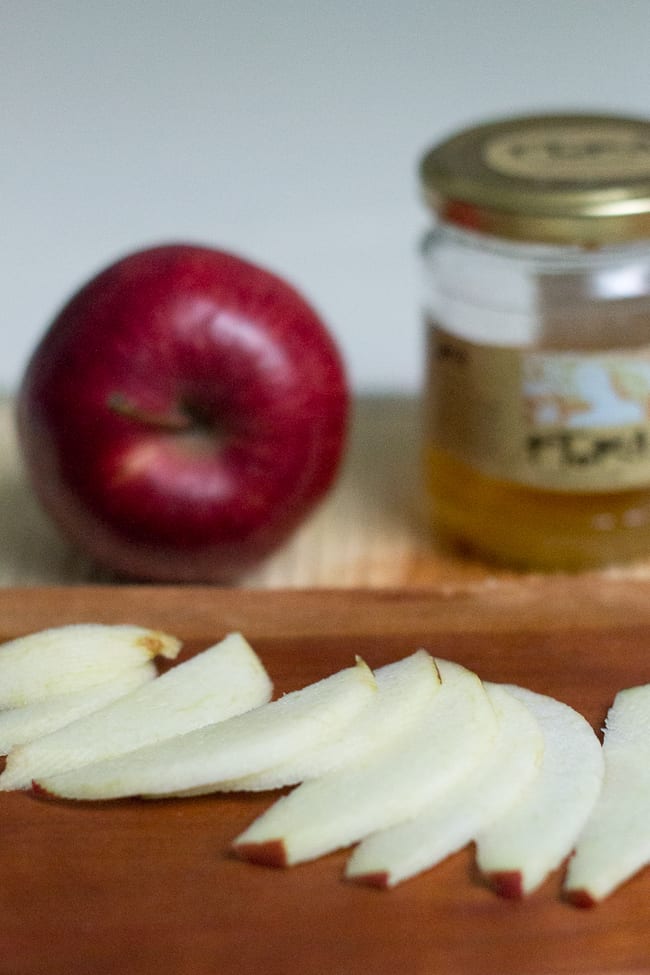 Growing up a Russian immigrant in Israel, Rosh Hashanah was always an excuse to sit down to a delicious, long-winded dinner with family that was high on symbolism and low on religious content. We knew none of the prayers, couldn't tell our Shabbat candles from a menorah, and didn't actually touch the pomegranate on the table for nearly five years because we had no idea how to eat it. But each year, our table was laden with mouth-watering foods, a giant gefilte fish surrounded by the best vegetarian Rosh Hashanah dishes, put to the test by my grandmother (and later, myself). It was a day of gluttony, and we loved it.
Last year, I've also told you about the worst Rosh Hashanah evening of my life.
Now that I've grown a little bit older, Rosh Hashanah has taken on a more spiritual turn. Other than just an excuse to eat, it's become a day to really set my intentions for my soul, to try and think back to a year of good deeds and bad and to clear my plate before approaching a new year. It's an opportunity to recharge, and with my family so far away, it's become even more important that I surround myself with good friends on this day.
And of course, Rosh Hashanah still remains a feast. Throughout the meal, it is customary to eat foods whose names allude to blessing and prosperity, whether in Hebrew, Yiddish, or just through stories. With a host of symbolic fruits and vegetables to eat, it's no surprise that there are a lot of vegetarian Rosh Hashanah dishes to enjoy on this evening.
To make your year sweeter, I dug through the arsenal of recipes At the Immigrant's Table, and pulled out the best vegetarian Rosh Hashanah recipes on this blog.
Tried and true, these are some of the foods we serve on my holiday table each year. I hope you guys love them as much as we do.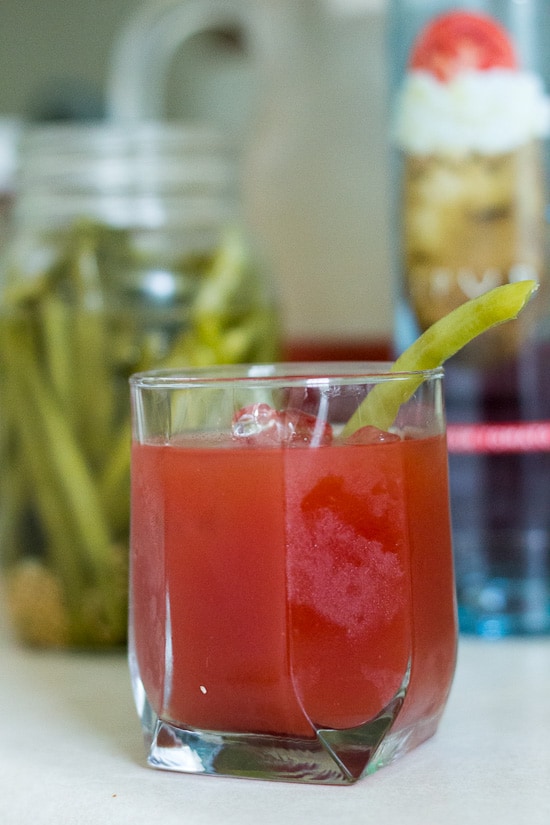 It is customary to serve green beans or black eyed peas at the Rosh Hashanah table, and I prefer to satisfy this demand with drinks. Welcome your guests with a big glass of a real Canadian Caesar cocktail with my pickled green beans, and see them off to a merry start for the evening.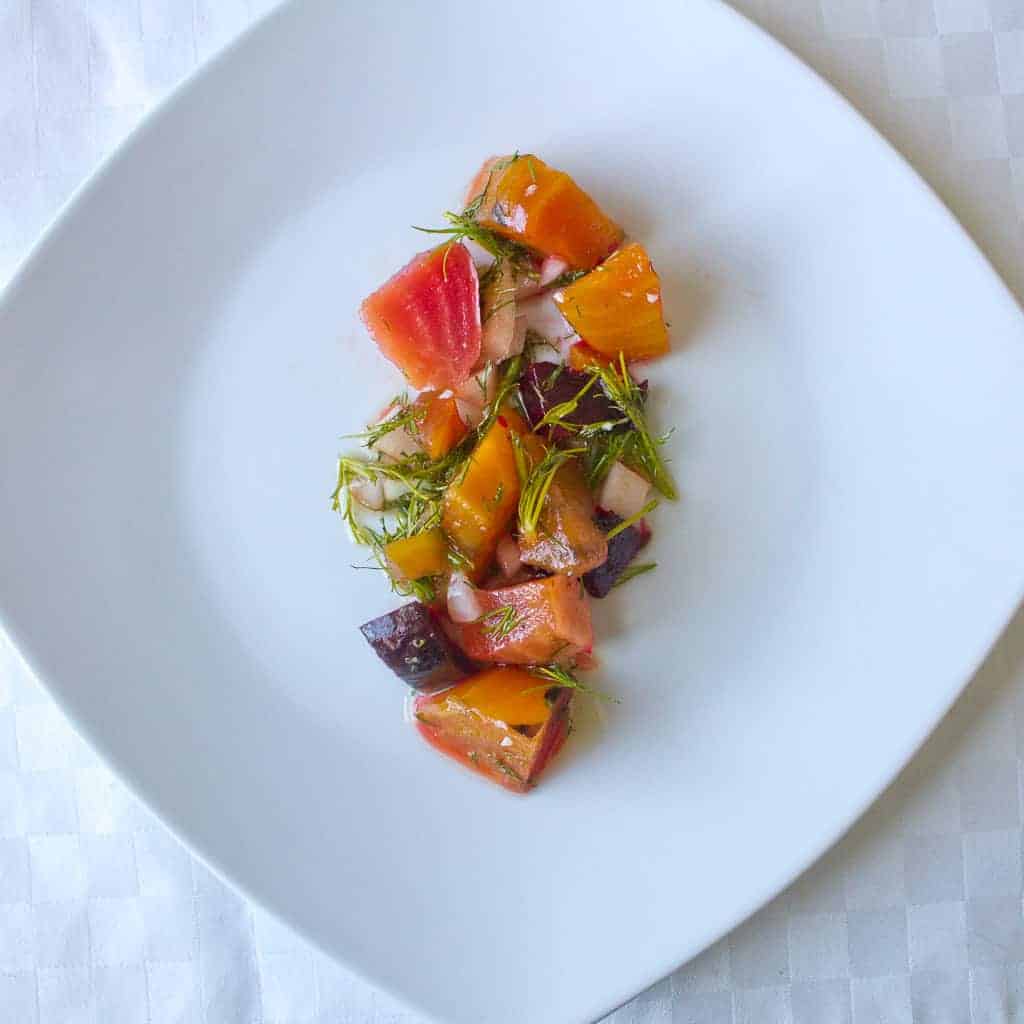 I just have to open dinner with my Russian marinated beet salad. This dish makes an appearance at nearly every holiday table at my house, year after year. It's light, refreshing, and so simple - without compromises in flavour. Get the best local beets and the sweetest onions, and you're guaranteed to have a year of plenty.
Also on the salad table is a relatively recent addition to the favourites line-up, an arugula salad with endive, mozzarella, pecans and pomegranate seeds. Of course, it's the pomegranate seeds that make this a worthy addition to your vegetarian Rosh Hashanah celebration, but I have to say that each part of this beautiful composed dish is worthy of celebrating.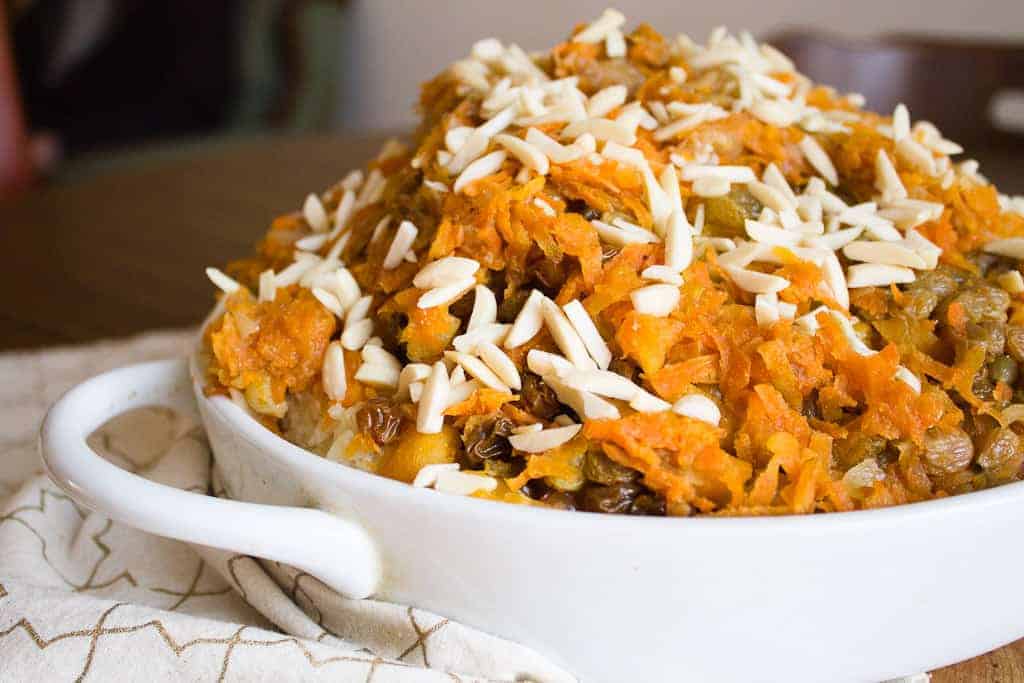 The main course at a typical Rosh Hashanah table is a ram's or fish's head, but we don't believe that's necessary. Instead, serve this Jewelled vegetarian plov; it's full of sweetness from raisins and carrots, ticking off another symbolic food category, and the variety here couldn't be more plentiful. If you really need a head for your table, put a whole head of cabbage or garlic in the centre; the meaning is the same.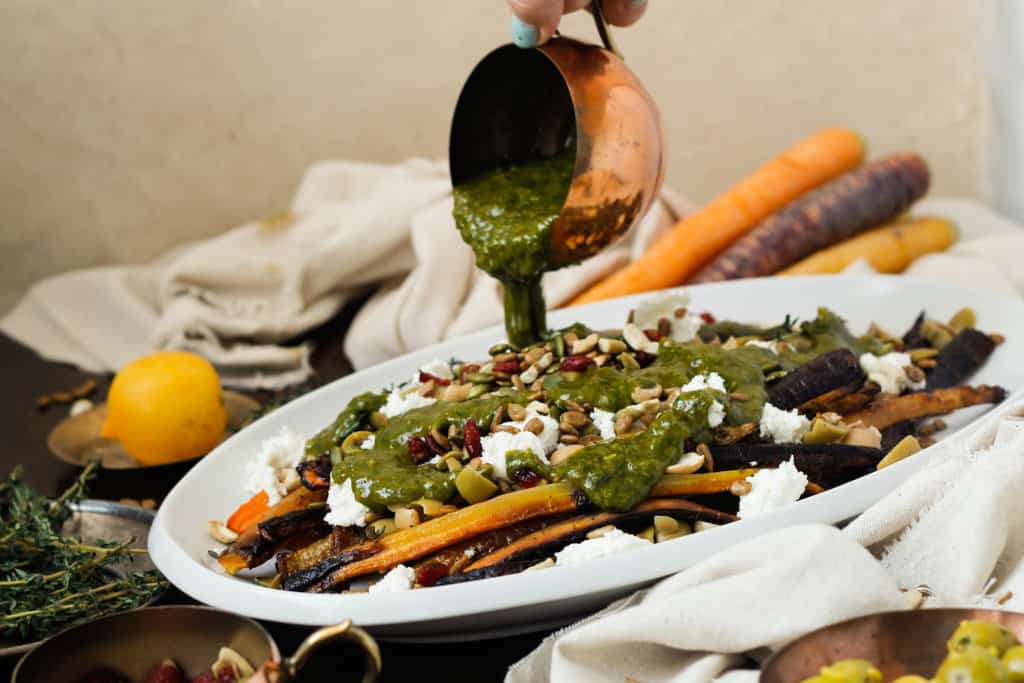 For my favourite carrot side dish, look no further than these Middle Eastern roasted carrots with olives, goat cheese, salad topper and harissa-preserved lemon dressing. They're the perfect combination of sweet and salty, herbaceous and smoky - and they're damn good looking, too.
Leeks, chard or spinach are served for Rosh Hashanah so that our enemies may be cut off like the pests they are. Though I tend not to wish rain and destruction upon anyone, I will take any excuse I can get to serve one of my favourite simple side dishes, charred Swiss chard and roasted tomatoes. The trick here is to chop up a large amount of greens and to halve cherry tomatoes, pile them onto baking sheets and forget about them until just the right moment, when they're not too burnt but just starting to brown. This is what's going to make the dish as good as it can get. And it will go beautifully with that rice pilaf.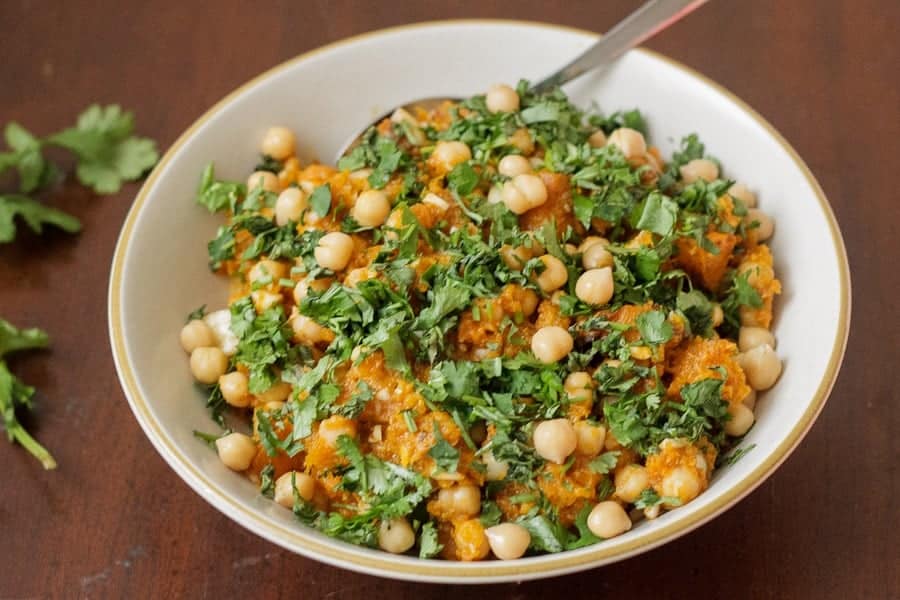 Another Rosh Hashanah and fall favourite are gourds. I have two options for you here, the first being my Moroccan tirshi salad. It's the truest reminder of my childhood in Israel, sharing dishes with my neighbours and enjoying the multitude of flavours that only an immigrant building can provide.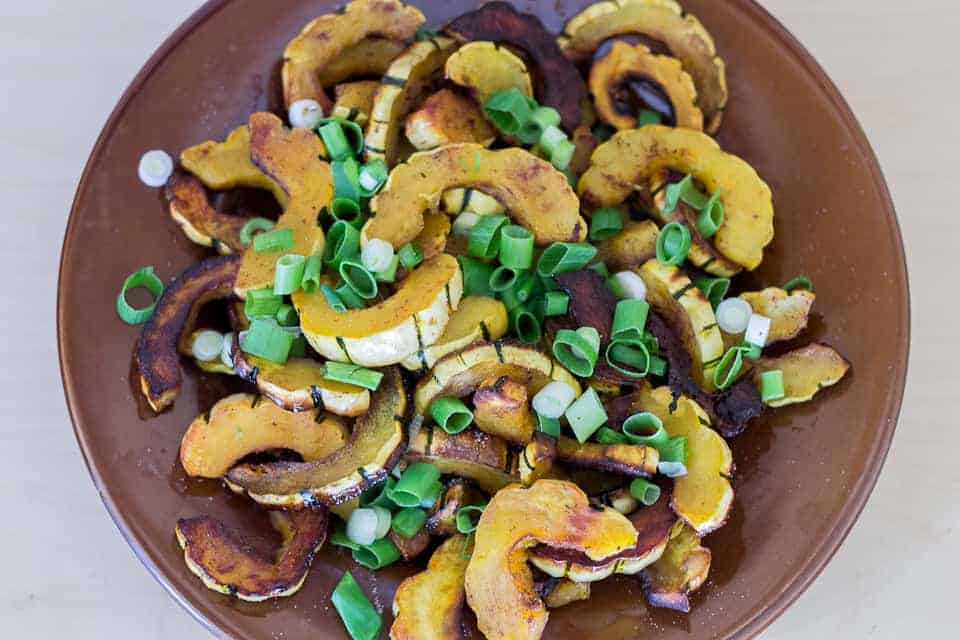 If you're tired of all that orange and are looking for something different, why not go with roasted delicata squash? It's beautiful, striped, and event the peel is edible! And as a bonus, this dish is about as healthy as they come: vegan, gluten-free and paleo.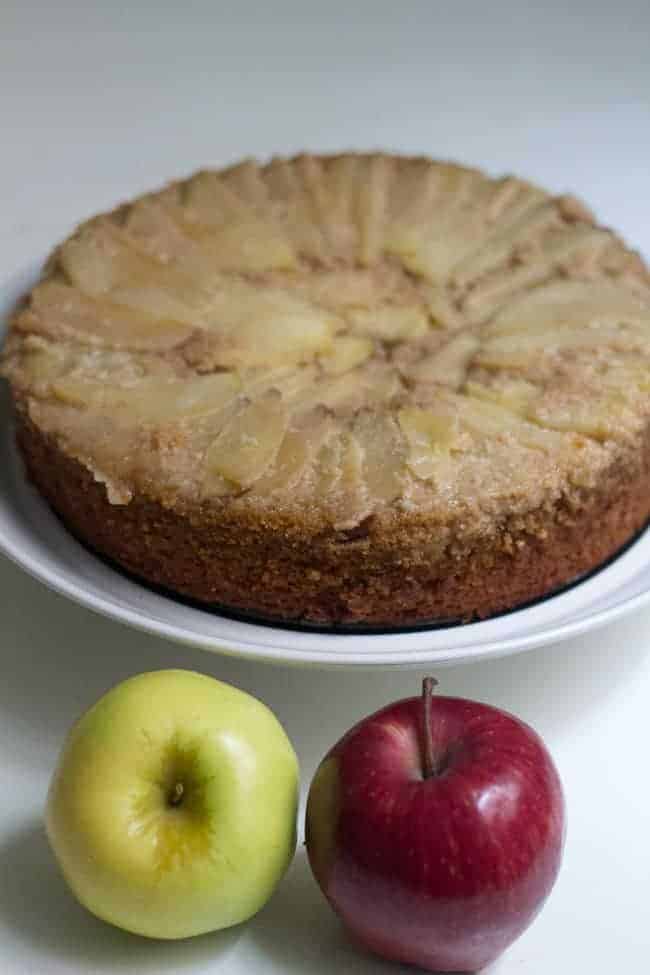 For dessert, look no further than my favourite honey apple cake with salted caramel sauce. It's gluten-free, and as a bonus, you'll have leftover salted caramel sauce for days... And really, who can ask for a sweeter start to the New Year?
Shana tova umetuka to you and your family!
Tried and loved this recipe? Please leave a 5-star review below! Your reviews mean a lot to me, so if you've got any questions, please let me know in a comment.