This black eyed pea dip is one of my favorite Middle Eastern dips. Smooth, with creamy tahini and topped with a spicy tomato, garlic and jalapeno salsa.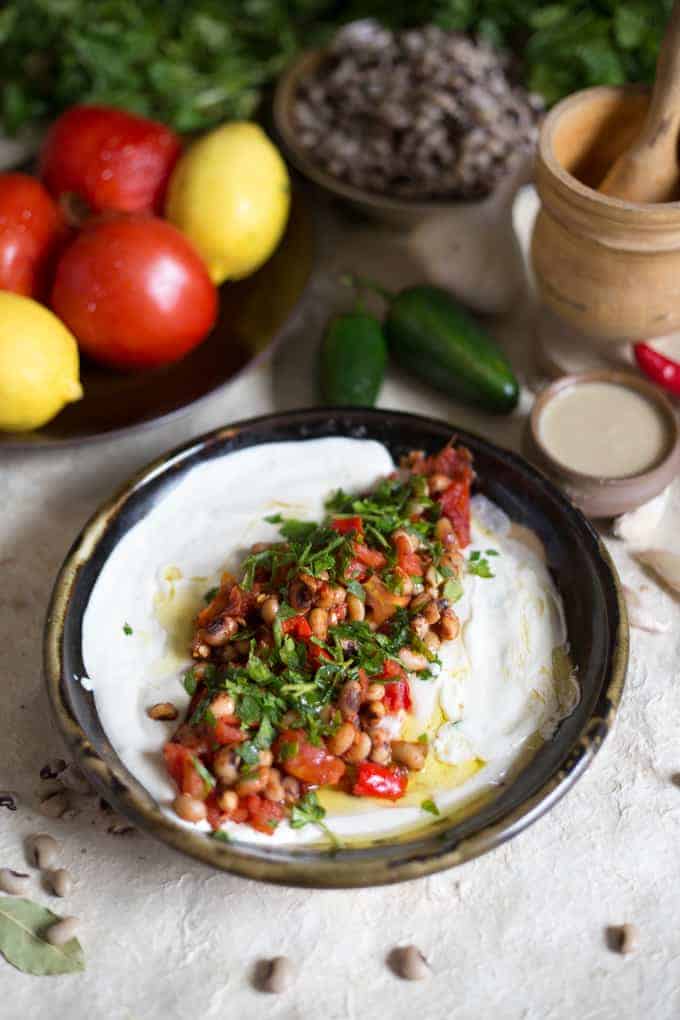 Inspiration
Inspired by Lebanese dips and the art of making a mezze platter, this smooth Black eyed pea dip is a complete new approach to hummus "masabacha" (hummus in which not all the ingredients are smoothly pureed but are left chunky).
I had doubts about serving a communal dish at an event that was all about small bites. I was worried it would ruin the look, that people would be squeamish about dipping their fingers into a communal bowl of chips, that nobody wanted to try yet another take on hummus.
And boy, was I wrong - because this black eyed pea masabacha with tahini, tomatoes, garlic and hot peppers was such a hit, I couldn't refill the plates fast enough.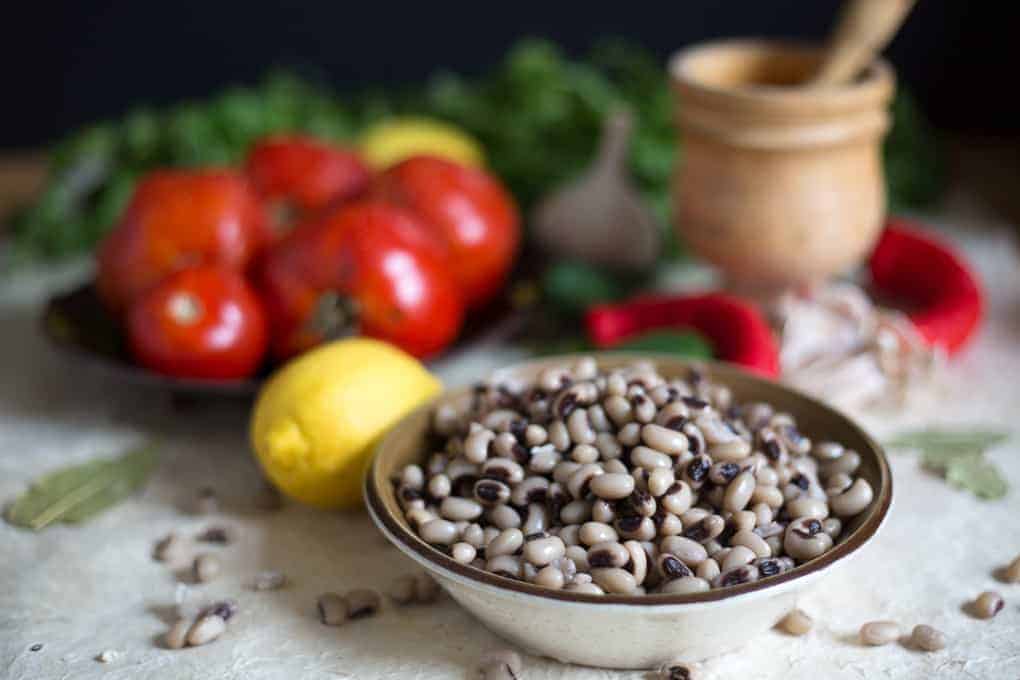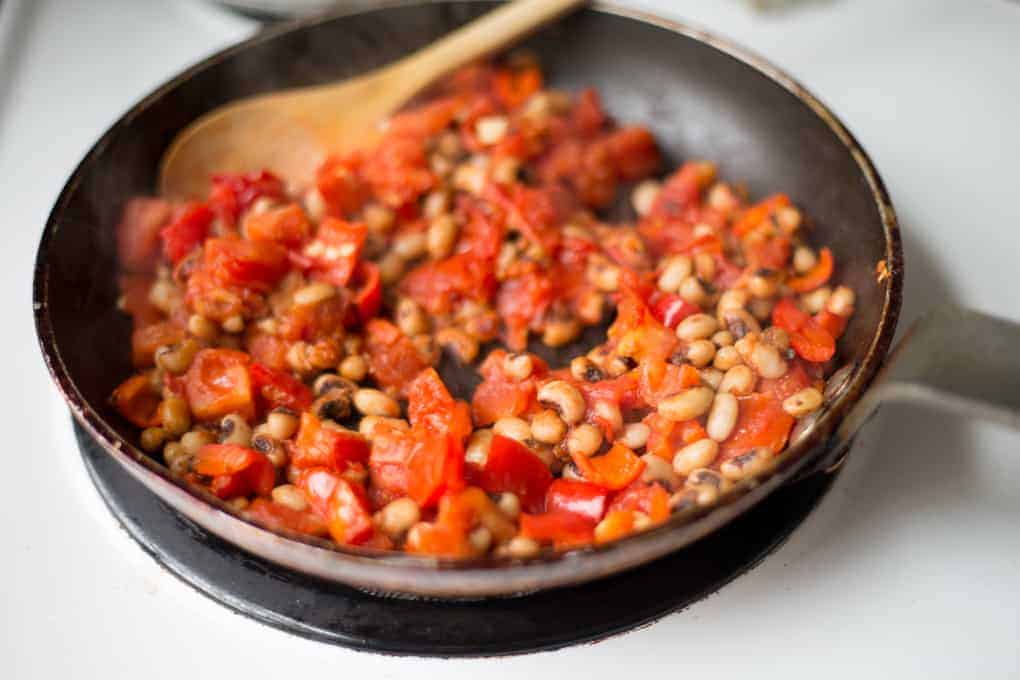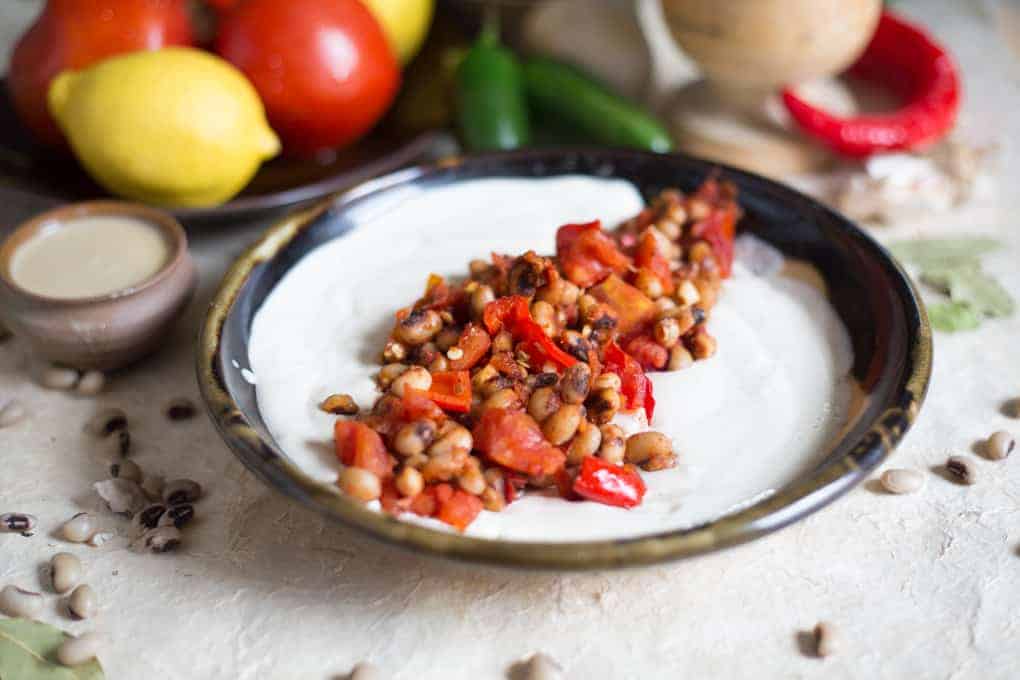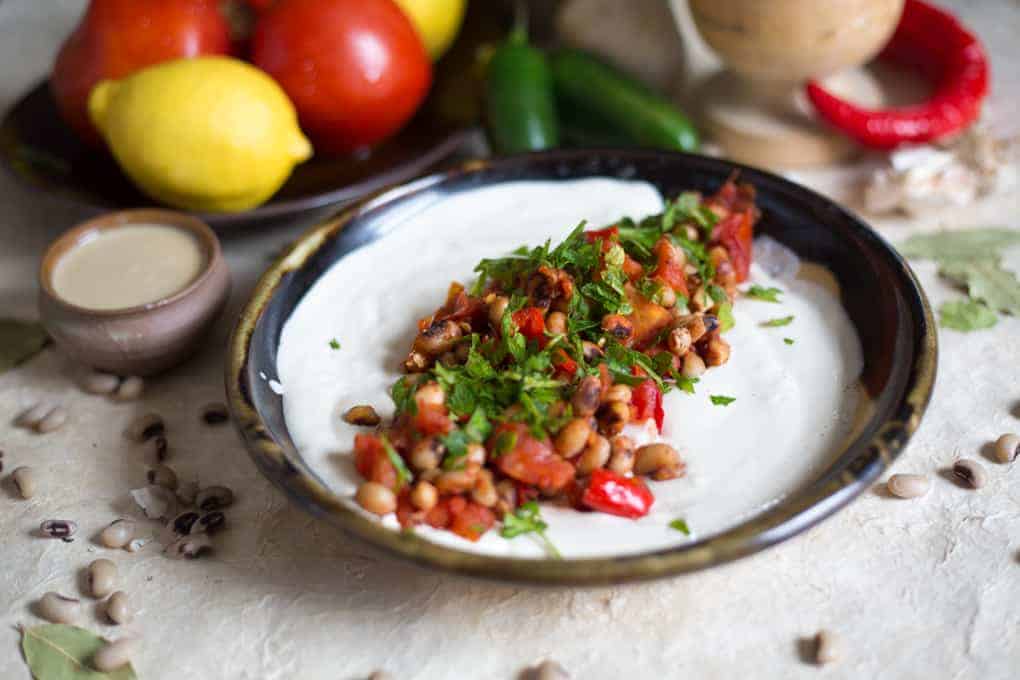 How to make this Middle Eastern Dip
It starts with a generous smear of tahini. But not just any tahini will do; we're talking homemade tahini, generously flavoured with garlic and lemon juice, and prepared from the smoothest raw tahini base you could find in stores (I am partial to Al Jamal tahini from Nablus, though most Lebanese tahini will do). The tahini should be easy to spread but not too runny, and good enough to lick off a spoon on its own.
Then the party really gets going when we take some cooked black eyed peas and flash-fry them in a very hot pan until they just get that nice, golden sear around the edges. We add some tomatoes, spicy peppers and garlic, and sear them as well just so that they hold their shape - we don't want no runny tomato sauce here!
This delectable mess gets artfully piled on the tahini, like a mound of jewels resting on the hold desert sand. Some chopped parsley gets sprinkled on top, and the whole dish is finished off with a drizzle of your favourite olive oil.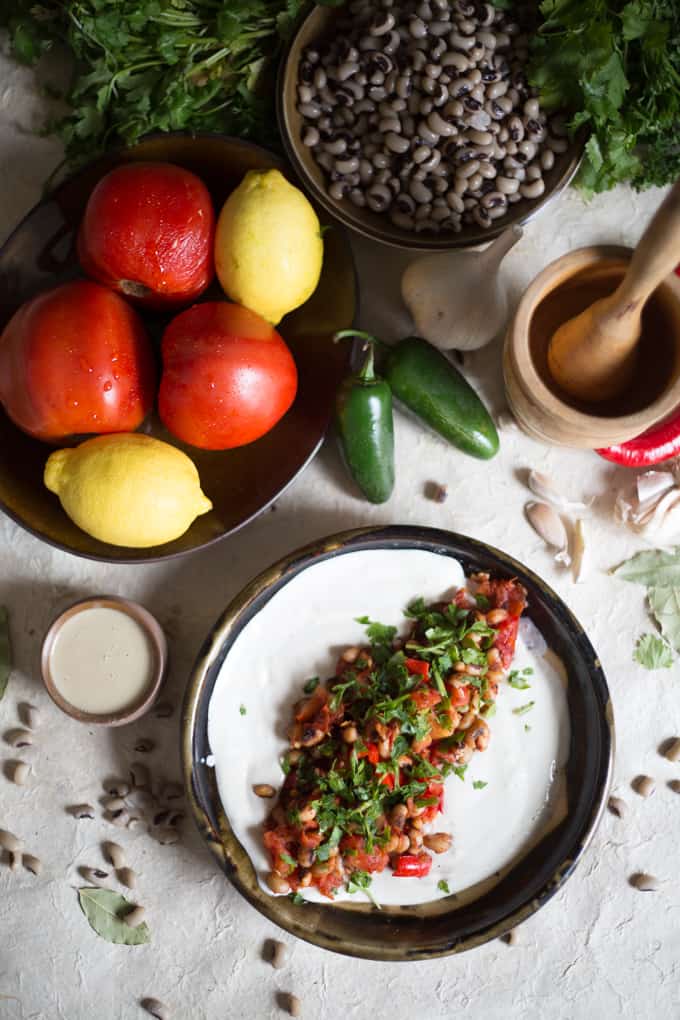 Serving suggestion
And voila - black eyed pea masabacha with tahini, tomatoes, garlic and hot peppers is served, faster than it would take you to go to the bakery and get the pitas to go with it (for a gluten-free alternative, I love eating black eyed pea masabacha with tortilla chips - cheap and easy).
Trust me - this is one dish you DO want to serve to a crowd... as long as you have extra stowed away for yourself.
Rosh Hashana
While this black eyed pea masabacha dip might not be the traditional fare you'd expect on this Jewish New Year, it's a flavorful fusion that adds a dash of diversity to your holiday spread.
The hearty black-eyed peas symbolize good luck for the year ahead, and when paired with tahini, tomatoes, garlic, and hot peppers, you've got an explosive recipe everyone will love.
So, why not give it a whirl? It's a sassy departure from the usual, and who knows, it might just become your new Rosh Hashanah tradition.
To stay on top of what I'm eating and cooking these days, follow At the Immigrant's Table on Facebook, Instagram, Pinterest, Bloglovin', or Twitter, subscribe to my mailing list, or contact me about advertising and becoming a sponsor. If you make one of my recipes, don't forget to tag it #immigrantstable @immigrantstable!
Tried and loved this recipe? Please leave a 5-star review below! Your reviews mean a lot to me, so if you've got any questions, please let me know in a comment.
Recipe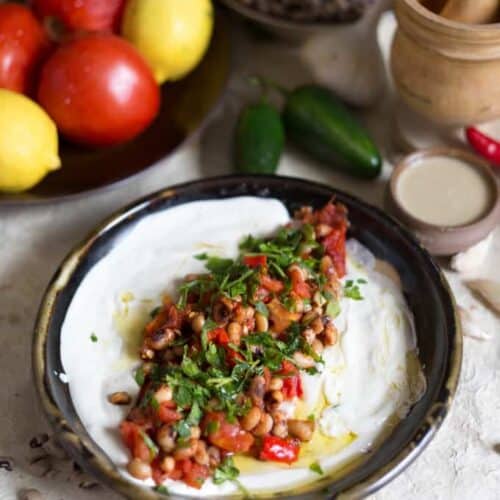 Black eyed pea masabacha with tahini, tomatoes, garlic and hot peppers
Ingredients
Tahini:
Juice of one lemon

about 60 ml

1

garlic clove

½

teaspoon

salt

1

cup

raw sesame tahini

½ - 1

cup

of cold water
Black eyed pea mesabacha:
½

cup

black-eyed peas

soaked in water for four hours, filtered and cooked OR ½ cup canned black eyed peas, liquid drained

2 to

matoes

diced

Hot pepper

to taste

1

garlic clove

minced

Salt

½

cup

parsley or cilantro leaves

chopped

Olive oil

for drizzling
Instructions
To prepare tahini, combine first five ingredients in a blender and mix, starting with ½ a cup of water and adding more as necessary until you reach desired consistency. Set aside.

In a large hot pan, sear black eyed peas with a little oil until you get burn marks, about 2-5 mins. Add diced tomatoes, pepper and garlic and stir-fry over high heat so that the tomatoes will burn around the edges but keep their shape, about 5 minutes.

Sprinkle with salt and half the parsley or coriander leaves.

To serve, smear tahini on a larger platter (as you would for hummus), piling the black eyed pea mesabacha mixture in the middle. Sprinkle with remaining herbs, drizzle with olive oil and serve.
Tried this recipe?
Comment + Rate Below!
Connect on Instagram!
Find us @immigrantstable