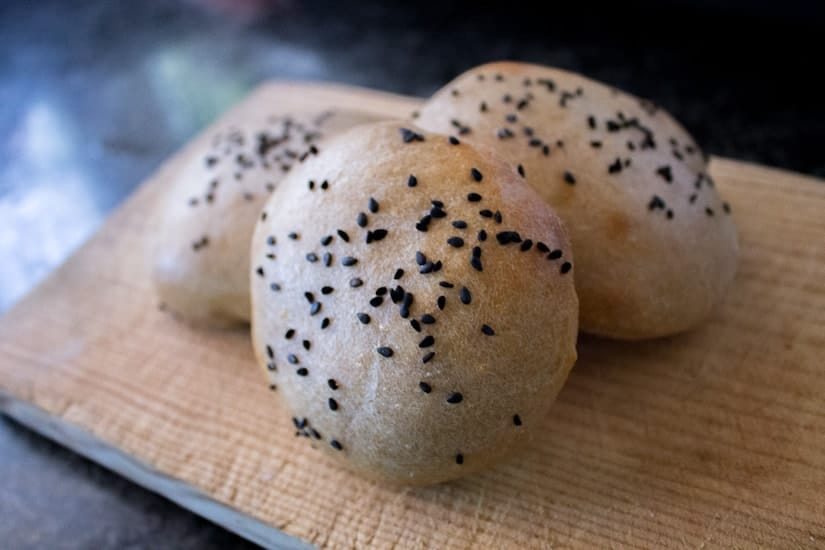 I have written about the therapeutic power of baking bread a before. I have also shared my first steps in the journey through sourdough baking, despite any resulting embarrassment, and the potential tarnishing of my reputation as a successful home cook. But I have never imagined that my interest in bread making will allow me to join forces with the unlikeliest of allies: my mother. This is the tale of how water, flour and wild yeast have brought us closer in the kitchen, producing small black sesame sourdough buns in the process.
My mother and I have very diverging approaches to cooking. When I wake up in the morning, I am already planning out what to make for supper the very same day. As I leave work, my head is running through recipe ideas, flavour combinations and shopping lists. When I walk through the door of my home, the kitchen is often the first place I go before I even take off my shoes (a big no-no in Soviet households), be it to grab a bite, peek at the contents of my fridge, or start assembling my next a snack.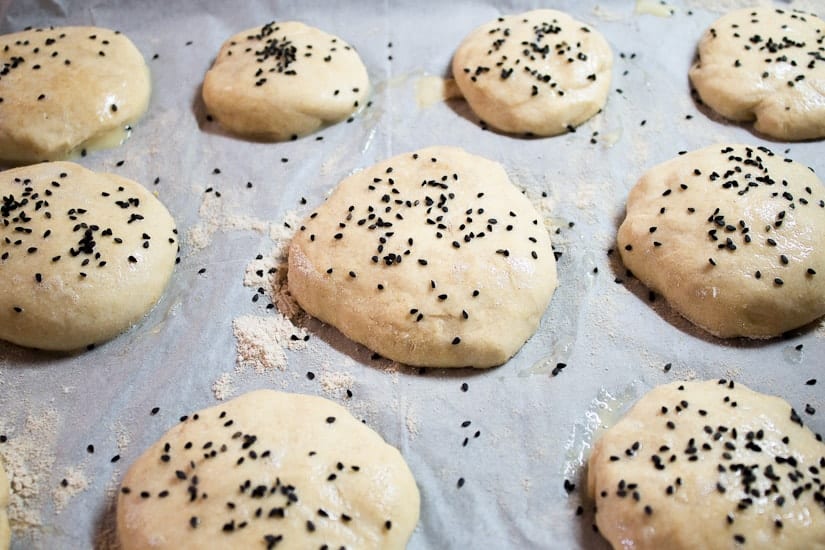 When she walks in through the door, my mother immediately takes off her shoes. Sometimes, she will take the time to sit down, unbuckling the straps of her sandals and removing them gingerly. Other times, she'll unceremoniously kick off her boots while still standing by the closet, eager to put them away - out sight, out of mind. She will often be chatting as she does so, quizzing me about my day, sharing her own experiences, complaining about unnamed patients, discussing what book she's currently reading, cursing her boss. To my mother, the act of taking off her shoes is akin to breaking the shackles of the outside world, leaving its worries and headache outside the door of her home, her safe haven. But the one topic she will not broach while performing this delicate act of emancipation is what to cook for supper. And that's because my mother really doesn't cook.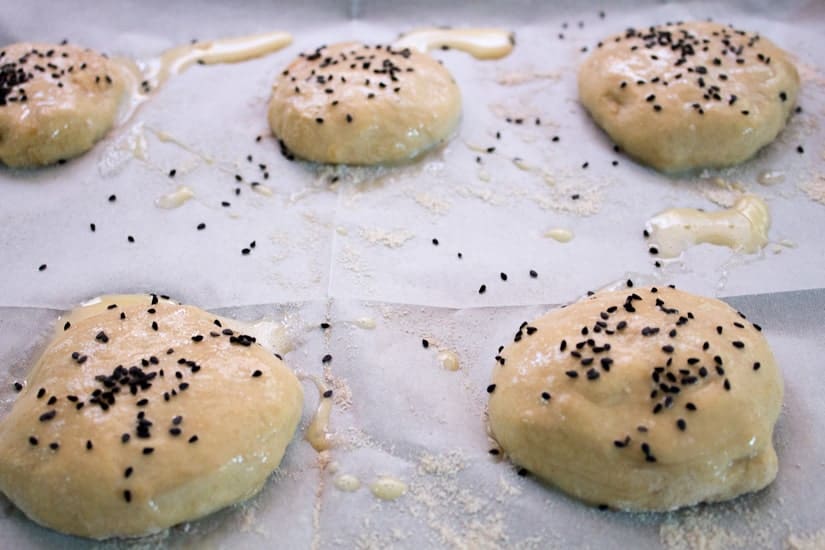 Growing up, my sister and I were at the mercy of our microwave and my fraternal grandmother's cooking. The former wasn't much comfort, the latter was a treasure trove of delicious recipes, but with a very short temper and a low tolerance for special requests. But my mother couldn't be counted on to make us lunch or dinner. Partially, it was because she was always working, often at two jobs, putting in long hours at strangers' homes and in faraway hospitals. Additionally, I don't think she enjoyed spending time shackled to another tyrant, the stove, performing tasks for her loud and needy daughters. But I suspect the main reason my mother never cooked was because she simply didn't know how.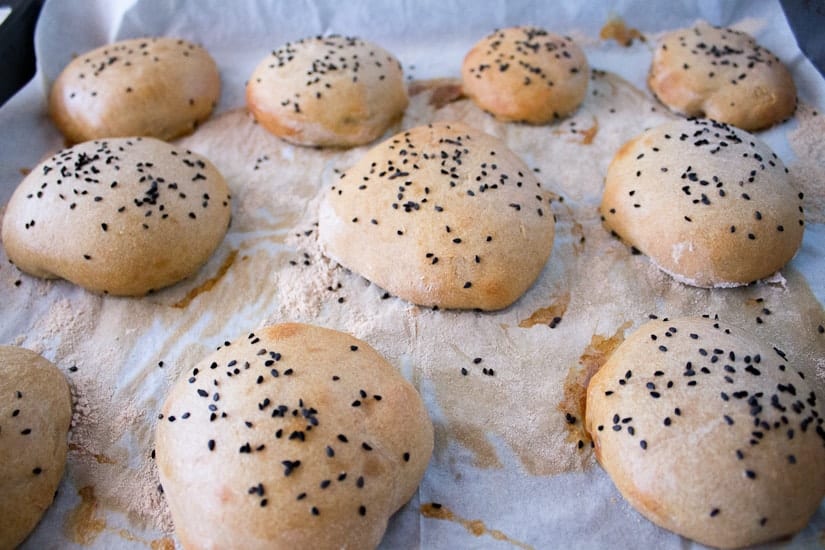 But in the last ten years, my mother's attitude towards cooking has started to shift. It began with simple family recipes like her stewed cabbage, or my grandmother's roasted potatoes. Then she began developing her own approaches to cooking fish, or making kotletki, the ubiquitous Russian meat patties. Next thing you know, we were making strudel and spanakopita together. Now, not a week goes by where we don't chat about food, exchange a recipe via email, or commiserate about a failed experiment in the kitchen. And during my last visit, my mother insisted that I bring some of my sourdough starter with me to Israel, so we can bake together.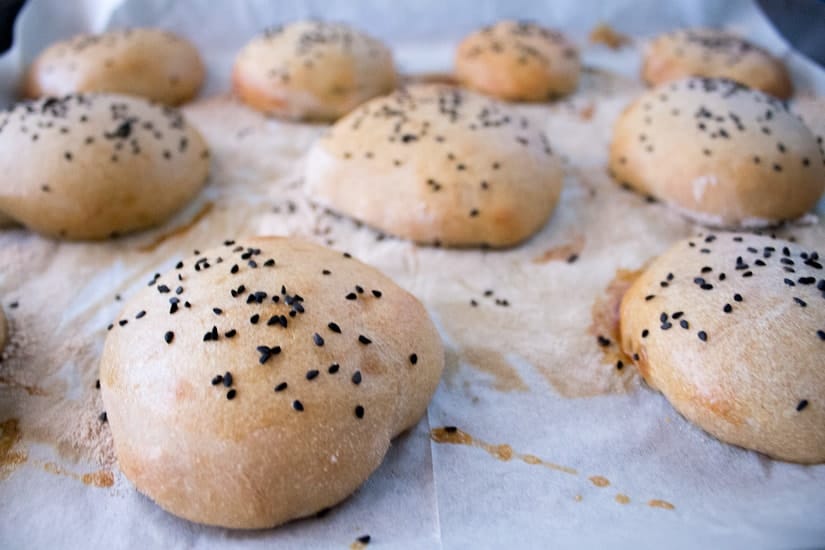 My mother begun baking bread in a bread machine three years ago. After a year of experimentation, she has developed a perfect whole-grain loaf, filled with spices and seeds. It is a regular staple in their home, and there are always frozen loaves stored in the freezer. But as it turns out, she was not content resting on the laurels of her bread machine success; instead, my mother has become a recent convert to sourdough. Buoyed by my saga, she asked a friend for a starter, and begun working at it. But irregular and insufficient feedlings have left her starter feeble and unable to perform, and she asked me to share some of my now-active starter with her. And though I don't dare to claim my starter has been tremendously successful just yet, a recently discovered trick by Peter Reinhart has helped me to attain great results with it.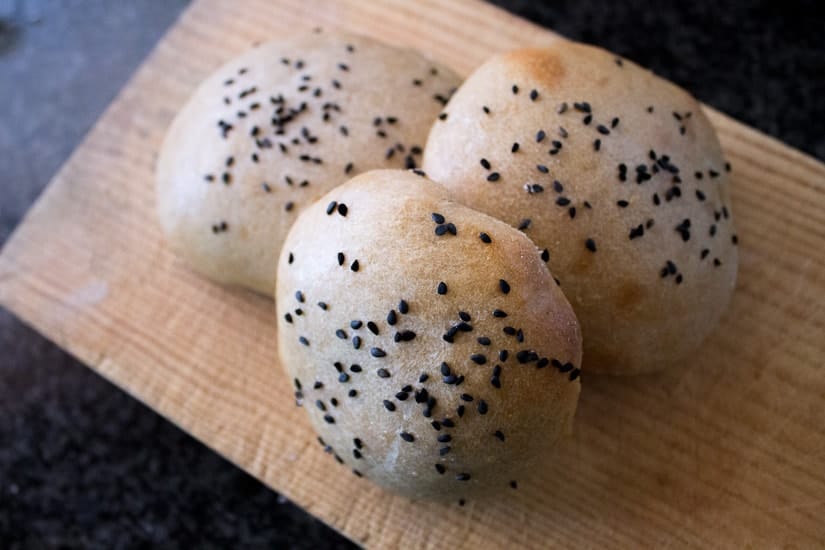 And so, my mother and I stood in the kitchen, mixing starter and water, letting it ferment and then combining it with nut milk, sugar and salt. I showed her my way of kneading the dough, and she advised me to put more salt in it. She told me how in the days of subsistence farming and Soviet Union food shortages, bread with salt was often considered a meal in itself. I told her how we make lactose-free ricotta in five minutes at home. And somewhere between the kneading, flour, and rolling, an even closer bond was formed between us. And for one of the first times in my life, I felt like I had taught my mother something.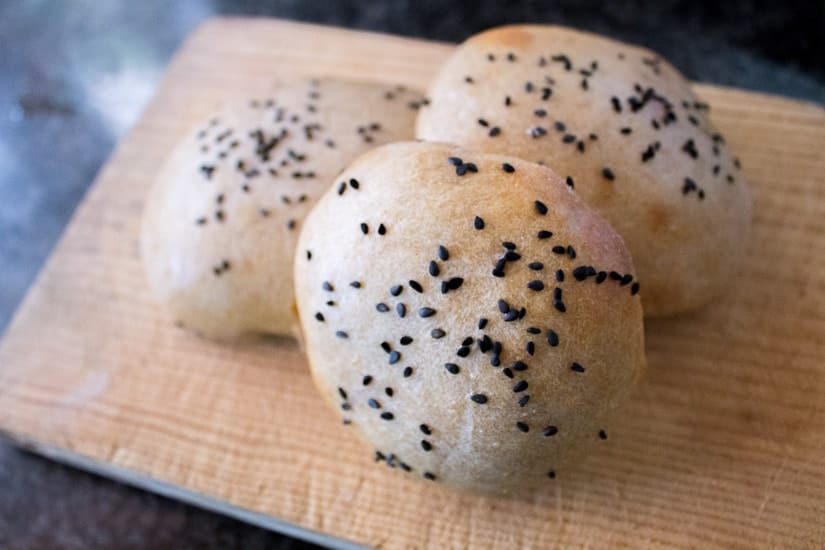 These black sesame sourdough buns are simple and small, an easy recipe that produces a nice vehicle for mini veggie burgers, avocado sandwiches, or a good starting point for garlic bread when they go a bit stale. As with most sourdough recipes, a good portion of the work is waiting for the yeast to develop and the dough to rise. You may choose to make them a little bit bigger in size, as well. They are delicious either way.
Tried and loved this recipe? Please leave a 5-star review below! Your reviews mean a lot to me, so if you've got any questions, please let me know in a comment.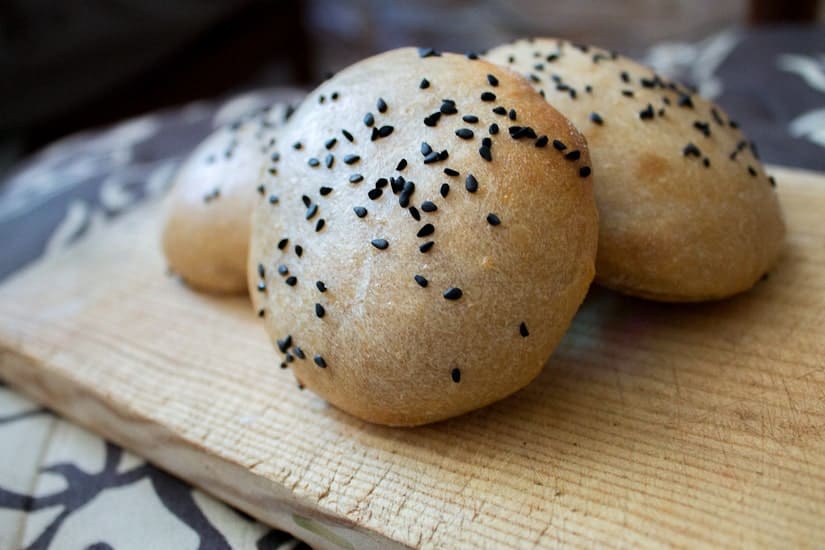 Recipe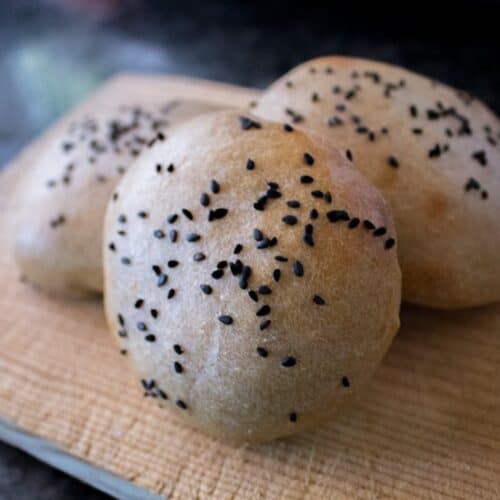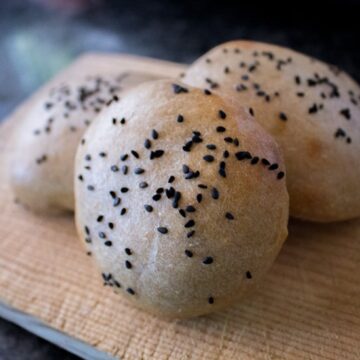 Black sesame sourdough buns
These black sesame sourdough buns are simple and small, an easy recipe that produces a nice vehicle for mini veggie burgers, avocado sandwiches, or a good starting point for garlic bread when they go a bit stale. They can be made a bit bigger, too. Recipe adapted very slightly from http://www.food.com/recipe/sourdough-burger-buns-135870.
Ingredients
2

cups

sourdough starter

proofed and active

3

tablespoons

margarine or butter

½

cup

almond

soy, or regular milk, lukewarm

2

eggs

beaten

2

teaspoons

salt

2

tablespoons

sugar

1.5

cups

all-purpose flour

1.5

cups

whole grain flour

For baking: egg wash

1 egg mixed with a bit of water, for brushing

regular or black sesame

for sprinkling
Instructions
Beat eggs lightly in a small bowl. In a large bowl, stir together starter, margarine, nut milk, beaten eggs, salt and sugar.

Add flour, mixing until it comes together enough to be turned out and kneaded.

Flour surface lightly and pour out the mixture. Knead until dough is smooth and satiny, working in batches and taking breaks (knead for 3 minutes, let rest for 10. Knead for another 3 minutes, let rest for 10. Repeat again, until dough is smooth and easy to work with).

At this point dough may be refrigerated up to 24 hours for a more flavourful bread, or bring dough back to room temperature before continuing with shaping.

Let dough rest for 15 or 20 minutes and then roll it out to ½" thick. Cut with a 4" round cutter, or with a large glass.

Cover a baking sheet with parchment paper, and oil it. Arrange dough circles on the sheet with a space between them. Cover with a towel and let rise in a warm, draft-free place until doubled in bulk (this took us four hours, but could be more or less in your case, depending on the strength of your starter and the temperature of your kitchen).

Uncover dough and brush with egg wash, sprinkle with sesame. Bake at 350°F for 15 to 18 minutes.

Cool on wire rack. Spread with margarine or salted butter, and dig in.
Tried this recipe?
Comment + Rate Below!
Connect on Instagram!
Find us @immigrantstable