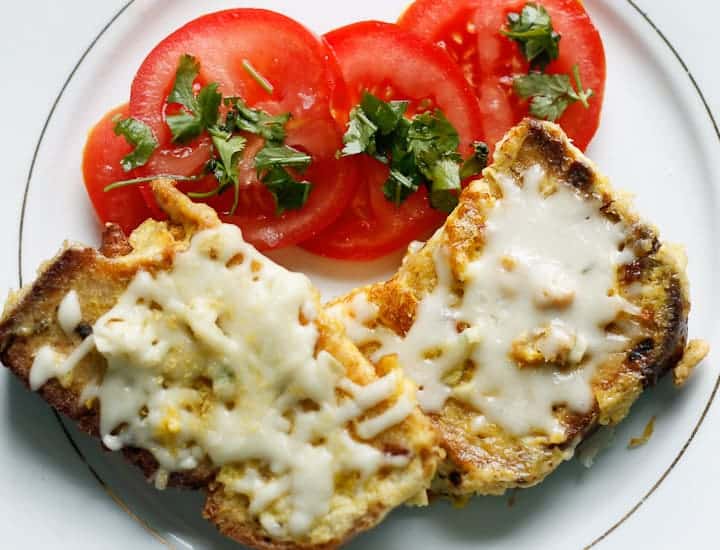 Gooey, fragrant with garlic and spices, these cheese grenki are a Russian take on savoury French toast will make any morning into one worth savouring.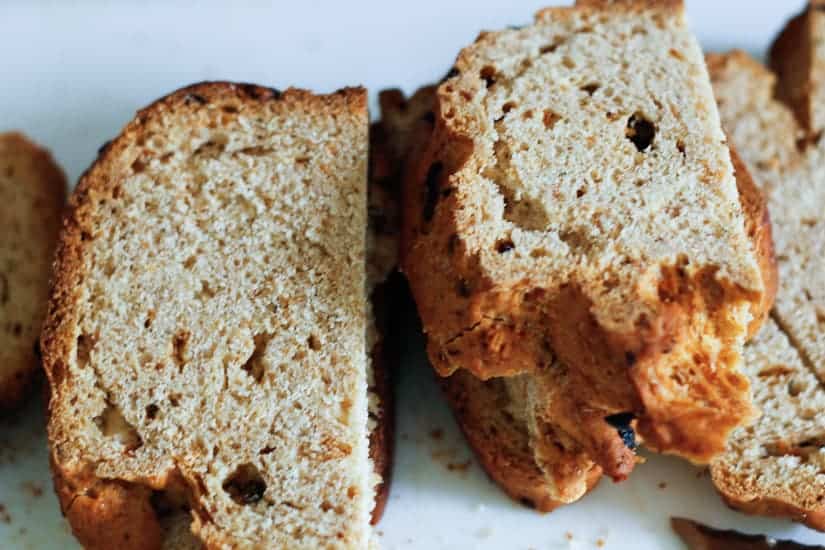 After a hiatus that probably felt longer for me than it did for you, I bring you a post about cheese grenki, or the things that sustain me lately: bread and tomatoes and breakfast. But mainly, I bring you an ode to a kitchen.
The old
My spatulas were gathered in an old tin container atop of a grease-splattered stove. It sat amongst curious little spice packages and a cream dish shaped like a kitten. It was not smart, modern, or all the things today's kitchens should aspire to. It was homely and familiar.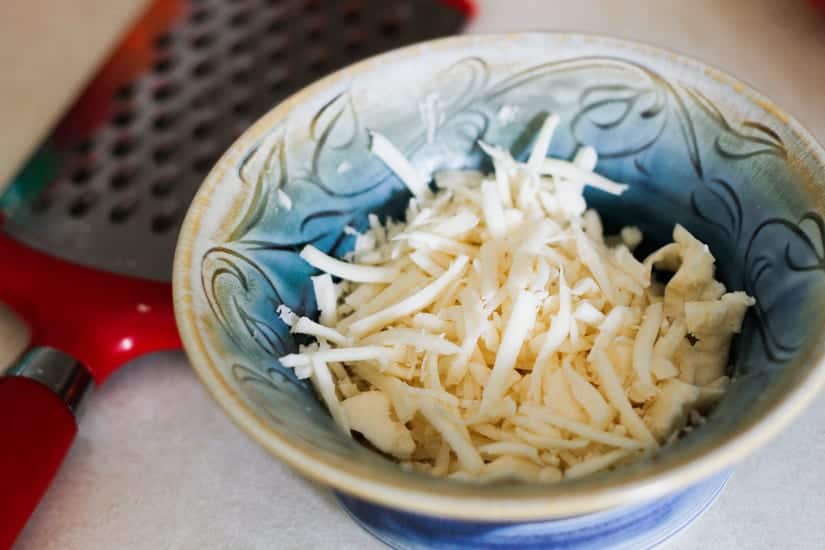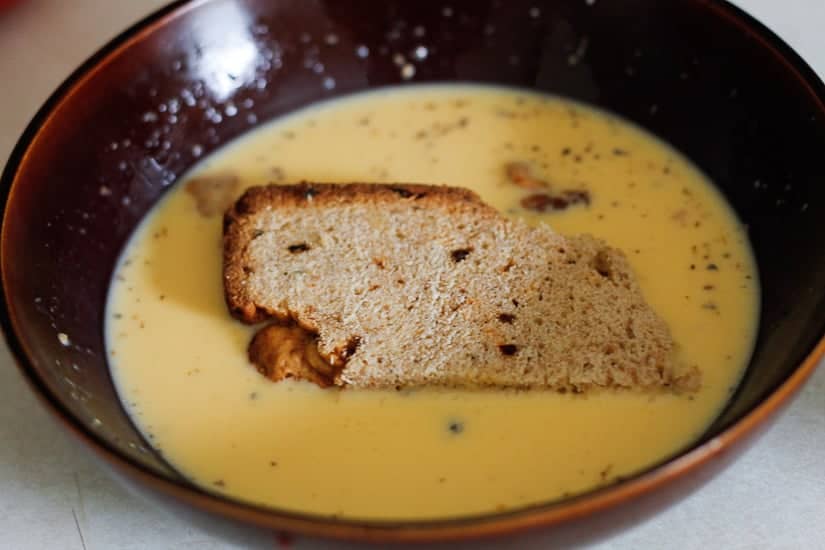 My counters were warped from water damage, peeling at the edges from careless dish washing, the damage from a hot pan, or too many turmeric spills. They were old and worn out, and I didn't care for them. But they had a lovely golden splatter patina that they just don't make anymore, whether because it's gone out of style, or because it was truly inefficient. Perhaps both.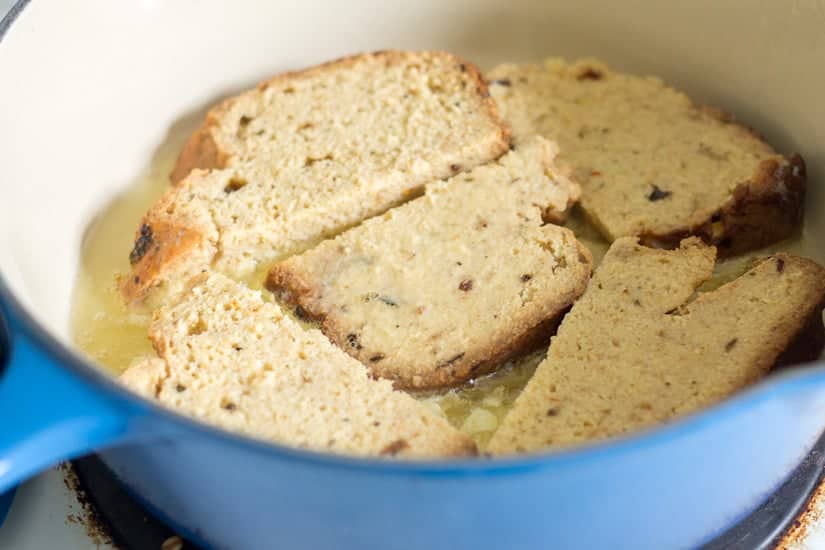 My hallway was lined with cupboards, old and painted several layers of white paint. The top ones were so high I could hardly reach them from atop a stool, in all of my 5'2 glory (5'3 on driver's license; I choose to believe the latter). They were filled to the brim with jars, staple pantry items like black rice and bulgur, and a soymilk-making machine. I loved them dearly. When I first walked into that kitchen, I could not imagine how I would ever fill them. When I moved out, I filled boxes with all the things that were left over, sending them to friends, family, to my new home across the country.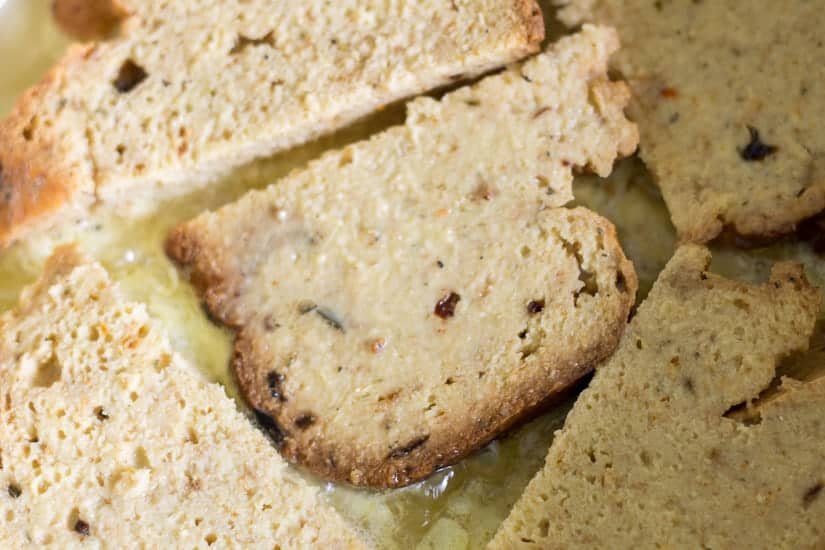 I could wax poetic about every little part of that kitchen, where I spent an inordinate amount of time cooking, photographing, and trying different ways to put cilantro on a plate so it would look better. It was amongst those strange spice packets, atop that stained counter, in front of those wall-to-ceiling cupboards that this blog was born. It had become a place of solace during gloomy winter days, the backdrop for grumpy morning fights over all-too-rare breakfasts together, and the site of roaring laughter and clinking glasses during parties. I won't be exaggerating if I said that it was the room where I spent the most time.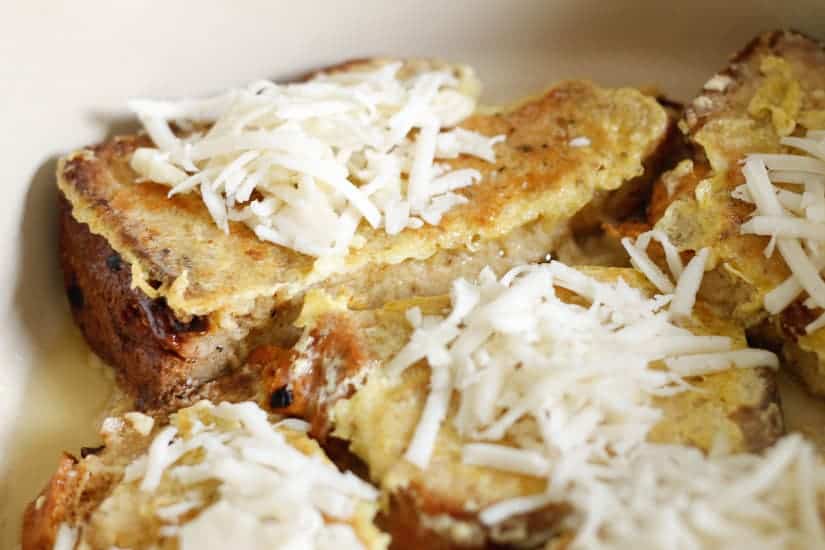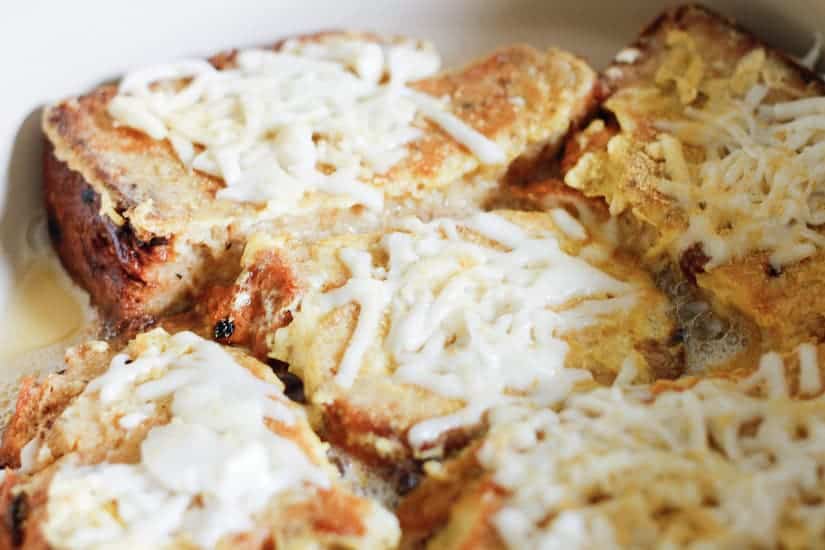 It was also the perfect place to make breakfasts. When your eyes were still glued shut with cobwebs, and your brain was fuzzy from too much wine the night before, you could find your way across the cupboard-lined hallway and into the large space of the kitchen. You could lean on the counters, pull some stale homemade bread from a shelf, and scramble some fresh farm eggs while your favourite pan was preheating. You could chop onions and garlic with a sharp knife on a much-loved cutting board, and you wouldn't worry about the spills. Perhaps, you could grate the brand of vegan cheese that you can only find in the cornerstore into a side bowl. You could pour oil into the preheated pan, dip your bread in the egg mixture, and, without thought, let it caramelize and crisp on a medium-high flame. You wouldn't really have to worry about anything burning, because things rarely got too hot on that stove. You could stumble onto the little breakfast nook in the corner, bask in the sun's rays at your back, drink some tea, and daydream while your bread fried in egg batter, turning into cheese grenki, or the Russian variation on savory French toast. You could then sprinkle it all with some cheese and garlic, top with a tomato, and dig in.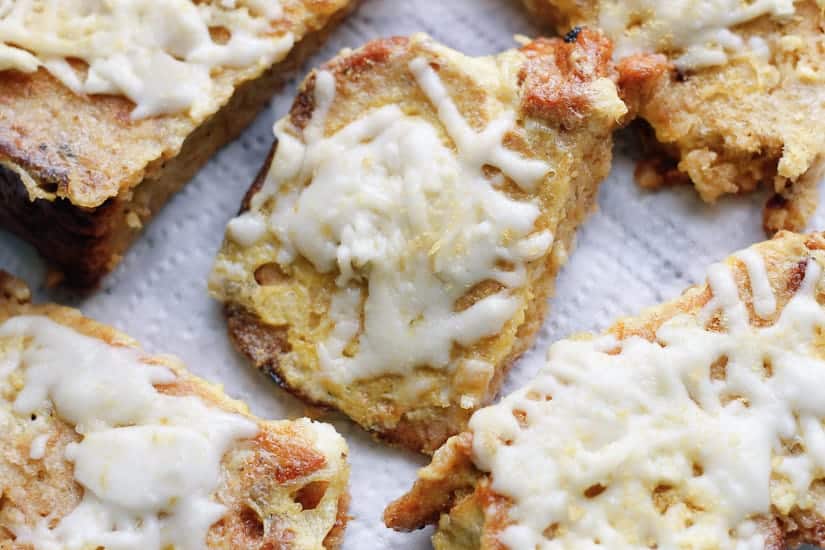 The new
And now, you couldn't do all that anymore. Or perhaps you could, but it would look different. The flame on the stovetop would be much lower, because my new stove burns everything. You wouldn't want to sit in that breakfast nook, because the chairs left behind by the old tenants are a little grubby and waiting to be replaced. You would have a better cutting board, the same pan and knife, but none of that incredible vegan cheese. The tomatoes would taste better. But the cheese grenki would still be delicious.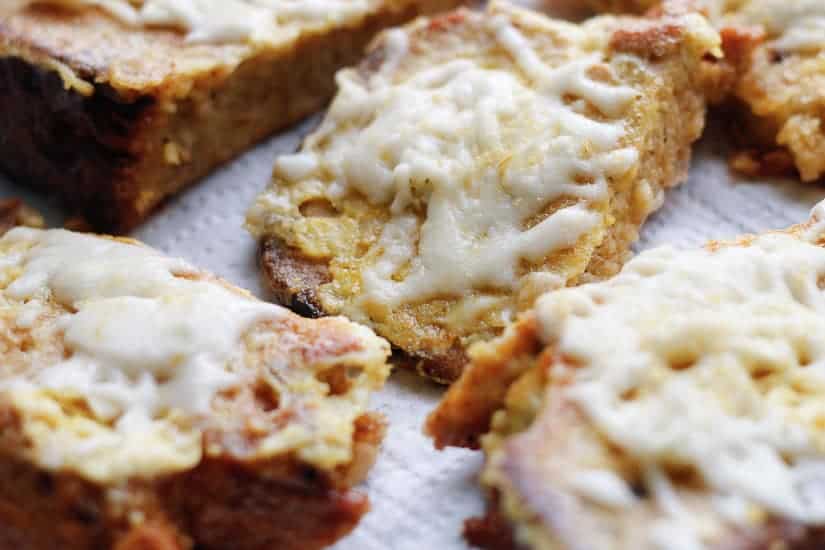 These photos were taken in my old, white, sunny kitchen on Wolseley Avenue, during our last days there. When my cupboards were sparse, the fridge nearly bare, and most of the dishes were packed away, most of our meals were variations on the theme of eggs. The first few days in this apartment, with even fewer supplies, were no different. At first, I avoided cooking in a kitchen that brought me to tears upon first sight, where the fridge was moldy and rusty, the dials on the stove broken, and where there was to be no shooting in the scarce natural light. But through love, care, and a lot of bleach, this place has slowly been coming to life as a place I would like to spend some time in. Quick eggs and bread were necessary provisions. And these cheese grenki made the transition a little bit easier.
Tried and loved this recipe? Please leave a 5-star review below! Your reviews mean a lot to me, so if you've got any questions, please let me know in a comment.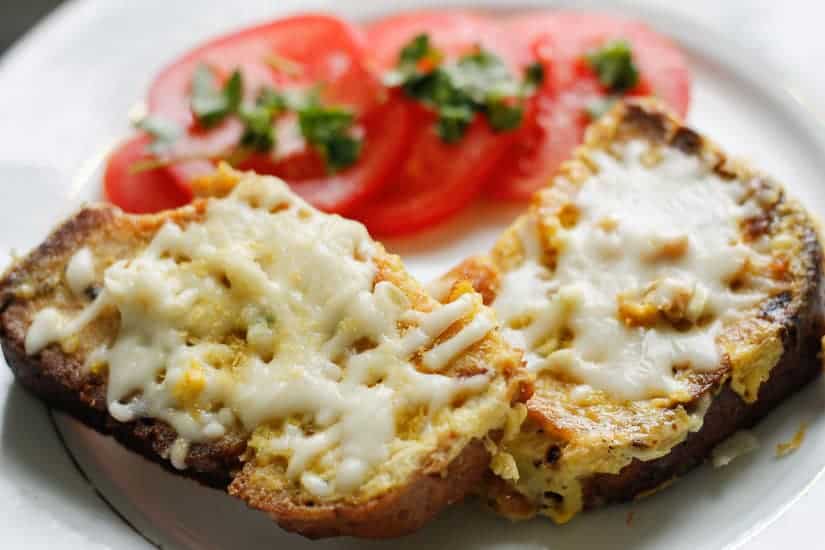 Recipe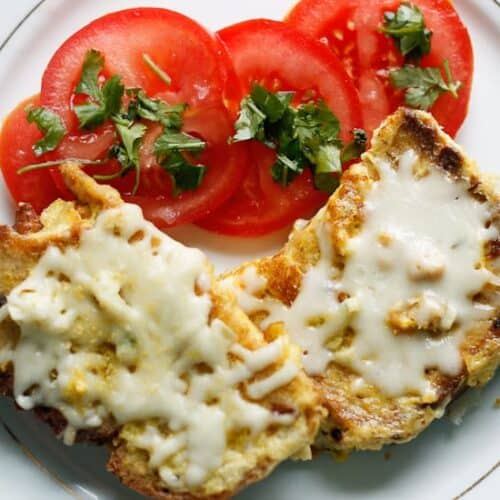 Cheese grenki, or the Russian take on French toast
Cheesy, fragrant from garlic and spices, these cheese grenki are a Russian take on savoury French toast will make any morning into one worth savouring.
Ingredients
3-4

slices

of thick bread

2-3

eggs

½

cup

milk

or if you're feeling rich, an equal mixture of milk and cream

pepper

salt

spices of your choice

oregano, chili, etc

2

garlic cloves

1

Tb

butter

½

cup

grated cheese

nutritional yeast

optional

parsley or cilantro and ripe tomatoes

for serving (optional)
Instructions
Grate ½ cup of vegan cheese. Mix with nutritional yeast for a more cheesy flavour, if desired.

Mince garlic finely. Cut bread.

In a bowl large enough to dunk your bread pieces into, whisk eggs very well, as if for a very fluffy omelette, until bubbles appear on the surface. Add milk, salt, pepper, and spices of your choice.

To a heavy-bottomed pan with a lid, add 1 Tbs of vegan butter replacement (or butter), and 2 Tbs of oil. Bring pan to medium heat.

Dip bread into eggy mixture. Leave to soak for 5-10 seconds on each side (depends on your bread: fluffy white sandwich bread needs less soaking, tough rye needs more).

Place bread slices on preheated and pre-oiled pan, and fry for about two-five minutes on one side, covered (until bread is golden brown - do not let it burn! Length of time will depend on your oven and bread itself). Turn bread slices over to the other side, and lower heat to low-medium. While the bread is frying, sprinkle the already-fried side (that's facing you) with shredded cheese and minced garlic, and cover with a lid or a bowl to allow the cheese to soften a bit. Let cook until cheese melts and bread is fried, about five minutes.

Remove from hot pan onto a paper-towel lined plate. Serve immediately, sprinkled with chopped parsley (in my house, particularly gluttonous morning involved layering each grenka with tomatoes and sour cream. But that's just greedy.... and delicious).
Tried this recipe?
Comment + Rate Below!
Connect on Instagram!
Find us @immigrantstable