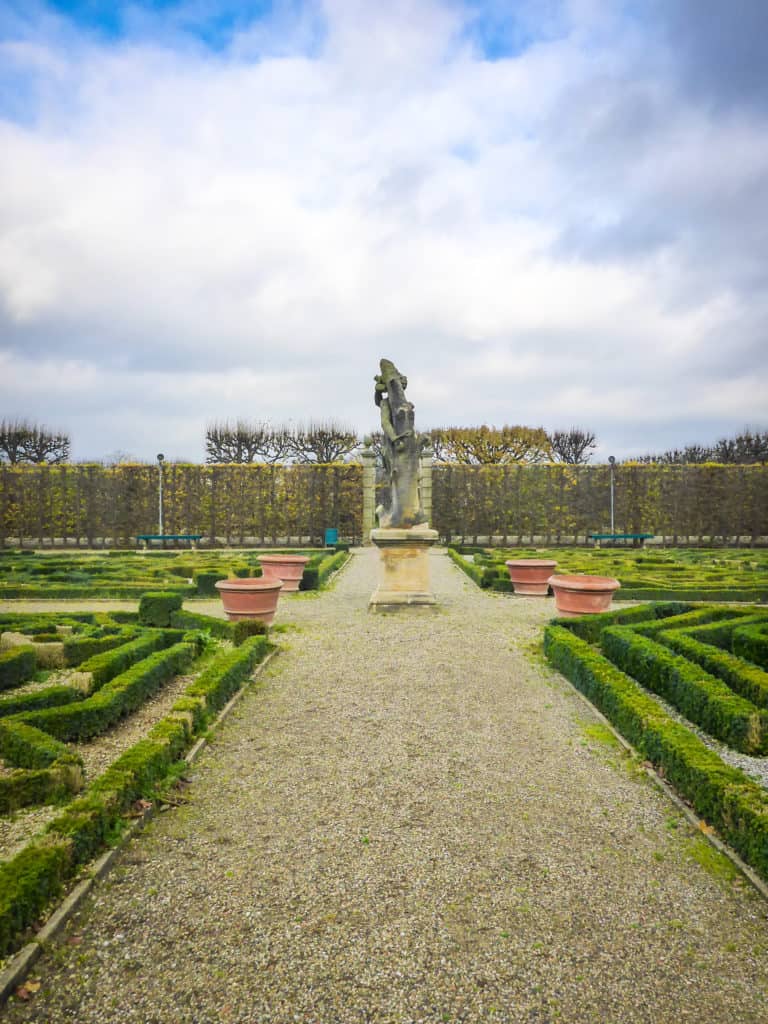 This time last year, F and I took a trip to Northern Europe. What started as a mission to spend Christmas in Northern Germany became a week-long jaunt through Germany, Denmark and Sweden. The butterflies of new love aside, it truly was one of the most magical trips I've ever taken, and I am excited to finally tell you all about it!
Our trip began in Berlin, or more accurately, the Berlin Schonefeld (SXF) airport. I had taken an overnight Wow Air flight and one sleeping pill too many, which resulted in a half-dazed walk through the Keflavik (KEF) airport... where I managed to misplace my passport and wallet while eating a vegan yogurt and talking to F on the phone (he had already been in Germany for a week for work at that point). Thank God for Icelandic airport security! Icelandic layovers aside, I was only too pleased to meet F and our rental car at the Berlin Schonefeld airport - not to be confused with the Berlin Tegel airport, as we discovered on the morning of our return flight (we ended up having to leave from two different airports. Sigh, travel confusion).

Brandenburg an der Havel
From Berlin, we drove to Brandenburg (also known as Brandenburg an der Havel) - the first destination in our Christmas in Northern Germany trip. The magic of the trip started when we parked our car immediately next to the city's old Jewish cemetery, which has been heavily bombed and then transformed into a wartime memorial for the city's Jewish population. Ending up there by complete mistake, I couldn't help but feel that this trip was going to be special.
This little German town was neat, compact and quite picturesque. We enjoyed a two-hour stroll along the city centre, and the Havel river that runs through its heart. The most prominent landmarks in Brandenburg were the 14th century St. Catherine's Church, and the beautiful Gothic cathedral whose roots go as far back as 1165. We enjoyed exploring the latter, and getting lost in the little streets around the former.
Brandenburg favourite stops: St. Catherine's Church, Brandenburg Cathedral.

Brandenburg favourite eats: We made a stop for coffee and German pastries in the first open cafe we saw, but we didn't get its name. Honestly, you can't go wrong with German pastries.
Hanover
From Brandenburg an der Havel, we continued making our way northwest, arriving at nightfall at Hanover. I admit that we had low expectations from this mid-sized German town; we knew it lacked the entertainment of Hamburg, the charm of Bremen, and the history of Potsdam. But we booked ourselves an Airbnb with an outdoor garden run by a young German couple, and bundled up for our first night in Germany.
Well, let me tell you - we couldn't have been more wrong about Hanover. Our Airbnb was small and well-equipped, and our host Lena was lovely. We opened our trip with a walk to a well-reviewed Mexican restaurant close to our neighbourhood, Fischers (which was decent, but not the best Mexican I've ever had). The next morning, we got up early and walked Hanover by foot, following the Hanover Red Thread Path to landmarks like the new City Hall and the majestic Herrenhäuser Gärten. We also had our first glass of Glühwein (or red mulled wine for the rest of us folks) in the just-opening Hanover Christmas market. And if you haven't heard about German Christmas markets, you've been missing out on the best part of life (or at least the best part of Christmas in Germany). But don't worry, because this post is all about them.
A few words about my favourite ritual at every international trip: a stop at a large supermarket to stock up. We do this on the first day of every trip, getting the necessities for breakfast and lunch - bread and GF bread, local cheeses and spreads, yogurts and soy milk, and alcohol - and we always bring a packed lunch with us. That way, even if our breakfast isn't provided, we avoid spending money on two main meals, thus allowing us to splurge on dinners. And more than that, we also get to discover new products and taste new local delicacies! We also make another stop at a local supermarket on the last day of our trip, stocking up on edible souvenirs and our favourite products to take home. I strongly recommend making these stops a part of your travel routine.
Hanover favourite stops: City Hall, Herrenhäuser Gärten, Christmas Market in the Old Town.
Hanover favourite eats: Gluhwein at the Christmas Market (it wouldn't be Christmas in Germany without it!), and Harvest Moon coconut yogurt in mango and passionfruit.
Bremen
After finishing our afternoon in Hanover, we began our drive towards what was the most anticipated part of our trip: Bremen. When we first came across Bremen when planning our route through Northern Germany, I immediately thought of one thing: Bremenskie Muzykanty. As a Soviet child, I grew up listening to the exploits of the Bremen Musicians, put into cartoon form, song, and books. Excited, the mere mention of the name 'Bremen' in a guidebook made me break into song, fully expecting it to be cataloged as 'another weird thing Ksenia does'. Yet imagine my surprise when I discovered my Colombian-born boyfriend also knew of the Musicians; having studied German in university, he came across their tales and remembered some. So as you can guess, Bremen immediately became a Must-See stop on our Christmas in Northern Germany tour.
The other reasons we were excited about Bremen were simple. As an important maritime port, Bremen had an illustrious history and some immaculately preserved medieval houses. When looking for a place to stay, we sought something more historical than the streets of Hamburg or Hanover would allow... and we found our heart's desire in this little Airbnb in the Schnoor. This cozy, red little house, built in the 16th century, was a perfect slice of the past. The caretaker, Brigit, was kind and reserved. Our room on the top floor was cozy and dreamlike, featuring a little ladder and a window overlooking the cobblestone streets of Bremen's most legendary quarter. All in all, it was one of the best places from which to explore the mysteries of this fairytale city, and one of the best accommodations I've had on any trip, ever.
Our first night at Bremen included a wander through the Schnoor's streets, which had charming little stores and art galleries and tucked-away gluhwein carts. We had dinner at the famous Bremer Ratskeller, a 600-year old wine cellar that used to belong to the city's Townhall and is now a stand-alone restaurant. Unsurprisingly, it had an impressive wine list; curiously, it also had an extensive list of little house-made liqueurs that could burn through your esophagus (naturally, we tried one). The food was also delicious, if you even care about such things after all the wine, liqueurs and historic ambiance. After dinner, we wandered around the Aldstadt and took about a million photos with the famous statue of the Bremen musicians. Because fangirl.
The next morning held our most awaited part of Christmas in Northern Germany: the Bremen Christmas Market. This was its opening day, and though it looked decidedly less magical during the day than it does at night, we had an unforgettable time walking through its maze of shops. But the best was yet to come, for we were to have the best meal of our trip in the market. We were drawn to this small stall by a haze of smoke and the most appetizing smell. We came upon a scene that could have been lifted straight from the log driver's waltz: a group of burly, plaid-dressed men, roasting whole salmons arranged in a lean-to triangle shape over an open flame. Every few seconds, a drop of jus would come dripping down the salmon and onto the coals, making a lovely hissing sound that made our mouths water. We immediately cued in line to wait for this manna from the gods, and were not disappointed to receive a generous chunk of salmon, served atop steaming potatoes and covered in a creamy mayonnaise sauce with herbs. This decidedly Nordic meal was perfect for the cold, gloomy day Bremen was having, and it was made all the more magical by our Christmas-like surroundings. I can't wait to recreate this at home one of these cold days (that is, if F braves the cold to turn on the coal barbecue for me)!
Bremen favourite stops: Aldstadt, The Schnoor, Bremen Town Hall,
Bremen Christmas Market (and the musicians' statue!).
Bremen favourite eats: Bremer Ratkseller, and the Nordic salmon cooked over an open fire at the Christmas market.
Hamburg
After a magical morning in Bremen, we made our way northeast, to Hamburg. Now, all the guidebooks promised us that Hamburg would be the highlight of northern Germany, a bustling city with endless options for nightlife, great food and entertainment. We therefore set aside two nights - the longest portion of our trip to be spent in one place - for exploring Hamburg. Instead, we found a fairly dirty (by German standards), crowded city whose main (dubious) claim to fame was the Reeperbahn, its red-light district. Suffice to say, I was underwhelmed.
I suppose our time in Hamburg wasn't aided by the Airbnb we rented. Small, musty and feeling decidedly unlike someone's actual home but rather like an unclean hostel (there were five other people staying there, none of whom were the "host"), this place was the lowpoint of our trip. I felt uncomfortable and couldn't wait to leave... And the location of the Airbnb left much to be desired.
Our time in Hamburg was mainly spent on the bikes we received as part of our Airbnb rental (it was its only asset, truly). As a very recent and inexperienced bike rider - F taught me to bike a mere four months ago - I was terrified to explore an unfamiliar city on two wheels. I was pleasantly surprised and impressed by Hamburg's bike infrastructure, and had a great time driving from one corner to the other. The fun slightly wore off when we got caught in heavy rain and had to cross four lanes of traffic at night, but I guess it's all part of the experience.
The highlights of our time in Hamburg were mostly around our time with F's university friend, who met us on our first night. With him, we:
During the day and on our bikes, we also explored Hamburg's alternative underbelly, finding shelter from the rain while enjoying delicious sweets at Herr Max. As tourists are wont to do, we also checked out the red-lights district, where yours truly felt greatly uncomfortable and couldn't wait to leave (what can I do, I'm a grandmother). The best part of our visit to the area was the SANTA Pauli (see what they did there?), Reeperbahn's Christmas Market, which was as different from the rest of the Christmas markets as you can imagine. Being the prince that he is, F skipped the infamous and secretive Herbertstraße just so I wouldn't have a heart attack standing on the street alone (women and children aren't allowed there). We grabbed an excellent veggie burger at Quentin's Burger Bar and went home to sleep before 9PM - wild nights, I tell you.
Hamburg favourite stops: The century-old Speicherstadt, Hamburg State Opera, the Schanzenviertel area, the Santa Pauli and the 'green lungs' park that overlooks the Heinrich Hertz Tower.
Hamburg favourite eats: Groninger, Quentin's Burger Bar, and desserts and tea at Herr Max
Lübeck
On our way north from Hamburg, about to make the transition into Denmark (more on that in a separate post!), we made a pitstop at what we thought of as a small, unassuming city - Lübeck. Instead, what we found was a perfectly maintained medieval, Gothic paradise in which we enjoyed getting lost for a few hours.
From the steeples of St. Mary's Church, to the arches of Holstentor, the ciy's ancient gates, and finally culminating on the the cobblestone streets of its little alleys and enclosed yards, Lübeck was an ode to German Gothic architecture. The city's illustrious history as a key port in the Hanseatic naval empire meant that its rulers and denizens had a lot of money, and the results of centuries of investment (and mindful modern preservation and restoration) were visible wherever we went. We later found out the city is considered a UNESCO World Heritage Site, and with good reason.
Lübeck's Christmas market was also one of the best we have visited, with a wood-fired oven baking fresh breads, a myriad of little handmade gifts, and countless stalls serving all manner of German delicacies. We opted to try the ubiqutous German Eierpunsch here, a concoction many compare to eggnog with its combination of egg yolks, white wine, cinnamon & cloves, vanilla and citrus juice. We found it a bit revolting... and my apologies to all Eierpunsch lovers here. We also ate a big serving of fried potatoes with onions, and another dish of sauteed mushrooms with garlic. I'd be hard pressed to choose a favourite among the two.
Lübeck favourite stops: St. Mary's Church, Holstentor, Lübeck's Christmas market, Lubeck Town Hall and surrounding areas.
Lübeck favourite eats: We only spent a couple of hours in this city, and ate all of our foods at the Lübeck's Christmas market. However, we strongly encourage you to visit the Niederegger Marzipanerie, home to Lübeck's legendary marzipan shop and museum. You can stock up on typical Lübeckian marzipan in every German grocery store, so save your pennies and just enjoy the store's atmosphere - unless you want to buy one of the specialty products only available in the flagship store.
Potsdam
Our last day in Germany was spent in Potsdam, and specifically - in the beautiful German palace of Sanssouci (meaning, worry-free or no worries in French). Sanssouci was the summer palace of Frederick the Great, King of Prussia, who was a huge Francophile. It is often considered to rival Versailles, the French palace after which Frederick modeled his summer home. We loved exploring its every nook and cranny, and particularly loved the inlaid mosaic ceiling in its Grotto Hall.
Though there are arguably many things to see and do in Potsdam, we spent our day in the palace and its gardens (which are evidently a lot more impressive in summer), and therefore can't recommend too much else in this city. Wanting to capitalize on our last chance to eat at a German Christmas Market, we grabbed dinner in Potsdam's Old Town Historical Christmas Market. It was a dinner of best hits, where I ate my favourite cooked salmon, F had a currywurst, and we both shared sides of potatoes and mushrooms.
I couldn't have been happier to end our trip on this note.
Postdam favourite stops: Naturally, Palace Sanssouci. Any of the Potsdam Christmas Markets would have been good, but we explored the Old Town Historical Christmas Market for its ease of access to our parking spot. The Bohemian Christmas Market sounds particularly charming!
Postdam favourite eats: We ate at the gigantic Potsdam Historical Chrismas Market, Blauer Lichterglanz.
---
In short, our Christmas in Northern Germany exploration was a magical combination of history, architecture, and great food. To see glimpses into a previous trip to Germany, look here. If you'd like to try your hand at making German food, check out my recipes for mulled wine, German roasted cauliflower curry bake, and spelt glazed cinnamon buns. This sauerkraut soup offers a German-inspired take on winter fare. I'm sure you'll fall in love with German food like I did.