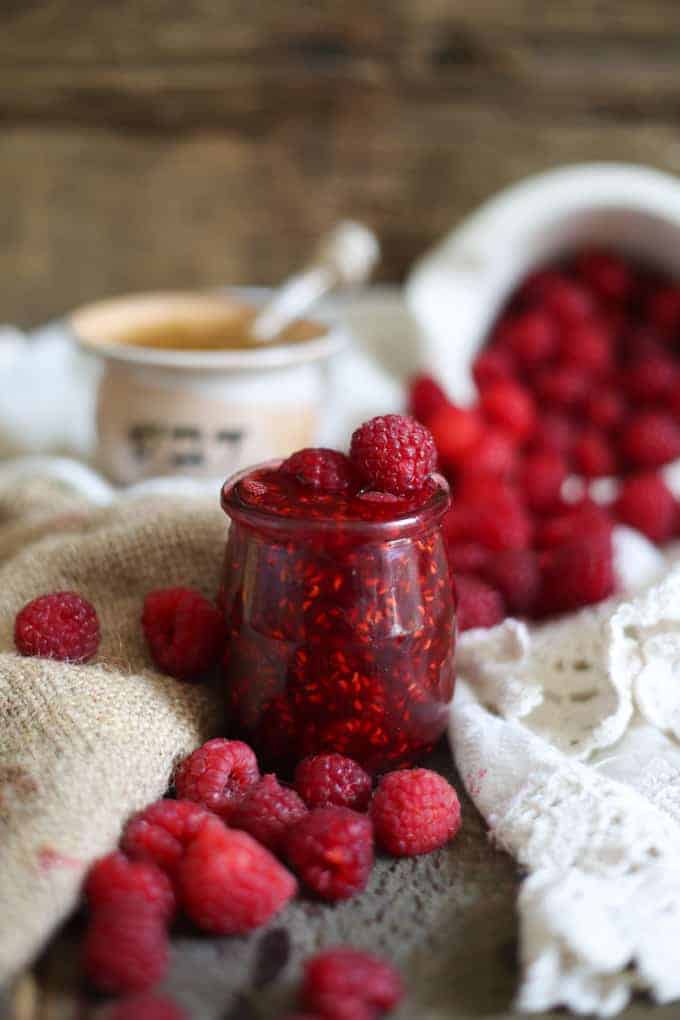 There is something special about a well-cooked jam. Out of all the foods to come out of a chef's kitchen, I think jam is the most underrated one – yet also the one with the highest potential to capture the fleeting taste of the season. The bright green leaves, the full-to-bursting fruit, the sudden rain amidst a seething hot day – those are the elements of summer, and a good, naked raspberry preserve is the best way I know to honour them. Barely sweetened with honey, barely cooked, this runny mess is the essence of summer.
I remember watching my grandmother cook jam in the kitchen. As the fruit broke down and the sugar crystallized, lending the jam its staying power, the whole house was filled with the sweetest smell. I could tell with just a sniff if the edges of the pan began to burn, or if there was not enough lemon juice. I could also tell when the jam was done.
I would always want to taste it, right then and there. Just dunk a spoon into the hot, bubbling pot, and sink it deep into my mouth. Let it envelope my tongue, sip into the crevices between my teeth, trickle down my throat.
And once, I did just that. While my grandmother's back was turned, I took a big spoonful of jam, brought it close to my lips…. And felt my whole tongue sear with a pain so deep, so sharp that the tears came immediately, almost as hot as lava themselves. I let the spoon drop with a clatter onto the counter, sending more bubbles of just-cooked strawberry jam onto my hands, my shirt, my thighs. I remember letting out a scream so loud, so guttural, that my grandmother came running into the kitchen as fast as a spry eight-year-old.
I have never tasted freshly cooked jam since. Now, I let my naked raspberry preserves rest on the counter undisturbed for 24 hours, neat rows of soldiers glistening in their glass jars. I taste my jam only once it's fully cooled, ladled onto freshly cooked oladushki, added to boiling hot tea, or licked simply off a spoon.
Because when you taste naked raspberry preserves so clean, so good that they bring the taste of summer to your mouth and tears to your eyes even when they're cool, you just know – they were worth the wait.
To stay on top of what I'm eating and cooking these days, follow At the Immigrant's Table on Facebook, Instagram, Pinterest, Bloglovin', or Twitter, subscribe to my mailing list, or contact me about advertising and becoming a sponsor. If you make one of my recipes, don't forget to tag it #immigrantstable @immigrantstable!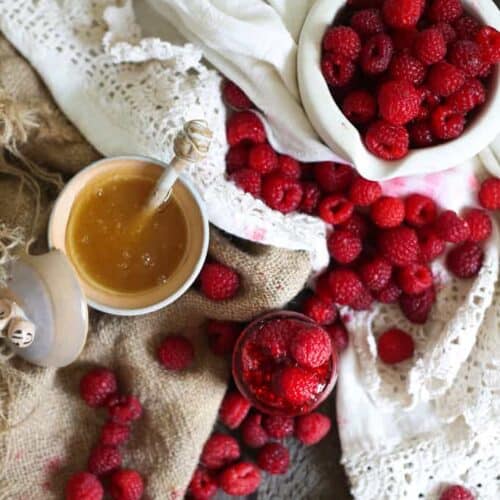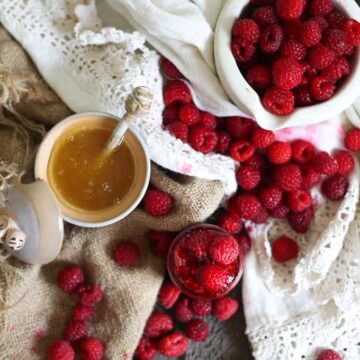 Clean raspberry preserves with honey
Falling in love is like when you taste naked raspberry preserves so clean, so good that it brings the taste of summer to your mouth and tears to your eyes.
Print
Pin
Rate
Ingredients
5

cups

smashed raspberries

2

cups

clover or wildflower honey

2

lemons

juice and zest of
Instructions
Wash berries well.

Sterilize four 250ml jars in a hot water canning pot.

In a large enameled dutch oven or stainless steel pan, combine berries, honey, lemon juice and zest. Bring to a boil and let cook for 20-30 minutes, until sauce has reduced and berries have broken down.

Ladle jam into sterilized jars. Cover with lid, and gently screw down the metal rim with two fingers, just until resistance is met (do not close jars tightly - the air should be able to escape between the lid and the rim for the jar to seal properly). Process in a hot water bath for 10 minutes. Leave closed jars on the counter for 24 hours, until the lid has popped in and sealed properly (you should see a dip in the middle of the lid where the vacuum has sealed it).

Sealed jam will keep sealed outside the fridge for a year. Once opened, keep jam in the fridge.