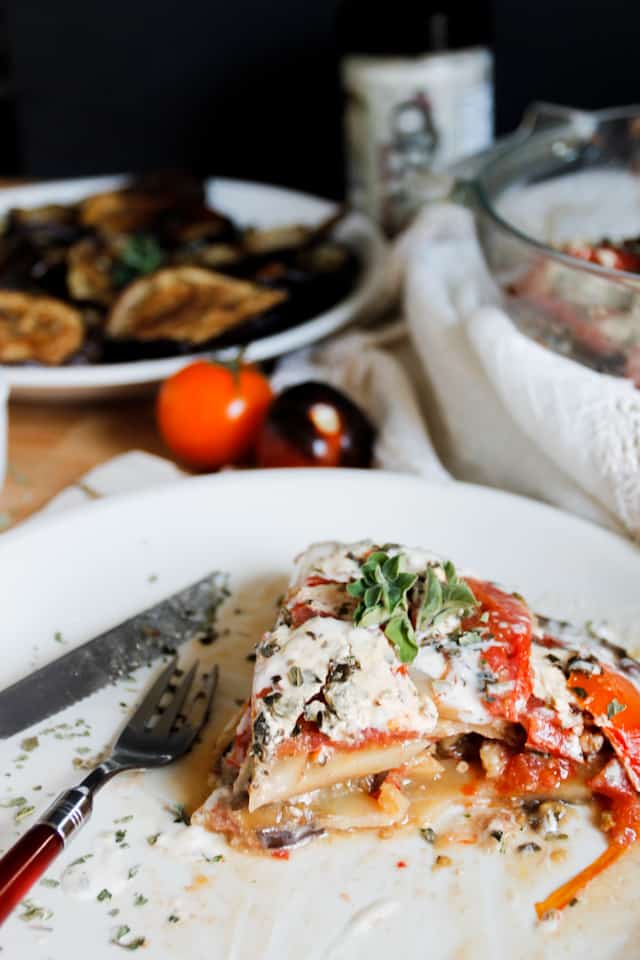 My dear friend Einav still speaks with envy of the time she sat with friends in Greece, on the shores of the Mediterranean sea, and watched them digging into their moussaka. Layered with thinly sliced potatoes, fried eggplant that has become silky soft, and a rich, opulent bechamel sauce that pooled everywhere, this dish was the stuff of dreams - except it was laden with spiced ground beef. And like myself, Einav does not eat meat. So on that day on the beach of Kos, moussaka was just beyond her reach.
But with this vegetarian, lightened up cold moussaka with kalamata-feta sauce, she won't have to be jealous anymore.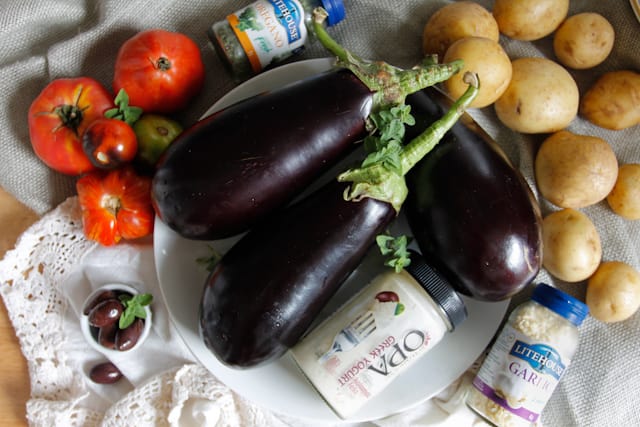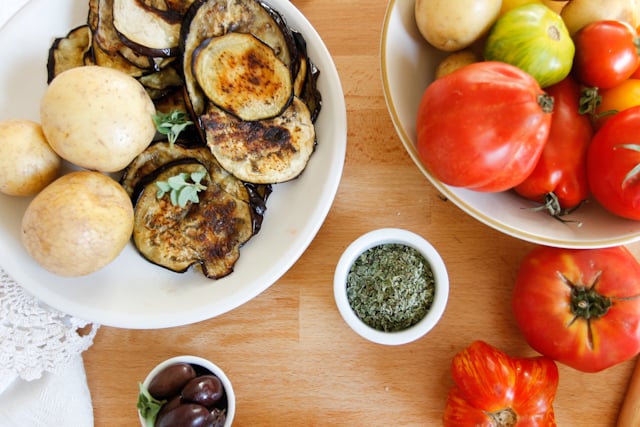 Moussaka has a turbulent history in the Middle East. Claimed by Greeks, the Balkans, the Lebanese and the Egyptians, it has also made appearances in Claudia Roden's game-changing Book of Middle Eastern Food and other seismic works exploring the region's cuisine. Though it looks a little bit different each time, the basic premise is such: eggplant, potatoes/meat, and sauce. Oh yeah, and it usually comes out of the oven warm.
But in the Palestinian kitchen, the dish of choice is cold moussaka. Taken from Levantine recipes, the moussaka of my country is usually served cold, on hot summer days, eggplant and potatoes interspersed with tomatoes and covered in delicious sauce that ranges from tomato to bechamel.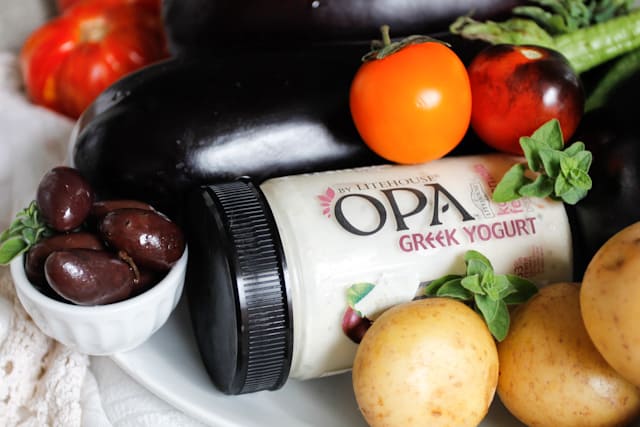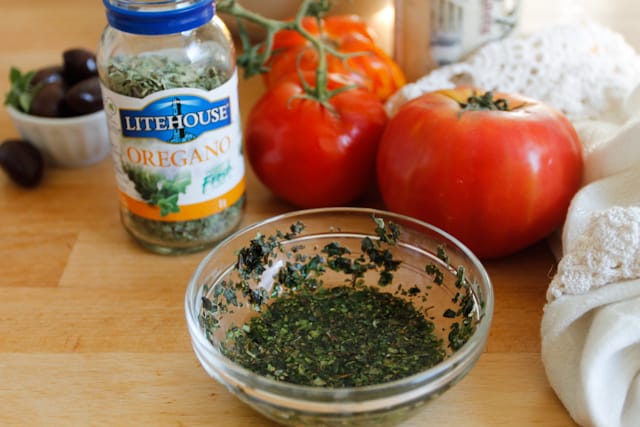 And that's exactly the moussaka I chose to make for a recent recipe with Litehouse's new OPA line of sauces. With 53 per cent calories less than traditional mayonnaise sauce, and about a bazillion per cent less than in bechamel, the kalamata feta sauce I tried was tangy, interspersed with delicious bites of olive and tomato, and rich in all the right ways. I have been ladling it on everything from corn on the cob to a simple heirloom tomato salad, but my favourite way to eat it has been in this cold moussaka.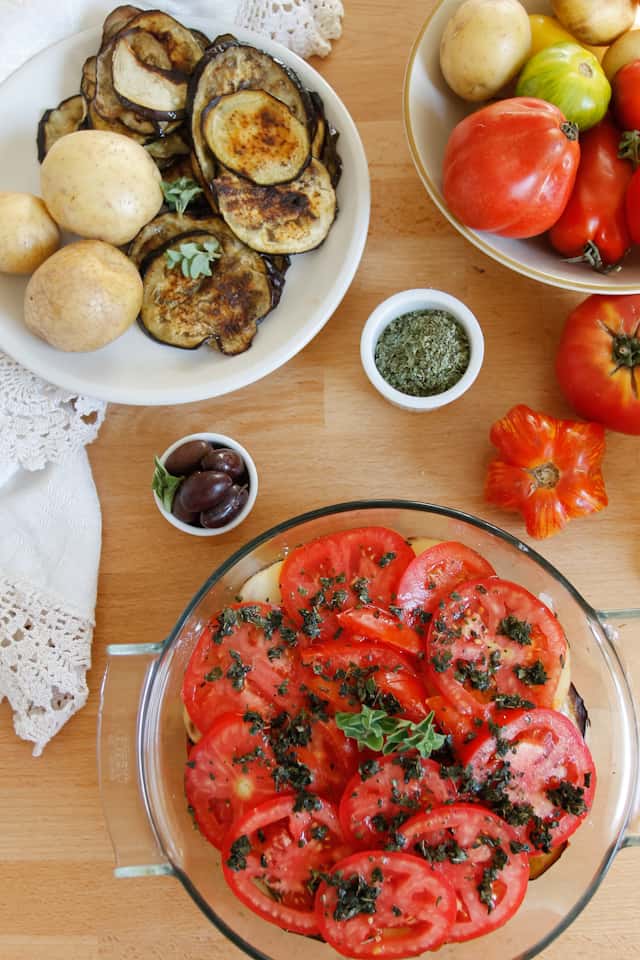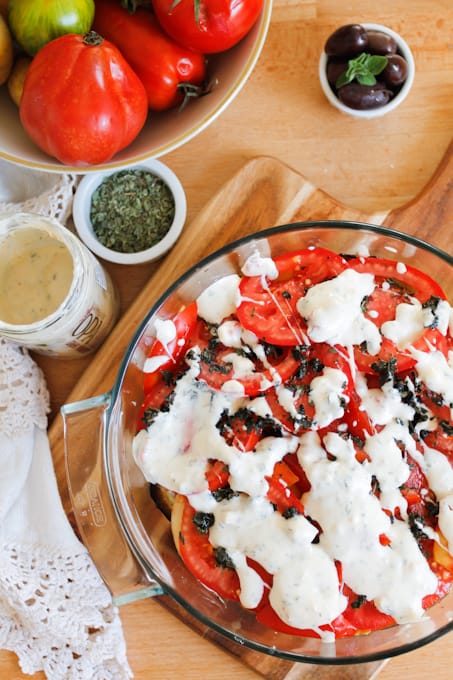 To get the recipe and cold moussaka with kalamata feta sauce and to see more photos, head on down to the Food Blogggers of Canada website, where you can also find more mouth-watering recipes, advice for bloggers, and information about their upcoming bloggers' conference - where you just might meet me!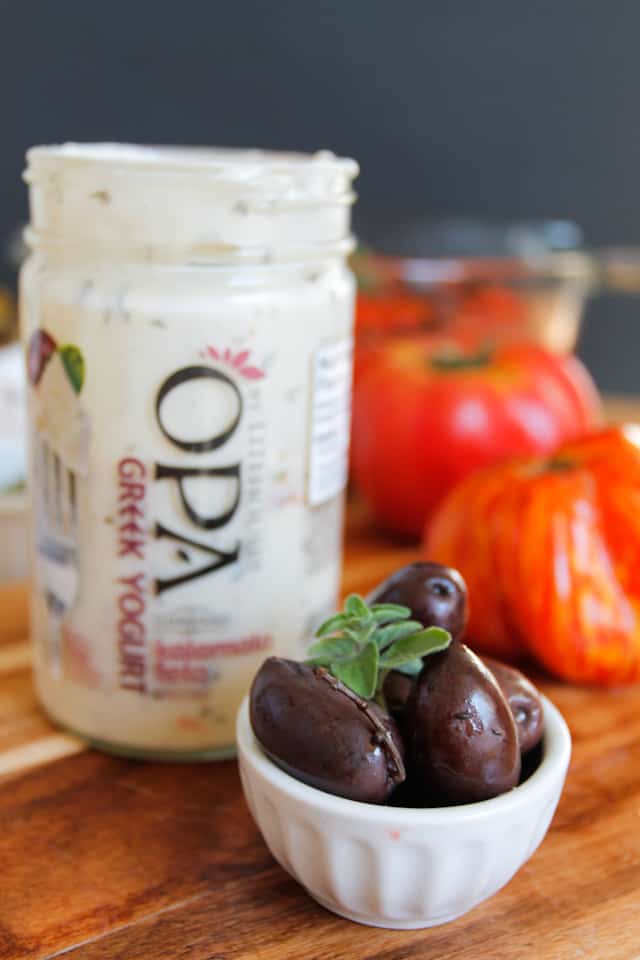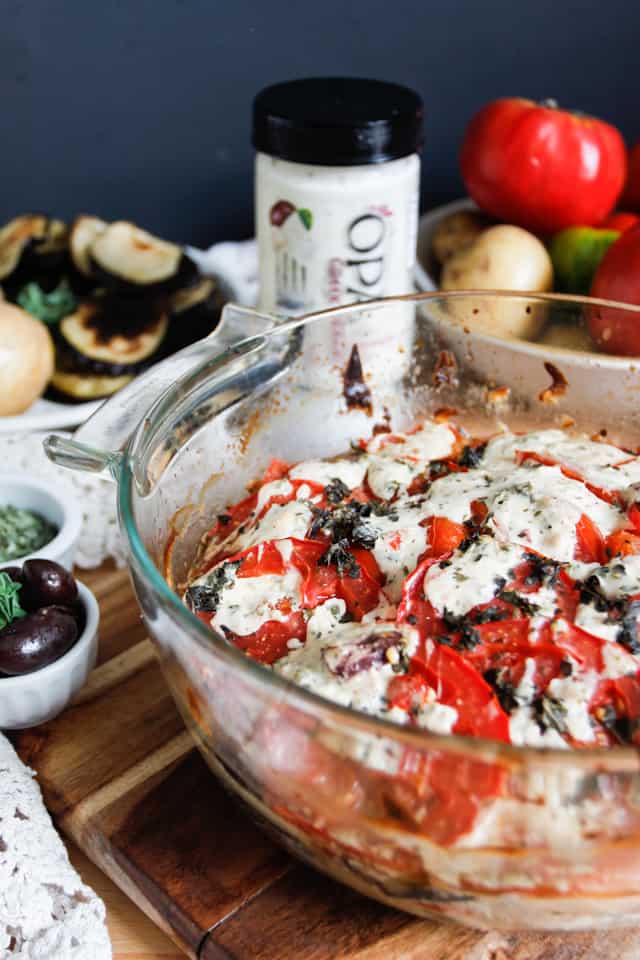 Disclaimer: I have received payment and the products for this recipe from Litehouse, but all opinions expressed here are my own. I am proud to work with companies whose products I truly love. To find out more about working with me, check out my about page, or email me to request a media kit.
Tried and loved this recipe? Please leave a 5-star review below! Your reviews mean a lot to me, so if you've got any questions, please let me know in a comment.