As I walk into my favourite Middle Eastern bakery in Beer Sheva, my nostrils are immediately filled with the smell of toasted sesame and almonds. All around me are mounds of treats: sweets drizzled with so much honey they are sticking to the platter, baklava bursting with ground pistachios, warm, fluffy pitas just freshly taken out of the oven. But I usually walk past all that, my mind focused on one thing: the lavash bread.
Lavash is an Armenian bread that is made without yeast, and sprinkled with sesame seeds and zaatar (if you are unable to locate it, Iraqi or bedouin coal-fired pitas are a great substitute). For those abstaining from commercial yeast due to a Candida-friendly diet, lavash is a god-send: it's a soft, delicious creation that is fragrant with all the familiar scents of bread, but without any of the associated stomach pains.
I love serving lavash bread during al-fresco dinners with family. Letting everyone rip into the large pieces of bread, tearing out a part for themselves, crumbs flying everywhere. The look of joy and satisfaction as you see the bread pulling apart. The gleeful abandon that only comes from doing something with your hands, from breaking the rules a bit.
But for when company comes over for drinks, I fink that the traditional lavash can be a bit much. The crumbs I embrace on my parents' porch, where the pigeons and neighbourhood cats roam freely, are not so welcome of the floor of my little Montreal apartment. Nor am I able to eat gluten anymore, another sad loss in the great scheme of dietary restrictions.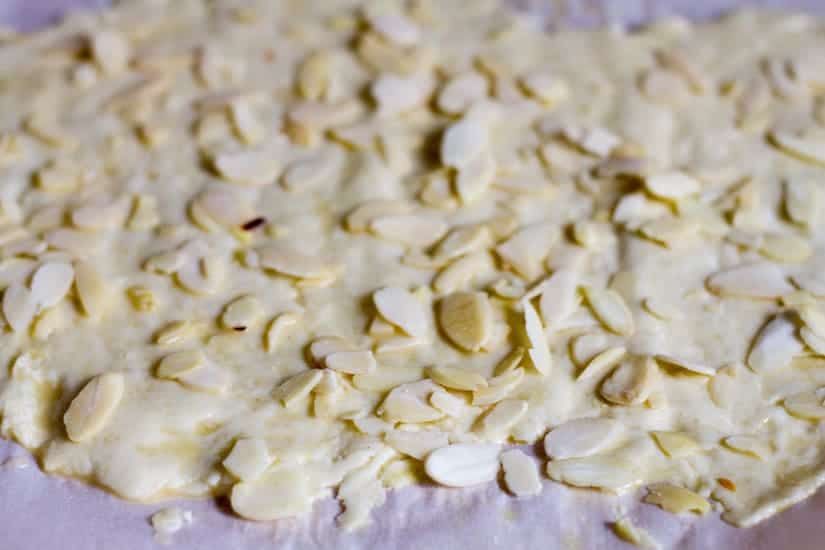 So instead, for this holiday season, I baked a batch of gluten-free almond lavosh crackers. Similar to their bready counterparts, I also prefer to bake them as one long circle that is later broken into shards; it brings just a bit of the same devil-may-care attitude to my holiday dinner parties as it did to those al-fresco family lunches. But if you prefer your look a bit neater, you can cut the crackers before baking.
Crackly thin and sprinkled with a generous helping of almonds, these gluten-free almond lavosh crackers go beautifully with labaneh, hummus and all manner of Middle Eastern spreads like baba ghanoush or za'aluk. They won't give anyone a stomach ache, and will look beautiful on your holiday dinner party table.
And sometimes, when no one is watching, I take a piece of a lavosh cracker in my hand and break it, letting the crumbs fall on the floor... For old times' sake.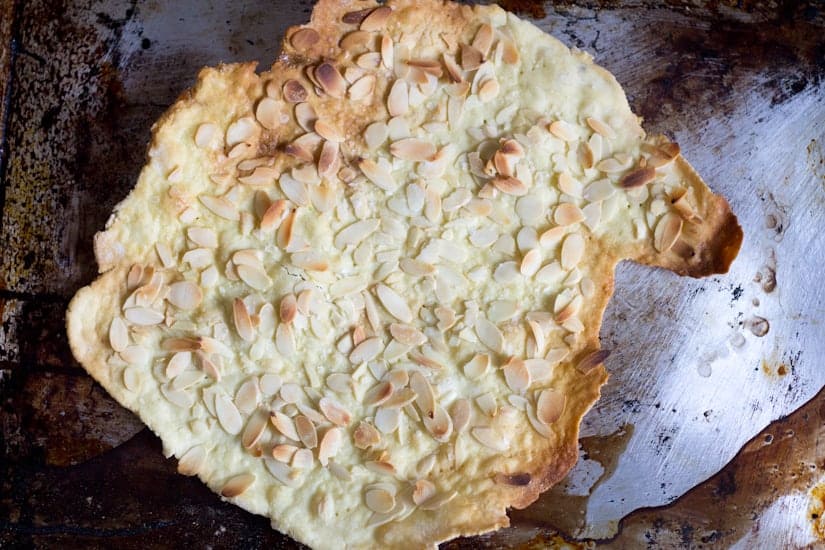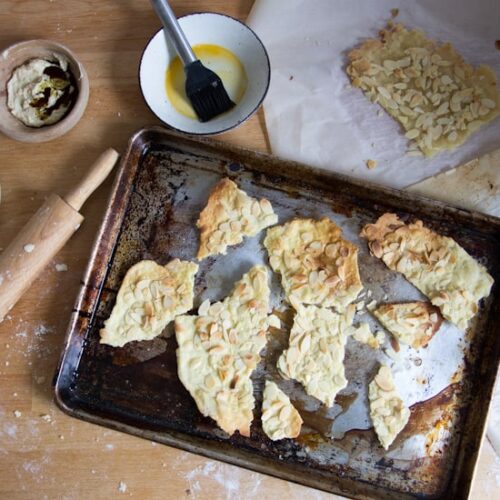 Gluten-free almond lavosh crackers
Crackly thin and sprinkled with a generous helping of almonds, these gluten-free almond lavosh crackers go beautifully with labaneh, hummus and all manner of Middle Eastern spreads.
Print
Pin
Rate
Ingredients
2

cups

GF flour blend

if your favourite GF blend doesn't contain xanthan gum or psyllium husk, add ½ teaspoon of either one

1

teaspoon

salt

1

teaspoon

sugar

½

c

warm water

⅓

cup

olive oil

1

egg

2

TBs

slivered almonds

Egg wash

1 egg mixed with a bit of water
Instructions
Preheat the oven to 350F (175C). Line two trays with baking parchment. Flour a working area.

In a bowl, combine flour, salt and sugar and stir with a fork stir to combine. In a separate bowl, combine warm water, oil and egg and add to the flour mix. Using a fork, mix these until combined fully.

Knead gently in bowl for about 30 seconds, until dough comes together.

Lightly flour your working surface. Divide the dough into four pieces. Roll these out with the rolling pin (if you are looking for more uniform, even crackers, cut these into any desired cracker shape - traditional lavosh crackers are bigger, to allow for more scooping). Once you have your desired shapes, sprinkle with slivered almonds and brush with an egg wash.

Bake until golden in a preheated 350F oven. The smaller your pieces, the quicker they will cook through; a whole round will take 15-20 minutes, while small rectangles require 10-15 minutes. If you cooked a whole round, break it into desired pieces as soon as it's cool enough to handle.

Cool completely and store in an airtight container. Serve with a Middle Eastern appetizer platter.