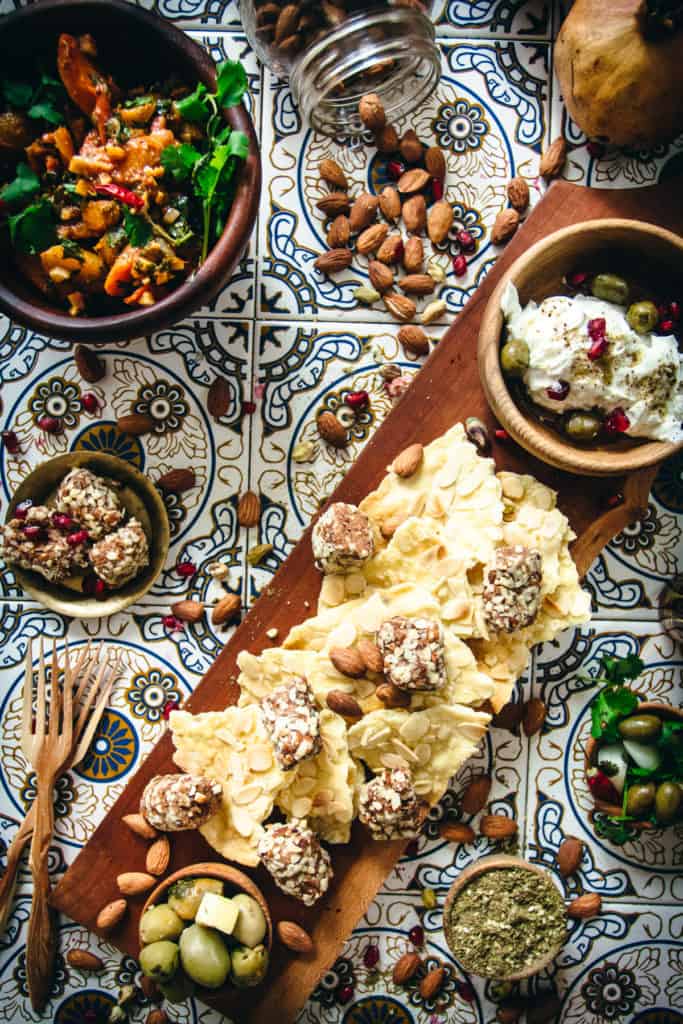 Mezze recipes are all about effortless entertaining - which is why I love them so much! (and have a whole e-book dedicated to them). The ultimate Middle Eastern appetizer platter is an appealing melange of colours, textures and flavours. Making a unique mezze platter is simply about choosing a few dips, making your favourite flatbread and accentuating with the right store-bought snacks! Easy peasy entertaining, have I said that before?
This post is a partnership with Natural Delights, but all opinions expressed here are my own. Please consider supporting the brands that make this blog possible.
Entertaining with mezze ease
The holidays are a time of joy. These are the days you spend with your loved ones, huddled around a fire or listening to some ancient carols on the stereo. It's a time for parties, for getting decked out in your Sunday best and shimmying down to the latest tunes at beautifully decorated rooms.
And most of all, it's a time for good food. And in my house, good food means easy Middle Eastern appetizers, also known as mezze.
Whether you're celebrating with your immediate family or getting together with loved ones remotely, mezze platters are all about ease, accessibility and letting everyone eat whatever they want, and as much as they want!
What is Mezze?
Mezze (also sometimes spelled meze) is a collection of small dishes that are meant to be eaten together as appetizers or a light meal. The origins of mezze are in the Middle East and the Mediterranean, specifically Greece, and you can find local iterations in each country - and even, each region.
Mezze platters are the key to effortless dining. They are all about mixing colours, textures and flavours on one big surface - flatbreads and nuts, dips and spreads, and dried fruits are all commonplace.
Though I love a good Greek mezze platter, as my origins are in Israel, I usually gravitate towards a more Middle Eastern palette to my mezze recipes. In the recipe below I offer what I have been loving lately as the ultimate Middle Eastern appetizer platter - but if you're looking to experiment, mix and match according to the contents of your cupboard and fridge, I offer my tips for building your own mezze platter below!
Entertaining with Food Sensitivities
For those of us with dietary restrictions and food sensitivities, the holidays can be a time of intense pain and suffering. They can mean acute stomach pains, or entire dinners passed around a table in abject discomfort. The holidays can signal bad skin days, or bad hair days, or days when your stomach is so bloated you can hardly move (and believe me, I've had it all).
For someone living with food sensitivities, the holidays can bring emotional discomfort as you have to refuse what hosts are offering because you can't be sure there was no cross-contamination. Sometimes there simply isn't anything served that didn't contain dairy, or eggs, or sugar, or gluten.
The Easy Entertaining Solution: Mezze Platter
That's where the Middle Eastern appetizer platter comes in to make hosting with food sensitivities a breeze. On a large table laden with all manner of delicious Middle Eastern finger foods, dips and snacks, everyone can choose something they can eat.
If you take pains to separate the bread from the gluten-free lavosh crackers, there is no reason there shouldn't be something for everyone in the ultimate mezze platter.
And if you're entertaining while social distancing, appetizer platters make eating out of your own small plate even easier!
When I have guests over at my house, I always try and think of what my guests can and can't eat. If I'm unsure of who is coming, like at a potluck or dinner at a friend's, I'll try to bring something neutral: a vegan and gluten-free vegetable casserole, or a dessert that manages to tick most of the boxes.
In other words, even during holiday parties, I try to make sure I can offer foods that everyone can eat. Who am I kidding? Especially during holiday parties, because I know how rife with temptation this time can be.
Today I'd like to offer you what I consider as the ultimate Middle Eastern appetizer platter. It's fresh, inviting and visually appealing. There are vegan options and gluten-free treats and even a nod at those of us who are paleo.
Trust me: you won't find any stale hummus, dry carrot sticks or bad baba ghanoush here!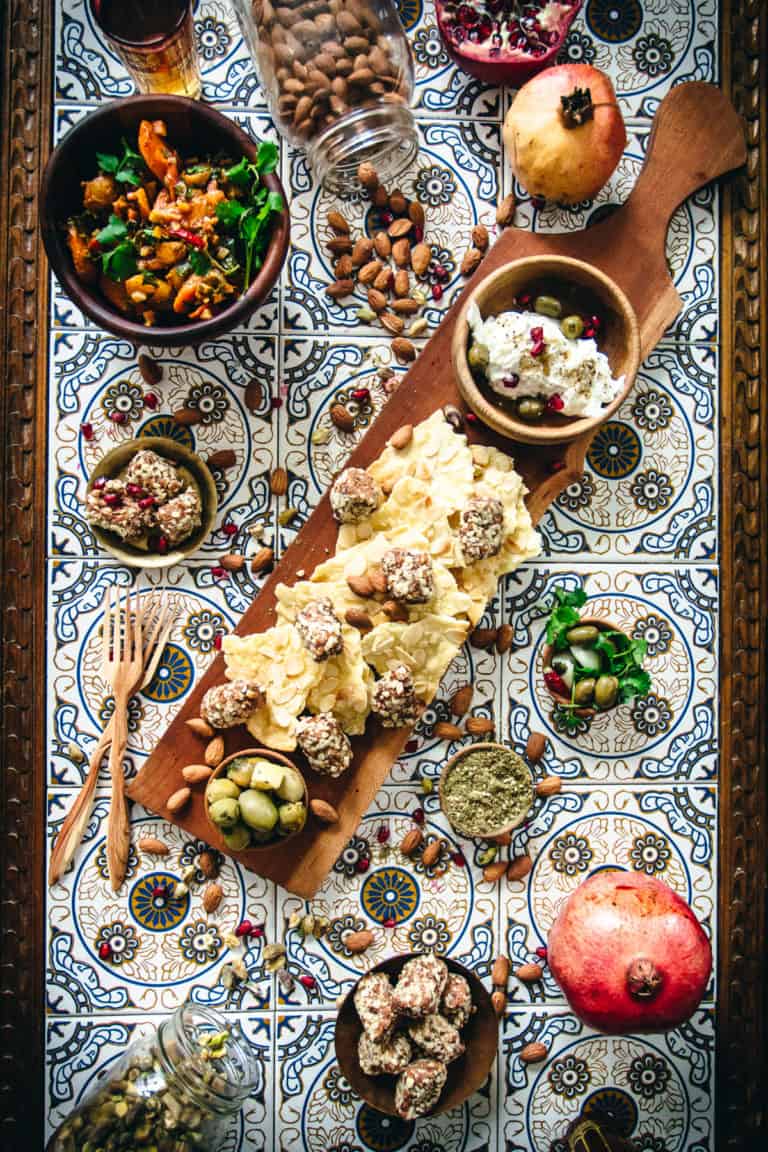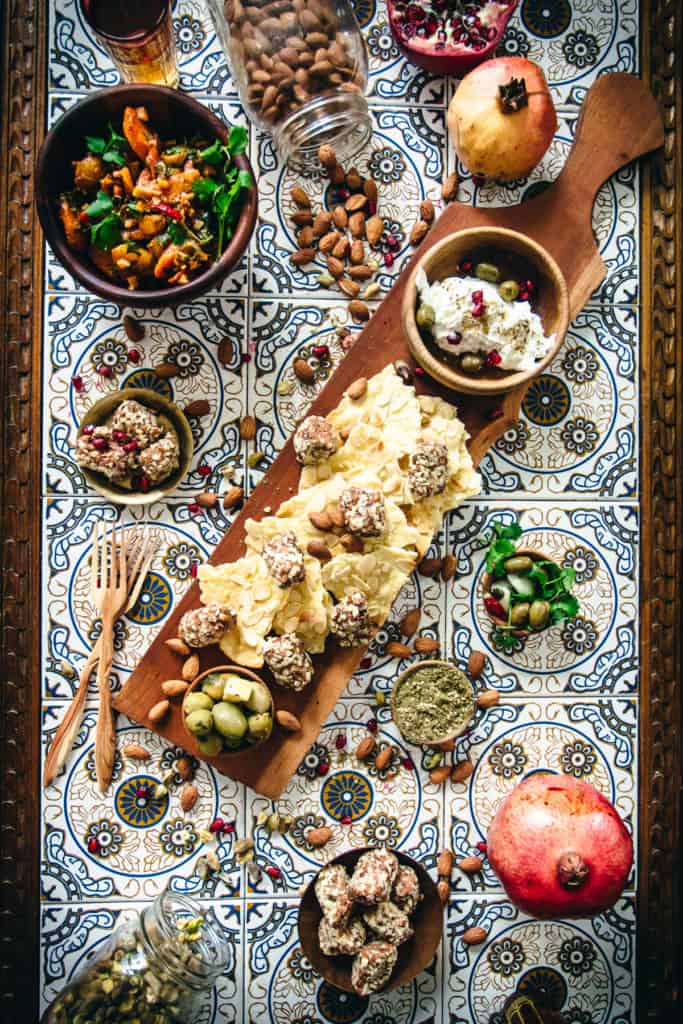 How to Build The Ultimate Middle Eastern Appetizer Platter
To put together the ultimate Middle Eastern Appetizer Platter, you need:
1. Avoid overcrowding
Don't try to crowd the Ultimate Middle Eastern Appetizer Platter. A good mezze selection is all about variety - and if all your snacks are piled in one place and on top of one another, no one can see all the hard work you've put into your platter. Choose a large, oval platter, or better yet - put everything on a big coffee table, or even a regular dining table. A serving trick I love is covering your table with some good old cheap kraft paper, and putting your dishes straight on it! It can look really beautiful if done right.
Which leads me to the next point...
2. Choose the right (serving) dishes
If you're opting to arrange all your mezze dishes in one big platter, then there's no need for little dishes. Just accept that your dips will run onto your vegetables! I like the following platters for putting all your delicious Middle Eastern appetizers in one place:
If, like me, you are opting to put your mezze on the table, then it may be a good idea to stock on some small plates and dishes. Here are ones I especially love:
And in times of social distancing, don't forget to offer individual plates and individual spoons with which people can serve themselves. Though you may have to remind them about no double dipping...
3. Texture is king
Like I said before, eating with our eyes is a big part of the mezze experience - and in that case, texture is king! Make sure your Middle Eastern appetizer platter is full of interesting shapes, textures and colours.
4. Embrace vegetables
And if we're looking for colour, what can be more colourful than vegetables? Let mother nature wow you with her selection! A big tray of roasted veggies is a great way to shortcut your appetizer platter. Or simply make a few of your favourite salads!
Some of my favourite vegetable dishes to include in a Middle Eastern appetizer platter are:
A tray of roasted eggplant, red peppers and tomato halves
Sundried tomatoes
5. Honour your proteins
Your Middle Eastern Appetizer Platter doesn't have to be vegetarian or vegan. Perk it up with interesting proteins, but keep them sparse to avoid overcrowding. These should be the jewels in the crown, not the main affair!
My favourite protein-based Middle Eastern appetizers are:
6. Dips and spreads help set the stage
To make all those veggies and proteins go down easy, offer a few dips or spreads as part of your Middle Eastern appetizer platter. These can be served in a few mid-sized bowls for dipping, or in a little pitcher for easy pouring.
My favourite mezze-style dips and spread include: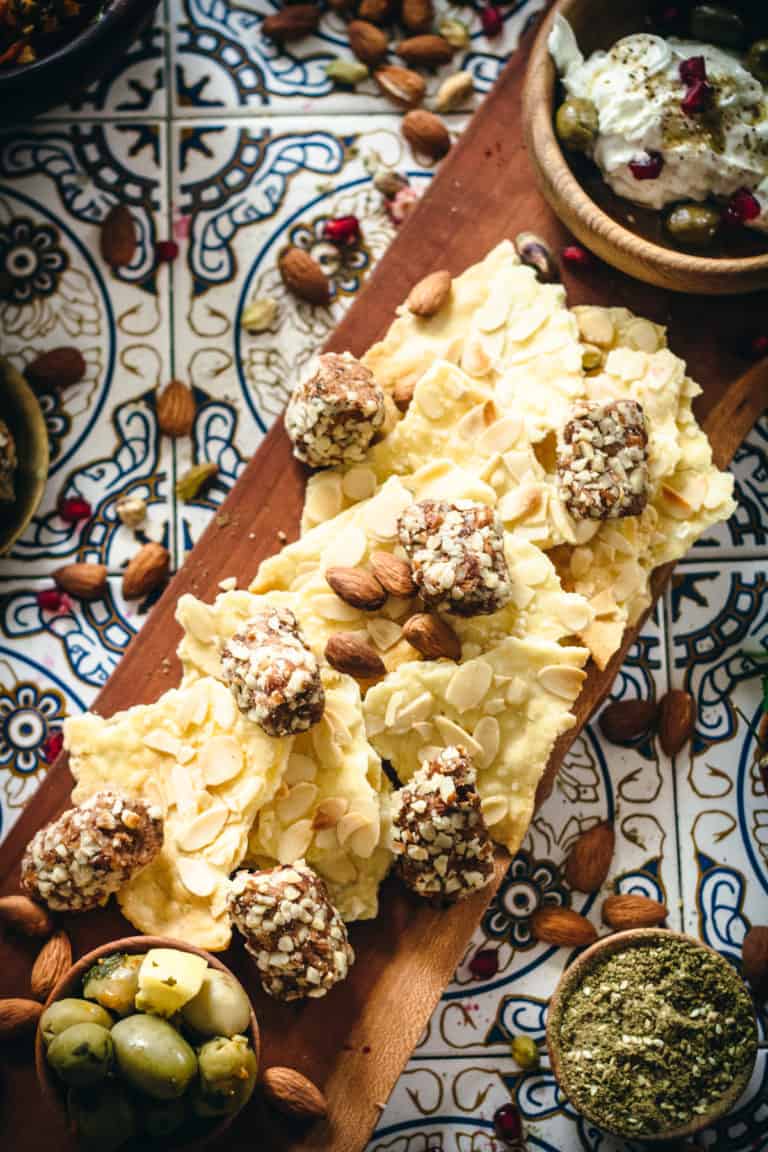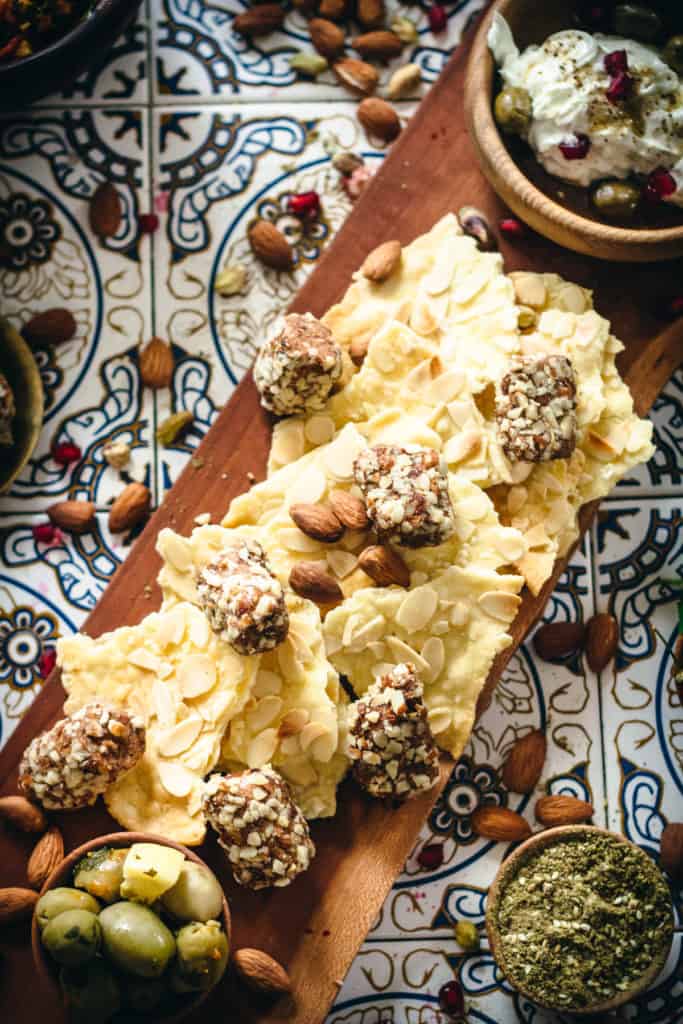 7. Think beyond the carbs
For spooning all those delicious dips and spreads into your mouth, my favourite vehicle is gluten-free almond lavosh. You can also go with store-bought grilled pita slices, dressed up with some olive oil, or grissini. But don't be afraid to think beyond the carbs! Cucumbers, carrot slices, mini bell peppers all offer great dipping alternatives.
8. Opt for ease and hit the stores
Don't be afraid to supplement with store-bought snacks. Lately, I've been boosting up my Middle Eastern appetizer platter with a generous serving of Natural Delights Almond Date Rolls. Containing nothing but dates and almonds, these babies are luscious and soft, with a texture like a brownie, but with the sweet, caramel flavour of dates. Each date roll delivers a nutritional powerhouse in one quite bite, and I find that they pair well with both sweet and savoury dishes.
Other store-bought snacks that will help round out your mezze platter include:
olives in a variety of colours and fillings
mixed nuts - walnuts, pistachios in the shell and almonds with the skin on are my favourite to pair with Middle Eastern appetizers
Pomegranate - take out the arils for ease of eating, or just serve it broken into parts that people can individually pick up and snack on
Dates and other dried fruit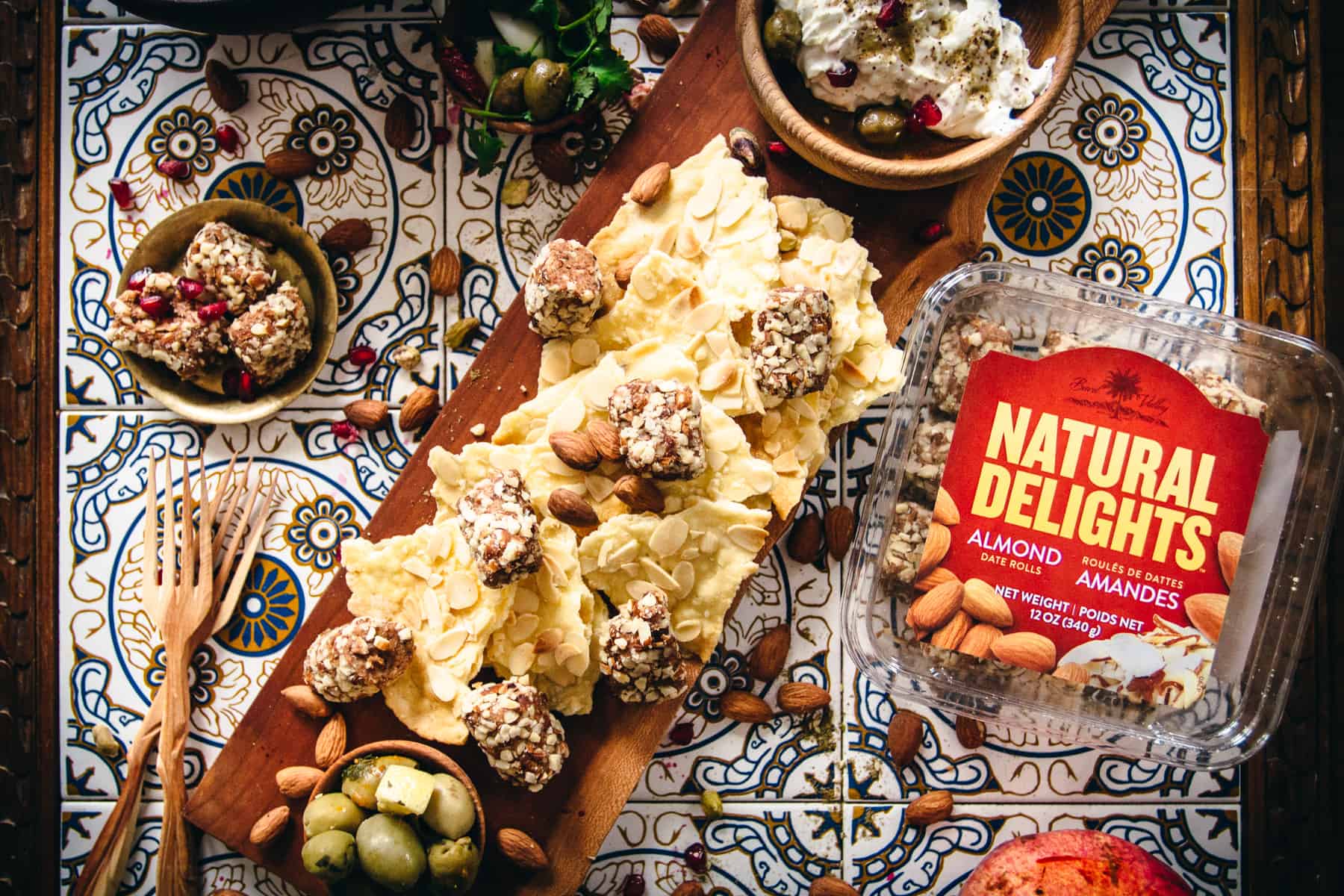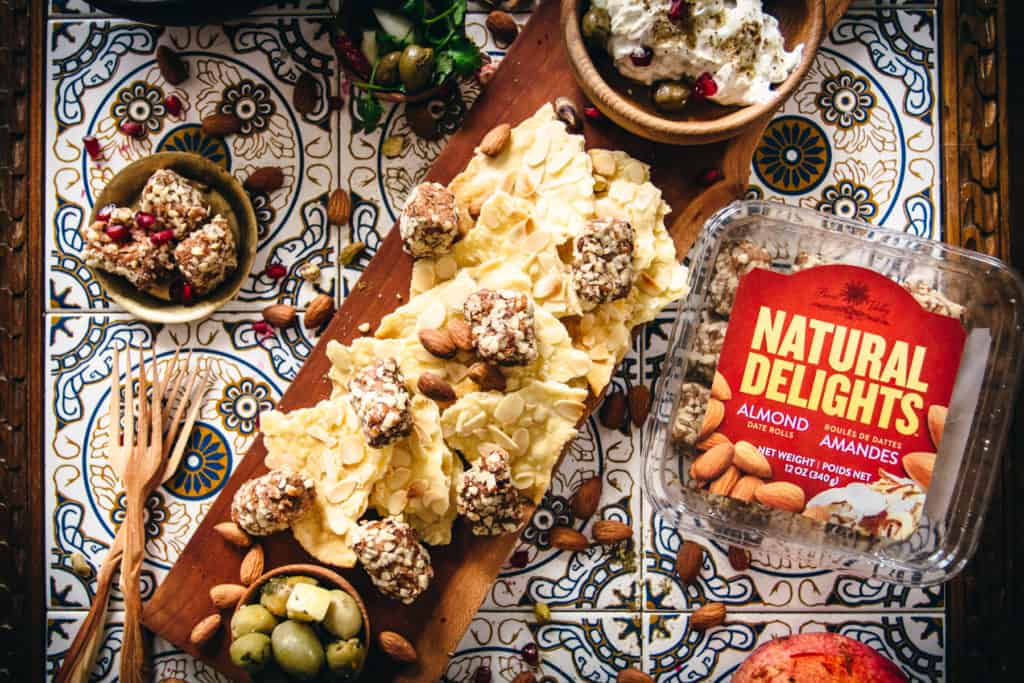 My go-to Middle Eastern snacks
I often get asked, what are some popular or typical foods in the Middle East? What make good Middle Eastern snacks?
In the efforts of making things reeeeeally easy, I'm going to tell you my recipe for the ultimate Middle Eastern appetizer platter. No guessing and standing lost in the store!
Here's what I've been lovving for my mezze lately:
I like to serve crackling gluten-free almond lavosh that will make those going without gluten feel like a million bucks.
I pair it with whipped labaneh, sprinkled with za'atar and sesame and pomegranate seeds (the combo of creamy, sweet and savoury is truly fantastic). You can find the recipe in my ebook.
I ladle out a big bowl of my spicy Moroccan carrot salad, which goes beautifully with the rest of the strong flavours in the appetizer platter.
I remember to offer both green and black olives, and a good selection of nuts.
Going with the time-saving theme, I include Natural Delights' almond date rolls, or just straight up serve out their Medjool dates. Leo loves to steal these by the handful!
For dipping, I make a few variations of my roasted eggplant dip. Show people that eggplant is not just baba ghanoush!
More time doing what you love
Whether you follow my recipe or go on your own with my blueprint for the Ultimate Middle Eastern appetizer platter, I try to make everyone feel welcome at my table, regardless of their dietary restrictions. For that's what I think holiday entertaining should really be about: fuss-free, pain-free time spent with your loved ones.
Because that just leaves you with more time to drink wine.
I received product and monetary compensation in exchange for this post. However, I am proud to only work with those companies whose products I truly love. And as always, all opinions expressed here are my own; you can always expect me to be honest with you guys!
Tried and loved this recipe? Please leave a 5-star review below! Your reviews mean a lot to me, so if you've got any questions, please let me know in a comment.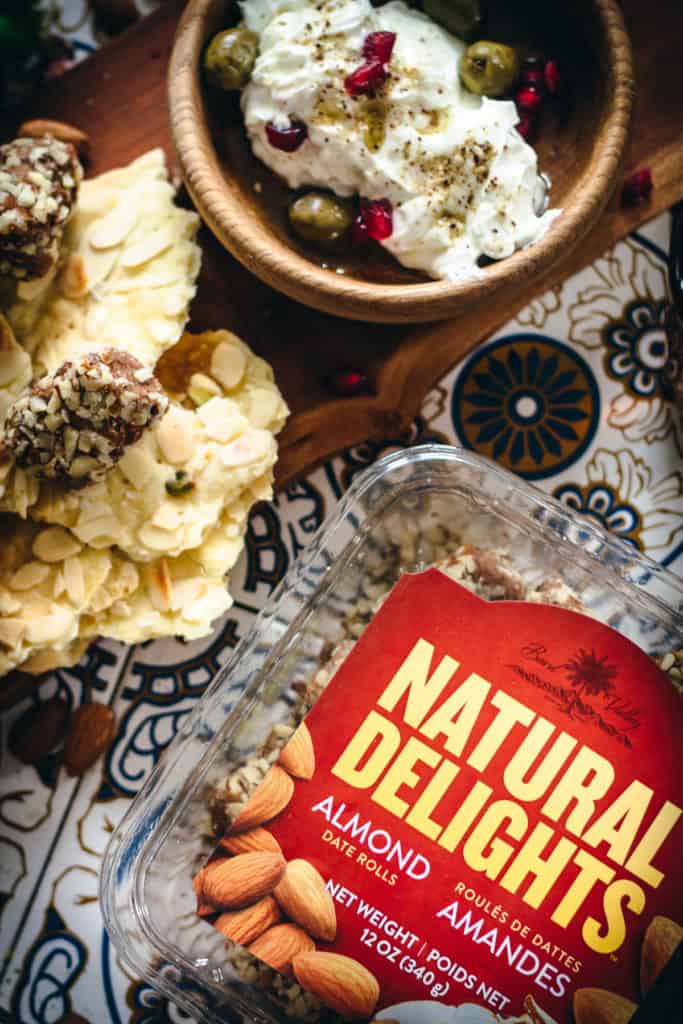 Recipe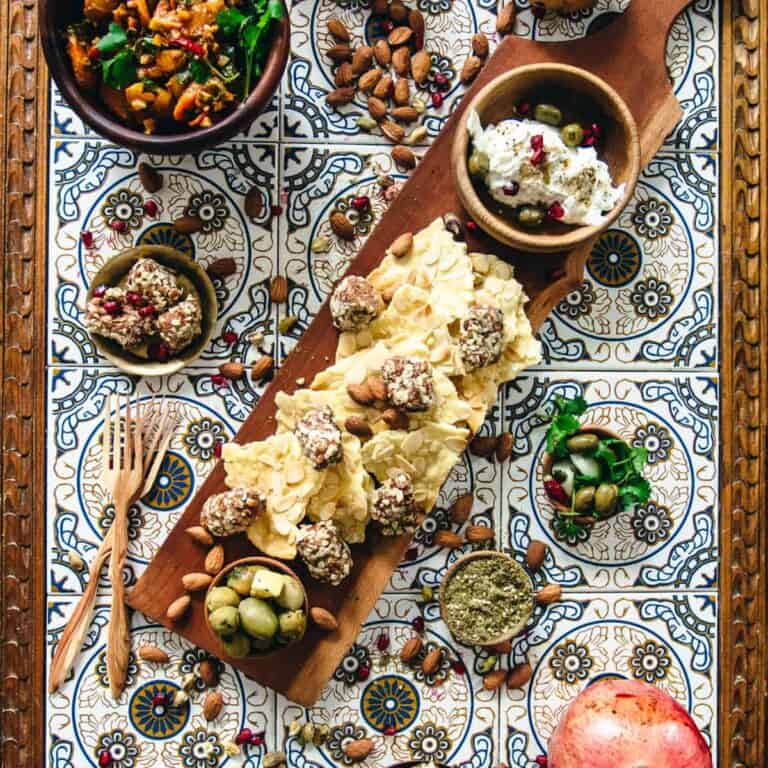 Middle Eastern appetizer platter
With this fresh, healthy and eclectic Middle Eastern appetizer platter, you can be sure that all of your guests will have something they can eat at your party, regardless of their dietary restriction.
Ingredients
Gluten-free almond lavosh crackers

https://immigrantstable.com/2015/12/10/gluten-free-almond-lavosh-crackers/

Spicy Moroccan carrot salad

https://immigrantstable.com/2015/11/30/spicy-moroccan-carrot-salad/

Whipped goat labaneh - recipe in Middle Eastern Appetizer ebook

https://immigrantstable.com/2016/04/11/middle-eastern-small-plates-recipes-preview-bourekas-eggplant-dip-almond-lavosh-carrot-salad/

Olives

Pomegranate seeds

Toasted almonds

Natural Delights almond date rolls

https://naturaldelights.com/products/almond-date-rolls

Eggplant zaaluk

https://immigrantstable.com/2015/09/29/roasted-eggplant-salad-duo/
Tried this recipe?
Comment + Rate Below!
Connect on Instagram!
Find us @immigrantstable