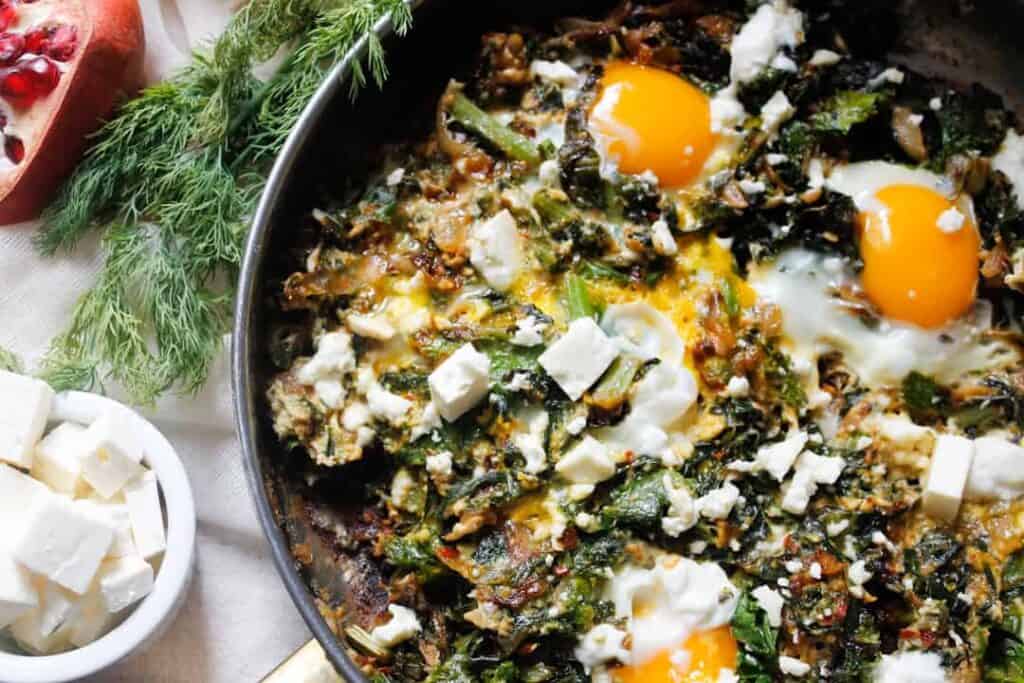 A different take on traditional Middle Eastern shakshuka, this salty and savoury green shakshuka is a perfect way to celebrate greens. It's also the star of the ultimate Israeli breakfast!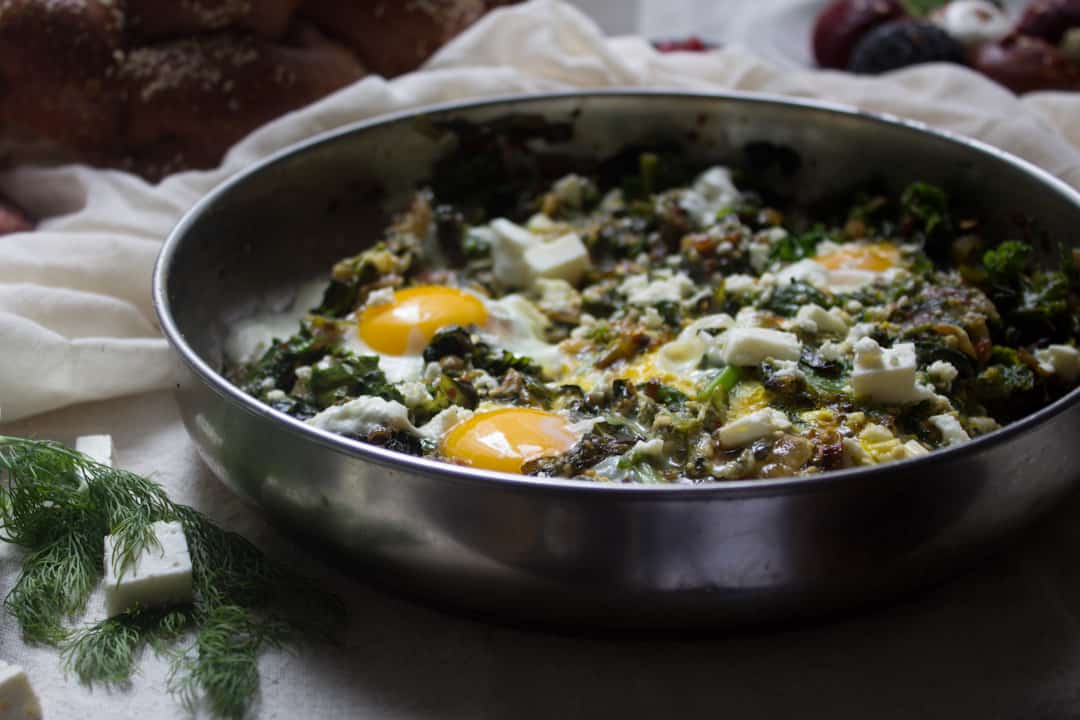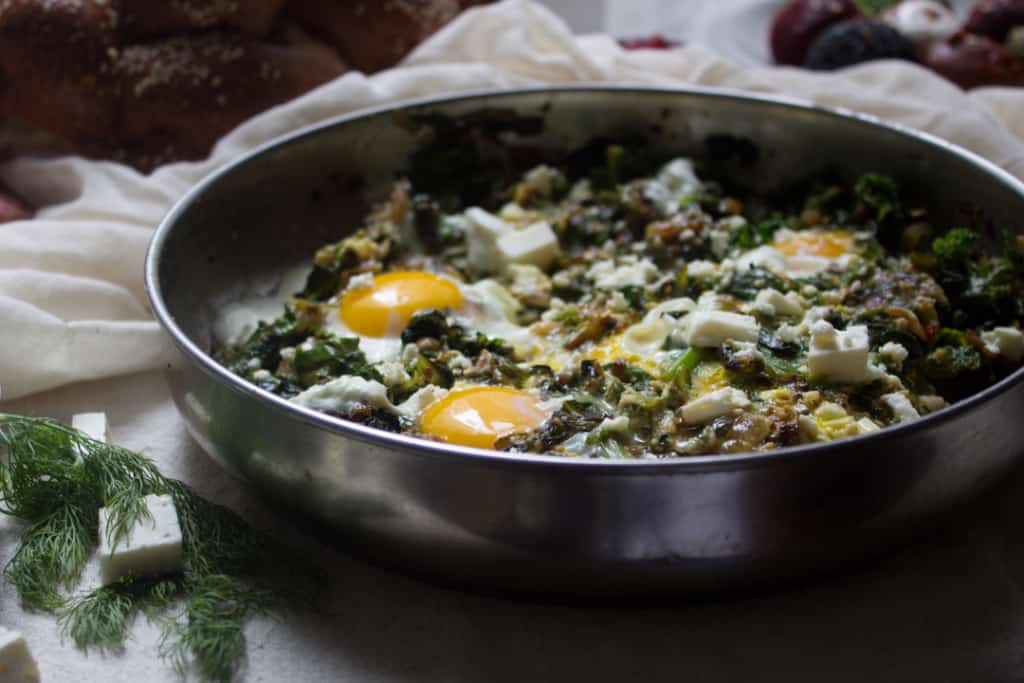 Little bowls of glossy green and black olives dot the table, their skins taught and glistening. Cherry tomatoes are overflowing from a small plate, an Israeli invention meant to deliver the most tomato flavour in one small, bite-size package. Balls of labaneh in all colours of the rainbow swim in a sea of spicy olive oil, sprinkled with fiery chilli flakes. An expert hand has prepared a finely chopped salad, flavoured with za'atar and sesame and entire orchards of lemons. A large challah sits covered with a pretty cloth, golden and resplendent with its glorious braid. And in the middle of it at all, the main attraction, the king of the feast: a large coppery pan of green shakshuka, its nests of eggs and garden greens interspersed with salty bites of feta. These are the makings of an Israeli breakfast, and I just can't get enough of it.
In various countries around the world, people have long been told that breakfast is the most important meal of the day. In Russian culture, the saying goes that during breakfast, we should eat like kings; at lunch, like princes; and for dinner, we must remember we are all actually paupers. In Britain, mornings start with a large bowl of steaming, fortifying porridge, with a side of eggs, blood sausage, beans and an unexpected fresh touch of tomato, all the better to prepare you for a busy day of work in the factories.
Each country has its own way of breaking the fast, of setting you up for the day that befits its natural bounties, its flavours, its rhythm.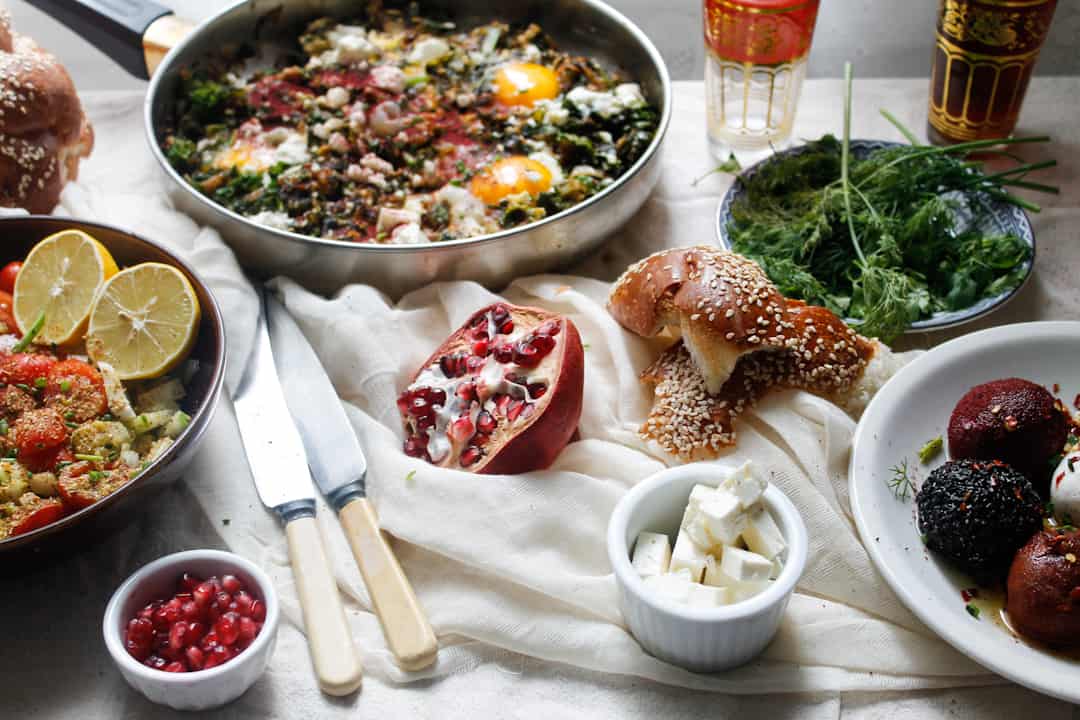 In Israel, breakfast calls for all the fixings of the land of milk and honey. One of the only opportunities to sit and linger before the day's heat breaks out in earnest, Israeli breakfasts are unhurried, lavish affairs best saved for weekends, but somehow enjoyed nearly every day.
Our tables typically overflow with dairy, eggs and vegetables. Olive oil is poured from casks, intermingled with spices to produce unforgettable flavours. Tiny, ornate cups hold prized Arabic coffee, its strong taste tamed with a touch of floral cardamom and a generous helping of sugar. Glasses of ice-cold, freshly-squeezed orange juice help to wash it all down.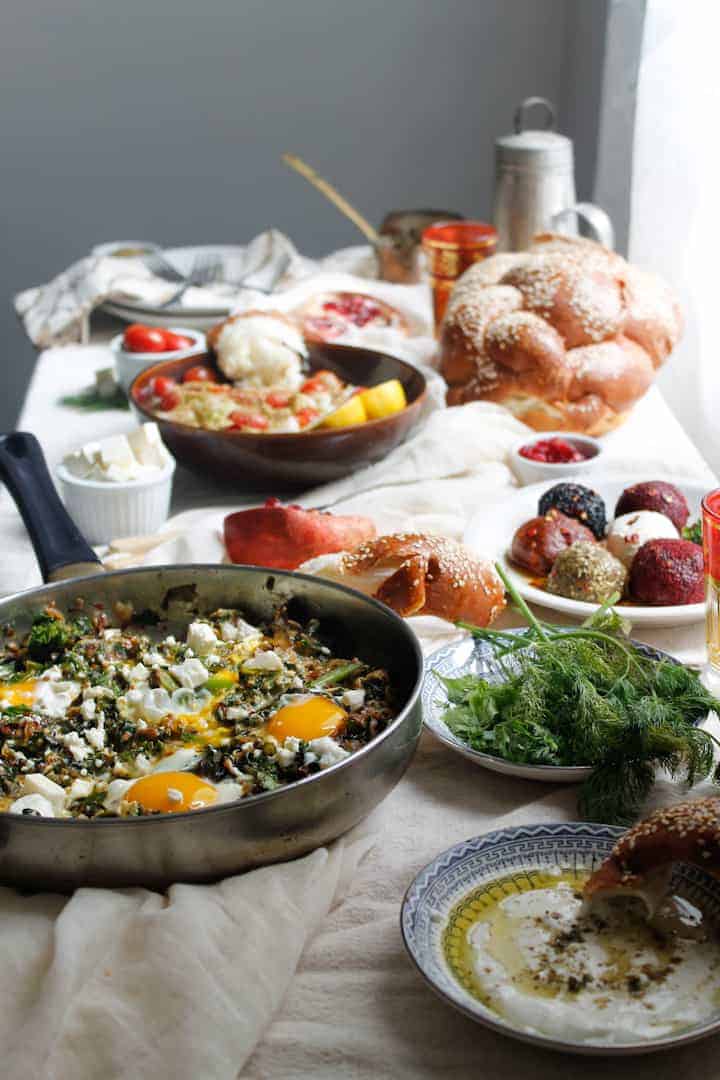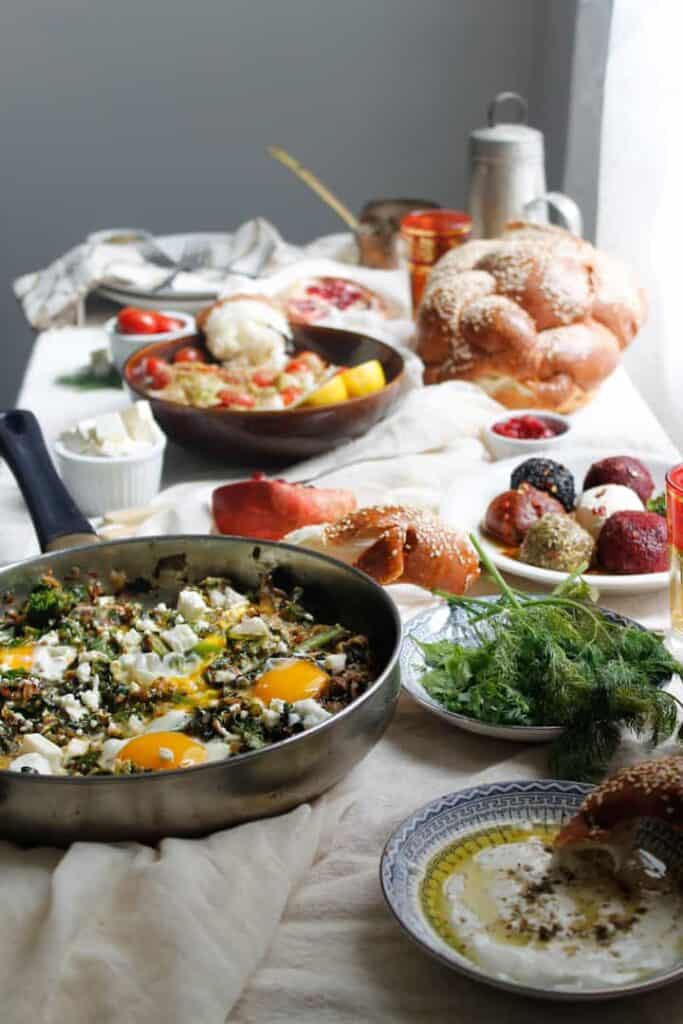 And as you sit down to eat it all, you take the time to chew each bite, to speak to your neighbours, to truly get to know those around you. Rather than just preparing for the day ahead, Israeli breakfasts are an opportunity to connect to those around us. More than anything, they are communal affairs.
In that way, Israeli breakfasts are a lot like blogging. You may think you're just getting down to business, preparing each time to write a blog post to entertain, to share your skills, to make others salivate. But somewhere along the line, amidst the comments and social media interactions and chats over too many glasses of wine, you realize you are building a community, and making invaluable friendships.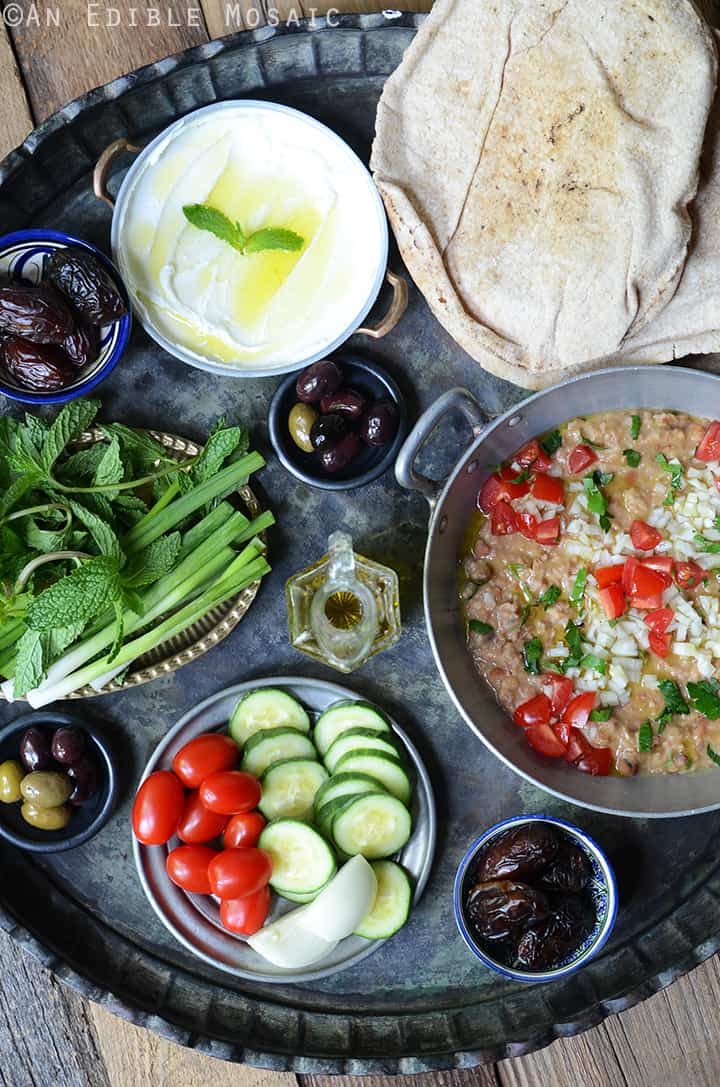 One of the first bloggers I really got to know has been Faith of An Edible Mosaic. With a remarkable eye for colour and a taste for flavours and spices, Faith truly knows her way around a Middle Eastern country. We connected over a photograph of mujadara, and a discussion of bourekas. I was smitten with her gorgeous photography, earnest, conversational writing, and inventive recipes that blend together the traditional Middle Eastern flavours she grew to love with her healthy eating philosophy.
Though I would be happy to eat any of her Arab & Middle Eastern dishes, some of my favourites are her gorgeous Tahini, Date, and Cardamom Bulgur Wheat Breakfast Bake, the traditional Vegetarian Stuffed Grape Vine Leaves, and her easy spice blends for Baharat and Ras el Hanout. And her blog isn't limited to just Middle Eastern foods, either - her Roasted Cauliflower and Pearl Barley Bowls with Creamy Tahini-Dill Dressing, Breakfast Cauliflower Hash and Russian Tea Cakes are all completely mouthwatering.
When I approached Faith for a collaboration, we quickly settled on making a Middle Eastern-inspired breakfast spread. As expected, Faith blew me away with her recipe for Foul Mudammas, a filling, vibrant and unexpected breakfast bean-and-egg dish. Her entire breakfast table looks so inviting, I could hardly hold myself back from jumping through the computer screen and devouring it all!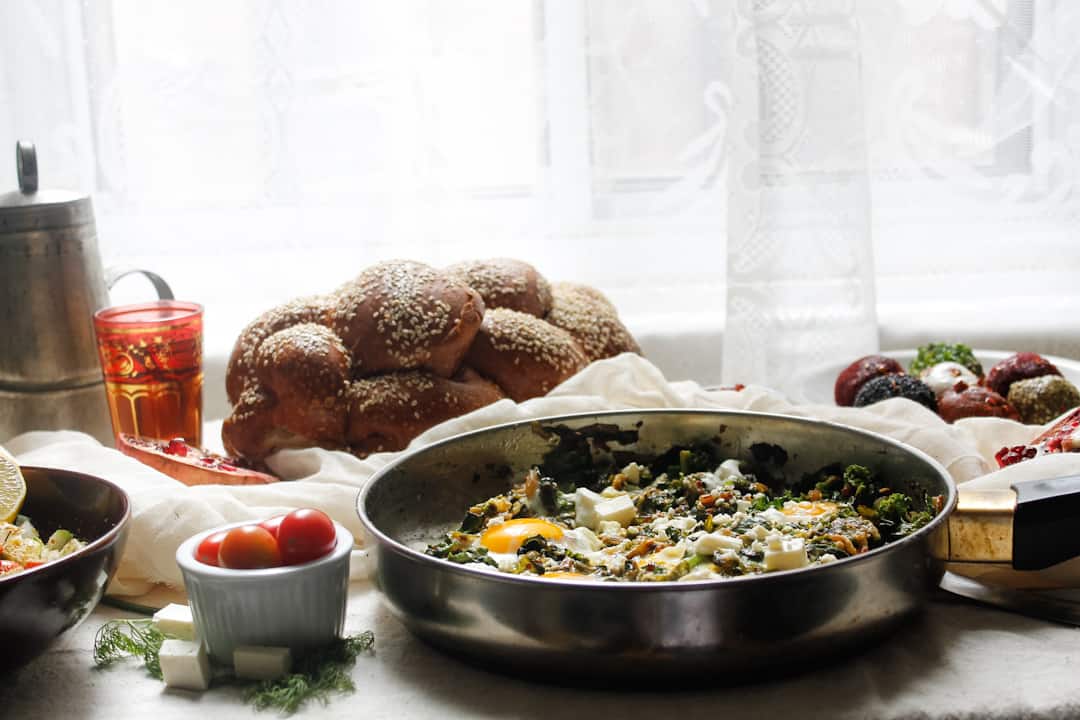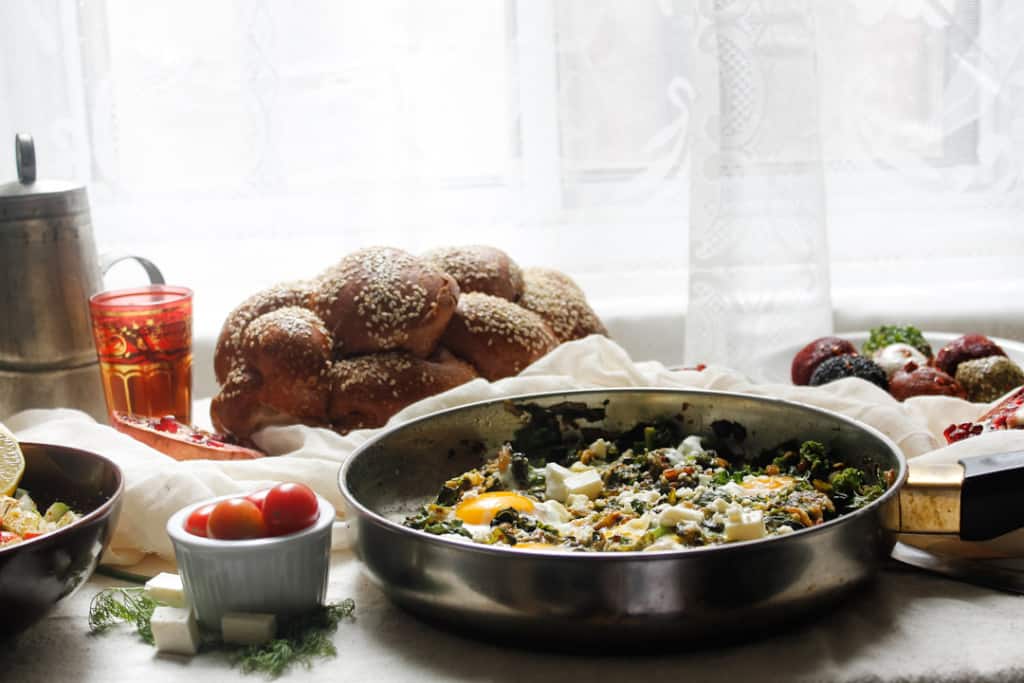 Both of our recipes are vegetarian, healthy, and will set you up for a day of work or play. But their entirely different flavours and stories truly showcase the diversity of this region and its cuisines. They also demonstrate that no matter what you feel like eating, there's no better way to start your day than with a languid, bright Middle Eastern breakfast.
I could see both our Green Shakshuka and Foul Mudammas living happily side-by-side at the breakfast table, enjoying a spirited conversation and sipping on boiling-hot coffee.
Check out my Green Shakshuka Story
For the full, step-by-step breakdown on how to make green shakshuka for brunch, check out my green shakshuka story!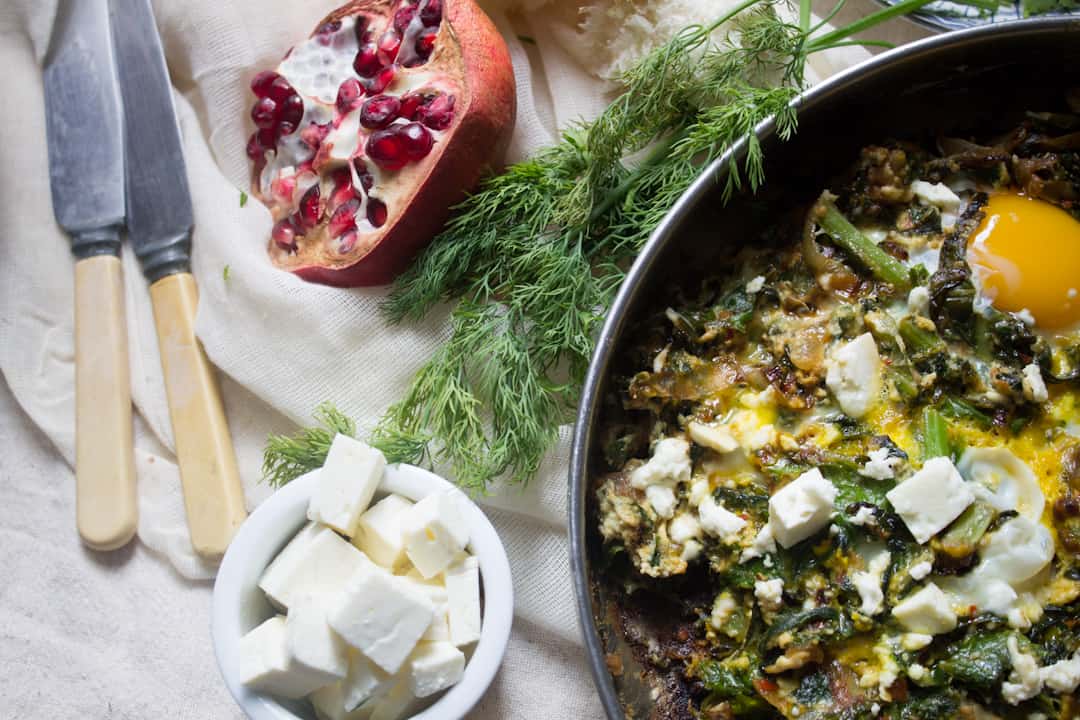 Like this green shakshuka? Share it with your friends, and check back for more recipes from my ultimate Israeli breakfast in the days to come! For more At the Immigrant's Table, follow me on Facebook, Instagram, Pinterest, Bloglovin', or Twitter, subscribe to my mailing list, or contact me about advertising and becoming a sponsor. If you make one of my recipes, don't forget to tag it #immigrantstable @immigrantstable!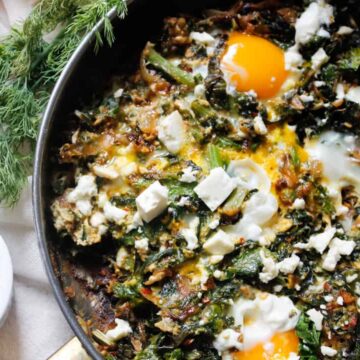 Green shakshuka and the ultimate Israeli breakfast
A different take on traditional Middle Eastern shakshuka, this salty and savoury green shakshuka is a perfect way to celebrate greens. It's also the star of the ultimate Israeli breakfast!
Print
Pin
Ingredients
1

onion or bunch of leeks

sliced into half-moons

3

garlic cloves

chopped

6

cups

mixed greens and fresh herbs

chopped into thin strips - kale, Swiss chard, Collard greens, spinach, beet greens, cilantro, dill, oregano

½

fresh jalapeno

seeded and chopped, or 1-2 teaspoons of chilli flakes

100

ml

yogurt or sour cream

A pinch of nutmeg

1

teaspoon

salt

pepper

6

eggs

100

grams

feta or fresh goat cheese
Instructions
Saute onions until translucent, about 10 minutes. Add garlic, cook an additional minute. Add chopped greens and cook until leaves are wilted, about 10-15 minutes, stirring occasionally. Add jalapeno or chilli flakes, cook an additional 5 minutes.

Add yogurt, nutmeg, salt and pepper. Create 6 nests, and break the eggs in them, stirring the egg whites completely into the green mixture. Cook for an additional five minutes, or until eggs are done to your liking.

Top with fresh feta or goat cheese (or both), and serve immediately.
Nutrition
Sodium:
1011
mg
|
Calcium:
266
mg
|
Vitamin C:
21
mg
|
Vitamin A:
5467
IU
|
Sugar:
5
g
|
Fiber:
2
g
|
Potassium:
491
mg
|
Cholesterol:
271
mg
|
Calories:
218
kcal
|
Trans Fat:
1
g
|
Saturated Fat:
6
g
|
Fat:
13
g
|
Protein:
15
g
|
Carbohydrates:
12
g
|
Iron:
4
mg