Low-carb pancakes are cloud-like and utterly satisfying, topped with healthy caramelized apples sprinkled with cinnamon and coconut sugar. A paleo breakfast recipe that will spring you into the new year, without compromising flavor.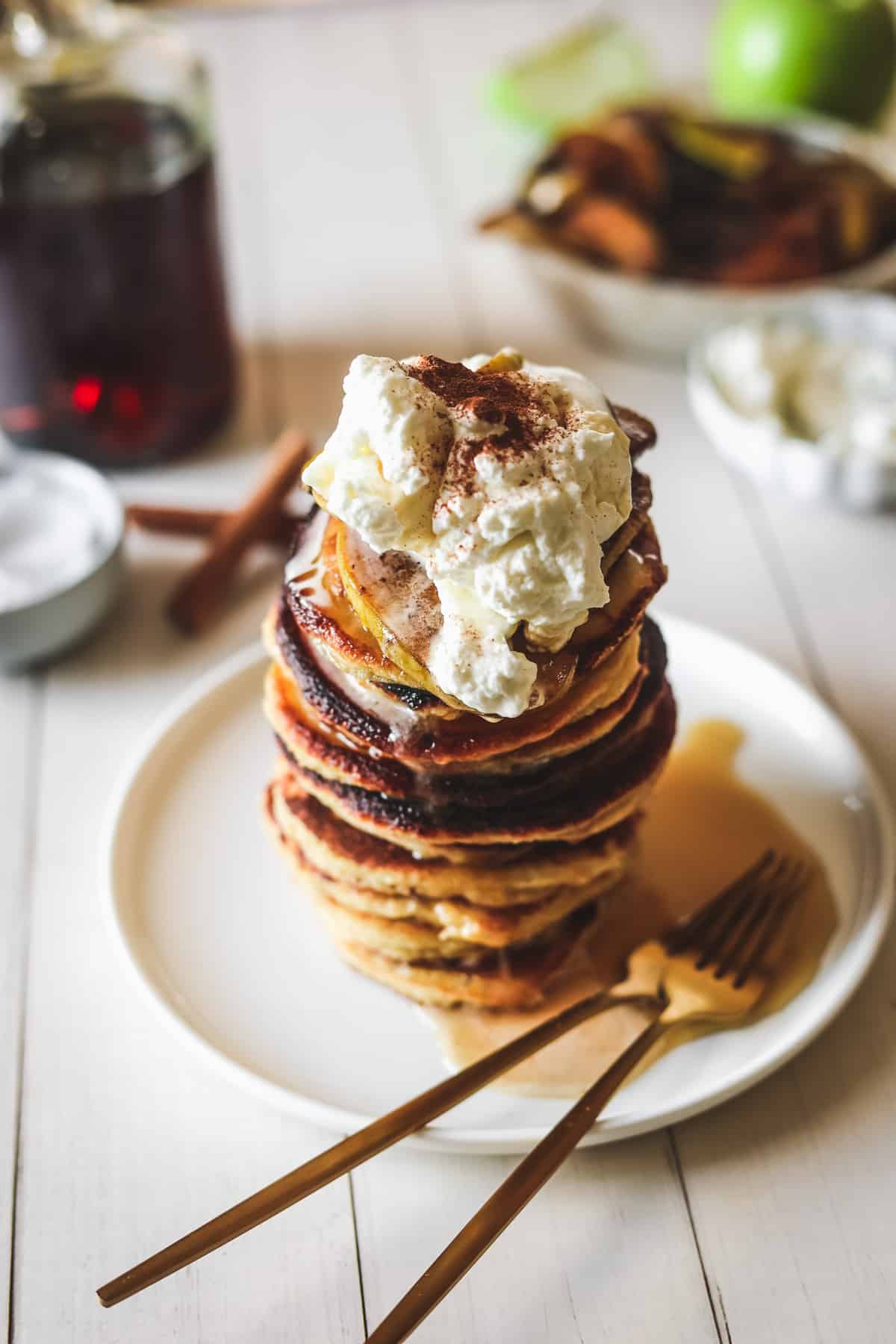 This post is a partnership with Washington Apples. Thank you for supporting the brands that make this blog possible; I am proud to only work with companies that I truly believe in.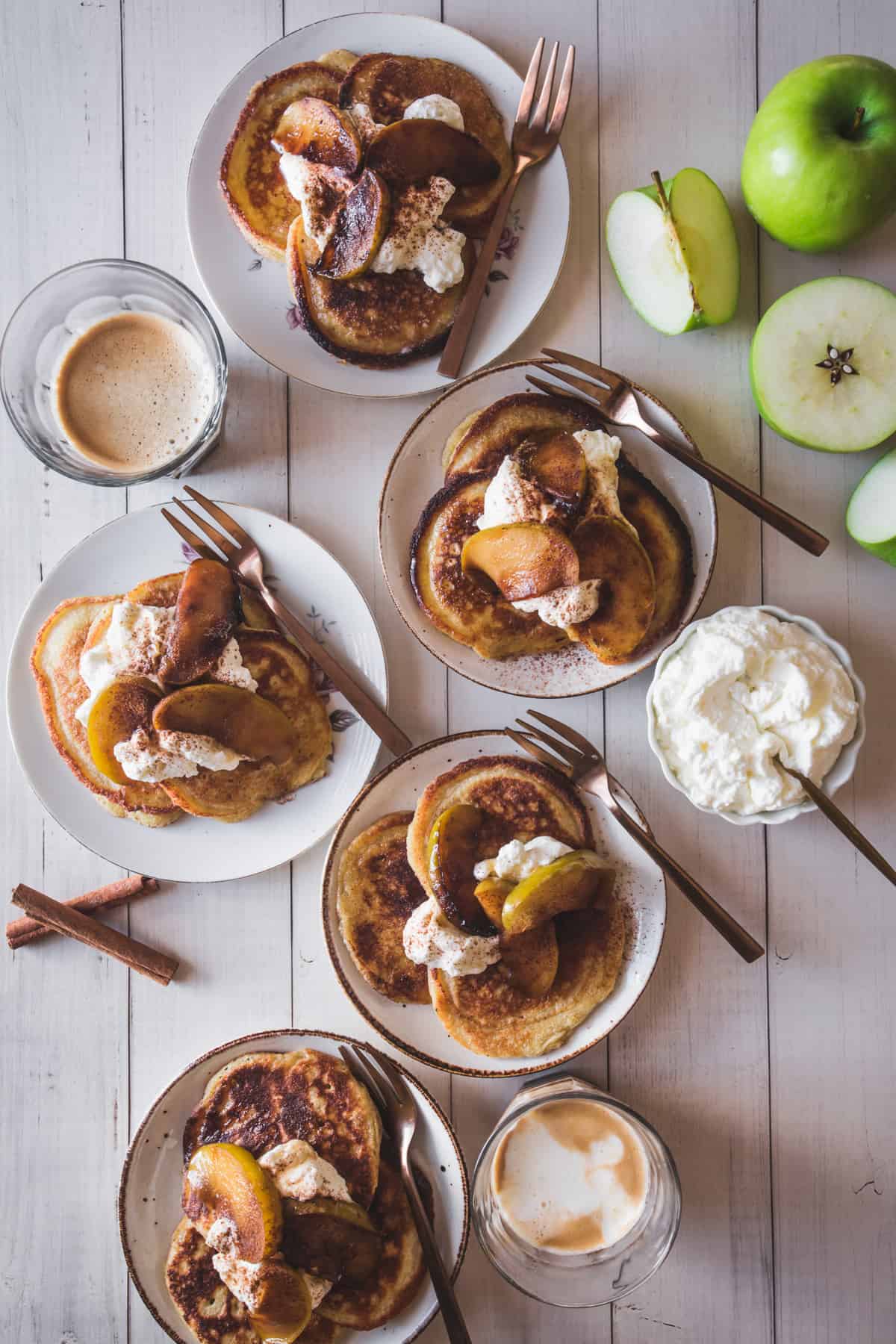 Apple Paleo Pancakes for a healthy weekend breakfast
I kid you not: my family eats these paleo pancakes with healthy caramelized apples at least every other weekend.
My son is a huge fan of apples of all kinds (Cosmic Crisp and Gala apples are his favorites!). I, on the other hand, am a huge fan of low-carb breakfasts. (My husband likes bread with peanut butter. He is not part of the breakfast equation).
This mother's everlasting quest to find the perfect low maintenance breakfast has led me to develop this recipe: low-carb pancakes made with almond flour and applesauce, and topped with glazed healthy caramelized apples, sprinkled with cinnamon and sweetened with coconut sugar. No refined sugar, no refined flours, maximum flavor.
Whoever said there was no such thing as the perfect balance between healthy and tasty has never tasted these healthy apple pancakes.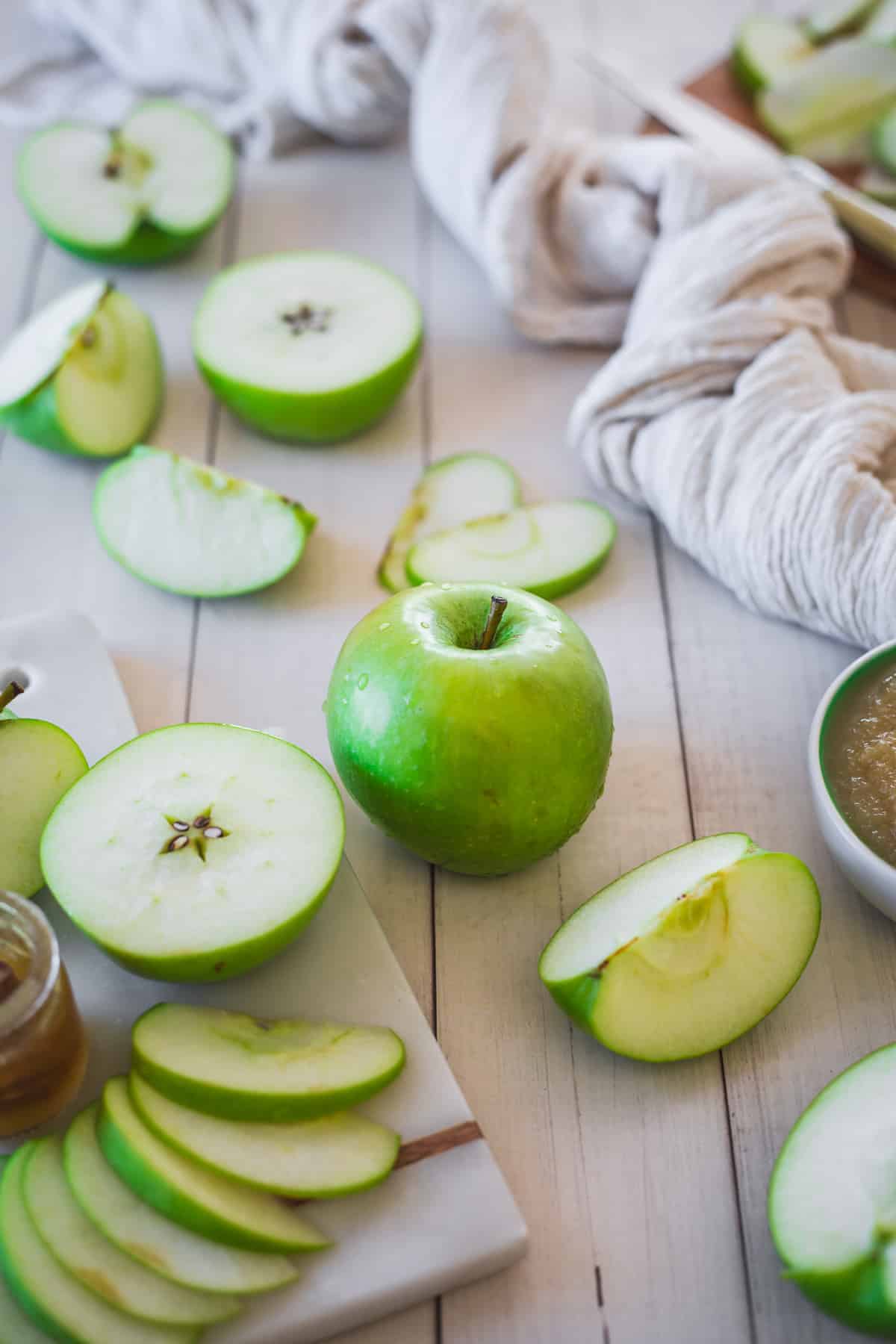 Ingredient spotlight: Organic Washington Granny Smith Apples
We all grew up with the saying that apples keep the doctor away. It might be a bit of a cliché, but the nutrients and vitamins combined with the lightly sweetened tartness of these delicious organic apples make for a rich and flavourful treat that will also keep you healthy.
I love these organic Granny Smith apples from Washington State for this recipe because of their tartness. It makes for a beautifully balanced breakfast without too much sweetness.
Washington state is best known for making some of the finest organic apples, producing more than 90% of the United States certified organic apples in every key variety. It is also one of the leading apple-growing areas in the world producing top-quality apples.
Washington's nutrient-rich soil, arid climate, plentiful water, and advanced growing practices provide a perfect formula for producing the high-quality fruit that they are renowned for.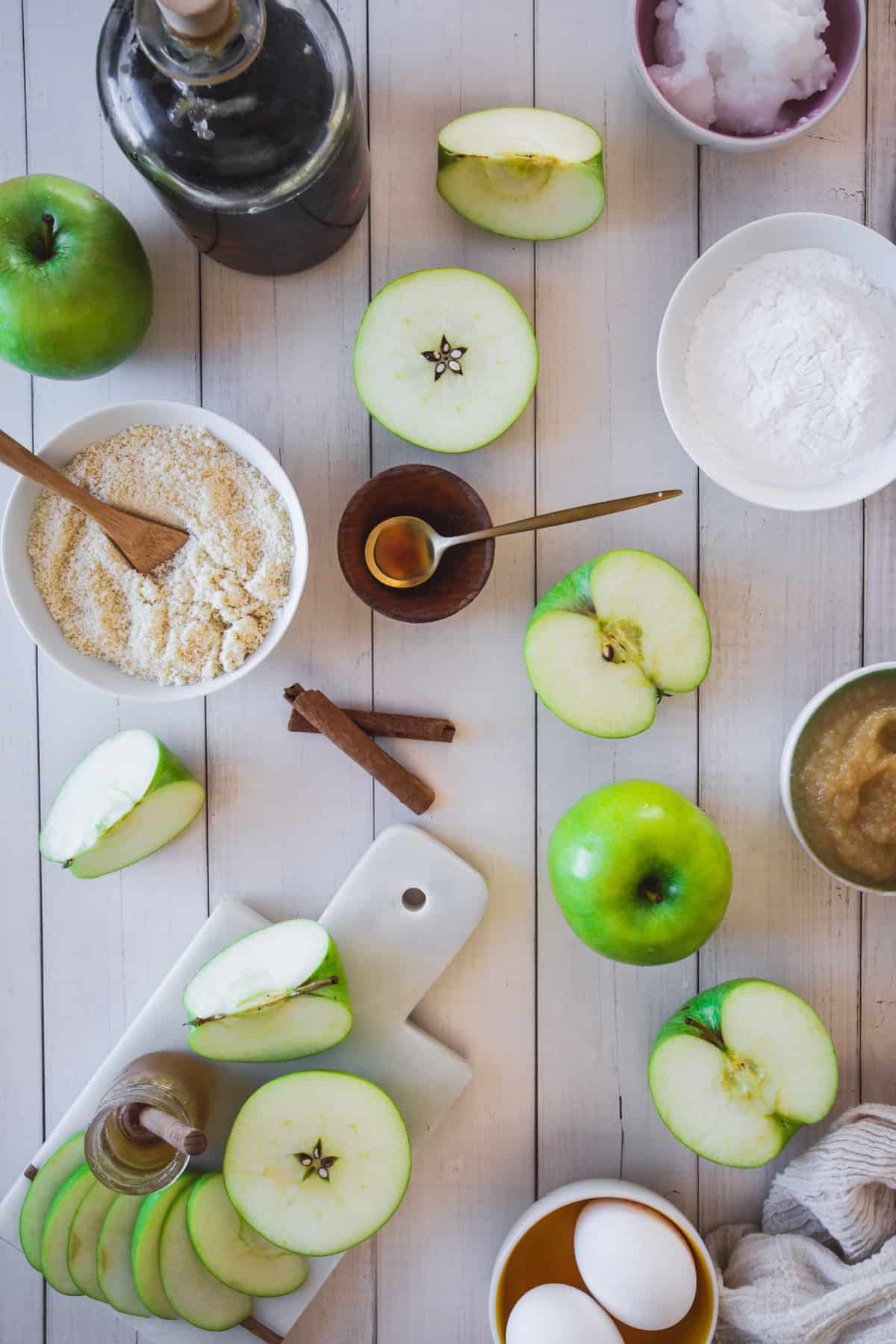 Ingredients for low carb pancakes with caramelized apples
These are the ingredients that you will need to make these healthy apple pancakes:
For low-carb pancakes:
almond flour
tapioca starch or arrowroot powder
baking powder
eggs
unsweetened applesauce
vanilla extract
maple syrup or coconut sugar
salt
Coconut oil
For healthy caramelized apples:
Coconut oil
Coconut sugar
Cinnamon
Whipped cream or yogurt, optional
See recipe card for quantities.
Equipment
Mixing bowls
Two pans
Spatulas or wooden spoons
Directions for making healthy caramelized apple topping
Making the Healthy Caramelized Apples
The first step will be to make healthy caramelized apples. Heat a large pan to medium and put in coconut oil. Once the coconut oil starts to melt, add the coconut sugar and stir constantly till it melts (about a minute). If the mixture starts to smoke, remove the pan from heat and lower the stove, then put it back on the heating element once it stops smoking.
Once the coconut sugar has melted, add in your sliced apples and stir fry them until they become soft and browned along the edges (about 10-15 minutes). Then add cinnamon and stir and continue frying for another 2 minutes until the flavors of the cinnamon have been absorbed. Set aside.
Directions for making low carb pancakes for breakfast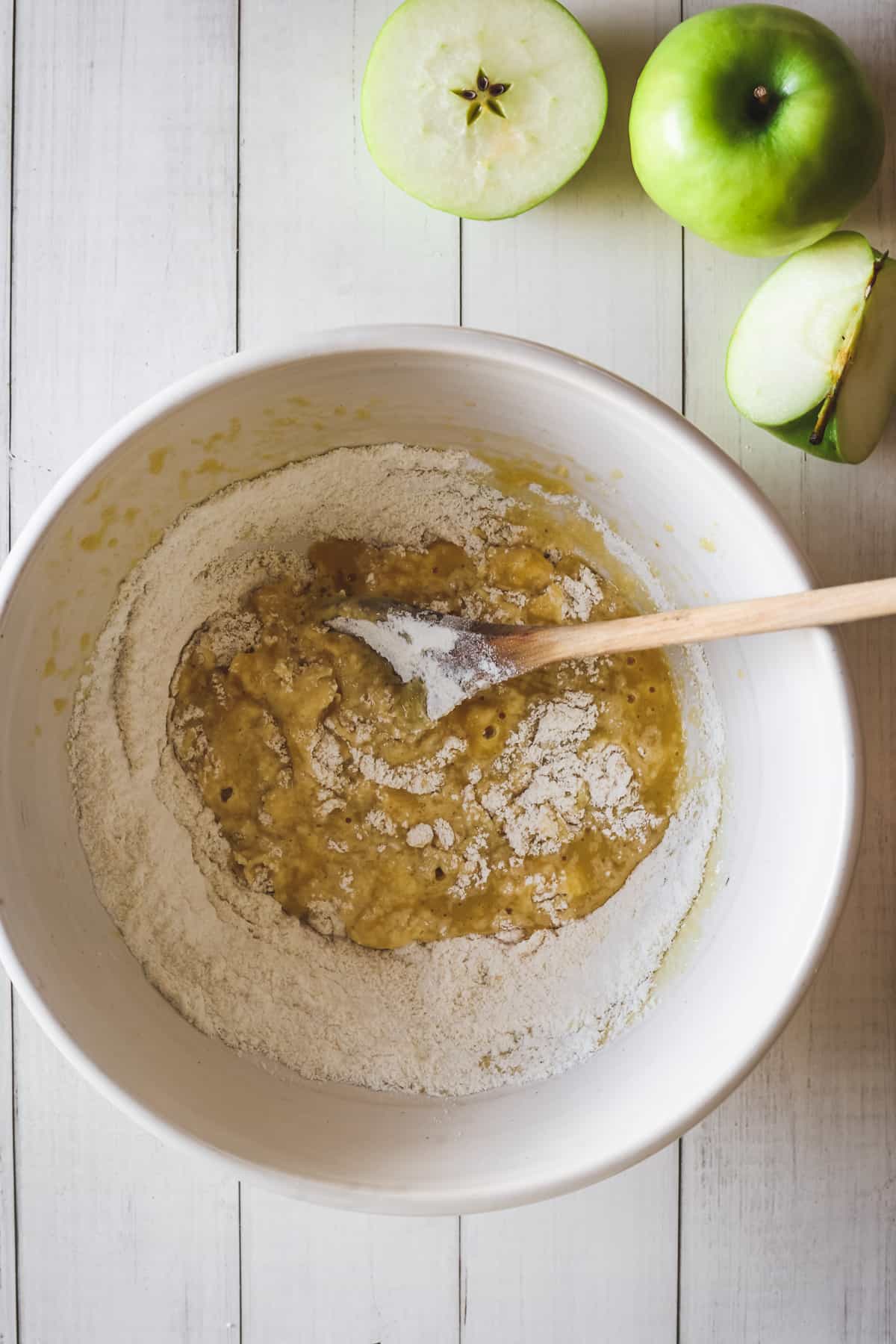 Making Almond Flour Pancakes Batter
Take a small bowl and combine all of your dry ingredients and stir till well combined. I usually pass all of my dry ingredients through a sieve to eliminate any clumps. Then, in a large bowl, combine your wet ingredients and whisk until you have a uniform mixture. Add your dry ingredients to the wet ones and stir till there are no more lumps. I sometimes use a fork or the back of a spoon to break up any stubborn clumps.
Frying the Low-Carb Pancakes
Preheat a large skillet to medium-high heat and add 1 tablespoon of coconut oil. Scooping out your batter at a ¼ cup at a time, place each pancake at least an inch apart. Depending on the size of your frying pan you should be able to fit 2-3 almond flour paleo pancakes at a time. Cook pancakes for 2 minutes on one side or until they get slightly crispy and golden brown, then flip and lower the heat to medium-low and cook for another 2 minutes. Continue until you finish up all of your batter ensuring that you grease the pan in between batches.
Low-Carb Breakfast Assembly
Once your almond flour paleo pancakes are cooked up, top with a generous spoonful of the caramelized apples, some whipped cream, or yogurt.
Storage and Making in Advance
You can store any unused batter for up to 4 days so if you are only one or 2 people, you can easily make these a couple of days in a row.
Almond Flour Paleo Pancakes can also be cooked and reheated in the microwave and can make for an excellent hassle-free low-carb breakfast at the office.
Store the cooked pancakes for about 2-3 days in an air-tight container in the fridge. The caramelized apples can be stored also for 1-2 days, but keep them in a separate container to ensure the pancakes don't get soggy.
Substitutions
Finding the best low-carb apples for these pancakes
Organic Washington Granny Smith apples are one of the best apples to use for low carb stewed apples. They keep their shape well, and are not too high in sugar.
However, if you do not enjoy Granny Smith apples or you simply don't have them on hand, I would suggest using any of apple varieties that could work equally well:
Fuji
Honey Crisp
Gala
Golden delicious
For best results, try to find Organic Washington apples.
Make these Almond Flour Pancakes with regular gluten-free flour.
If you do not have any almond flour on hand, simply switch up the almond flour and tapioca starch for your favourite gluten-free flour mix.
Making these Healthy Apple Pancakes Vegan
If you would like to make these healthy apple pancakes vegan, you can simply remove the eggs and add a little plant-based milk until you have a batter-like consistency. Applesauce is a natural emulsifier and will hold your pancakes together.
Top Almond Flour Pancake Tips
Pancakes in general are great because they are so simple and easy to make. The best tip that could offer would be to start your stove on high, then lower the temperature slightly as you are cooking these paleo pancakes. This will give you a nice golden colour to your pancakes and a lightly crispy edge.
Start by putting a drop of batter in the pan, if your pan is hot enough, it will sizzle, if not wait a minute before pouring your batter or you won't get that crispy edge on the paleo pancake. If it's smoking, remove the pan from the stove to cool off, then lower it. Once the pan stops smoking, put it back on the heating element.
Putting the pancakes in the pan at first might seem like you are at the perfect frying temperature but because the temperature is still increasing, the second batches often end up burnt. Watch your pancakes like a hawk and then after the first batch, it would be wise to slightly lower your temperature and add a little extra oil after every batch.
It's tempting to sit down and eat the pancakes as they are getting cooked but using the heating plate on the stove and waiting for the entire batch to cook is a better alternative and will avoid having burnt pancakes.
Serving Suggestions
The best way to have these pancakes would be to serve them with either homemade unsweetened whipped cream, a variety of fresh fruits, maple syrup for extra sweetness, or granola for a little extra crunch.
If you are looking for a truly low-carb breakfast, I would suggest replacing the whipped cream with yogurt instead.
Variations
Think about using this recipe with any kind of seasonal fruit that you have on hand as a variation. Think strawberry, blueberry, raspberry or peaches which would all work really well as an alternative.
Simply substitute for equal amounts of whichever fruit you select.
Accompanying Dishes
Tea or coffee goes great with breakfast. Alternatively, if you are craving something a little more elegant, try this beetroot middle eastern cardamom rose latte.
Tried and loved this recipe? Please leave a 5-star review below! Your reviews mean a lot to me, so if you've got any questions, please let me know in a comment.
For more Apple recipes:
Pin for Later!
Recipe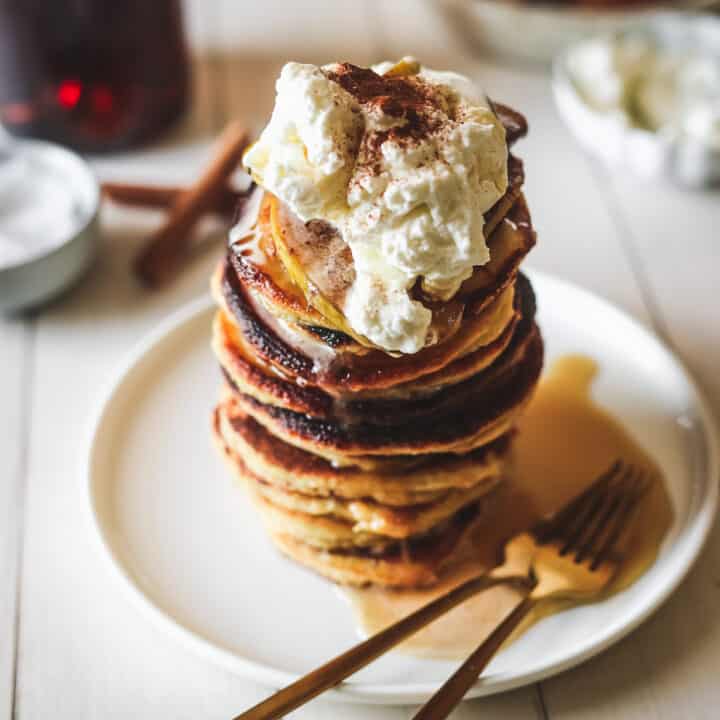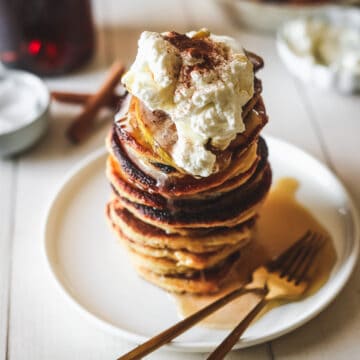 Low-Carb Pancakes with Healthy Caramelized Apples
Low-carb pancakes are cloud-like and utterly satisfying, topped with healthy caramelized apples sprinkled with cinnamon and coconut sugar. A paleo breakfast that will spring you into the new year, without compromising flavor.
Equipment
2 non-stick pans

Spatulas or wooden spoons
Ingredients
For almond flour pancakes:
1

cup

almond flour

1

cup

tapioca starch or arrowroot powder

2

teaspoons

baking powder

4

eggs

½

cup

unsweetened applesauce

1

teaspoon

vanilla extract

¼

teaspoon

salt

Coconut oil as needed
For healthy caramelized apples:
2

Organic Washington Granny Smith apples

sliced

2

tablespoons

coconut oil

2

tablespoon

erythritol or coconut sugar

0.5

teaspoon

cinnamon

Whipped cream optional

for topping
Instructions
Start by making healthy caramelized apples as they take longer to cook. Caramelized apples can also be made a day or two in advance and reheated.

Set a large pan to medium heat. Add coconut oil, and melt. Add coconut sugar and wait for it to melt, about one minute.

Add sliced apples to the pan. Sauté the apples, stirring occasionally, until they become tender and begin to brown around the edges, about 10-15 minutes. Sprinkle cinnamon and cook for another 2 minutes. Turn off heat and set aside.

In a small bowl, combine dry ingredients: almond flour, tapioca starch, baking powder, and a pinch of salt. Stir well to combine.

In a separate, large bowl, combine wet ingredients: eggs, applesauce, vanilla extract, and maple syrup. Whisk well to combine.

Add dry ingredients to the wet ingredients. Whisk together until a single batter is created.

Preheat a large nonstick pan to medium heat. Add 1 tablespoon of coconut oil. Scooping out the batter in ¼ cup-sized portions, form 2-3 pancakes at a time, leaving some room between them. Let pancakes cook for about 2 minutes on one side, then flip and lower heat to low, cooking pancakes for another 1-2 minutes on the other side. Repeat until you run out of batter.

Serve low-carb Pancakes topped with healthy caramelized apples and whipped cream, if desired.

Low-carb pancakes will keep in a sealed container in the fridge for 3-4 days. Make sure you separate the pancakes from the caramelized apple topping to avoid sogginess.
Notes
The nutritional values specified above are for the pancakes only.
A serving is calculated as 2-3 pancakes per person.
The nutritional values of the caramelized apples are:
Nutrition
Calories: 53kcal | Carbohydrates: 10g | Protein: 0.1g | Fat: 4g | Saturated Fat: 3g | Polyunsaturated Fat: 0.1g | Monounsaturated Fat: 0.2g | Sodium: 0.5mg | Potassium: 50mg | Fiber: 1g | Sugar: 5g | Vitamin A: 25IU | Vitamin C: 2mg | Calcium: 5mg | Iron: 0.1mg
Nutrition
Calories:
176
kcal
Carbohydrates:
19
g
Protein:
6
g
Fat:
9
g
Saturated Fat:
1
g
Polyunsaturated Fat:
0.4
g
Monounsaturated Fat:
1
g
Trans Fat:
0.01
g
Cholesterol:
82
mg
Sodium:
211
mg
Potassium:
44
mg
Fiber:
2
g
Sugar:
2
g
Vitamin A:
123
IU
Vitamin C:
0.2
mg
Calcium:
108
mg
Iron:
1
mg
Tried this recipe?
Comment + Rate Below!
Connect on Instagram!
Find us @immigrantstable