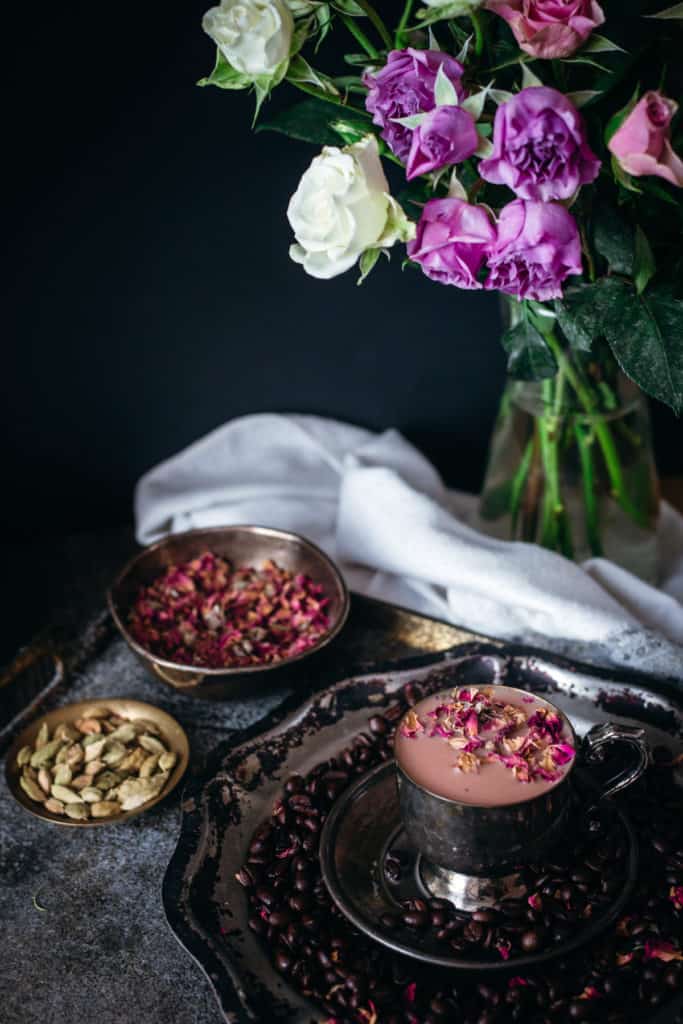 We eat with our eyes first - no words have ever been truer. And when you look at this beautiful beetroot Middle Eastern cardamom rose latte, there is nothing you'll want to do more than sip it immediately! The perfect way to start your morning, and to pamper yourself like a queen - while healing your body with the power of superfoods.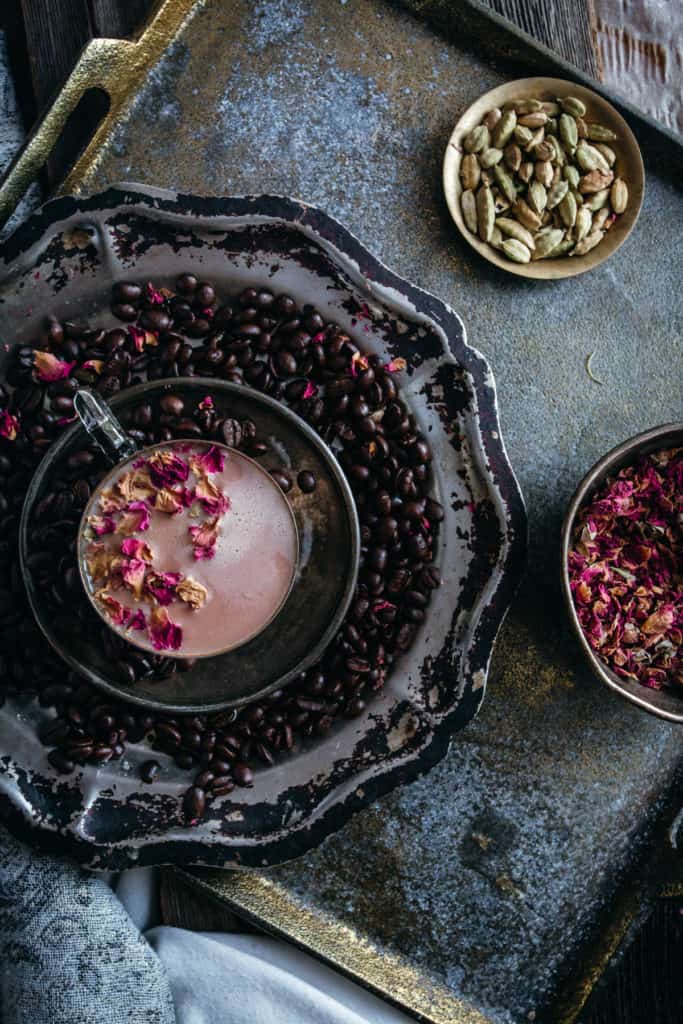 A Beautiful Way to Start your Morning
I learned to love coffee from my mother.
Each time I woke up, I would find my mother sitting at the kitchen island, her manicured hands wrapped softly around a small cup of coffee. In the morning, it would be a double espresso with frothed, warm milk on the side. After a Saturday afternoon nap, a Middle Eastern cardamom espresso with a shot of Kahlua. But at all times, my mom drank coffee.
She taught my dad to speak her love language by learning how to brew her favourite cup in the mornings. These days, my father, the typical Russian patriarch, runs to the kitchen at the break of dawn to make my mother her morning java. Because that's how you make a 30+ year old marriage work, my friends.
These days, as my son eats his smoothie-porridge concoction, I take a cue from my mom and start my morning with a tall latte - and the fancier, the better.
Being of two cultures, my heart is evenly split between strong black Russian tea, and strong Middle Eastern coffee. But starting my morning with a cup of strongly brewed black coffee or tea is no good for my digestive system, or my energy level.
So I tamper my strong Middle Eastern coffee with a healthy dose of pink cardamom rose milk - and both my eyes and my stomach can have a feast.
The truth is, I could just have a good cup of coffee with milk. But there is something so therapeutic about taking the time to:
grind my beans;
brew my coffee in my finjan;
flavour my milk with spices;
froth my milk;
pour my milk into my favourite cup;
slowly add in the coffee; and finally,
take the time to drink my latte in peace
And what could be fancier than a regular old latte? A beetroot Middle Eastern cardamom rose latte, of course! This is where I let my girly side run wild, by indulging in all that beautiful pink.
What gives my cardamom rose latte that beautiful pink hue? The secret is Beetroot powder!
The benefits of a Beetroot Latte
As a Russian, I am no stranger to beets. I am used to eating beets in my salads, soups and even sandwiches. But I knew I wanted to do something different with my beetroot powder. So as soon as my lovely beetroot powder package arrived, I decided to pair it with some of my favourite Middle Eastern flavours: fierce cardamom and delicate rose water.
Beetroot powder is simply a powder made out of dried, ground beets. It is much more concentrated than a regular cooked beet, so it is chock-full of all the nutrients and vitamins that beets have.
The nutrients in beets include:
Vitamin C
Vitamin B6
Folate
Magnesium
Potassium
Manganese
Iron
Protein
Fiber
"Good" nitrates, which contain antioxidants that help protect our heart, as they help to increase blood flow while lowering blood pressure
That means that anything made with beetroot powder is going to be a nutritional powerhouse! Beets have many additional benefits, from being good for our brains, to helping erectile dysfunction (I know!!!). So this beautiful little cardamom rose latte is going to be mighty good for you.
Coffee is a natural antioxidant. Add to that the benefits of the superfood beet, and you're looking at a nice way of treating yourself and your body with extra love and care.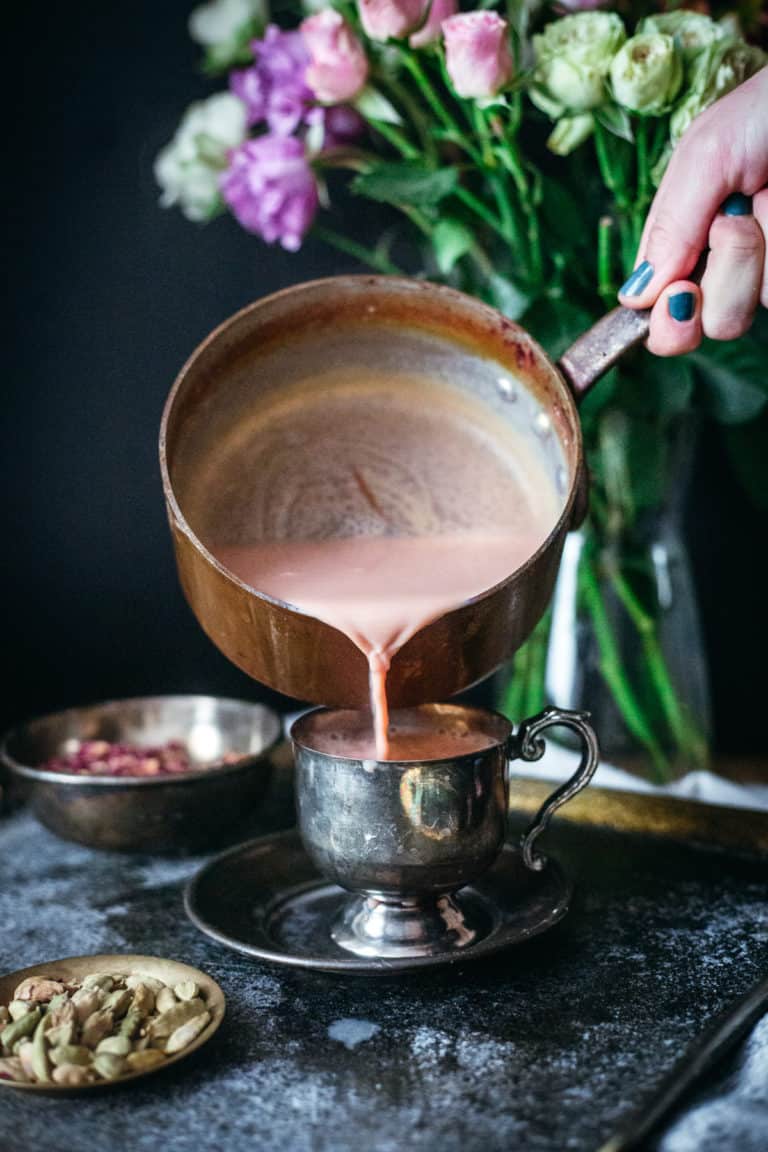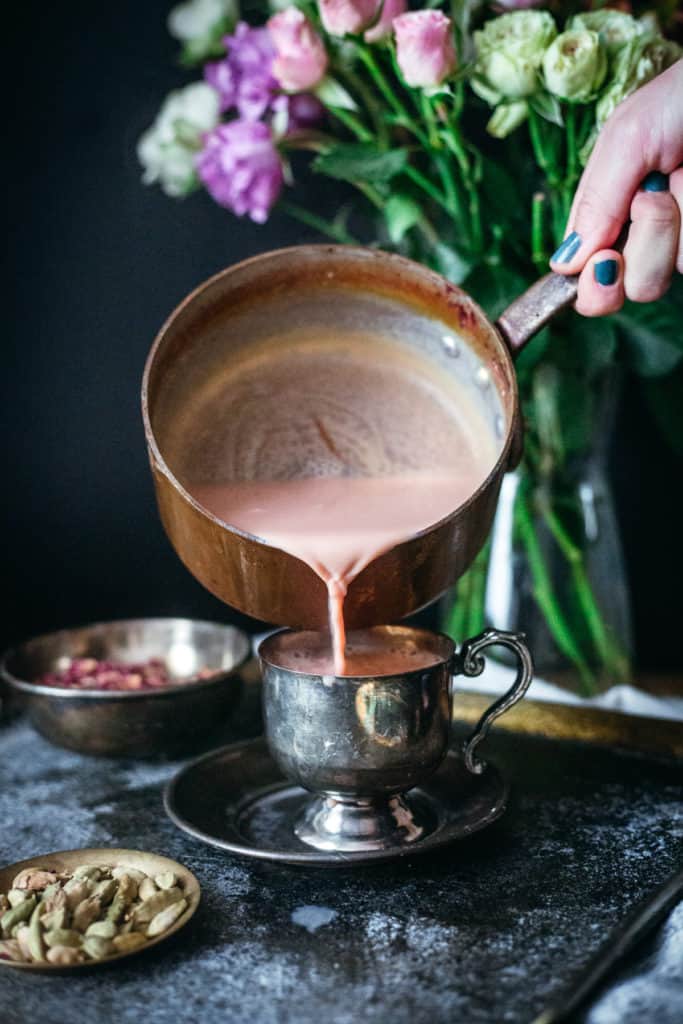 Where do you buy beetroot powder?
I bought mine on Amazon. But you can also find it in most health stores! In Canada, check out Well.ca.
What other recipes can you make with beetroot powder?
You can make simple beetroot juice by mixing one teaspoon of beetroot powder with a cup of water. I like to add ground ginger and apple juice for a delicious, oxidant-rich drink!
You can also add beetroot powder to any of these beetroot recipes: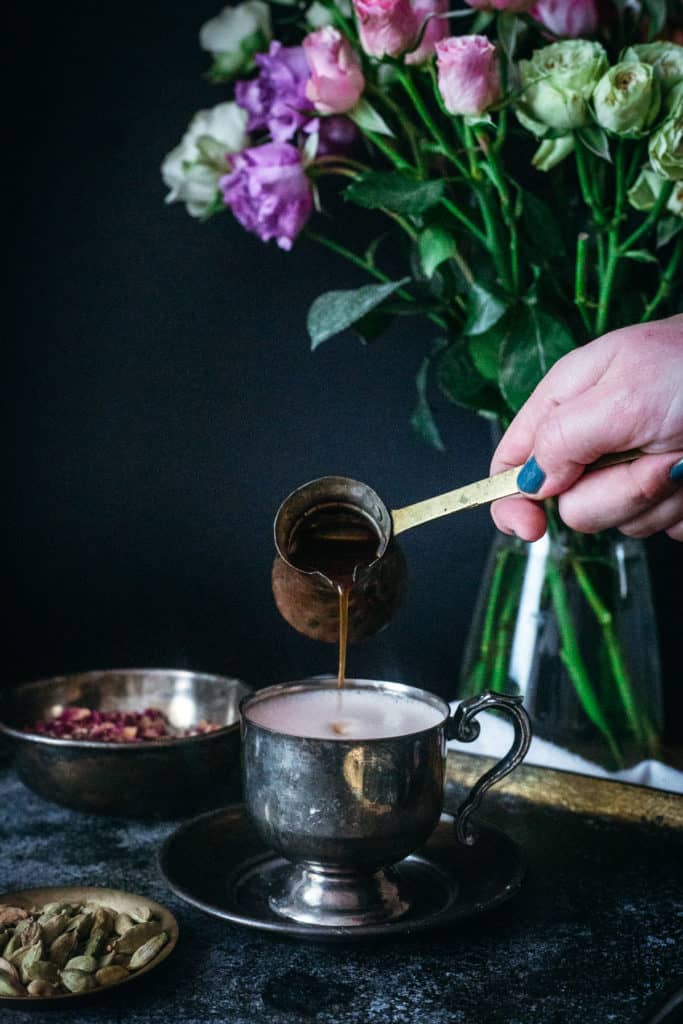 How to brew coffee for this beetroot cardamom rose latte?
The recipe for this Cardamom Rose Pink Latte is simple - but the key to making it good is even simpler: get yourself a bag of quality coffee, stat. Because good coffee starts with good beans.
Now, how do we transform good beans into good coffee? That, my friend, is the million dollar question.
First off, the best tasting coffee I found is sold in beans, which are then ground in the comfort of your home (I use my Magic Bullet to grind my beans, but you could invest in a coffee grinder - I used to have this one but I didn't love it).
My mother taught me to keep coffee beans in the freezer, which prevents them from going stale and maintains their beautiful, fresh aroma.
If you want to be a traditionalist and make a real Middle Eastern coffee, you need to brew it in a cezve or finjan. Both are names for a Turkish metal coffee pot with a long handle, used to brew coffee over an open flame. Traditionally it relies on very finely ground coffee, which is cooked on a low flame until the coffee is almost brought to a boil - three times! I have seen finjans used in Turkey, Israel, Jordan, and even Bosnia - so it really is the preferred way to brew strong, black coffee.
But I'll be honest, it is not every day that I have the time and energy to brew my coffee the traditional way. So most days, I rely on my Nespresso machine, and I fill my coffee into these reusable capsules. Much simpler, though also less romantic.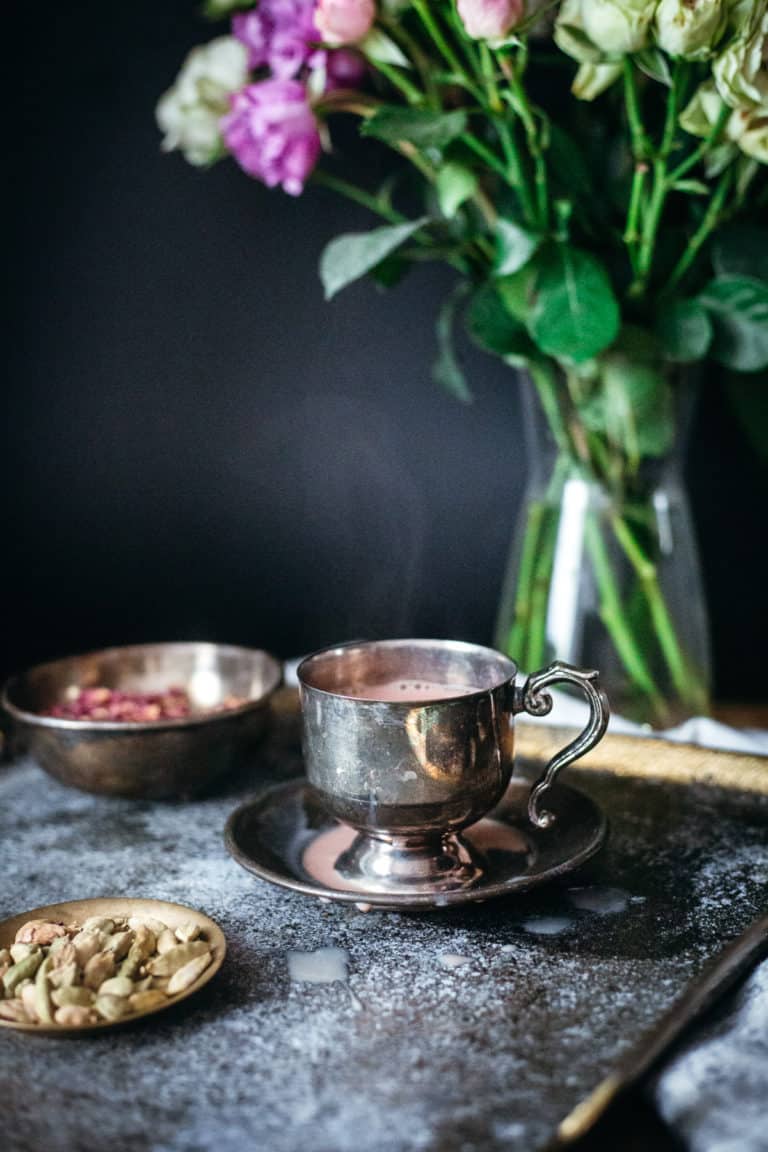 How to make Middle Eastern Beetroot Cardamom Rose Latte
Ingredients you need:
your milk of choice
Beetroot Powder
rose water
cardamom
espresso
Instructions to make Cardamom Rose Latte:
Combine milk, Beetroot powder, rose water and cardamom in a saucepan and heat till warm. Transfer to a large blender or milk frother and blitz until frothy.
Divide Beetroot Cardamom Rose milk between three latte glasses.
Add a shot of espresso to each.
Serve Beetroot Cardamom Rose Latte hot. If making in advance, Beetroot Cardamom Rose milk can keep in the fridge in a sealed jar for 3-4 days.
Can you make this beetroot cardamom rose latte vegan?
Absolutely! I drink dairy-free beetroot cardamom rose latte, and I have made it with oat milk, almond milk and macadamia milk. I have also made it dairy-based with regular milk, and it frothed beautifully! So just use whatever milk you prefer.
Can you make this a beetroot cardamom rose chai?
Yes! Omit the coffee. Use 3 cups of strongly brewed chai tea (I also like these brands). You can also use chai tea syrup - 3-5 teaspoons will do.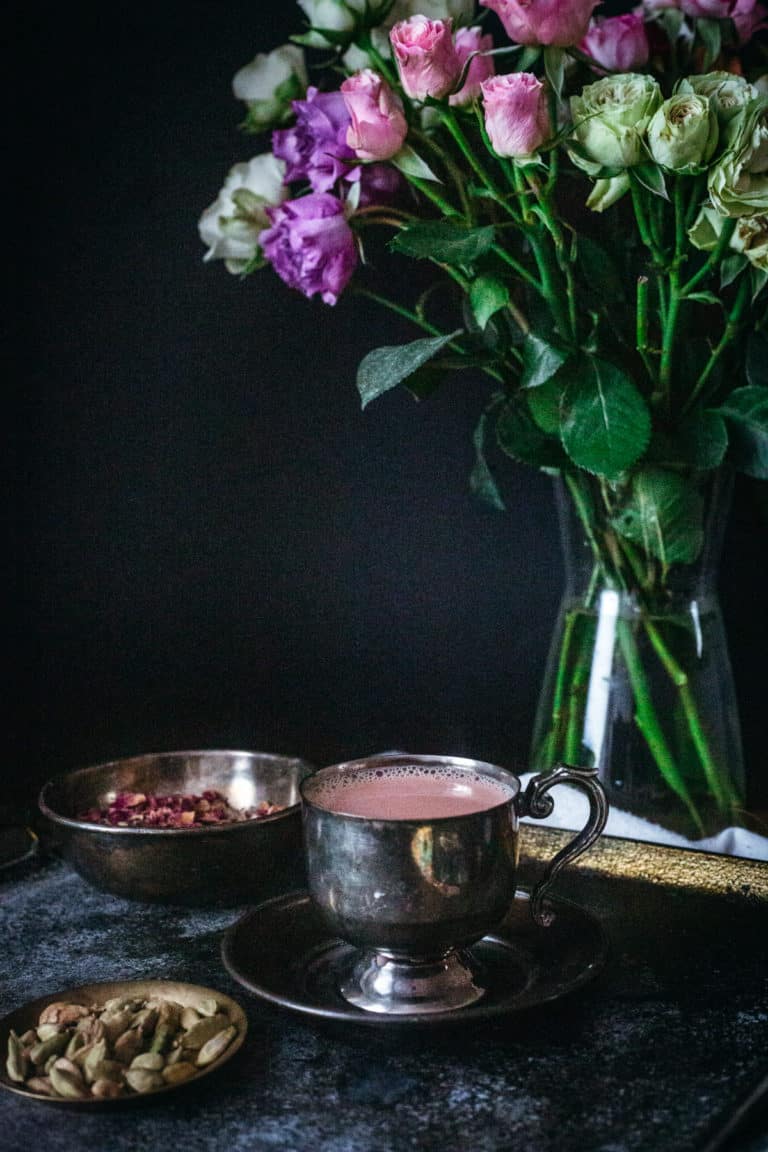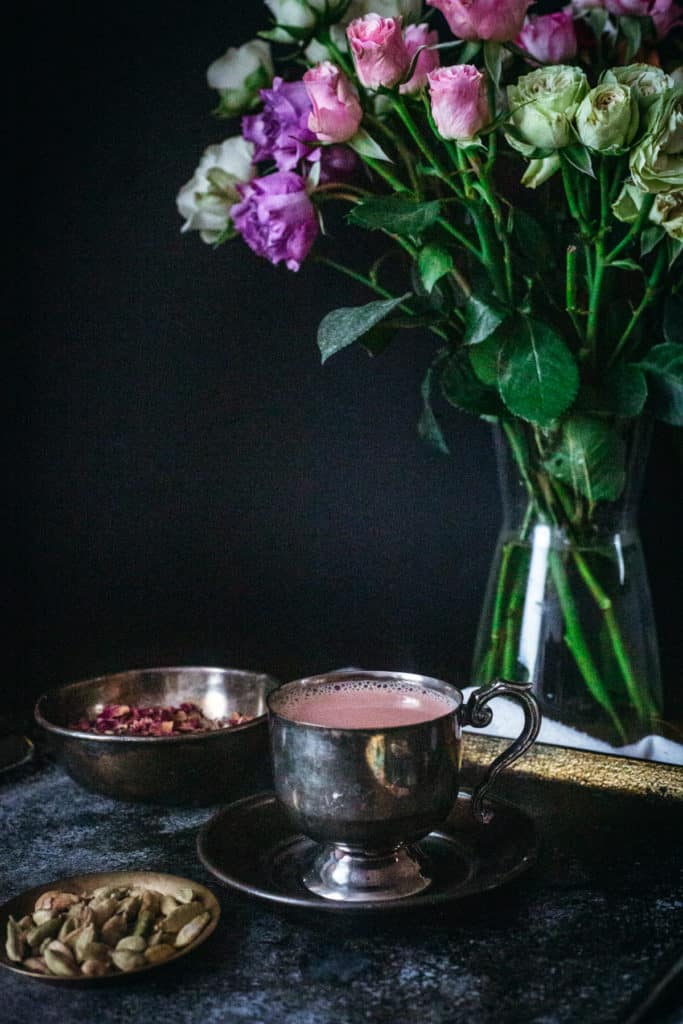 See our Beetroot Rose Latte Story!
Want to make this coffee? See our step-by-step illustrated beetroot rose latte story.
Looking for more coffee?
Looking for more things made with cardamom or rose? Try these recipes:
Looking for more delicious drinks? Try these out: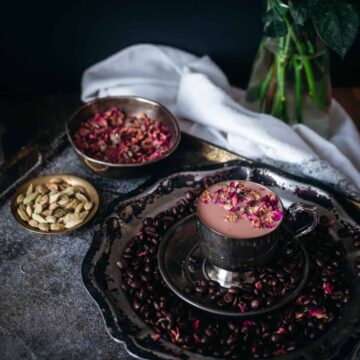 Ingredients
3

cups

Oat Milk

or your milk of choice

1

TB

Beetroot Powder

1 - 1.5

TB

of rose water

½

teaspoon

cardamom

3

shots of espresso
Instructions
Combine milk, Beetroot powder, rose water and cardamom in a saucepan and heat till warm. Transfer to a large blender or milk frother and blitz until frothy.

Divide Pink beetroot Middle Eastern cardamom rose milk between three latte glasses.

Add a shot of espresso to each.

Serve Pink beetroot Middle Eastern cardamom rose latte Latte hot. If making in advance, Pink beetroot Middle Eastern cardamom rose milk can keep in the fridge in a sealed jar for 3-4 days.