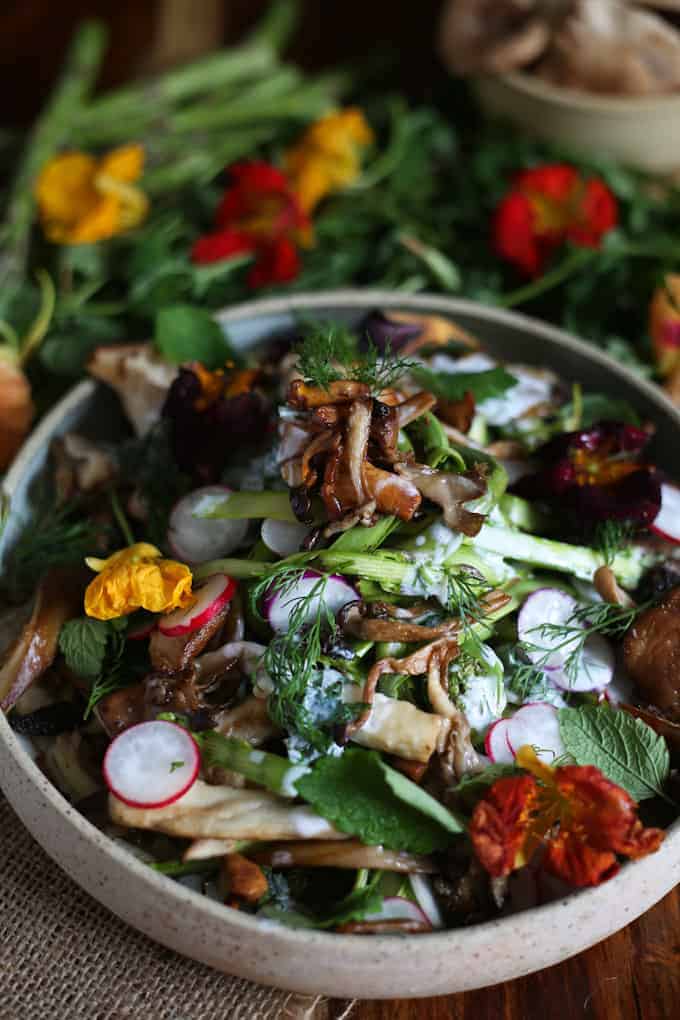 Full of delicacies like fiddleheads, asparagus, radishes, wild mushrooms and fresh herbs, this spring fiddlehead salad is a local feast.
As you walk down the street during the Montreal spring, you can't help but feel your spirit soaring. Amidst the joyful songs of birds, the blooming gardens, and the warm rays of the sun caressing your skin, you can't help but feel like you're part of a Disney cartoon. There's no better way to celebrate the season than hop on your bike, go to the nearest Farmer's Market and grab yourself all the necessary supplies for a big bowl of Montreal spring fiddlehead salad.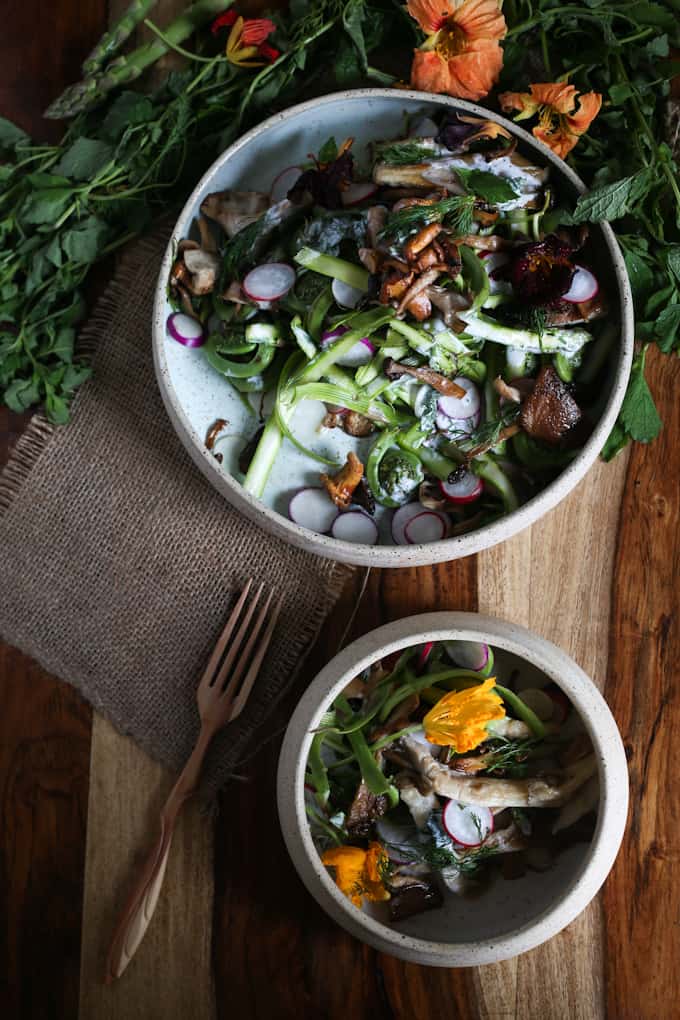 Crammed full of springtime delicacies like fiddleheads, asparagus, radishes, wild mushrooms, scallions, dill, lemon balm and edible nasturtium flowers, this Montreal spring salad is an homage to everything that is beautiful, vibrant and green in the season. At a time when we are still excited over any sprig of local produce and when any fresh, pesticide-free strawberry is a perfectly acceptable excuse to whip a bowl of clotted cream, this salad is the perfect celebration of local bounty. Every ingredient here came from my favourite Farmer's Market, and it a reflection of my terroir during this exciting citizen.
And the best part is, this fiddlehead salad is entirely customisable! Don't have local asparagus where you're from? Use shaved cucumbers. Can't find wild mushrooms to save your life? Use local farm-raised ones. Looking for more protein? Add a hard-boiled egg, or tendrils of local smoked salmon. Don't go running around stores looking for all the necessary ingredients; if your nearest farmer's market doesn't carry it*, then it probably doesn't belong in this spring fiddlehead salad.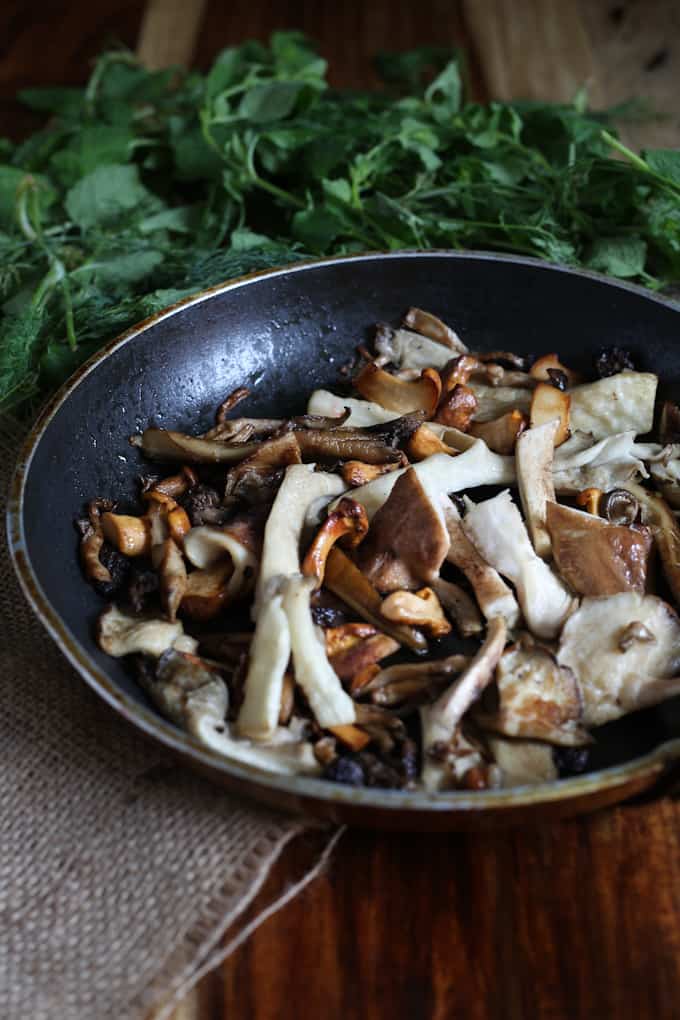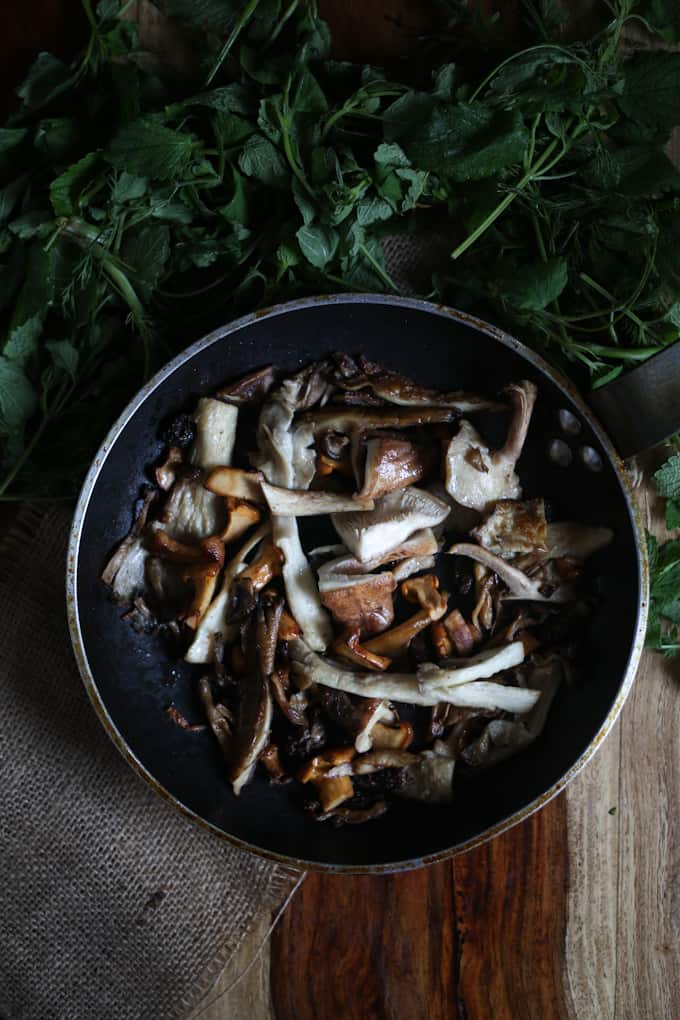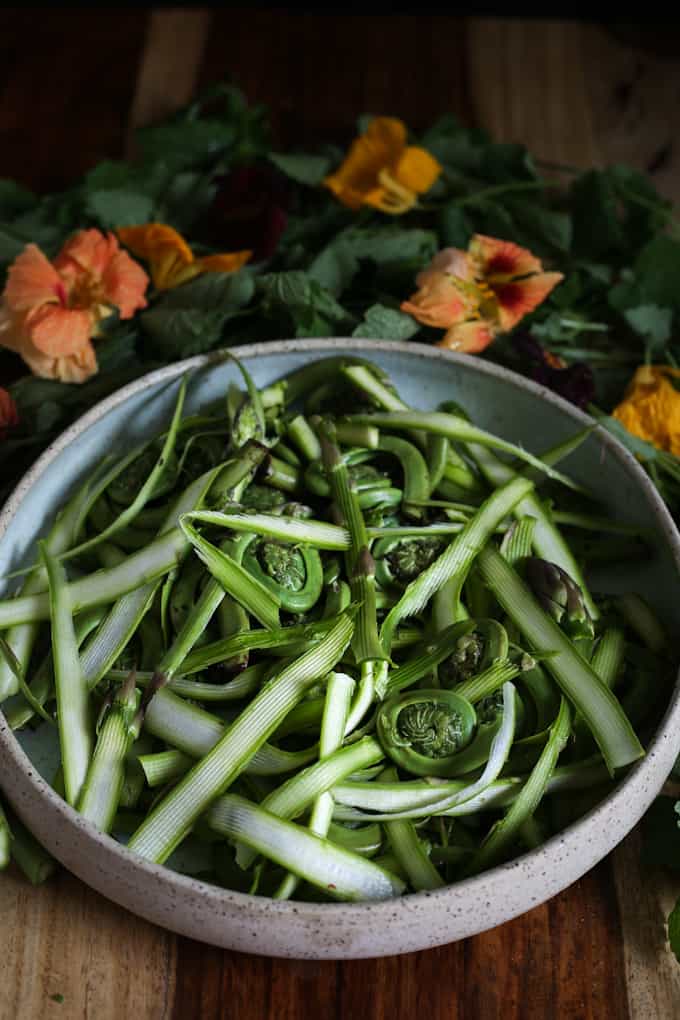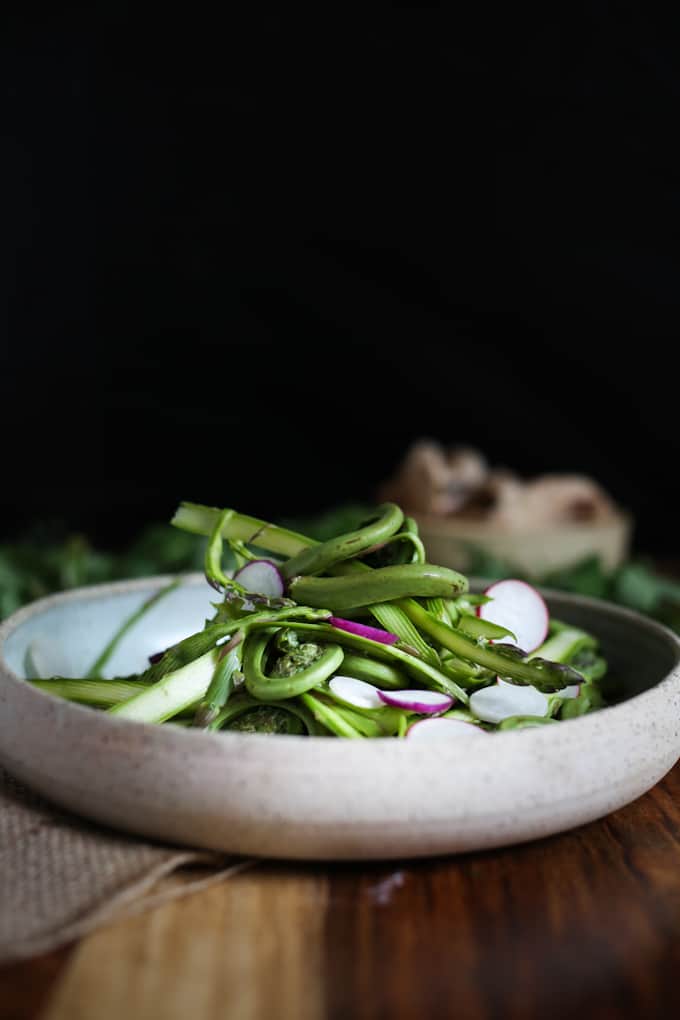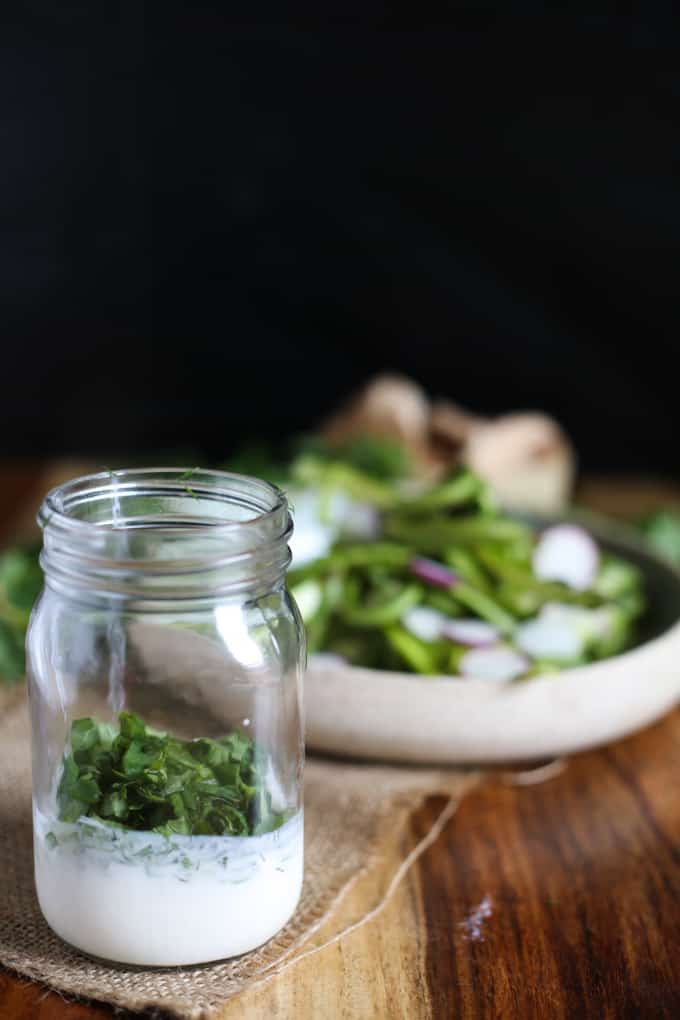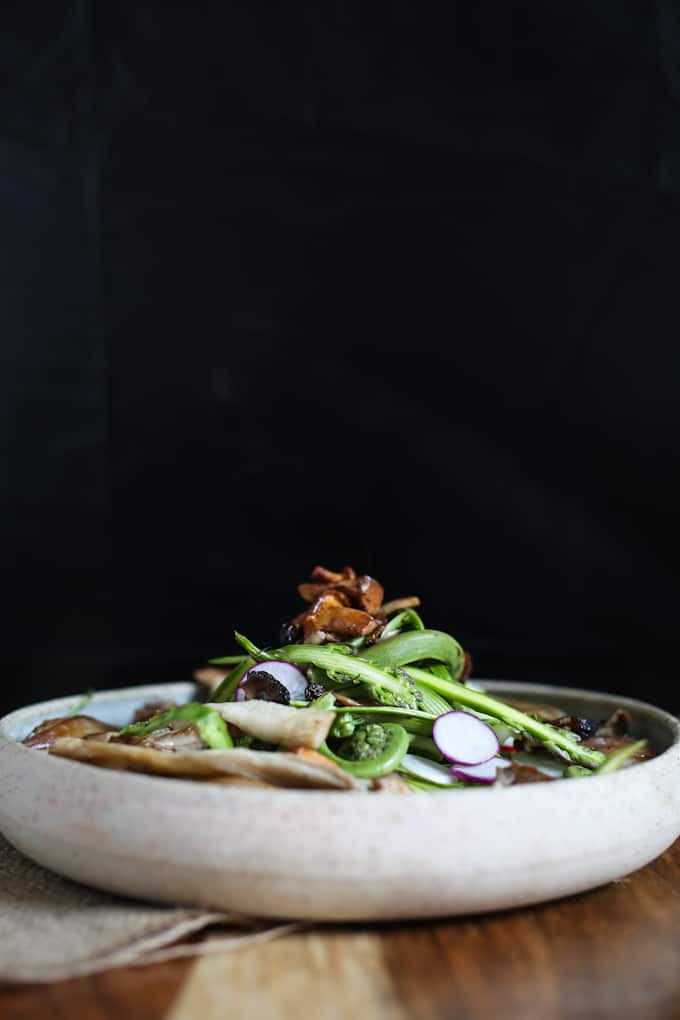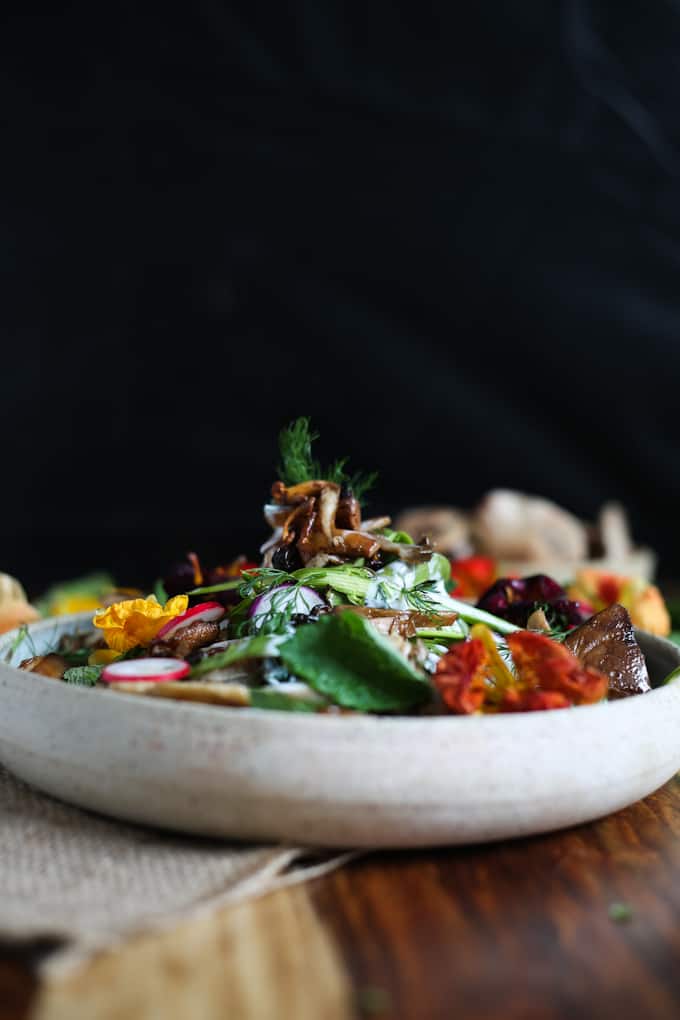 To get the full effect of this Montreal spring fiddlehead salad, serve it in some beautiful ceramic bowls made by a local artisan. The bowls used in this photoshoot are unique pieces handmade by Montreal-based Orlin Stoyanov. To learn more of Orlin's work, to pick up some of his pieces or to inquire about ceramic classes in Montreal, check out his Facebook profile or WordPress blog. Orlin happens to be my ceramics teacher (and the man behind this cold Bulgarian soup), and I received no monetary compensation for using his work in my post - I am proud to support local producers and brands whose products I truly love.
*If you're especially committed to the Eat Local ethos, I encourage you to find a buddy who is knowledgeable about local flora and fauna and go foraging for your fiddleheads and mushrooms. Though remember, make sure you are not alone, and don't attempt to eat any mushrooms you can't easily identify - many wild mushrooms are poisonous and some are even deadly!
To stay on top of what I'm eating and cooking these days, follow At the Immigrant's Table on Facebook, Instagram, Pinterest, Bloglovin', or Twitter, subscribe to my mailing list, or contact me about advertising and becoming a sponsor. If you make one of my recipes, don't forget to tag it #immigrantstable @immigrantstable!
Tried and loved this recipe? Please leave a 5-star review below! Your reviews mean a lot to me, so if you've got any questions, please let me know in a comment.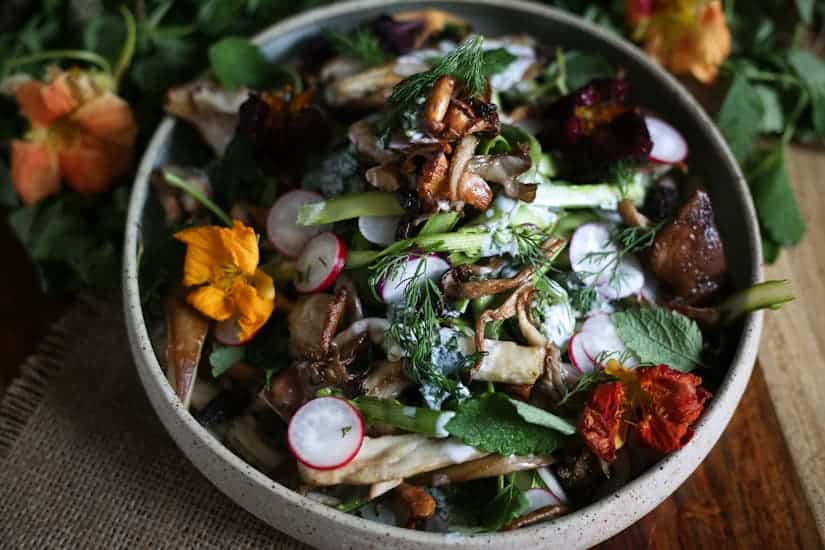 Recipe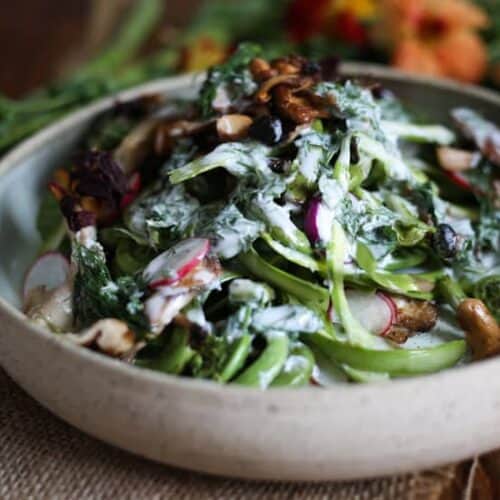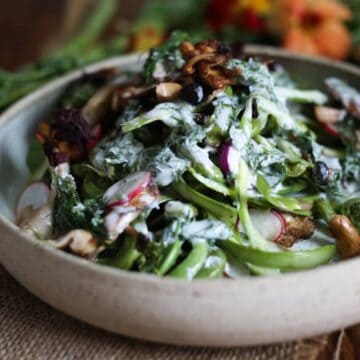 Montreal spring fiddlehead salad with dill-lemon balm kefir dressing
Ingredients
½

lb

asparagus

1

package fiddleheads

6

radishes

1

lb

wild mushrooms

2

scallions

½

cup

kefir

½

a lemon

2

TBs

dill + more fronds for topping

2

TBs

emon balm + more whole leaves for topping

Salt and pepper

to taste

Edible nasturtium flowers

optional
Instructions
Rinse fiddleheads thoroughly under cold water. Remove any bits of brown papery coverings, and rinse repeatedly until fiddleheads are green and clean with no leftover papeyr brown bits.

Cut hard woody bottoms from asparagus stems.

Bring a large pot of water to a boil. Place fiddleheads in a steamer basket. Steam for 10 minutes, until tender to the bite. Cool immediately in a bowl with ice water, to preserve the vivid green colour.

While fiddleheads are cooking, sautée mushrooms in a pan with oil or butter.

Thinly slice radishes and scallions. Shave asparagus with a Y peeler, leaving the heads as they are.

Prepare dressing: in a jar, mix ½ cup kefir with the juice of ½ a lemon, 2 TBs each chopped dill and lemon balm and salt and pepper to taste. Close lid, and shake jar for 1 min for the dressing to mix well.

Arrange fiddleheads, asparagus and mushrooms on a large serving platter. Scatter radishes and scallions. Drizzle with dressing, and top with additional dill and lemon balm. Decorate with edible nasturtium flowers, if desired.
Tried this recipe?
Comment + Rate Below!
Connect on Instagram!
Find us @immigrantstable