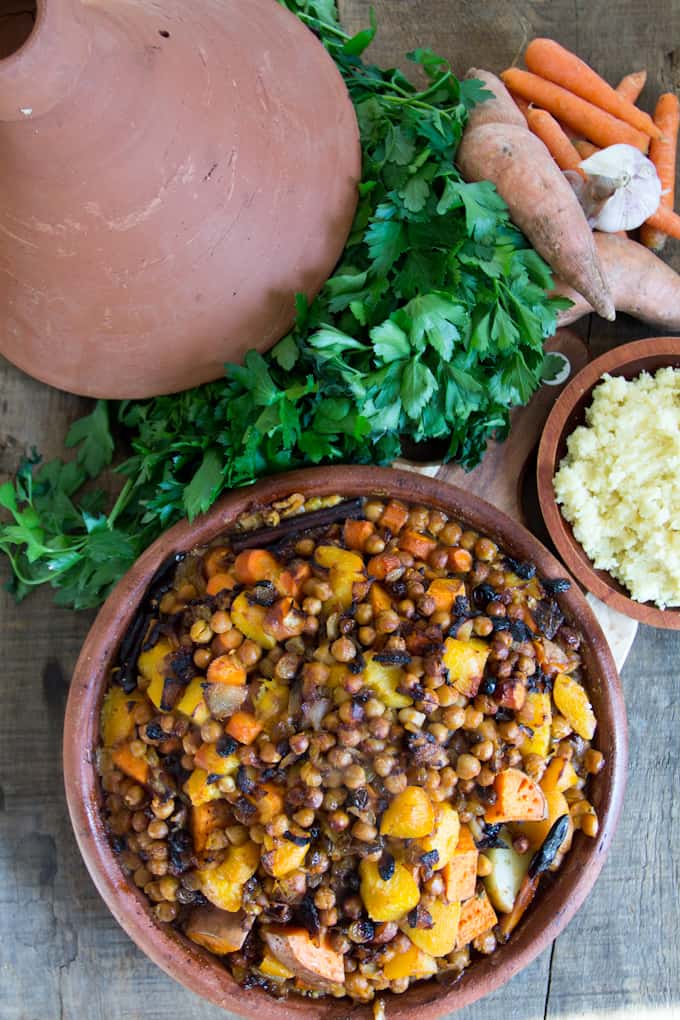 This vegan orange tagine with peaches is a homey dish, full of sweet and earthy flavours like yams, pumpkin, chickpeas, harissa, raisins and peaches. Make your home smell like a trip to Marrakesh with this authentic Moroccan dish!
This post is a partnership with California Cling Peaches, but all opinions expressed here are my own. Please consider supporting the brands that make this blog possible.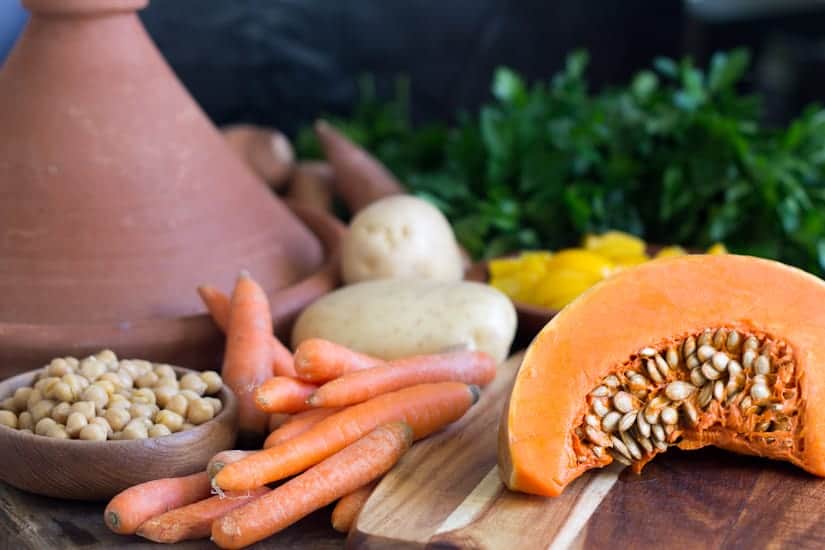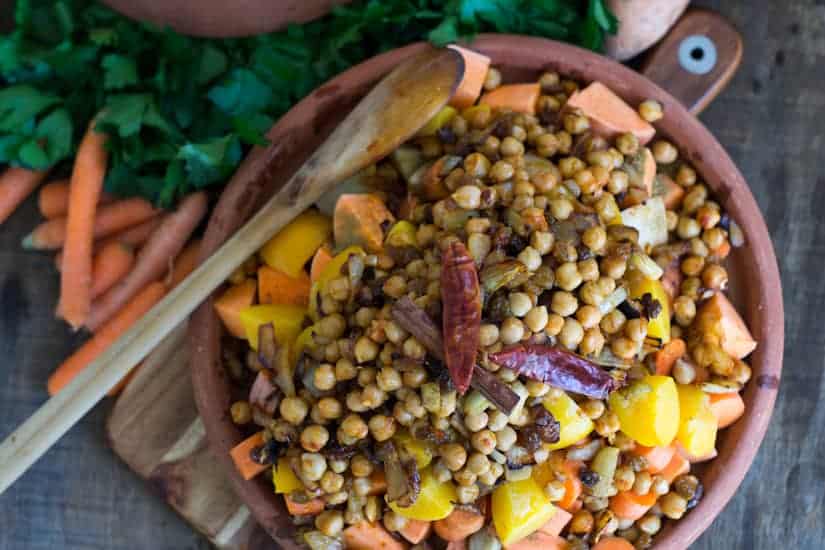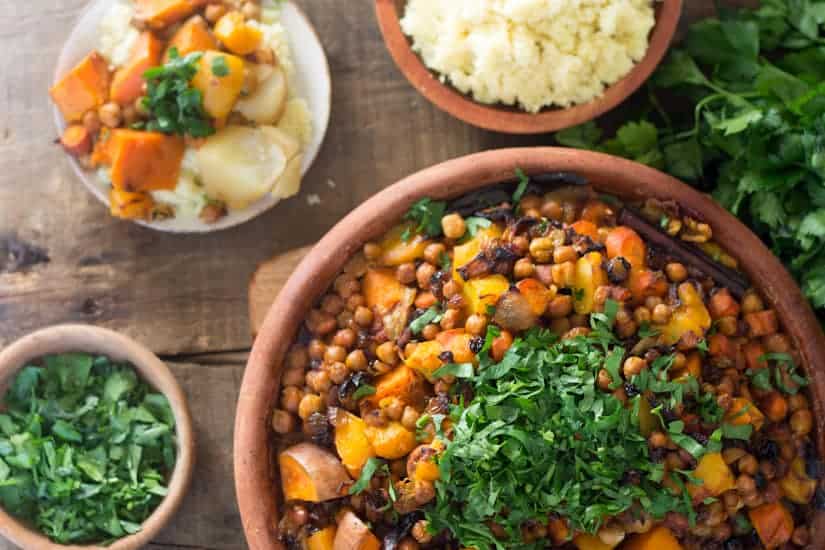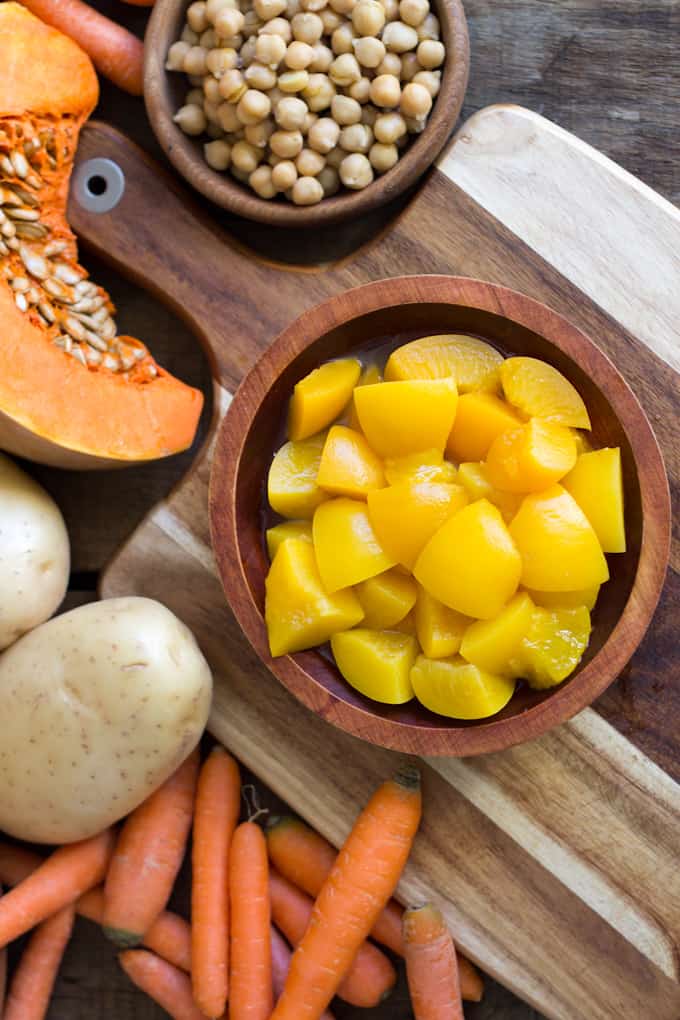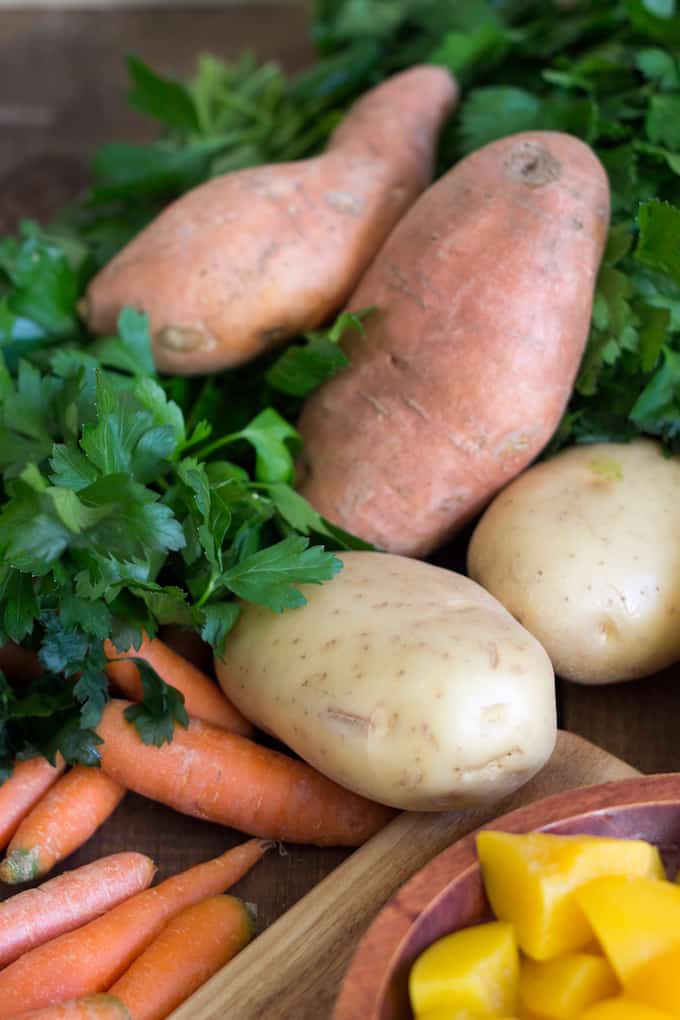 When I first added cinnamon to a stew, my Russian mother told me to move out. The second time I incorporated raisins into cabbage rolls, she poked at them suspiciously and asked me if those olives have gone bad. It's taken her years to warm up to the pinch of sugar I put in all of my tomato sauces. Yet I just know that if I let her try my vegan orange tagine with peaches now, she'd be all over it – because even the most resistant conservative palette couldn't help hut swoon over the pairing of sweet, caramelized pumpkin, harissa-spiked chickpeas and soft, melting California cling peaches.
The pairing of sweet and savoury foods is common in many Eastern cultures. Sugar helps soften and even accentuate the acidic qualities of many of our favourite ingredients: tomatoes, lemons and coffee.
It ramps up the umami taste of mushrooms. It sets off the harshness of vinegar and mustard, onions and ginger.
Cinnamon is a necessary ingredient in Moroccan couscous, raisins in many meat dishes, and sweet dried apricots in Uzbek pilaf. In short, a touch of sweetness makes most savoury foods taste better.
That's why adding California cling peaches to this vegan orange tagine was a no brainer for me. A touch of cinnamon helps offset the spiciness of whole chillies, while a handful of raisins provide the perfect visual and textural contrast to chickpeas pan-fried with a touch of harissa.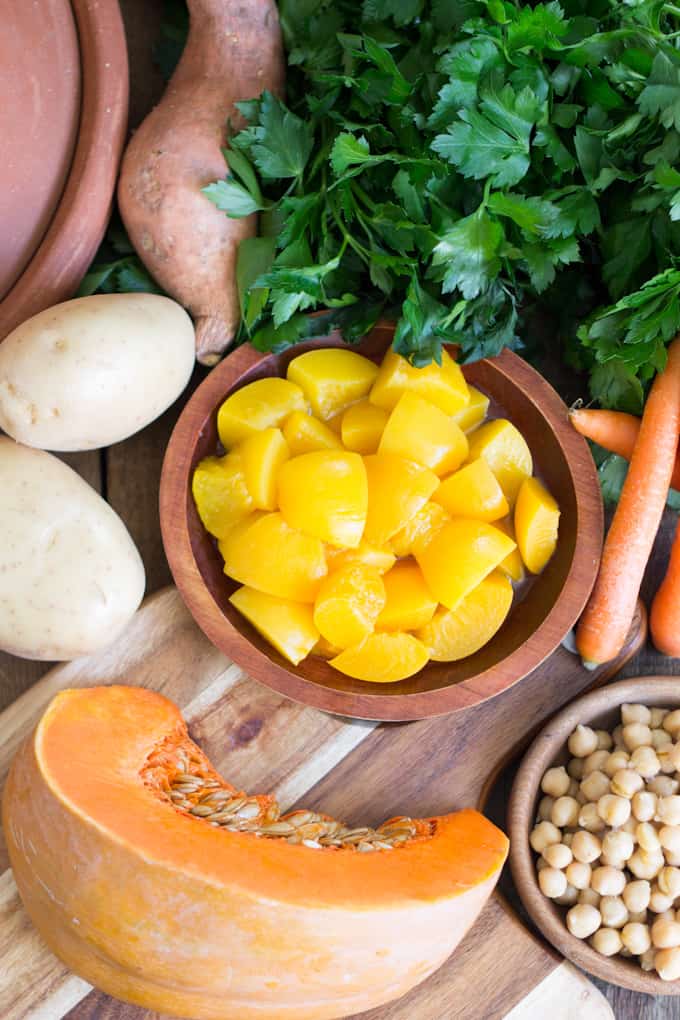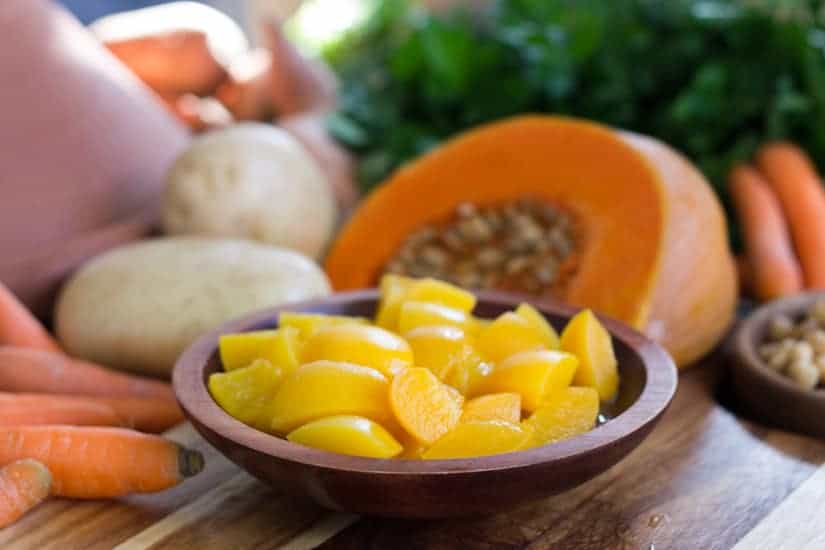 But California cling peaches provide the final touch, the cherry-on-top of this Moroccan mélange of flavours and textures: their sugar contrasts with the earthiness of potatoes, compliments the yams, pumpkin and carrots, and offsets the onions.
As well, when cooked, canned peaches maintain their shape and firmness better than fresh or frozen, preventing the dish from becoming an unrecognizable mash.
This vegan orange tagine just wouldn't be the same without California cling peaches. If you've never tried spiking up your savoury dishes with a touch of sweetness, this dish is the perfect place to try: it's robust, well-rounded and incredibly flavourful, a perfect warm casserole for a cold day.
And if you don't have a tagine pot, don't worry – it will cook just as well in a large dutch oven pot.
Looking for more Vegan recipes?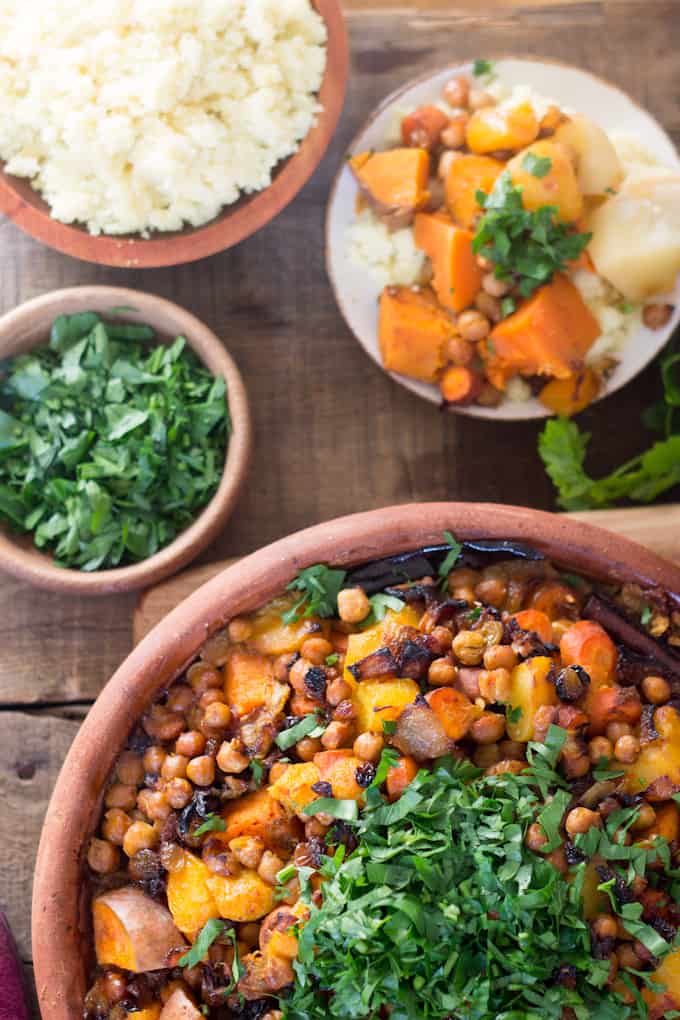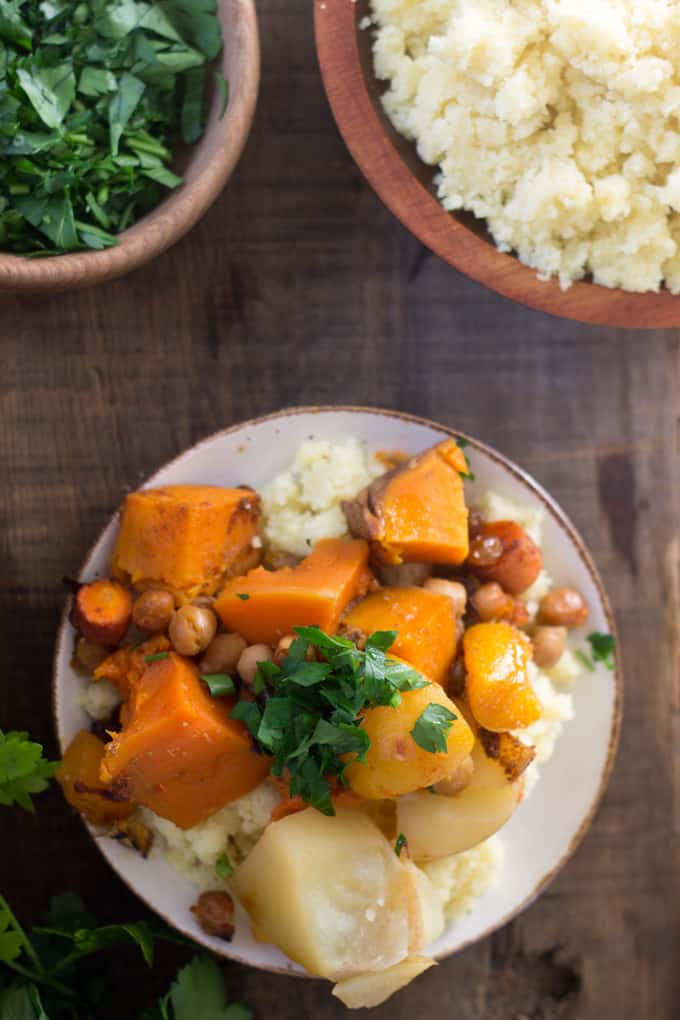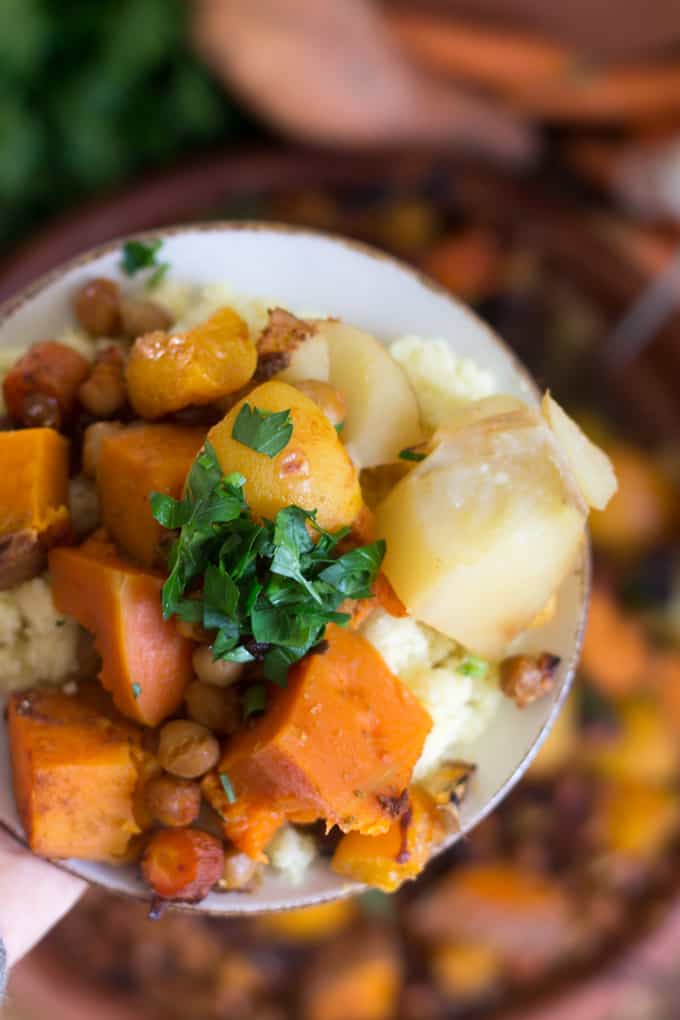 Full disclosure: I received monetary compensation in exchange for this post. However, I am proud to only work with those companies and brands whose products I truly love. And as always, all opinions expressed here are my own; you can always expect me to be honest with you guys!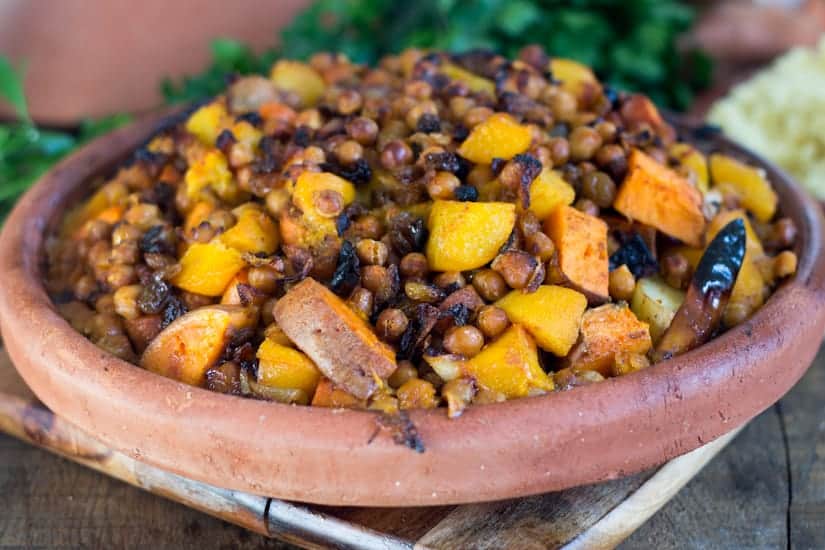 Vegan orange tagine with peaches
This orange vegetables tagine with peaches is an earthy dish, full of grounding flavours like yam, pumpkin, chickpeas, harissa, raisins and peaches. The perfect juxtaposition of sweet and savoury! The great secret of an authentic tagine is to simmer the ingredients over a low heat, so that everything remains deliciously moist and tender. If you do not have a tagine, feel free to cook the dish in a heavy casserole dish or dutch oven.
Print
Pin
Rate
Ingredients
3

TBs

olive oil or a pat of coconut oil

1

large onion

or 2 small ones

2

garlic cloves

finely chopped

1-

inch

piece of ginger

finely grated

1 15-

oz

can chickpeas

½

cup

golden raisins

1

teaspoon

harissa

500

g

pumpkin

2

yams

cut into ¾-inch pieces

2

potatoes

cut into ¾-inch pieces

½

lb

250g carrots, cut into rounds

1 15-

oz

can California cling peaches

quartered

2

cups

water or vegetable broth

1

heaping tablespoon ground cumin

1

teaspoon

paprika

1

cinnamon stick

2

whole chillies

zest of one lemon

chopped parsley

for serving

lemon wedges

for serving

couscous

for serving (optional)

Yogurt

for serving (optional)
Instructions
Preheat oven to 350F.

In a heavy-bottomed pan or a dutch oven, sauté onion in oil until it turns translucent, about 10 minutes. Add garlic and ginger and sauté for an additional 3 minutes, until they are beginning to colour. Add the chickpeas, raisins and harissa, and cook together for an additional 5 minutes.

If using a tagine, transfer cooked mixture to the vessel, add the rest of the ingredients and just enough water to cover the base of the tagine, and cover with a lid.

If not using a tagine, add the rest of the ingredients to your dutch oven and just enough water to submerge them. Cover with a lid.

Bake at 350F for 45 minutes (vegetables should be fully cooked and tender, but still firm and holding their shape). Remove lid and cook for an additional 15 minutes.

Topped with chopped parsley. Serve with couscous, or as is, with a squeeze of lemon on each plate and a side of creamy, cool yogurt.