Creamy and colourful, this vibrant gluten-free and vegan pasta primavera is a vivid centerpiece for a springtime table. A celebration of all that is seasonal, fresh and delicious. We served it for Passover, but it would not be out of place during any springtime meal.
Passover in a time of COVID-19
Passover this year looked a bit different. There was no kneidelach soup, or even enough matzos (I should have just made my own). There were only three dishes on the table: Chicken Marbella, a simple salad, and my grandmother's plov. Ginger replaced the horseradish. We didn't even read the Haggadah. The dessert was store-bought (Audacieuse Vanille to the rescue!).
We served this vegan pasta primavera on the second night, an attempt to make a regular meal more festive.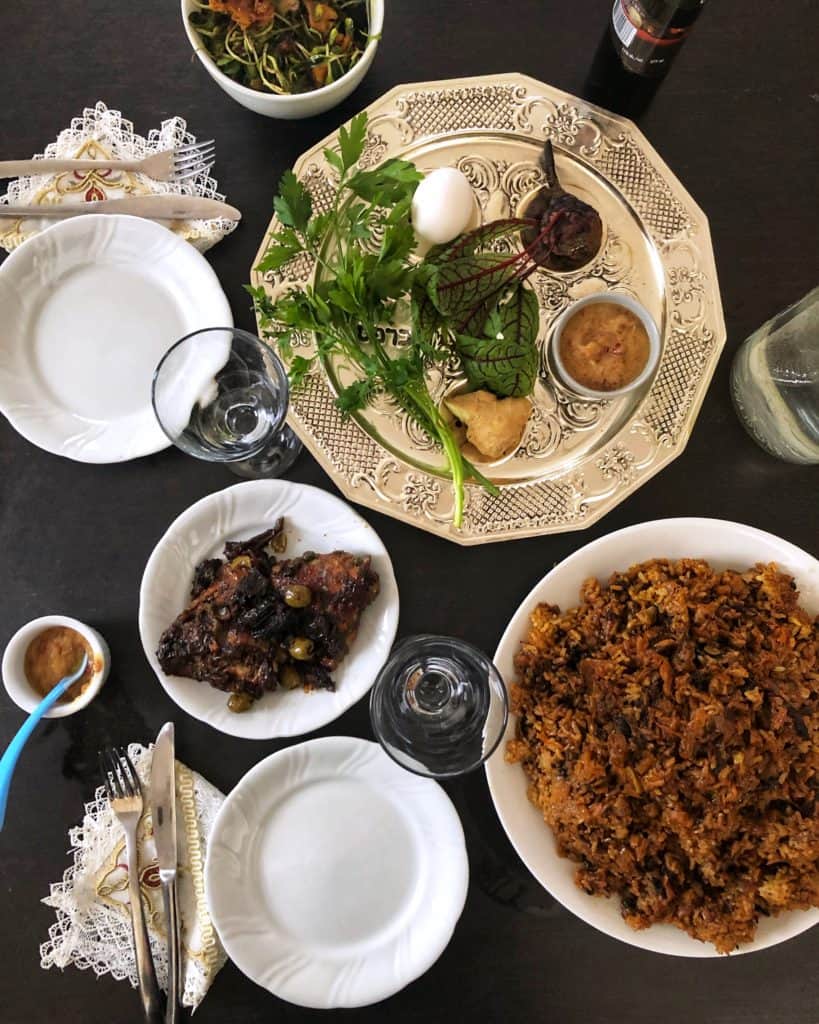 Elsewhere, too, the holiday fell askance. My grandma, who's the best cook I know, celebrated alone in her flat, with a free meal provided from the state. My parents dined with my maternal grandparents at 5pm, because my grandfather, who now has the dubious honour of being called an oncological patient, needed to go to bed early. My sister worked all evening.
The same happened in countless homes all around the world. Some people connected to zoom. Others dined alone. Yet others still flaunted regulations and the dangers posed to self and others, instead choosing to congregate illegally. The holidays can bring us closer together, even if we're alone - but they can also bring out the worst in us.
But there were three plates on our table, even if one had nothing but haroset in it. There were peals of childish laughter instead of singing in Hebrew. There was an enormous sense of gratitude that through it all, we're in this together.
Making new celebrations
And so this vegan pasta primavera is, also, a different celebration. A celerbation of all that is seasonal, colourful and beautiful at this time. A feast centered on local produce at a time when farmers are forced to dump tonnes of peak season vegetables and produce due to transportation and labour issues. A dish that boldly displays its colours, and is unapologetically full of flavour.
I first made this vegan pasta primavera for Passover last year, when our home hosted a small group of friends and babies.
One guest was vegan and a couple were gluten-free, so this vegan pasta primavera ticked all the boxes. We baked it in the oven as a gratin, serving it as the vegan cheese still bubbled and gurgled on top.
We ate the leftovers only slightly warmed up and the sauce more diluted, discovering it tasted just as good as a traditional, saucy vegan pasta primavera.
Whether you serve this vegan pasta primavera as a pasta bake or a regular pasta dish, for lunch or dinner, on a weekend or weeknight, it'll be sure to brighten up your table.
Looking for more Vegan recipes?
Ingredients
For green Alfredo sauce:
1

cup

raw cashews

soaked in water for at least 30 mins or more

2

garlic cloves

peeled

¼

cup

fresh lemon juice

1

tablespoon

Dijon mustard

¼

cup

vegetable broth or water

or more as needed

1.5

cups

fresh basil leaves or other herbs you love

lightly packed

½

cup

nutritional yeast

gives the cheese flavour

¾-1

teaspoon

kosher salt

or to taste + freshly ground black pepper

½

teaspoon

onion powder

optional
For vegan pasta primavera:
2

lbs

mushrooms

1

bunch asparagus

cut into 1-inch segments

1

package gluten-free or regular pasta

or during Passover, kosher for Passover egg noodles

3

TBs

pickle juice

optional
For vegan pasta primavera bake:
½

cup

vegan cheese

grated

2

TBs

nutritional yeast

handful

fresh oregano
Instructions
To prepare sauce, drain and rinse soaked cashews. With the food processor turned on, drop in your garlic cloves and process until chopped. Add in the rest of the ingredients and process until smooth, scraping down the bowl as needed.

Sautée mushrooms until browned. In the last 3 minutes, add the pickle juice - it'll accentuate the mushrooms' woodsy flavour!

Bring a large pot of water to a boil. Salt gently. Cook asparagus for 5 minutes, until it retains some of its bite. Remove asparagus from water and place into an ice bath immediately.

Add salt, and boil pasta in same pot according to package instructions (5-8 minutes, depending on the type of pasta you're using). Remove from water and drain.
If baking into a pasta bake:
Preheat oven to 350°F. In an oven-safe dish combine pasta, mushrooms, asparagus and sauce. Sprinkle with grated vegan cheese and nutritional yeast.

Bake in oven for 25 minutes, or until bubbly and heated through.
If serving as a saucy pasta dish:
Transfer pasta to a large serving bowl. Mix with asparagus and mushrooms. Top with sauce. Sprinkle with nutritional yeast and fresh oregano