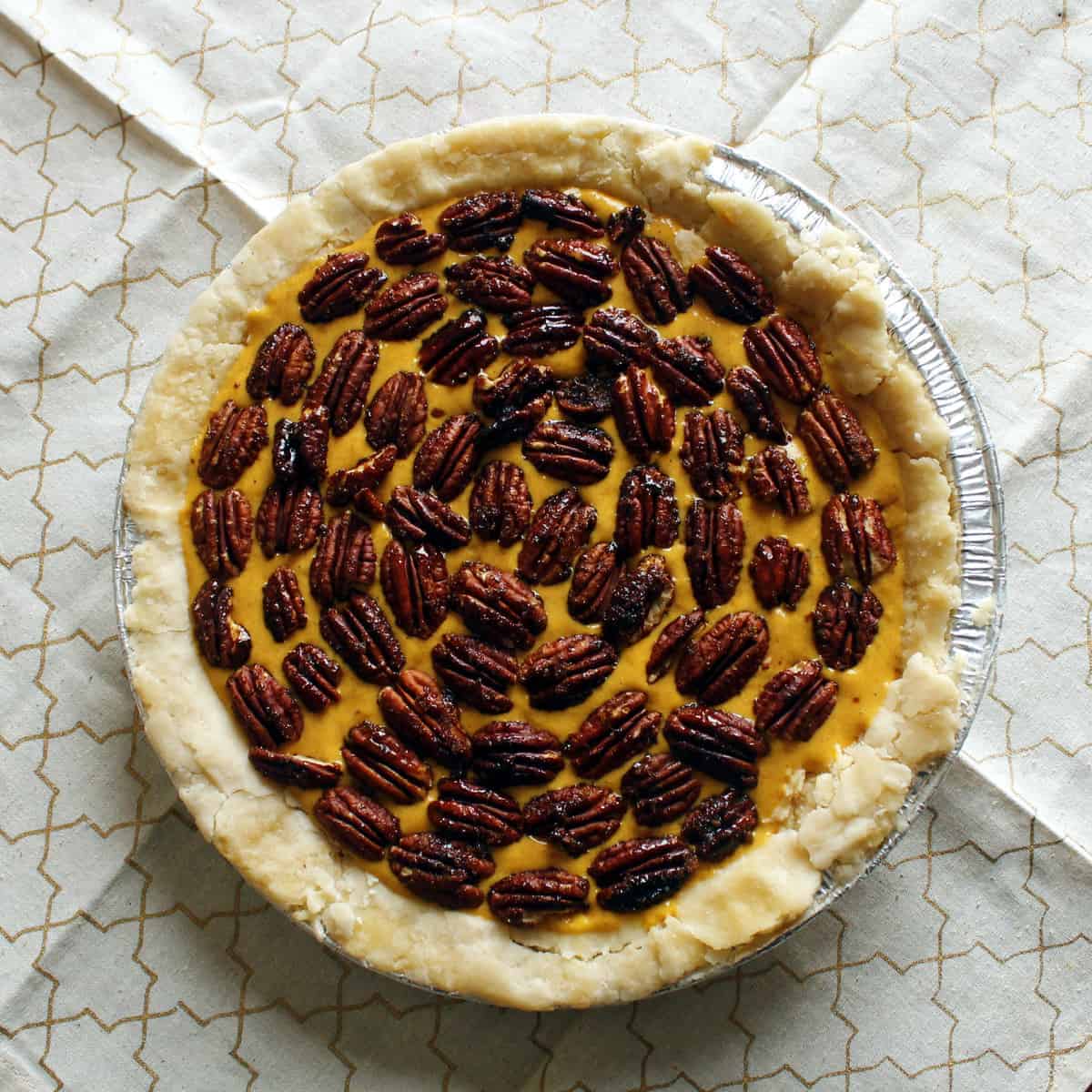 Within the first two months of us dating, my boyfriend invited me to Thanksgiving dinner with his family. Perhaps it was because he really liked me; perhaps it was because I was leaving the country soon. Whatever the case was, I was excited, but also a bit nervous, at the invitation. I had never met his family at that point, but I knew they were well educated, well read, and likely quite cultured, and I really wanted to impress them. So I decided to bake a pie.
The problem was, at that point I was at the height of my lactose intolerance. I had also begun having unexplainable stomach pains, that I would (much) later link to yeast, or Candida overgrowth. I also had very little successful experience at baking. But what's all that compared to the prospect of impressing someone's parents? I figured I'd bite the bullet and bake something as iconic as pumpkin pie. But I didn't even know where to start.
My two experiences baking pie until that point were successful, but involve their own stories. They were both berry pies. This was a wholly new undertaking, and I decided to consult friends on the intricacies of pie baking. I was delighted to find out my friend Sandy Klowak bakes pumpkin pies for her family every year, and she was kind enough to invite me over for an afternoon of baking. She would even open her secret family recipe to me! Things couldn't have lined up better.
Except that I really wasn't a good baker (I still barely am OK; half my attempts turn out, while the other half fails miserably), and I didn't know the first thing about egg washes, burning pie crusts, or the difference between shortening and margarine (I know, I know, blasphemy). Sandy was a lifesaver; throughout that afternoon, she patiently walked me through the process, teaching me to not overwork the dough, to use real cream in place of condensed milk, and to cover the edges of the pie crust with tin foil in order to avoid burning (a trick I sadly failed to implement when making this pie). She shared with me tried and true crust and filling recipes from her mother, Jill Moats, which were actually adapted from old versions printed on Crisco packages and in the original Joy of Cooking book. And above all, she showed me how easy it is to bond over eggs, cream and flour. There was something unabashedly traditional and feminized about that pursuit, the act of mixing together sweet ingredients with fragrant spices, of checking the oven, of drinking warm tea and room-temperature wine and talking about our lives. I wasn't discovering the wheel; I was simply rediscovering what my ancestors have been doing for generations. And isn't that the whole point of cooking family recipes?
Since then, we have baked pies together for three consecutive Thanksgivings. The recipes stayed the same, though the setting has changed - last time we made these, Sandy has already moved in with her boyfriend and used homegrown pumpkin for the filling. We have also made Christmas favours, rolled fresh pasta, and cooked tomato sauce together. We have discussed ravioli and perogies, making tentative plans for more big baking projects. And I have made the pies myself, making this with different squashes, playing around with pumpkin pecan pies and turning the filling into a moist and delicious crustless tartlette (recipe to come). Throughout it all, our friendship grew stronger, bound by the power of gluten, heat, and sugar. And though I am pretty certain I have impressed my boyfriend's parents with my pie-making skills, the best part to come out of these pies was our friendship.
Pumpkin-pecan pie
This old-fashioned crust recipe produces a flaky, golden, beautiful pie. The filling is rich, deeply spiced, and not too sweet. I added caramelized pecans on top for a special touch, and their crunch and sugary coating truly take it to another level. The crust can easily be made ahead and kept in the fridge in plastic wrap, or even rolled out and frozen inside a pie shell until you're ready to use. Filling and pecan topping can also be made a day ahead.
Print
Pin
Rate
Ingredients
1 9-

inch

pie:

For crust:

250

ml

or 1 cup all-purpose flour

2

ml

salt

125

ml

½ cup shortening, room temperature

One small egg

or ½ large egg

15

1 tablespoon ml cold water

7.5

ml

½ tablespoon white vinegar

For filling:

1.5

cups

of cooked or canned pumpkin or squash

1

cup

of rich cream

¼

cup

brown sugar

⅓

cup

white sugar

¼

teaspoon

salt

1

teaspoon

ground cinnamon

⅓

teaspoon

ground ginger

⅛

teaspoon

ground nutmeg or allspice

a pinch of ground cloves

2

small slightly beaten egg

or 1.5 medium, or 1 large

For pecans:

100

grams

of pecan halves

2

tablespoons

brown sugar
Instructions
To make crust, combine flour and salt in mixing bowl. Cut room-temperature shortening into flour with two knives until mixture is uniform and shortening resembles large peas. Do not overwork.

Beat egg, water and vinegar together. Pour evenly over flour mixture. Stir with wooden spoon until well combined and all of the mixture is moistened.

Without overworking it too much, shape dough into a ball and lightly flatten into a circle of about 10 cm. Wrap and chill for 15-30 minutes (or longer, if making ahead).

Preheat oven to 425F.While dough is chilling, mix all filling ingredients together (pumpkin, cream, sugar, eggs, and spices).

To prepare pecan topping, heat a pan on low-medium heat. Add 2 tablespoons of brown sugar and allow them to melt slightly. Add pecans to pan, mix gently with spatula to ensure even coating, and let cooking for about a minute. Remove from heat, transfer to a plate and let cool down (do not touch pecans as they're very, very, very hot and you'll get a nasty burn. Trust me).

When crust has cooled and you're ready to bake pie, dust rolling pin and work surface lightly with flour. Roll dough to a uniform thickness with light, even strokes. If dough sticks, dust lightly with flour. Roll out a circle about 1 inch larger than an upside-down pie plate, to about ½-inch thickness.

We also found that rolling the dough on parchment paper and then transferring it on the parchment paper to the pie plate worked well.

Crisco suggests that for easy transfer, you should slide a spatula under the dough to loosen it, then lift one edge of pastry onto rolling pin and loosely drape it around the pin. Unwrap onto pie plate, without stretching.

Fill pie shell with filling. Arrange cooled caramelized pecans on top. Cut strips of aluminum paper and try to wrap those around your pie edges to prevent burning, or at least brush them with an egg wash (one egg with two tablespoons of water). Bake in a 425F oven for 15 minutes, then reduce heat to 350F and bake for another 45 minutes, or until an inserted knife comes out mostly clean.

Serve with sweetened whipped cream, maybe flavoured with 2 tablespoons of bourbon.