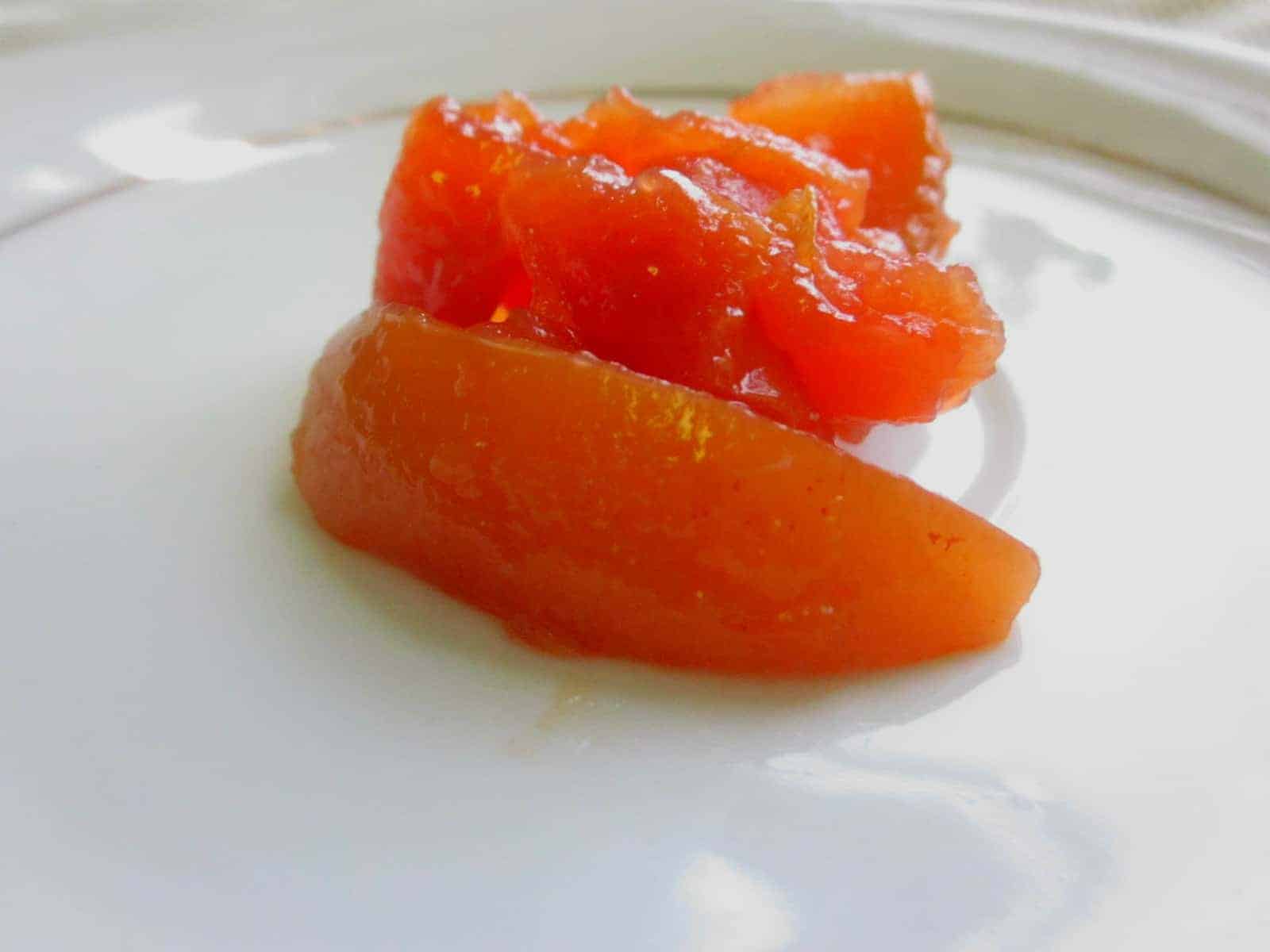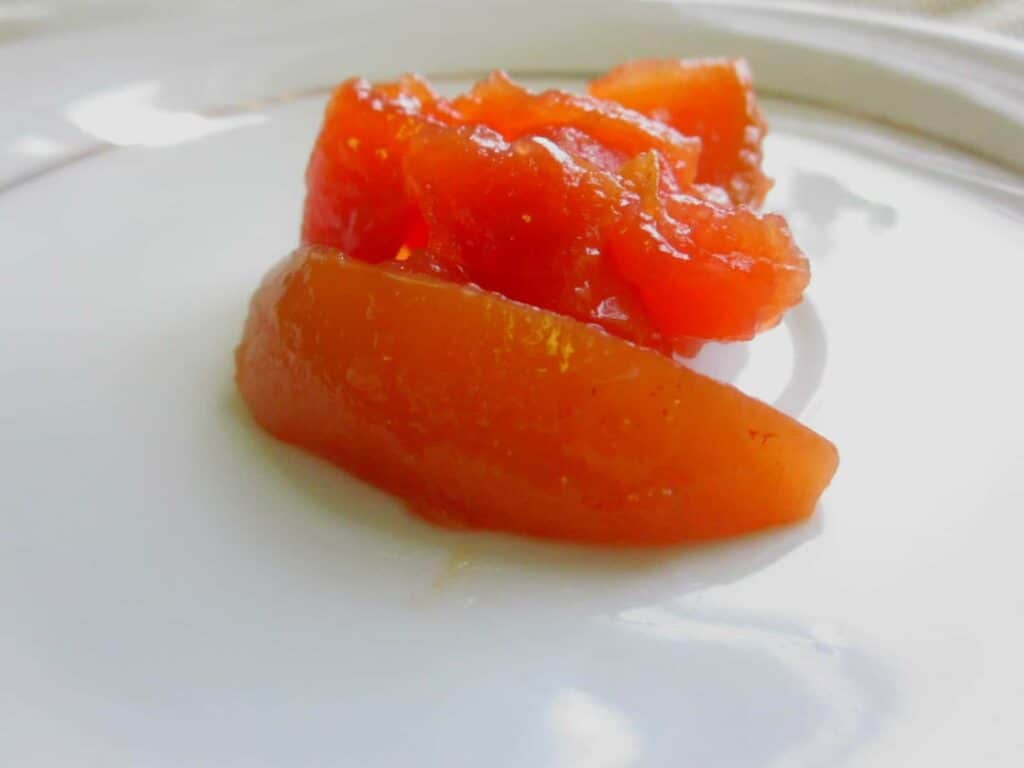 As you may have already deduced by now, my origins are entirely Slavic. My ancestors were adept at pacing through the snow, harvesting wheat, and hauling behind them carts full of bags of grain and small, hard potatoes. We were not familiar with the smell of musk, vanilla, or jasmine, the flavour of ripe, sticky dates, sweet quince preserves, or the sight of tarnished golden cups and curved lamps.
Yet I was quick to fall in love with those treasures after I smelled, tasted, and saw them resting on the shelves of my Moroccan neighbour and best friend in my first three years in Israel, Shirley. Shirley, who was a year younger than me, was small, kind and beautiful, and her family was extremely generous. While I was perfectly content sharing Shirley's Barbie dolls, I had only an inkling of an understanding of the help her parents provided mine: leftover dry fruit by the sackful, trays of sweets dripping with honey, and clothes of all shapes and sizes made their way into our home, often under false pretenses of, "we simply made too much." My parents may have been a bit embarrassed at these small kindnesses, but my sister and I were all too happy to devour these exotic treats.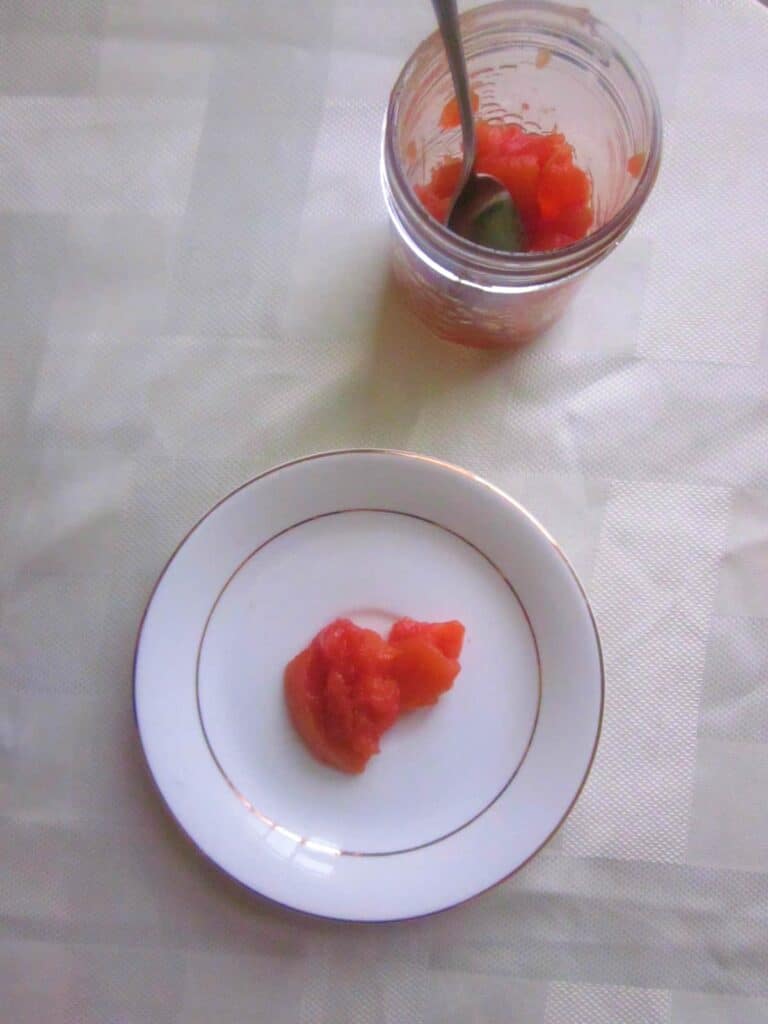 Those bounties were probably my first encounter with quinces, or "havushim," as they're called in Hebrew. These strange fruit, inedible in their raw state, become rare treats once they are cooked with sufficient sugar, water, and just a dab of cinnamon. Their taste is ethereal, reminiscent of apples, but with a strong perfume that brings to mind almonds. And they are one of those fruits that conjure up as many stories and visions simply through their name as they do through their flavour. In Israel, quince preserves are often eaten around Rosh Hashana, signifying the sweetness of the upcoming year.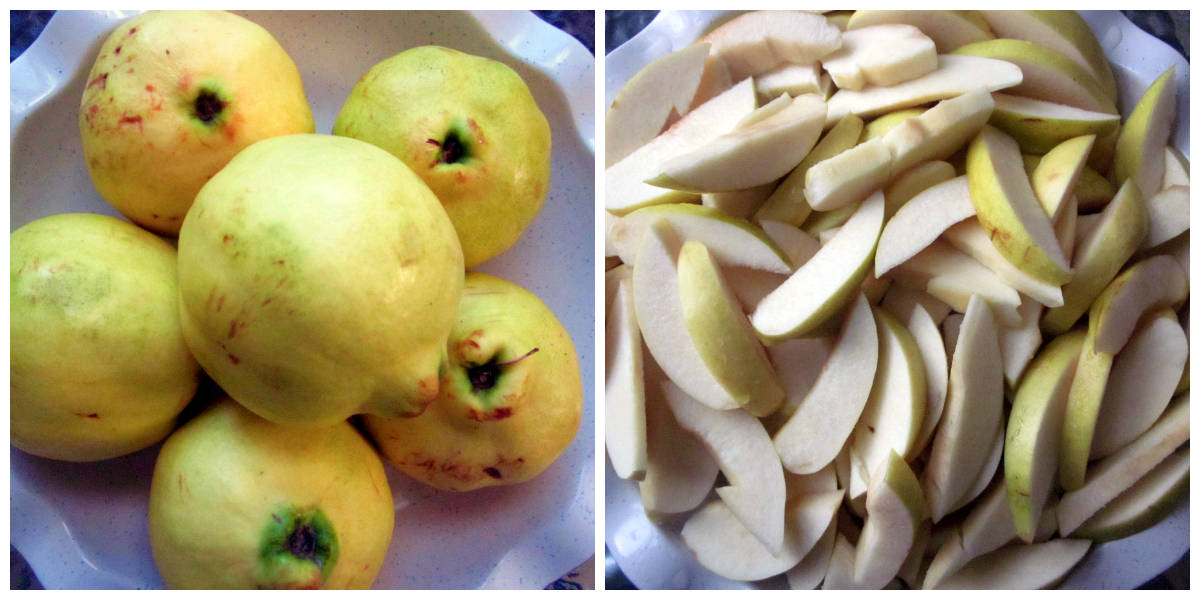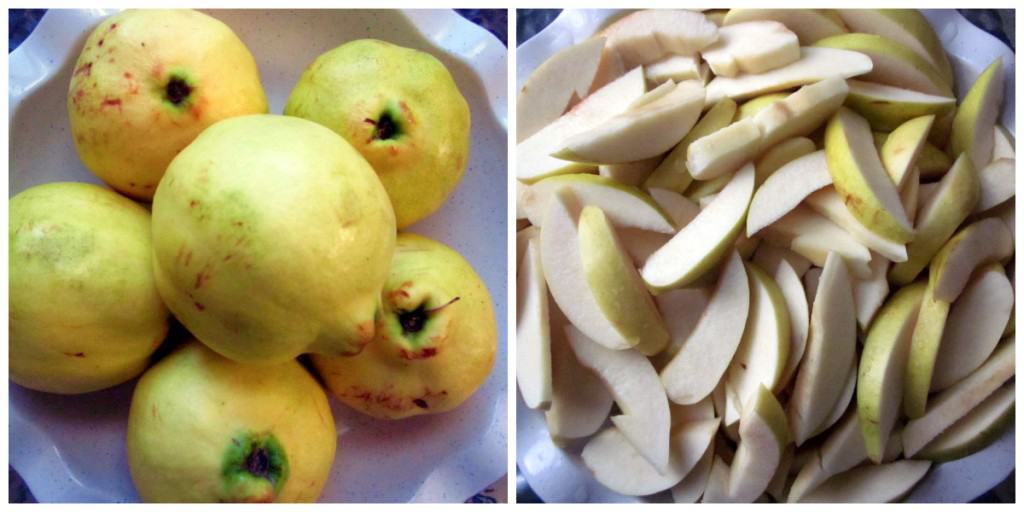 This year, I will be giving some of my loved ones small jars of quince preserve during the winter holiday season. Though quince season in North America is brief, you can still find a few in the stores in November. If you're not so lucky, I advise you to grab a few of these yellow misshapen globes when you see them appearing around October of next year. I hope your first experience smelling and biting into these unique morsels will transform you into a small Middle Eastern kitchen, where gold-coated goblets and plates line the walls, and preserves are served with small cups of strong, black tea, best consumed in a reclining position.
EDIT: This post has been featured on Punk Domestics and on Food in Jars! Support these great community by checking out more of their content.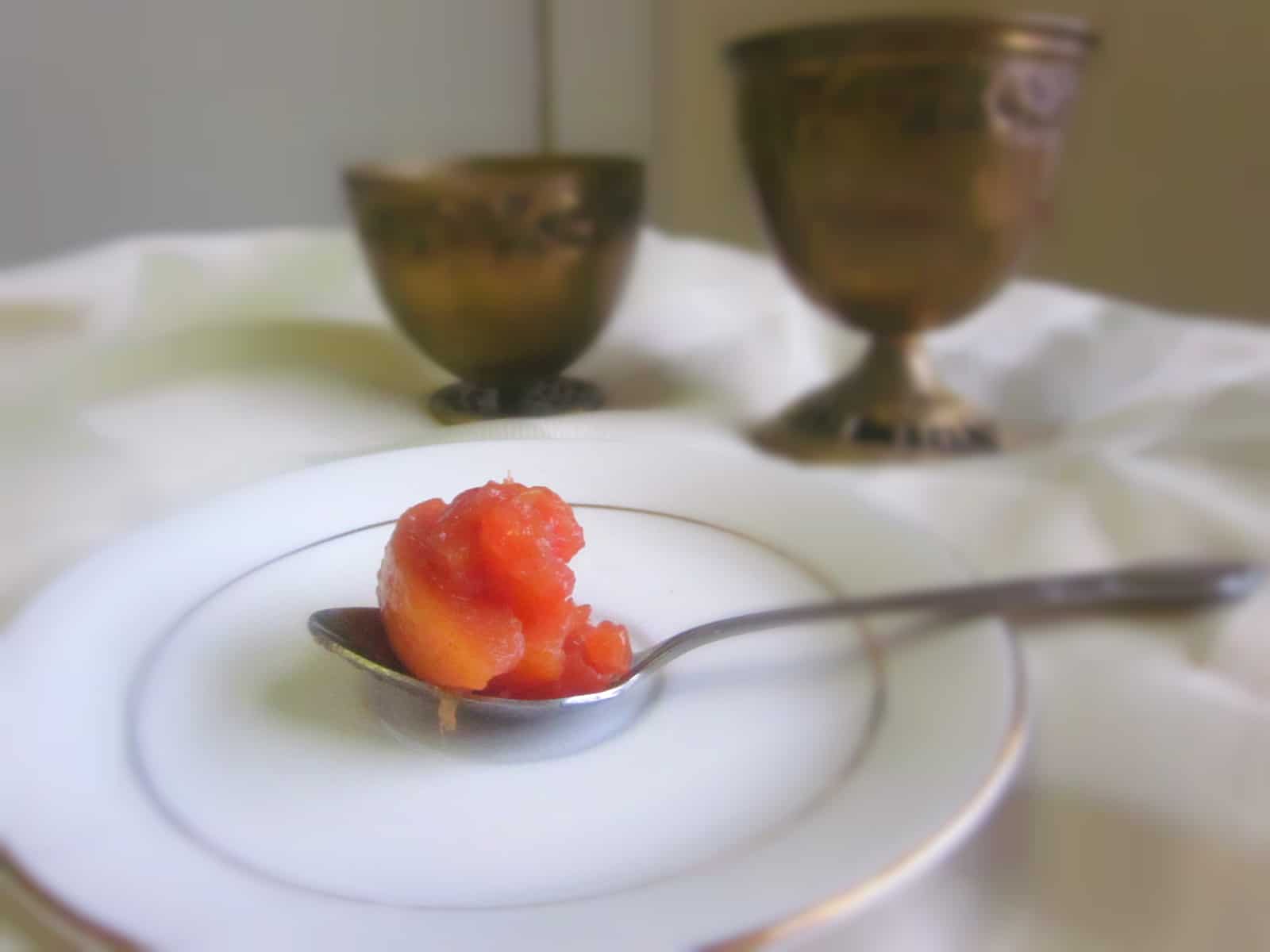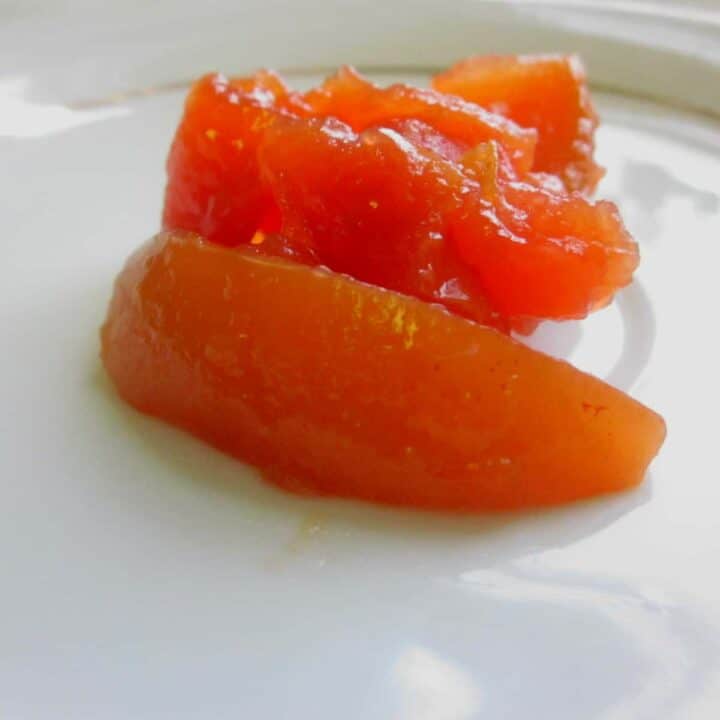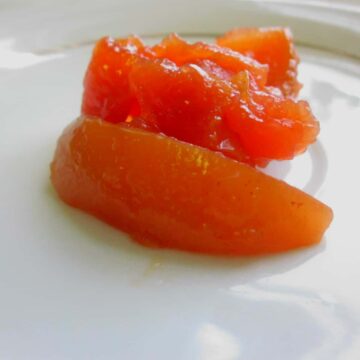 Tunisian quince preserves
This sweet preserve is fantastic on dark bread with a bit of margarine, butter, or on top of some lactose-free yogurt (https://immigrantstable.com/2013/11/10/lactose-free-yogurt-or-how-to-reclaim-your-childhood).
Ingredients
2

lbs

quinces

or about four quinces, washed and scrubbed very well

1.5-2

cups

of sugar

about 300 grams. I prefer less rather than more sugar in my preserves

4

cups

water

use 5 cups if you want a runnier jam, or syrup leftovers

Juice of 1 lemon

4

cinnamon sticks

1 1-

litre jar

or if intended for gifts, four 250-ml jars
Instructions
Wash the quinces very well, scrubbing the peel with a soapy sponge (quinces can be a bit fuzzy on the outside, and we want to get rid of that fuzz).

Without peeling, halve the quinces and remove the core and seeds (this will require some elbow work). Slice the quinces into 1-inch thick slices, and then cut the larger slices in half. Submerge the quince slices in a big bowl with enough water to cover for several hours, to soften them before cooking. Leaving them overnight is fine, but try to ensure all quinces are submerged as some discolouration may occur.

In large, wide pot, add the sugar, water and lemon juice and cook them over medium heat, until the sugar dissolves. Add the cinnamon sticks and bring to a boil.

Drain the quince slices and add them to the pot. Bring the pot a boil, and cook, uncovered, over medium-high anywhere between one hour (for soft and golden quinces) to 2 ½ hours (for a richer, browner preserve). If you are left with too much liquid, strain some of it and use as a syrup to sweeten soda water or cocktails.

If you're going the canning route, prepare your jars and lids for canning in the last hour. For the best beginner canning advice, I go to Marisa McClellan of Food in Jars (http://foodinjars.com/2013/07/new-to-canning-start-here-boiling-water-bath-canning).

Once your preserve is ready, fill the jars, taking care to leave an inch of headspace for vacuum to be created. Cover your jars, screwing the lid on very lightly, with just the tips of your fingers, and process in a hot water bath for 10 minutes (again, follow Marisa's advice for proper canning rules and guidelines).
Notes
This recipe is more of a guideline. Feel free to play with the flavours, adding some vanilla stems to the mix, fresh thyme, or more water to set aside for extra syrup. Or just make it as written, and you won't be disappointed.
If you end up having too much liquid in your pot, strain your quinces and set some of the syrup aside. It goes beautifully with soda water, or when mixed with a bit of gin and lime for a refreshing cocktail.