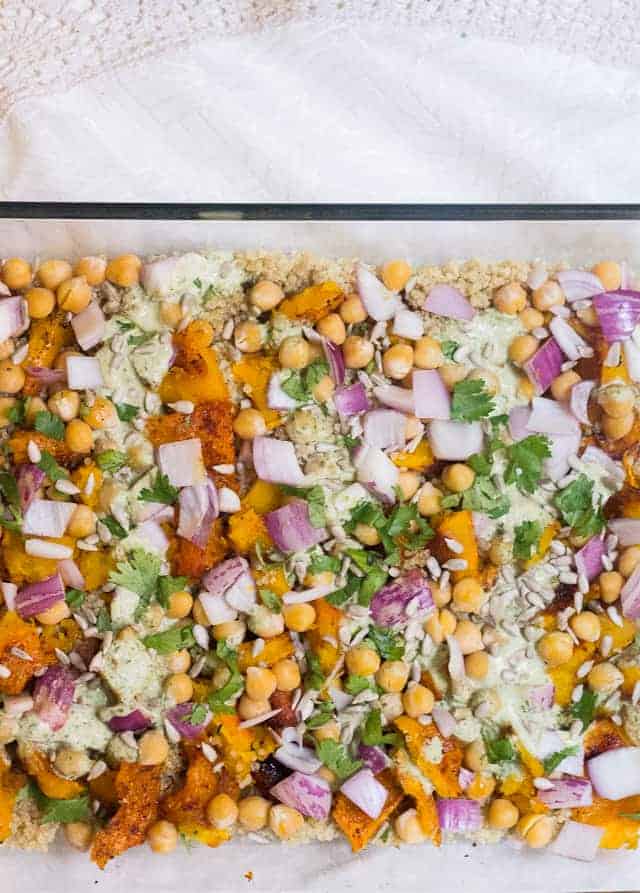 There is something special about the act of discovering another person. We all remember the first days with our significant others, when every little thing they said, every thing they did, was a wonder and a new reason to fall in (or sometimes, out of) love with them. But few of us remember the time we discovered a family member, especially as an adult. This weekend, I got a chance to do just that. And it was made all the more special by the presence of this festive quinoa with kabocha squash and chickpeas, littered with plump chickpeas and drizzled with a fine, herbaceous green tahini sauce.
I remember the last time I saw Anna. I was a broody fifteen year-old, clad in vintage white blouses with fluttering sleeves and rebellious fake leather pants. She was eleven, a sweet girl with her hair in braids, wearing a blue dress with a traditional Russian embroidered collar, and holding a large guitar in her lap. She had just finished a classical guitar recital, one of the many she would give as a talented child musician. Her face was glowing, yet she acted reserved, a shy and quiet girl on the cusp of teenage-hood.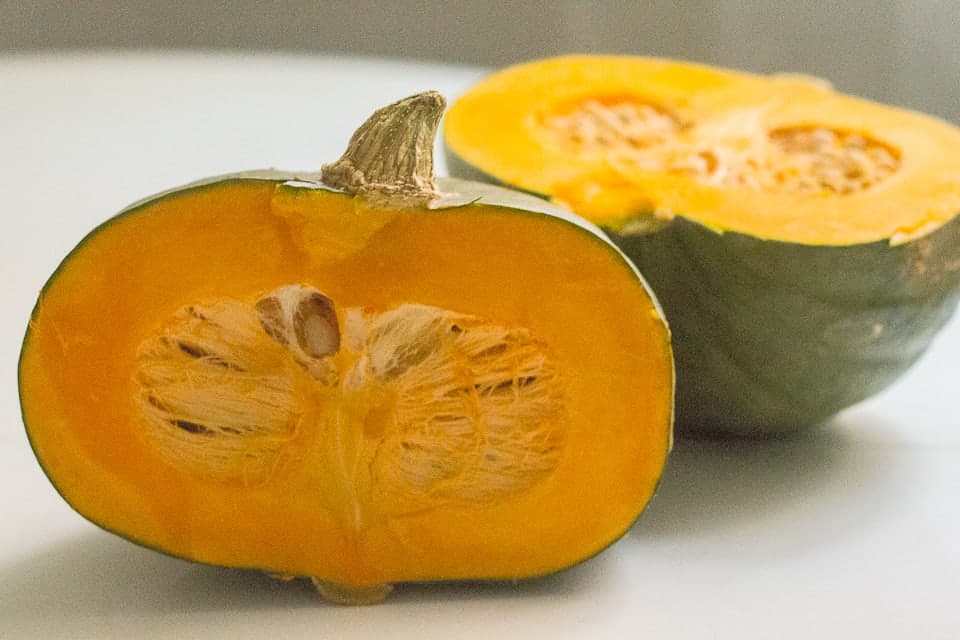 We had a pleasant chat, shared tea with our families and listened to my mother and her father, cousins who were practically inseparable during childhood, exchange an easy-going banter, and separated. I boarded a plane back to Israel, to my boyfriend, fantasy novels and lyrical heavy metal music, while she stayed in Ekaterinburg, going on to continue her studies in middle school. I don't think either one of us has thought much of the other in the thirteen years since.
Until last week, I received a Facebook message from Anna. Having since moved to the United States to pursue her graduate degree and work, she was coming to Ottawa to renew her visa. A stone's throw away, Montreal seemed like a good place for her to spend a couple of days. And so, we had agreed to meet up and spend the weekend together, along with another friend who I had visiting from WInnipeg.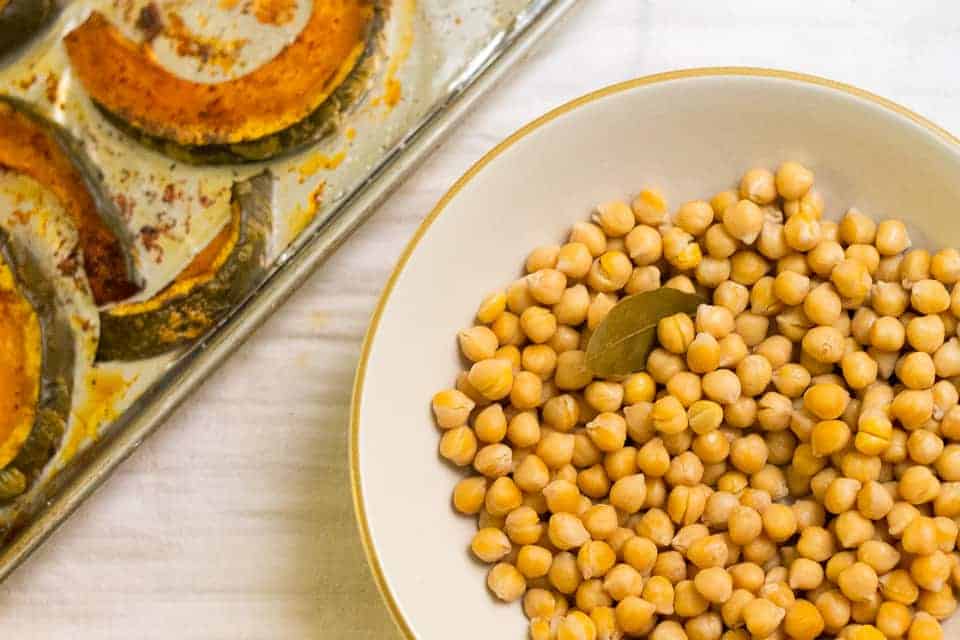 In all honesty, I wasn't expecting much from this weekend. I had very few memories of Anna, and no knowledge of her as an adult. Her hopes, dreams, or even likes and dislikes were completely foreign to me. I was even worried about the language barrier resulting from my childhood Russian and her obvious fluency, the result of years spent living and studying in a country I had not only long since left, but also, in many ways, renounced.
I won't say the first few exchanges were easy. Switching between two languages, with the occasional Hebrew slip-of-the-tongue from me, we attempted to bridge over many years of separation. But as the weekend went on, the banter became easier, and our connection more palpable. I learned that she had long since stopped playing the guitar, prefers Asian food over sandwiches or even pizza, dislikes beer, and is as eloquent and bright as I remembered her being. Much of her shyness was still present, but underneath it was a multi-layered, kind and brilliant person that I was excited to get to know, and proud to be related to.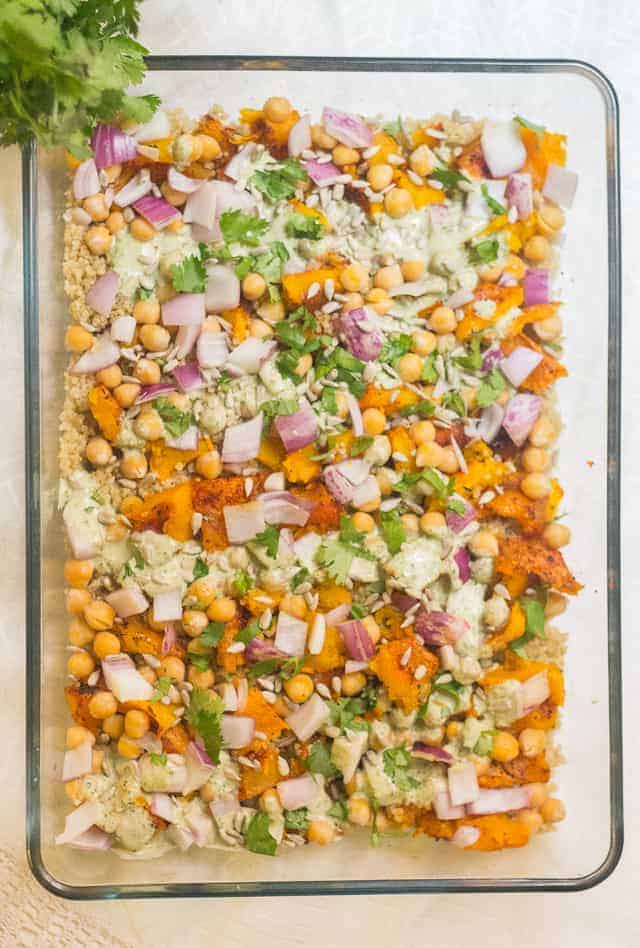 To many of you, getting to know a third-degree cousin would seem like an inconsequential occurrence. But in my tiny, far-flung family, relatives are hard to come by. Most of us have moved away, dispersing throughout the globes. We had built our own lives, formed our own families, discovered our own worlds. And we had all been bad at keeping in touch. Seemingly, there was little reason to do so.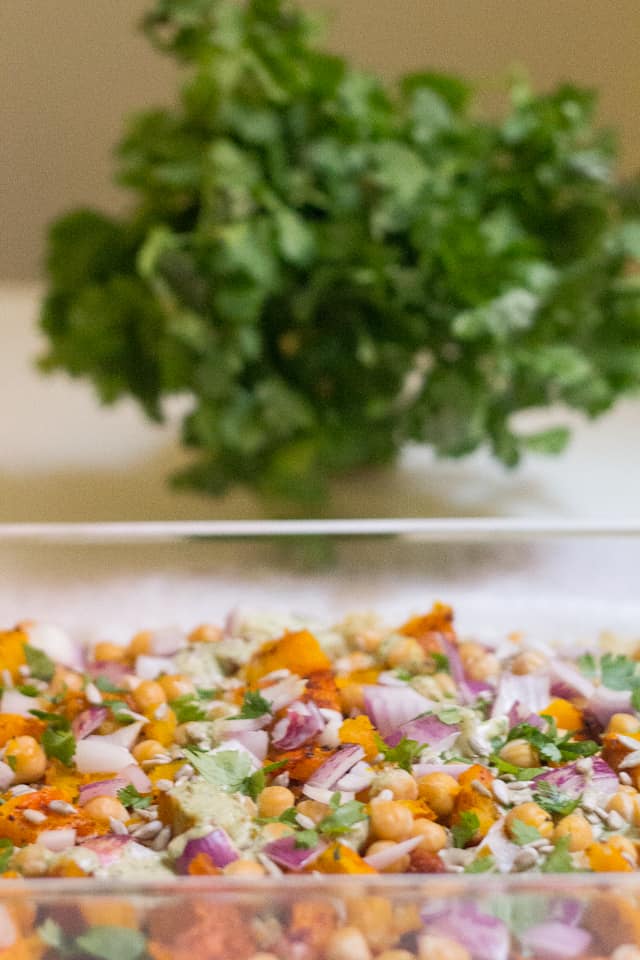 But now, I see that we were wrong. Cultivating these bonds, formed by blood ties and made stronger by regular contact, should have been a priority for us. For in the process of growing ourselves, we actually lost touch with one of the most crucial parts that make us who we are - our families. I don't intend to let that happen again.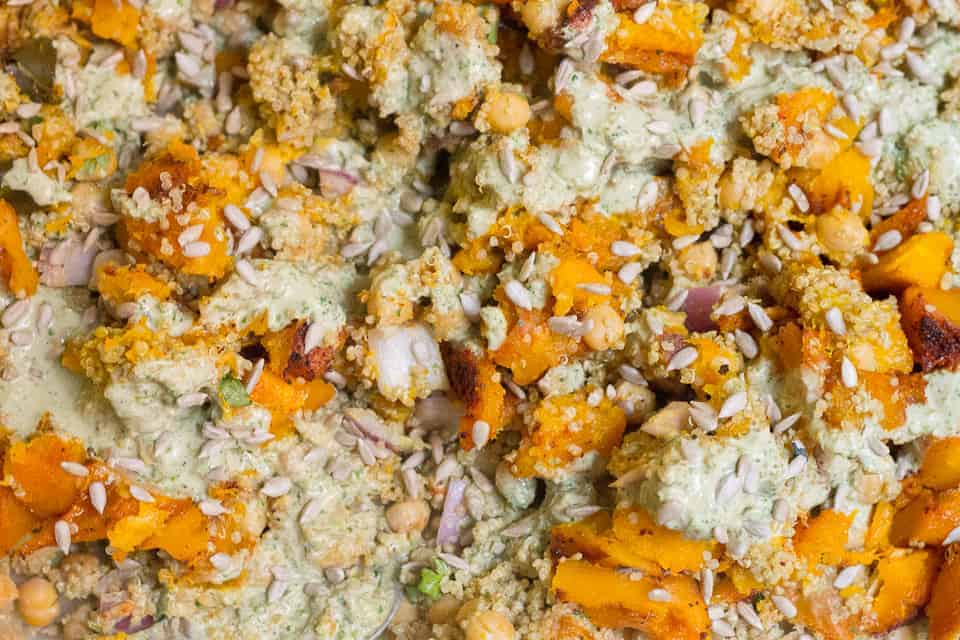 I hope I will see Anna again, and fairly soon. I hope that this fragile connection we had formed, over bottles of Quebec cider and plates of quinoa, kabocha squash and chickpeas, will thrive over the years, maybe even growing into a genuine friendship. I imagine this is very likely, as we now live only a few hours away from each other, separated only by a thin North American border. And I couldn't be more excited to continue discovering her.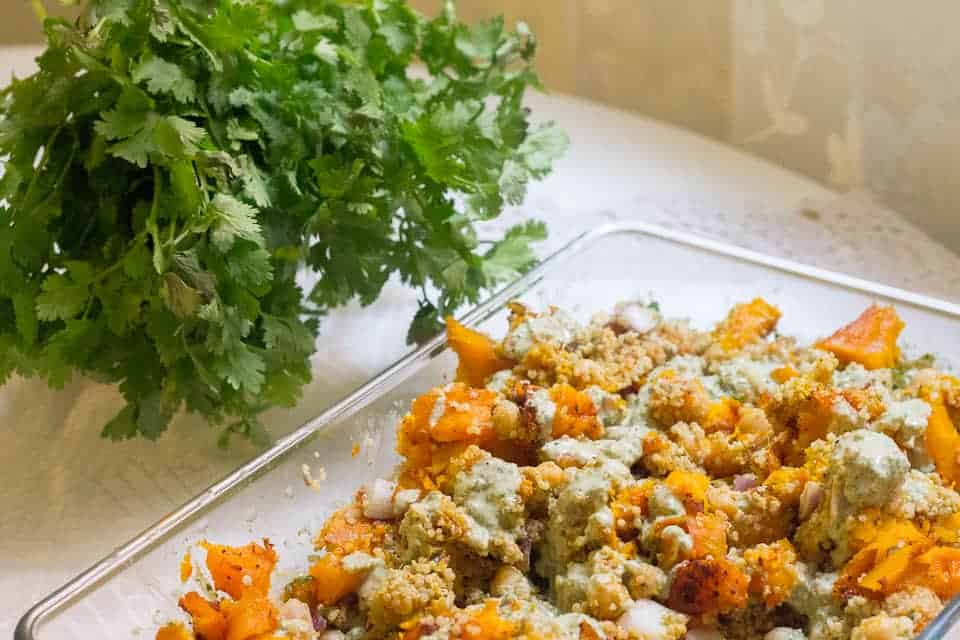 I made this quinoa with kabocha squash and chickpeas dish with green tahini the day we met. With Canadian Thanksgiving looming on the calendar, I had fall in mind, and I sought to harness this season's warmth and colours in this multi-textured dish. I based this on an old favourite, Smitten Kitchen's warm butternut squash and chickpea salad, and used typical Middle Eastern spices and flavourings. This quinoa with kabocha squash and chickpeas dish would make a good main course for a vegetarian Thanksgiving, or an innovative side for the vegetarians in your life. It would have also worked really well as part of Yom Kippur's final meal, which is when I made it (but I guess you'll have to wait until next year to test that out). But with the abundance of squash crowding our market stalls these weeks, and the need for a filling, healthy, and bright meal any day of the week, I don't think you should hold off on making this at all.
If you get to share it with a relative, that would be even better.
Tried and loved this recipe? Please leave a 5-star review below! Your reviews mean a lot to me, so if you've got any questions, please let me know in a comment.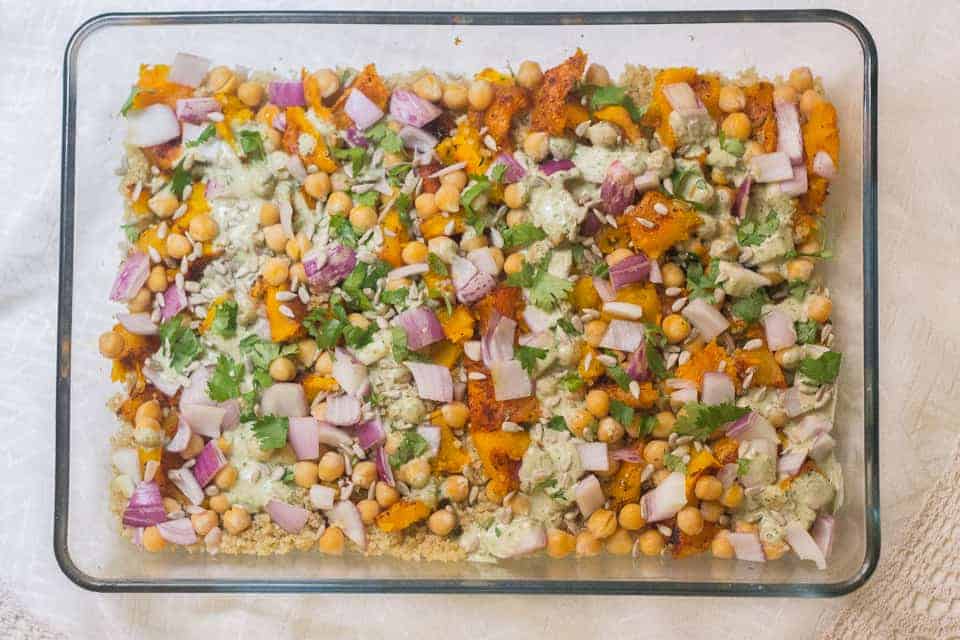 Recipe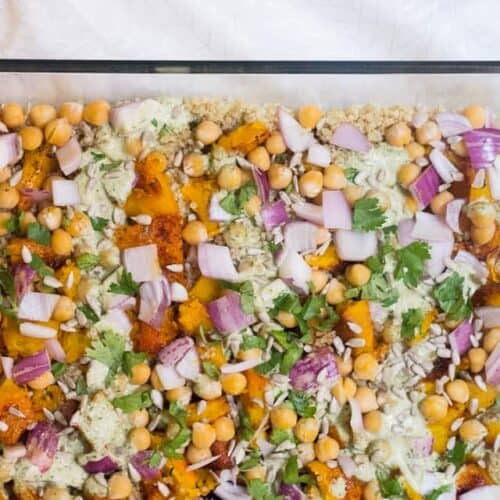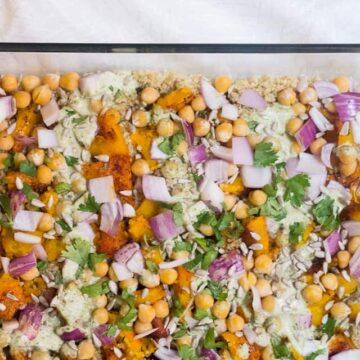 Quinoa with kabocha squash and chickpeas in green tahini sauce
This quinoa with kabocha squash and chickpeas is full of plump legumes & drizzled with a herbaceous green tahini sauce. A great vegetarian course for Thanksgiving, or any day of the week this fall! Inspired by Smitten Kitchen (http://smittenkitchen.com/blog/2009/01/warm-butternut-squash-and-chickpea-salad)
Ingredients
1

medium-sized kabocha squash

Grapeseed or olive oil

for drizzling (about 4 TBs)

2

TBs

sea salt

2

TBs

sweet paprika

1.5

cups

quinoa

1

can of chickpeas

or 1 cups dry chickpeas, cooked (this should produce about 2 cups of cooked chickpeas)

½

large red onion

3

TBs

raw tahini

4

cloves

garlic

juice of ½ lemon

a cup of parsley

1

teaspoon

salt

¼

cup

water

¼

cup

toasted pumpkin or sunflower seeds

for serving
Instructions
Preheat oven to 400F, and cover a large baking sheet with tinfoil (if using half-trays, you may need two. Slice kabocha squash into 1-inch thick slices, choosing to keep or remove the peel, and arrange on a baking sheet (Full disclosure: I am terrified of cutting raw squash. I will always opt to keep the peel on and remove it after baking, by hand, despite whatever burns the heat may cause me. I also delude myself into thinking this helps seal in moisture, which may or may not be true. Feel free to peel the kabocha squash before, if you're adept with a knife and a roundish squash). Drizzle with grapeseed and olive oil, sprinkle with 2 TBs salt and paprika. Bake for 20 minutes, then switch to broil setting, and grill from the top for an additional 10 minutes. Let cool for 10 minutes, and remove the peel. Chop squash into chunks.

Meanwhile, cook quinoa. Fluff with a fork and let rest. Pour into a deep casserole dish, salad serving dish, or onto a platter.

Wash chickpeas if using canned. Chop onion coarsely, but still bite-size. Add chickpeas and onion to quinoa. Arrange squash on top.

Prepare sauce by blending tahini, garlic, lemon juice, parsley and salt in a blender. Gradually add in water while blending. The sauce should be pourable, bright, and a little salty (this will add all the flavour to the quinoa and chickpeas).

Pour sauce onto quinoa, kabocha squash and chickpeas. Right before serving, toast pumpkin or sunflower seeds, and sprinkle on top.

This dish tastes best when the quinoa and squash are hot, so if making ahead, try and keep them separate from the other ingredients. That being said, any leftovers will taste great out of the fridge.
Tried this recipe?
Comment + Rate Below!
Connect on Instagram!
Find us @immigrantstable