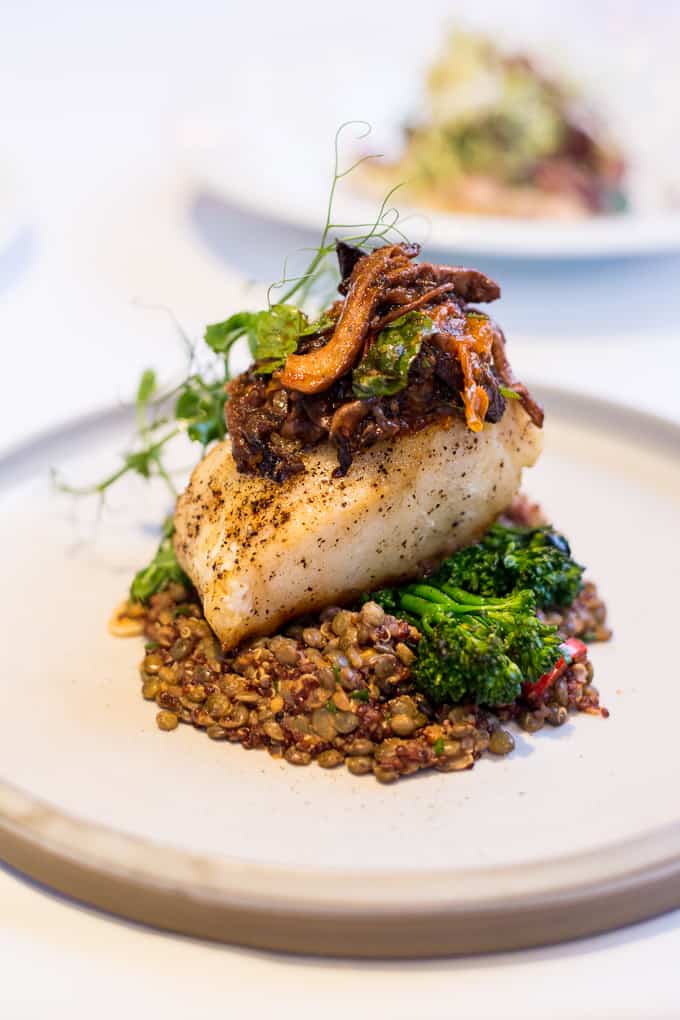 When I first saw her, I knew there would be something between us. The tall ceilings, the regal tree reaching out to the sun, seemingly looking to break through the confines of all the grandeur and splendour that surrounds it, its central location in the heart of everything - my feelings for Montreal were the same as the love-at-first-sight I felt for Ristorante Beatrice. When Ristorante Beatrice celebrated its 20th anniversary last summer, I saw no better opportunity than to come there and celebrate my three-year anniversary with the city that inspires, motivates and moves me. This post expresses my opinion alone, though I was provided a tasting meal at Ristorante Beatrice as part of their anniversary celebration. You can always count on me to only work with companies and products I love!
It was my during my first week in Montreal, on one of those boiling hot day July days when your thighs stick to the plastic seats on the bus, that I saw Ristorante Beatrice through the window during my morning commute. We were still running around, hopelessly trying to take care of the thousands of little details that make up moving into a new province, and the days felt like one endless trip through Ikea. I had no job to speak of, no disposable income, and definitely no chance to go visit new restaurants. Yet when my eyes fell on Beatrice, it was love at first sight.
There was just something about the twinkling lights making their way through the glass walls, seeming to wink at you; the tree growing in the middle of the restaurant and breaking out through the ceiling, as though trying to connect back to nature; the prix-fixe lunch menu, that offered a taste of Beatrice's finest dishes; the balance of fancy and simple, Aperol spritzes and creamy homemade buratta alongside heavier, starchier classic mains like veal paillards.
I began dreaming about the day I would enter its dining room, casually pointing to a table by the window that overlooks that beautiful tree, and order a cold glass of white wine to start my meal. The waiters would bring in a basket of freshly baked bread, a mix of focaccias - one seasoned with dark, glistening olives and parmesan, and the other studded with herbs and chilli flakes. The breads would be used to mop up the homemade burata, as fresh as a cloud with an effervescent membrane, using the grilled crostini served alongside it to support a medley of heirloom tomatoes and micro greens. Tinged with a hint of garlicky pesto, this dish would be an ode to the early days of summer.
In my reveries, my dining partner and I would then order some Aperol spritzes, and sip on them as we tipped back Raspberry Point oysters with a white-wine mignonette with spicy peppers and shallots - a delicate, refreshing taste of the sea. The polipo, a grilled octopus "salad" served that night on radicchio salsa with a Tuscan bean salad , would be our favourite of the evening. The combination of fragrant mint, woodsy mushrooms, piqunate and acidic radicchio salsa would win us over, making our hearts swell and spirits sing. We would look around us, admiring the well-heeled ladies casually chatting at the table next to us, the party of six celebrating a matriarch's birthday. On this warm summer's day, we would enjoy the breeze wafting through the restaurant's open heart.
Then our mains would come in. The veal paillard would be the evening's only dull note, a familiar dish that tastes exactly as you'd expect - but then, the comfort of the classics can be a blessing for some. Because it's me, we'd definitely order fish - and Ristorante Beatrice's classic grilled Chilean sea bass would be everything that fresh fish off the plancha should be - hearty, woodsy, comforting.
And a restaurant of this calibre, we could certainly find a gluten-free dessert. The salted caramel ice cream cake would be my dream - a concoction of chewy cake, crunchy homemade caramel and rich and flavourful ice cream. Had with a small espresso, this would be the perfect kiss goodnight.
But of course, when I first saw Ristorante Beatrice through the window of the 24 going on Sherbrooke during those early days in Montreal, I couldn't afford to make this dream a reality. My phantasmal dining partner, the man whom I had followed to the city, would not much longer have the patience needed to sit with me through a two-hour meal, taking photos of every course that I had spent so long imagining. In short, the dream would have to wait.
And so it did. Ristorante Beatrice sat on my Wished For dining list for three years, even when I could afford to go and my dining partner changed. For some reason, I forgot how much I wanted to try it. Until an invite came one day in June, offering me to come to try a meal at the restaurant for its 20th anniversary, a selection from Beatrice's greatest hits over the years. Without thinking twice, I booked a night that seemed available, asked the man I had recently started seeing to join me for dinner, and moved on with my life.
When I met F that night, I wore a casual white dress. The stripes ran along its length, elongating my normally short frame. I had stopped right before seeing him to apply deodorant and lipstick, trying to cover up the long day of work, the oppressive Montreal heat, the veneer of disappointment I had come to wear like a second skin. He took me into his arms when he saw me, kissed my forehead, and led me into the restaurant.
When I took photos of every course, the heavy camera helped to stabilize my shaking hands. The Aperol spritz cooled the beads of sweat that made their way down the back of my neck. The taste of that octopus and buratta, the fish and oysters slowly, like a magical spell, worked their way into my heart and help my breath calm, my mind clear. By the time dessert and coffee came, I was smiling and laughing openly, like a child, my chattering no longer anxious.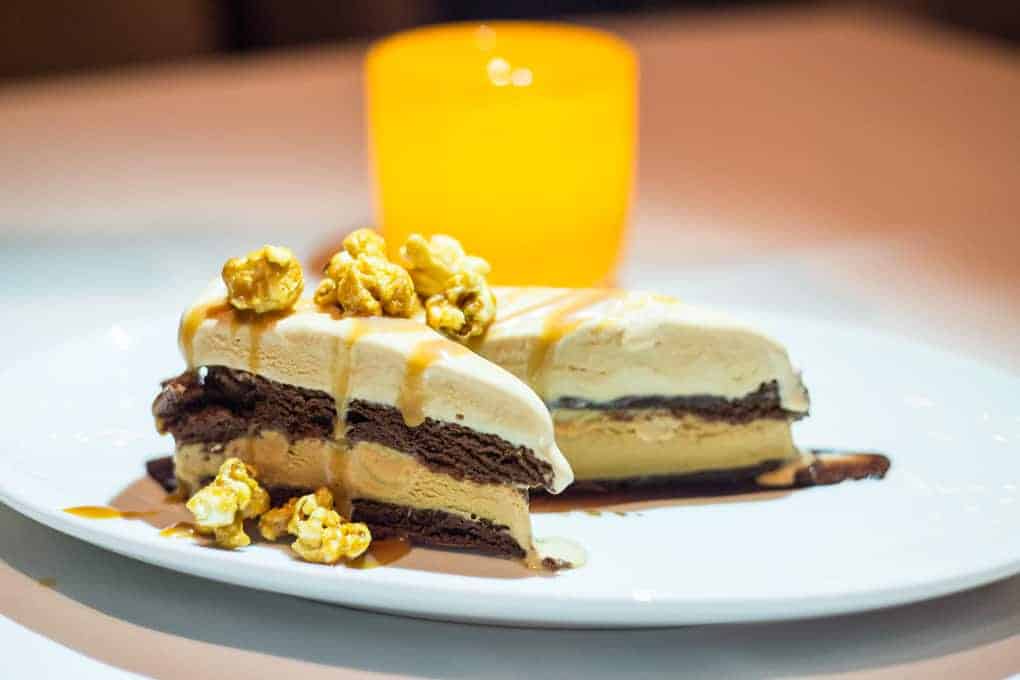 I was nervous because it was only when I sat down at the table that I realized that day, July 20, was my three-year anniversary in the city. And that the restaurant I was sitting in was that very same one I had watched through the window of my bus, falling in love with its decor before I even saw its menu. And it was only then that I started thinking that the man I had imagined with me there, my ideal dining partner, could be the very same man sitting beside me rather than in front of me, holding my hand, taking time to try and describe the texture, taste and feel of every bite of meat, gluten or cream that I could not eat.
If you are in Montreal, go to Ristorante Beatrice. Its classic Italian menu and fresh tastes are worth savouring, whether for that aforementioned prix-fixe lunch, or for a celebratory dinner. And if you come on July 20, you just may see me there again, enjoying what I think will become a traditional anniversary dinner for me and Montreal.
Tried and loved this recipe? Please leave a 5-star review below! Your reviews mean a lot to me, so if you've got any questions, please let me know in a comment.