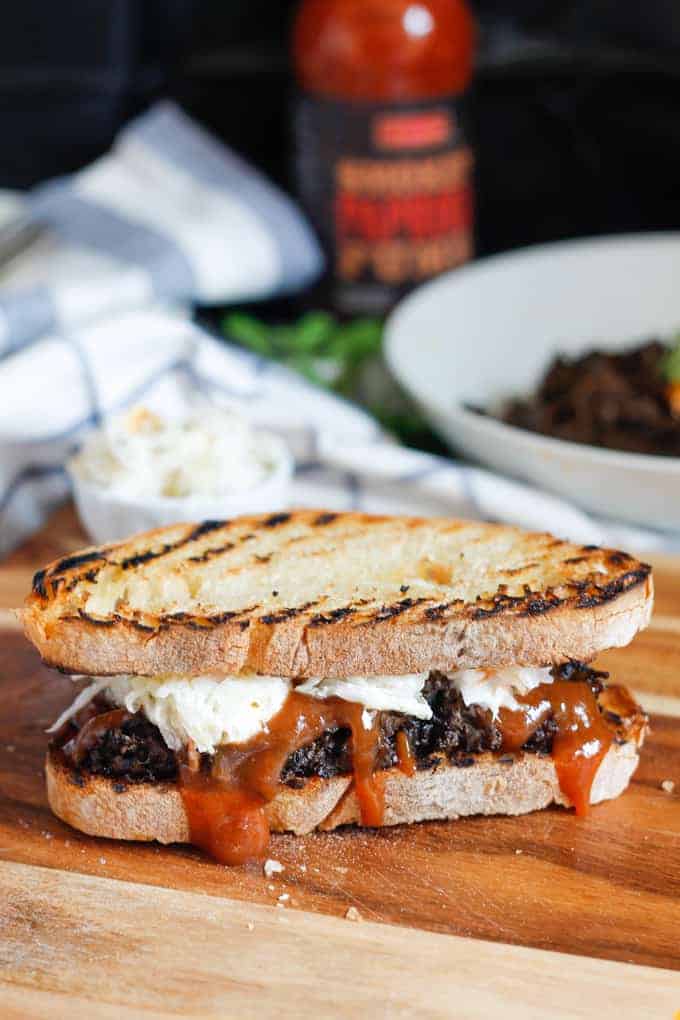 The idea for this Southern-style vegan pulled pork sandwich came from an error.
Standing in the kitchen, all set to prepare my mushroom bourekas, I had pulled out the big guns in attempt to make short work of chopping four pounds of mushrooms: the food processor. However, in my morning rush, I had set it to the wrong setting... and minutes later, I was left with a pile of thin, straggly strings that resembled grated cheese or beef more than the beautiful mushroom slices I envisioned.

But I would not despair. Instead, I began sautéing, heating the pan to a high, pulsating red before adding in oil and frying these fungi in small batches, adding another handful as the previous one shrank. I sprinkled them with generous portions of paprika, doused them in a bit of liquid smoke and Frank's red hot. And as I watched the pile of mushroom strings in the pan shrink and caramelize, turning instead into a juicy hotbed of flavours, I realized what this dish reminded me of: pulled pork.
Though it may not come across on this blog, I have long been obsessed with the Southern United States. The etiquette, history and music of this diverse and complex region has kept me mesmerized for decades, ever since I read The Glass Menagerie and To Kill a Mockingbird in high school, or watched Gone with the Wind with my mother way too many times to count.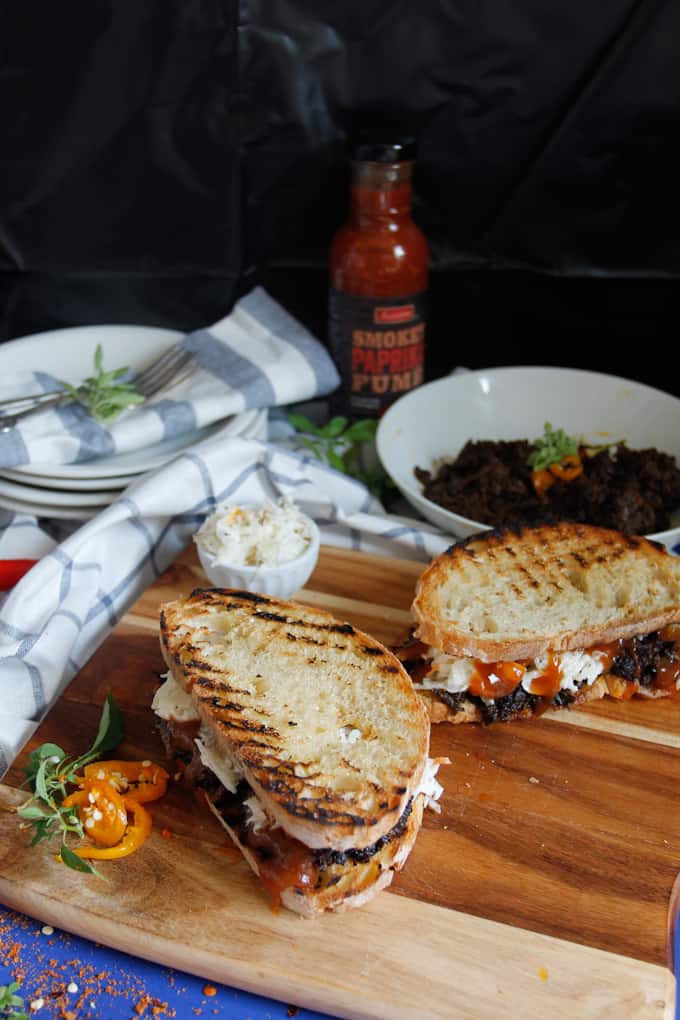 So understandably, since becoming interested in food, the Southern kitchen's spell on me has become as thick as barbecue sauce. And pulled pork has always remained the holy grail of that cuisine... but as a vegetarian, it's always been just beyond my reach. I've been dying to try its sweet and smoky flavours, let the juices dribble down my chin, taste the creamy coleslaw and the crusty bread that usually accompanies it. But I wasn't down with the aspect of actually eating a pig.
You can imagine my joy, then, when I looked at the pan of stringy mushrooms I was cooking and saw the early inkling of a vegan pulled pork sandwich.
Within hours, I had my Southern-styled vegan pulled pork sandwich spread assembled. With crusty white bread from the bakery downstairs, creamy coleslaw from Moishes, a venerable Montreal institution, and my favourite smoked paprika barbecue sauce, I was all set to make my own version of vegan pulled pork sandwiches.
And minutes later, when I bit into my first vegan pulled pork sandwich, its juices dribbling down my chin, the sweet and smoky flavours mingling with the the creamy coleslaw and the crusty bread, I knew I had attained Southern food nirvana.
And with this recipe, so can you.
But before we get to the good stuff, I wanted to tell you one more thing - there's now another great way to save all of your favourite recipes from At the Immigrant's Table! See that lovely 'yum' button right under the title of this recipe? Well, if you click that little orange button, you can save your favourite recipes from the blog straight to their personal recipe box on Yummly. And as an avid user of Yummly, I can't recommend this site enough - it makes dinner so much easier to put together.
You can also visit my publisher page on Yummly, and see what other popular recipes of mine you'd like to check out.
So let's get cooking - and yumming.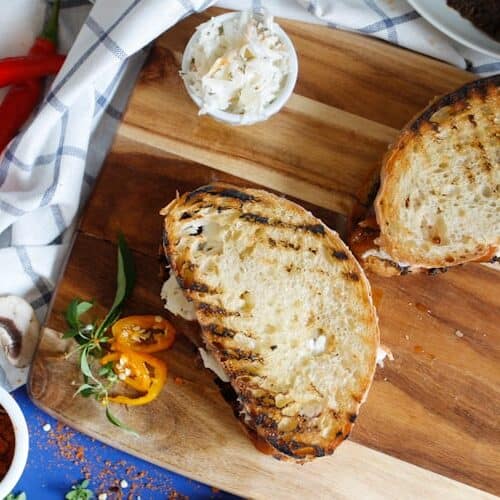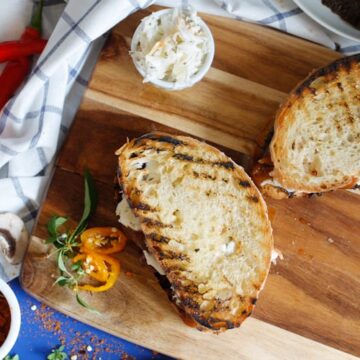 Southern-style pulled mushroom sandwich (vegan)
A vegan take on a Southern classic, this vegan pulled pork sandwich is a smoky, sweet and creamy mess that will leave you giddy with joy.
Print
Pin
Rate
Ingredients
One large onion

chopped finely

4

pounds

mushrooms

chopped into matchstick form or, better yet, cut on the smallest slicer blade on the food processor so they look like shaved matchsticks

1

tablespoon

paprika

2

teaspoons

brown sugar

A few dashes of Frank's red hot

optional

A few dashes of natural smoke flavor

optional

Salt and pepper

to taste

Coleslaw

I prefer vegan

Your favourite brand of barbecue sauce

A crusty bun or two slices of bread per person
Instructions
Preheat a pan to medium-high heat. Add oil, and saute onions until they begin to brown, about 10-15 minutes. Working in small batches and adding oil to prevent sticking, saute all the mushrooms until they have shrunk and reduced to about one-third the size, changing their colour completely. They should be chewy and not at all spongy. Season them with spices, Frank's red hot and natural smoke, tasting and correcting seasonings as you go.

Slice and toast the bread, or the bun halves. Taking one slice or the bottom bun half, ladle a generous helping of vegan pulled mushrooms. Top with barbecue sauce and a generous helping of coleslaw. Finish with the second slice of bread or bun half. Repeat as needed, depending on how many people you're feeding. Serve immediately, with a lot of napkins to wipe all the juices.