Ground turkey, onions, herbs and spices come together with tahini sauce to make Turkish-style turkey kofta kebabs in pita for a healthy lunch!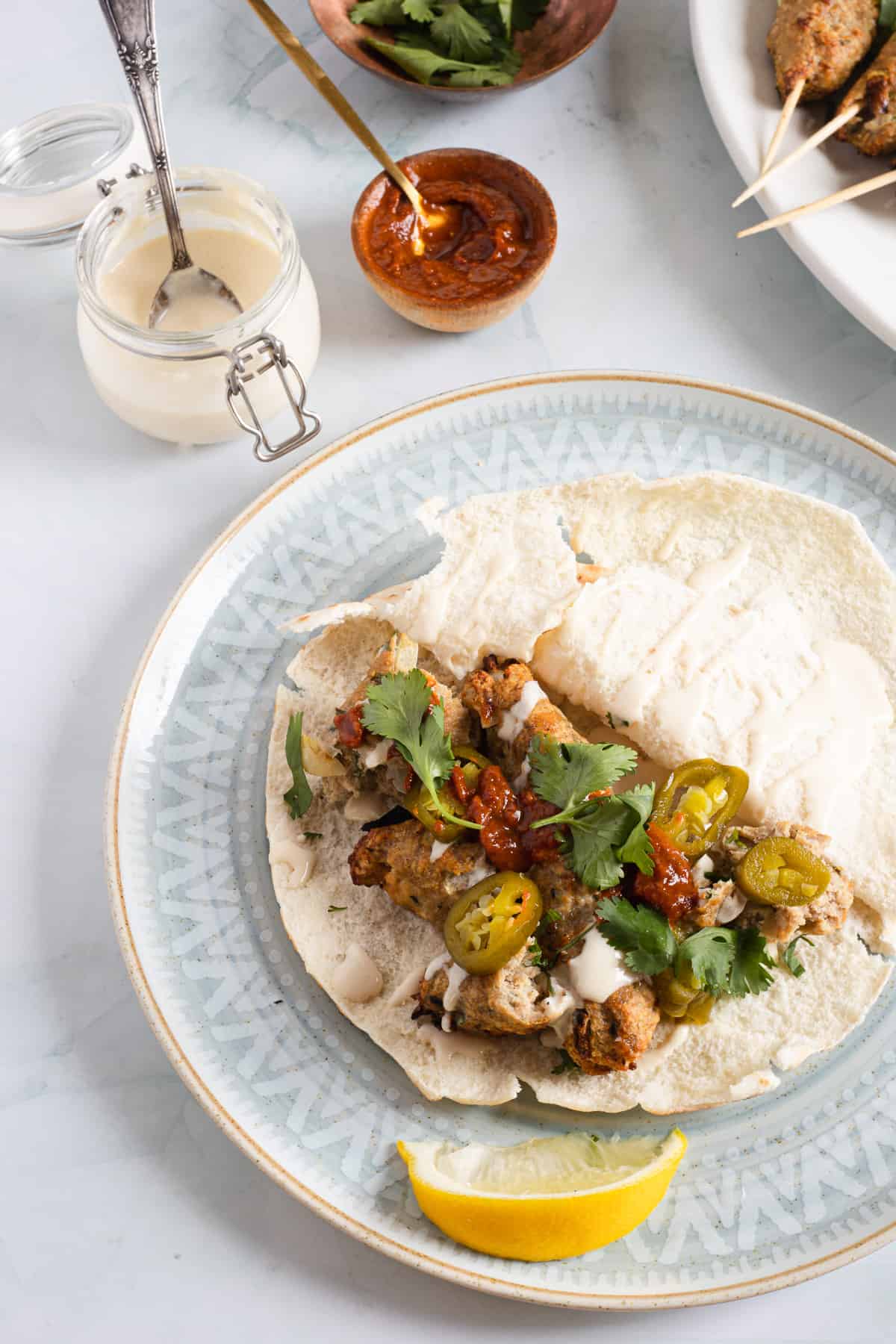 Introduction
Succulent and savory kofta becomes a weeknight staple with this Turkey Kofta Sandwich recipe. Inspired by the flavors of Turkish kofta kebab pitas, the Turkey Kofta Sandwich recipe offers a savory and convenient option for weeknight meals. Whether it's a quick and satisfying weekday lunch for the family or an uncomplicated dinner during hectic days, these turkey kebab pitas have become a reliable choice in my household.
Diverging from the typical lamb kofta kebab, this alternative presents a delightful opportunity to incorporate more turkey into your diet. I use a well-balanced blend of spices that goes perfectly with the succulence of the turkey ground meat.
For a gluten-free alternative, I eat my turkey kofta kebabs on a bed of fresh Israeli salad for a super-filling, delicious and refreshing lunch option (details available in my variation).
Experience the fusion of Turkish culinary influence and innovative spices with this Turkey Kofta Pita Sandwich. I make these turkey kebab pitas whenever I'm in need of a tasty weekday lunch for my husband and kids, or simple family dinner on a busy day.
Why You'll Love This Turkey Kofta Sandwich
These ground turkey kebab sandwiches are a staple in my household and for good reason. Here are just a few of the reasons I know you'll love this recipe for a turkey kofta sandwich.
Simple - The process of throwing these sandwiches together is so quick and easy. You can even make the ground turkey kebabs ahead of time and cook them when you're ready. It's an easy recipe to have on hand for hectic weekdays or weekends where you need something satisfying without too much work.
Affordable - You only need a few ingredients to make a turkey kofta sandwich. The kebabs themselves require minimal items and the toppings are pantry and fridge staples. Altogether it makes this dish very accessible and affordable.
Customizable - These sandwiches can take whatever form you want them to, making them a great meal for families or groups with various preferences. Spread fresh hummus or baba ganoush for a creamy sauce or load fresh cucumbers, tomatoes, and onions into the mix.
Is a Turkey Kofta Sandwich Healthy?
A turkey kofta sandwich is a great healthy meal throughout the week. Traditional kofta recipes use beef or lamb, but ground turkey kebabs are a nice, lean alternative.
The turkey provides plenty of protein, less fat, and the same delicious kofta flavors. Plus, the sandwiches can be loaded up with tons of vegetables to bring in some additional vitamins, minerals, and fiber to the meal.
Ingredients you need to make turkey kebabs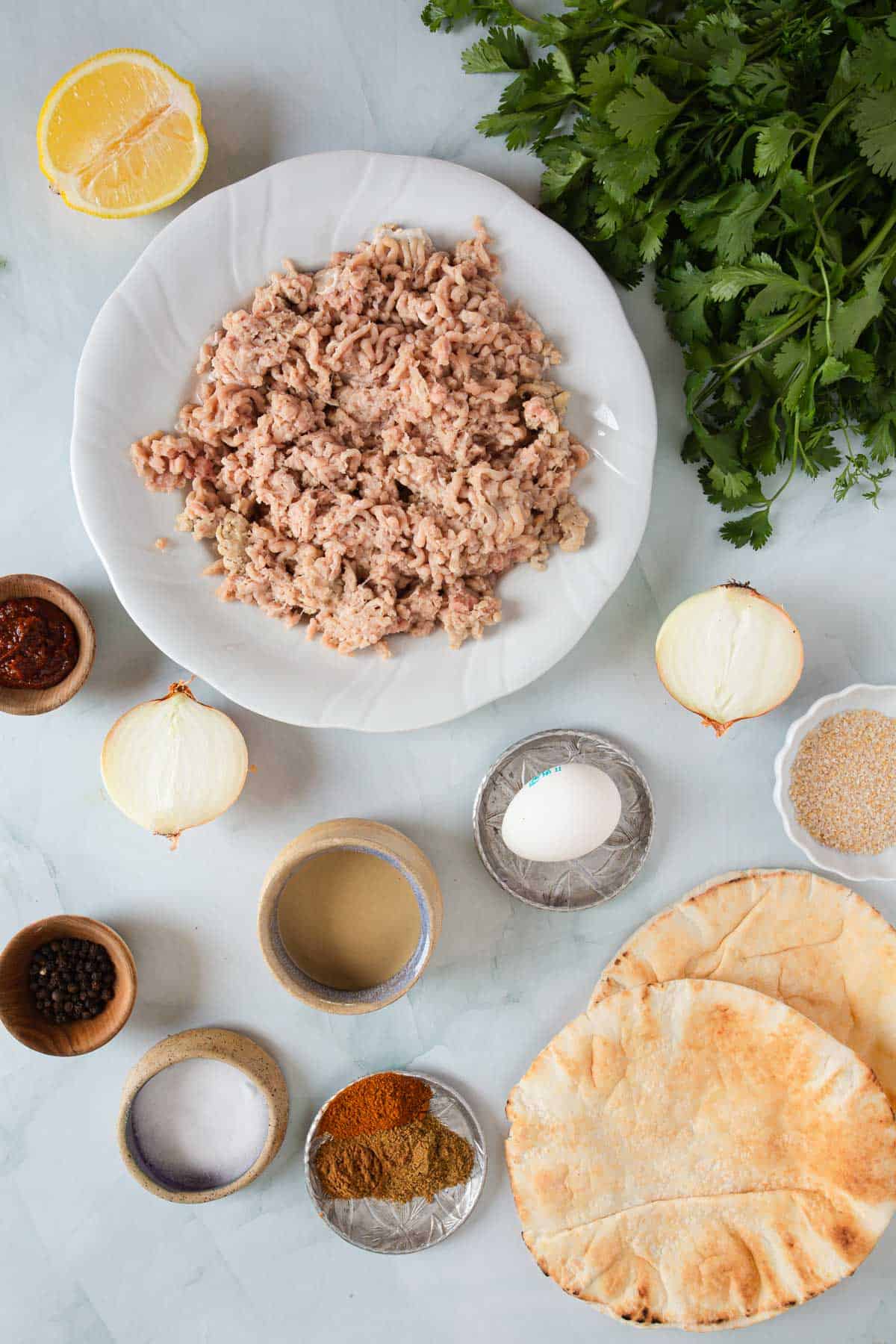 Ground turkey: A leaner alternative to ground beef, it can be swapped with ground chicken.
Cilantro: A herb boasting a citrusy flavor, interchangeably with parsley or basil.
Bread crumbs: Utilized as a binding agent, they can be replaced by panko or crushed crackers. I've achieved success using gluten-free bread crumbs.
Salt: Employed to elevate flavors, it can be substituted with sea salt or kosher salt.
Cumin: A spice renowned for its smoky notes can be swapped with chili powder or coriander.
Paprika: A spice offering mild flavor, it can be substituted with smoked paprika or chili powder.
Egg (optional): Functioning as a binding agent, it can be omitted.
Harissa: A vibrant and spicy North African chili paste, adds depth and heat to the dish. Can also use schug in its place.
Tahini Sauce: A rich and creamy condiment made from sesame seeds, imparting a nutty and slightly bitter taste.
Pickled jalapenos or other pickles: For a fiery kebab pita, retain these, but omit if preparing for kids.
Pita bread - a soft and versatile Middle Eastern bread, perfect for enveloping your flavorful kofta kebabs.
See recipe cards for exact quantities.
Equipment
How to Make Ground Turkey Kebab Sandwiches
Make kebab mixture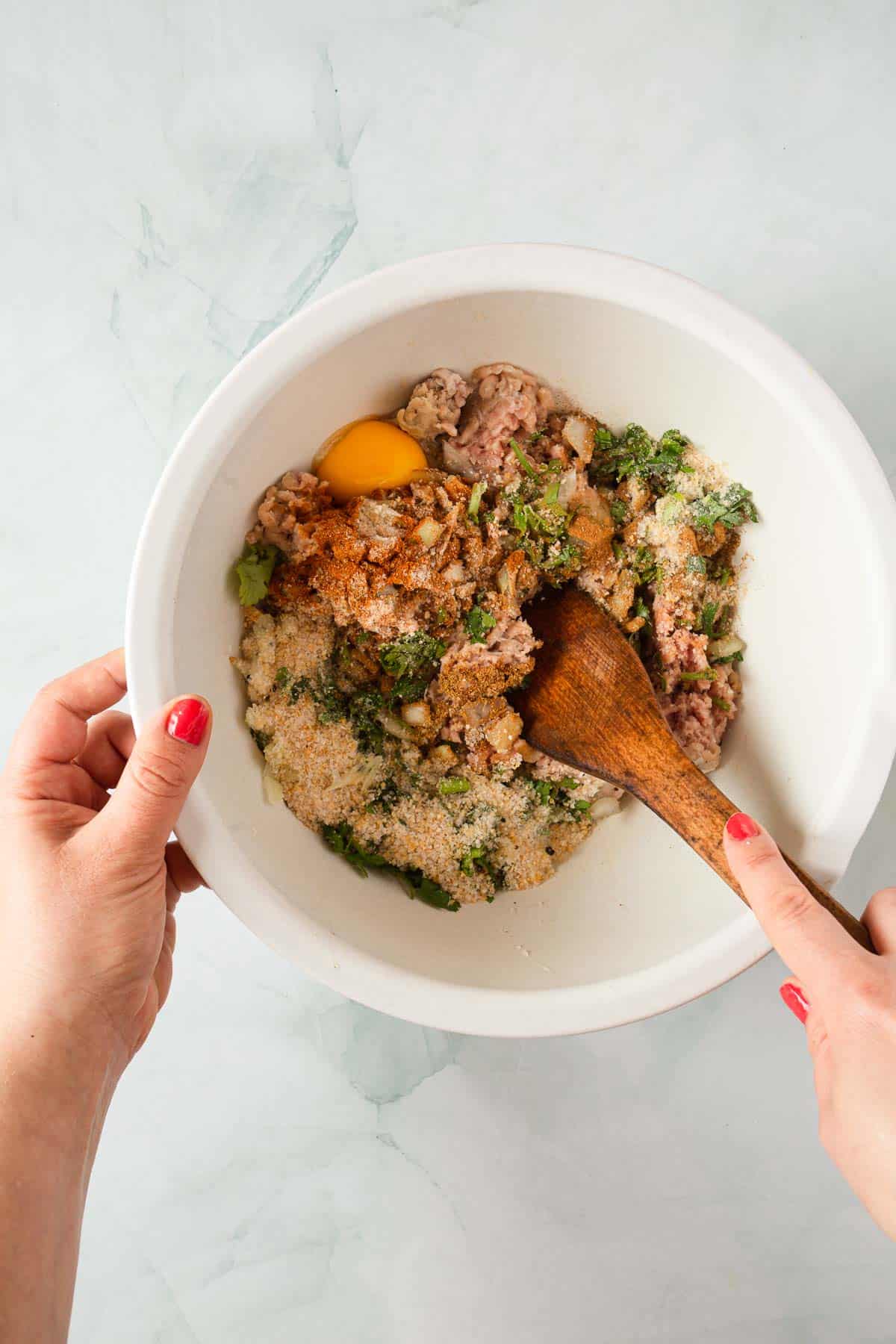 To make ground turkey kebab sandwiches, combine ground turkey, diced onion, bread crumbs, and chopped cilantro in a bowl. Add a pinch of cumin, paprika, salt, and pepper to the mixture. If the mixture holds together well, there is no need to use an egg as a binder. Place the mixture in the fridge for around 30 minutes to allow it to firm up. Meanwhile, if you are using wooden skewers, soak them in water to prevent them from burning on the grill.
Bake turkey kebabs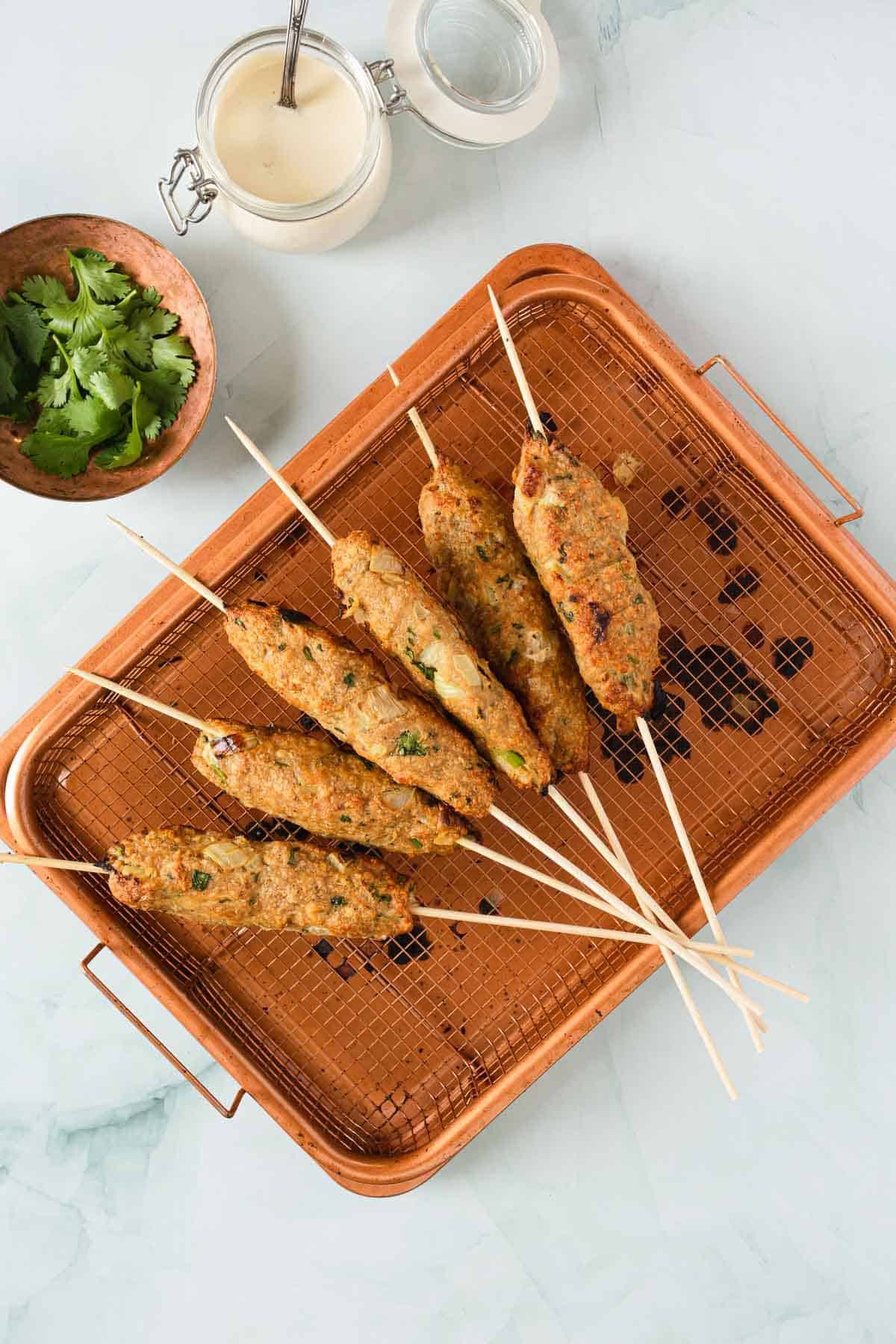 Once the turkey mixture has formed, shape it into elongated kebabs around the skewers. Wetting your hands can make this process easier. Grill the kebabs over medium heat for about 6-8 minutes on each side or until they are cooked through. While the kebabs are grilling, you can prepare your sandwich toppings and condiments of choice. Remove the kebabs from the grill and carefully slide the meat off the skewers.
Make kebab pitas
To make a delicious kebab pita, start by warming the pita bread in the oven for a few minutes or in a toaster to give it a nice crispy texture. Once the pita is warm and ready, spread a spoonful of tahini sauce on the inner surface of the pita. This creamy sauce adds a flavorful base to the pita.
Place a couple of baked turkey kebabs on top of the sauce. You can break them up, or keep them whole. For those who enjoy a bit of heat, drizzle some harissa over the kebabs for a spicy kick. Add a few pickled jalapenos or regular pickles to the mix if you prefer some tanginess.
To enhance the freshness, sprinkle some more fresh cilantro over the kebabs. And finally, give your pita a squeeze of fresh lemon juice for a burst of zesty flavor. Carefully roll up the pita, enclosing the ingredients snugly. Now, you can bite into this tasty turkey kebab pita!
Storage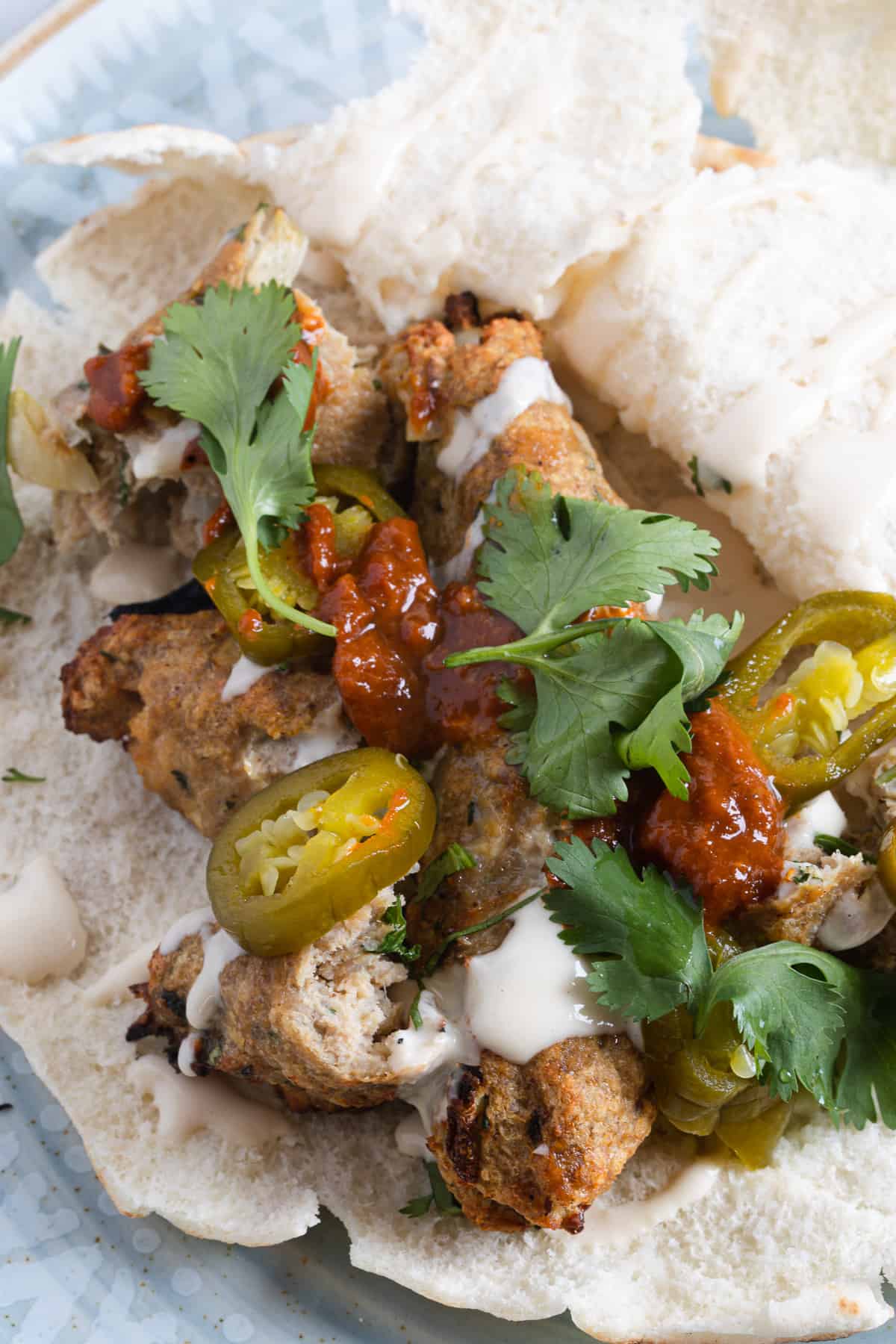 These prepared turkey kebab pitas will last for up to three days when wrapped in plastic and kept in an airtight container in the refrigerator, but can they may get a bit soggy overtime. You can also freeze the kebabs themselves in a Ziploc freezer bag for up to three months. I've found it works best to thaw the kebabs overnight in the refrigerator before reheating and serving.
Top Tips
Use a Food Processor- Utilizing a food processor to make this ground turkey kebab recipe even easier. All of the ingredients can be quickly blitzed in a food processor for a simple way to mix everything together.
Chill the Turkey Kebabs - Help the turkey kebabs keep their shape while cooking by chilling them. Once you've shaped the mixture into kebabs, cover them and chill in the refrigerator for at least 30 minutes.
Variations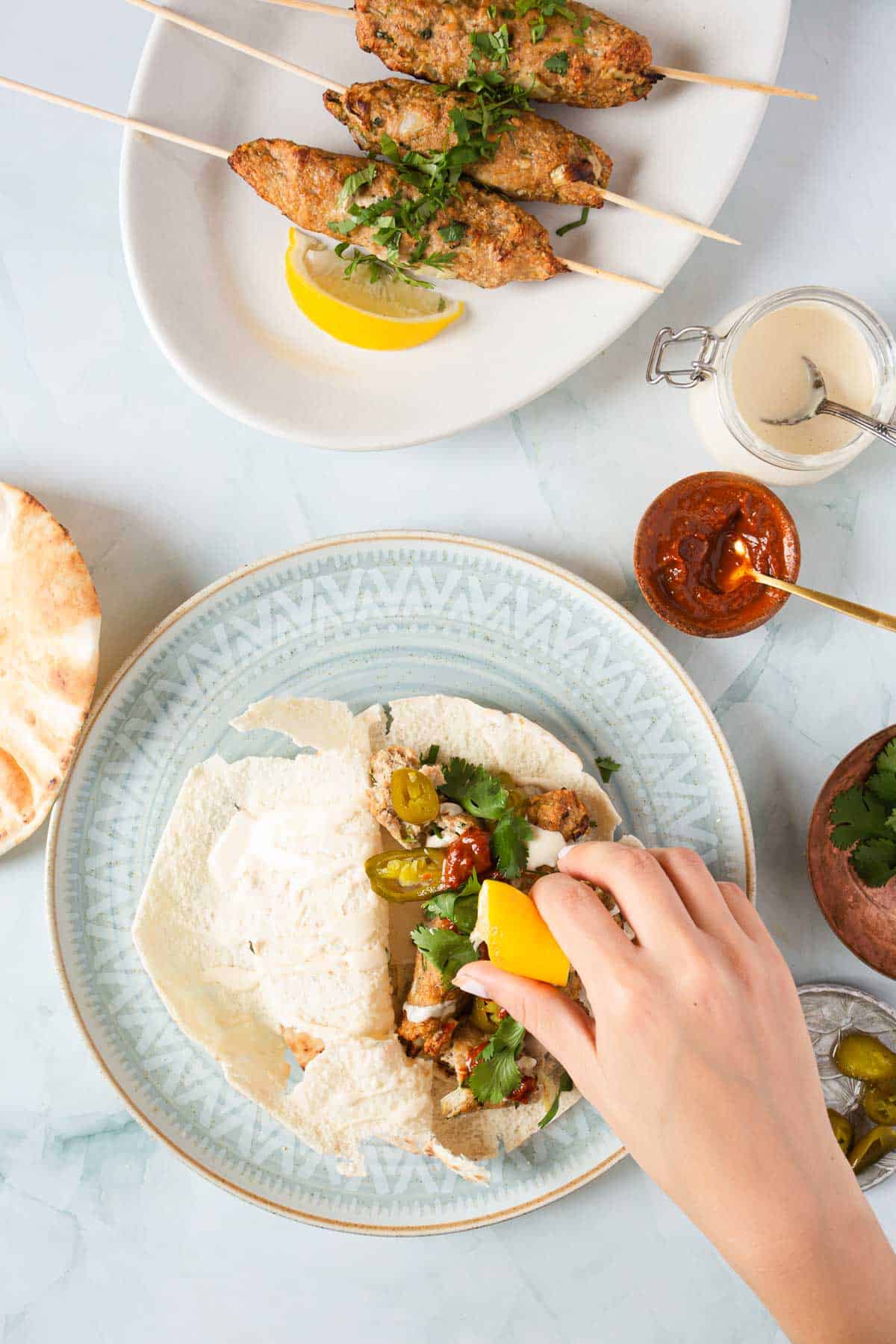 Turkey Kebab Salad - Use this turkey kebab recipe as a salad topping. This is a great way to turn this dish gluten-free or use the delicious kebabs as an excuse to add in more vegetables to your day. The kebab spices would pair wonderfully with an Israeli salad or a lemony arugula salad.
Frequently Asked Questions
Can I bake the turkey kebabs instead?
Yes, of course. You can form the turkey kebabs into patties without the skewers and bake them at 425 degrees Fahrenheit for about 20 minutes or until they're fully cooked through. This is a great alternative if you don't have access to a grill or an air fryer.
Can other meats be used to make a version of this turkey kofta sandwich?
I love to use ground turkey for the recipe because it's healthy and affordable, but it's certainly not the only option. You can whip up the same kind of kofta kebabs with almost any meat including lamb, beef, and even ground chicken.
Recommended Dishes
To try more Middle Eastern-inspired dishes, check out these recipes:
Tried and loved this recipe? Please leave a 5-star review below! Your reviews mean a lot to me, so if you've got any questions, please let me know in a comment.
Recipe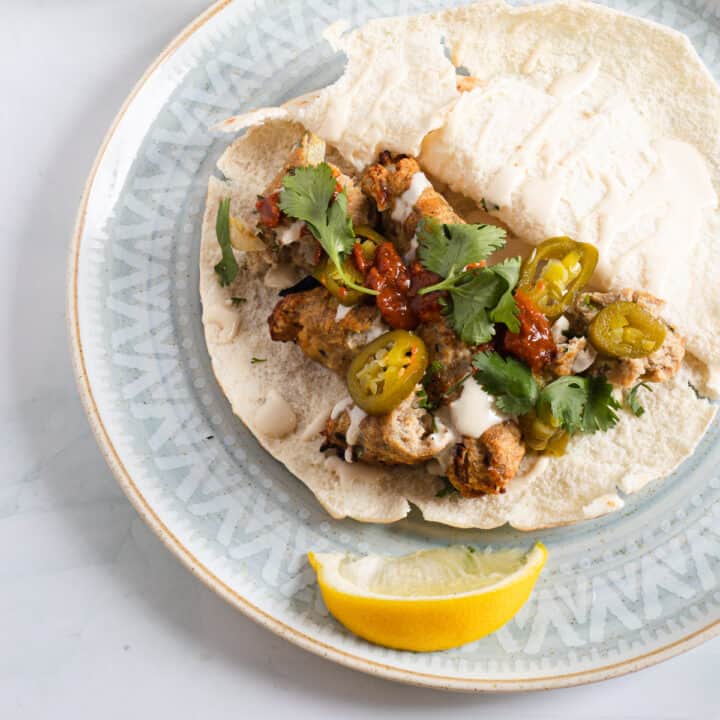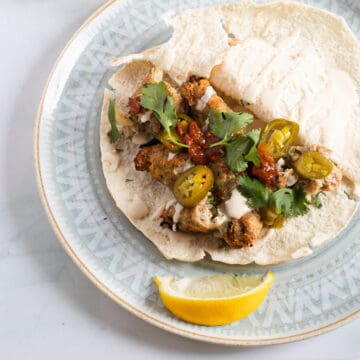 Baked Turkey Kofta Pita Sandwich
Ingredients
1

pound

ground turkey

½

onion

diced

½

cup

cilantro

washed and finely chopped, plus more for serving

¼

cup

bread crumbs

½

teaspoon

salt

or to taste

1

teaspoon

cumin

1

teaspoon

paprika

½

teaspoon

cinnamon

1

egg

optional

4

Pita breads

½

cup

tahini sauce

2

TBs

Harissa

or more, to taste

4

Pickled Jalapenos or Pickles

optional

Lemon

for serving
Instructions
In a bowl, combine ground turkey, diced onion, bread crumbs, and chopped cilantro.

Add a pinch of cumin, paprika, salt, and pepper to the mixture. If it holds together, you don't need to use an egg.

Place the mixture in the fridge for 30 minutes to firm up.

If using wooden skewers, soak them in water to prevent burning.

Shape the turkey mixture into elongated kebabs around the skewers. Wet your hands to make this easier.

Preheat your oven to a high grill setting (around 400-450°F).

Place a drying rack on a baking sheet and arrange the kebab skewers on top.

Grill the kebabs for 5 minutes on each side, turning them carefully.

Warm the pita bread in the oven for a few minutes or in a toaster.

To assemble the pita, start by spreading a spoonful of tahini sauce on the pita's inner surface.

Place a couple of the cooked turkey kebabs on the sauce.

Drizzle some harissa for a spicy kick.

Add a few pickles if desired.

Sprinkle more fresh cilantro over the kebabs. Drizzle with lemon juice.

Carefully roll up the pita, enclosing the ingredients snugly.

Enjoy your tasty turkey kebab pita!
Nutrition
Serving:
1
g
Calories:
520
kcal
Carbohydrates:
47
g
Protein:
40
g
Fat:
20
g
Saturated Fat:
3
g
Polyunsaturated Fat:
8
g
Monounsaturated Fat:
7
g
Trans Fat:
0.03
g
Cholesterol:
103
mg
Sodium:
1078
mg
Potassium:
665
mg
Fiber:
4
g
Sugar:
2
g
Vitamin A:
556
IU
Vitamin C:
6
mg
Calcium:
129
mg
Iron:
4
mg
Tried this recipe?
Comment + Rate Below!
Connect on Instagram!
Find us @immigrantstable