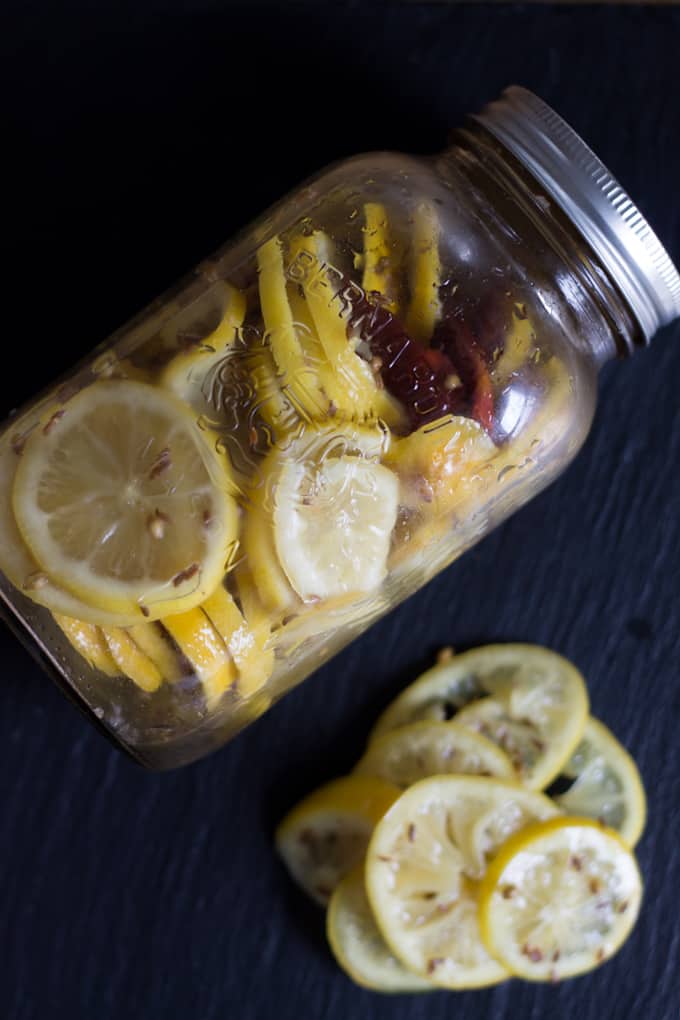 They look so innocent and pretty as they lie there, showing their underbellies to the world. Their cheeks plump and vibrant, and their skin taut, they look the picture of health. But it's when you bite into a preserved lemon that your whole perspective changes, and you begin to see them for what they truly are: assertive, strong, independent. Preserved lemons are the no-bullshit condiment of the Middle East, and today I'd like to share with you my favourite preparation for them: with a lot of spice.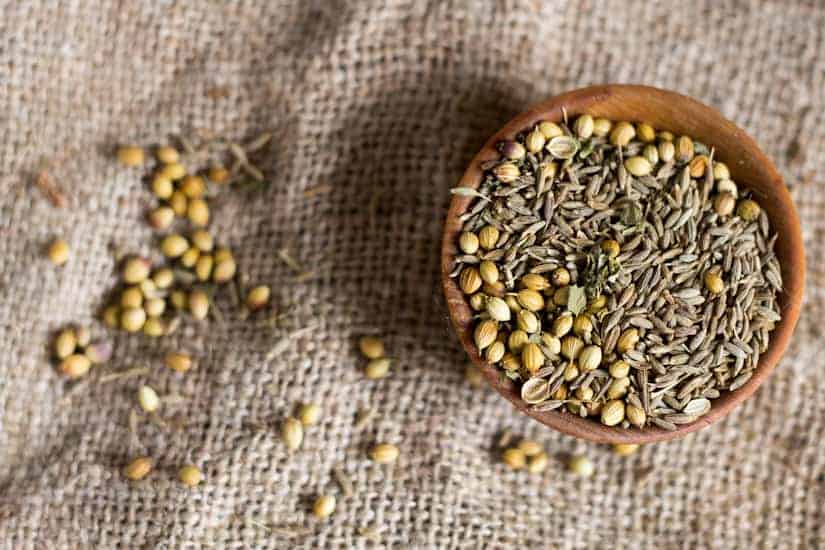 You begin by slicing preserved lemons into slices that are just right - not too thin, not too thick, about ½ a centimetre each.
You then mix your marinade: a heady combination of good chunky salt, fiery dried chilies, fragrant whole coriander seeds, and earthy whole cumin seeds. The whole thing comes together with a dash of sugar, just enough sweetness to cut through the notes and bring the whole thing together in your mouth.
Add your lemon slices. Now rub them in with all that goodness, making sure some coriander and a bit of cumin gets into every crevice of the lemon slice. Go on, rub it in.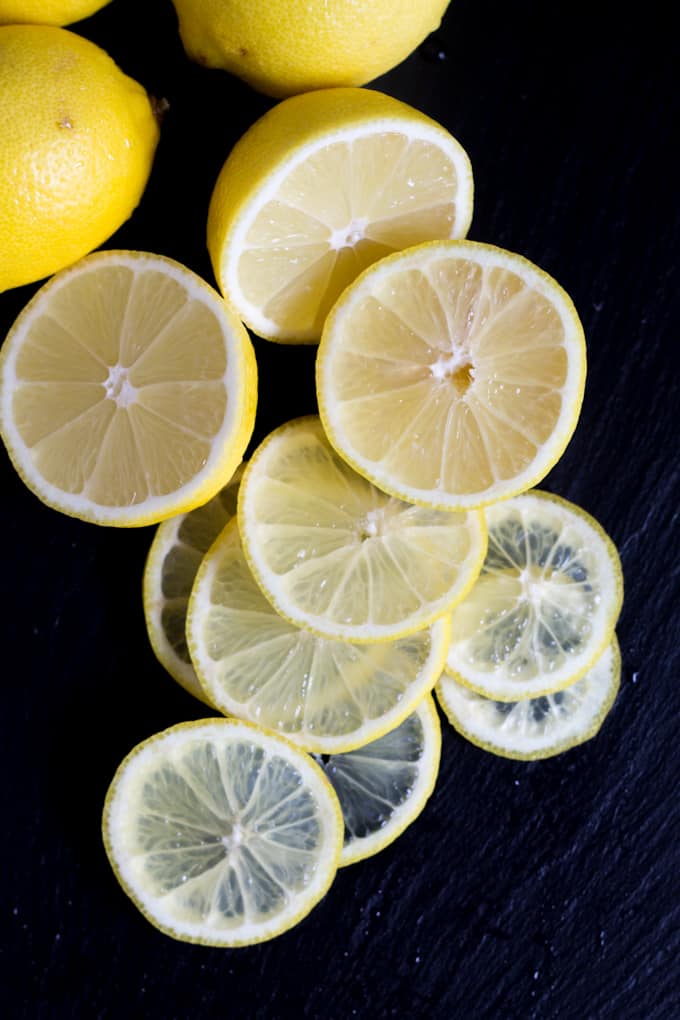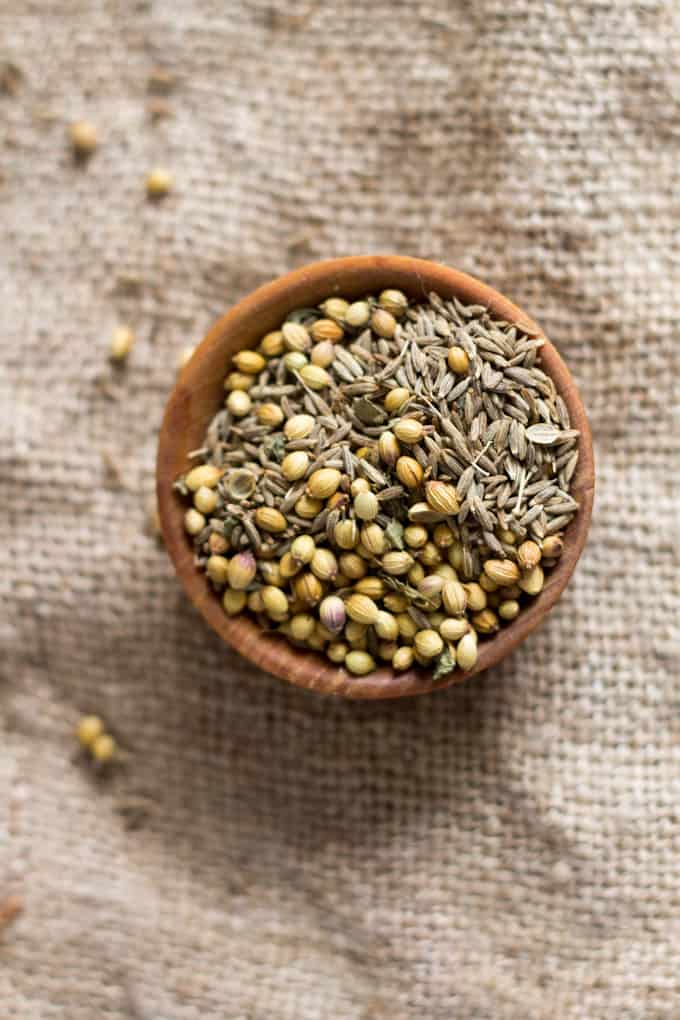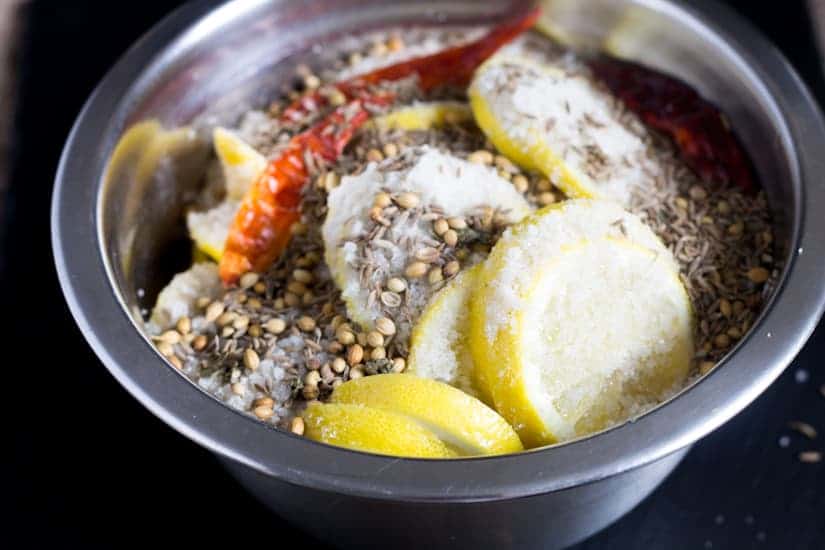 Now comes the hard part: the waiting. You put your bowl in a dark, cool corner, and fight your deepest desire to check up on it every hour. In fact, the best thing you can do for your preserved lemons is to let them lie there, undisturbed, for three days. Once those days are up, you transfer the bowl's content, that heady mix of beautiful lemon slices, colourful chili peppers and dominant spices, into a jar, top with a bit of olive oil... and forget about it again. For three weeks.
But after three weeks, as you bite into your first spiced preserved lemon slice, you'll be rewarded with a flavour the likes of which you've never tasted before: salty, spicy, a tad bitter and a whole lot of funky.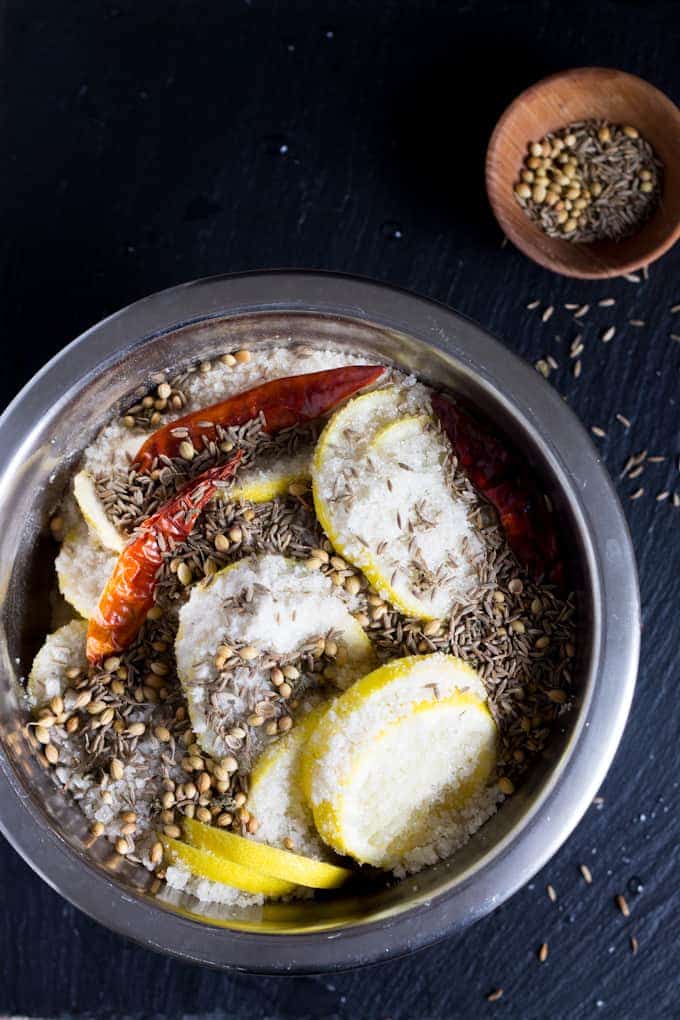 It's going to blow you away, and make you swear off those store-bought fluorescent yellow preserved lemons completely. And when you use my spiced preserved lemons in your tagines, herbed labaneh, Tunisian sandwiches or Middle Eastern salads, you'll thank your lucky stars you've ever found this recipe.
Make these spiced preserved lemons now, while the lemons are juicy and abundant, and enjoy them in the months to come.
Spiced preserved lemons
These spiced preserved lemons swim in a heady combination of chunky salt, fiery dried chilies, fragrant whole coriander seeds, and earthy whole cumin seeds.
Print
Pin
Rate
Ingredients
Instructions
In a large bowl, combine all the ingredients except olive oil. Cover with plastic wrap and set aside in a cool, dark place for 3 days .

Transfer the entire contents of the bowl into a jar (including the liquids!), add olive oil , seal well and set aside for 3 weeks. Occasionally shake the jar to distribute seasonings.