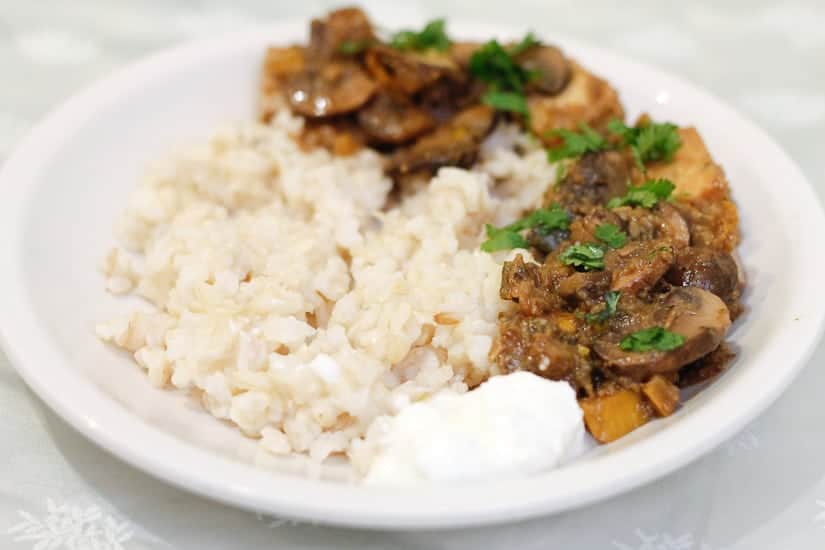 I wake up in the morning to the faint sounds of honking horns and scattering squirrels. My room is bright, though the view outside is shaded by a large canopy of trees. I reach for my new phone, check e-mails, and play solitaire for a bit while G is sleeping. The cat comes over and nuzzles my neck, my face, my chest. We listen to the silence together.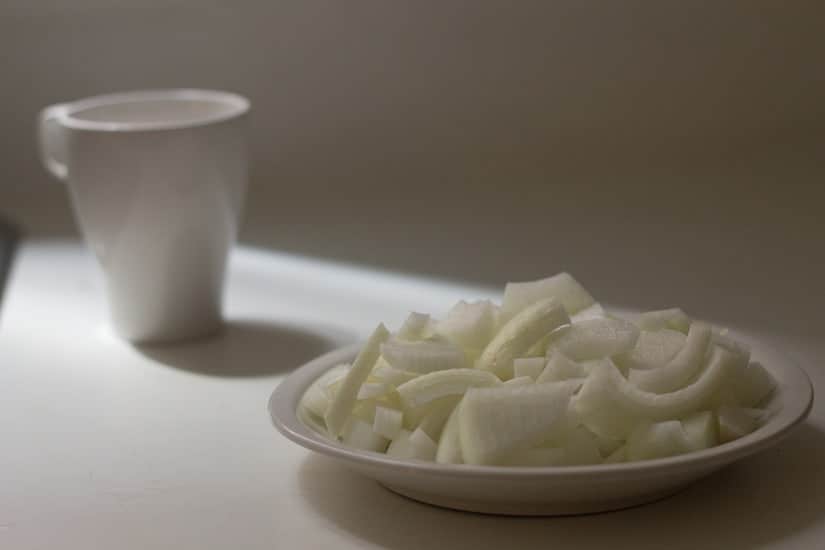 Eventually, I get up and make my way across the long, narrow apartment into the kitchen, where I turn on the lights even at 10 a.m. I have long since given up on harnessing the room's barely-there natural light. I make a smoothie out of whatever is available, blindly reaching for bananas and beautiful local plums. I boil water, and make myself a cup of green tea. I sit on the dirty loaner kitchen chairs, covered in plastic bags to avoid any contact with my skin. I look out my window and enjoy the view of the boarded up windows of the building across from me. I sip on my tea slowly, listening to the silence.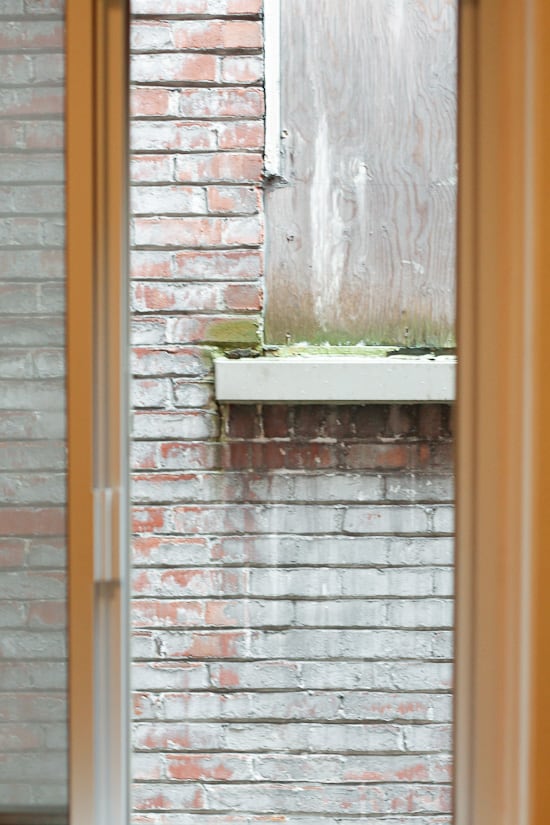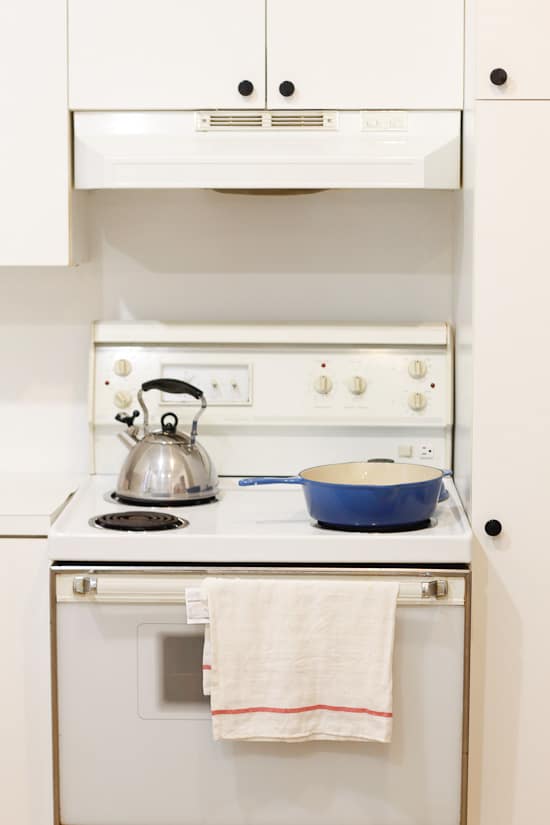 Eventually, I make my way to the refrigerator, sigh at its sight and remind myself a replacement is coming. I then open the door and survey the fridge's contents, deciding on what I need to pick up at the market today. Those are my big decisions now: which tomatoes to buy, or what to make for dinner. I look forward to the weekly trips to Jean Talon market like a child looks forward to Christmas. When G gets up, we discuss the state of the apartment, what we still have to pick up – our bed was finally delivered last night! – and we sit together, listening to the silence.
Bit by bit, my new life is starting to fall into place.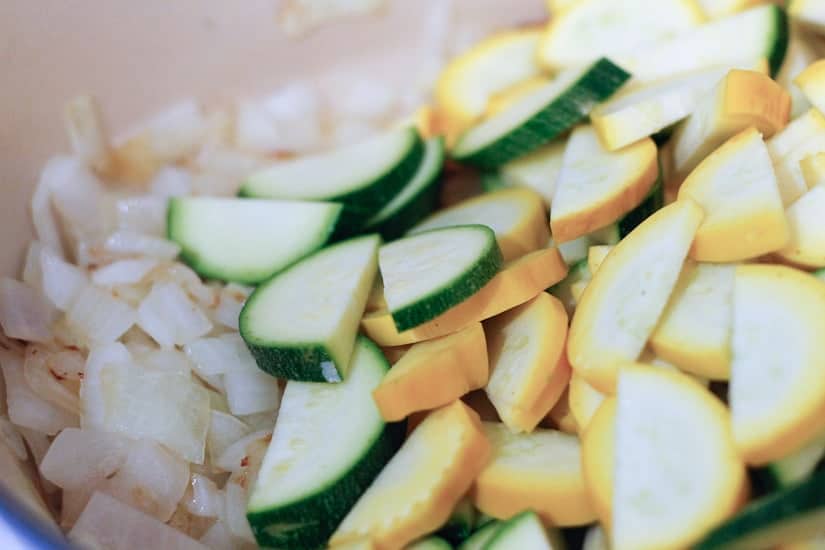 After a week and a half in Montreal, I can honestly say I love this city. The streets are always full, but not crowded. People mill about at all hours of the day, going to work, drinking wine on terraces and patios, picking up vegetables at the city's many daily farmers' markets. There is a mix of breathtaking beauty and ugliness that peeks out from the cracks, eviscerating the illusion that this is just another European Renaissance city, reminding you of its vitality, stubbornness, wreathing, living mess. Free classical music concerts draw a hundred listeners to a concrete park midweek, the majority of them under 30. Haitian music festivals rival well-publicized indie rock concerts and firework displays for crowd appeal, and again, they are all free. There are communal kitchens and thrift stores steps away from Hermes boutiques. It is a city that both embraces and despises its residents equally, regardless of class, and treating them all with ubiquitous French ambivalence. This is truly a city that can eat its people, but so far has chosen not to.
I make it a point to speak French to the sales clerks, the bus drivers, the waiters. My achievements are negligent, but I am content. Some days, the anxiety sets in, but I set it aside: those are future Ksenia's worries. For today, I will eat a bowl of wholegrain brown rice, topped with a Russian-inspired take on Asian food staples, tofu in creamy zucchini mushroom sauce, and listen to the silence.
This dish was the first thing I made in my new kitchen, not counting a quick pasta with tomato sauce. Most of the ingredients are local, and though I have to remind myself it's only the bounty of summer, this abundance can be intoxicating. Longing for home, I decided to bring in a distinctly Russian vibe to these staples: zucchini, tofu, mushrooms. Cooked slowly and languidly in a heavy-bottomed pan, they produce a decidedly comforting stew that can be spooned on top of rice or quinoa.
Tried and loved this recipe? Please leave a 5-star review below! Your reviews mean a lot to me, so if you've got any questions, please let me know in a comment.
Recipe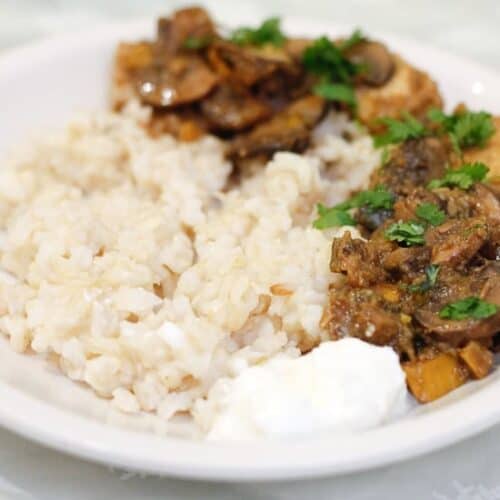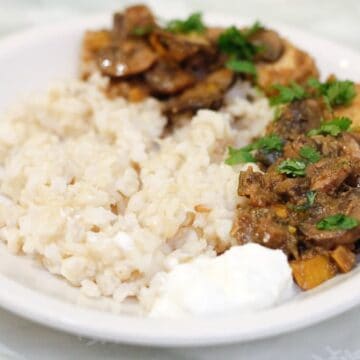 Tofu in creamy zucchini and mushroom sauce
Cooked slowly and languidly in a heavy-bottomed pan, vegan sour cream lends this tofu in creamy zucchini and mushroom sauce a comforting Russian flavour, producing a great stew to spoon on top of rice and quinoa.
Ingredients
1

package of tofu

drained

1

large onion

2

middle-sized zucchini

or your favourite summer squash

2

packages or 400 grams of cremini

button, or other combination of mushrooms you have on hand

½

cup

vegan sour cream

or regular, if that's your jive

2

Tbs

white wine or regular vinegar

salt

to taste

pepper

to taste

hot sauce

for serving

rice or quinoa

for serving
Instructions
Preheat a heavy-bottomed pan to medium heat. Add 1 Tb of grapeseed or vegetable oil.

Chop tofu into cubes. Ensure they are drained. Add to pan, and sear lightly on each side for a couple of minutes. Turn over, and repeat on the other sides. You're not looking to brown the tofu, just keep it from falling apart. Add salt and pepper to taste, and remove from the pan. Set aside.

Meanwhile, chop onion into medium-sized pieces. Add more oil to the pan, and on medium-low heat, saute the onion until translucent.

Slice zucchini into thin half-crescents. Slice mushrooms into slices of a similar width to the zucchini. Add to pan with the onion, cover, and cook on low-medium heat until zucchini softens, about 15 minutes, stirring occasionally. Remove cover, increase heat to medium-high, add tofu and stir. Cook for another 10 minutes to allow water to cook out of the vegetables. If vegetables are beginning to stick to the bottom, add a bit more oil.

When vegetables have reduced to a stewy consistency, add vinegar, salt and pepper. Taste. If texture is to your liking, remove from heat now, or reduce heat and continue to cook on a low-medium flame. When ready to remove from flame, add vegan sour cream and stir. Taste and adjust flavours as necessary.

Serve with brown rice or quinoa, topped with fresh parsley or cilantro, and with a bit more vegan sour cream on the side. Oh yeah, and don't forget the hot sauce.
Tried this recipe?
Comment + Rate Below!
Connect on Instagram!
Find us @immigrantstable