When we first told the kids at my Cooking Club we would be making vegetarian meatballs, they looked at us funny. When we explained zucchini would be in them, they grimaced. When we added kale, the looks of disgust were undeniable. And yet when it came together, a warm veggie zucchini meatball sub covered in a layer of thick, spicy marinara sauce, they all licked their fingers and asked for more. And we knew we had a hit on our hands.
So when the invite came in for West Broadway Youth Outreach to produce a healthy, innovative, kid-friendly sandwich, we knew zucchini meatballs would have to make an appearance. What started off as a topping for spaghetti quickly became the base for a delicious, filling sandwich, good enough for a lunch or dinner for one hungry monster - or even a few picky children. Truth is, the decision came down to this or a chicken kofta kebab sandwich, but the health fanatics in our bunch just couldn't pass up the opportunity to trick kids into wolfing down some nutritious vegan food. And we got it all on video.
You can see the results for yourselves right here (video by the amazing Kevin Tabachnik, who put up with our crazy ideas, ever-changing script, and long, long, long hours, all for the love of kids and food):
https://www.youtube.com/watch?v=cH0WumtHW30
But even more importantly, you can help us win some major prizes for this little project of ours, the West Broadway Youth Outreach Cooking Club. Every week, we gather up a bunch of kids to make a healthy, nutritious meal for 20-30 of their peers. They do everything, from chopping up the vegetables, assembling intricate dishes, serving their friends, and cleaning up afterwards. They gain mad knife skills, courage to experiment, an appreciation for cooking, and the audacity to try new and unfamiliar foods. We get to have the time of our lives.
So please, from March 17 to March 28, help support the West Broadway Youth Outreach Cooking Club by voting for the Monster Balls Sub, created by The Cooking Monsters. You may vote for your favourite once per day.
And don't forget to assemble your own zucchini meatball sub, guaranteed to satiate even the hungriest monster.
Finally, I would like to thank the Winnipeg Foundation for giving kids this great opportunity to play with food, engage in some healthy competition, and make their cinematic debut on YouTube.
Mad props to Kelsey Dewis for the amazing zucchini meatballs recipe, Marina Goodwin and Mladen Kojic for the mentoring, laughter, and sauce and sandwich recipe development, Ray Eskritt for the genius script, and Kevin Tabachnik for the incredible video and overwhelming patience. But the biggest stars of this are undoubtedly Nahome and Eva, who totally, completely, wholeheartedly brought it.
Tried and loved this recipe? Please leave a 5-star review below! Your reviews mean a lot to me, so if you've got any questions, please let me know in a comment.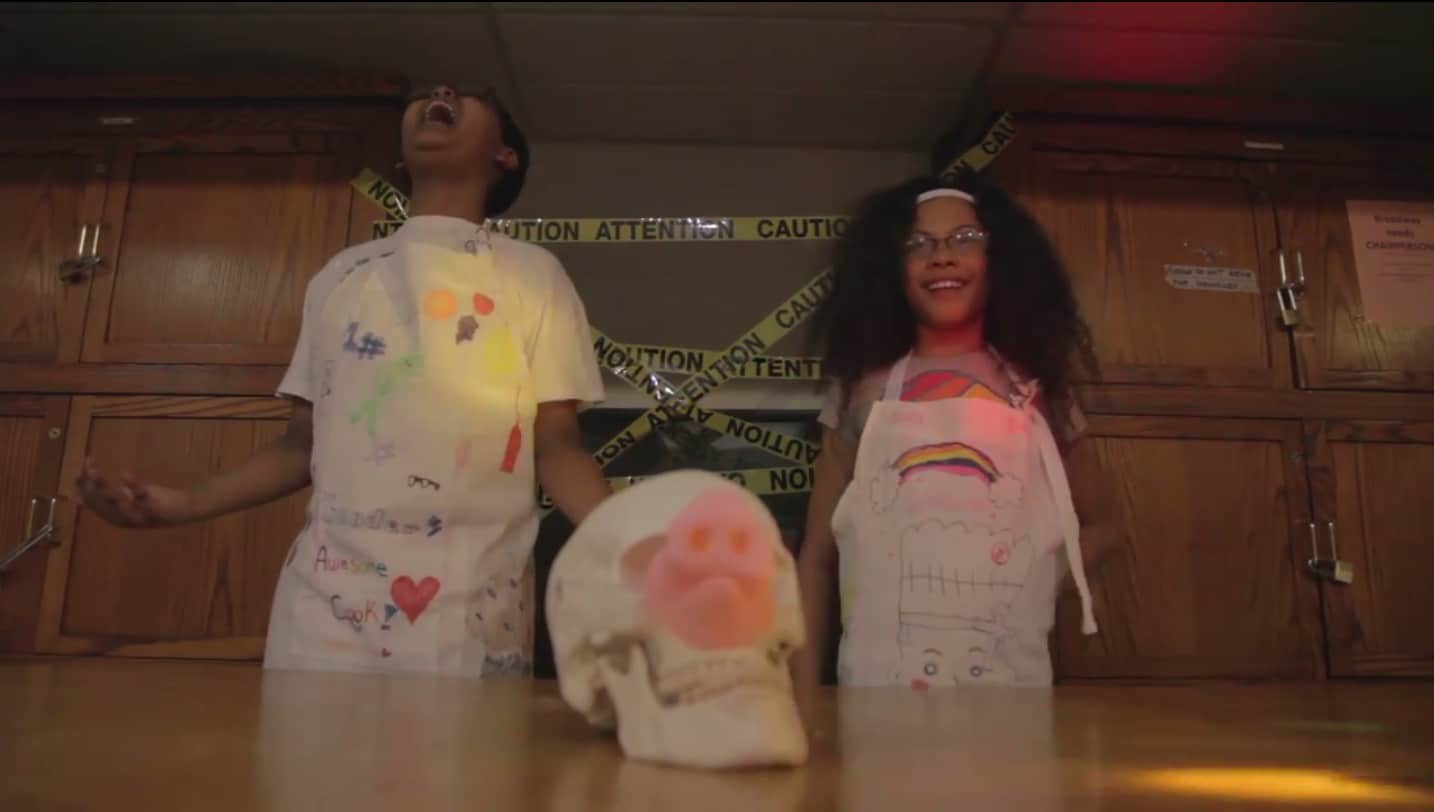 Recipe
The Monster Ball Sub, a vegan zucchini "meatball" sub with marinara and cashew cream sauce
Zucchini meatballs star in this delicious, filling vegan sandwich, good enough for a lunch or dinner for one hungry monster - or even a few picky children. Topped with creamy cashew sauce, zesty marinara, and even a few greens, this is one great sandwich.
Ingredients
2

sub buns

or any bread of your choice

a few leaves of kale

spinach, or lettuce

For zucchini meatballs:

1

cup

cooked quinoa

1

tsp.

Olive oil

1

small chopped onion

3

minced garlic cloves

1

cup

finely diced zucchini

1

teaspoon

oregano

2

tablespoon

tomato paste

1

teaspoon

ground flax seeds and 3 teaspoon of water

½

cup

whole wheat bread crumbs

Salt

Pepper

Vegan cashew cream cheese:

1

cup

raw cashews

soaked

2

garlic cloves

¼

cup

lemon juice

½

teaspoon

table salt

¼

cup

water or almond milk

½

cup

nutritional yeast

Marinara sauce:

1

can of chopped tomatoes

1

onion

chopped (optional)

2

garlic cloves

minced (optional)

¼

teaspoon

chili flakes

salt

pepper
Instructions
Prepare zucchini meatballs: Preheat the oven to 400 degrees and line a baking sheet with parchment paper. Cook quinoa (as per its own directions).

Add 3 tsps of water to ground flax seeds, whisk and refrigerate for at least 15 minutes.

Heat the olive oil in a skillet over medium heat. Add the onions and garlic and cook for 4-5 minutes (until fragrant and softened)

Add the zucchini, oregano, tomato paste, salt and pepper. Cook for 2-3 minutes until zucchini softens. Adjust seasoning to personal preference.

Add to bowl with quinoa and stir to combine. Add the soaked flax seeds mixture, whole wheat bread crumbs, and salt/pepper if needed.

Roll into 16 meatballs, about 1 rounded tablespoon each. Place on baking sheet.

Bake for 12 minutes on the first side. Flip over and bake for 10 more minutes.

Prepare cashew cream cheese sauce: Soak the cashews in a bowl of water for at least two hours, preferably overnight. Rinse and drain the cashews, and pat dry with a paper towel.

With the food processor turned on, drop in your garlic cloves and process until chopped. Add the cashews and all other ingredients to a food processor and process until smooth (this can be made runnier or less runnier. If looking for a more cream cheese-like consistency, start by adding 2 Tbs of almond milk, and only add as much as needed, up to ⅛ of a cup). Can be kept in the fridge for up to a week.

Prepare marinara sauce: Chop and saute onion for five minutes, until it turns golden. Add garlic and saute for five minutes more. Add tomatoes and let reduce for 15 minutes. Add chili flakes, salt and pepper to taste.

To assemble monster ball sub, on the bottom piece of bread or bun, smear a thick layer of cashew cream cheese sauce, arrange 3 meatballs, ladle marinara sauce, and top with the greens of your choice. Cover with second piece of bread, or with bun top.
Tried this recipe?
Comment + Rate Below!
Connect on Instagram!
Find us @immigrantstable