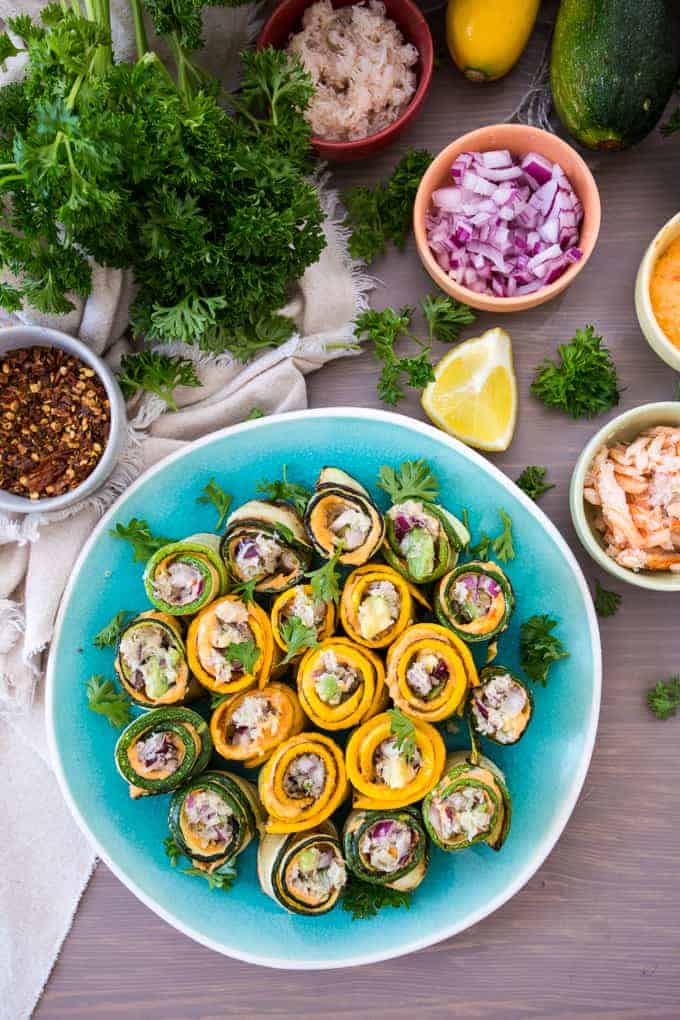 These creamy zucchini rolls with snow crab, hummus and flakes of red pepper are a perfect feast for a warm summer lunch.
Along with the rest of the recipes in Matt Dean Pettit's Great Shellfish Cookbook, these zucchini roll ups will brighten up your summer feasts - not to mention your year-round seafood keto snacks!
I was provided with a complimentary review copy by Penguin Random House Canada, and this post contains affiliate links, but all opinions expressed here are my own. You can always count on me to only work with companies and products I love! Thank you for supporting the brands that help make this blog possible.
Jump to: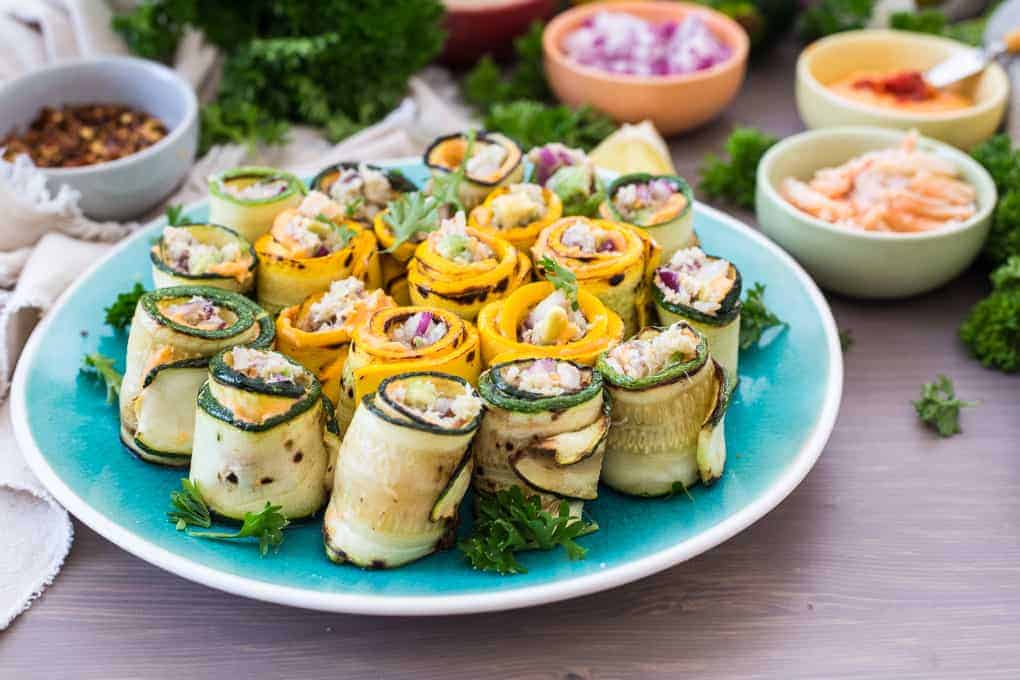 No-Cook Summer
This summer, as most summers, I stayed away from the stovetop.
I know, I know, you don't believe me. Or you think I'm crazy. "But what did you eat, Ksenia??" you ask. "Did you go to a restaurant every time you wanted a meal? Did you only eat salads? Was everything served cold, lifeless, disgusting?"
And I'll just laugh in return.
For you see, our summer was anything but sad, cold or filled with restaurant food. Our summer was exciting, and fun, and filled with friends and family and meals cooked on the barbecue, with the sun setting over our heads, disappearing into the crown of trees visible from our grandiose new terrace. Our summer was whole trout, cooked on cooling embers; cold haddock, served under a sauce of carrots and onions; plantains, blistered until dark and oozing over a strong flame; and my grandmother's marinated chicken, broken into small bits and used in salads, sandwiches and lunches throughout the week.
One thing our summer didn't have, though, is extensive use of the stove.
Sure, there was the occasional canning project, or quiche. I would heat up tea, or boil water for compote. My man definitely made me eggs on weekend mornings. But other than that? Nope, the only cooking we really did was on an open fire (our barbecue is coal-based).
For more summer recipes:
The Great Shellfish Cookbook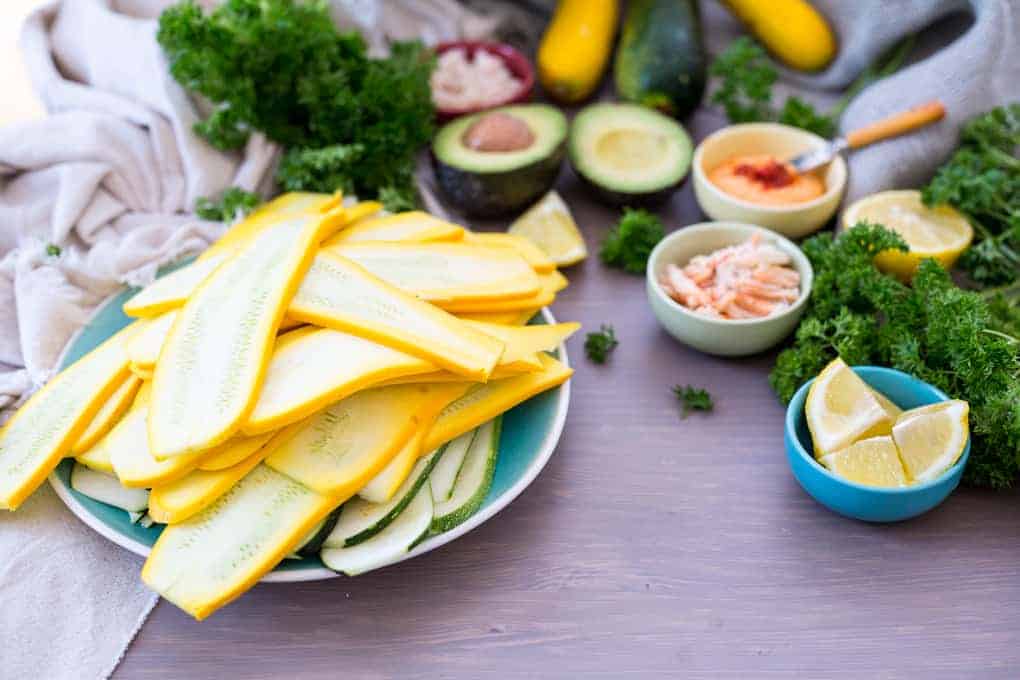 So when I received a complimentary copy of The Great Shellfish Cookbook by Matt Dean Pettit from Penguin Random House Canada, I knew that whatever recipe I made had to make no use of the stove.
So I looked through the book, thumbing wildly through the sections on Exotic Shellfish and Mussels. I swallowed the Oysters section whole, bookmarking nearly every other recipe. I avoided the Lobster section because frankly, unless the meat came from a can from the frozen fish aisle, I just couldn't picture myself disposing of that giant crustacean the way every self-respective chef should.
I must have marked about 20 recipes for future preparation - and not all of them were shellfish recipes. What I loved the most about The Great Shellfish Cookbook, besides its clear and concise instructions on how to dispose of said crustaceans (if you so choose to do), were its chapters on cocktails and non-seafood related sides. They paired beautifully with the book's raison d'etre, and made the main courses look even more appetizing. The little icons denoting which course each dish fits (brunch, party, dinner, etc) were also very helpful.
"These rolls are a fun take on pinwheels."

- Matt Dean Pettit
Pettit's simple sauces (mornay, cocktail sauce, and others) are classics, and anyone learning their way around a kitchen would benefit from this fun, colourful cookbook - even if lobster and crabs aren't their favourite things to eat. My only qualm with the book was the index, which could have been better.
And then I came across Pettit's recipe for zucchini rolls with snow crab. (Imagine an awesome snow crab sushi roll, but made into a keto snack with zucchini roll ups instead of rice!)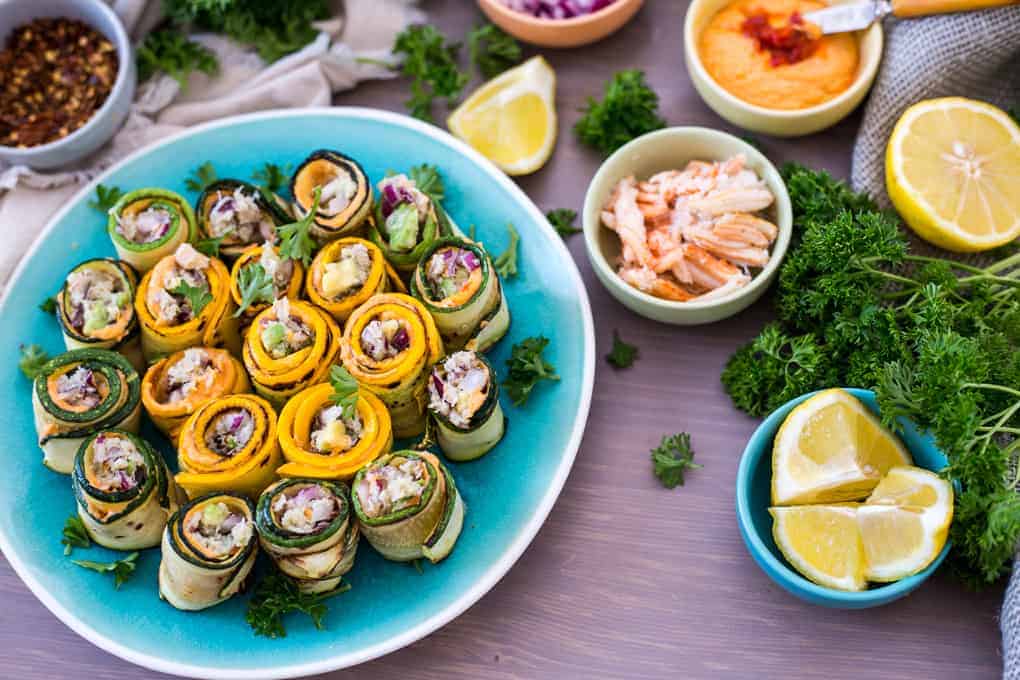 The perfect keto snack
Stunning it its simplicity, the recipe for zucchini rolls with snow crab calls for no more than zucchini slices, red pepper hummus, red onions, avocado and a few chili flakes.
If you are avoiding hummus for keto or paleo diets, I suggest replacing it with homemade mayo.
The zucchini could be cooked on a pan, but we cooked them on the grill, to great results. I imagine that if sliced really thinly, the zucchini could even be eaten raw.
Then the main mixture is just put together, layer by layer, and each little zucchini roll is wrapped lovingly around a centre of creamy, zesty, and bright snow crab filling.
What you get are lovely little zucchini roll ups, with a filling of creamy snow crab paste.
And when the whole beautiful mess is popped into your mouth, trust me - you won't want to go back.
Zucchini rolls with snow crab filling make the perfect keto snack. Easy, portable and delicious!
Tried and loved this recipe? Please leave a 5-star review below! Your reviews mean a lot to me, so if you've got any questions, please let me know in a comment.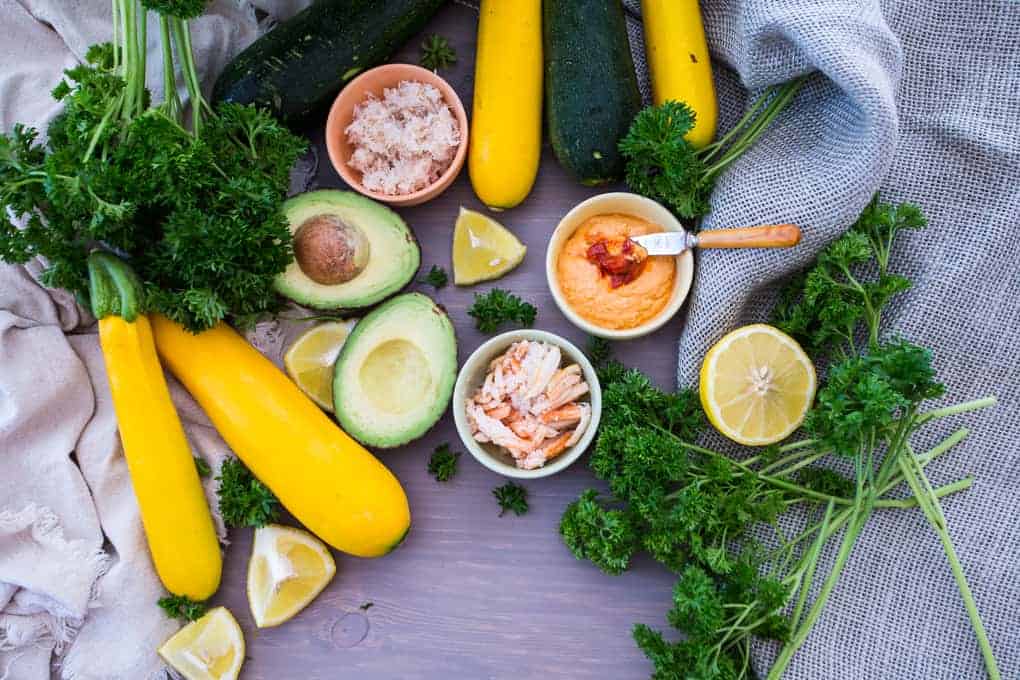 Pin for Later!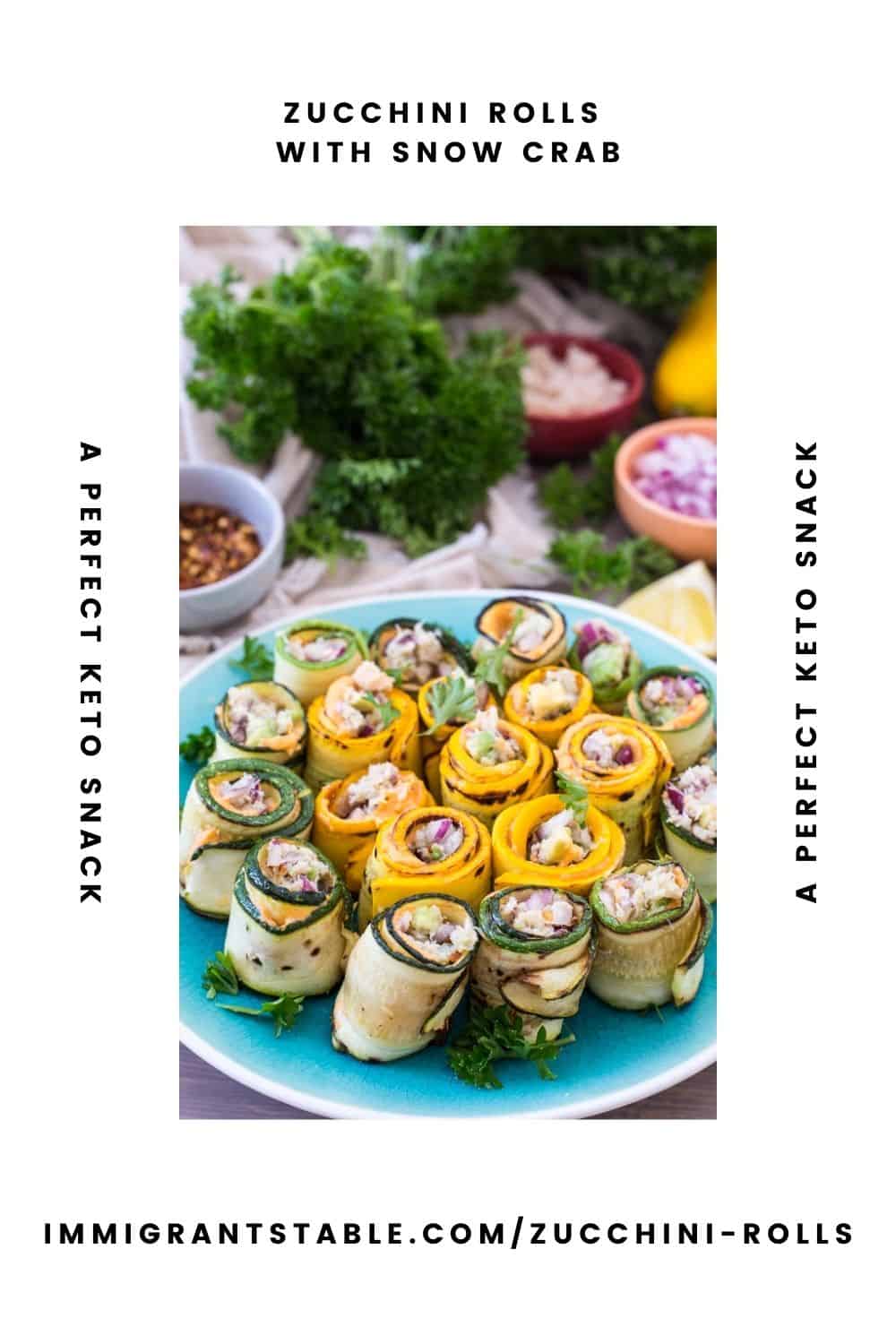 Recipe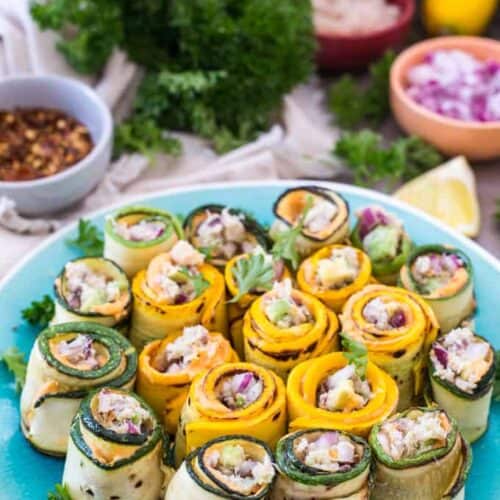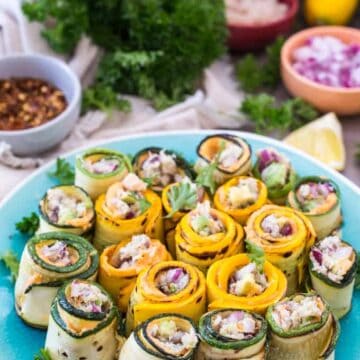 Snow crab zucchini rolls
These creamy zucchini roll-ups with snow crab, hummus and flakes of red pepper are a perfect snack for a warm summer brunch or lunch. These rolls are a fun take on pinwheels.
Excerpted from The Great Shellfish Cookbook: From Sea to Table More than 100 Recipes to Cook at Home by Matt Dean Pettit. Copyright © 2018 Matt Dean Pettit. Photography copyright © 2018 Ksenija Hotic. Published by Appetite by Random House®, a division of Penguin Random House Canada Limited. Reproduced by arrangement with the Publisher. All rights reserved.
Ingredients
2

large zucchini

2

tablespoon

canola oil

(30 ml)

1

avocado

medium semi-firm

½

cup

red pepper hummus

(125 ml)

¾

cup

freshly cooked or canned cooked snow crab meat

(175 ml)

2

red Thai chillies

finely diced OR ½ teaspoon red pepper flakes

½

medium red onion

finely diced

Hot sauce

for serving
Instructions
Using a mandolin or vegetable peeler, thinly slice the zucchinis into six to eight long strips.

In a nonstick saute pan over medium-high heat, warm the canola oil. Working in batches, add the zucchini strips without overlapping them, and cook for 30 to 60 seconds per side, or until slightly cooked and soft. You can also cook these on a hot grill, 60 seconds per side. Transfer the zucchini slices to a plate, cover loosely with plastic wrap, and place in the refrigerator until needed.

Cut the avocado into ¼ inch (6 mm) cubes and set aside.

Lay the thin slices of zucchini out flat on a working surface. Spread one side of each strip with hummus and add a layer of crab meat, avocado cubes, chillies and onions. Starting from one end, slowly roll the zucchini strips, tightly folding in the crab mixture. You can close this with a toothpick, or just leave the end tucked underneath.

Serve cold with your favourite hot sauce.
Notes
You can also serve this dish hot: Simply place the finished rolls in a 375F (190C) oven for 3 to 5 minutes, or until warm throughout. If you're using freshly cooked snow crab, you'll need about 1 ½ lbs (680 g) of crab to produce ¾ cup (175 ml) of meat.
Nutrition
Calories:
237
kcal
Carbohydrates:
13
g
Protein:
9
g
Fat:
18
g
Saturated Fat:
2
g
Trans Fat:
1
g
Cholesterol:
25
mg
Sodium:
229
mg
Potassium:
660
mg
Fiber:
6
g
Sugar:
3
g
Vitamin A:
297
IU
Vitamin C:
28
mg
Calcium:
60
mg
Iron:
2
mg
Tried this recipe?
Comment + Rate Below!
Connect on Instagram!
Find us @immigrantstable