We are seated around a long hexagonal table whose midsection has been stretched beyond proportion with extension leaves, like a snake that's gorged itself on a large rodent and now can do nothing but lie in wait. The sun is shining brightly over our heads, illuminating a table overflowing with Salada Russa, vinaigrette salad, and all manner of pickles. Our wine glasses are half empty, and the conversation is loud and raucous; my sister and I have placed bets on which of the grandparents will start the fight first. Despite the mounds of food, everyone is a bit hungry still, waiting for the main course of this al fresco lunch. And then she walks in, my mother, triumphantly holding a tray in her hands - in the centre is a baking dish filled with cold haddock in carrot lemon sauce. And the room quiets just a little bit.
My mother is not much of a cook. Besides stewed cabbage and strudel, she mainly sticks to simple salads, tried-and-true quiches and cheese platters. Yet fish is her pièce de résistance, the one thing that she pulls out during festive events that she knows everyone will ooh and ahh over.
In winter, she serves a whole salmon side, caked in cream and baked in high heat on a bed of potatoes until all of its juices have let out and flowed on the bottom of the tray. It's a sight to behold, but an even better experience to eat.
In summer, my mother goes to the local fishmonger and buys cheap white fish, which often tends to be haddock. She grates carrots, whole dozens of them, until the pile of carrot shreds by her cutting board passes the lowest shelf above her sink. Onions are chopped coarsely, and a whole host of lemon juice is squeezed into a little pitcher. And then she mixes it all together, letting the carrots and onions and lemon macerate and bake into a sauce that is silky and sweet and tart all at once. The fish, unable to resist any longer in the face of all that goodness, lets out one last cry of resistance before finally collapsing under the mound of delicious carrot lemon sauce. The whole thing is let to cool down in the fridge and served the next day, when the flavours have blended sufficiently and the cold haddock can truly shine.
When I asked my mother how she came up with her cold haddock in carrot lemon sauce, she hummed and hawed. She avoided my questions for months. She served me more fish. But eventually, she leaned in in a conspirational manner and whispered:
"It's based on your grandmother's recipe. But don't tell her of she'll let it go to her head."
Today, when I am standing in my little kitchen in Montreal, I can close my eyes and imagine that raucous table at my parents' yard in Israel. I can taste the white wine and the hummus. I can hear my grandparents, fighting among them about the state of Russian politics. I can feel the fork in my hand, the same one I had used since I was a teenager and which I refuse to throw out, insisting food just tastes better on it. I can smell the flowers blooming all around us.
Or I can do one better: I can go to the local fishmonger and buy locally raised, Canadian haddock. I can read about the journey it makes from Georges Bay to my table. I can buy Quebec carrots from Nantes, colourful roots with their tops still attached and the smell of earth still on their bodies. I can use maple syrup to balance out the sourness of the lemon, if the carrots aren't sweet enough on their own.Like a true immigrant, I can create a dish that is at once a stark embodiment of my parents' house and their Russian cuisine, and the Canadian terroir in which I chose to make my home.
So I don't get homesick anymore. I just make cold haddock in carrot lemon sauce in the midst of the Canadian winter, and feel it all over again.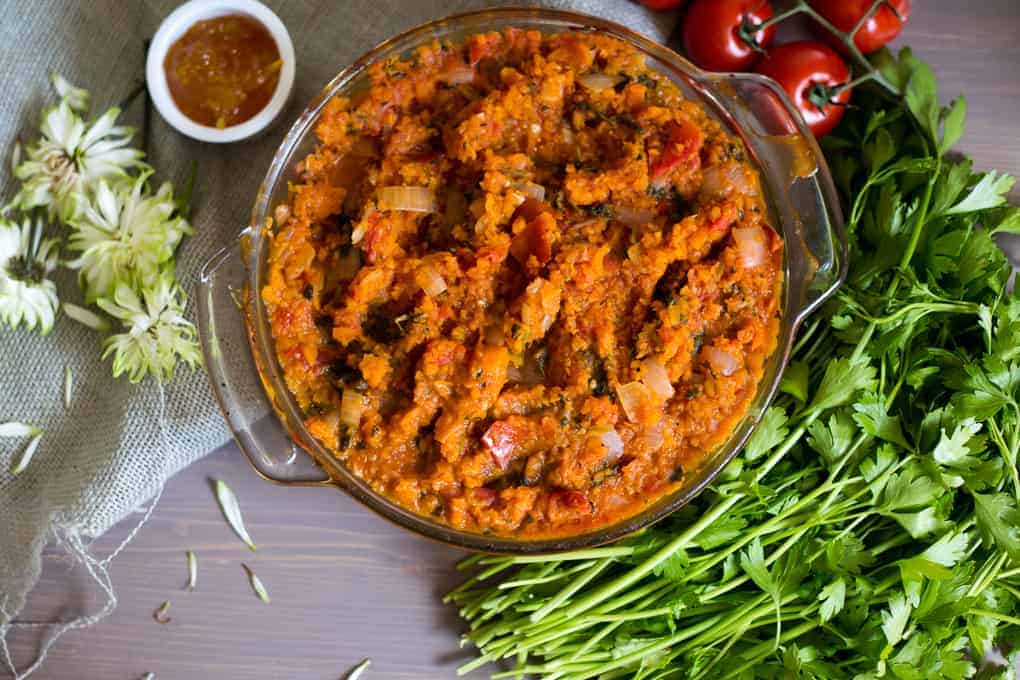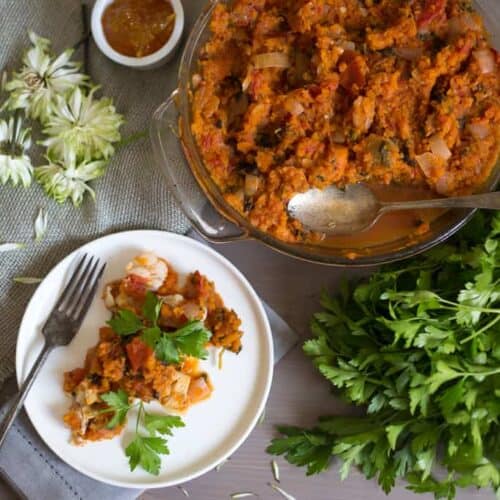 Cold haddock in carrot lemon sauce
Perfectly cooked haddock rests under a sauce of carrots, onions and lemon sauce that is silky, sweet and tart all at once. A perfect gluten-free, dairy-free one-pot meal.
Print
Pin
Rate
Ingredients
1

kg

Canadian haddock

2

pounds

carrots

Two large onions

4

garlic cloves

Five large tomatoes

1

small container

156 ML tomato paste

1

TB

paprika

2

bay leaves

1

TB

maple syrup or citrus marmalade

Juice of 2 lemons

1

bunch cilantro or parsley

according to preference

Salt & pepper

to taste
Instructions
Cut haddock into bite-sized pieces (about 2-3 inches in length and 1 inch in width). Salt fish slices. Preheat a large pan to high heat, adding 1 TB of Canola or grapeseed oil. Fry fish slices until they have browned on one side and come off the pan easily, about 2 minutes. Turn over and repeat until you have fried all the fish slices. Set aside.

To prepare the marinade, grate carrots. Coarsely chop onions. Mix carrots with onions, tomatoes, garlic, tomato paste, spices, lemon juice and salt and pepper to taste. Add maple syrup or citrus marmalade, taste and correct seasonings as needed. Add to pan and cook until carrots have softened and sauce has became more liquid in consistency.

Liberally coat the bottom and sides of a large covered baking dish with oil. Layer fish and sauce liberally. Bake, covered, at 400F for 20-30 minutes, until fish flakes easily with a fork.

Let cool overnight in fridge. Serve cold. Bon Appetit.