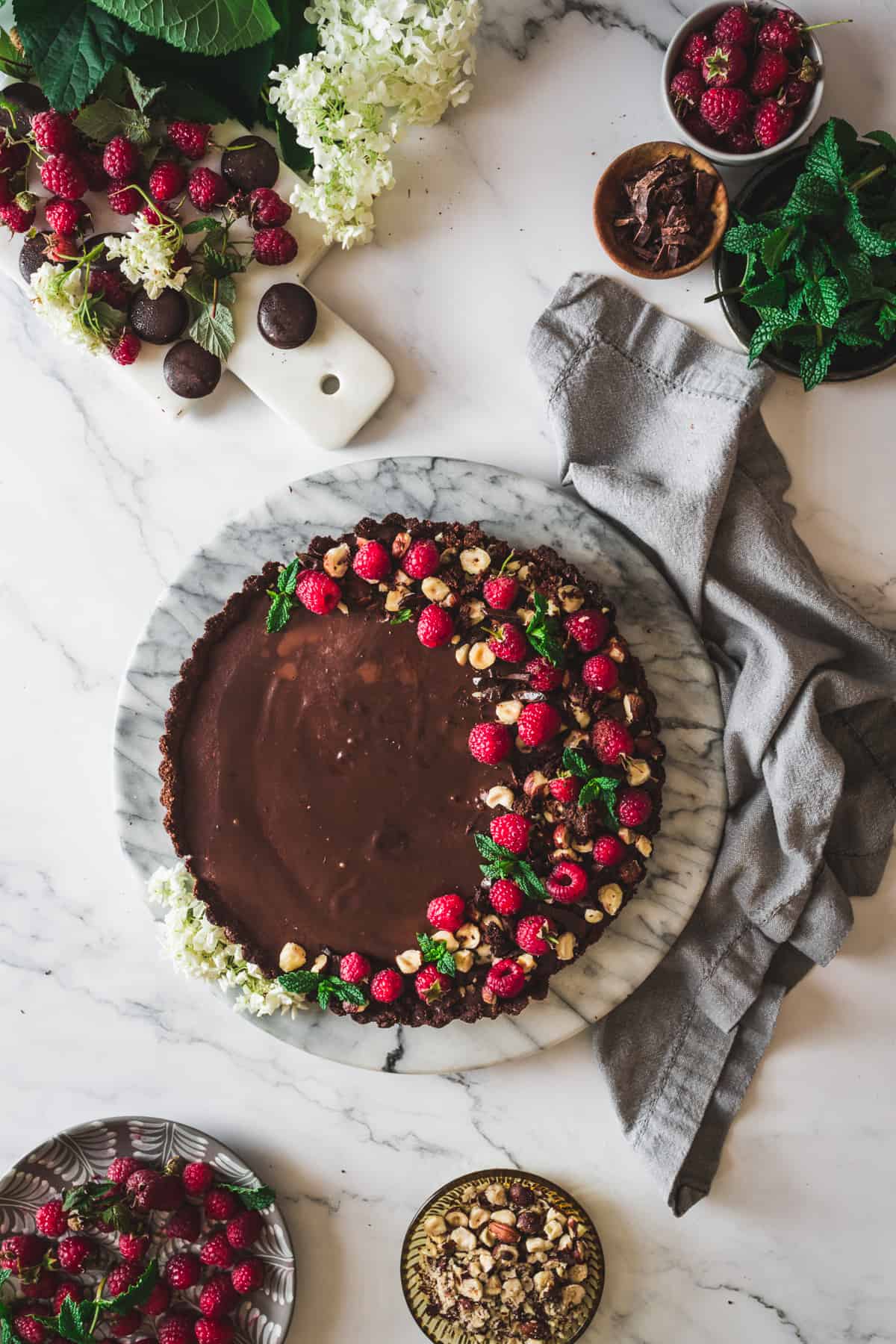 This low carb chocolate raspberry tart is a gorgeous keto raspberry dessert that combines dark chocolate, fresh raspberries and a keto chocolate tart crust.
A luscious chocolate raspberry tart with a swirl of raspberry coulis running through it. Check out this step-by-step recipe to see how I made and styled it!
Jump to: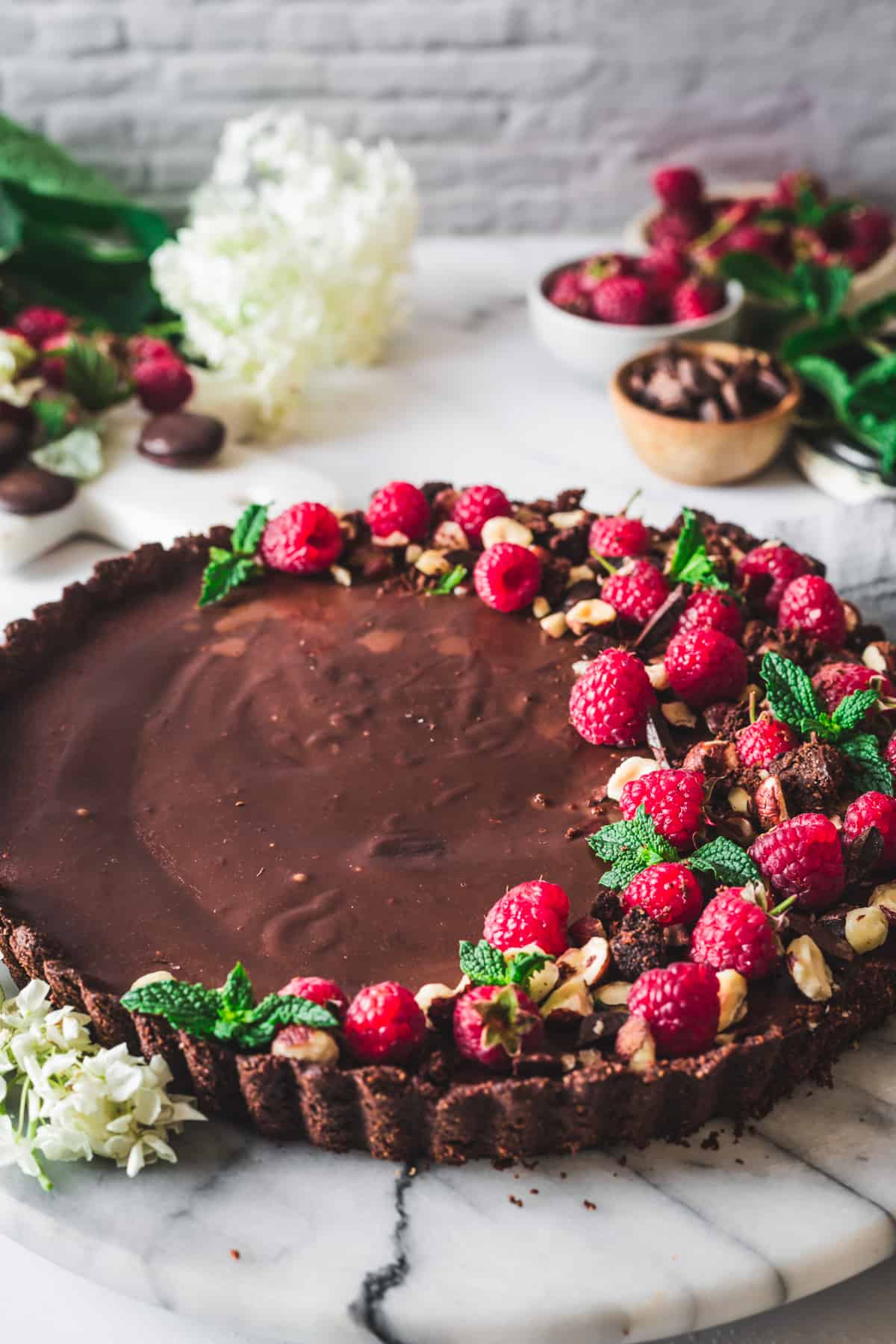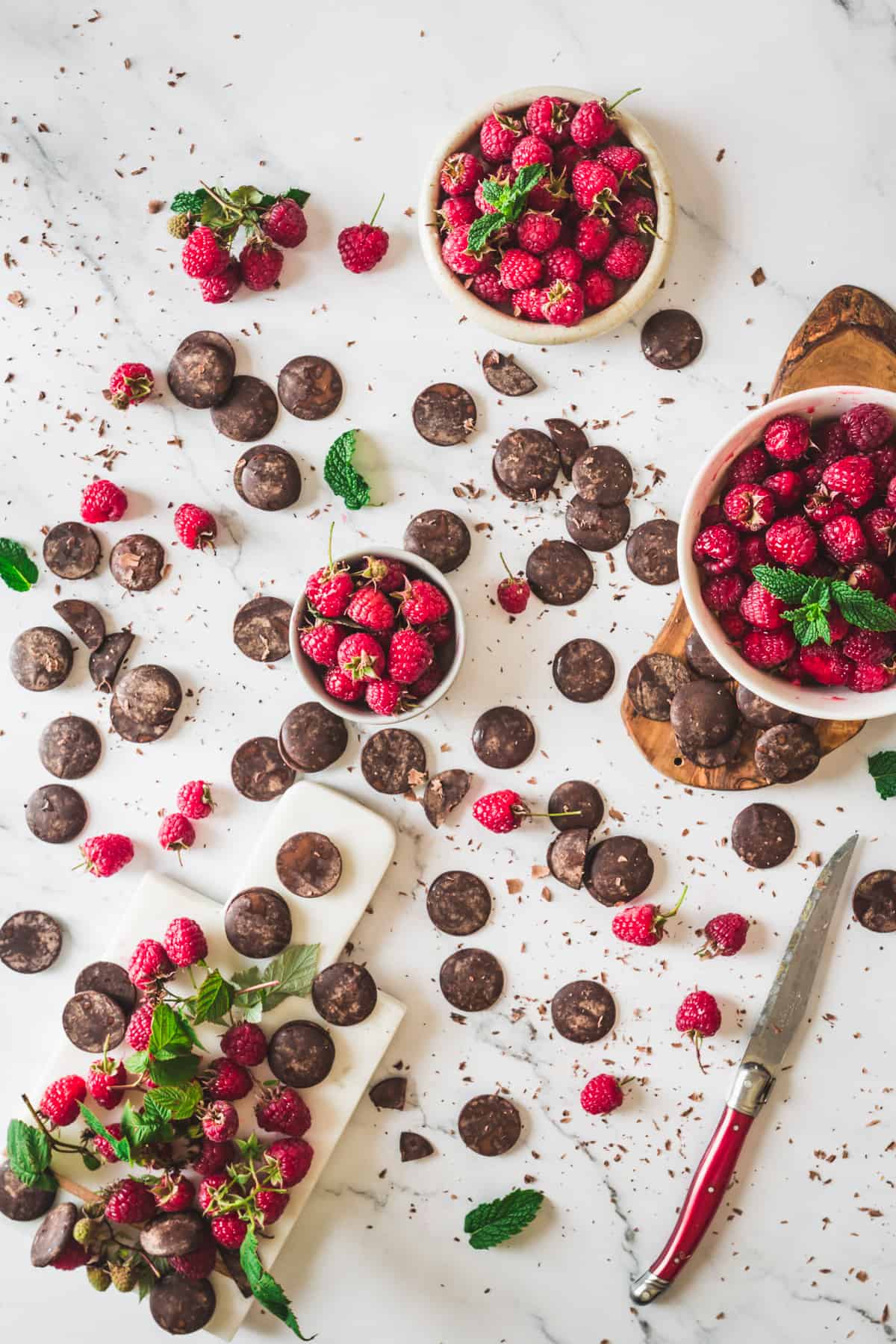 Chocolate and raspberries, a match made in dessert heaven
I'm going to say this once, and with great confidence: chocolate and raspberries are a a match made in heaven. Dessert heaven, that is.
Dark chocolate contains tannins, which give it a bitter, rich and acidic taste. That acidity plays nicely with the sharpness of fresh raspberries. The cream that we add to this keto chocolate ganache tart marries the two together beautifully, creating a creamy bridge on which these two strong notes can dance in harmony.
Together, chocolate and raspberries create a symphony of flavors: rich, sharp, deep and mellow all at the same time.
I love white chocolate with raspberries, as in these lava cakes. But I truly believe dark chocolate goes even better with these tart summer fruit!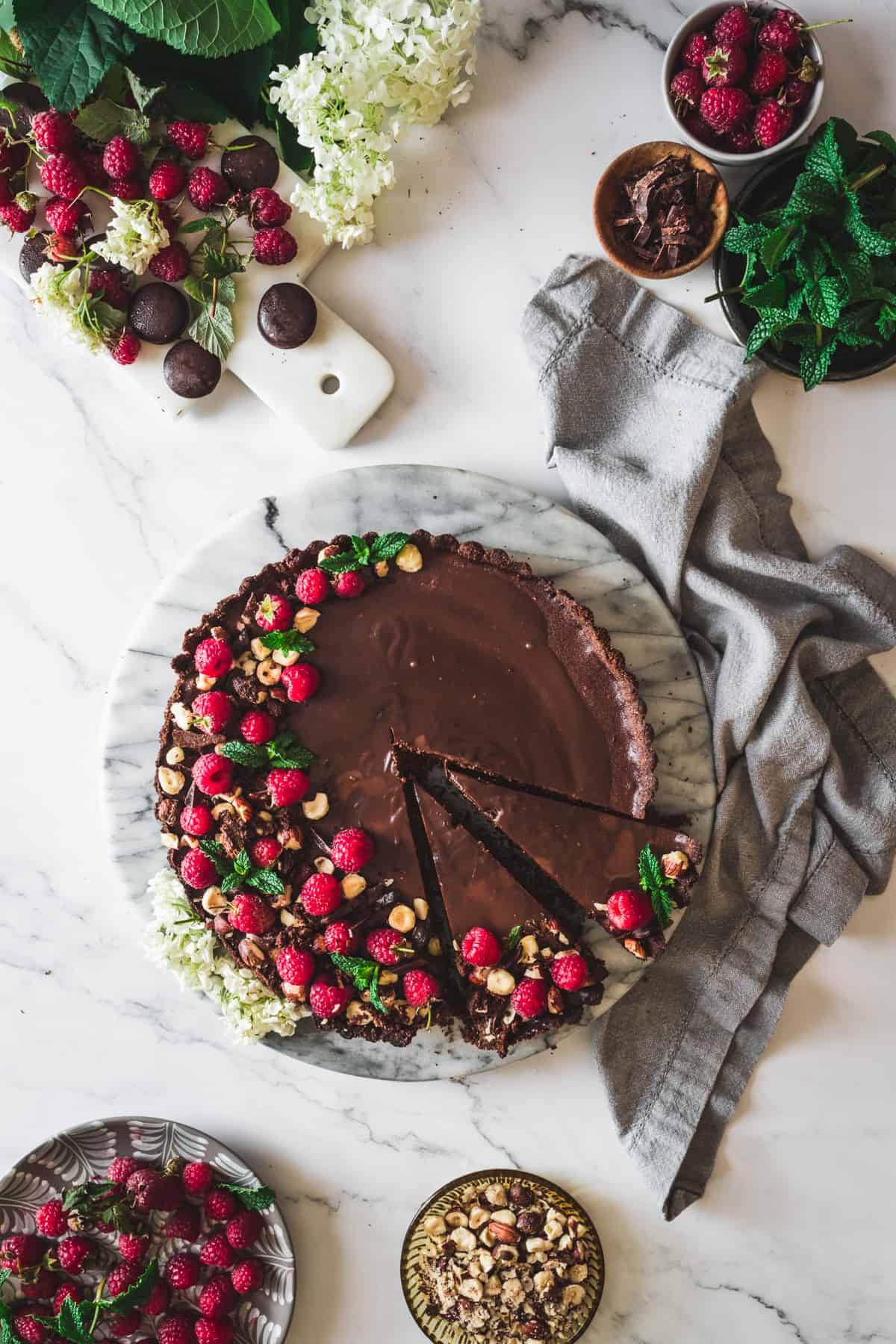 How to make this dessert recipe low carb?
During my pregnancy, I was diagnosed with gestational diabetes. It made it very hard, as a food blogger, to abstain from any desserts - so I came up with my own sugar-free, low carb and keto alternatives!
To keep the carbohydrates in this chocolate raspberry tart recipe low, I used:
sugar-free dark chocolate
cream or coconut cream, if you'd like to make it vegan
fresh raspberries, which are one of the fruit with the lowest glycemic value out there
erythritol or monk fruit sweetener to lend an additional touch of sweetness to my ganache
Blended fresh raspberries to a sugar-free coulis to mix with the ganache in the filling for this sugar free chocolate tart
For other low carb raspberry recipes:
Why you need to make this chocolate raspberry tart
This chocolate raspberry tart recipe quickly became a dinner party favourite in my house. We've served it at the end of festive holiday meals, or just regular family Saturday night dinners.
We love this keto raspberry dessert because it is:
sugar-free
low carb
rich and indulgent - a small slice goes a long way!

full of high quality chocolate

- I recommend buying the best chocolate you can find
filled with fresh raspberries
Beautiful - the toppings make all the look!
Gluten-free
Can be made vegan
Keto
Freezes well
Easy to make
Comes together in minutes
Involves very little baking!
Ingredients
Here's what you'll need to whip up this gorgeous keto chocolate tart:
Keto Chocolate Tart Crust Ingredients:
almond flour
coconut flour
cacao powder
cold butter or coconut oil
cold water
Raspberry Keto Chocolate Ganache Ingredients:
sugar-free dark chocolate
heavy cream or coconut cream
raspberries, blended in a food processor
powdered erythritol or Monk fruit sweetener (grind it in food processor to a fine powder)
Toppings:
Fresh raspberries - I love going berry picking in the summer. Here's my tips and advice for picking the ripest fresh berries!
Chocolate shavings
Nuts of your choice
Fresh mint, optional
Equipment
Can I make this tart without a food processor?
Absolutely! Just mix all the dry ingredients in a large bowl and slowly work the butter and liquid in there. If you have a pastry cutter, it makes easy work of this - and I actually often use it if I don't feel like pulling out the food processor. If you don't have one, then even using two butter knives in a cross-cutting motion will work - all you're trying to do is work the butter (or butter replacement) into the flour slowly, without overworking it.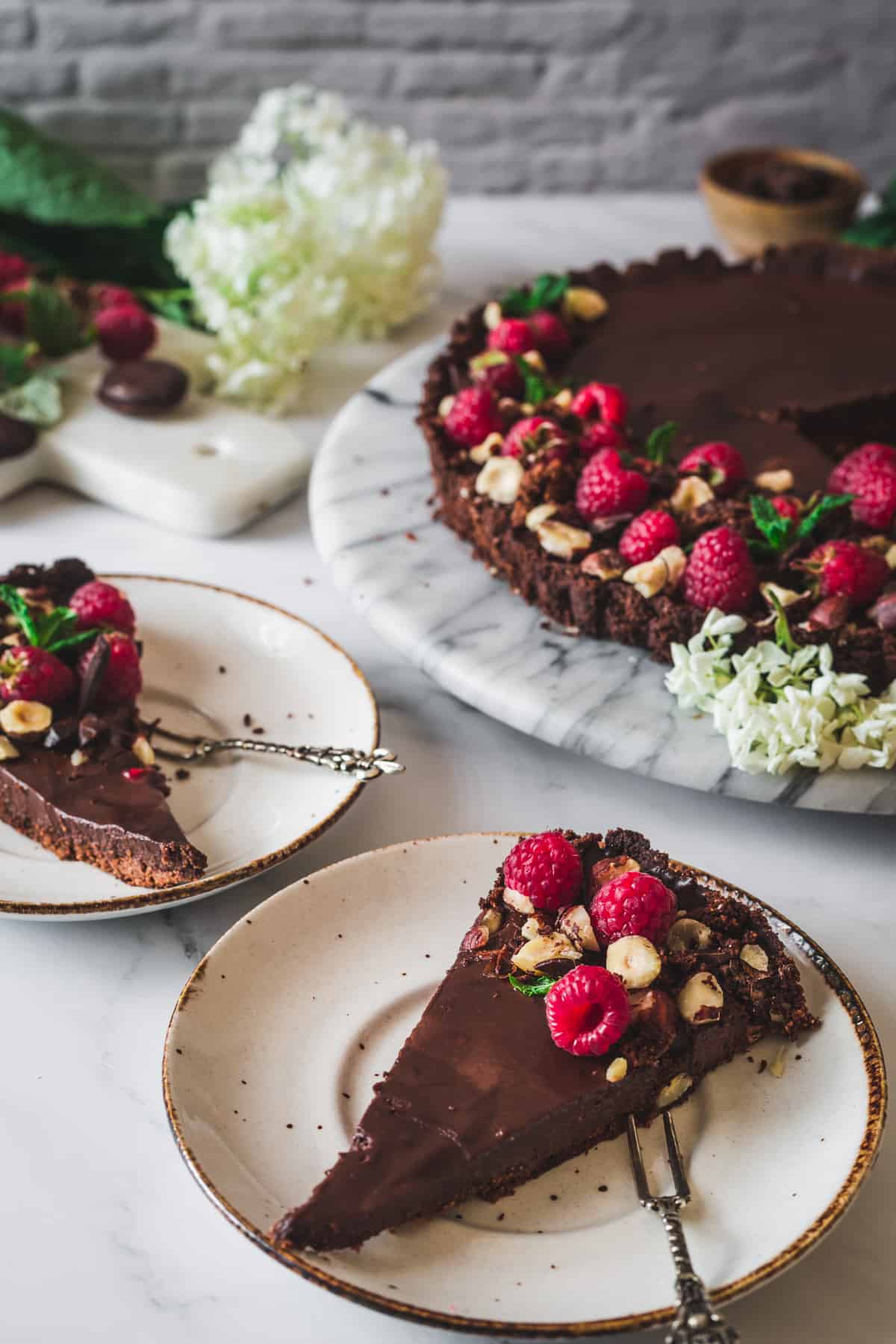 How to make chocolate raspberry tart:
Make the Keto Chocolate Tart Crust:
Preheat the oven to 350F degrees. Prep and grease a 9-inch retractable bottom tart pan.
Combine almond flour, coconut flour, cacao powder and cold butter or coconut oil in the food processor. Process in pulses for about 1-2 minutes in total, gradually adding cold water, until dough binds together. It may form a ball or just be clumping together easily; check if you can shape it into a ball with your hands to see if it's ready.
(If you don't have a food processor, use a pastry cutter or two knives in a cross-cutting motion).
Press the dough into the tart plate, making sure you have thin sides as well. Bake the crust for 12-13 minutes at 350 degrees. Remove from the oven and cool completely before proceeding.
Make the sugar-free raspberry chocolate ganache:
Transfer cream or coconut cream to a microwave-safe dish, and heat it for 2 minutes; alternatively, you can also heat it in a saucepan over medium heat. Remove cream from heat and add in the sugar-free chocolate. Stir with a spoon until fully melted into a ganache.
While cream is heating, blend the ¼ cup of raspberries in a food processor or blender until smooth.
Add the sweetener and blended raspberries to the keto chocolate ganache mixture, and whisk until smooth and shiny.
Assemble chocolate raspberry tart:
Pour low-carb chocolate raspberry ganache filling into your keto chocolate tart crust.
Transfer to the refrigerator to chill for at least an hour, or overnight, until the chocolate has fully set.
Before serving, top chocolate raspberry tart with fresh berries, nuts, cream or any other toppings of your choice - read below for my top tips!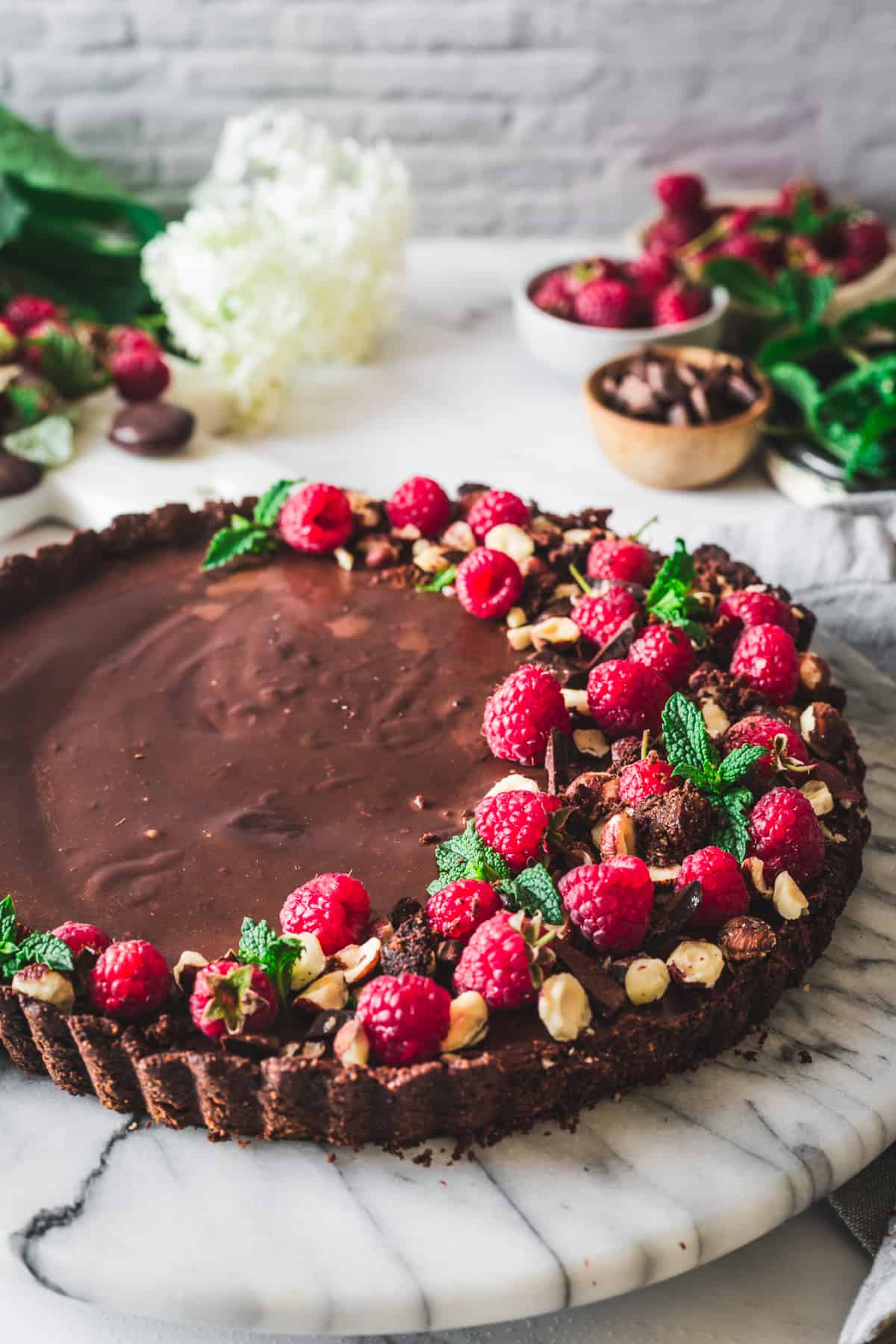 Top Tips on How to Decorate a Tart
I love arranging fresh toppings in a beautiful, asymmetrical design on the top of this tart. It also helps hide any imperfections in the crust, if you end up with some while blind baking! Here's my advice for decorating this tart:
For toppings, use fresh raspberries, shavings or pieces of the same dark chocolate you used in the ganache, any nuts you like (I love hazelnuts and almonds here), and some fresh mint leaves on the top of your chocolate tart. If you have any of the crust leftover or broken off during the bake, crumble it on top as well.
To keep the design as I did it, follow a crescent moon pattern on the top - start with small points just past the middle of the tart, and expand the perimeter of your decorations gradually.
Add each toppings gradually, starting with the biggest ones - the fresh berries - and continuing with nuts, then chocolate shavings, then the fresh herbs.
If freezing this tart for later, avoid toppings like fresh herbs until you are ready to serve. Raspberries can freeze and defrost beautifully.
Storage
This sugar free chocolate tart with raspberries will keep well in the fridge for 3-4 days, as long as your berries are fresh. If you avoid decorating it with berries, it'll keep for a week.
Freezer
You can easily freeze this chocolate raspberry tart! Wrap it well in plastic wrap to avoid freezer burn, and consume within 6 months.
To keep the tart looking as fresh as when you made it, avoid topping it with any fresh herbs until you are ready to serve it. You can even avoid topping it with raspberries until serving - though they defrost very well, they made produce a touch of moisture when defrosted that could harm the overall look of your keto chocolate ganache tart.
Scaling the recipe
This recipe makes one 9-inch tart pan.
You can also divide it into 6 individual chocolate raspberry tartlets.
Adaptations
This tart is low carb, gluten-free, sugar-free and keto. The carbs that are here come from the fresh raspberries; to make it even lower, use less fresh berries.
To make it vegan and paleo, use coconut oil or a vegan butter replacement in place of the butter, and coconut cream in place of the cream in the ganache.
When to serve this low carb chocolate raspberry tart
I love serving this tart at the end of holiday meals. I've served it for Rosh Hashana and everyone loved it!
But this sugar free chocolate tart is so easy to make, it also makes a great weekend dessert. Serve it on Saturday or Sunday for an indulgent ending to a meal.
And finally, the fresh berries in this make it a perfect summer dessert.
Pair it with any of these dishes for a great summer meal:
Other Dessert Recipes you will love
Pin for Later!
If you make this chocolate raspberry tart, we'd love for you to leave a comment and rating below! We also love to see your creations on Instagram – tag us at @immigrantstable so we can see what you've been cooking.
Recipe